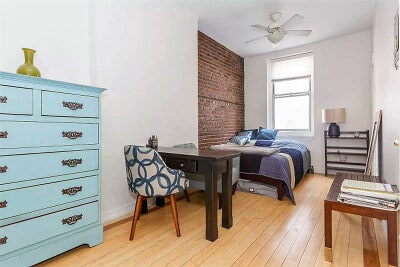 One of the best ways to experience life as a local while traveling is to stay in a house or apartment instead of in a hotel or on base. This page covers several options to give you an overview of the possibilities. Depending on your budget, desired level of privacy, and appetite for adventure, try one that suits you!
Short-Term Apartment/House Rentals
If you want a place all to yourself, you can use one of the many apartment rental websites. We used AirBnB and Homeaway in many cities and had great experiences. Those sites are among the most popular and well-known, and in our experience were much cheaper than hotels. But there are a lot of other possibilities for short-term rentals, some of which may be even less expensive if they don't tack on service or cleaning fees.
In Japan, a friend recommended  a corporate-style apartment that rents rooms on a weekly or monthly basis. In Spain, we met an employee at Rota Naval Base whose mother had a beachfront apartment available to rent. We also found apartments on real estate sites specific to the city or country we were visiting. Other sources of apartments include Googling [name of city] + apartments or doing a similar search on Facebook.
*** Here's the checklist we use to find the best short-term rentals based on the 20+ apartments we've rented around the world! ***
Renting an entire house or apartment is best if it's important for you to have your own space without sharing a kitchen or bathroom. If you are willing to sacrifice a bit of privacy, you can find even cheaper accommodations.
Shared Accommodations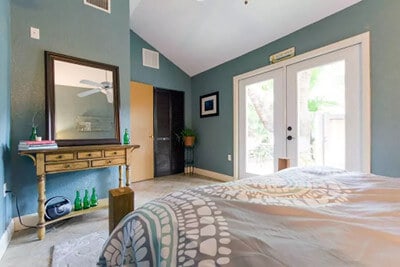 Through AirBnB and other apartment rental sites, you have the option to rent the entire property, a private room, or a shared room. In some cases a private room could also have a private bathroom or even a separate entrance, as we had when we used AirBnB in St. Petersburg, Florida. More often, a shared room means you're sharing a bathroom with the host and/or another guest. Depending on the property, you may have use of the kitchen, TV room, washing machine, or other common areas of the home.
If you want a completely free room, you can try Couchsurfing, where hosts offer accommodations ranging from a separate bedroom to a sleeping bag on the living room floor. One of the main ideas behind Couchfsurfing is to create a community of travelers. Hosts offer up their space for free because they enjoy meeting other travelers and the hosts, in turn, couchsurf when they're on the road. Many travelers love Couchsurfing because, as I often say about flying Space-A, "you can't beat 'free.'" Of course, beggars can't be choosers, and my husband and I tend to be a bit choosy about where we stay, so we have not tried Couchsurfing.
House Exchanges
If you have a house or apartment in an area that other travelers want to visit, you can save a lot of money on accommodations – and get a local experience –  when you travel by participating in a house exchange. House exchange websites are membership-based and require a nominal annual fee to participate. Once you are a member, you can send inquiries to other members whose homes you would like to use in exchange for them spending an equal period of time in your home.
Depending on what arrangement you make with the other member, you can exchange homes a few different ways. You could swap homes simultaneously, meaning the other party stays in your home at the same time you are staying in theirs. The exchange could also happen over two separate time periods, meaning you stay in their home while they are vacationing elsewhere, and at some other point in the year, they stay in your home while you are out of town. A third option could be for each member to host the other as a guest.
House exchanges have been around for years, long before AirBnb became popular, and they are still a fun and inexpensive way to experience life in a new city. Two of the most popular home exchange websites are HomeExchange and HomeLink.
If you're not quite ready to exchange homes with complete strangers, how about swapping with other military folks? The UJ Space A House Swap is a Facebook group managed by an Air Force retiree targeting Space-A travelers. You can list your home, or even a spare room, and find other military families who would like to host you or exchange homes all over the world. The group is free to join and there are no membership fees.
*** Read this insider's guide to house exchanges to learn what someone who has been doing it for 20+ year has to say! ***
House Sitting
Another way to get free lodging while living like a local is by house sitting. You stay in someone's home and take care of their pets, plants, or other aspects of household maintenance. In exchange, you get to live in their house for free. House sitting gigs range from a few days to several months or more and the amount of "work" you have to do varies widely. It can be a great option if you love animals and you're up for a little extra responsibility in exchange for saving a lot of money. Three reputable house sitting websites are MindMyHouse, HouseCarers and Trusted House Sitters.
*** Learn everything you need to know about house sitting from a retiree couple who spends most of the year getting free lodging while caring for other people's cats! ***