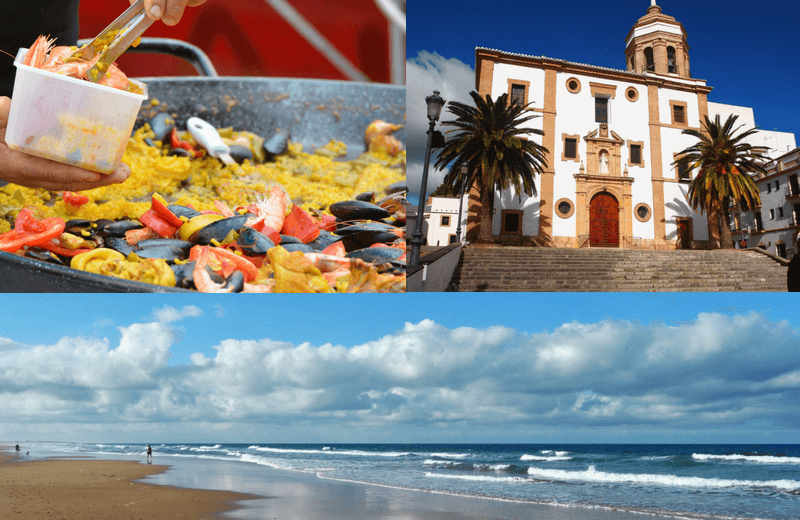 Sunshine, beautiful beaches, delicious food, and convenient access to cities all over southern Spain – that's what you'll find when you fly Space-A to Naval Station (NAVSTA) Rota. It's the only U.S Navy base in Spain and one of the easiest U.S. bases in Europe to reach from the continental U.S. Add Rota to your short list for your next Space-A adventure!
To help you plan your trip, here are eight things to know about flying Space-A to Rota.
Important Note: Space-A to Rota is restricted until further notice. NAVSTA Rota is no longer an official Spanish government port of entry. The only passengers who can fly Space-A into Rota are:
Passengers stationed in a Schengen country
Passengers holding Spanish passport or residency card
Passengers with a Schengen country stamp
If you are not familiar with the Schengen Area or why you need a stamp in your passport, please read this article from Department of State.
For passengers who are not in one of the first two categories above, I suggest flying Space-A into another European base, such as Ramstein or Naples, that has immigration staff available to stamp your passport.
From there, you can fly Space-A to Rota or use one of Europe's many low-cost airlines to fly commercial to Jerez or Seville (the two closest airports to Rota). Items 2 through 8 in the article below are still applicable for visitors to Rota who do not arrive on a Space-A flight.
This policy change does not affect flying Space-A from Rota to other destinations around the world as long as you received a stamp on your passport from an official port of entry into Europe.
We are monitoring the situation closely and will update this article with more information when it becomes available. Contact the Rota passenger terminal with any questions about your specific situation.
* * *
If you are new to Space-A flying, read this Quickstart Guide to Space-A Flights first to get a basic understanding of how the process works.
1. The most frequent flights to Rota are from the East Coast and other bases in Europe.
Rota is on the Patriot Express route originating at Naval Station Norfolk. Other bases with regular flights are Joint Base Charleston, Dover AFB, and Joint Base McGuire-Dix-Lakehurst.
Wright-Patterson AFB also has occasional flights, but their passenger terminal does not post flight schedules online. You can call their Space-A hotline at 937-257-6235 for flight information.
You can also fly Space-A to Rota via other bases in Europe. NAS Naples, NAS Sigonella, and NAS Souda Bay have flights to Rota most frequently.
When flying Space-A from Rota, you will see regular missions to the locations above as well as to Bangor ANG (Maine); JB Lewis-McChord; Travis AFB; Palma de Mallorca, Spain; and Ramstein AB.
Keep in mind that these are only the most frequent flights to and from Rota based on historical data. All Space-A flights are determined by mission needs, which change constantly.
Visit the Rota passenger terminal's web page to see their current flight schedules.
2. You need a stamp on your leave orders or a pass to get back on Rota Naval Base.
Passes and stamps are issued at the office outside the Rota gate. The office is staffed by members of the Spanish Navy (Rota Naval Base is a Spanish base). It's open 24 hours with 30-minute lunch breaks at 0400, 1400, and 2000.
If you are active duty on leave, you must have your orders stamped "BNR-SOLO ACCESO/ACCESS ONLY" with an expiration date. Your orders serve as authorization for you and any dependents traveling with you to enter the base.
Retirees and unaccompanied dependents need a pass to get back on the base after the first time you exit. Once you have the pass, you can enter the base by simply showing your ID and pass to the gate guard.
While your pass is valid, you do not need to stop at the office each time you enter. After your pass expires, you can repeat the process again and get a new one.
Make sure you have your military ID and passport (with valid Schengen stamp from an official port of entry) when you go off base, because you need both to get the base pass.
If you have a rental car, you need a separate vehicle pass, which the guard station will issue for the same period of time as your stamped orders or base pass. You must show your rental agreement to get the vehicle pass.
3. Rota has two base lodging facilities.
Navy Gateway Inns & Suites (NGIS) is slightly closer to the air terminal. It's a 15-minute walk (or a short taxi ride). From NGIS to the Rota gate is also about 15 minutes on foot. Navy Lodge is 5 to 10 minutes farther.
Contact the facilities directly for current rates.
New to military Space-A travel? Click here to get started using Space-A flights and lodging with our free 45-page guide.
4. The best deals on lodging may be off base.
There are many very nice, reasonably-priced hotels near Naval Station Rota. Outside of the summer months, when Rota is a popular destination for Spanish tourists, local hotels are often cheaper than base lodging. Three of our favorites are:
Hotel Duque de Nájera: This is the top hotel in Rota. It's in the perfect location next to the beach, across from the ferry terminal, steps from Rota's historic center, and only a mile from the base. If you travel to Rota during the off season, you may find rooms at this 4-star hotel for well under $100/night. Check rates for your dates!
(Click here to read a review of our stay at Hotel Duque de Nájera!)
Hostal Sixto: A charming guesthouse run by an Italian family, Hostal Sixto is also in a great location in Rota's historic center and very close to the base. It's beautifully decorated and has a very cozy European feel. While you're there, enjoy a few home-cooked Italian meals in their restaurant, Ristorante Italiano Tuscania. Click here to reserve your room.
Hostal Playa Hidalgo: This clean, simple guesthouse is only steps from Rota's best beach and a short walk to downtown Rota. It's a great value, and it was the perfect place to stay the night before our hop back to the U.S. Click here to book your room.
Note that Rota Naval Base has two main gates: the Rota gate, which leads to downtown Rota, and the Puerto gate, which leads to El Puerto de Santa Maria ("Puerto"). Most base facilities that you are likely to use are located near the Rota gate, which is also within a few blocks of many bars, restaurants, stores, and the beach in Rota.
The Puerto gate is a bit farther, so while you can certainly book accommodations in Puerto, know that you will need a car to conveniently access the base.
5. The Agreement on Defense Cooperation (ADC) between the U.S. and Spain limits use of certain base facilities at Naval Station Rota.
If you are not active duty stationed in Spain (or a civilian working on base), you cannot shop at the Exchange or Commissary. Fortunately, there is a much longer list of facilities and services that Space-A travelers can use.
You can use the NEXMart, which is large and has many grocery items. You can also use the other services in the mall, including the food court, souvenir area, and phone shop, and you can dine at any of the eateries on base.
The base dining facility, the Gateway Galley, is open to all ID-card holders for brunch (0930 – 1330) on the first Sunday of the month and for special holiday meals.
You have access to the fitness center, the movie theater and drive-in, the 18-hole championship golf course, and other MWR services, such as Outdoor Recreation and Tickets & Travel. If you are thinking of going to Córdoba, Granada, or other cities in Spain, check out their tours; they may have something that fits the bill.
| Related Reading: How to Visit Morocco from Spain
6. You Can Eat at the Spanish Navy's dining facility.
The Spanish Navy's cafeteria is available for use by all U.S. military ID card holders. It's located in Building 2061, and lunch is served from 1230 to 1500. Get there before 1330 to beat the rush, as the Spanish generally eat lunch later than Americans.
The menu is written on a small chalkboard, and you place your order at the bar. The staff bring the food to your table.
The menu of the day is less than €10 and includes two large plates of food (you choose among a few options for your first and second courses) plus a drink, bread, and dessert or coffee. You can also order tapas à la carte instead of the full meal.
The full menu is a LOT of food, and we found that one daily menu plus one tapa was good for two of us to share.
7. You can rent a car at the Rota passenger terminal, but it's cheaper off base.
The NEX rental car counter at the passenger terminal will rent to Space-A travelers. Having an on-base rental is convenient if you plan to return your car right before flying out of Rota, but you can find much better deals off base.
If you're looking for really cheap rental cars, Rota is not the best place to find deals. We've found the best rates near the Seville airport or train station (DoYouSpain is our go-to site for rental cars). Traveling to one of those locations is well worth the trip if you plan to keep the car for at least several days to explore the region.
| Related Reading: Plan Your Trip to Portugal (less than 3 hrs drive from Rota)
You should have an International Drivers' Permit (IDP) if you plan to drive in Spain. Rental agencies may not ask for it, but it's required by law, so you will need it if you are stopped for any reason.
IDPs cost $20, and all you need are a valid U.S. driver's license and two passport-size photos. You must get your IDP in the U.S., and there are only two places authorized by Department of State to issue it:
9. You can easily take public transportation for local, regional, or international travel.
The bus station is right outside the Rota gate. Buses go to several different locations in the region, including Puerto, Jerez de la Frontera, Cádiz, and Seville. This website has timetables for all of the bus lines that service Rota (enter "Rota" as the municipality and "bus" as the mode of transport).
A trip to the old city of Cádiz is a must when you visit Rota, and the nicest way to get there is by ferry. The ferry terminal is about a 20 minute walk from the Rota gate. You can find the timetable here.
Keep in mind that the ferry will not run if the weather is bad or the ocean is too choppy. On those days, the city operates a bus in lieu of the ferry.
The closest train station to NAVSTA Rota is in Puerto. Cádiz also has a train station. For everything you need to know about Spanish trains, check out this guide to train travel in Spain.
Jerez de la Frontera airport (XRY) is about 24 miles from the base and is the closest airport to Rota. Sevilla airport (SVQ) is about 80 miles.
Jerez is smaller, but both airports have international flights, and their respective websites have good information in English about ground transportation to and from the airports.
Ready to Go to Spain?
Now that you have the intel you need, it's time to plan your trip! Start tracking Rota flights from all of the bases mentioned in #1 above. Use this guide to help you read the Space-A flight schedules online.
Prior to travel, make sure you have all of the required documentation as well as the right clothing and gear for a Space-A flight. It's all on this list.
Then, get ready for beautiful weather, delicious Spanish tapas, and the best beaches you've ever seen!
More Information For Military Travelers Visiting Rota
First time in Rota? Here are the best things to do to make the most of your visit!
For regional travel ideas, check out Forty Day Trips from Rota, a book written by a military couple who were stationed in Rota for 3 years.
Another useful guide written by a military spouse is Welcome to Rota. It includes information about local food, culture, and travel.
UJ Space-A Info has more information and links related to Naval Station Rota.