Getting ready to take a military hop? Make sure you have everything you need to be comfortable, entertained, and travel-ready! Here's how you can prepare for your next Space-A flight.
If you've never flown Space-A, read this Quickstart Guide to Military Space-A Flights to learn the process.
Contents (click to expand)
Documentation
Before going to the military passenger terminal, make sure you have proper identification and paperwork. Requirements depend on your Space-A category and reason for travel.
Military ID: All travelers age 14 or older need a DoD uniformed services ID card. If you are traveling with children under 14 years old who do not have a military ID card, they must have a federal, state, local, or tribal government-issued ID.
Passport: If you are traveling to/from another country, bring your passport. When visiting U.S. territories in the Pacific (e.g. Guam), you don't need a passport, but it's a good idea to bring yours, just in case. You may need to hop a flight via a foreign country. The same advice applies if you have a no-fee passport from an overseas duty station; bring a regular passport as well.
Tourist Visa and/or Health-Related Documentation: If you plan to visit a foreign country during your travels, check to see whether you need a visa. Also, visit the website of the U.S. Embassy in your destination country to find out if they have any requirements for vaccines or pre-departure testing.
Ordinary Leave or Environmental Morale Leave (EML) Form: Active duty travelers must bring the applicable form and supply it when marking themselves present.
Unaccompanied Dependent Travel Memo: Dependents traveling without their sponsor must have authorization from their sponsor's command. Click here for details and sample memos.
Copies of Your Signup E-mails: The e-mails you sent to the passenger terminals serve as proof of the date and time of your signup. Most terminals will accept an electronic copy, but it doesn't hurt to have everything printed out.
You may have other documentation requirements, depending on your status. See section 4.8 of DOD Instruction 4515.13 for a full list.
What to Wear on a Space-A Flight
The key to staying comfortable on a military flight is to dress in layers. Most military planes are quite cold, but the temperature varies, depending on the type of aircraft and where you're sitting. You may also spend several hours waiting in the terminal, so dress in a way that makes it easy to adjust.
When flying Space-A, I dress as I do for a day of outdoor activity: layers of lightweight, breathable clothing. Everything I wear is dual-purpose, meaning I can wear it at multiple points during our trip. Dressing that way helps me pack light.
Layer #1: Lightweight Shirt
My first layer is usually a long-sleeved shirt like this one. It's made of "wicking" material that dries quickly, so it's great for travel, hiking, outdoor exercise, or a day exploring a new city. (This is the men's version.)
Layer #2: Thin Fleece Jacket or Vest
The second layer is a thin fleece. Avoid wearing anything too heavy, because it defeats the purpose of layering. This micro fleece jacket is perfect. (Here is the jacket my husband wears).
If you tend to get hot easily, wear a vest rather than a jacket for your second layer. Again, choose something light that's not too bulky, because there are two more layers coming! A fleece vest like this one works well. (Here is a similar vest for men.)
When selecting a jacket or vest, look for zipper pockets, which are more secure for travel!
Layer #3: Lightweight Insulated Jacket
This is another warm, yet very lightweight layer. You can stuff a jacket like this into the smallest space in your backpack. I bought a size up, because I knew I would wear it over other layers. (Here's the men's version.) I've had this jacket since 2015 and worn it on every Space-A flight we've taken. It's worth the investment!
Layer #4 Windbreaker
The fourth and final layer is a windbreaker. It keeps out the chill and fits easily over the other layers. In the spirit of making everything I pack dual-purpose, I look for a coat that is also waterproof or at least water resistant. I prefer men's windbreakers like this one because they are roomier across the back and tend to run longer. Here is a similar jacket for women.
Other Clothing
Next on the list: pants! Don't wear shorts, and don't let your kids wear them. There's no rule that says you have to wear pants, but military aircraft are way too cold for bare legs.
There IS a rule about what type of shoes you can wear: they must have closed heels and toes. In other words, no Crocs, sandals, or flip-flops. High heels are also not allowed.
If your hands and feet get cold easily, bring gloves and extra socks.
Remember that you will not have access to your checked baggage – even if you can see it on the pallet in front of you – during the flight. Any clothing you may need has to be on your body or in your carry-on bag.
What to Bring
Plan ahead for comfort and to keep yourself and your family entertained!
Note: as of 11 May 2020, AMC terminals have permanently discontinued pillow and blanket service, so if you want to sleep comfortably on the flight, bring your own!
Small, Lightweight Sleeping Pad/Mattress
This is a must if you hop a C-17 or other cargo plane and can lie on the floor during the flight. Having a sleeping pad is the difference between stretching out in relative comfort and sitting bolt upright while strapped into webbed seating along the sidewalls of the aircraft.
Of course, you may not know in advance what type of aircraft you'll get, so you want a sleeping pad that is not too cumbersome in case you can't use it. I have this Klymit sleeping pad, which rolls up to 3″ x 8″ and weighs slightly more than a pound. It fits in the side pocket of my backpack, and I can blow it up in fewer than 15 breaths.
| Related Reading: How to Choose a Sleeping Pad for Space-A Travel
Klymit makes several other sleeping pads, some of which are insulated and/or larger than the model I have. They all come in a few different colors. Make sure you click on each color to see pricing, because at least one of them is often on sale.
Travel Pillow
No matter what type of aircraft you're in, you need a travel pillow, and it's best to have one that does double-duty. Use the neck pillow configuration when you're sitting upright (Patriot Express, C-5, KC-10) and the rectangular shape when you're lying down (C-17).
If you prefer an inflatable pillow that folds down into a small pouch, we like this one. It's comfortable, takes only a few breaths to inflate, and has a carrying case that keeps it clean.
Travel Blanket or Sleeping Bag
It's usually very cold on military flights, and a light cover will help you sleep more comfortably. This one can be used as a sleeping bag or unzipped to make a large blanket, so it's useful on any type of aircraft. The compression bag shrinks it down to fit in the palm of your hand.
Ear Protection
Military aircraft are extremely loud, and you need ear protection. The flight crew supplies foam earplugs, but if you also want to listen to music or watch movies, get noise-canceling headphones.
For a smaller option (also at a lower price point but with excellent sound quality), we love these noise-canceling earbuds. They are wireless and fit very securely in the ear. You can adjust the degree to which these earbuds block surrounding noise, so if you want to remain aware of your surroudings, you can put them in "transparency mode."
Quick Dry Microfiber Towel
When taking military flights to/from OCONUS destinations, you may want to take advantage of the shower facilities offered at certain passenger terminals. Between the time you spend waiting in the terminal and your time in the air, you can easily go two days or more without staying in proper lodging.
Stow a quick dry towel like this one in your carry-on so that you can easily shower at the first opportunity, whether that's in the terminal or at the base fitness facility.
Water Bottle
Except on the Patriot Express, the only "amenity" on a Space-A flight is a self-serve keg of water. Everyone traveling with you should have a water bottle. These bottles have a locking lid, which keeps the spout clean and prevents spills. The lid pops open with a press of the button, meaning you don't have to touch the spout with dirty hands. I also like these water bottles because they are narrow enough to fit in the side pocket of a backpack.
If you want to save space, use foldable water bottles like these. Pack them flat, fold them up, or clip them to your bag, then fill up when you need them!
Kindle or Other E-Reader
One of the best ways to save space (and weight) in your suitcase is to store all of your books in an e-reader. It gives you a choice of reading material, including books, newspapers, and magazines. You can also add travel guidebooks to your e-reader and leave your copies of Rick Steve's at home!
I love my Kindle Paperwhite because it has a soft backlight, so I can read in the dark without waking other passengers. Don't forget to download plenty of reading material in advance. Many military passenger terminals do not have good WiFi.
Portable Charger
Keep your electronic devices powered up with a small, lightweight, portable charger. When there are dozens of people competing for a handful of outlets in the passenger terminal, it's best to have your own power source. Some aircraft have outlets, but don't count on it.
For the Kids: Movies and Games
Traveling with the kiddos? Keep them occupied during long waits in the terminal and on overseas flights. The Fire Tablet Kids Edition is a great choice, because it comes with a sturdy plastic frame, 12 hours of battery life, and tons of storage.
Remember to download movies, game and activities in advance. As noted above, don't rely on passenger terminal WiFi.
Click here to read more tips for flying Space-A with kids!
Other Essentials
Carabiner/D-Ring Clips: Attach a couple of these to your backpack, and I guarantee you will find multiple uses for them. They come in handy on cargo flights, because you can clip items to the webbed seating so that they don't slide away with aircraft movement. You can also hang water bottles, neck pillows, etc. from your backpack.
Mini Flashlight: With only two or three small windows, many military aircraft are very dark after takeoff. Bring a small flashlight so you can search through your bag and walk through the plane without tripping over the many tie-downs or cables holding cargo in place. Choose a flashlight that stays on by itself so you can have your hands free.
Hand Wipes: Most aircraft lavatories don't have running water. They often provide antiseptic wipes or sanitizing gel, but it's best to have your own supply of wipes, especially when traveling with kids!
Snacks: Bring plenty of food. At some terminals, you can purchase a boxed meal for less than $10 per person, but you won't receive the meals until you're onboard. Don't count on the snack bar in the terminal being open; the flight kitchen's hours can be unpredictable.
So there you have it. Bring everything on this list, and you should be good to go for your next Space-A flight. Hope to see you on a military hop soon!
Related Reading
Quickstart Guide to Military Space-A Flights
How to Pack for Long-Term Travel
The Best Travel Apps for Communication, Navigation, and Translation
Aircraft in cover photo courtesy of U.S. Air Force
Disclosure: As an Amazon Associate I earn from qualifying purchases.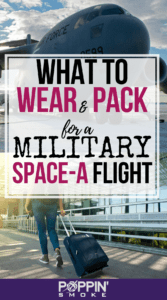 ✕
Get Your Free Guide to Military Space-A Travel
Subscribe to get the 45-page Guide and learn all about Space-A flights and lodging. You will also receive news and updates tailored to military travelers like you!