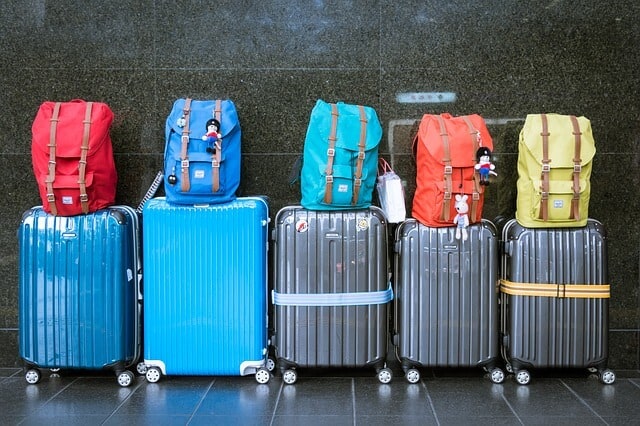 Many people ask how we managed to travel for more than a year with only a carry-on suitcase and small backpack each. In our experience, it was quite easy, but there's no one-size-fits-all packing list. How you use the precious space in your bag depends entirely on where you plan to travel and what types of activities you have in mind. So while I won't tell you exactly what should be in your suitcase, I can offer some general advice and recommend a few things that we consider essential when packing for long term travel.
If you make a purchase using one of the links below, Poppin' Smoke may earn a small commission. It helps cover hosting fees and is at no additional cost to you.
Suitcase or Backpack?
If you are traveling for an extended period of time, don't assume that you need a giant backpack. Think realistically about your travel style, your anticipated modes of transportation, and how frequently you will actually be in transit.
For example, if you expect to fly Space-A to Europe and rent a car, you may as well have a regular suitcase. Even if you plan to use trains and buses, how much easier is it walking to the station wearing a 50-lb backpack compared to rolling a suitcase behind you? Would you ever spend an entire day touring a city while carrying all of your belongings, even if they were in a backpack?
We asked ourselves those questions and opted for suitcases. We never regretted the decision. Here's the suitcase I use and love.
Pack Light. If You Need It, Buy It.
It's better to buy things as the need arises; then you know you have the right gear for the occasion. You can't possibly anticipate or bring everything you will need for several weeks or months of travel, so don't stress too much about your packing list. Unless you are going somewhere truly remote, chances are you can buy any essentials on the road. In our experience, many of the items we needed were cheaper abroad.
Packing light also gives you a better shot at a seat when flying Space-A. Some flights, particularly from bases in the Pacific, have a 30 or 40 lb baggage weight limit (depending on the type of aircraft and mission). Even if the terminal is full of Space-A passengers in a higher category than you, most of them will have too much luggage to be eligible for the weight-restricted flight. In that case, you and your 27 lb bag will go to the front of the line!
General Travel vs. Activity-Themed Trips
Whether you are traveling for a few weeks, several months, or a year+, if you want to stay light on your feet, you may have to decide in advance what activities you want to do. That way you won't fill your suitcase with items you will use only one time.
I have many things on my travel-related life list, but it wasn't realistic to do them all during our year of travel. Not that we didn't have time; needless to say, we could have done anything we wanted with 12+ months at our disposal. But we had agreed that we would have carry-on luggage only. It would have been difficult to travel light while packing for every possible activity.
For example, my husband and I both want to hike the Inca Trail. Unfortunately, incorporating that adventure would have required us to pack a bunch of stuff that we probably wouldn't need for most other phases of our trip. If the main focus of our travels had been hiking, of course we would have packed sturdy boots and other outdoor gear. But we were most interested in experiencing what it's like to live in different places around the world, and we needed to save room for regular clothes. We went on some great hikes, but nothing that our trail running shoes couldn't handle.
Our Favorite Travel Gear
Here are a few specific items we recommend for travel. I wrote a separate post related to our must-have technology, including travel apps and devices.
When shopping for a suitcase, it's important to get one
that's light,
spacious, and small enough to stow in the overhead compartment. Current Transportation Security Administration (TSA) guidelines say a carry-on suitcase can't be more than 22″ in length. I avoid "spinner" suitcases because the external wheels use up at least an inch of that space. I want that extra inch in the suitcase itself, which is why I like the inset wheels of this Travelpro Maxlite. As the name would suggest, this suitcase is incredibly light, and it's designed so that no matter what I put in it, it never feels heavy to pull. It's expandable, and the external pockets offer a generous amount of extra space. I also appreciate that the max handle height is suited to tall people like myself. Finally, this suitcase comes in many colors. I have the purple version, which makes it easy to distinguish my bag in a crowd.
There are many brands of packing cubes with different features. I love these
Eagle Creek cubes because the material is paper thin, yet durable, so they don't take up extra room or add weight to your suitcase.
I had never used packing cubes prior to our long term travel, but they are absolutely indispensable. They keep your suitcase organized and make frequent packing and unpacking much easier. Having different colors helps you remember what's in each bag. Bonus tip: You can fit a lot in these cubes. Make the best use of space by rolling your clothes instead of folding and stacking them.
This is a must for any kind of travel. Whether you are staying on base or in an apartment overseas, many places have little or no sink space in the bathroom. Having a toiletry bag that you can hang from the door or towel rack is essential. I like this bag because it has a good selection and variety of pockets. The little mirror inside comes in very handy when my husband and I are both getting ready and he is occupying the bathroom. I've had this bag for years, and it still looks like new!
Drawstring bags are great because they don't take up much room in your suitcase and can be used as daypacks. 
We usually have two or three of these bags of varying quality with us at any given time. The heavier-weight bag like this Adidas sport bag is for the gym, short hikes, or when we go out for the day and want to carry a spare jacket and water. We also have at least one cheap, thin bag that we got for free somewhere (e.g. as the goody bag for an event or conference). We use it for the beach or to wear while running, knowing that it won't last long and we will swap it for another free one.
Here's an example of something I bought on the road when I realized I needed it. I had packed two baseball caps, but those didn't do the job on long hikes. I was especially glad to have the extra coverage when we were in Quito, Ecuador, only steps from the Equator! The extra-wide brim shades my neck, and the chin strap keeps it in place on windy days. It travels very well; I smash it in my suitcase and it pops right back into shape.
Arm sleeves offer easy sun protection without having to apply sunblock, and when you go indoors or in the shade, you can easily take them off. I like them for travel because I can bring them in lieu of long-sleeved shirts. My husband wears these Nike sleeves, which come in different sizes and are made of breathable fabric. I bought my arm sleeves at an Asian grocery store in the U.S. for about $4, but they are not very breathable and only come in one size (usually too tight for men's arms).
Staying fit while traveling is important, and you can easily find ways to exercise without a gym. We have carried these bands all around the world, and they are a great way to keep in shape. Each band has a different level of tension, and there are dozens of exercises you can perform. You can use the door anchor included with the set or hang the bands on playground equipment, a fence, or the railing of a balcony. Test them out before you travel and try a few different exercises. You may find that you only want to bring one or two of the bands, depending on how many varieties of tension you need.
These ProSource bands were the second set of resistance bands I tried. The first set, even though they were called "Strong Man" bands, did not offer enough resistance. This set allows both me and my husband to get a decent workout.
If you're trying to travel light, one of the best ways to save space is by using a Kindle or other e-reader. A Kindle can hold more than 1,000 books. Even if you don't like to read for enjoyment on your Kindle, downloading a couple travel guidebooks that you otherwise would have brought in hard copy can save a significant amount of weight in your bag. You can also subscribe to newspapers through your Kindle, so you don't miss your favorite sources of news while traveling. Finally, you won't get caught with nothing to read when you are facing a long wait in the airport; you can download a new book anytime!
Adding books or other reading material to your Kindle does not have to be expensive. If you are an Amazon Prime member you can borrow e-books for free. You can also borrow e-books from your local library, and services like Bookbub notify you of books in your preferred genre that are on sale. I seldom spend more than $3 for a Kindle book.
My husband is an avid golfer and was concerned about losing his
game while traveling long-term. I bought him this telescopic golf club, which collapses to the size of a small travel umbrella and has an adjustable loft that allows him to play 18 holes with a single club. Problem solved!
Battery-Powered Sonicare Toothbrush


I loved my regular Sonicare toothbrush so much that I actually considered bringing the whole contraption: cord, stand and all. Fortunately, I learned that they make a travel version. It comes with the two AA batteries required to use it. The Sonicare is a little bit bigger than a regular toothbrush but well worth it for clean choppers, especially if you're traveling long term and aren't going to the dentist as often as usual. I seldom see this version of the Sonicare or the replacement toothbrush heads at the PX, so I buy them on Amazon.
When my husband and I got married in 2011, we agreed to choose one credit card with a great travel rewards program and put all purchases on that card (paying it off each month). After a bit of research, I chose the Chase Sapphire Preferred card, and it was a great decision. We've earned many free flights, including a recent trip from Japan to the U.S.
The sign-on bonus is 50,000 points, which is more than enough for a free plane ticket. You earn one point per dollar of purchases, plus an additional point for each dollar of expenditure related to travel or restaurants. When you are ready to redeem your points, you do it through their website, which has an interface similar to Orbitz or Travelocity. There are no foreign transaction fees, which is an important feature for international travelers. But one of my favorite things about this card is that when you call Chase with a question, a real person answers. No voice menus, no waiting, and no conversations with a robot.
If you sign up using one of the links in this post, we may earn bonus points for the referral (thank you!). You can also search for the card directly, but either way, you get the 50K point sign-up bonus.
****
The freedom of having a small amount of luggage that you can easily pack and carry far outweighs the benefit of having every single item you could possibly want in your suitcase. So pack the basics and any essentials, zip your bag, and move out!
Do you travel with a suitcase or a backpack? Are there any travel items that you can't live without? Share your feedback in the comments!