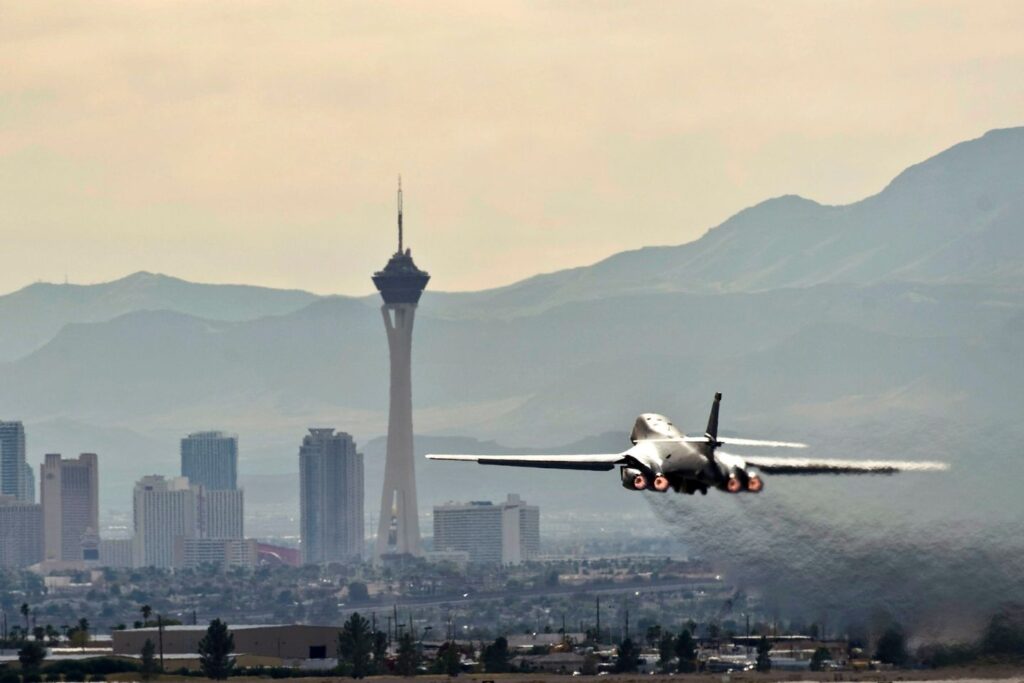 Did you know there is an Air Force base less than 15 miles north of the famous Las Vegas Strip? Nellis Air Force Base is the headquarters of the U.S. Air Force Warfare Center. Primarily a training base, it does not have frequent missions on cargo planes, so you would need to get lucky to catch a hop to or from this location.
Since luck is when opportunity meets preparation, here are 7 tips that will prepare you for when the opportunity knocks to fly Space-A via Nellis AFB!
If you are new to Space-A flying, read this Quickstart Guide to Space-A Military Flights first to get a basic understanding of how Space-A works.
1. You are more likely to fly Space-A to than from Nellis AFB.
Nellis generally has more incoming flights with Space-A seats than outgoing flights.
The bases with the most frequent flights to Nellis are Travis AFB and JB McGuire. The infrequent outgoing missions that release Space-A seats are most often to those bases.
Historically, other bases that have had several flights per year to Nellis are NAS Whidbey Island (Washington), JB Elmendorf (Alaska), and JB Charleston (South Carolina).
Of course, military missions can change any time, so you may see flights via Nellis to/from any location. Contact the Nellis AFB passenger terminal to inquire about their flight schedules.
2. Nellis has one lodging facility that has rooms in multiple locations on the base.
Air Force Inns has multiple buildings on base. All reservations and check-in are done through the Nellis Inn, which is less than a mile from the passenger terminal. The other buildings are scattered throughout the base. The farthest is about a mile from the Nellis Inn.
The Nellis Inn has standard rooms and Temporary Lodging Facilities (TLFs), which are suites. At certain times of the year, TLFs are not available for Space-A reservations.
3. Ground transportation at Nellis is limited.
Nellis does not have a base shuttle, and taxis/Uber are not allowed on base unless the driver has a military ID card. The main part of the base is relatively compact, so (depending on the outside temperature), it's a reasonable walk to most of the facilities you are likely to use.
If you want to go somewhere off base, you must meet the driver at the main gate, which is about a 1/2 mile from the Nellis Inn.
One local taxi driver (a military retiree) who has base access is Chris Abney (cell: 254-371-5840, e-mail: rara7divine@aol.com).
Enterprise Rental Car also has a location in the Exchange mall.
4. Parking is available for up to 30 days.
The parking lot is located behind the terminal.
5. Retirees can eat in the dining facility.
Crosswinds Dining Facility has very good food with many healthy options. They post their weekly menus online. For the price, it's a great deal!
Crosswinds is a 5-minute walk from the Nellis Inn.
6. The nearest civilian airport is Harry Reid International Airport.
The airport is in downtown Las Vegas, about 30 minutes from the base, and has flights to just about anywhere you would want to go!
We hopped a rare mission from Naval Station Rota (Spain) to Nellis in June 2022. While Las Vegas was not close to our final destination, it was a good place to land. After spending a couple days on base, we easily found cheap last-minute flights for the last leg of our journey.
7. While at Nellis, use MWR services to find fun things to do in the area.
If you decide to spend time at Nellis rather than heading straight to your final destination, check out the Force Support Squadron website, for things to do while you're there. Remember that retirees, family members, and other ID-card holders can use all of the MWR facilities and services!
The Information, Tickets, and Travel office has tickets to concerts, shows, and sports events. The Outdoor Recreation office organizes fun adventures, such as kayaking, off-roading, and deep-sea fishing.
Base MWR facilities include a giant state-of-the art fitness center and a beautiful championship golf course!
Ready for your visit to Nellis AFB?
Now that you have the scoop on Nellis, you're all set if you happen to catch a hop to or from there!
It's also a good base to know about if you're doing a road trip and you've got your own wheels. Nellis is very convenient to the Vegas Strip and to plenty of local outdoor activities, including hiking and skiing. Plus, it has a fantastic RV campground called Desert Eagle RV Park.
However you get there, Nellis is a great base to check out!