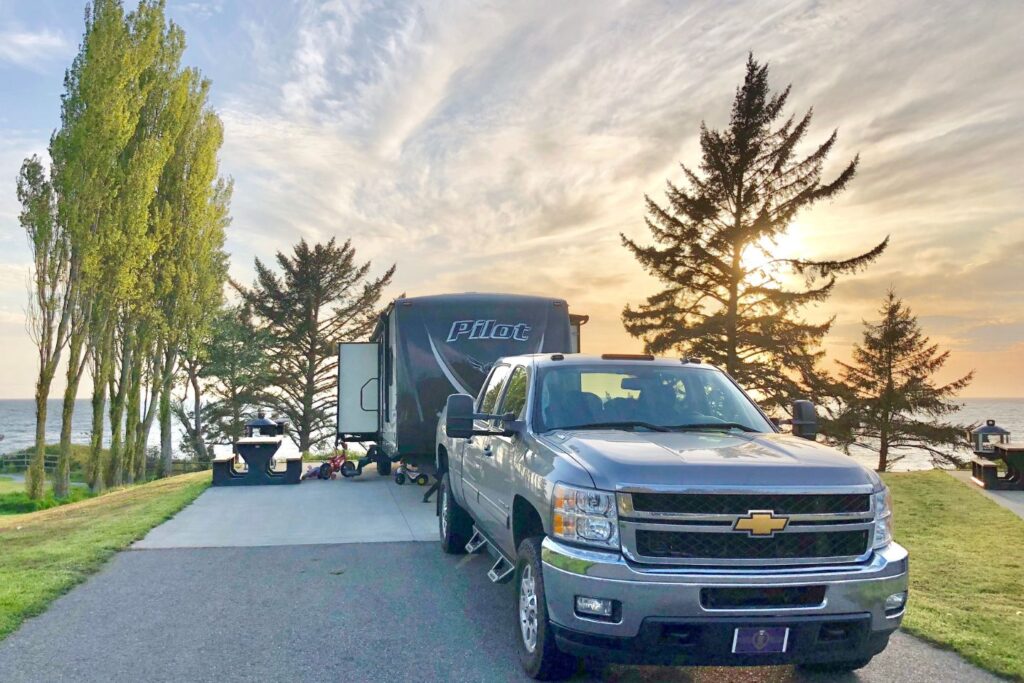 For members of the military community who enjoy RV travel, military campgrounds are a great deal! A better value than comparable civilian facilities, they offer several advantages, including easy access to other base amenities, such as a commissary/Exchange, golf course, movie theater, fitness center, and recreational equipment rentals.
Some military RV parks (also called "FamCamps") are on secure military bases, while others are in recreation areas that are not part of military installations. Either way, you get access to facilities that are not open to the general public.
You can find more than 250 military campgrounds throughout the United States, but we've got recommendations from seasoned military RV travelers who say the following 12 facilities are among the best military RV parks in the country! Check out their advice!
If you've never stayed at a military campground, read this important information to get started and learn about eligibility. To obtain current pricing and reservation policies for the facilities below, visit the web pages linked in their summary.
Contents (click to expand)
Fourth Cliff Family Recreation Area (Humarock, MA)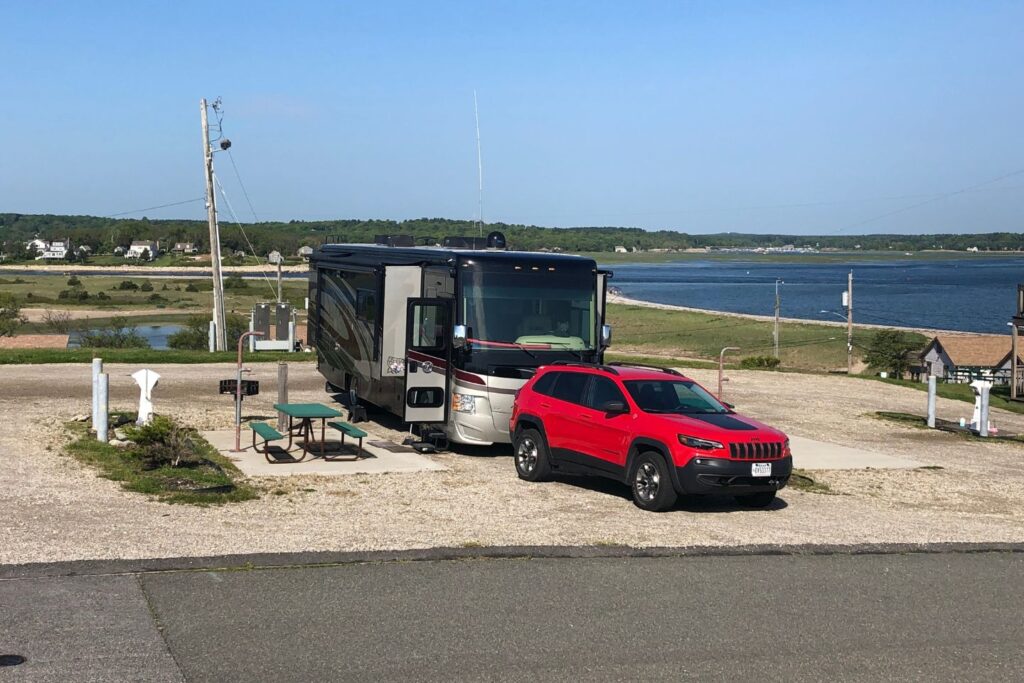 The Basics
This military recreation area is an activity of Hanscom AFB. Located directly on the ocean in southern Massachusetts, it has 11 full-hookup sites. It is open year-round with limited availability January-April. They also have rental cottages.
What's Great About It
This RV park is all about the ocean and the location. Fourth Cliff has great views of the Atlantic, and you can fall asleep to the sounds of waves crashing on the cliff! The surrounding area (e.g. Scituate, MA) is beautiful. Plymouth, MA is only 30 minute by car, and the train station to Boston is about 25 minutes away.
Know Before You Go
You must call to make a reservation. Some of the sites are uneven and hard to get level.
– Recommended by Stacy Farley from You, Me and the RV
NSA Annapolis Campground (Annapolis, MD)
The Basics
This little jewel of a campground, part of Naval Support Activity Annapolis, is located across the river from the U.S. Naval Academy. It is open year-round and has 14 RV sites with water and electric.
What's Great About It
Location, Location, Location! Annapolis is walking distance, but I would highly recommend biking. Water access abounds, and bank fishing is available from the river. On a good day, midshipmen can be seen on the water practicing seamanship.
There is a NEX, gas station and commissary conveniently located on the compound, and the Naval Academy golf course is a short walk. An adventure challenge trail runs directly behind the campsite. Patrons can also rent boats, kayaks, stand-up paddle boards, and bikes through the base marina and outdoor recreation equipment rental program.
| Related Reading: Annapolis is the Perfect Getaway for Military Travelers
This facility offers plenty of terrain to romp and roll with many novelty sites. It's also very affordable, especially considering the location. My humble opinion: this FamCamp is top shelf.
Know Before You Go
Reserve early! ALL lodging, even downtown, is full during graduation, and available parking is extremely limited (similar situation for fall football weekends). Also, accessing campsites can be difficult for larger rigs.
– Recommended by John Pendleton
Fort Belvoir Travel Camp (Fort Belvoir, VA)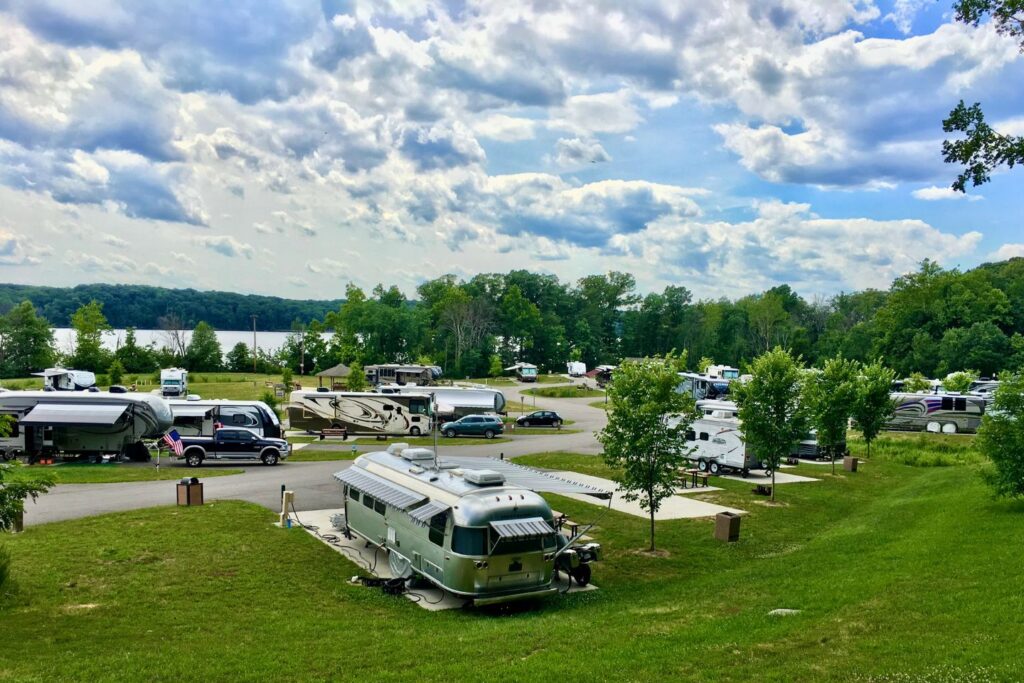 The Basics
Fort Belvoir Travel Camp is located on the shore of the Potomac River, about 22 miles south of DC. The campground has 52 full-hookup sites and is open year-round.
What's Great About It
If you're planning a trip to our nation's capital, Fort Belvoir Travel Camp is a great place to stay! It offers spectacular views and numerous amenities. This military recreation area includes a park, two fishing piers, and hiking trails, all within walking distance.
The Outdoor Recreation office is also just down the road from the campground and rents just about anything you need to enjoy this waterfront location, including pontoon boats, kayaks, stand-up paddle boards, and fishing gear.
If you'd like to visit Washington DC, but don't want to deal with the traffic or parking, the closest Metrorail station is only 9 ½ miles from the base. George Washington's Mount Vernon estate (only 6 miles away) is a must-see. This living history museum has historic buildings, numerous themed tours, gardens, narrated boat rides on the river, and more.
For some of the best hiking in the DC area, visit Shenandoah National Park, which is only 90 minutes from Fort Belvoir!
Know Before You Go
This military FamCamp is a very popular destination in the summer, so reserve early!
– Recommended by Julie Chickery from Chickery's Travels
Camp Dawson Event Center (Kingwood, WV)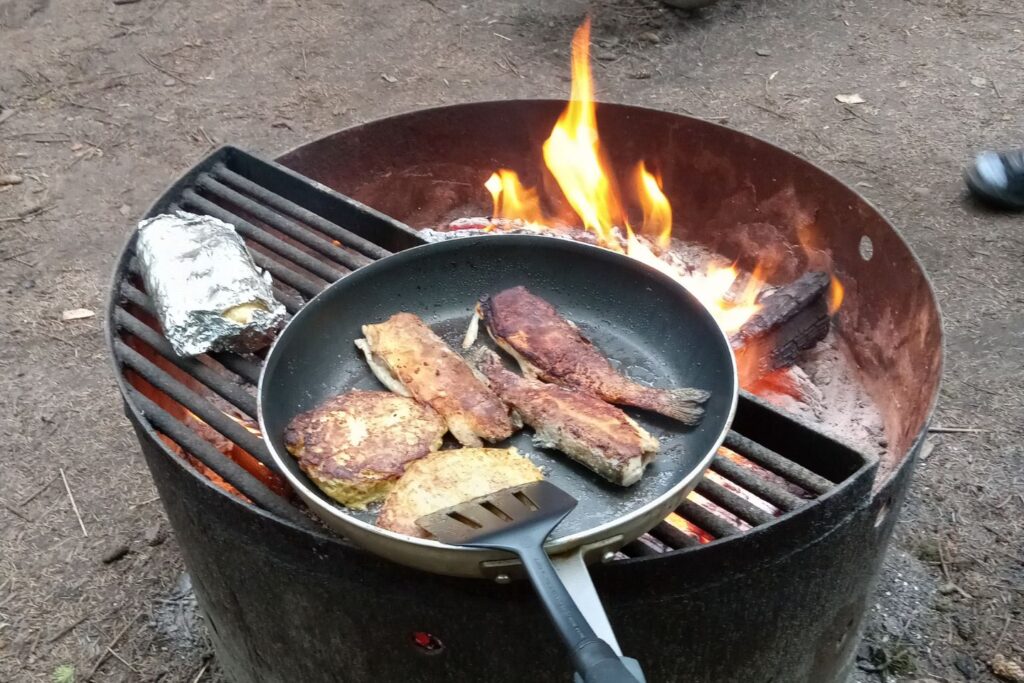 The Basics
Camp Dawson is a West Virginia National Guard facility located on the banks of the Cheat River. It's open year-round and has six RV sites with electric hook-ups only. A pool with locker rooms/showers is a short walk from the campground. As of this writing, their official website does not have info about their RV sites, but you can call the phone number listed on their site to inquire or make a reservation.
What's Great About It
While a bit remote, Camp Dawson, is well worth the effort, especially if you want to establish a home base and experience friendly West Virginia hospitality. It is a new, modern facility, so everything is in working order. It's also very inexpensive, plus it has free laundry facilities.
Dawson is an active training base so there's plenty of space to jog, bike, and walk. You can also challenge yourself on the obstacle course. Besides obvious base benefits like the pool, gym, Exchange and security, this small compound offers many options for outdoor activities. It borders a fast-running river and a golf course.
Pierce Lake, literally a stone's throw from the campground, is stocked with perch, catfish, and trout (no West Virginia state fishing license required).
Retired military travelers have access to the dining facility with a surcharge. So, it is possible to enjoy a full meal for under $10.00. If Army chow doesn't appeal, there's a small onsite restaurant offering an affordable menu.
I chose to dine on freshly-caught perch and catfish. Bring your own bait! I caught the catfish with a hotdog and trout scent.
Know Before You Go
This facility has electric hookups only and no RV dump station. Also, the RV sites may flood with heavy rain.
– Recommended by John Pendleton
Weston Lake Recreation Area FamCamp (Columbia, SC)
The Basics
Weston Lake Recreation Area is an activity of Fort Jackson and is located on the base. The 33 sites are full hookup, all back-ins, with 30- and 50-amp plug-ins. Your National Parks pass gives you a discount on the already reasonable rate!
What's Great About It
This great military FamCamp is nestled in the woods, a beautiful setting on a man-made lake with a sandy beach. The tall pine trees surround the whole campground and make you feel like you're right in the forest.
The lake is used for fishing, boating, kayaking, and paddle boats (no swimming allowed at this time). There are also several community buildings, houses, and covered shelters with picnic tables that you can rent for parties, reunions, or weddings. A few other amenities they offer include a disc golf course, trails, playgrounds, and hiking trails. You can also rent boats, kayaks, and canoes.
This is a great campground if you are looking for a place to stay off the beaten path, just 7 miles off the interstate.
About 16 miles from the campground is Congaree National Park. Congaree is a small national park with great hiking and kayaking/canoeing areas. Most of the trails are wooden and very easy to hike. It is full of giant loblolly pine trees, some of the tallest pine trees in the world.
Also, about 14 miles away is the capital of South Carolina, Columbia. This southern town is small, full of history, and known for its great food. Visit the capitol, check out the Harbison State Forest, or stop and feed the giraffes at the Columbia Zoo.
Know Before You Go
The campground is in a remote location. Make sure you get groceries and gas before camping.
– Recommended by Patty Gill from Gills on Wheels
JB Charleston Air Force Base FamCamp (Charleston, SC)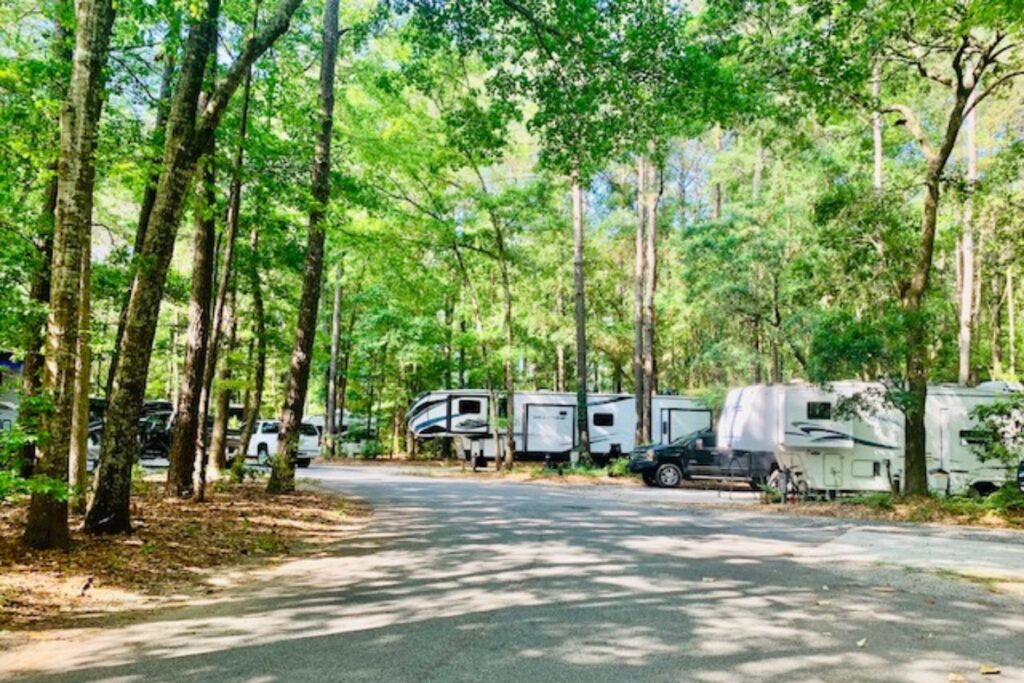 The Basics
JB Charleston AFB FamCamp is located on the Air Force side of JB Charleston (base access required). It has 43 full hookup RV sites.
What's Great About It
This campground is full of trees! It feels like you are at a State Park out in the forest. You would never know this campground is located on a military base. All of the RV sites are huge, paved, and well-maintained, with immaculate landscaping.
They have the usual laundry, playground, picnic area, pool, basketball and tennis courts, plus a climbing wall and equipment rental in the Outdoor Recreation Center where you check in.
Charleston historic district is about 20 minutes from the base. Make sure you start at the Charleston Market square, which is full of local vendors, artists, and food vendors. Then, you can easily walk to all the historic attractions on your own, pay for a walking tour, or they have carriage tours to take you around the city.
If time permits, you can take a ferry over to Fort Sumter, which is located on a small island in the Charleston Harbor and only accessible by boat. There are also several harbor cruises you can take. Lastly, the Citadel Military college is in Charleston. They offer daily campus tours for visitors, or you can just drive through to see the beautiful campus.
Know Before You Go
You must call to reserve – no online or e-mail reservations. Check-in is at the Outdoor Recreation Center. There is no campground office.
– Recommended by Patty Gill from Gills on Wheels
KARS Park (Merritt Island, FL)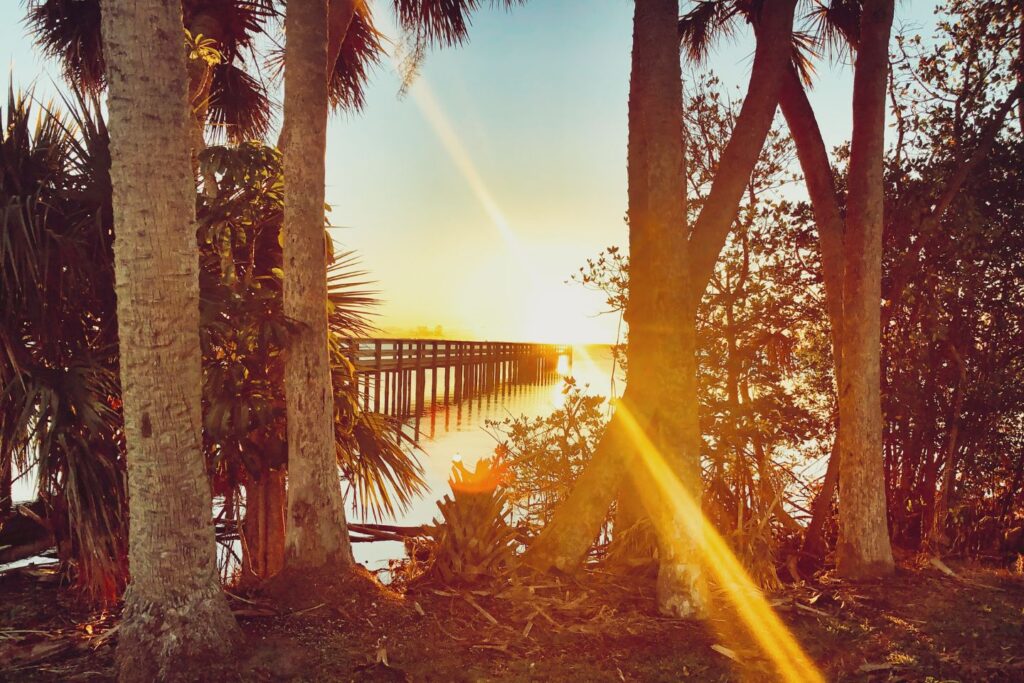 The Basics
This facility is located on the south end of Kennedy Space Center. Originally for exclusive use by NASA employees, retirees, and family members, it is now accessible to active military personnel and retired military members. It has 104 RV sites with water/electric and two dump stations. The 20 sites located on the water are first-come, first-served, and stays are limited to 2 weeks.
What's Great About It
KARS Park is the perfect place to watch a launch from the Space Center. We were able to see three launches in a 2-week period. They have recently built piers at every other waterfront RV site for better launch viewing.
KARS Park also has many recreational activities including a marina with pier and boat ramp; ball fields; racquetball, tennis, and basketball courts; playgrounds; and miniature golf. Just outside the front entrance is an 18-hole golf course.
Know Before You Go
You must purchase a membership card to use the facility at $20 per year/per family. This facility is only accessible to active duty service members, retired military personnel, and family members with a valid military ID card. Veterans Health Administration identification card (VHIC)-holders are not eligible.
– Recommended by Stacy Farley from You, Me, and the RV
Blue Angel Park (Pensacola, FL)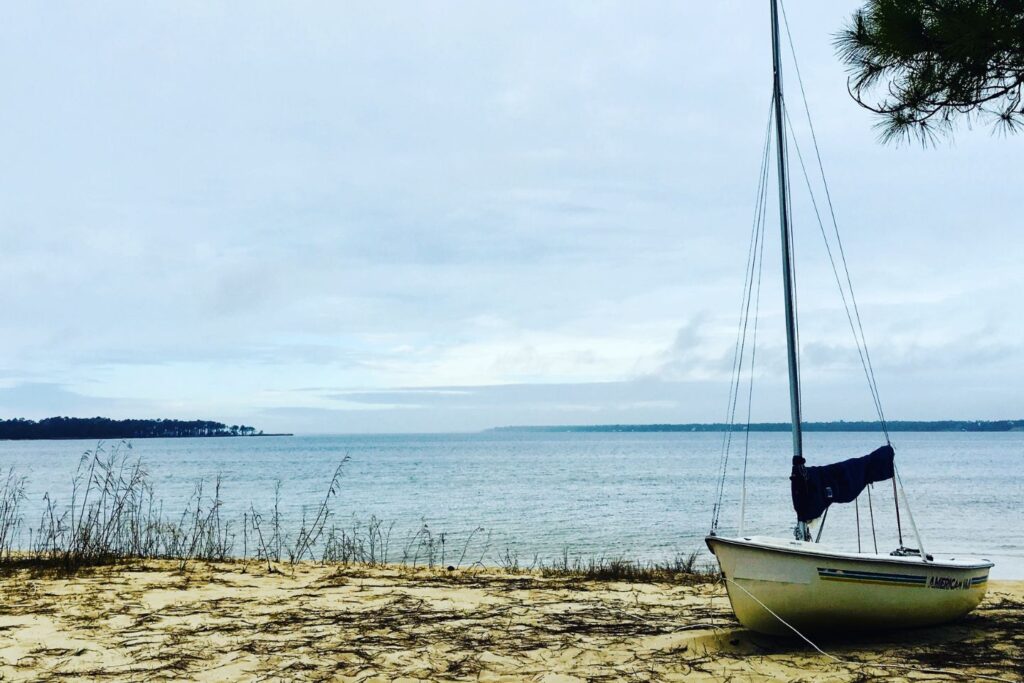 The Basics
This fabulous campground is located on Perdido Bay in a designated recreation area 15 minutes from Naval Air Station Pensacola. It has two distinct camping areas: Battleship Row, with 75 large full-hookup (electricity, water, and sewer) sites and Anchor Cove, with 72 partial hookup (electricity and water) sites plus access to a dump station.
It also has several cabins and 2-bedroom mobile homes for rent.
What's Great About It
The recreation area has its own small beach and marina that rents kayaks, stand-up paddle boards, and sailboats. From April 1st to September 30th they also offer beginner and intermediate sailing classes.
The water isn't the only attraction here. Blue Angel park also has disc golf, paintball, a playground, and numerous nature trails. It's only a 20-minute drive to the world-class Naval Aviation Museum on the base or the peaceful Perdido Key State Park beach.
| Related Reading: The Best Military Campgrounds in Florida, Arizona, and California
Know Before You Go
Note that only one of the camping areas has full hookups!
– Recommended by Julie Chickery from Chickery's Travels
Desert Eagle RV Park (Las Vegas, NV)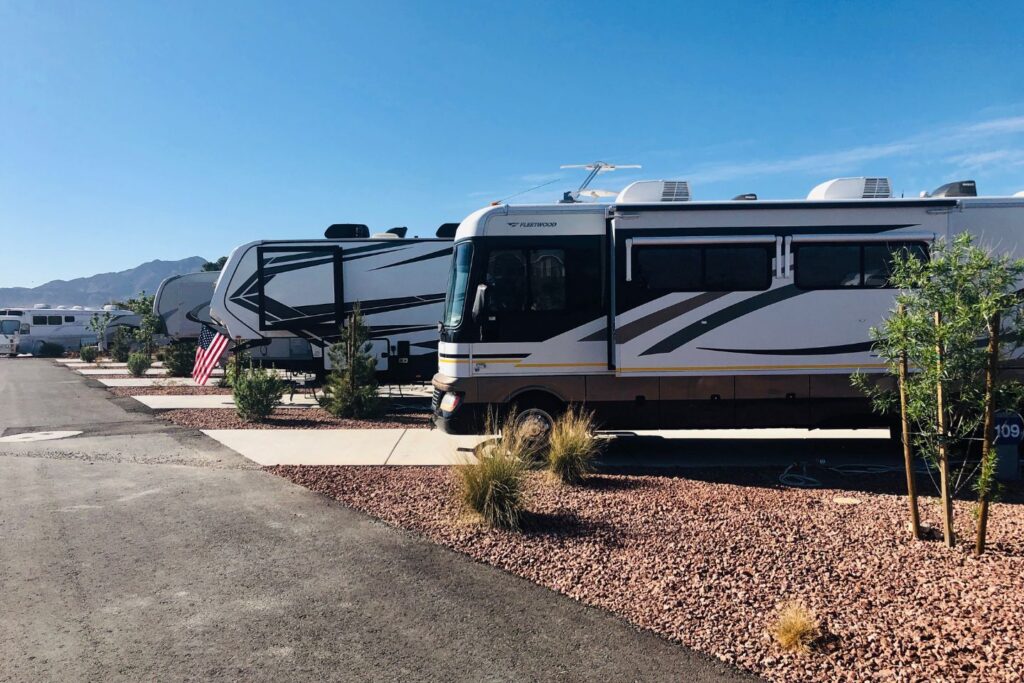 The Basics
This campground on Nellis Air Force Base is a great option to enjoy a desert getaway. Located 15 miles from the famous Las Vegas strip, the campground has 223 full-hookup and 4 partial hookup sites.
The campground is divided into two areas: the older "wagon wheel" section with more established trees for shade, and the new area with less shade, but very long pull-through sites.
What's Great About It
The campground is on the housing side of the base with the hospital and convenience store. The main commissary and all other recreational areas are across the street. The Warrior Fitness Center on Nells AFB is a state-of-the-art gym with an indoor track, pool, basketball courts, and more.
There is so much natural beauty in the area as well. Lake Mead National Recreation Area is 30 miles southeast of the base. It offers many hiking trails, water activities, and Hoover Dam.
Less than 40 miles northeast is Valley of Fire State Park with some of the most amazing red sandstone formations in the Mohave Desert. Mount Charleston is 45 miles west of the base and offers skiing in the winter and hiking without the heat of the lower elevations in the summer.
Know Before You Go
Note the differences in the two sections. Both are mostly full hookup, but one is more established with shade and the other is all pull-through.
– Recommended by Julie Chickery from Chickery's Travels
Fairways RV Resort (Port Hueneme, CA)
This facility is on Naval Base Ventura County. Aptly named, it's right next to the fairway of the Seabee Golf Course on base. It has 85 full hookup pull-through sites.
What's Great About It
The location is the best thing about this park. Right near the beach, it's a great value, with fees about half of what other local campgrounds charge.
Malibu is 45 minutes and Santa Monica is about an hour away. The campground is also right next to the Channel Islands National Park (NP) visitor center. Channel Islands NP is one of the most beautiful – but least visited – national parks, because you must take a ferry to get there. You can hop a ferry from Ventura to explore the islands on foot or by kayak!
Know Before You Go
The RV sites are paved but close together. Also, RV parks in coastal areas are popular, so reserve early!
– Recommended by Stacy Farley from You, Me & the RV
Camp Rilea RV Site (Warrenton, OR)
The Basics
This small campground is located within Oregon's Camp Rilea Armed Forces Training Center at the north end of the beautiful Oregon coast. It has 10 RV sites with full hookups and eight with electric only. Call for reservations.
What's Great About It
The campground is convenient to Oregon beach life and very cost-effective. Only a couple miles north of Sunset Beach, a 10-minute drive to Fort Stevens State Park, and 15 minutes from the picturesque town of Astoria, it's an especially good value if you're able to get in during peak time.
Camp Rilea is a small open compound, with plenty of room for bikers, walkers, and joggers. During training time, the air echoes with marching or troops working out. If you're there during a training period, the small galley allows military retirees to dine. The base also has a reasonably-priced small restaurant/bar and a pond for fishing (I caught a couple small perch).

During my stay, Army air assault training was underway, so there was plenty of troop movement along with cadence calls at 0430! If you like to see troops training, there's an active firing range located behind the campsite.
Know Before You Go
This facility has fewer of the usual base amenities that you normally find at a military campground. There is no Internet access at the campsite, and the Shoppette is small, so bring your own necessities.
– Recommended by John Pendleton
Cliffside RV Park (Oak Harbor, WA)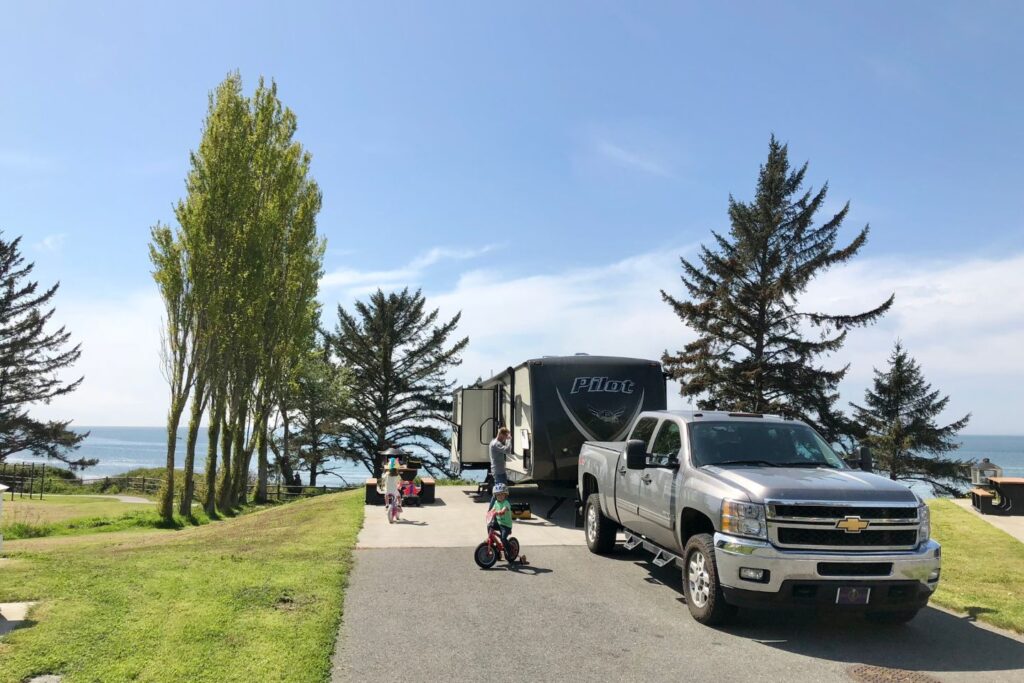 The Basics
This military campground is located on Whidbey Island Naval Air Station. It has 52 RV sites with full hookups. They have nightly, weekly, and monthly rates.
What's Great About It
The waterfront RV spots have spectacular views! Only steps from the beach, you will enjoy beautiful sunsets at this military campground. It also has nice walking trails.
A good location for military families, there is also a great movie theater and bowling alley on base that we enjoyed with the kids.
Know Before You Go
While this location is one of the more expensive military RV parks, it's well worth the cost for the views.
– Recommended by Teaya Tompkins from Tompkins Farm
* * *
Military campgrounds are a good choice if you want a great value in a safe environment with plenty of access to recreational opportunities and, in many cases, a range of base facilities. Taking advantage of military RV parks is yet another way to use the benefits you've earned through your service!
What's your favorite military RV park? Tell us about it in the comments!
All location photos courtesy of their respective contributors unless otherwise noted.