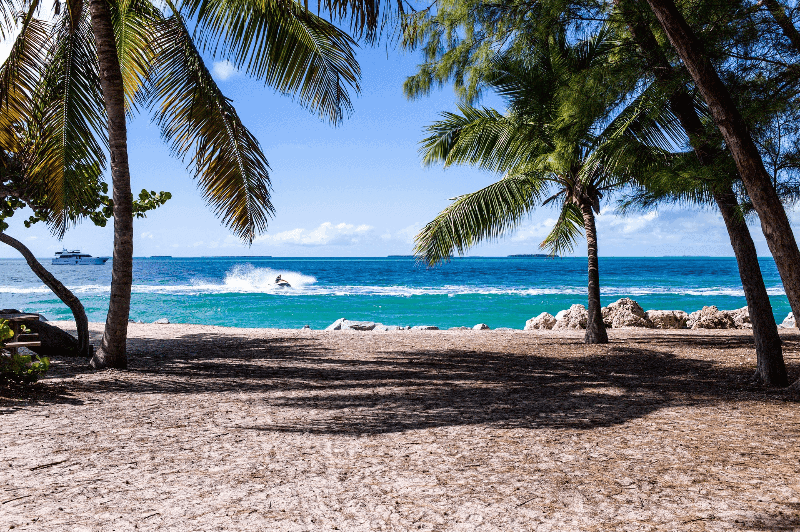 Looking for easy, affordable vacation ideas? Military recreation centers are the perfect way to package everything you and your family need in one place; no stress, no hassle!
Previously, we highlighted great military recreational lodging facilities all over the U.S. Here is the overseas edition featuring 10 more facilities for military families stationed or traveling outside the continental U.S. (OCONUS).
You may be familiar with the Armed Forces Recreation Centers, which include Edelweiss in Germany, the Hale Koa in Hawaii, and Dragon Hill Lodge in Korea. Those resorts are amazing, but there are many other places to plan your military vacation. Here are 10 lesser-known OCONUS military recreation areas to try this year!
Contents (click to expand)
The Cottages at Kaneohe Bay (Oahu, HI)
These serene beach cottages are located on Marine Corps Base (MCB) Hawaii and are among several military resorts in Hawaii. They offer amazing views of Kaneohe Bay, a beautiful stretch along the coast of Oahu. While you're there, you can enjoy the other facilities on MCB Hawaii, including the famous Kaneohe Klipper golf course, known as one of the best courses in the military.
The cottages are basic but are fully furnished with kitchens and private decks. All of the 13 cottages have 2 bedrooms and 1 bath and can accommodate up to 4 guests. The rate is the same per night for all patrons year round. Visit the MCB Hawaii lodging page for current pricing.
Reservation Policy:
Active duty stationed at Kaneohe Bay or Camp Smith: up to 4 months in advance
Active duty Marines not stationed on Kaneohe Bay: up to 3 months in advance
Other active duty, reservist or retired military: up to 2 months in advance
Bellows Air Force Station (Oahu, HI)
This beautiful recreation area is located on Waimānalo beach on the southeastern side of Oahu, Hawaii. Bellows has 117 lodging units, including cabins, condos, and campsites.
You can rent virtually any type of beach, camping, or sport equipment from the Turtle Cove recreation station. They also offer fun adventures like snorkeling tours, stand-up paddle board lessons, and Hawaiian culture classes.
| Related Reading: Military MWR Resorts, Cabins, and Campgrounds
Standard cabins and condo units sleep up to 6 guests. Other options including the "rustic" Cedar Camper cabins and the family campsites. Contact Bellows directly for current pricing.
Reservation Policy:
The peak summer season runs from the Friday before Memorial Day through the first weekend in August. The window for active duty reservations opens in February. Other eligible patrons can reserve for summer starting in March.
Reservations for non-peak season can be made up to 13 months in advance if you book online (12 months for phone reservations). For the full reservation policy, visit the Bellows website.
Pacific Missile Range Facility (PMRF) Barking Sands Beach Cottages (Kauai, HI)
Enjoy an escape to paradise on the island of Kauai. It takes a little extra effort to get here, but you will be rewarded with peace and quiet, great views, and a good base from which to explore one of Hawaii's less-visited islands.
While staying at Barking Sands, the only Kauai military resort, you also have access to other facilities on PMRF, including the fitness center and the Community Recreation Center, which rents all of the equipment you need to enjoy your time at the beach.
Barking Sands has 24 cottages. Half are beachfront, but all have ocean views. The 2-bedroom, 1-bath cottages sleep up to 6 people. The 3-bedroom, 2-bath cottages can accommodate 8 guests. Contact Barking Sands directly for current rates.
Reservation Policy: Up to 1 year in advance for active duty, 6 months for all others.
Seward Military Resort (Alaska)
This full-service recreational facility is located in Seward, Alaska. It offers year-round activities for adventurous travelers, including charter fishing tours, snow sports, hiking, ziplining, and glacier-viewing.
Seward Resort has many accommodation options, including a motel, townhouses, log cabins, and RV/camping sites. Prices vary by rank, season, and type of accommodation. Visit their website to see the full list of rates.
Reservation Policy: All guests may reserve up to a year in advance.
Okuma Beach (Okinawa, Japan)
Okuma Beach military resort is an amazing beachfront recreation area at the northern end of Okinawa, Japan. About a 90-minute drive from Kadena Air Base, it makes for a great getaway from the cluster of U.S. military bases on the central part of the island.
You can enjoy a variety of beach and marine activities, including jet ski rental, glass bottom boat tours, and snorkeling. Okuma Beach also has facilities for tennis, golf, and Go-Karting.
Lodging options at Okuma Beach include cottages, cabins, bungalows, and individual studios/suites. Prices vary depending on the accommodation and time of year. Peak season is April through September.
Reservation Policy: All patrons can reserve for peak season up to 6 months in advance. Non-peak reservations can be made up to 11 months out.
Tama Hills Recreation Center (Japan)
If you're looking for an escape near the Tokyo/Yokohama area in Japan, Tama Hills is a great way to relax and spend time outdoors. This facility includes a golf course and numerous other sports fields. You can also enjoy hiking, mountain biking, and archery. The Outdoor Recreation Office rents a broad range of camping, sports, and outdoor equipment.
| Related Reading: Staying at the New Sanno Hotel in Tokyo
Tama Hills has a lodge with rooms starting at $50 per night. They also have cottages, yurts, and campsites.
Reservation Policy: Only SOFA status personnel stationed in Japan may reserve lodging at Tama Hills. Rooms can be reserved up to 120 days in advance for eligible patrons stationed at Yokota Air Base. Patrons stationed elsewhere in Japan have a shorter reservation window or other restrictions. Visit the Tama Hills website for details.
Wild B.O.A.R. Outdoor Recreation Cabins (Germany)
This facility is an activity of Grafenwoehr, Germany MWR and includes cabins in two different locations.
The cabins at Grafenwoehr (Tower Barracks), along with the entire Wild B.O.A.R. Outdoor Recreation center, are located on scenic Dickhäuter Lake. The 2-bedroom cabins accommodate up to 5 people, while the 3-bedroom cabins sleep up to 7 guests. Each cabin is equipped with a kitchenette and free Wi-Fi.
While staying at the cabins, you have access to all of Wild B.O.A.R. Outdoor Recreation's activities. There is an on-site climbing wall and ropes course, equipment rental for a huge range of outdoor activities year-round, and many day trips and tours.
The cabins at Vilseck (Rose Barracks) are a bit more rustic but have modern furniture. They also have full kitchens, but no Wi-Fi. A 2-bedroom cabin sleeps 4 and a 3-bedroom cabin can accommodate up to 6 people. Facilities near the cabins include a playground, camping area, an RV parking area, and a sports field.
Visit the Grafenwoehr MWR website to check rates for all cabins.
Reservation Policy: All military ID card holders may make reservations on a first-come, first-served basis. There is no official timeline.
Carney Park (Italy)
Carney Park is an activity of Navy MWR Naples (Italy). This unique park is located in the crater of an extinct volcano. It includes a golf course, numerous sports fields, and an Olympic-size swimming pool. You can also rent bikes, tents, and other recreation equipment or book tours through the Navy Outdoor Recreation Center.
There are 27 cabins available for rent as well as camping and RV sites. Contact Naples MWR to inquire about current rates.
Reservation Policy: Eligible patrons may reserve up to one year in advance.
Souda Bay Outdoor Recreation (Greece)
While not officially one of the military resorts in Europe, you can stay at the Navy Gateway Inns & Suites (NGIS) at Naval Support Activity Souda Bay (Greece) and enjoy a fantastic vacation.
Take advantage of the base's amazing location on the island of Crete and use their Outdoor Adventure Center to enjoy kayaking, snorkeling, hiking, cycling, and a range of other activities. You can use their rental equipment and plan your own adventure, or you can join one of their many day and overnight trips.
Contact NGIS for current nightly rates.
Rota Naval Base Community Recreation (Spain)
Located in southern Spain, Rota Naval Base is another great spot to create your own adventure vacation. Rota is a charming town with beautiful beaches and proximity to many other fantastic destinations.
You can take a short ferry ride to Cadiz, the oldest city in Europe, or drive to the famous city of Seville. Rota's Outdoor Recreation office has amazing day and overnight trips, including hiking, skiing, canyoning and mountain biking. Their Tickets & Travel office plans fun outings like touring a bodega with Sherry tasting, Flamenco shows, and regional city tours.
| Related Reading: 12 Fun Things to Do in Rota, Spain
Rota Naval Base has two lodging options: a Navy Lodge and a Navy Gateway Inns & Suites. Contact them directly for rates and reservation policies.
(A version of this article was originally published on PCSgrades).