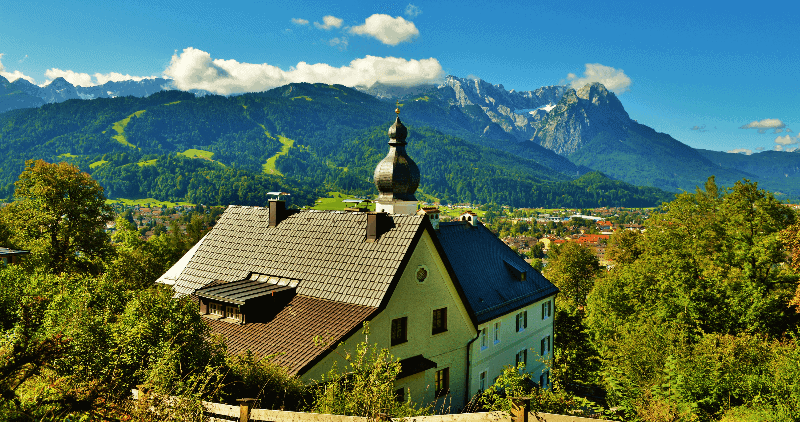 Ramstein Air Base is in the Kaiserslautern Military Community (KMC), the largest U.S. military community in Europe. It's 90 minutes from Frankfurt and about 4 hours from Paris, making it a great starting point for exploring Europe or other places in Germany. Here's what you need to know if you're planning to fly Space-A to Ramstein.
If you are new to Space-A flying, read this Quickstart Guide to Space-A Flights first to get a basic understanding of how the process works.
1. Ramstein AB is the most accessible base in Europe when flying from the Continental United States (CONUS).
The CONUS locations with the most frequent flights to Ramstein are Joint Base McGuire-Dix-Lakehurst, Dover Air Force Base, Joint Base Andrews, Baltimore-Washington International (BWI), and Joint Base Charleston.
There are also regular, but not as frequent, flights from several bases in other parts of the U.S., including Joint Base Lewis-McChord, Travis Air Force Base, and Joint Base San Antonio. Wright-Patterson AFB has regular flights but does not post flight schedules online. You can call the flight recording at 937-257-6235.
2. Ramstein is on the Patriot Express route originating at the BWI Air Mobility Command (AMC) terminal.
There are multiple flights per week from BWI to Ramstein. Despite the frequency of flights to Ramstein, BWI is not necessarily the best place to fly Space-A. Particularly during summer PCS season, Patriot Express (PE) flights tend to be full of active duty passengers, and BWI does not have other military flights to Europe besides the PE.
| Related Reading: What You Should Know About Flying Space-A from BWI
3. The immigration process at Ramstein is easy.
A German Customs & Immigration official will stamp your passport as you enter the Ramstein pax terminal. Passport control is available for all inbound missions to Ramstein, so you do not need to worry about returning to the terminal to get your passport stamped if you arrive late at night.
4. The Ramstein passenger terminal has a very nice USO on the second floor.
With friendly, helpful staff, the USO is a great place to have a snack, unwind, and get your bearings. You can use the phone, computers, or WiFi to make hotel and rental car arrangements.
The USO also has a few small sundry items in case you forgot something.
| Related Reading: What to Pack for a Space-A Flight
5. The Ramstein Inn is the central reservations office for lodging throughout the KMC.
The Ramstein Inn is located across the street from the passenger terminal in the Kaiserslautern Military Community Center (KMCC). The KMCC also houses the AAFES Exchange, a movie theater, and other MWR activities, along with various restaurants and eateries.
The main building of the Ramstein Inn is the most convenient lodging for Space-A travelers. Depending on where your room is located, you may be able to see the flight line from your window.
The Ramstein Inn also has several other buildings on Ramstein Air Base as well as on nearby bases Vogelweh and Landstuhl.
| Related Reading: 7 Things to See & Do Near Ramstein AB
If you are staying at one of the other buildings on Ramstein, the Ramstein Inn provides a shuttle for check-in and check-out only. They do not have a shuttle to the lodging at Vogelweh or Landstuhl. You will want a rental car if staying on either of those bases, which are both a 15 or 20-minute drive from Ramstein.
The 86th Force Support Squadron (86th FSS) website has everything else you need to know about locations, rates, and policies for lodging in the KMC.
Space-A travelers can request a room at the Ramstein Inn up to 24 hours in advance of arrival for a maximum of 3 days at a time using the online form on the 86th FSS website or by calling directly. You can also simply walk across the street when you land in Ramstein and request a room in person.
Even if you request in advance and the Inn says they are full, go there in person. That strategy has always worked for us, along with these other tips for getting Space-A lodging.
6. Off-base lodging may be a better deal.
Lodging rates at the Ramstein Inn have increased significantly in recent years. You can find cheaper, high-quality options off-base. Local taxis have base access, so you shouldn't have a problem getting to the passenger terminal.
The following are reader-recommended hotels near Ramstein Air Base. Click on the names to see reviews, rates, and availability.
These hotels may have better access to the many things to do near Kaiserslautern than staying on base.
7. Ramstein has a base shuttle.
Ask for current schedules at the passenger terminal or consult the 86 VRS Ground Transportation Facebook page. The schedule is also posted at the bus stop outside terminal building.
You can also take local taxis to/from locations on base.
8. Access to certain base facilities is restricted by the Status of Forces Agreement (SOFA) between the U.S. and Germany.
If you are a retiree or active duty stationed outside of Europe/Africa, you are not authorized to shop at the Exchange, Commissary, or Shoppette, and you cannot purchase gas. You also cannot rent a car at the KMCC (see #9)
If you plan to be in Germany for at least 30 days, you can obtain a Zulassung form, which will allow you to purchase non-rationed items at the Exchange, Shoppette, and Commissary. Each time you make a purchase, the cashier will record it on the form so that you can pay tax on the items before leaving the country.
For more details, see AE Regulation 600-700.
Despite the restrictions imposed by the SOFA, there are many facilities that visitors to Ramstein can use without any special paperwork. They can eat in all restaurants and informal dining establishments as well as at the DFAC. They can also use MWR facilities, such as Outdoor Recreation, the golf course, and the movie theater.
9. The British and Canadian forces have dining and retail facilities on base that U.S. service members, dependents, and retirees can use.
These facilities offer excellent quality food at highly discounted prices (similar to what you find in a subsidized military dining hall). The retail stores are especially convenient for travelers who are not eligible to make purchases at the BX/Shoppette. Retirees and others not stationed in Europe can purchase any non-rationed items.
Brit Café serves traditional British fare for breakfast, lunch, and tea daily. They are located on the ground floor of building 539.
The Brit Shop is a small store that sells British goods, primarily food (including cheese and meat), alcohol, and tobacco, including cigars. They also have a few pharmacy items, such as cold medicine. They are located next to BritCafé.
The Canadian Canteen is on the second floor above the BritCafe in building 539. They sell alcohol and tobacco, including cigars, along with a few Canadian specialty items.
10. You have one option for car rental on base and numerous other agencies very close to the gate.
Hertz, located in the Community Center (building #412), is the only car rental agency on base from which retirees and active duty travelers stationed outside of Europe can rent a car.
Agencies that have a location in the KMCC cannot rent to you, but they may offer to drive you to their rental office off base. There are also several other rental car agencies that are a short distance from the gate.
Click here to search for other rental car agencies near Ramstein.
Important Note: Rental car agencies on and off base are generally closed Saturday afternoons and Sundays.
11. You can take a free shuttle to Vicenza, Italy.
The Medevac shuttle transports patients between Landstuhl Regional Medical Center (LRMC) and U.S Army Health Center in Vicenza. All military ID card-holders can use unoccupied seats on a space-available basis.
It's a scenic 12-hour ride aboard a comfortable tour bus with two rest stops along the way. The shuttle picks up passengers Wednesdays and Fridays from Ramstein (Gate 1) at 0900 and from the bus stop outside the Landstuhl Hospital emergency room entrance at 1000.
The shuttle returns from Vicenza on Tuesdays and Thursdays. It departs from the health clinic parking lot at 0700.
You should arrive at least 20 minutes before scheduled departure at both locations.
**It is highly recommended to confirm the current schedule before making travel plans. Contact the Vicenza Health Center at +39 0444 61 9050 or LRMC at +49 6371 9464 5899.**
12. Frankfurt Airport is easily accessible by train, bus, or commercial shuttle.
To reach Frankfurt airport by train, take a taxi to Landstuhl station (about €15). From Landstuhl, you can take a train to the Frankfurt am Mein Flughafen (Airport) station. Note that you will transfer at least once along the way.
Ticket prices for the train vary based on the fare class, whether you take an InterCity (IC) or high-speed train, and if you purchase a reserved seat. The trip duration ranges from 1 hr 50 min to nearly 3 hours, depending on which train you take.
You can also take the bus between downtown Kaiserslautern and Frankfurt airport. The trip takes less than 2 hours and you purchase your tickets in advance or on the bus (the latter is more expensive).
Click here to compare schedules and pricing for the train and bus and to purchase tickets.
Several commercial shuttles also provide service to the Frankfurt airport. The Ramstein AMC Gram has a list of providers. The drive takes about 90 minutes, but keep in mind that the shuttles may also pick up other passengers.
If you need a hotel room close to the airport, we had a great experience at the Hampton by Hilton Frankfurt Airport. It was clean, modern, and had one of the best free breakfast buffets we've seen. At well under $100/night, it was a great deal. Click here for the latest pricing.
For More Information:
European Lodging & Transportation Tips for Space-A Travelers covers advice on many topics related to travel within Europe, including on- and off-base lodging, train travel, and driving tips.
UJ Space-A Info has a wealth of information and links related to Ramstein Air Base.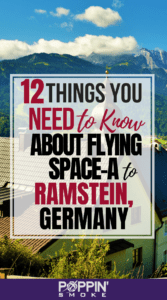 ✕
Get Your Free Guide to Military Space-A Travel
Subscribe to get the 45-page Guide and learn all about Space-A flights and lodging. You will also receive news and updates tailored to military travelers like you!