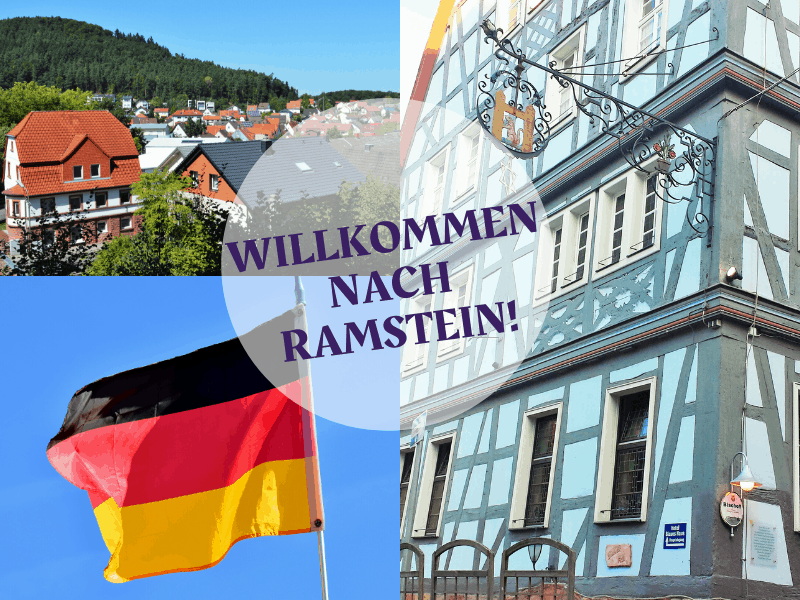 Whether you're stationed in Germany or flying Space-A, your arrival at Ramstein Air Base is merely the beginning of a great adventure. Within a few hours of Ramstein, you can visit ancient castles, tour famous WWII sites, wander the cobblestone streets of traditional villages, and of course, indulge in Germany's world-renowned beer.
The Ramstein area has no shortage of things to do. Your biggest challenge is deciding what to do first!
My husband was stationed in the nearby city of Kaiserslautern, Germany for 3 years. With his input, we narrowed our list down to a handful of must-see places. Whether you have a few hours or a few days, here are nine destinations to add to your Germany itinerary!
Note: Beside each destination is the approximate drive time from Ramstein AB, as reported by Google Maps. Please see the last section for more information on ground transportation.
Nanstein (Landstuhl) Castle
(10 – 15 minutes)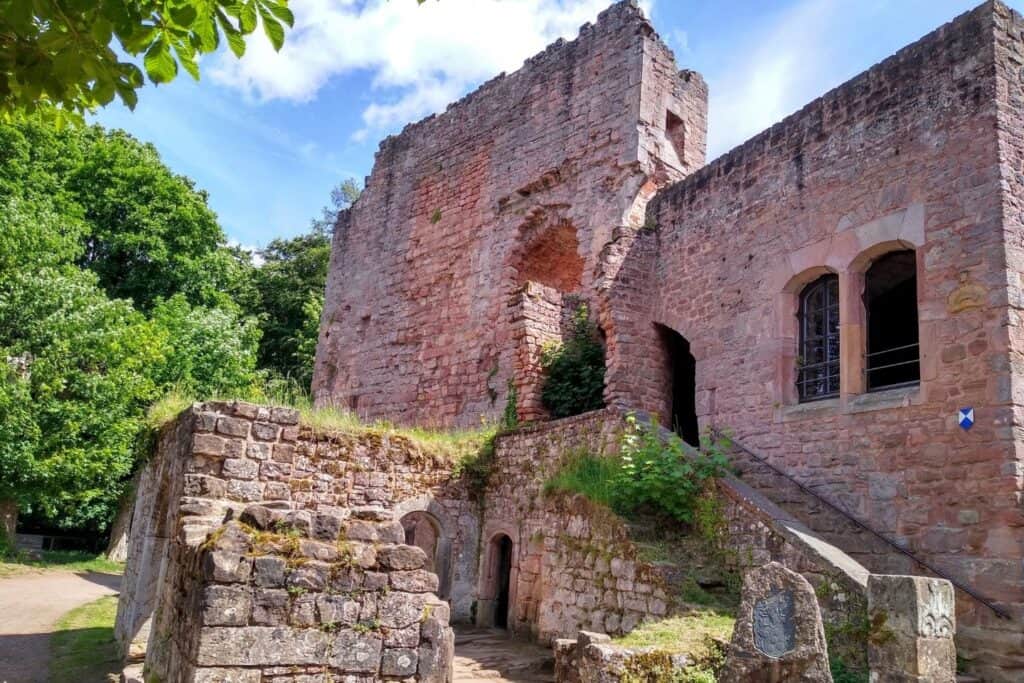 Nanstein Castle (called Landstuhl Castle among Americans) sits on a hill overlooking the town of Landstuhl, Germany, less than 4 miles south of Ramstein AB. One of several castles near Ramstein, it was built in the 12th century and is relatively well-preserved, especially considering its storied past. The fascinating history and incredible views are well worth the nominal entrance fee.
After you tour the castle (prepare for lots of stairs!), stop at the restaurant to enjoy traditional German wurst (sausage) and beer along with sweeping views of the area. This is an easy jaunt from Ramstein and a great way to kick off your stay in Germany.
Japanese Garden Kaiserslautern
(20 minutes)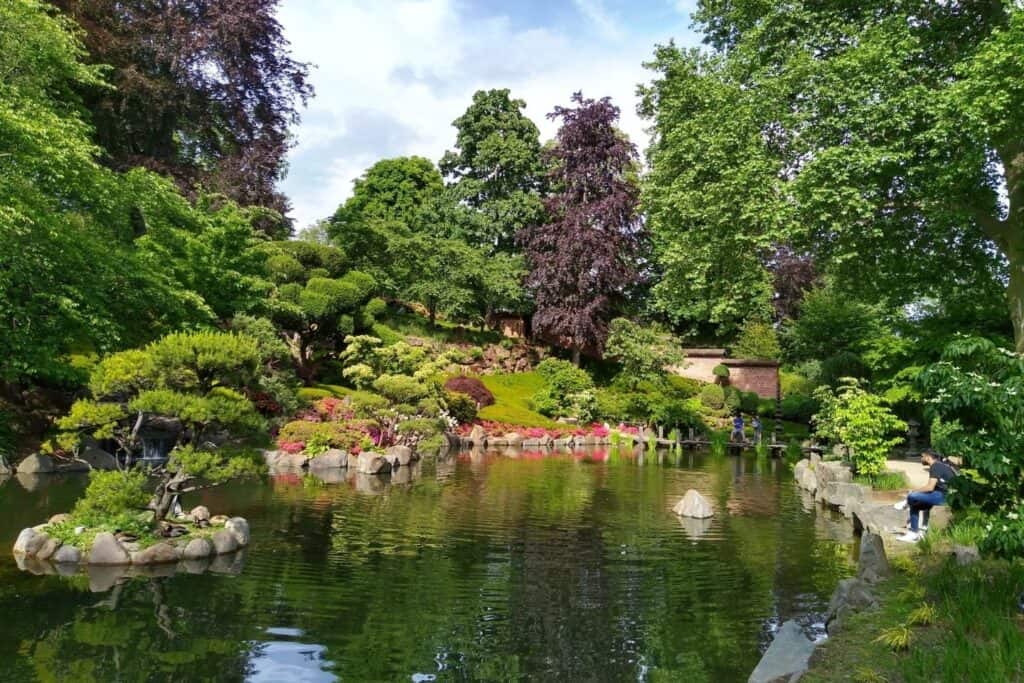 Experience Japan in Germany! This incredible Japanese garden is the largest in Europe and the perfect way to enjoy a relaxing afternoon.
Stroll the paths around the garden, sit on one of the many benches and listen to the sounds of the birds, and take in the beautiful scenery of this unique, tranquil space. You can also have a snack at the small restaurant, which serves a few Japanese-style items.
You can also take a guided tour of the garden or participate in an authentic Japanese tea ceremony. Contact the facility for more details
Forbach, France
(45 minutes)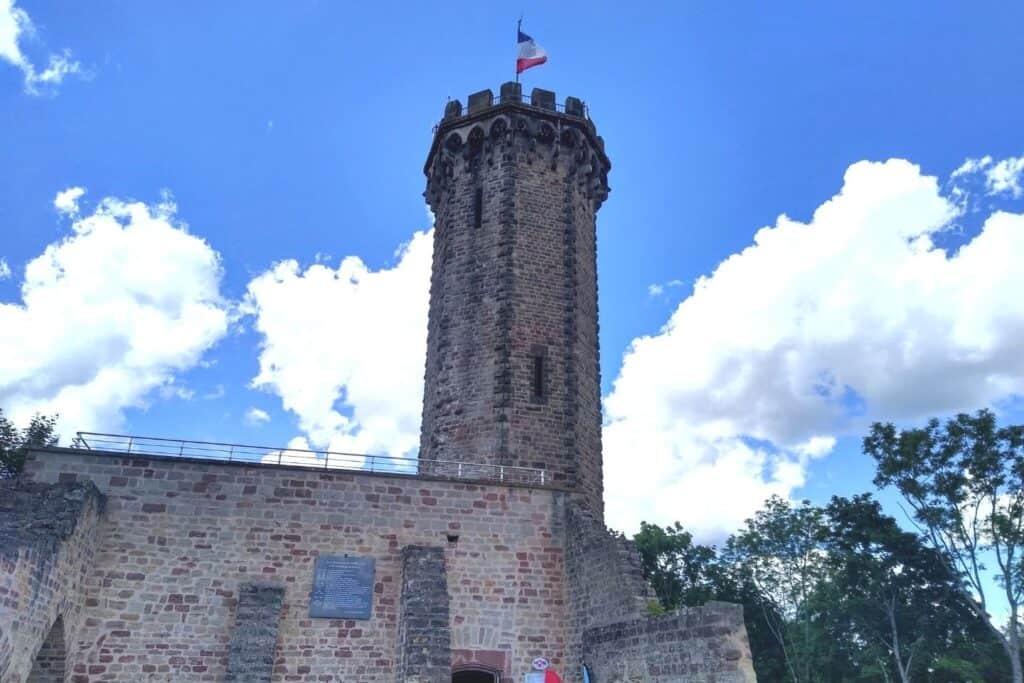 If you want to take a quick visit to France, Forbach is one of the closest and easiest towns to reach from Ramstein.
The main attraction (besides the delicious food and pastries) is the Chateau Schlossberg (Schlossberg Castle), which sits on a hill overlooking the town.
For the perfect day in Forbach, have lunch at Restaurant Le Schlossberg, which is located in the large park surrounding the castle. Then, work off your meal with a stroll through the park. It has numerous trails, a small botanical garden, and more than 80 different species of trees.
Follow the trail up the hill to the castle, and if you're up for the challenge, climb the 118 steps of the spiral staircase to the top of the castle tower for stunning 360 degree views of the surrounding area.
Bad Dürkheim, Germany
(50 minutes)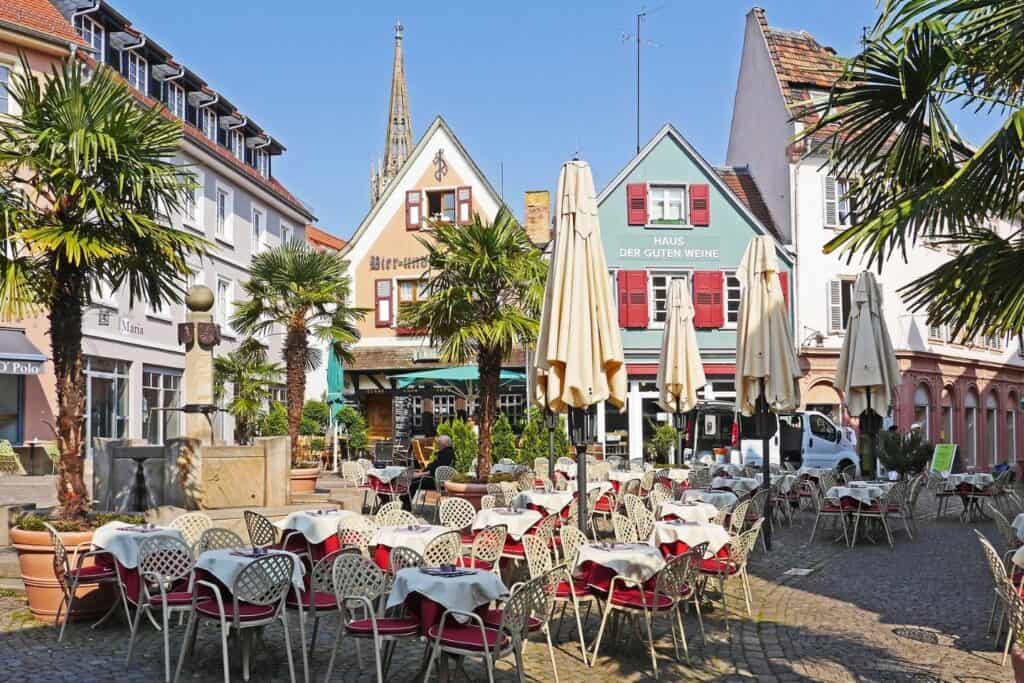 Bad Dürkheim is one of the most popular places to visit near Kaiserslautern, Germany. While it's primarily a spa town, Bad Dürkheim is also home to the world's largest wine festival! The Wurstmarkt is held annually the second and third weekends of September, and it's the wine-lover's version of Oktoberfest.
Enjoy wines from 50 different wineries along with traditional German cuisine. The wine is served in half-liter glasses, so take public transportation or let Kaiserslautern Outdoor Recreation be your designated driver!
Prefer to stay in town so you can make the most of the festival? Book a room at a Bad Dürkheim hotel.
Trier, Germany
(1 hr 10 min)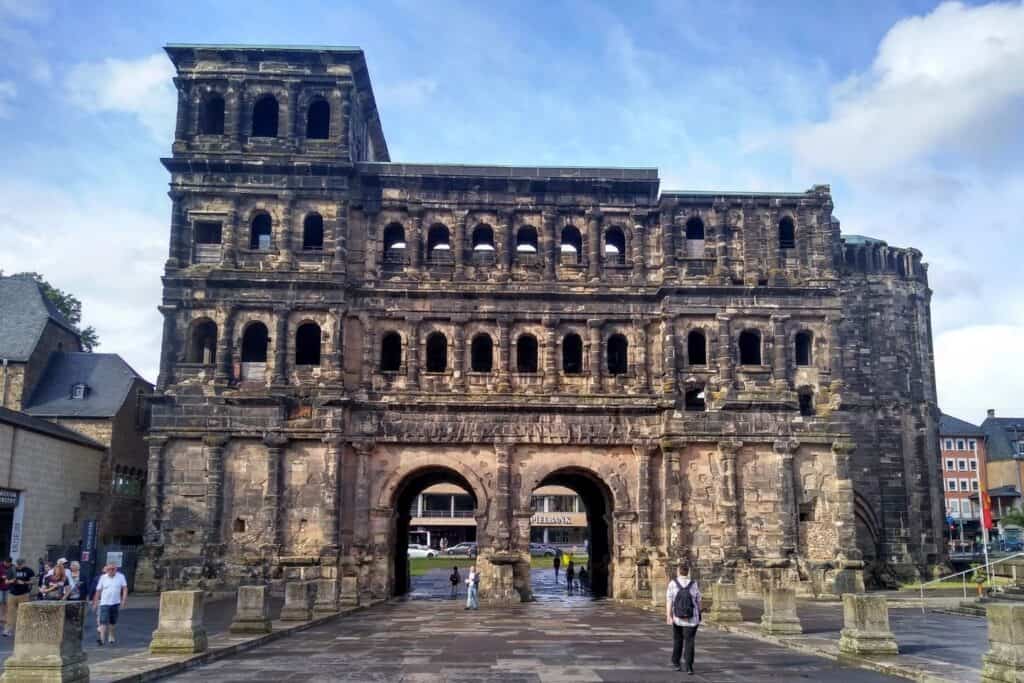 Trier is the oldest city in Germany and boasts an impressive nine UNESCO World Heritage Sites. Among the most famous is the Porta Nigra, built around 170 AD, which is the largest Roman city gate north of the Alps.
In Trier, you can also visit the oldest cathedral in all of Germany. As a bonus, the beer in this region is some of the best in Europe.
Trier is one of the most popular day trips from Ramstein, so make sure you include it on your list!
Heidelberg, Germany
(1 hr, 10 min)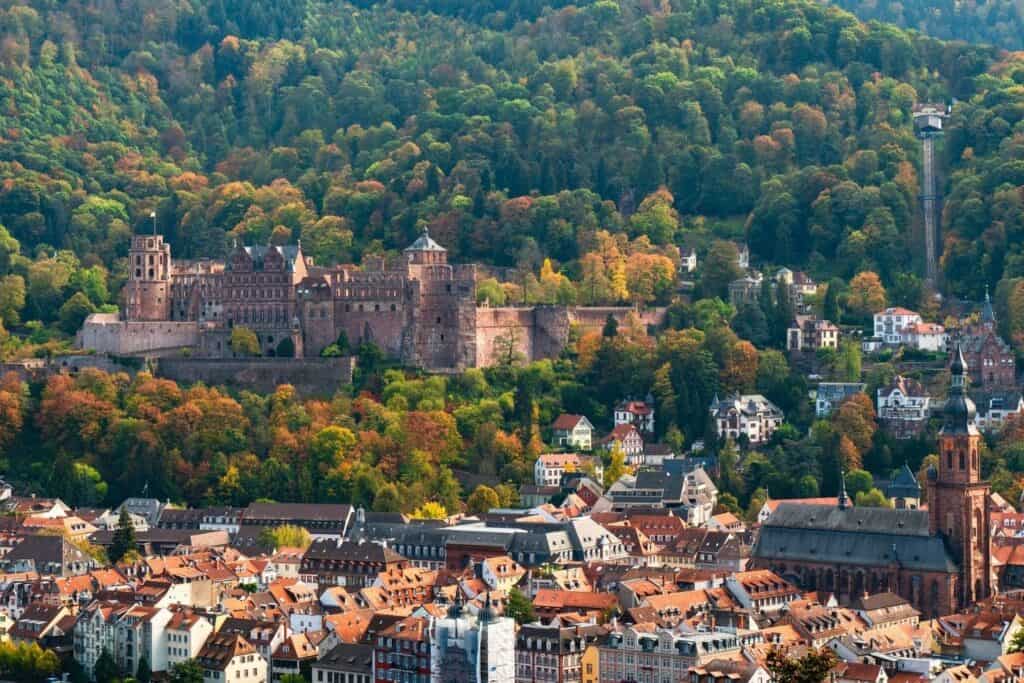 Heidelberg has everything you could want for one of your first adventures in Germany. Huge castle: check. Beautiful river: check. Lush, colorful mountains: check. Traditional old town: check. Incredible food and beer: check.
Heidelberg is the true German experience and an easy day trip from Ramstein. Get the most out of it by starting your visit with a walking tour of the Old Town.
If you stay overnight, the historic Hotel Zum Ritter is our favorite. It has a stunning lobby, beautiful rooms decorated in a quintessential German style, and a gourmet restaurant. Best of all, you can't beat the location, which is in the historic center and a short walk from the castle! Click here to see photos and rates.
Note: While you can easily drive from Ramstein to Heidelberg, it's also an easy place to visit if you don't want to rent a car. The train station is a short, free bus ride from the historic center of Heidelberg.
Strasbourg, France
(2 hours)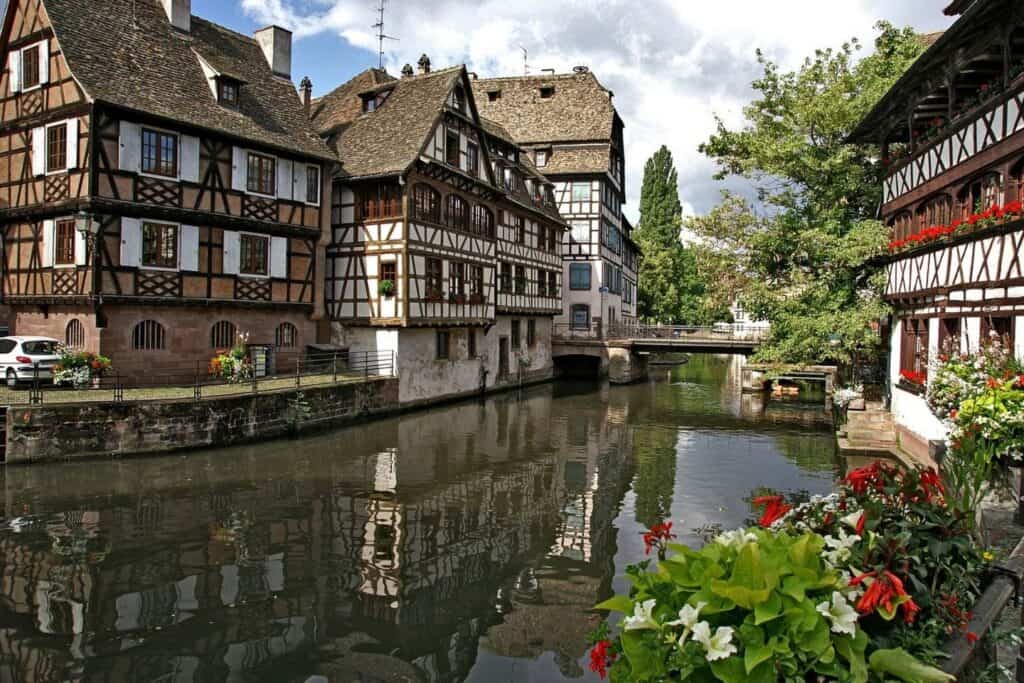 Located in the Alsace region of France, Strasbourg is right on the border with Germany and has strong influences from both countries. The city is a UNESCO World Heritage Site and has delicious French cuisine with a German twist.
Stroll through the historic city center, La Petite France (Little France), and taste the famous Flammekueche, also known as Tarte Flambée. It's one of the many dishes for which Strasbourg is famous!
If you're interested in military history, Strasbourg delivers on that as well. Visit MM Park France, a World War II museum that opened in 2017. Only a 20-minute drive from central Strasbourg, it has a large display of armored vehicles, boats, uniforms, and weapons.
Strasbourg is an easy day trip from Ramstein but has plenty to keep you busy for at least a couple days. (Click here to find a good deal on a hotel.) Either way, it will definitely inspire you to visit more cities in France!
Bastogne, Belgium
(2 hrs 15 min)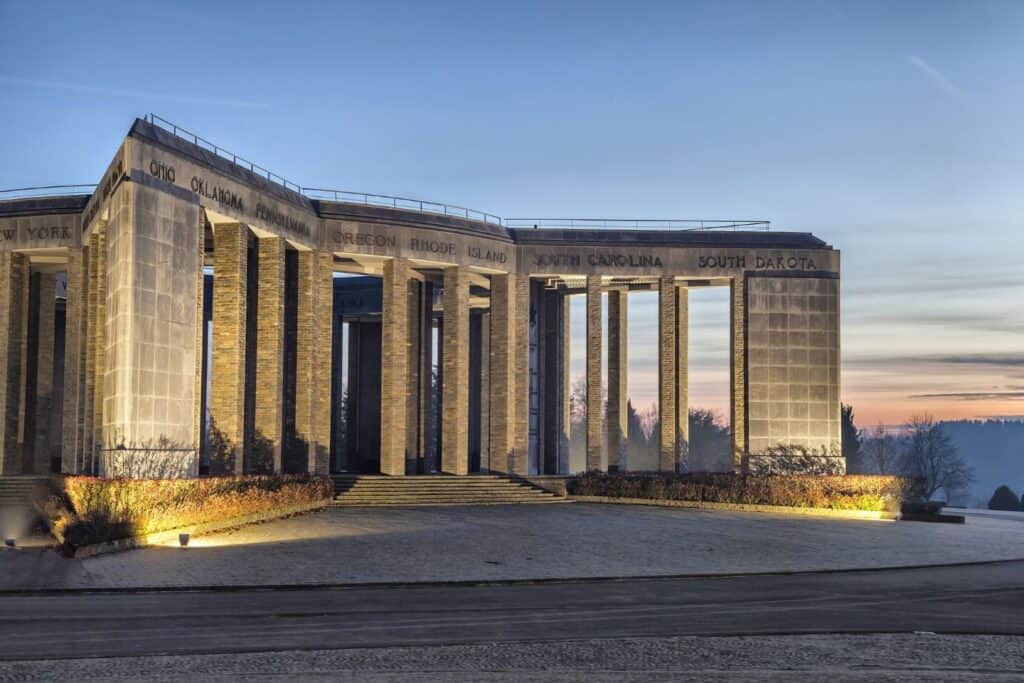 Bastogne is best known among military members as the site of Battle of the Bulge. Also called the Ardennes Counteroffensive, Battle of the Bulge was the largest single battle fought by the U.S. in World War II and the final German offensive.
In Bastogne, you can visit numerous museums, memorials, and important battlefield sites throughout the city. This suggested itinerary for a day trip to Bastogne covers the main WWII highlights.
There are many things to do in Bastogne, so if you don't want to add 4+ hours of driving to your day of touring, book a hotel near the historic center.
Munich, Germany
(4.5 hours)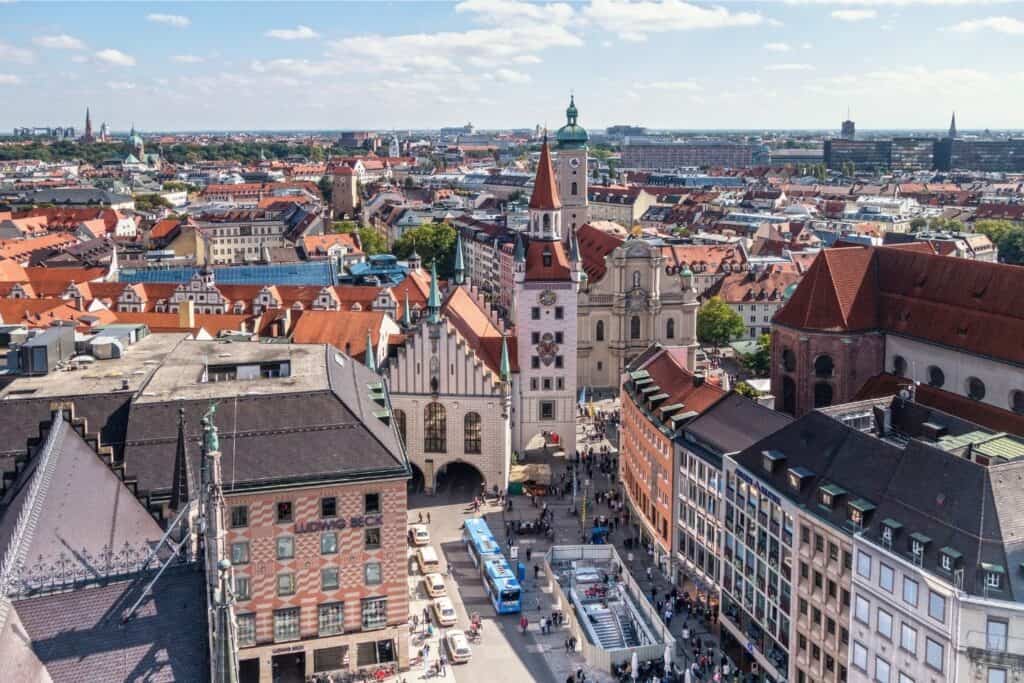 What's a trip to Germany without a visit to Munich? Munich is home to Oktoberfest, which is the largest beer festival in the world. It takes place ever year from late September to early October.
Even if you don't visit during Oktoberfest, Munich is a must for any trip to Germany. No matter what time of year, you can still enjoy their famous beer, eat delicious schnitzel and apple strudel, and see the famous clock tower in Marienplatz.
Look for hotels near Marienplatz if you want to stay near the action!
While in Munich, visit nearby Dachau Concentration Camp. It is a sobering experience to walk the grounds of such a dark time in human history, but a visit will be much more powerful and educational than anything you've read. The town of Dachau is about 35 minutes northeast of Munich, making it an easy stop on the way to or from Ramstein.
Transportation
Car Rental in Ramstein
If you are a retiree or active duty stationed outside of Europe, the only car rental agency on base from which you can rent a car is Hertz in the Community Center (Building #412).
Due to the Status of Forces agreement between the U.S. and Germany, other rental agencies on base cannot rent to you, but they may offer to drive you to their rental office off base. There are also several other rental car agencies that are a short distance from the gate.
Click here to search for other rental car agencies near Ramstein.
Note: If you plan to rent a car, don't forget to obtain an International Driving Permit (IDP) before you leave the US. You can get an IDP at any AAA location. It costs $20, is valid for 12 months, and allows you to drive in most countries throughout the world.
Train
The closest train station to Ramstein AB is Landstuhl. A taxi from the base costs about €15. Train ticket prices vary based on the fare class, whether you take an InterCity (IC) or high-speed train, and if you purchase a reserved seat. Click here to see fares and purchase tickets.
These are only a small sampling of the adventures to be had near Ramstein Air Base. Don't hesitate to take the road less-traveled and discover your own must-see places while visiting this amazing part of the world. As they say in Germany, Gute Reise!