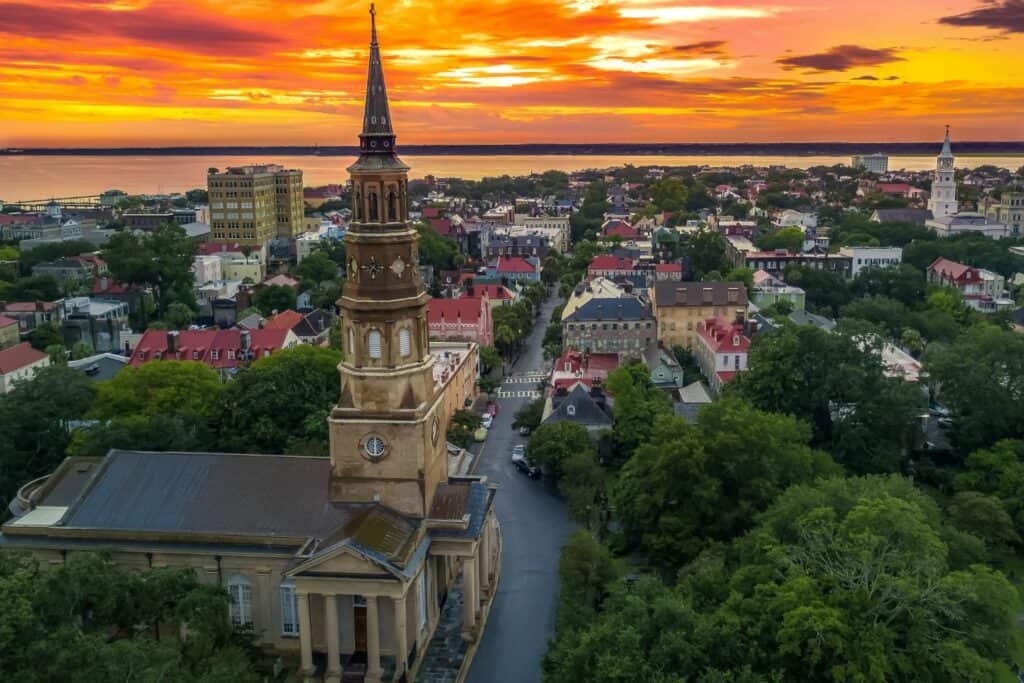 JB Charleston is among the most active bases for Space-A travel opportunities in the southeastern United States. The base is located in North Charleston, about 12 miles northwest of Charleston's historic city center.
This Air Mobility Command (AMC) terminal has regular missions to several bases within the U.S., but its occasional missions to some very uncommon destinations make it a great starting point if you're light on your feet and up for an adventure!
Here's what you need to know about flying Space-A from JB Charleston.
If you are new to Space-A flying, read our Quickstart Guide to Military Space-A Flights first to get a basic understanding of how the process works.
1. Most of JB Charleston's missions are to bases in the eastern U.S., with occasional missions farther afield.
JB Charleston has regular missions to and from JB Andrews (Maryland), Dover AFB (Delaware), NAS Norfolk (Virginia), and JB Lewis-McChord (Washington).
Other regular – but less frequent – destinations include Travis AFB (California) and Ramstein AB (Germany).
| Related Reading: Here's What You Should Know About Flying Space-A to Ramstein
Also, if you're looking for Space-A flights to Latin America, Charleston is your best bet. They have occasional missions to Honduras, Colombia, Puerto Rico, and other locations in the region. However, if you hop one of those flights, you will likely need to fly commercial back to the U.S., as those destinations are not set up to process Space-A passengers.
Note: Between 1 September and 1 December 2023, JB Charleston will handle some of NAS Norfolk's cargo missions due to a temporary closure of the Norfolk passenger terminal. Please see this article for details and a list of destinations to which Norfolk normally has regular missions
Visit the JB Charleston page on the AMC website to see current schedules.
* * * Get the full scoop on using Space-A flights and lodging with our free 40+ page Guide to Military Space-A Travel. * * *
2. JB Charleston is next to Charleston International Airport.
The airport is less than a 10-minute drive from the base.
There are no military shuttles for leisure travelers between JB Charleston and the airport. See details on ground transportation in #5 below.
3. JB Charleston has one base lodging facility and many nearby civilian hotels.
Inns of Charleston, the only base lodging facility, is about a mile from the passenger terminal.
They have standard queen rooms only. Note that rates at Inns of Charleston are seasonal. They are least expensive during the winter months. Contact them directly for current pricing and reservation policies.
The closest off-base hotels are clustered in two main areas: one is a few miles southeast, near Charleston airport. The other area is a few miles north.
Hotels near JB Charleston (Charleston Airport)
Here are three well-rated hotels near Charleston Airport that have free breakfast and a free airport shuttle:
Hotels near JB Charleston (north of the base)
Here are three well-rated hotels north of the base.
4. Parking is available for up to 30 days.
You can park for up to 30 days at a lot about 0.3 miles from the terminal. If you need to park for a longer period of time, speak with the passenger terminal staff about your options.
Passenger terminal staff will give you a form to fill out and display on your dashboard if you are selected for a flight.
5. Local taxi and rideshare drivers need base access to drive to the passenger terminal.
If the driver does not have base access, you must walk to/from the Visitor Center, which is about 1.4 miles from the passenger terminal.
Select Uber drivers in the area are authorized for access to the base, and you can find them on the Uber app.
Local transportation companies with base access include Nandu Cab (843-330-6021) and Most Wanted Transportation (843-478-5959).
Contact the JB Charleston passenger terminal for additional options.
6. Regional travel options include rental car, train, and bus.
There are no rental car companies on JB Charleston. The terminal has a spot for a rental car facility, but as of this writing, it is unoccupied.
Click here to search for a rental car facility near JB Charleston.
There is an Amtrak station approximately 7 miles from the base. The line servicing Charleston runs along the East Coast, from Miami to New York.
A Greyhound bus station is next to the Amtrak station.
7. The JB Charleston passenger terminal does not have any eateries.
Other than vending machines, there is no food available for purchase at the terminal, so plan accordingly.
The Exchange and Commissary are about 1.5 miles from the passenger terminal (near the Visitor Center), but the Exchange mall food court has limited options and hours, especially on weekends.
The Gaylor Dining Facility, which is open to retirees, is less than a mile from the terminal.
Other dining options on the Air Base include the Globemaster Grill in the Wrenwoods Golf Course clubhouse, the Charleston Club, and Starlifter Lanes Snack Bar.
Ready to Fly Space-A from JB Charleston?
Now that you have the scoop on flying Space-A from Charleston, the next steps are to sign up and start tracking the JB Charleston flight schedules.
This article explains what those acronyms on the schedules mean!
Also, use our Space-A Packing List to make sure you have the right gear and clothing, plus all of the documents you need to fly Space-A.
Have a great adventure, and we hope to see you out there on a Space-A flight!
Photo credit: Canva/Getty Images Pro