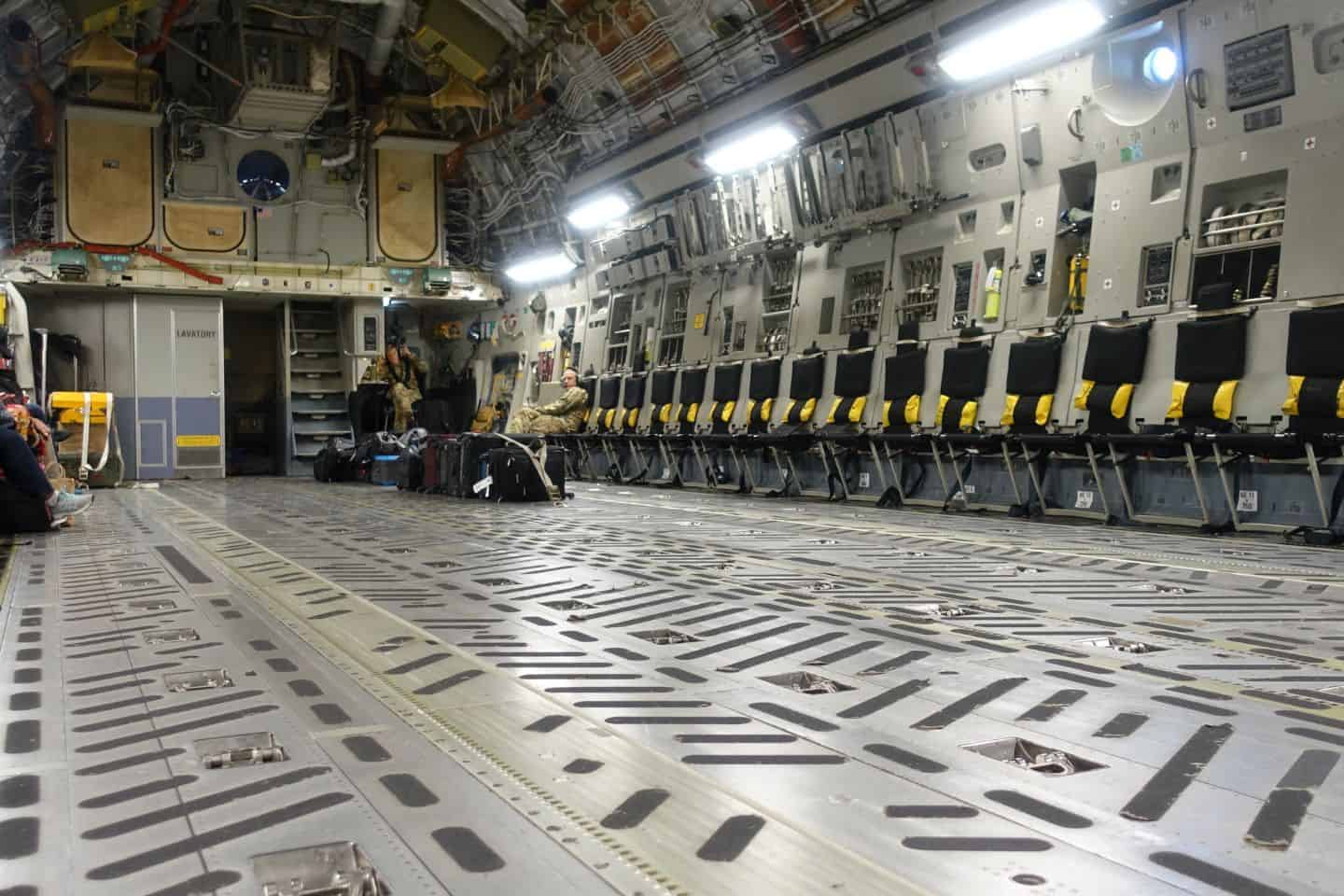 Planning to fly space available (Space-A) on a military flight? You need to know where to find the flight schedules and how to read them.
Most military passenger terminals with active Space-A programs at bases worldwide have a web page on which they post flight schedules and other travel information. Air Mobility Command (AMC) passenger terminals each have their own page on the AMC website.
Here's how to find those AMC flight schedules and use the information to plan your Space-A travel.
(Note: previously, most AMC passenger terminals posted flight schedules on their respective Facebook pages. In early 2022, AMC announced that all of its passenger terminals would migrate from Facebook to the AMC website. Many non-AMC and Guard/Reserve terminals still use Facebook. Scroll to the end of this article for links to some of those terminals.)
Where to Find AMC Flight Schedules
Visit the AMC Travel Site and scroll down to the Passenger Terminal Directory.
Click the "+" sign to open individual passenger terminals' details. The "Webpage" column has a link to the passenger terminal's travel page.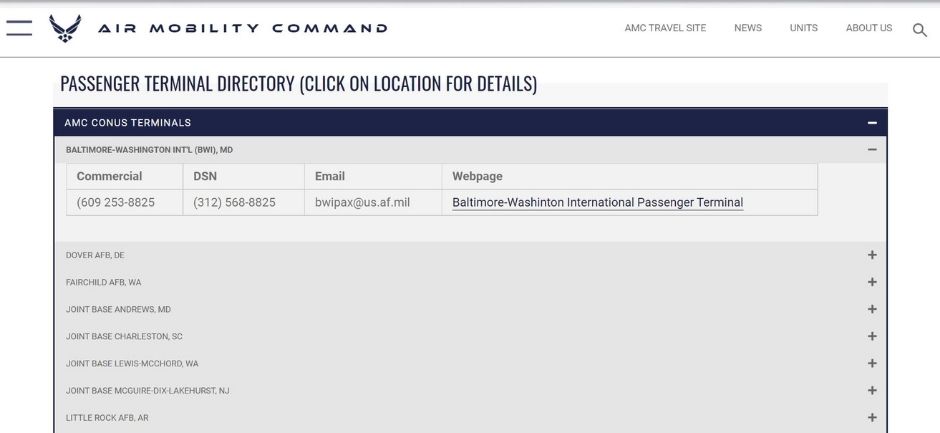 When you've reached an individual passenger terminal's web page, scroll down until you see the "72-Hour Schedule." Some passenger terminals also post a "Roll Call" report (historical flight data), and passenger terminals with Patriot Express missions publish a "30-Day Schedule."
Click on those reports to open the PDF files. (Note: If you receive an error message, that's often because the file was not uploaded correctly. Try again later or call the passenger terminal to listen to their recorded flight schedules.)
Keep reading for an explanation of what you see on the flight schedules and what it means. If you are new to Space-A flying, this detail is for you!
Get started using Space-A flights and lodging with our free 45-page Guide to Military Space-A Travel.
If you already know how to interpret the slides but are interested in learning more about how to make the most of the information, here are a few tips and strategies for flying Space-A and some "Do's and Don'ts" you should remember.
72-Hour Space-A Flight Schedules
The 72-hour flight schedules look similar to the example below from JB Pearl Harbor-Hickam.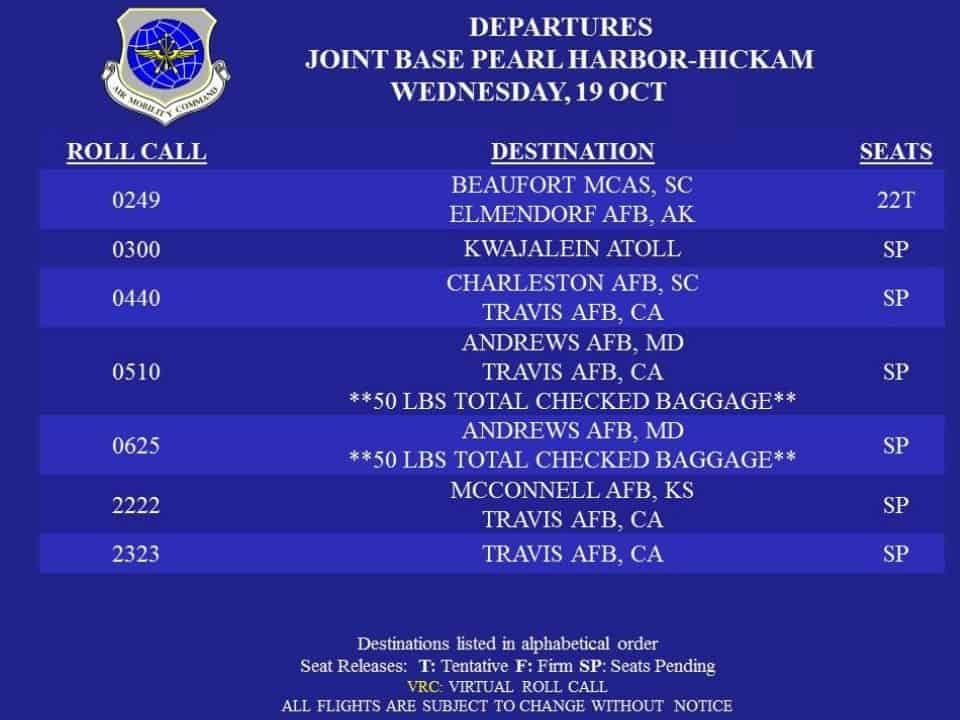 There is usually one slide for each of the upcoming 3 days and it contains the following information:
Roll Call: the time at which the terminal staff read the names of the passengers who have been accepted for the flight. Please note that you must mark yourself present prior to Roll Call.
Destination: the airport(s) to which a flight (a.k.a. "mission") is going. Sometimes there are more than one. For example, the first mission listed on the slide is going to Elmendorf AFB, then Beaufort MCAS (destinations may be posted in alphabetical order but generally follow the logical flight path). Keep in mind that the layover in Elmendorf could be a few hours or it could be a few days. You may not know how long it is until you land in Elmendorf.
Seats: The number of Space-A seats available. If it has an "F" after the number, it means "Firm." "T" means Tentative. It also might say "TBD" or "SP" (seats pending), even until the Roll Call. Of course, even "Firm" seats can change at any time.
VRC means "Virtual Roll Call." With VRC, passengers don't need to be physically present during Roll Call. Click here to learn more about how VRC works.
Remarks: Some slides include notes about baggage weight limits, as shown here, or other restrictions.
Passenger terminals update the 72-hour flights schedules daily and should also do so when there are significant changes.
Space-A Roll Call Report (aka History Slide)
The Space-A Call Reports have historical data on seats released for recent flights. This example from JB Pearl Harbor-Hickam is for flights that departed in the previous 24 hours.

The Space-A Call Report contains the following information:
Date: The date of the flight or, more accurately, the date of the original Roll Call (the flight may not have departed the same day).
Destination: same as in the 72 hour flight schedule, there may have been multiple destinations for a flight.
Seats Released: The final number of Space A seats that were released. It may differ from what was posted on the 72-hour schedule.
Seats Used: The number of Space A passengers occupying the seats. In the slide above, all of the seats released for the missions to Travis/March were occupied. The mission to New Zealand had extra seats.
PAX Selected/Lowest Category Selected: Of the passengers selected for the flight, the lowest Space-A category of any individual traveler. For the first mission to Travis/March above, the lowest category of passenger who made it onto the flight was 5. That means no retirees (Cat 6's) got seats.
PAX Selected/Date & Time Sign Up: Of the passengers selected, the latest date and time of sign-up. This information gives you an idea of how competitive it was to get on the flight. For the second flight to Travis/March above, only 13 seats were released, and the latest date of sign-up was 25 August (about 7 weeks before the flight).
PAX Competed for Flight/Pax: The number of passengers competing for the flight (i.e., passengers who were marked present). For both flights to Travis/March, there were many more passengers competing than there were seats.
PAX Competed for Flight/Lowest Category: The lowest category of passenger competing for the flight. In the example above, Cat 6's were competing for all three flights.
PAX Competed for Flight/Date & Time Sign-Up. The most recent sign-up date of passengers competing for the flight. It's often the same day as the Roll Call, as was the case for both Travis/March flights, because many passengers don't remember to sign up in advance.
Space-A Roll Call Reports are most useful for tracking the destinations of recent flights from a military passenger terminal.
When you are hoping to catch a hop within the next few days, looking at these reports can also give you an idea of how much competition you will have for seats.
If the number of passengers competing for flights to your target destination recently has been much greater than the number of seats released, there is likely a backlog of Space-A travelers waiting to depart.
On the other hand, if missions to your destination have had unused seats, you have a better chance of making the next flight.
With all that in mind, you should take the details about seats released and passengers selected with a grain of salt. In practice, they are not always 100% accurate.
If a passenger terminal publishes Roll Call reports, use them as one of your data points to assess your chances of getting a seat on an upcoming flight. But it's still a judgement call as to what course of action you should take.
For example, should you drive 8 hours to compete for the flight if you don't live near the terminal? Should you turn in your rental car because you think you will get a seat on the flight? Or should you cut bait and fly commercial instead if it looks like 200 other Space-A passengers are vying for a mission with 10T seats?
This is the reality of flying Space-A: you must make decisions with limited information. That's why we always say it's an adventure!
30-Day Flight Schedule (Patriot Express Missions Only)
AMC passenger terminals that have Patriot Express (aka "Rotator") flights also post a 30-day flight schedule similar to the example from the Baltimore Washington International (BWI) AMC terminal below.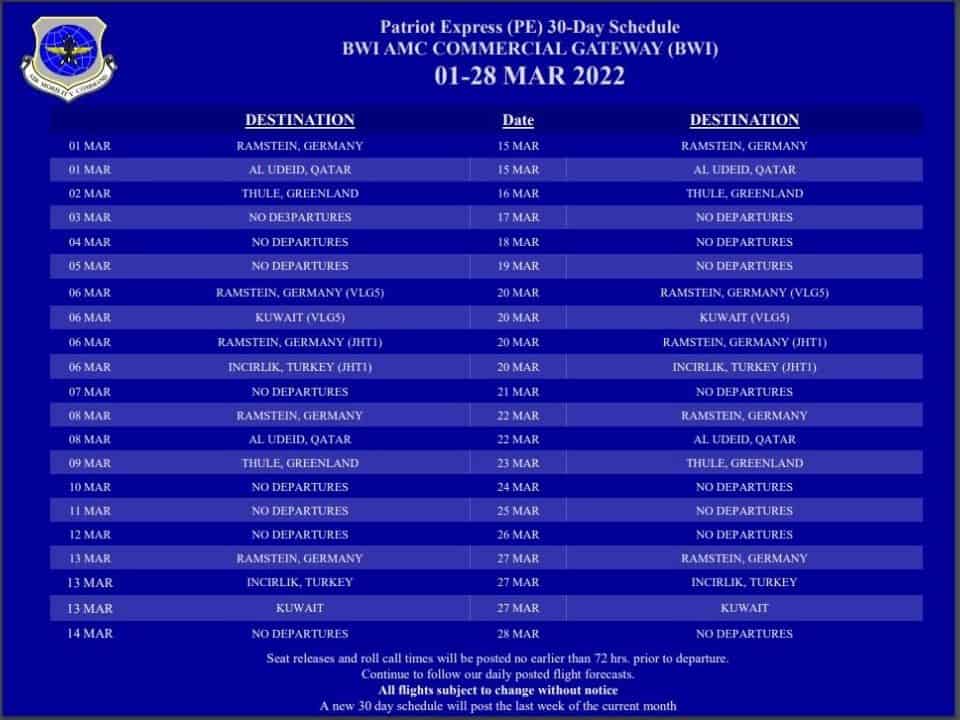 The 30-day flight schedules are fairly straightforward. They list the date and destination, but not the number of Space-A seats. The latter information is not known or published until, at most, 72 hours before the flight.
Other Information on AMC Passenger Terminal Web Pages
AMC passenger terminal pages also include the terminal's address and full contact details, hours of operation, and other information specific to the base or its missions.
Below the flights schedules, some terminals note the date and time of last update.
Non-AMC Passenger Terminal Facebook Pages
Following are links to military passenger terminals with regular (but not necessarily frequent) missions that release Space-A seats and post their schedules on Facebook:
Also, while NAS Jacksonville is an AMC terminal, they still post schedules on their Facebook page.
For other Non-AMC and Guard/Reserve terminals, view their contact info in the AMC Travel Site Passenger Terminal Directory referenced above.
* * *
Now that you know how to read the flight schedules, get ready for your next "military hop" by making sure you have the right documentation, clothing, and gear for a Space-A flight.
Also, use our Space-A destination guides to start gathering intel on the location so that you know what to expect when you land.
We hope to see you out there soon!
Related Reading
Quickstart Guide to Space-A Flights
Do's and Don'ts for Taking a Military Space-A Flight