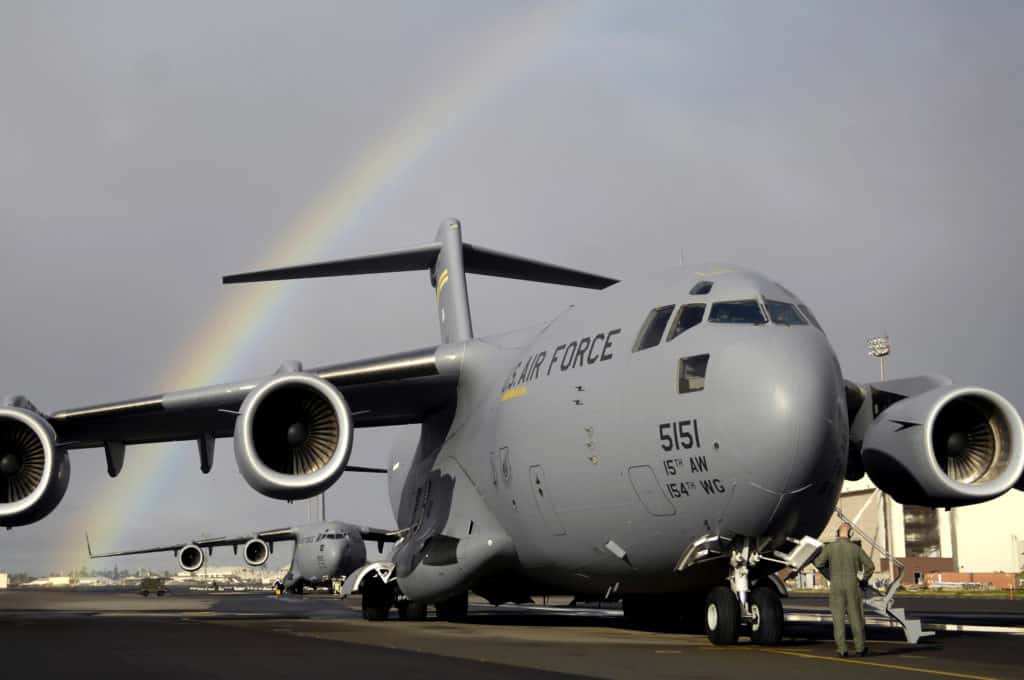 Military space available (Space-A) flights have been a major element of our strategy for saving money on our frequent travels since my husband retired from the Army in 2015. We've flown Space A to Europe, Hawaii, Alaska, Japan, Korea, and many places within the continental U.S.
I estimate that during our last 8+ years of world travel, we've saved more than $20,000 by taking military hops. Our experiences have been overwhelmingly positive, and whenever it's a viable option, Space A (formerly called "MAC flights") is my preferred way to fly.
Talking with others about our travels, we were surprised to realize how few military folks knew about Space-A travel, let alone had used it.
Even those who knew it was an option were reluctant to give military flights a shot. They had heard that you wait around too much, the aircraft have too many maintenance issues, or the flights are canceled at the last minute.
The bottom line is yes, those things do happen. Flying Space A requires patience and flexibility, and it's not a good choice for all circumstances. But if you've flown a civilian airline lately, you know that all those inconveniences happen with commercial flights, too. The difference is, Space-A flights are free!
This Quickstart Guide explains everything you need to know about how to fly Space A. After reading it and following the related links within the article, you should be all set to take your first Space-A journey!
If you're NOT new to military Space-A travel, you should still read these lessons learned from our experiences and our recommended strategies for having a successful journey when taking military hops.
* * * For a printer-friendly version of this Quickstart Guide to Space-A Flights, click here. * * *
This page contains affiliate links. For more information, please see our disclosure.
Contents (click to expand)
How Space A Flights Work
Space available flights, a.k.a "MAC flights" or "military hops," are military operational flights that have extra seats. The military mission is the priority, and the Space-A passengers are essentially cargo.
There is no charge to fly Space-A except on Patriot Express (PE) flights, for which Space-A passengers must pay a small per-person tax.
Eligible members of the military community may "hop" a flight with open seats, but the system is based on priority.
Space-A Travel Categories: Who Can Fly Space-A?
Space-A passengers are divided into six Space-A categories or "Cats:" 1 is the highest and 6 is the lowest.
Available seats on the aircraft are first offered to travelers in lower-numbered categories. Any remaining seats can be used by travelers in higher-numbered (lower priority) categories. Priority within a category is based on signup date, as discussed below.
Passengers traveling on emergency leave are Cat 1 and are the highest priority.
In the context of leisure travel, active duty service members traveling with or without dependents on environmental morale leave (EML) are Cat 2 and on ordinary leave are Cat 3.
Unaccompanied family members of military personnel are Cat 4 or Cat 5, depending on the circumstances.
Space-A Category 6 includes several different groups of passengers:
Military retirees
Reservists
Veterans with a permanent service-connected disability rated as total (100% disabled veterans)
Surviving spouses of deceased service members/retirees.
All travelers must have a valid Department of Defense identification card to fly Space-A. A Veteran Health Identification Card (VHIC) or other ID card issued by the Department of Veterans Affairs does not suffice.
If you are a disabled veteran who is not retired from the military, and your rating is less than 100%, click here to learn about the travel-related DoD benefits you can use!
Important Note: Certain travelers within Cat 6 have restrictions on where they can fly Space-A.
Reservists, "Gray Area" retirees (retired members of the National Guard and Reserves who are under the age of 60 and/or not yet receiving retirement pay) and 100% disabled veterans who are not also retired from the military are not eligible to fly Space-A to/from foreign countries. They can take military hops within the continental United States (CONUS) and to/from Hawaii, Alaska, Guam, and other U.S. territories.
Surviving spouses are only eligible to fly Space-A within CONUS.
The geographic restrictions for travelers within Category 6 are summarized in the table below.
Category 6 Space-A Travel Eligibility
100% Disabled Veterans (NOT retired from the military)
"Gray Area" Retirees
Reservists
To/from locations in the continental U.S. (CONUS), Hawaii, Alaska, and U.S. territories
To/from locations in the continental U.S. (CONUS)
* * * All of these passengers can fly with accompanying dependents * * *
Please note that the list of eligible passengers discussed above is not exhaustive. Other passengers, including certain civilians within the Department of Defense, are eligible to use military space-available travel under various circumstances.
For a complete list and more information on eligibility by category, view Table 3 in Section 4.11 of DOD Instruction 4515.13.
Military Dependent Space-A Travel Eligibility
Dependents of active duty service members are eligible to fly Space-A without their sponsor under certain circumstances explained here.
Dependents of retirees, Reservists, "Gray Area" retirees, 100% disabled veterans, and surviving spouses are eligible to fly Space-A, but only when accompanied by their sponsor.
The following dependents and family members are NOT eligible to fly Space-A at all:
Ex-spouses of service members or retirees
A service member's or retiree's parents, siblings, or any other family members who are not the sponsor's dependents
Dependent children can fly Space-A with their sponsor or eligible unaccompanied parent. They are not authorized to travel with other military families.
Pets may not fly Space-A unless they are registered service animals.
* * * For a printer-friendly version of this Quickstart Guide to Space-A Flights, click here. * * *
The Space-A Flying Process: How to Take a Military Hop
Here is a summary of how to fly Space-A. For more details, visit the Air Mobility Command (AMC) website.
1. Space-A Signup
The first step is to sign up with every military passenger terminal from which you might originate travel (including your destination). Keep in mind that you are not signing up for a particular flight. You are signing up to compete for any flight with Space-A seats at a given terminal.
You can sign up in one of several different ways:
Via e-mail
Using the Space-A travel app, MilSpaceA (the app has a one-time cost of $6.99 and is no longer available in the Google Play store)
Through the AMC website's online form
In person at the terminal
E-mail and the MilSpaceA app allow you to sign up with multiple terminals at once.
If you sign up via e-mail, you must include all of the information listed in the "Space-A Sign-Up Options & Required Information" section of the AMC website's Space Available Travel page (see screenshot below).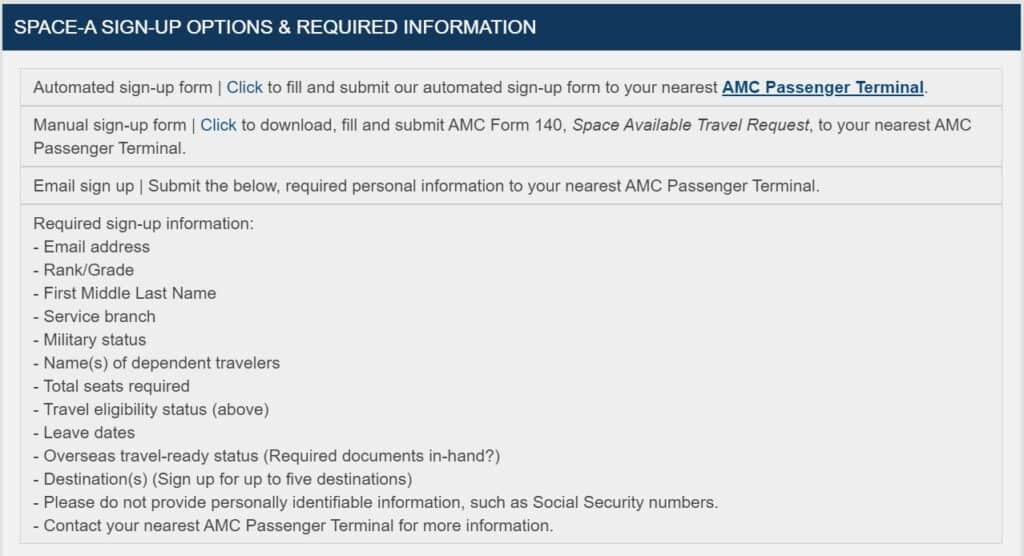 You can find current e-mail addresses for all military passenger terminals in the Passenger Terminal Directory below the Space-A Sign-Up section.
Priority within a Space-A category is based on signup date, so the earlier you sign up (maximum 60 days before your travel date at most locations, 45 days or less at some Navy locations), the better. Active duty members cannot sign up for Space-A travel until they are on leave.
| Click here for Space-A signup tips and examples specific to retirees (Cat 6).
Many terminals will not reply to confirm receipt of your signup. Remember to retain and print copies of the e-mails you send, because they serve as proof of your signup date.
If you want to confirm that a military passenger terminal received your signup, try calling them directly. Do not send another signup e-mail, because your place on the virtual list is based on whatever signup is most recent.
2. Tracking Space-A Flight Schedules
Track flights (also referred to as "missions") from your desired departure base(s). Flight schedules and tentative seat counts are available up to 72 hours before a flight.
If you monitor flight schedules out of your departure base for several weeks or months prior to travel, you may see patterns in how often they have missions to particular destinations and how many Space-A passengers get seats.
Also, to figure out which bases have regular flights to your target destination, start with Poppin' Smoke's Space-A Location Guides.
Most military passenger terminals maintain a web page or Facebook page on which they publish flight information for the upcoming 3 days. A Space-A flight schedule lists the destinations, anticipated number of Space-A seats, and the "Roll Call" time, which is the time at which passenger terminal staff announce the names of passengers selected for the flight.
(You can also obtain information on Space-A flights and Roll Call times by calling the terminal directly. Most military passengers have an automated flight recording).
Many passenger terminals also publish data on recently-departed flights, including the number of Space-A seats released.
Click here for a detailed explanation of where to find Space-A flight schedules and how to read them.
3. Check-In or "Marking Yourself Present"
Within 24 hours of your target flight's Roll Call, go to the terminal and speak with the staff to mark yourself present.
Bring your military ID, passport (if traveling to/from a foreign country), and any required paperwork, such as your leave form if you are active duty or the memo from your sponsor's command if you are a dependent traveling unaccompanied.
You should also bring a copy of your signup e-mail in case the terminal does not have you in their system. Most terminals will accept your e-mail as proof of your sign-up date and time.
You must mark yourself present before Roll Call starts. As long as you have signed up in advance, there is no advantage to marking yourself present earlier than other passengers.
Arriving one or two hours prior to Roll Call is usually sufficient, but in the 12 hours or so before your flight, check the schedules frequently to ensure Roll Call hasn't changed.
| Related Reading: Lessons Learned from Flying Space-A Across the World
Many passenger terminals have a screen or printed document near the terminal desk that displays a list of passengers who are marked present and are "competing" for the flight. Make sure your name is on that list along with the accurate number of dependents traveling with you and your correct date of signup. If not, speak with the terminal staff.
4. Roll Call
The time listed on the Space-A flight schedule is usually the Roll Call time. When Roll Call begins, terminal staff announce how many Space-A seats are available and read the names of the passengers selected. They begin with the passengers in the lowest-numbered (highest priority) category and work their way down the list.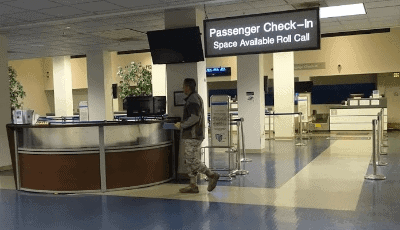 When they call your name, go to the desk and confirm that you and any dependents traveling with you are present. Show your and your dependents' military ID cards along with the aforementioned paperwork.
DoD uniformed services ID cards are required for all passengers over the age of 14. If you are traveling with children younger than 14 who do not have a military ID card, they must have a federal, state, local, or tribal government issued ID.
After Roll Call, you might go directly to luggage check, or you may wait several more hours, but you won't know the schedule in advance.
At the time of Roll Call, you must be "travel ready." That means you and any family members traveling with you are in the terminal with all of your luggage and required documentation.
Don't plan on waiting until after Roll Call to go back to your hotel or return your rental car, because you might not have time.
Note: If you're not selected during Roll Call, stay in the terminal, at least until the flight boards. Sometimes additional Space-A seats are released at the very last minute.
Virtual Roll Call
Some passenger terminals offer Virtual Roll Call (VRC) for select missions. In theory, having VRC means passengers do not have to be present at the terminal for Roll Call. When there is a VRC for a particular flight, that information is noted on the flight schedule.
With VRC, you must still go to the terminal within 24 hours of Roll Call to mark yourself present (and verify that they have your e-mail address). About an hour before the in-person Roll Call, the terminal sends you a "Roll Call Notification" e-mail.
If you don't respond promptly, they take you out of the running. If you do respond, they eventually send you one of two e-mails: a "Flight Selection Notification" with instructions to go directly to the terminal to check your bags, or a "Non-Selection Notification," which means you should activate Plan B (always have a Plan B when flying Space-A!).
In our limited experiences with VRC, it has not worked quite as planned. We had to go to the terminal for Roll Call anyway. VRC is a relatively new process, so they may still be working out the kinks. In the meantime, showing up in person is the best way to ensure you don't miss any communication.
5. Bag Check
When it's time to check bags, you, your dependents, and all of your luggage must be present.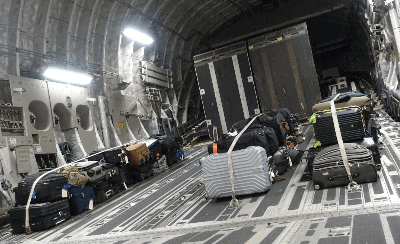 On most Space-A flights, each passenger can check two bags of up to 70 lbs each. You can also check car seats, which do not count towards your baggage allowance.
Weight limits on some smaller aircraft are as low as 30 lbs. If you cannot meet those requirements on the weight-restricted aircraft, you are not eligible for the flight.
The AMC website has more information about baggage for Space-A travelers in their FAQs.
You cannot access your checked luggage during the flight, even though you may see it strapped down right in front of you. Make sure you have everything you'll need in your carry-on bag.
| Related Reading: What to Wear and Bring on a Space-A Flight
During baggage check, you can request a meal, (if meals are offered — usually a box lunch with sandwich, chips, cookie, and drink), which costs $5 – $10, depending on the base. Make sure you have cash in USD and a card for payment. Some terminals only accept one or the other.
At this point in the process, you will also receive your boarding pass, which you should review carefully to ensure it lists the correct final destination (here's why).
After you've checked your bags and have your boarding passes, you are "manifested" on the flight. Terminal staff will tell you the estimated boarding time, but keep in mind that it often changes without notice, so stay in the terminal.
6. Boarding
When boarding begins, all passengers go through security. Military passenger terminals follow TSA regulations, so you have the same restrictions for carry-on items as on civilian planes.
You sit in a secure area of the terminal until it's time to board. At most locations, a bus takes you to the aircraft, and you board the plane from the tarmac.
If you are on a Patriot Express flight, your boarding pass will list your assigned seat. On other military aircraft, you select your own seats on a first-come, first-served basis. The crew may allow passengers with small children to board first, but not always.
At some point during the boarding process, crew members will offer passengers foam earplugs.
7. Flight
Unless you are on a Patriot Express, which has full in-flight service, most Space-A flights are "no-frills." The crew provides water, and sometimes chips or cookies, but you must get those refreshments yourself.
Depending on the type of aircraft and how much space there is, you may be able to stretch out across a few seats or even sleep on the floor (see the section on Military Aircraft below).
Related Reading: How to Choose a Sleeping Mat for Space-A Travel
8. Arriving at Your Destination
After landing, you take a bus from the aircraft to the terminal, where you collect your checked bags.
Passenger terminals generally have information and phone numbers for local rental cars, base lodging, and other resources. You can also use UJ Space A Info to quickly search for local information related to military bases around the world.
If you've flown to a foreign country, you may pass through customs, or you may need to go to an off-site location to have your passport stamped. The process varies by country and base.
Use Poppin' Smoke's Space-A Location Guides to research the customs and immigration process at your destination. The Guides also have detailed information about lodging, ground transportation, and other logistics for major Space-A hubs worldwide.
When (and When Not) to Fly Space-A
So now you know how Space-A travel works when all goes smoothly. Of course, it doesn't always happen that way.
There are many situations when flying Space-A is not the best option. If you are going on a short vacation (less than 2 weeks) with little flexibility or you are traveling during major holidays, relying on Space-A is risky.
Most experienced Space-A travelers also avoid flying Space-A during summer PCS season (late May through early September), particularly to OCONUS destinations.
In those situations, it's better to plan ahead and try to find cheap military flights from airlines that offer discounts or use a site like Skyscanner to find the best commercial fares.
If you are traveling solo, you have a better chance of getting a seat, even during busy periods. Many other Space-A travelers are couples or families, and even if those groups are in a higher category than you, when there is only one open seat left, a solo traveler will get it.
Packing light also increases your chances of getting a seat. Some flights have baggage weight restrictions that will take most other passengers out of the running.
You can take some of the risk out of flying Space-A and boost your chances of having a successful trip by following these strategies and tips and monitoring the Space-A flight schedules to make informed decisions about what flights are most promising.
How to Prepare for Space-A Travel
Knowing what to expect at the AMC passenger terminal and on the planes can help you have a more comfortable journey.
What to Expect at Military Passenger Terminals
Passenger terminals vary widely in terms of their hours, services available, and rules. Some have a USO, a snack bar, a children's area, and showers, while others have little more than a check-in desk and a few chairs.
SpaceA.net (an unofficial site) has information on specific services available at each military terminal.
Most terminals discourage passengers from getting too comfortable and falling asleep. The chairs generally have fixed armrests that prevent you from stretching out across the seats. Also, there are often signs requesting that you not lie on the floor. Be prepared with a good book and plenty of activities for the kiddos!
Many military passenger terminals have WiFi, but it's not always very strong, so remember to download any books, movies, or activities you may want ahead of time.
I recommend saving the contact information for the passenger terminals you anticipate using so that you have it handy if you need to call or e-mail with questions.
Finally, keep in mind that most passenger terminals are NOT open 24 hours, so you cannot spend the night there. Even if you arrive on an aircraft that has an overnight layover, staying in the terminal is not an option. Click here to read tips and tricks for reserving base lodging.
What to Wear and Bring on Military Aircraft
Depending on the type of aircraft and how it's configured, you have different considerations for comfort. If it's a Patriot Express (a.k.a. a "rotator"), it's simply a regular passenger plane. Most other Space-A flights are "organic aircraft," a.k.a. military planes.
For all organic aircraft, three tips apply:
Dress in layers. It can be very cold or very warm, depending on the type of aircraft, where you're sitting, and crew preference. We use this layering system so that we can easily adjust to the temperature. I occasionally see passengers (especially children) wearing shorts, but I don't recommend it unless you have a pair of sweatpants handy.
Bring a small, inflatable mat and a blanket or sleeping bag. You can use an inflatable mat like this one to lie on the floor or stretch out across multiple seats. The blanket/sleeping bag is important for warmth.
Bring hand wipes. The lavatory sinks generally don't have running water. Instead, there is a pile of antiseptic wipes, but often not enough to last for the entire flight. Bring your own stash of hand wipes.
| Click here for a full Space-A packing list.
While you could fly on one of more than a dozen different types of DoD aircraft, the ones below are the most common:
C-5: This is the largest aircraft in the Air Force. If the 72-hour schedule indicates there are 73 seats available, the aircraft is probably a C-5. Seats are configured just like a commercial airplane, but they face the rear of the aircraft, and you have more legroom. If the plane isn't crowded and you are lucky enough to have your own row, you can stretch out (unlike in the passenger terminals, you can raise the armrests!).
C-17: The first time we traveled Space-A on a C-17, all passengers were sitting in jump seats along the sides of the aircraft (facing the middle). With this configuration, you can lie down after the plane reaches altitude if there is room on the floor and the crew authorizes you to do so.
On our first flight from Andrews AFB to Germany we didn't plan ahead and had to sleep on a wool blanket provided by the crew (it was still more comfortable than sitting in the economy section of a commercial flight).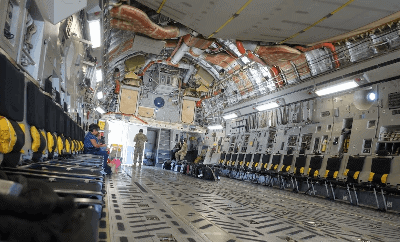 The next time we flew in a C-17 with that configuration, we were prepared with a couple of inflatable pool rafts. The rafts provided much more cushion than the wool blankets and were pretty inexpensive. Unfortunately, they were exhausting to blow up and nearly impossible to drain and fold down to an easily-transportable size.
Now we have this small easily-inflatable sleeping pad. It weighs only 18.6 oz, inflates with 15 – 20 breaths, and easily deflates to fit back in its carrying bag.
| Related Reading: How to Choose a Sleeping Pad for Space-A Travel
We also flew in a C-17 configured with regular passenger seats filling most of the bay. Some passengers chose to sit along the sides anyway, but we preferred real seats to jump seats. With that configuration, there was very little space to lie on the floor.
C-130: This a prop plane, so it is noisier, slower, and bumpier than a C-17. It has the same open bay configuration with web seating along the sides. If there is room on the floor, you can lie down like on a C-17.
KC-10/KC-135: These are tankers used to fuel jets while in the air, and they may perform that mission with Space-A passengers aboard. The KC-10 usually has regular airline seats and about twice the passenger capacity of the KC-135. The latter generally has web seating along the sides of the aircraft.
Click here to read about our Space-A journey from Japan to Germany. We flew in KC-135s the whole way!
"VIP" aircraft (C-9/C-12/C-21/C-40): These aircraft have regular passenger seats and generally do not have space to lie on the floor. The baggage weight limit is often much lower (usually 30 lbs. for C-12 and C-21, 50 lbs. for C-9 and C-40) due to aircraft baggage storage limitations and/or fuel requirements to the destination.
Final Advice
Think of Space-A travel as an adventure. Along the way, you will meet other travelers who remind you how helpful and supportive the military community can be.
Hitching a ride with a military mission is a privilege and, for dependents who have never flown in a military aircraft, a very unique experience. If you think of your journey in this way, you will be better-prepared to handle any parts of the process that don't go as planned.
Recommended Reading
If you're looking for more information about flying Space-A, these articles are good reading:
Research Your Trip With These Space-A Location Guides
What to Wear and Pack for a Military Space-A Flight
Lessons Learned from Flying Space-A Across the World