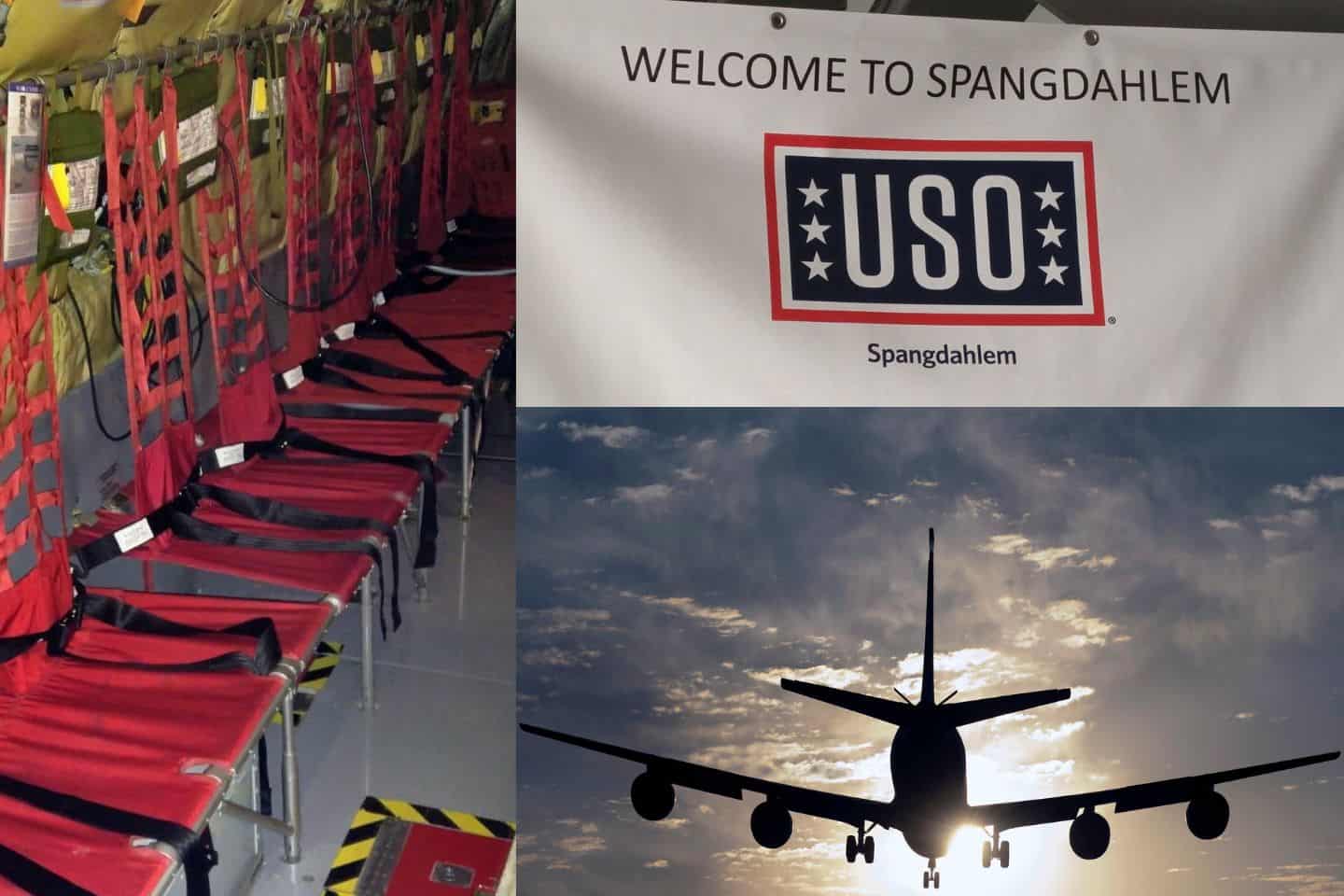 In February 2019, we embarked on a journey to fly Space-A across the world. We had lived in Japan for the past 2.5 years and wanted a change. So, next stop: Europe!
Our goal was simple: fly Space-A from Japan all the way there. It didn't matter where in Europe we landed, because we planned to take commercial transportation from that point forward. Our only rule was that we weren't going to "cheat" on the way by flying commercial before arriving in Europe.
Yes, we made it! Here are the lessons learned from this trip.
Contents (click to expand)
Summary of Our Journey
We left our home in Fukuoka, Japan the third week of February and visited family in Nagoya, which is about 90 minutes southwest of Tokyo. From there, we took the Shinkansen (bullet train) to Tokyo and spent a few days at the New Sanno, a luxury hotel run by the United States Navy. Finally, we took the Yokota Force Support Services (FSS) shuttle bus to the Kanto Lodge at Yokota Air Base.
Our arrival at Yokota on Thursday, 2/28 was the first official day of our journey.
We spent 8 nights at Yokota waiting for flights. During that time, we competed unsuccessfully for two flights. On several occasions, flights we planned to compete for were rescheduled or canceled.
We eventually departed Yokota around noon local time on Saturday, 3/9 and from that point forward, everything fell into place.
We flew to Travis AFB and arrived in the early morning, still 3/9 local time.
We were the only Space-A passengers for a 1940 Roll Call to JB McGuire the same day and arrived in New Jersey early the next morning (Sunday, 3/10).
We spent the day at the USO in the terminal, then caught a hop to Spangdahlem AB (Germany) that afternoon.
We arrived in Germany around 0700 local time on Monday, 3/11.
We flew KC-135s all the way, courtesy of the New Jersey Air National Guard.
| Related Reading: 7 Things to Know About Flying Space-A from JB McGuire
From the time we arrived at Yokota to our arrival in Germany, we spent 11 days and a total of $770 on lodging. Our only ground transportation expense was a $10 taxi at Yokota. We estimate that our Space-A flights to Europe saved us between $800 and $1,600 on one-way airfare.
Space-A Travel Lessons Learned
We are experienced Space-A travelers and had already flown Space-A to and from Europe, Hawaii, Japan, and destinations within the continental United States (CONUS). But, as is always the case with Space-A travel, you learn something new every time, and this voyage was no exception!
1. Yokota AB is a good place to get stuck.
When waiting for a Space-A flight, your expenses will vary widely depending on where you are. The Kanto Lodge at Yokota was relatively inexpensive at only $77/night. (Note: DoD lodging rates increased in October 2019).
Our room was a one-bedroom apartment with a full kitchen and free laundry down the hall.

You don't need to spend a lot of money on ground transportation while at Yokota. The Kanto Lodge has a courtesy shuttle to move you to and from the terminal when checking in or out. Yokota also has a base shuttle that stops at the passenger terminal, the Kanto Lodge, and several other locations on the base.
You can easily walk to the main fitness center, the PX/commissary, and the Shoppette. Local restaurants are 20-30 minutes on foot.
Retirees and active duty stationed outside of Japan are eligible to use all base facilities and eat in the DFAC.
All things considered, spending a week at Yokota was fine with us and gave us the opportunity to enjoy a few more meals in the country that had been our home since August 2016.
2. Always compete for the flight.
No matter how unlikely it seems that you will get a seat, try anyway.
While at Yokota, we competed for two Patriot Express (PE) flights. The first one had three tentative (3T) seats according to the flight schedule published online, but at Roll Call, they announced 12. Unfortunately, we were numbers 12 and 13, so a retiree traveling solo who was 14th on the list got the last seat!
The second PE had 0T according to the schedule, and it was tempting to simply extend our reservation at the Kanto Lodge without going through the rigmarole of packing up and checking out for the second time. But we and numerous other optimistic Cat 6s did it anyway, and sure enough, several Space-A passengers got seats.
| Need a cheat sheet to keep all these Space-A terms straight? Click here to download one now!
Once again, we didn't make the cut, but our experience illustrates the point that you should always compete, especially if you're already on the base! If you're traveling solo, your chances are even greater.
3. Don't rely exclusively on the schedules posted online in the hours before your flight.
Passenger terminal staff may be very busy dealing with space-required passengers or other duties, and they often don't have time to update the flight schedules on their web page (or the phone recording) promptly. In addition, sometimes terminal staff receive information from the flight crew at the very last minute.
For those reasons, you should contact the terminal directly (by phone or in person) to confirm the latest schedules in the hours before your flight.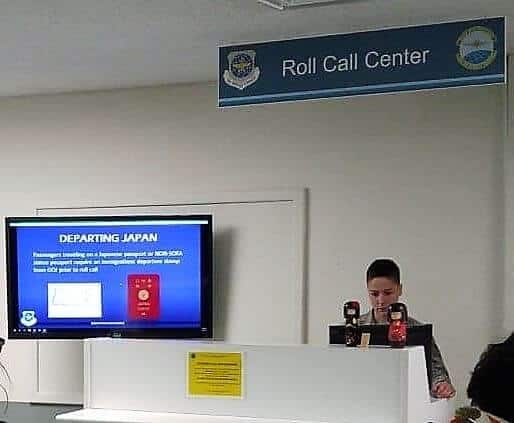 While competing for flights at Yokota, we spent the better part of two days sitting in the terminal, and we could see firsthand that the online flight schedules did not reflect the current Roll Call time or number of seats.
In one instance, the schedule was updated at 1530 to say Roll Call was at 1700. Moments later, they announced the start of Roll Call.
4. Sign up as far in advance as possible, even if you plan to travel off season.
We were not sure of our exact departure date from Fukuoka until late January, so we delayed our Space-A signup until approximately 30 days before our expected travel date.
The rule of thumb for Cat 6 travelers is to aim for about 50 days on the signup list, but we did not expect to have a problem. Late February and early March are not usually competitive times to fly Space-A, because the winter holidays are over and it's not PCS season. Indeed, as we monitored Yokota's flight history during January and February, we saw frequent flights with dozens of empty seats.
For our first week at Yokota, no flights departed in the direction of CONUS except for the PE. The PE flights had surprisingly few Space-A seats, and the lack of other CONUS-bound missions made for stiff competition. With an earlier signup date, we might have made the cut for one of those PEs.
Keep in mind that no matter what time of year you're traveling, when only a few seats are released, every day of signup "seniority" counts!
5. When marking yourself present, verify that the terminal has the correct date of your signup.
The terminal may not have record of your signup, but your sent e-mail serves as proof. Whether they have record or not, check to ensure their information is correct, because once Roll Call starts, it's too late to change the order of the passengers on the list.
On multiple occasions during our journey, the terminal did not have our correct signup date in their system. We always caught the error in time, but it was a reminder never to skip this step when marking ourselves present.
6. Mark yourself present for all flights for which you might want to compete.
Some terminals require you to designate which flights you're competing for. At Yokota, for example, you can mark yourself present for any flights in the upcoming 24 hours, but you must tell the terminal staff which ones you want.
On the day we departed Yokota, numerous flights were on the schedule, including one to Travis, two to Hawaii, and another PE. Normally, after you mark yourself present (within 24 hours of the flight), there is nothing else you need to do before Roll Call. But we had marked ourselves present the night before, so when we arrived at the terminal the next morning, my husband stopped by the desk to confirm that all was good.
| Related Reading: What You Should Know About Flying Space-A via Travis AFB
The terminal had marked us present for Hawaii, but not for the flight to Travis. If my husband hadn't confirmed which flights we wanted to compete for, we would have missed the Travis Roll Call entirely!
7. A sleeping pad is useful, even when you can't lie on the floor of the aircraft.
All three of our flights between Japan and Germany were KC-135s. On the first two flights, the aircraft had cargo in the middle of the bay, so there was no space to lie on the floor. Fortunately, there was enough room to lay our sleeping pads across the webbed seating.
The sleeping pads smoothed out the space between seats, blocked the cold air coming up from the floor, and made for a very comfortable night's sleep!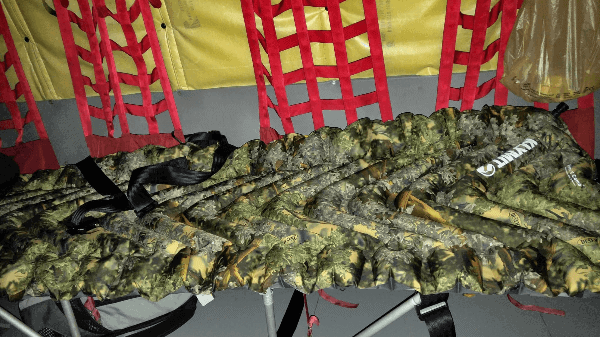 Our third flight was more crowded, so we did not have room to lie down across multiple seats. We still sat on one of our sleeping pads, which was far more comfortable than sitting directly on the webbed seating and a lot warmer!
Here is the sleeping pad we use. It rolls up to 3″ x 8″ and weighs slightly more than a pound. Fully inflated, it's 72″ x 23″.
| Related Reading: How to Choose a Sleeping Pad for Space-A Travel
8. Dressing in layers is absolutely necessary on a KC-135.
You should dress in layers for any Space-A flight on a military aircraft, but on a KC-135, it's especially important that you can add and remove clothing easily.
During takeoff and landing, the aircraft is usually extremely warm. Throughout the flight, the temperature will vary. The floor will be very cold, due to the fuel stored underneath.
Use a layering system like this one to ensure you are comfortable throughout the flight.
What Could We Have Done Differently?
Our recommended strategy when flying Space-A is to "take the first thing smoking." Implementing that strategy means that you shouldn't wait for the perfect flight and that you should keep moving rather than getting stuck in a location.
We use that strategy when:
There are multiple flights in a day going in the direction we are headed (we take the first one, even if flights later in the day would be more convenient)
Nothing is moving at our location (we consider flying to another base, even if it's not in the direction we want to go, if that base has more activity)
At Yokota, there was never a point when we had no possibilities within the next 72 hours; there was something on the schedule nearly every day. Having said that, we considered a few options besides waiting in place.
Option 1: Flying to Kadena AB (Okinawa, Japan)
While we were at Yokota, they had several flights to Kadena, and getting a seat would have been no problem. However, Kadena was having technical difficulties with their computer systems, and passenger terminal staff could only see flights for the upcoming 24 hours.
With that limited information, there was never a point where we had reason to believe we could hop towards CONUS out of Kadena sooner than we could fly out of Yokota.
Kadena is large and very spread out. It does not have a base shuttle, so if we got stuck there, we would need to rent a car, which would significantly add to the cost. It didn't seem like a better option than staying at Yokota.
Option 2: Flying to Osan AB (Korea) or MCAS Iwakuni (Japan)
Another possible option was to fly "upstream" to catch one of the Patriot Express flights before they stopped at Yokota. If we had gotten seats at either of those locations and been manifested all the way to Seattle, we would not have had to compete for seats at Yokota and could not get "bumped" by other Space-A passengers, even if they were in a higher category.
| Related: 7 Things to Know About Flying Space-A to Osan AB
We might have tried this strategy if Yokota had had nothing on the schedule and if we couldn't get a room at the Kanto Lodge. However, we didn't want to leave our comfortable – and still hopeful – situation at Yokota to try our luck elsewhere.
Lodging at Iwakuni is more expensive than at Yokota, and they do not have many flights in the direction of CONUS besides the PE. Osan had a few flights to Hawaii, but Hawaii is an expensive place to get stuck. We considered all of those factors when deciding to stay at Yokota.
Option 3: Purchasing commercial tickets to Europe
But that would have broken our only rule for this trip! Also, having left our home in Fukuoka, we had no rent or mortgage payment, so staying at the Kanto Lodge fit within our budget. The room, complete with a full kitchen, was larger than our Japanese apartment.
Why Our Approach Was Different
Compared to a Space-A trip when the objective is simply to get from one place to another as quickly and cheaply as possible, we approached this journey a bit differently.
In our case, the goal was to fly Space-A all the way from Japan to Europe. That meant that we didn't want to fly to a location that had no outgoing Space-A flights, because we might need to fly commercial to keep moving forward.
Also, on this trip we had the luxury of no monthly rent obligation, so all of our lodging costs were incremental. Our "rent" was whatever we paid to stay wherever we happened to be.
Several flights to JB Elmendorf-Richardson (JBER) in Alaska came on and off Yokota's schedule while we were there, although none actually took off before we left. Absent other options, we would have hopped one of those flights, but we had serious concerns about how we would continue our journey from there.
We didn't see a lot of flights going out of JBER, and most of the ones we did see were headed to other locations in Alaska or to Air National Guard bases that don't have much Space-A activity.
Fortunately, the Travis flight was the first mission with seats available after those PE flights we missed, and everything worked perfectly after that!
What Happened Next?
After we landed in Spangdahlem, we got a one-way rental car to Ramstein. We stayed for a few days to get our bearings and some R&R after three consecutive nights of sleeping on cargo planes.
It wasn't our first visit to Ramstein, but during our stay, we discovered two great places to eat on base and a few other tips. I updated our article about things to know when flying Space-A to Ramstein with the new information.
From Germany, we officially transitioned from military-style travel to "slow" travel to explore Portugal and Spain. We stayed in short-term apartment rentals, shopped at the local grocery stores, and experienced life in the cities we visited. Who knows, one of them could be our next home!
Click here to read about our visit to Portugal!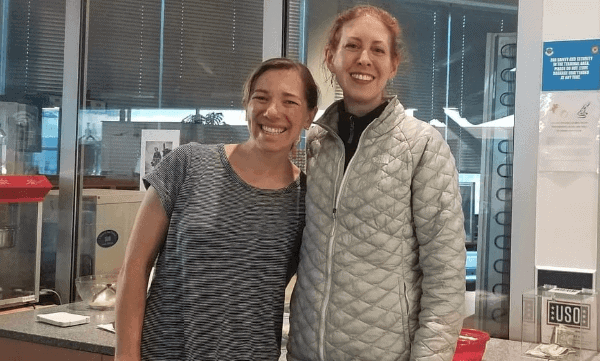 Would we do this trip again, taking 11 days to travel from Japan to Europe? Yes!
My husband and I find that traveling Space-A is an adventure in itself. This trip, we sat in the cockpit during takeoff, lay in the boom pod, learned about the operations of the KC-135, spent quality time at Yokota AB, and met many wonderful retirees and active duty folks along the way.
These are the reasons we love traveling Space-A.
Next time you take a Space-A trip, let us know your lessons learned so we can share them with everyone. Look forward to seeing you at a terminal or base in the future!
Related Reading
Flying Space-A to Japan: 9 Things You Need to Know
Tips & Strategies for Flying Space-A
Space-A Packing List: What to Wear and Bring on a Military Hop