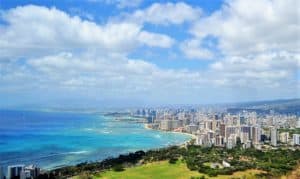 You can read every rule and procedure ever published about flying Space-A and still not know how to have a successful journey. Here's where the strategy comes into play. You will learn a lot as you go, but in the meantime, here are a few Space-A flying tips based on what we've learned through more than a year of traveling Space-A around the world.
Give Yourself as Many Options as Possible
Depending on where you live, you may have several possible bases you could fly from. When we lived in the Washington, DC area and wanted to get to Europe, we looked for flights from JB Andrews, Dover AFB, Baltimore airport, and Naval Station Norfolk. We also considered JB McGuire-Dix as an option. They have a lot of flights to Europe, and it's fairly easy to fly Space-A from JB Andrews or Dover AFB to McGuire.
If you don't live close to a base with an air terminal that has regular flights to your target destinations, consider how you could easily get to an area of the country (such as DC) with several nearby bases. Or make your way to a base that has frequent Space-A flights, even if they aren't to the place you want to go. Flights within CONUS tend to be less competitive than overseas flights, so chances are good that you can hop to one of the major hubs.
So how do you know which bases have the most flights to the places you want to go? Or which CONUS bases have the most flights from one to another?
Become a Student of the Facebook Slides
I follow dozens of passenger terminals' Facebook pages to become familiar with their flights. Do I look at each terminal's page daily? Of course not. But I review them periodically and as they show up on my feed. When we are planning a trip, I focus on the bases we might fly to and from. For example, for several weeks before we were heading to Japan in August 2016, I monitored the activity at Travis AFB, JB Lewis-McChord, JB Elmendorf-Richardson, JB Pearl Harbor-Hickam, Andersen AFB (Guam) and Kadena Air Base (Okinawa). Any or all of those bases could have been part of our journey, so I watched the slides to get a sense of how many Space-A seats there were and how many Cat 6's were getting on. (For easy ways to monitor flight schedules, read Facebook Tips for Space-A Travelers.)
In case you weren't sure where JB Elmendorf-Richardson is, it's in Alaska. That brings me to my next point….
Consider Avoiding Major Hubs
Sometimes the busiest air terminal isn't the best option. For example, many Space-A passengers traveling to and from bases in the Pacific try to fly through Hawaii. But JB Pearl Harbor-Hickam is a major hub and there are a lot of people competing for flights. In our experience, active duty spouses traveling with multiple children occupy many of the Space-A seats; those passengers are in a higher category than retirees. So if you can avoid Hawaii by catching a flight through JB Elmendorf-Richardson or Eielson AFB, you might not have so much competition for seats.
When flying Space-A, you have to be willing to travel out of your way or to a less desirable location to keep moving forward. As an Army buddy advised my husband in his early days of flying Space-A . . .
Take the First Thing Smokin'
In other words, don't wait for the perfect flight. To borrow from an old proverb, a flight departing today is better than two on the schedule for tomorrow.
Let's say you are at Ramstein AB in Germany trying to get back to Dover AFB, where you parked your car. There's a flight to Dover tomorrow evening, but seats are still TBD. Today there is a flight to Westover Air Reserve Base in  Chicopee, Massachusetts with 10 seats available. You might not know exactly where Chicopee is, but you should seriously consider taking that flight. Chances are good that you will get a seat, because most of the other Space-A passengers will wait for the Dover flight. But the Dover mission could end up having no Space-A seats or it could fall off the schedule entirely. If you fly to Westover, at least you will have made it across the Atlantic and won't face the possibility of getting stuck in Germany or paying for an overseas fare.
Even if you do get a seat on the exact flight you wanted, keep in mind that nothing is certain until you're in the air . . .
Expect Last-Minute Changes
Every aspect of your planned flight can change without notice: the number of seats available, the Roll Call time, the boarding and departure times, even the baggage weight limit.
There is a lot of "hurry up and wait" when flying Space-A. You may rush to get to the terminal in time for Roll Call, only to sit there for 5 hours before boarding. It can be tricky to decide when you need to stay put and when you can monitor the situation from your phone or computer. Sometimes the terminal will announce a significant delay, only to call for boarding 30 minutes later. Other times we waited in the terminal all day with bags packed only to find out the flight wasn't taking off until the next day. The terminal staff may give you an idea of whether it's safe to leave, but often it's your call.
One thing is certain: do not go back to sleep if you wake up and see that an early morning Roll Call has been pushed back. Go to the terminal at the original Roll Call time. My husband and I learned that lesson multiple times.
Finally, the #1 tip when flying Space-A is . . .
Have a Plan B
If you read the overview and stories about our experiences, I'm sure you figured out that Flying Space-A is very unpredictable. You should always have a contingency plan. Depending on how much time and flexibility you have, you might be able to wait several days for a flight. You could hop to another base that has more flight options, or you could even spend your holiday at that next base if you still can't get out. I've heard several stories of people trying to get to Hawaii who decided to spend a week golfing at Travis instead. Of course, buying a regular plane ticket is always a possibility, but it can be very expensive, especially at the last minute. I recommend pricing this option as part of your planning so you know how much you would need to cover it.