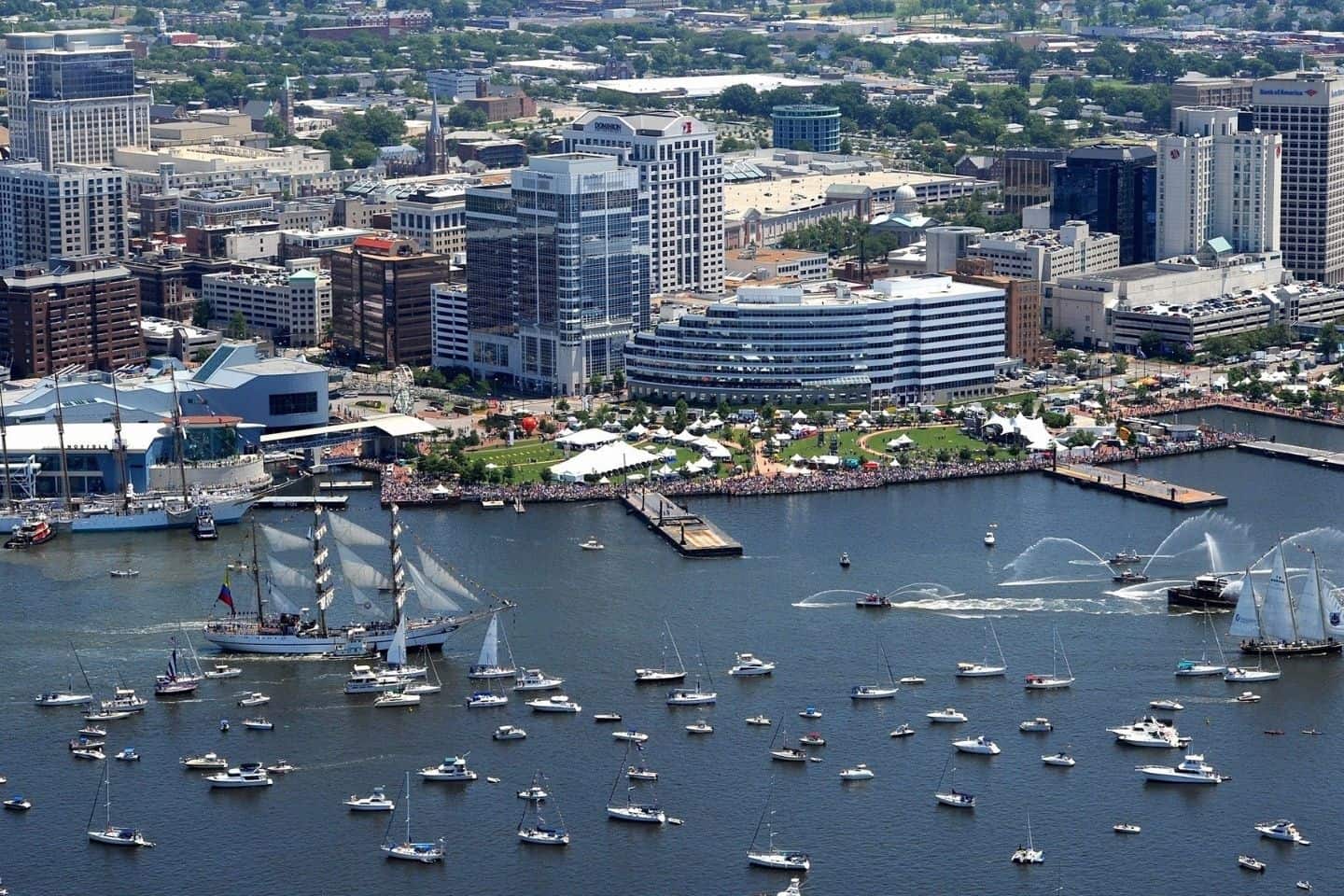 Naval Air Station (NAS) Norfolk is one of the major East Coast hubs for Space-A travel. With multiple weekly flights to US naval bases in Europe, it's a great starting point if you're headed to the Mediterranean!
The Norfolk Air Mobility Command (AMC) terminal has Patriot Express missions as well as regular military cargo flights, so you have plenty of options when trying to take a hop via this location.
If you are new to Space-A flying, read this Quickstart Guide to Space-A Military Flights first to get a basic understanding of how Space-A works. Then read on to learn everything you need to know about flying Space-A via the Norfolk AMC terminal!
Note: Between 1 September and 1 December 2023, the NAS Norfolk passenger terminal will be closed due to runway repairs. The Patriot Express missions that normally depart/arrive via NAS Norfolk will use the AMC terminal at Baltimore Washington International Airport (BWI) instead.
Contents (click to expand)
1. Norfolk is the starting point for several Patriot Express flights.
Norfolk's weekly scheduled flights are Patriot Express (PE) missions. Also known as "the rotator," the PE is a commercial charter flight contracted by the Department of Defense to transport active duty members and their families to/from duty stations. You can fly Space-A on the PE when there are unoccupied seats.
The current PE schedule from Norfolk includes biweekly flights to Rota (Spain), Sigonella (Italy), Naples (Italy), and Souda Bay (Greece).
Note: Space-A to Rota has been restricted since September 2022. Please see this article for more details.
Norfolk also has PE missions to Bahrain and Guantanamo Bay, Cuba, but access is limited to duty personnel and sponsored guests. The mission to Djibouti does not take Space-A passengers.
View the monthly PE schedule on the Norfolk AMC terminal's web page.
2. Norfolk has Space-A opportunities on many different military aircraft.
Besides PE flights, many aircraft, such as C-17's, C-5's, C-40's and C-130's fly operational missions out of Norfolk.
Missions fly to/from many of the same bases that the PE serves. Other bases with regular flights to and from Norfolk include Travis AFB, NAS North Island, NAS Whidbey Island, Dover AFB, JB Charleston, and various Air National Guard bases along the East Coast.
Schedules for these missions are available up to 72 hours in advance on Norfolk's web page.
3. Know what to expect at the Norfolk terminal and arrive early.
The best way to access the Norfolk AMC terminal from off base is via Gate 22 (1.5 miles to the terminal). The other gates will result in a long ride through the base and have variable hours.
If you are competing for a PE (or for a flight departing around the same time as a PE), arrive early. The line can to mark present can take a long time. Passenger terminal staff will allow duty passengers to go first.
Remember that when flying Space-A, you must mark yourself present before Roll Call begins. A long line is not an excuse for not marking yourself present in time. If you are late, you will go to the bottom of the list after the last Category 6 passenger competing for the flight.
| Related: Get the full scoop on using Space-A flights and lodging with our free 45-page Guide to Military Space-A Travel.
You mark yourself present at the desk downstairs. If a PE is departing and the terminal is crowded, terminal staff will request that passengers wait upstairs for Roll Call, which is announced over the PA system. The downstairs area is tight, and there will be a lot of duty passengers checking in.
The upstairs area has seating, a small USO, a children's room and vending machines. The Norfolk terminal is not close to any base eateries, so plan accordingly.
4. Some flights at Norfolk board using a jetway.
The PE flights and some C-40's board via a jetway. These flights are the best options for Space-A travelers who use a walker or wheelchair.
The other military aircraft load from the tarmac.
5. You have several choices for military lodging at Norfolk.
Navy Gateway Inn & Suites (NGIS) has multiple locations on NAS Norfolk. The location at Wall Manor (1353 Gilbert St.) also handles reservations for rooms at Maury Hall (9611 Bacon Ave). Check-in for both locations is at Wall Manor.
These two NGIS buildings are within a mile of each other and located on the main part of the base, near the Exchange and Commissary. They are a 10-minute drive from the passenger terminal (approximately 3.5 miles).
NGIS has another facility located in the Joint Forces Staff College (Bldg. SC-400 Kiska Road). Navy Lodge Norfolk is only a few blocks from that NGIS.
For military lodging a little farther afield, Joint Expeditionary Base Little Creek-Fort Story has an NGIS and a Navy Lodge. Both are about a 25 min drive from the terminal.
For off-base lodging, Hampton Inn Norfolk Naval Base is one of the closest hotels (with positive online reviews). It offers free breakfast and is less than a mile from the base.
Other hotels near the base are clustered near Norfolk airport, downtown Norfolk, or along the beach. Note that summer traffic, particularly in the Virginia Beach area, is very heavy and can significantly affect drive times.
Click here to search for more hotels near NAS Norfolk.
6. Long term parking is available at the Norfolk terminal for up to 30 days.
Spaces are located on the far side of the terminal parking lot. Request a parking pass after you have been selected for a flight.
7. The main ground transportation options are rental cars and taxi/Uber.
Several taxi companies have base access (see the AMC Gram, available on the Norfolk Facebook page and at the terminal). A few taxis are often waiting at the terminal, but if you arrive on a full PE, taxis could be in short supply.
Uber and Lyft are possible alternatives, as the Norfolk area has a large military community, and some dependents are drivers (with base access).
No rental car services have a location in the terminal. The closest Enterprise is at 912 W. Little Creek Road (757-489-2006). Hertz is located at Norfolk International Airport (757-857-1261).
8. Alternate flights into and out of Norfolk include commercial and other possible Space-A options.
Norfolk International Airport is less than 10 miles from the terminal, and Newport News/Williamsburg International airport is about 30 miles away. If you can't catch a hop out of the Norfolk AMC terminal, or you live in a part of the country that does not have bases with Space-A activity, those airports are the most convenient for flying commercial.
The next closest option for Space-A flights is NAS Oceana, about 25 miles from NAS Norfolk. Oceana does not post flight schedules online, and they only accept in-person signups. To hear their flight schedule, call them at 757-433-2903. Oceana most often has flights to other Naval Air Stations, including Key West and North Island (San Diego).
Ready to fly Space-A via Norfolk?
With Patriot Express flights to numerous destinations plus many missions on other military aircraft, the Norfolk AMC terminal gives you plenty of Space-A opportunities!
In preparation for your trip, remember to review the Quickstart Guide to Space-A flights so you're familiar with the process and know how to boost your chances of getting a seat.
Also, if you've never flown Space-A on the Patriot Express, here's what you need to know.
Finally, make sure you know what to bring with you on a Space-A flight!
Cover image courtesy of Canva.