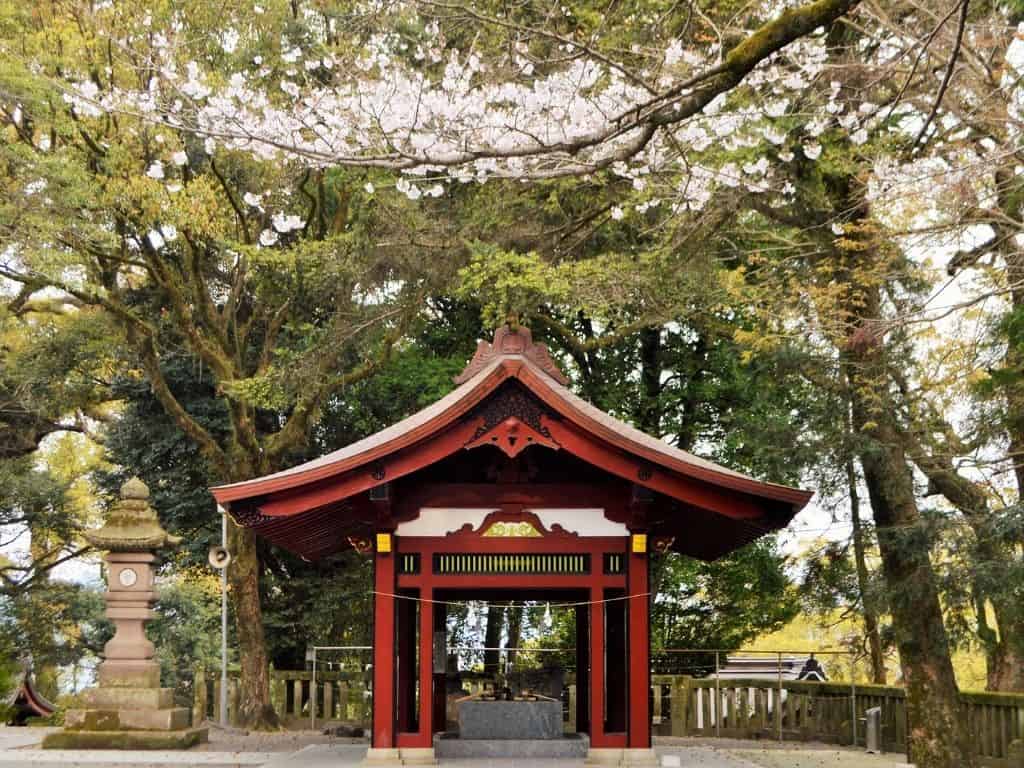 Japan is one of the most unique travel destinations in the world and well worth the time and effort to get there. Military travelers are very fortunate, because we have the privilege of taking Space-A flights (aka "MAC" flights) to Japan, allowing us to save hundreds – or even thousands – of dollars on airfare.
Flying Space-A to Japan is an incredible opportunity that makes the possibility of visiting this beautiful country very realistic. Here's what you need to know to plan your trip.
If you are new to Space-A flying, read this Quickstart Guide to Space-A Flights first to get a basic understanding of how the process works.
Contents (click to expand)
1. The CONUS passenger terminals with the most Space-A flights to Japan are Travis Air Force Base and the Seattle Tacoma Airport Air Mobility Command (AMC) terminal.
From the SeaTac AMC terminal, you will fly on the Patriot Express (PE), which is a charter plane used to transport active duty families PCSing to locations in the Pacific. Also known as the "rotator," the PE to Japan makes stops at multiple bases before returning to Seattle.
The PE generally has more Space-A seats in the second half of the month.
| Click here to see the PE routes and flight schedules to Japan
If you start at Travis, you might get a flight directly to Japan, or you may need to hop to Hawaii and/or Guam along the way.
Hopping to Japan via JB Elmendorf-Richardson in Alaska is another option and a good way to avoid the crowds in Hawaii. Travis has regular flights to Elmendorf.
2. When flying Space-A to Japan from the U.S., your first arrival point will be Yokota Air Base, Misawa Air Base, or Kadena Air Base.
Yokota is 90 minutes from Tokyo. Misawa is in northern Japan. Kadena is on Okinawa.
From those terminals, you can hop to Marine Corps Air Station Iwakuni, which is about an hour from Hiroshima.
You may see flights to Atsugi Naval Air Base on the schedule, but you are not authorized to take those flights unless you have a Status of Forces Agreement (SOFA) stamp in your passport.
3. You must have your passport stamped by Japanese Immigration within 24 hours of entering and leaving Japan.
If you do not get your passport stamped within the required timeframe, you are in Japan illegally.
The process for getting your passport stamped differs at each location.
Yokota and Kadena
At Yokota and Kadena, you must go to the Japanese Customs & Immigration Office located off base.
At Yokota, the office is just outside the base, only a block from the terminal. The office is open from 0500 – 2200. Yokota's page on the AMC website has a map that shows the location of the office.
Depending on availability and workload, a representative from Japanese Customs or a Military Customs Official may give Space-A passengers a courtesy ride. Otherwise, you must go on your own.
If you arrive late at night and the office is closed, you are responsible for going there yourself the next morning.
At Kadena, the office is about 15 minutes away by car. A member of the passenger terminal staff will transport passengers to the office and bring them back to the base.
The departure procedures at the Yokota and Kadena AMC terminals differ.
At Yokota, you must get your departure stamp before you can mark yourself present for an international flight. The departure stamp is good for 24 hours.
If you don't get a seat or the flight is canceled, you must return to the immigration office and get a "Not Departed" stamp. You must repeat the process the next time you want to compete for a flight.
At the Kadena terminal, you can't get the passport stamp until you already have your boarding pass. As soon as you are manifested on a flight, you must go straight to the immigration office so you can get back to the terminal in time for boarding.
Passenger terminal staff do not transport passengers to get the departure stamp, so you must get there on your own. You can take a taxi or, if you rented a car from a location on base, you can drive there yourself.
The second option requires you to get permission from the rental car company to leave your vehicle in the passenger terminal parking lot, because you probably will not have time to return it to them before catching your flight. (This is what we did the first time we were in Okinawa).
Misawa
If you travel to or from another country via Misawa, it's most likely on a Patriot Express mission from Seattle or Osan Air Base in Korea. On those days (Mondays and Tuesdays), an official from Japanese Immigration is in the terminal to stamp passports.
If you arrive at Misawa Wednesday – Sunday, they will hold your passport and you will be restricted to the base until a Japanese Immigration official arrives on Monday.
4. Yokota has one lodging facility. Kadena and Misawa both have two.
Yokota Lodging
Yokota's Kanto Lodge is about a 15-min walk from the Yokota passenger terminal. They offer a courtesy shuttle to/from the terminal for guests checking in or out. There is also a base shuttle (discussed below) that stops at both locations.
If the Kanto Lodge is full, your only option is staying off base. The local town is called Fussa, and it has a few hotels.
The Toyoko Inn is a good choice, because it is across from the train station and a mall that has several restaurants and a grocery store.
Airbnb also has some inexpensive local listings near Yokota (this article has tips on using Airbnb in Japan).
Kadena Lodging
Kadena has a Navy Gateway Inns & Suites and the Shogun Inn. Between the two, it's generally not difficult to get a room on base. If both of those lodges are full, there are several other U.S. military bases nearby.
If you prefer to stay off base near Kadena, you can find many hotels, often at a lower price than base lodging. However, keep in mind that Japanese hotel rooms are usually very small. Click here to search hotels near Kadena.
Misawa Lodging
Misawa's lodging facilities are the Misawa Inn and Navy Gateway Inns & Suites. They are located approximately one block apart.
If base lodging at Misawa is full, check rates and availability for lodging in town.
5. You can use most facilities on bases in Japan.
Space-A travelers, including retirees, who are not stationed in Japan can use the commissary, Exchange, MWR, and other services on U.S. military bases in Japan.
| Related Reading: 5 Japan Destinations You Can Visit and Stay on a U.S. Military Base
Retirees are authorized to eat in the dining facilities at Yokota and Misawa but can eat at the Kadena dining facility only on holidays.
6. Yokota has a base shuttle and shuttles to both Tokyo airports. Kadena and Misawa do not operate any shuttles.
Kadena is large and very spread out. If you plan to spend any significant time there, you will need to rent a car. The on-base option is Times Car Rental. They have two locations: one is by the gas station close to the passenger terminal, and the other is in building 328 of the Shogun Inn.
A local taxi service called Panda Taxi also has base access at Kadena.
Misawa also does not have a base shuttle. Times Car Rental is located in the Exchange, and there is a base taxi service called Kichi Taxi.
| Related Reading: What You Need to Know About Renting a Car in Japan
Yokota has a base shuttle that stops at the passenger terminal, the Kanto Lodge, and other destinations around the base. It also has shuttles to both Tokyo airports and the New Sanno Hotel (a U.S. military hotel in downtown Tokyo).
Following are the Tokyo airport and New Sanno shuttle routes. View the online schedules for departure times and costs.
The Narita Airport and Haneda Airports shuttles depart from the Temporary Lodging Facility (Bldg 4304) and the Kanto Lodge.
The New Sanno Hotel shuttle departs from the Kanto Lodge only.
7. When trying to fly Space-A from Japan to CONUS, take the first thing smokin'.
In other words, don't get stuck waiting for the perfect flight. This is an important Space-A strategy. Take the earliest flight you can get in the direction of your destination.
For example, if the schedule shows a flight to Fairchild Air Force Base today and a flight to Travis tomorrow, take the one to Fairchild, even if Spokane, WA is less convenient to your final destination. It's better to get across the pond than to risk getting stuck in Japan.
8. Price commercial options for travel to and within Japan. Depending on the number of travelers and the time of year, Space-A might not be worth it.
Traveling Space-A to Japan from CONUS can easily take a full week or more, even if everything goes relatively smoothly.
For example, you might spend a day or two getting to Travis and a few days at Travis waiting for a flight. If you don't get a direct flight to Japan, you may stop in Hawaii and/or Guam along the way.
Keep in mind that you will pay for lodging and meals at each stopover. Compare that time and cost with the price of a flight that takes you straight to Japan and allows you to plan the rest of your trip based on a confirmed arrival date.
| Related Reading: Lessons Learned from Flying Space-A from Japan to Europe
If you're traveling between mainland Japan and Okinawa, one of the Japanese low-cost carriers is often the most cost-effective way to travel. In fact, Space-A likely isn't the best option if you're starting from or traveling to a location that is not convenient to a base.
For example, if you are in Kyoto, it will take you about 3.5 hours and well over $100 per person to travel to Yokota by train. From there, you will need to pay for lodging until you can get a flight.
Alternatively, you could take the train from Kyoto to Osaka (about an hour/$10) and fly Peach Aviation to Naha, Okinawa. Peach often has fares between Osaka and Naha for under $50 each way.
9. When flying commercial to Japan, you may need proof of onward travel.
Officially, tourists entering Japan must have proof of onward travel in the form of a round trip plane ticket or some other transportation out of Japan. Military travelers arriving via Space-A won't have a problem, but if you plan to fly commercial to Japan and fly Space-A home, for example, beware.
You are most likely to encounter enforcement of this law when checking in for your flight in the U.S. or wherever you are originating travel. Airline staff may request to see proof of onward travel, and if you don't have it, you likely won't be allowed to board. Immigration staff in Japan could also ask to see proof that you don't plan to stay indefinitely.
There are several ways to address this situation:
Buy a refundable one-way ticket back to the U.S. and cancel it as soon as you get to Japan.
Buy the cheapest plane ticket you can find from any city in Japan to anywhere else in the world. It doesn't matter where or when, as long as it's within 90 days of your arrival in Japan. I like Skyscanner, because you can perform that exact search (From "Japan (JP)" to "Everywhere"). You may find refundable tickets, but if not, losing $36 won't break the bank.
Price round-trip tickets. One-way fares to Japan often are not significantly cheaper than round-trip fares. If you are planning to fly commercial to Japan anyway, unless you don't know your return date (or you want the adventure of flying Space-A), the extra cost of a confirmed flight home might be worthwhile.
Ready to Hop to Japan?
Flying Space-A on military flights to Japan is often a great way to make the long trip more affordable, especially when traveling as a family. Now that you know what to expect, use the information above to develop a strategy for your travel so that you can increase your chances of having a smooth Space-A journey!
Join the Facebook group U.S. Military Travelers in Japan to exchange tips and advice with others in our community!
Related Reading
The Best Japan Travel Guide Books
Staying as The New Sanno Hotel in Tokyo
Visiting Hiroshima and Miyajima Island
Climbing Mt. Fuji (Military Style)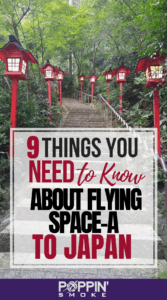 ✕
Get Your Free Guide to Military Space-A Travel
Subscribe to get the 45-page Guide and learn all about Space-A flights and lodging. You will also receive news and updates tailored to military travelers like you!