What's the best way to save money on accommodations AND get a taste of local life when visiting Japan? Use Airbnb.
In Japan, Airbnb is often significantly cheaper than staying in hotel rooms, especially with multiple guests. Staying in a private home or apartment also gives you a more "local" experience, and you may have extra conveniences that you wouldn't get at most Japanese hotels, such as a kitchen or washing machine.
Airbnb is our go-to option when visiting a new city in Japan, and we've had nothing but good experiences. All of the apartments we rented in Japan were immaculately clean and matched closely with the listing descriptions.
Part of our success with Airbnb in Japan is due to our use of this checklist we created based on our experiences renting short-term apartments around the world. We've also learned a thing or two about choosing a good apartment in Japan after living there for more than 2 years and renting apartments in Kyoto, Nagoya, Kagoshima, Okinawa, and Fukuoka.
Whether you're an AirBnB expert, or you're new to the world of short-term rentals, here's what to look for and what to expect when using AirBnb in Japan.
Contents (click to expand)
Is Airbnb Legal in Japan?
Let's get this question out of the way first. Yes, it's legal.
In June 2018, Japan imposed new home-sharing regulations that affected Airbnb listings throughout the country. Initially, the number of listings dropped significantly, as many owners were not prepared to comply, but inventory bounced back over the years as owners took the required steps.
| Related Reading: The Best Japan Travel Guide Books
Per the new regulations, all Airbnb hosts in Japan must register their listing and display a license number on their listing page. Airbnb removed non-compliant listings, so if a property in Japan has a listing on Airbnb, it's legit.
Book your Japan Rail pass before you go! Click here to reserve now.
Passport Required
Japan Airbnb hosts are also required to record guest information, including name, address, occupation, and nationality. If you don't reside in Japan, they will ask for a copy of your passport. In our experience, you can simply take a picture and send it to your host via e-mail.
Choosing a Listing on Airbnb Japan
Look for a Separate Toilet
Traditional Japanese homes have a separate toilet room. But in many smaller apartments, particularly in major cities, everything is crammed into one tiny room; picture an airplane bathroom with a tub tacked on.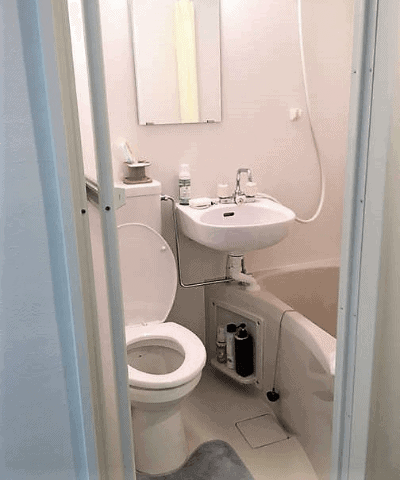 When you see those listings, keep looking. The all-in-one setup makes it impossible for more than one person to get ready at a time, and it's simply too cramped.
On a side note, you will seldom find a Japanese apartment with more than one toilet, let alone two showers, no matter how many bedrooms it has. If the listing says 1.5 bathrooms, look carefully (some listings have a picture of the floor plan), because the 1.5 often refers to the separated bath and toilet rooms.
Beware of a Room that Sleeps a Large Number of People
You will see many apartments that claim to accommodate five or six guests. Look carefully, and you will see that it often means they are cramming bunkbeds, a couch or sofa bed, and some futons into a studio apartment.
If you're traveling with a group, and all you need is a place to crash, those places might work for you. But if you want a comfortable stay in a place where you can relax in the living room, look for a more spacious apartment.
Decide if You Need Regular WiFi
Some Japanese Airbnbs have "pocket" or portable WiFi instead of the standard router. The great thing about this option is that the property owner may allow you to take the pocket WiFi with you as you tour around during the day.
Free public WiFi is limited in some parts of Japan, so having your own secure WiFi connection is very convenient.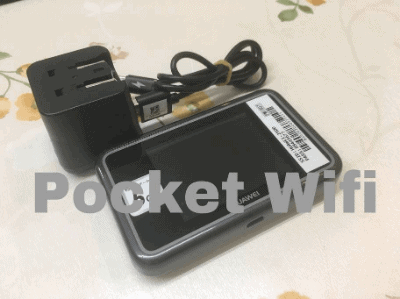 The downside of pocket WiFi is that it's often slower than a regular WiFi connection. It's not good if you need to work online or upload photos during your stay.
Look for the Important Pictures
It's common to see a Japanese Airbnb listing with dozens of photos. They have a close-up picture of everything in the apartment (the plates, the hair dryer, a stack of folded towels, the container of Q-Tips, etc.).
The listing may also include pictures of local attractions, convenience stores, the train station, etc. to show you that the property is in a good location.
Don't get lost in all those photos and forget that you haven't seen pictures from a vantage point that shows you the size and layout of the home. Follow our checklist and verify that you've seen pictures of the most important aspects of the apartment.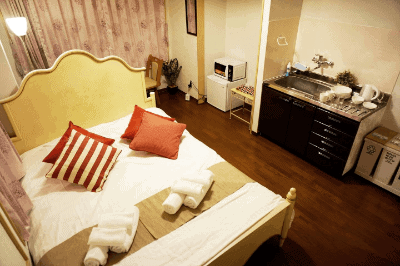 Don't Worry About the Language Barrier
Our Japanese was very limited, but even when we rented our first Airbnb in Kyoto, had no experience living in Japan, and didn't speak a word of the language, everything went smoothly.
Airbnb caters to tourists, so many Japanese hosts speak English or have an English speaker working with them. If the original listing is written in Japanese, Airbnb's translation is usually sufficient to figure out what you're getting.
| Related Reading: Visiting Hiroshima & Miyajima Island
All of the apartments we've rented in Japan had a code to enter the apartment buildings or a lockbox, so we never had to interact with the host in person. This practice also makes for easy access when arriving late at night.
In addition, all of our Airbnb hosts in Japan left an informational booklet or binder in the apartment. It was written in multiple languages and included detailed instructions (with pictures) for using all of the appliances, the WiFi, and the air conditioner/heater.
They made it very easy for guests who do not speak or read Japanese.
Preparing for Your Stay
Bring Hangers
Japanese apartments tend to have very little storage space and few places to hang anything. In our experience, Airbnb hosts supply two or three hangers at the most. It's a good idea to bring a few hangers for your clothing and bath towel.
A couple plastic over-the-door hooks like these also work well.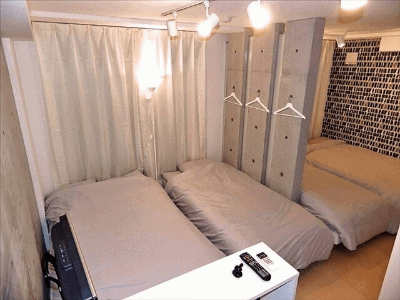 Print and/or Map the Address
Japanese addresses aren't composed of a street and house number. In fact, with the exception of major thoroughfares, most streets in Japan don't even have names, especially in residential areas.
Instead, addresses are a combination of the city district name and number, the city block number, and the house or building number. Don't worry about trying to understand that system, just prepare accordingly.
If you plan to take a taxi to your apartment, have the address printed or available on your phone to show the driver.
| Related Reading: How to Rent a Car in Japan
If you plan to drive to your apartment or walk from public transportation, find the location on Google Maps before you get there. (Pro tip: use the Google Maps "street view" to see pictures of the building and nearby landmarks.)
Staying in a Japanese Apartment
Leave Your Shoes at the Door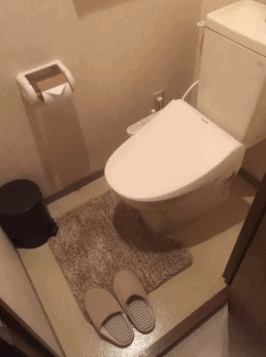 Japanese people do not wear shoes in their homes, and they will expect you to follow that custom as a guest. Many AirBnB hosts provide slippers. If not, wear socks or bring your own house shoes.
You can usually tell where the "shoe-free zone" of an apartment starts, because it will be one step up from the entryway.
Wear "Toilet Slippers"
Some Airbnb hosts in Japan also provide a separate pair of slippers in the toilet room. These slippers are to be worn exclusively in that room, and they are usually a different color from the house slippers. When you use the toilet, leave your other slippers outside the door, and don't forget to change back into them!
***
Other than the above, the usual Airbnb guest etiquette rules apply. Be respectful of the neighbors, don't make too much noise, and leave the apartment in a tidy condition. Airbnb rentals are a great way to save money, and they provide a unique experience. You can find everything from a modern apartment in Tokyo to a traditional home with tatami mats in one of Japan's rural areas. Use the tips above to find the perfect place for your stay in Japan!
When is Airbnb NOT the Best Deal for Lodging in Japan?
If you travel outside of the major cities in Japan, you will generally see fewer listings on Airbnb. The rooms listed are often in small guesthouses or hostels rather than apartments or rooms in private lodging. In some cases, Airbnb is the only channel (other than direct booking) through which you can reserve a room at these small establishments.
While there is nothing wrong with using Airbnb to book rooms this way (we've done it), before booking via Airbnb, search TripAdvisor to see if the room is also available through another site at a lower price.
We like TripAdvisor for hotels in Japan because it shows pricing for many hotel-search websites at once, several of which are specific to Asia/Japan. We sometimes find a better deal than on the major hotel search websites.
Also, if you are traveling alone and price is your primary concern, hotels can be a better deal than Airbnb for solo travelers. Japanese hotels often have single rooms with correspondingly lower rates.
Explore all of your options to find the best fit for your situation!
Related Reading
How to Choose the Perfect Short-Term Apartment Rental
Using Airbnb: Rental Tips for First-Time Guests
Visiting Hiroshima and Miyajima Island