We've been traveling and living overseas for more than 8 years, but even though we are constantly on the road, we seldom stay in hotels. Except when we are on a U.S. military base, short term apartment rentals from sites like Airbnb, Booking.com and VRBO (formerly Vacation Rentals by Owner) are our accommodation of choice.
Over the past several years, we have rented more than 60 homes around the world. We've found some fantastic places, a few mediocre ones, and everything in between.
With each stay, we learned something new, and we figured out what makes a good short-term rental. Based on our experience, we created the checklist below, and our list will help you choose the right apartment for your next vacation.
Contents (click to expand)
Searching for Rentals: Our Checklist
When looking for short-term rentals, we usually view at least a dozen different listings, often on multiple websites. Our go-to sites for apartments are AirBnB, Booking.com and VRBO.
Those three websites are among the biggest and most popular channels for finding short term apartments, but there are many other sites out there. They all have a similar interface with the same basic functionality.
| Related Reading: Airbnb Tips for First-Time Guests
Through trial and error, we learned that after looking at many different listings, it's hard to remember what pictures and amenities were associated with each home. We developed this checklist to review before we reserve a property, and it has helped us avoid renter's remorse.
Must-See Pictures
First and foremost, we want to see pictures of all of the main rooms. It's a major red flag when a listing has only one or two pictures of the inside of the property, and the rest of the photos are of nearby tourist attractions.
Over time, we've learned that we must see pictures of:
The Bathroom, Including the Shower
Could my husband and I share that bathroom for a week? Would I fit comfortably in that shower? Unless I am sure the answers are "yes," I keep looking.
We learned our lesson on this one when we rented an Airbnb near Barcelona. It had the smallest shower we had ever seen; it was so narrow that I could barely lift my arms to wash my hair.
The listing had a picture of the shower, but I didn't look carefully, and other guests didn't mention it in their reviews. Ever since then, if I can't tell how big the shower is based on the picture posted (and we otherwise like the apartment) I ask the host to send me another photo.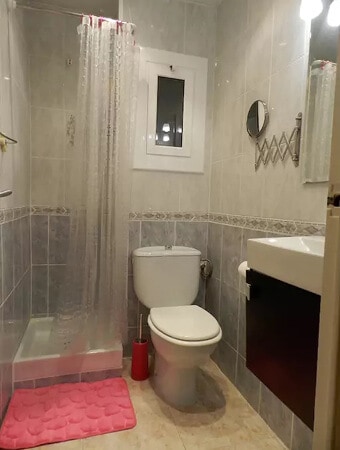 The Kitchen
Some of the savings from staying in apartments vs. hotels come from preparing your own meals, so make sure the kitchen is adequate. Pictures of the kitchen are very important so you know how much space and what appliances you will have.
Some of the details about the kitchen may be in the list of amenities and/or in other guests' reviews of the property. If you really want to cook, verify that the kitchen is well-stocked with pots, pans, and other essentials.
We stayed in a large Airbnb apartment in Cuenca, Ecuador that had a big kitchen, but the only cookware was one small saucepan. Since then, we've learned to pay attention to the kitchen furnishings.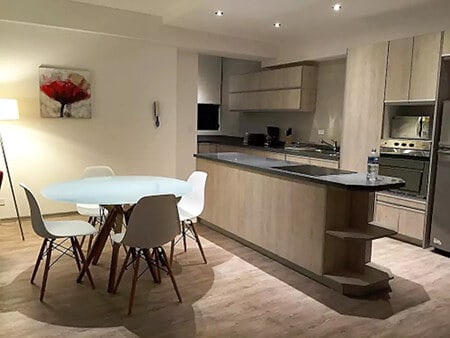 The Bed
If a real bed is important to you, look closely – some apartments have a futon, pullout couch, or some other setup.
The first apartment we rented overseas was on VRBO: a cozy studio in Garmisch, Germany. When we arrived, our hostess showed us around the apartment, and there was no bed in sight. At that moment, I remembered that I had not actually seen a picture of one in the listing. Our hostess pointed towards a large cabinet – it was a Murphy bed!
The mattress was actually quite comfortable, but the main drawback was that we had to fold up the bed every morning if we didn't want it to take up the whole apartment.
The Living/Dining Area
When staying in an apartment for more than a day or two, we like to have a place to sit and relax (besides the bed).
We look for apartments with a couch or some comfortable chairs. We also pay attention to whether there is a dining table.
Our lovely one-bedroom apartment in Montpellier, France had a comfortable bed and a large couch in the living room. But the only place to eat was at the coffee table.
Once again, I had looked at so many different listings that I lost track of what I had seen.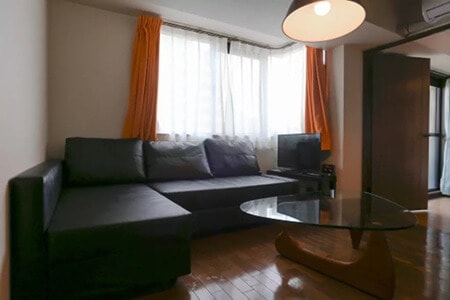 Other Amenities and Considerations
In addition to pictures of the main rooms, we look for a few other things when evaluating a listing:
Outdoor space. Does it have any? If the listing says it has a terrace, is there a place to sit? Does the terrace have a nice view, or does it overlook the neighbor's trash cans?
Washing machine. While we don't mind going to the laundromat, it's easy to find an apartment with a washer. Dryers are not as common overseas, so when renting apartments abroad, expect to hang your laundry to dry (another reason to look for a terrace).
Parking. If we have a car or plan to rent one, do we have a free place to park?
Elevator. If the property is not on the ground floor, will we have to drag our luggage up four flights of stairs? It's not a deal-breaker, but we like to know in advance.
Pets. Do the owners have them or allow guests to bring them? In our case, we aren't concerned about this issue because we have a pet, but because we are both allergic to cats!
WiFi. This one is very important, but it's also a feature that can be hard to assess in advance. Make sure the listing has reliable WiFi, and read the reviews to see if anyone commented on it.
Location
We don't always aim for the city center, because it's often a much better value to stay outside of the prime areas. But we ensure that we can easily access public transportation.
We use Google Maps to look at proximity to landmarks, restaurants, and parks or recreation trails. We also check out the "street view" on Google Maps so we can take a virtual tour of the neighborhood and see how it looks.
Reviews
Reviews are an important part of a listing, and you should read them carefully. Unlike TripAdvisor or Yelp where anyone can weigh in anonymously, on sites like AirBnB, Booking, and VRBO, only guests who have actually stayed in a property can write a review.
While some guests write exactly what they thought – good or bad – many reviewers are reluctant to criticize too heavily.
With that in mind, sometimes you have to read between the lines. If reviews are terse and simply say, "The accommodation was as described," chances are it wasn't that great. If there are several reviews and no one actually commented that a place was clean, it probably wasn't.
On the other hand, a listing with numerous enthusiastic reviews is most likely a good find.
Before booking an apartment, read ALL of the reviews for the listing. Two red flags we avoid:
If a host has multiple properties, and the listings have identical pictures.
Any of the reviewers mentioned that the host contacted them at the last minute and switched them to a different property.
There could be a logical explanation for either of the above situations, but skipping these listings has helped us avoid scams. In fact, we have had nothing but great experiences with short term apartment rentals!
Your Checklist
Everyone has different expectations for their accommodation, so your checklist may look different from ours. The important thing is that you have one so you know how to evaluate one listing versus another.
The more you use short term rental sites, the more you'll learn about how to pick the right apartment. You may not always find one that meets all of your criteria, but you will pay less and have a much more authentic experience than if you stay at a hotel.
Find a short-term rental for your next vacation!
Related Reading:
Using Airbnb: Tips for First-Time Guests
9 Pro Tips for Using Airbnb in Japan
How to Become a House & Pet Sitter