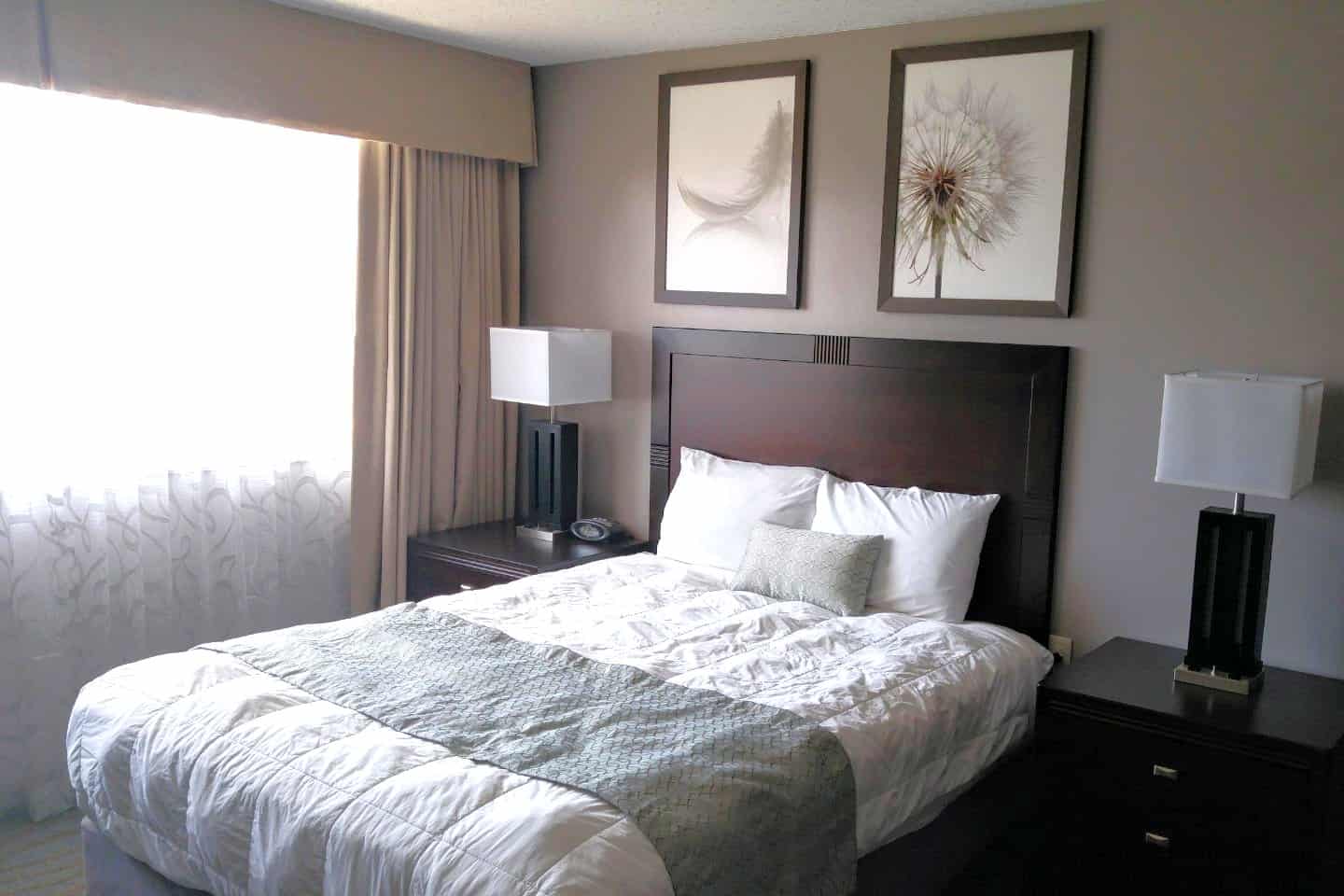 The option to stay in lodging on a military base is an incredible benefit available to members of the military community.
When traveling on leave or as a retiree, remember that you can stay in Department of Defense (DoD) lodging at most U.S. military installations around the world on a space-available basis.
During a 2-month road trip across the U.S., my husband and I spent only three nights in a regular hotel. Other than a few visits with friends, we stayed at military lodging facilities all other nights. In every instance, we enjoyed relaxing stays, a good workout, free parking, and in some cases, free breakfast before getting back on the road.
You might be surprised by all the places you can find U.S. military lodging, even overseas. While driving from Germany to France, we needed a place to spend the night, so we checked to see whether there were any military bases nearby.
Sure enough, Chievres Air Base in Lens, Belgium was right on the way. We enjoyed a little taste of home between stays at our European-style apartments and resupplied with our favorite American goods.
(Here are 11 other interesting places you can stay on a U.S. military base.)
Contents (click to expand)
Why Choose Military (DoD) Lodging?
Military Space-A lodging is great because it's clean, safe, relatively inexpensive, and you have easy access to a good fitness facility. Some of the rooms are quite spacious, often with a kitchen and living room, and many military lodges offer free laundry facilities for guests.
Depending on the location, while you're there you may be able to use other base services, such as the commissary, the BX, the golf course, or recreational equipment rentals.
Military Lodging Eligibility: Who Can Stay?
Service members, veterans with a service-connected disability, military retirees, DoD civilian employees, and family members can stay in military billeting on a space-available basis on most U.S. military installations around the world. The DoD Lodging website has links to the Air Force, Army, and Navy lodging policies.
Each branch of service has its own eligibility policy, but in general, Space-A lodging is more flexible than Space-A flying. A service member or retiree's spouse may use the privilege without the sponsor present. Also, eligible patrons can usually sponsor guests, including family members or civilians who do not have a DoD identification card.
| Related Reading: Military MWR Lodging: Resorts, Cottages, and Campgrounds
Individual bases, particularly overseas, may have their own restrictions, and there is no policy that applies to all facilities, even within a branch of service. Call and verify the policy before making your arrangements.
DoD Lodging Room Types
As a reminder for those who haven't stayed in base lodging for awhile, here's a refresher on the types of military accommodations.
In some military lodging facilities, standard guest rooms are like regular hotel rooms with a king or two queen beds. In other facilities, a standard room is more like a one-bedroom apartment with a kitchen, living room, and pull-out couch. You may also have the option of a room with a shared bathroom.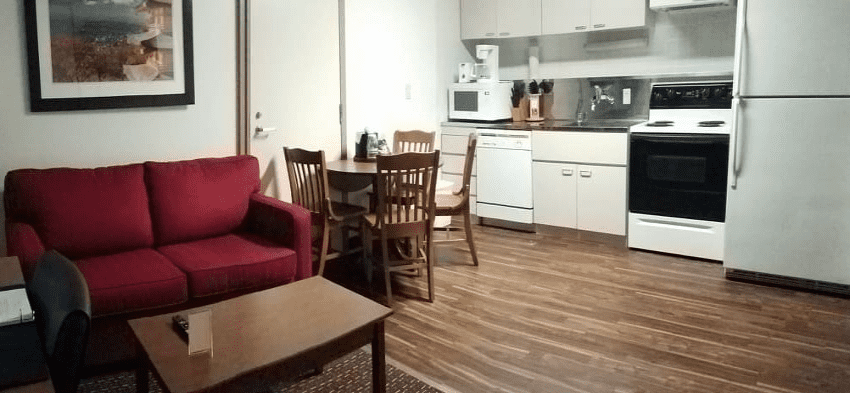 Depending on the branch of service, each base/post refers to standard rooms as: Visiting Quarters (VQs), Visiting Airman Quarters (VAQs), Visiting Enlisted Quarters (VEQs), or Visiting Officer Quarters (VOQs).
Distinguished Visitor Quarters (DVQs) are for military members who are E9 or O7 and above.
Temporary Lodging Facilities (TLFs) are generally for families and usually have at least two bedrooms plus a full kitchen. These accommodations are designed for families who need temporary housing during a PCS move, so they are similar to small apartments.
Because retirees and active duty traveling on leave are Space-A, you may get a room that does not match your rank (and you will pay the corresponding rate).
Space-A Lodging Reservation Basics & Tips
Whatever your branch of service, you can stay on any U.S. military base that offers Space-A lodging.
Policies vary by location in terms of how far in advance you can reserve a room and for how long. In some places you can reserve months in advance, but many of the military lodging facilities we've used didn't accept Space-A reservations more than a few days or a week before arrival. We stayed in several places that would only let us reserve one night at a time.
| Related Reading: 5 Japan Destinations You Can Visit and Stay on a U.S Military Installation
We have a few tried-and-true strategies when booking Space-A lodging. No matter what the receptionist tells us about availability when we first call to make a reservation, we almost always get a room.
Here are a few tips that got us 2 weeks at Naval Amphibious Base Coronado over 4th of July and more than a week at the Hale Koa hotel (a military resort in Hawaii) on only a couple days' notice:
Call the front desk and speak to the staff directly. Use the facility's local phone number rather than going through the central reservation line or the DoD Lodging website. Select the menu option to reach the front desk, NOT the option to make a reservation. The receptionist on duty might know of a cancellation or early check-out that is not reflected in the reservation system.
Request one night at a time. Some lodges are reluctant to reserve multiple nights for a Space-A guest, even if it's not officially against their policy, because they prefer to keep rooms open for official travelers. In those cases, we reserve one night at a time. The next morning, we call and ask if we can extend our stay. This strategy rarely fails.
Ask the receptionist when you should try again. If they're full the first time we call, we always ask when we should call back. Each location has its own policies and deadlines. At the Hale Koa, the receptionist told my husband to call at 0700 — not 0659, not 0701 — to inquire about last-minute cancellations. He followed her instructions and we got a room for a few nights, then an extension for another week, right in the middle of Spring Break season.
Call after check-in deadlines or check-out times. If we don't have intel like we had at the Hale Koa, we use our own logic to guess when they might release rooms. Many lodges hold rooms until midnight, at which point the guest is considered a no-show. Calling around 1100 after most guests have checked out is another option.
Inquire about a DVQ or TLF. Even if the rest of the lodge is full, the receptionist may not offer these rooms unless you specifically ask. They often keep a DV room on reserve or limit use of TLFs to families with children, but if you're trying for a last-minute stay, it's worth asking if they will release one of those rooms. DVQs and TLFs cost more than regular rooms, but they are still often a great deal.
Try for a room no matter how unlikely it seems. On more than one occasion, after hearing from fellow Space-A passengers that on-base lodging was full, we called and successfully reserved a room. When we landed at Andersen AFB in Guam for an overnight layover before continuing to Hawaii, everyone said Space-A lodging was rarely available. Even the sign next to the phone in the terminal indicated as much. Despite those warnings, my husband called anyway, and while most of our fellow passengers spent the night in the terminal, we slept comfortably in visiting quarters. Don't take everyone else's word for it; always try for a room.
Add your name to the waitlist. Some military lodging locations, such as a the New Sanno hotel in Tokyo, maintain a waitlist. Make sure to add your name if a room is not available the first time you call. There is a good chance the facility will have cancellations or release rooms they were holding in reserve.
Military Lodging by Service
Each branch of service runs their own base lodging.
Air Force: Air Forces Inns runs lodging on most Air Force and Air Reserve bases. They have 89 locations around the world and are extremely convenient when flying Space-A to or from Air Force bases.
We've always had great experiences at Air Force Inns, and I especially like the free laundry facilitie and the free automatic coffee machines they often have in the lobby. Sometimes it's the little things that make you look forward to your stay!
| Related Reading: 7 Air Force Inns for a Fantastic Fall Getaway
Army: Due to the Privatization of Army Lodging (PAL) program, InterContinental Hotels Group (IHG) now runs most lodging on Army installations within the continental United States (CONUS).
IHG uses its own branding, such as Holiday Inn Express or Candlewood Suites.
When staying at an IHG property, unlike base lodging run by other branches of the military, you pay tax on the rate. One benefit of the privatization is that you can accrue and use points as part of IHG's loyalty program. They also offer free breakfast.
Army Lodging manages two CONUS locations and all locations outside the continental United States (OCONUS). The rate at facilities run by Army Lodging is not taxed.
(You can find military lodging in some unexpected places. Click here for 12 great examples!)
Marines: Inns of the Corps and Marine Lodge run lodging on Marine Corps Bases. There are dozens of locations across the United States and in Hawaii and Japan, and some bases have both facilities.
Navy: The Navy has two brands of accommodation: Navy Gateway Inns & Suites (NGIS) and Navy Lodge. Both brands fall under Navy Exchange Service Command and have locations worldwide. Many naval bases have an NGIS and a Navy Lodge. We've stayed at both accommodations many times and found them to be equally good.
Coast Guard: Coast Guard bases tend to be small, and most do not have lodging. In general, those that have it are training bases, but there are several sites that have cottages and RV/camping facilities. The Coast Guard Lodging website lists all locations by state.
National Guard: Many National Guard locations (mostly training centers) have lodging, but it is managed by the individual sites. Depending on the facility, space-available accommodations range from single rooms with shared bath to Distinguished Visitor Quarters.
If you would like to stay at a National Guard base, I recommended searching online by individual location.
Across all branches of service, there are hundreds of locations and well over 50,000 rooms available for Space-A lodging. Whether you want convenience to a passenger terminal, an affordable family vacation, or simply a safe, familiar place to stay while traveling, on-base lodging is a great option using your military benefits!
Related Reading:
European Lodging & Transportation Tips for Space-A Travelers
11 U.S. Military Recreation Facilities to Try on Your Next Vacation
10 OCONUS Military Recreation Facilities to Try on Your Next Vacation