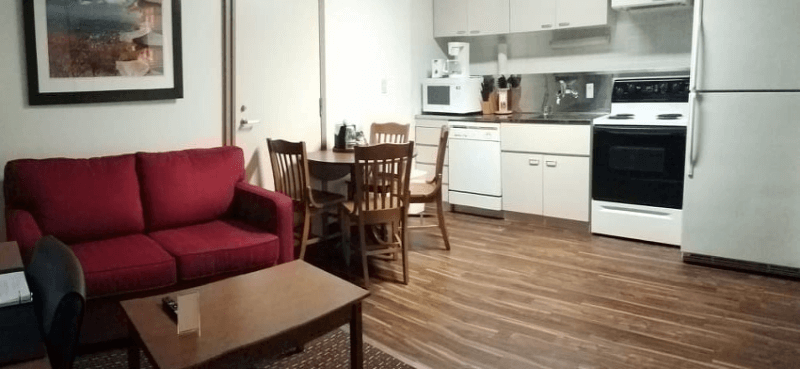 Many of you have already heard about the Fiscal Year 2020 (FY20) Air Force lodging rate hikes. Some military travelers immediately hit the panic button, ran for the bunkers, and declared an end to their Space-A adventures.
If you're like us, we will continue to travel. But we will also do more advance research and adjust our lodging strategies to defray the increased costs of staying Space-A in DoD lodging.
Here's how we plan to adjust our travel MO while employing the money-saving strategies that have worked for us the past 4.5 years of traveling the world.
Contents (click to expand)
Why DoD Lodging Rates Increased
In the past, military lodging rates generally increased slightly every one or two years, but their funding structure recently changed. Starting this fiscal year, military lodging facilities used for official travel are no longer receiving appropriated funds (aka taxpayer dollars) and must become self-sustaining.
As outlined in this November 2018 memo from the Office of the Under Secretary of Defense, all Military Departments were required to transition temporary duty (TDY) and permanent change of station (PCS) lodging facilities to non-appropriated funds (NAF) effective 1 October 2019 (the start of FY20). The directive does not apply to morale, welfare, and recreation (MWR) recreational lodging or to military treatment facility lodging.
The new requirement also does not apply to Navy Lodge facilities. Navy Exchange Service Command operates the Navy Lodge using non-appropriated funds.
Most Army Lodging in the Continental United States (CONUS), Alaska, and Hawaii is already privately run by International Hotels Group (IHG). DoD instructions do not apply to those hotels, either.
FY20 Military Lodging Rates
Many Navy lodging facilities and Army's overseas lodging began preparing for the transition to non-appropriated funds last year. Their major rate increases were actually in FY19.
Air Force lodging didn't implement significant changes until 1 November 2019, a month into FY20, which is why some of their new rates came as a surprise.
The Air Force released a list of FY20 rates for all installations.
Thus far, other services have not published similar lists, but this article from Military Times provides a summary of rate increases since the start of FY19.
The amount of the FY20 Air Force lodging price increases varies widely by installation. As you can see in the list linked above, many AF lodging rate increases are under $10.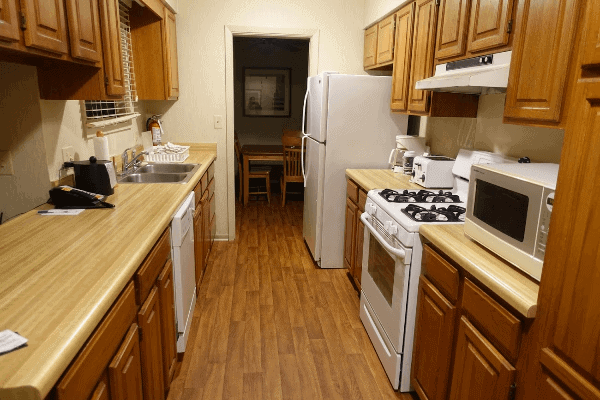 However, a few locations in particular had significant increases that will impact Space-A travelers: installations in Germany, the UK, Alaska, and – during seasonal rate increases – JB Andrews and JB Charleston. For these locations, and because we travel so frequently, we will use the strategies below to hold the reins on our budget.
CONUS Military Lodging: Still A Go
We will continue to use CONUS military lodging.
Even with the rate hikes, we would be lucky to find a civilian hotel of comparable quality and convenience for less than the cost of many military lodges. We aren't saying it can't be done, but on average, CONUS base lodging still beats civilian lodging, particularly the rooms that are less than $100/night (no tax).
| Related Reading: How to Make Space-A DoD Lodging Reservations
On a military base, you know what to expect. You have safe, clean lodging that is often quite spacious and offers free laundry facilities and free parking.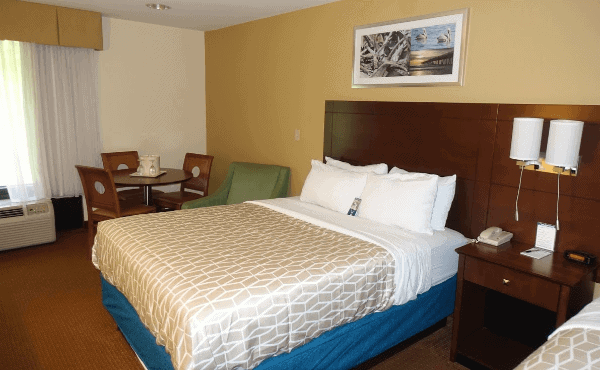 Staying on base also gives you convenient access to the fitness center, Exchange, commissary, and other facilities. At some bases, retirees are authorized to eat in the mess hall, which can be a major cost savings on meals.
Finally, it goes without saying that base lodging is the most convenient option when flying Space-A.
OCONUS Military Lodging: A Definite Maybe
Our regular MO when flying Space-A to an OCONUS location – particularly to an unfamiliar area or foreign country – is to spend a night or two on base after we arrive. We use that time to get our bearings and make the lodging arrangements we couldn't confirm until we had boots on the ground. (Never make non-refundable travel arrangements based on your expected arrival on a Space-A flight!)
| Related Reading: Do's and Don'ts for Taking a Military Space-A Flight
Then, we move to local lodging (usually Airbnb), because after all, we don't travel abroad to spend all of our time on a U.S. military base.
With the new rates, we may skip military lodging and go straight off base, particularly in locations we know well and at bases where prices are significantly higher than in local hotels.
OCONUS base lodging facilities are often very nice, but they may be more than you need when you simply want a place to crash the night before or after your Space-A flight. For example, some rooms in the main building of the Ramstein Inn look like a 5-star hotel. But if you have an 0300 Roll Call, you probably won't have a chance to enjoy the luxury.

In some OCONUS locations, the decision to avoid base lodging is more complicated due to a lack of nearby off-base options and/or difficulties getting a ride to the passenger terminal if local taxis do not have base access.
For example, at Yokota Air Base in Japan, there are a few off-base options within a 10 or 15-minute ride, but they are decidedly less convenient than Air Force billeting at the Kanto Lodge, which offers a free shuttle to the terminal. Only certain taxis have base access, although there is a gate right near the passenger terminal if your driver can't come on base.
Finally, the FY20 rate for Visiting Quarters at Kanto Lodge is $105, which may be comparable to or less than the (taxed) rate of local hotels. The next time we fly Space-A via Yokota, we will likely try for a room at Kanto Lodge and hope we don't get stuck there for more than a night or two!
OCONUS Off-Base Lodging Options
For last-minute hotels, websites like Booking.com or Hotels.com are a good place to find rooms close to the base. You can easily read reviews and compare rates and amenities all in one place.
While we generally use Airbnb for longer stays, hotels are a better option when we only plan to stay for a night or two after arriving (Airbnb is a better deal the longer you stay).
Hotels are also more convenient when planning to fly Space-A out of a location, because you may need to check in and out multiple times or leave earlier than expected. Hotel cancellation policies are generally more flexible than Airbnb's policies.
After our recent travel to Portugal, we made our way to Naval Station Rota, where we stayed in an Airbnb for about a week before our planned departure. The day before flying Space-A back to the U.S., we moved to a local hotel for $50/night (more than $30 less than base lodging) and took a taxi to the passenger terminal in the morning.
| Related Reading: Visiting Portugal "Local Style"
In very expensive locales such as Oahu in Hawaii, off-base lodging costs as much, if not more, then military lodging, so it's hard to escape the expense. You simply have to pad your budget if you expect to spend any time there.
OCONUS lodging is still somewhat of a grey area. In some locations, you can easily find convenient alternatives at a much lower price. In other places, the savings from staying off-base aren't as clear. Research your lodging options in advance so that you can make a decision about what's best for your budget.
MWR Lodging: A Great Value in Comparison
The mandate from the Under Secretary of Defense doesn't apply to MWR facilities, and many military recreational lodging facilities are now a better deal in comparison to base lodging. Hawaii is a great example: the cheapest rooms at the Hale Koa military resort are comparable to most lodging on JB Pearl Harbor-Hickam.
| Related Reading: 9 Things to Know About Flying Space-A to JB Pearl Harbor-Hickam
While you won't find as many recreational lodging options that are convenient to military passenger terminals, these facilities are a fantastic option for a family vacation or weekend getaway, particularly when compared to similar civilian facilities.
Seven More Tips & Tricks for Saving Money on Lodging
While there's no getting around the increased DOD lodging rates, there are several other ways to save money when staying in on- or off-base lodging.
1. Look for Military Lodging Promos
Navy Lodge, which has long been run with non-appropriated funds, offers periodic promotions, usually during off seasons. Some of the promos are only advertised via e-mail to past patrons.
The other military lodging facilities may follow suit now that they must operate more like regular hotels, so keep your eye out for those e-mails!
2. Ask About Military Discounts
Some hotels offer military rates or discounts. Even if you don't see anything published, it never hurts to ask when you make the reservation.
You can also search for hotels on Armed Forces Travel, a website run by Priceline.com in partnership with DoD, to find military discounts.
3. Find Friends and Family Who Work at Hotels
Some hotel groups, such as Hilton, have a "friends and family" program that allows employees to add a limited number of people they know as members.
As a member of the program, you are eligible to receive discounted rates at the hotel's properties. When available, the discounted rates are often a fraction of the standard room rates. If you have good friends or family members who work at a hotel, ask them to add you to their list!
4. Join the Major Hotel Loyalty Programs
Become a member of all of the major hotel chains' programs so that you're always earning points with your hotel stays. As noted above, CONUS Army lodging is now run by IHG, so IHG's loyalty program should be first on your list if you're not already a member!
After joining the hotels' programs, make sure you open their e-mails, because they often have promotions that allow you to earn free nights quickly and easily.
For example, in the past, a click on one of Marriott's e-mails would register you to earn a free night with every two qualifying stays at a Marriott property. We earned several free nights that way with no extra effort or planning.
5. Focus on Accruing Hotel Points
Whether you use a credit card that helps you earn points with a particular hotel brand or simply try to stay at the same chain each time you need a hotel, focus on building up your points and status so you can cash in on free nights and other perks.
6. Choose Hotels That Help You Save on Meals
When comparing rates at hotels, look carefully to find those that include free breakfast and/or a kitchenette. Those amenities can help you save a lot of money on restaurants.
7. Use Short-Term Apartment Rentals
If you don't already have an Airbnb account, now is a good time to create one.
Consider trying it out for a few nights somewhere in the U.S rather than using it for the first time in a foreign country. Don't forget to read our tips for first-time Airbnb guests!
It's not a bad idea to create accounts on VRBO as well. They may have different inventory from Airbnb.
As noted above, Airbnb and other short-term rentals generally aren't the best option for short stays or when competing for a Space-A flight. They can be a far better value than hotels in most other circumstances.
See You On the Road!
While the rate increases make Space-A travel more expensive, we recognize that DOD lodging facilities exist for official military business and PCSing families. As with Space-A flights, the mission comes first, and leisure travelers are not the priority. We realize that we simply need to roll with the punches and adjust our lodging strategy as the mission changes.
We have no plans to curtail our Space-A travel. We hope to see you out there on new adventures, exchanging advice and tips that will help fellow military travelers!