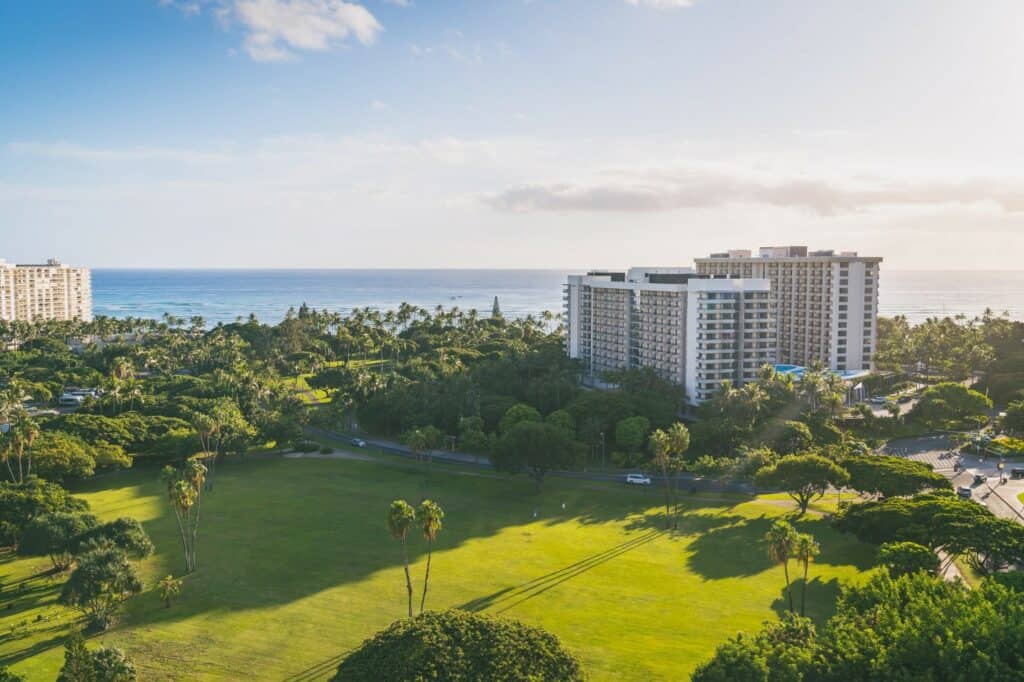 Whether you're traveling solo, as a couple, or with the entire family, Hawaii is the perfect destination for a military vacation! With so many Morale, Welfare, and Recreation (MWR) lodging options to choose from, you're sure to find one that is right for you.
Looking for a luxury resort in Waikiki? The Hale Koa Hotel fits the bill. How about beachfront cabins? Try Barber's Point or Pililaau. Is rustic camping more your style? Check out the family campgrounds at Bellows Air Force Station. And if you're looking for unique access to one of Hawaii's top National Parks, book your stay at Kilauea Military Camp!
Those are just a few examples of the incredible MWR lodging in Hawaii. You can find facilities all over Oahu and on Kauai and the Big Island. (There is no military lodging in Maui or the other islands).
Check out the full list to find your perfect military vacation spot! Remember, these MWR Hawaii resorts are extremely popular, so you must reserve as far in advance as possible. Visit each facility's website to see their reservation policies, then book your stay at some of the best locations in Hawaii!
Want this guide in a printer-friendly format? Click here for a PDF version!
Contents (click to expand)
Hale Koa Hotel (Oahu)
The Hale Koa, one of four Armed Forces Recreation Centers (AFRCs), is the most well-known military hotel in Hawaii. It is also the only military hotel on Waikiki Beach. The Hale Koa's prime location gives you easy access to Oahu's iconic beach as well as the many shops and restaurants in the Waikiki area.
The Hale Koa is a full-scale resort that easily rivals neighboring civilian hotels in terms of location and amenities. The spectacular pool complex was renovated in 2019 and includes two large pools. The main pool, which overlooks the beach, has a water slide, a play pirate ship, fountains, and many other kid-friendly features. The adults-only pool is set in a peaceful garden-like atmosphere surrounded by palm trees.
A range of dining options include multiple full-scale restaurants, a coffee shop, several quick and casual eateries, and the famous Barefoot Bar, which is the perfect spot to enjoy an evening Mai Tai.
Other amenities at the Hale Koa include a day spa, beach rental equipment, a fitness center, and numerous on-site activities organized by the hotel. The Hale Koa's tour desk will help you find the best things to do in Honolulu and plan your visit to the many tours and attractions all over Oahu.
Most rooms accommodate up to four guests and range in price based on view and the category of guest. View details of Hale Koa's rooms and rates on their website.
Bellows Air Force Station (Oahu)
Bellows is an Air Force resort located along a beautiful stretch of Waimanalo Beach on Oahu's eastern (windward) side. The facility offers a range of lodging options to suit every budget and travel style, including 100+ beachfront cabins, 16 condo units, 10 camper cabins, and more than 50 campsites.
Bellows' beach cabins are furnished and have fully-equipped kitchens. They can accommodate up to four guests. The Nā Mokulua condo units, each with two bedrooms, are also fully furnished and can comfortably sleep four adults. The cabins and condos all have WiFi.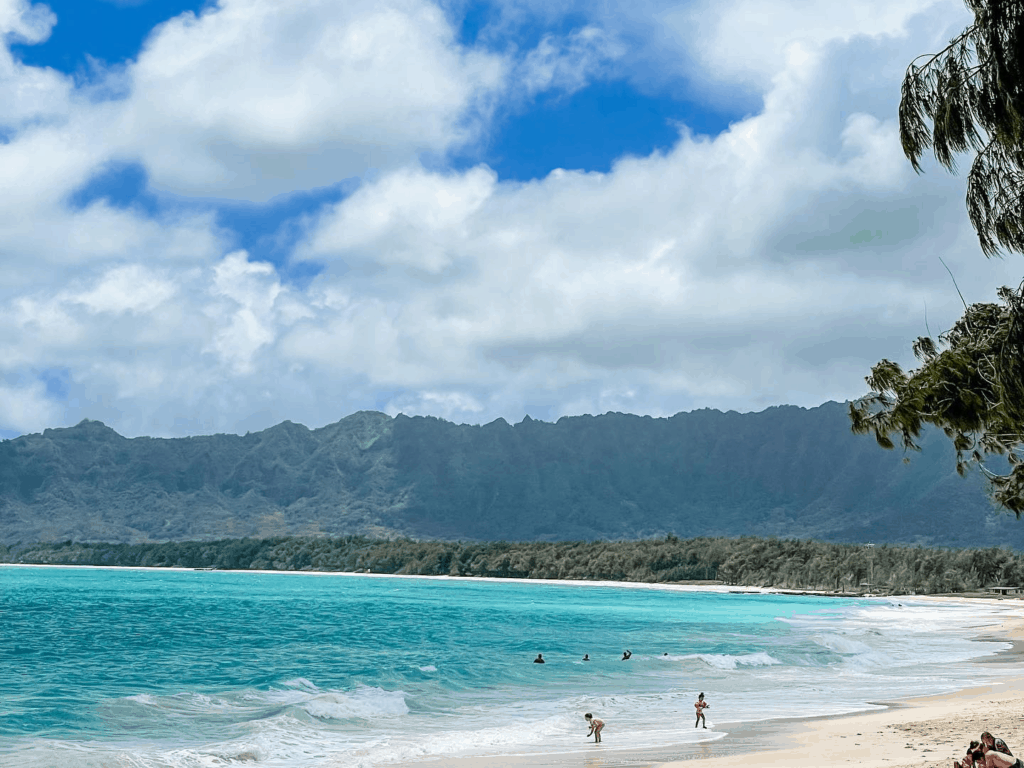 The more rustic Cedar Camper Cabins are located in a wooded area. They have no electricity, kitchen, or bathroom but are convenient to the nearby bathhouse. Each cabin has one queen bed and one set of twin bunkbeds. If you prefer tent camping, Bellows offers three different family campsite areas along with a group campsite.
The Turtle Cove Shoppe is the central location for all recreation at Bellows. They rent a range of sports and beach equipment as well as anything you might need for camping. Other activities offered through Turtle Cove include kayaking tours, yoga, golf, horseback riding, and various ocean sport lessons. At Turtle Cove, you can also purchase discounted tickets to local attractions.
Visit the Bellows AFS website to make reservations.
Marine Corps Base Hawaii Lodging (Oahu)
Further north along the windward side of Oahu is Marine Corps Base Hawaii (MCBH) on Kaneohe Bay. MCBH has several recreational lodging options located throughout the base. Details, pricing, and reservation information for all facilities are on the MCBH lodging website.
While staying at MCBH, enjoy all of the MWR facilities on the base, including the Marina, Outdoor Recreation & Equipment Center, swimming pools, and the Kaneohe Klipper golf course, ranked among the top military golf courses!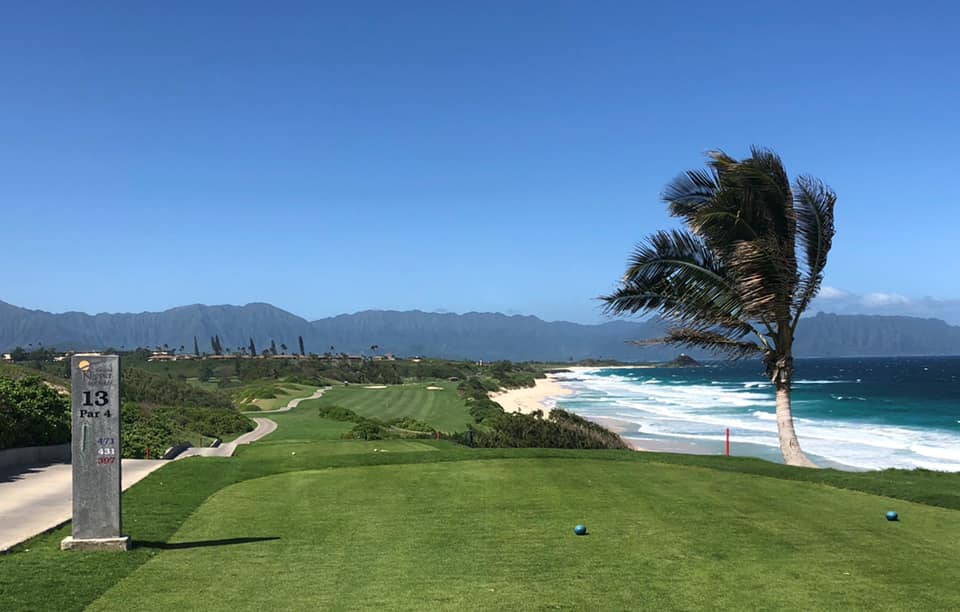 The Beach Cottages at Kaneohe Bay
These two-bedroom cottages, all of which are furnished and have a full kitchen plus dining and living area, feature private decks with BBQ grills and views of Kaneohe Bay. The cottages also have air conditioning, WiFi and daily housekeeping service.
The Cabanas at Kaneohe Bay
The Cabanas are located directly on the water and feature 29 individual rooms, each with a king or two queen beds, a small living area, sink and mini-fridge. Guests use on-site community restrooms that have bathroom and shower stalls. Described as "upscale camping" on the MCBH website, the Cabanas also offer WiFi, air conditioning, and daily housekeeping service.
Klipper Villas
These two, three, and four-bedroom units are located right next to the famous Kaneohe Klipper golf course. All have a full kitchen, washer/dryer, and WiFi.
In addition to these recreational facilities, MCBH also has regular military lodging at Inns of the Corps and Fairway Inn. Information about both facilities is available on the MCBH lodging website.
Barber's Point Beach Cottages (Oahu)
These two- and three-bedroom cottages are located on White Plains and Nimitz Beaches, on the southwestern side of Oahu. They are fully furnished with kitchens and washer/dryer.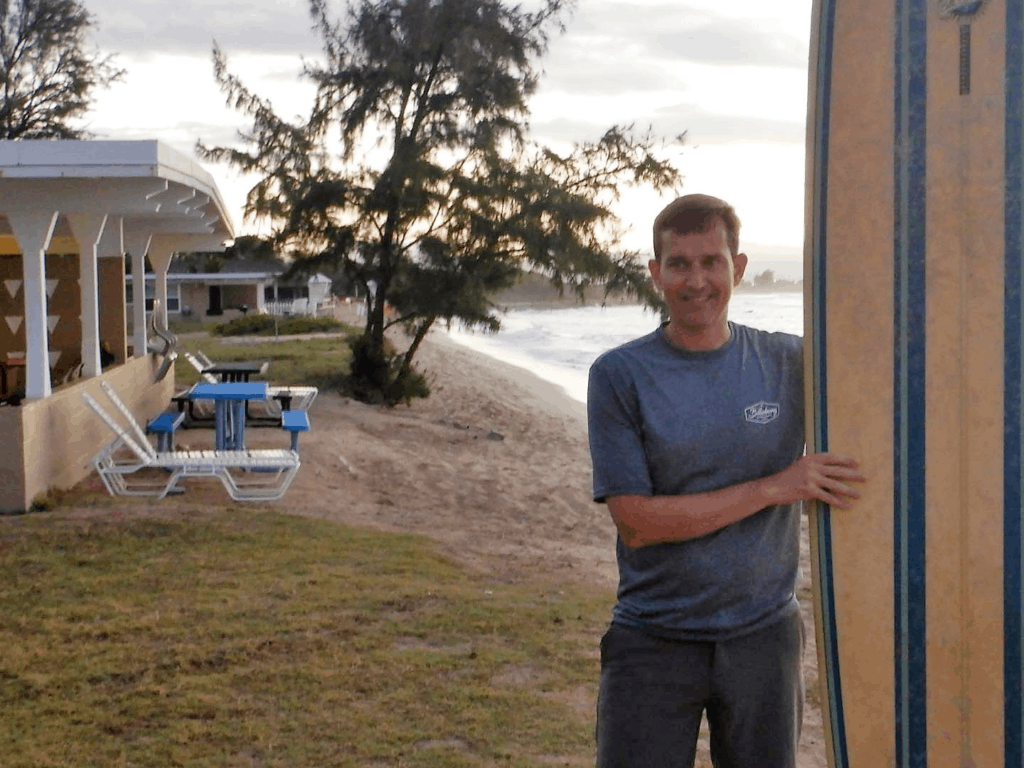 The cottages are convenient to Barbers Point Golf Course, and of course, fantastic beaches that are perfect for kayaking, surfing, or stand-up paddle boarding. White Plains Beach Surf Shack rents bodyboards, surfboards, stand up paddleboards, and other beach equipment. They also offer private surfing lessons!
Pililaau Army Recreation Center (Oahu)
This Army resort, located on Pokai Bay Beach, is in Waianae, a non-touristy area on the west side of Oahu. It's perfect for low-key R&R and unforgettable sunsets! Pililaau offers beach cabins ranging in size from studios to three bedrooms.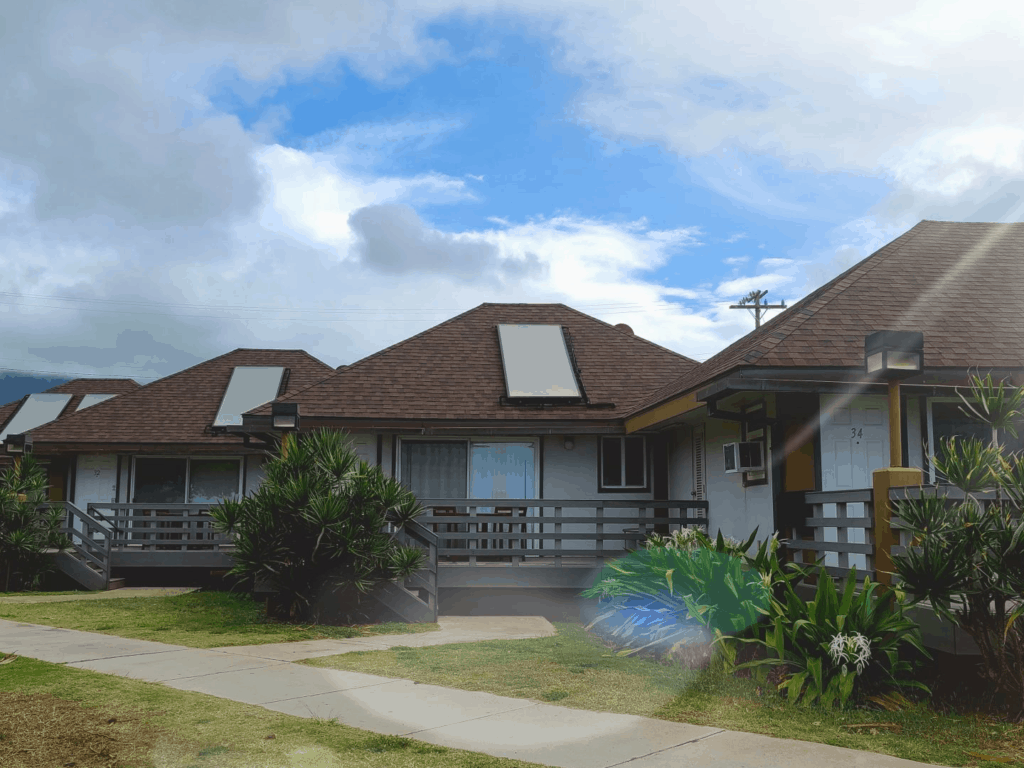 During your stay, enjoy waterfront dining at The Beach House at 604, Pililaau's on-site restaurant featuring a beautiful outdoor deck overlooking the ocean.
Pacific Missile Range Facility Barking Sands Beach Cottages (Kauai)
Far from the hustle and bustle of Oahu is Pacific Missile Range Facility (PMRF), located on the west side of Kauai island. This beautiful island has incredible beaches, canyons, waterfalls, and hiking. It's a great destination for families who love outdoor adventures, and there are many thing to do on Kauai with kids.
PMRF is the only Kauai military resort and features beach cottages, plus a hotel-style facility. Most cottages sleep up to six guests, while the VIP cottage can accommodate up to eight. All cottages are fully furnished and include a kitchen, washer/dryer, and BBQ grill.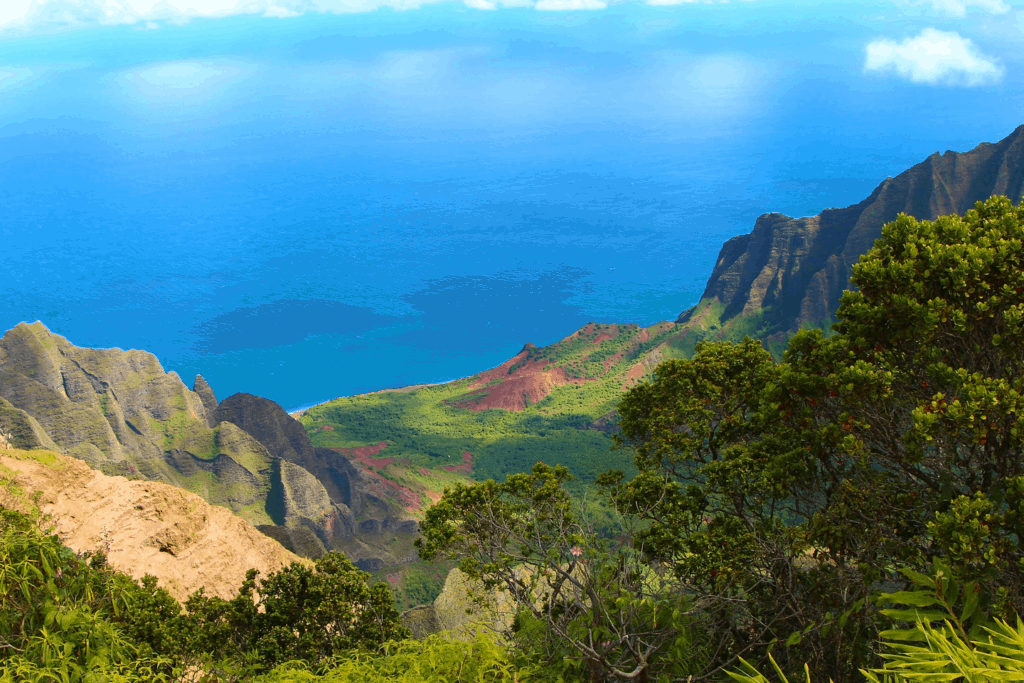 | Related Reading: Check out our full review of the PMRF Barking Sands Beach Cottages!
During your stay, rent outdoor gear and water sports equipment at the Community Recreation Center, get discounted tickets for local activities though the Tickets & Travel office, or catch a movie at the base's outdoor theater.
Kilauea Military Camp (Hawaii Island)
Located on Hawaii Island (aka the "Big Island"), Kilauea Military Camp (KMC) offers the unique experience of staying in a tropical rain forest on 52 acres right in Hawaii Volcanoes National Park (HVNC), one of Hawaii's most famous landmarks. KMC is also the only Big Island military lodging.
Accommodations at KMC include one- and three-bedroom apartments and cottages ranging in size from one to three bedrooms. KMC also has a small number of six- and seven-bedrooms houses, plus dormitories suitable for large groups.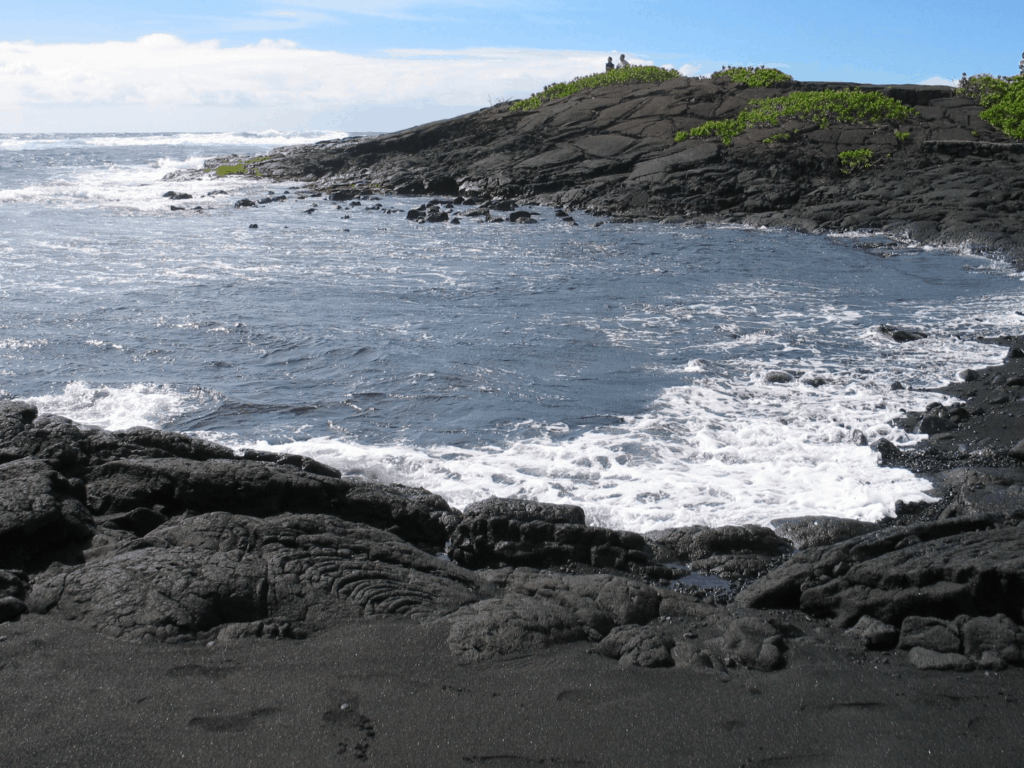 You will have no shortage of things to do while staying at KMC. On-site amenities include bike rental, tennis, basketball, and the fitness center. Take advantage of your location in HVNC to do a few day hikes, or explore the rest of the island. KMC offers numerous tours, such as Kilauea Volcano, the town of Hilo, and various island beaches.
| Related Reading: Check out our full review of Kilauea Military Camp!
Other Military Lodging in Hawaii
Besides recreational lodging, you can stay in regular base lodging on any of the other Hawaii military installations, all of which are on Oahu.
These lodging facilities accept reservations for leisure travel on a space-available basis. Before you contact them, read these tips for booking military space-A lodging.
Eligibility: Who Can Stay at Military Resorts in Hawaii?
In general, eligible patrons include:
Active duty, retired, and Reserve members of the United States military and their family members
Current and retired DoD civilian employees and their family members
Disabled veterans, Purple Heart recipients and former POWs who have a VA Health Identification Card (VHIC)
Registered Veteran Caregivers
Some facilities have broader eligibility. Contact the facilities directly for their specific policies and ID requirements.
Get Ready for Your Hawaii Getaway!
Use your military benefits to plan a vacation at one of the incredible military resorts in Hawaii. You'll love the access to some of the best locations possible and the amenities that make your stay convenient and affordable. If you've been to one of these resorts, tell us about your experience in the comments!
Want this guide in a printer-friendly format? Click here for a PDF version!