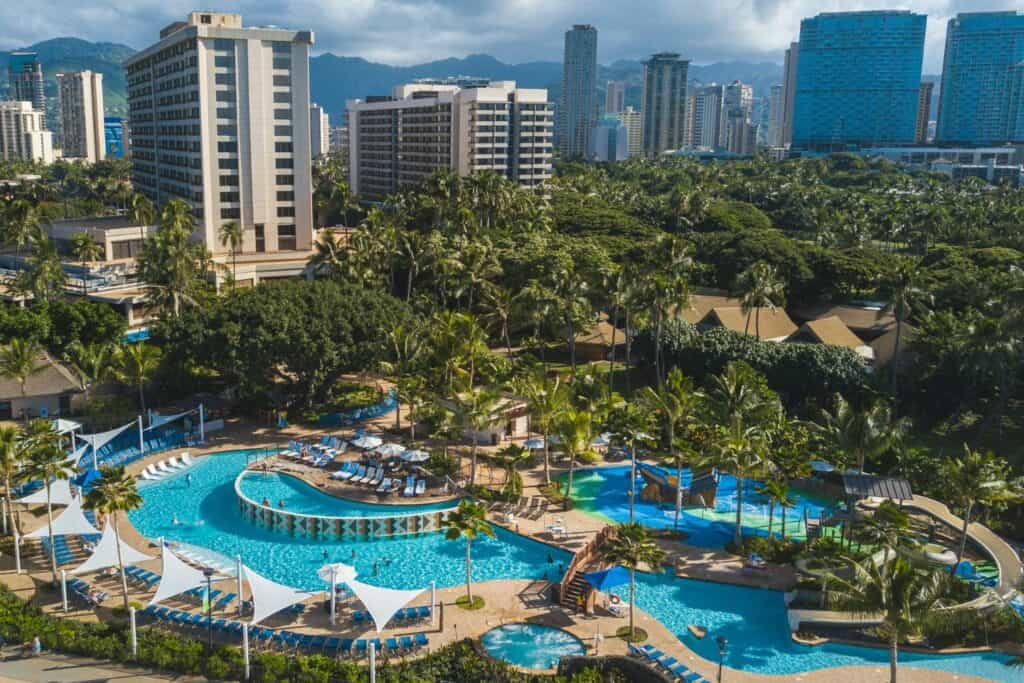 If you're a veteran with a service-connected disability, you're eligible to use fantastic DoD benefits that make travel more convenient and affordable. You also have access to incredible military lodging and recreation facilities that aren't available to civilians.
In the past, these benefits and privileges were limited to veterans who retired from the military. Thanks to legislation passed in recent years, access to DoD travel-related benefits has increased significantly for disabled veterans who are not also military retirees.
Here's what you're eligible to use based on your disability rating.
Contents (click to expand)
Veterans with Any Service-Connected Disability Rating (0% or more)
On 1 January 2020, the Purple Heart and Disabled Veterans Equal Access Act of 2018 went into effect. The Act gave all service-disabled veterans,* Purple Heart recipients, former prisoners of war (POWs), and registered caregivers access to commissary/exchange stores and certain MWR facilities "on the same basis as a member of the armed forces entitled to retired or retainer pay."
This fact sheet has detailed FAQs on the legislation and its implementation.
In this section, we focus on what travel and recreation-related benefits veterans with a service-connected disability rating below 100% can use.
*Veterans with a 100% service disability rating already had access.
Overview
As a veteran in this group, you have access to all U.S. military recreational facilities, including resorts, cottages, and campgrounds.
| Related Reading: 17 Military Recreation Facilities to Try on Your Next Vacation
You also have Morale, Welfare, & Recreation (MWR) privileges and can use facilities such as the golf courses, marinas, and outdoor equipment rental on bases in the United States and U.S. territories.
Finally, disabled veterans can stay in base lodging (on a space-available basis) on U.S. military installations.
Access to facilities and services on installations in foreign countries is subject to the limitations of host nation and international laws and agreements. So far, Germany has expanded access for U.S. veterans, but it remains to be seen whether other countries will follow suit.
Here is more information about the incredible facilities available to you!
Armed Forces Recreation Centers in the U.S.
Armed Forces Recreation Centers (AFRCs) are full-scale resorts. They offer local tours and recreation opportunities, along with multiple restaurants, pools, and all of the other amenities you would expect to find at a civilian resort, but at a fraction of the price.
There are four AFRCs around the world, and two are in the United States: the Hale Koa in Hawaii and Shades of Green in Orlando, Florida.
The Hale Koa is located on famous Waikiki Beach in Honolulu, Hawaii. This military resort easily rivals any other hotel in the area. It offers newly-renovated rooms, eight dining options, two pools, a fitness center and spa, plus a full selection of rental equipment to help you enjoy the Hale Koa's prime location on the beach.
Shades of Green is the ultimate getaway for military families. Located on the Walt Disney World property, you have easy access to all of the Disney theme parks and two PGA golf courses.
This full-scale resort has two pools, one of which includes a three-level water slide, and a spa that offers princess and pirate makeovers for the kiddos (in addition to regular spa services). You can also buy all of your discounted tickets to Disney and other local attractions right on site!
| Related Reading: How to Save Money on a Military Vacation to Disney World
Other Military Resorts and Recreational Lodging
Department of Defense runs dozens of other resort-style facilities around the country, ranging from mountain lodges to beachfront cabins and RV campgrounds.
Click here to learn more about what these facilities offer and where to find them.
| Related Reading: Stay at One of These 9 Military Resorts in Hawaii
Base MWR Facilities
If you live near a military base, you don't need to travel to find the experiences you would seek while on vacation.
Play a round at one of the military's many world-class golf courses. Rent kayaks and paddle the local waterways. Take out a pontoon boat and spend the day fishing. Book a SCUBA diving tour and explore the world under the sea. Or simply relax on a military-only beach!
Disabled veterans have these MWR privileges, including equipment rentals, outdoor recreation trips and more, all at military pricing!
Base Lodging
Disabled veterans can stay in military lodging on U.S. installations on a space-available (Space-A) basis. Some of the benefits of staying on base include clean, safe lodging, often for a better value than local hotels. Also, base lodging is the most convenient place to stay when you plan to use the base MWR facilities mentioned above.
Click here to read more about Space-A lodging.
ID Requirements for Veterans With a Service Connected Disability Less Than 100%
To gain access to the above facilities and services, you must present a Veteran Health Identification Card (VHIC) indicating eligibility (Purple Heart, Former POW, or Service-Connected).
You can also present VA Health Eligibility form H623A indicating placement in VA health care priority group 8E along with valid identification, such as a REAL ID-compliant state driver's license or a U.S. passport.
In some locations, you may need to pre-register or undergo a background check before accessing the facilities. Contact the facility or base visitor center prior to your arrival to confirm the process.
Note: VHICs are issued to veterans enrolled in VA health care. Visit the VA website for more information about how to obtain a VHIC.
100% Disabled Veteran Benefits
Veterans in this group can use all of the above in addition to the following:
Armed Forces Recreation Centers Overseas
Veterans with a service-connected disability of 100% (100% DAV) can use the two AFRCs located outside of the United States: Dragon Hill Lodge in Korea and Edelweiss Lodge in Germany.
Dragon Hill Lodge is a resort-style hotel in a prime area of Seoul, Korea. The hotel is located on property that was formerly U.S. Army Garrison Yongsan-Casey. While most of that Army installation's Seoul facilities have closed, Dragon Hill Lodge remains open and is an incredible treat for eligible guests who want to experience the vibrant city of Seoul. The hotel has luxurious guest rooms, a fantastic fitness facility and pool, numerous restaurants, and a concierge desk that can schedule any tour or trip in town.
Edelweiss Lodge and Resort is located in Garmisch, Germany, a picturesque town in the mountains of Bavaria. Edelweiss is a year-round destination, with fantastic skiing and other snow sports in the winter and incredible hiking in the warmer months. It's also in the perfect location for day trips to places like Neuschwanstein (aka King Ludwig's Castle), Innsbruck, Austria, and various other castles, monasteries and breweries.
Military Space-A Flights for 100% DAV
As part of the John S. McCain National Defense Authorization Act for Fiscal Year 2019, veterans with a permanent service-connected disability rated as total became eligible to fly Space-A. Department of Defense Instruction 4515.13 was updated with this change.
As a result of the legislation, 100% DAV and their accompanying dependent(s) can fly Space-A as Category 6, which is the same category as retirees. You can fly to and from any destination in the United States or U.S. territories. However, you are not eligible to fly Space-A to/from foreign countries.
(Click here to learn more about Space-A flights.)
The Air Mobility Command has a brochure outlining the boarding requirements for certain military aircraft. You should review the brochure before traveling to ensure you are physically able to meet the requirements.
ID Requirements for 100% DAV
You must present a valid DD Form 1173, DD Form 2765 or Next Generation Uniformed Services ID Card to use the facilities and privileges above. Please visit the DoD Common Access Card website for more information.
Military Retirees
If you are retired from the military, you have access to all of the travel-related benefits above and more without restriction. It does not matter whether you have a VA disability rating, because it has no bearing on your eligibility for these benefits.
Ready to Use Your Benefits?
Now that you know what you're eligible to use, get out there and take advantage of it! Research what's available right now, and start planning your next adventure!
Do you have buddies who served? Pass on this article to them so they, too, can enjoy the benefits of these newly-expanded laws honoring veterans.