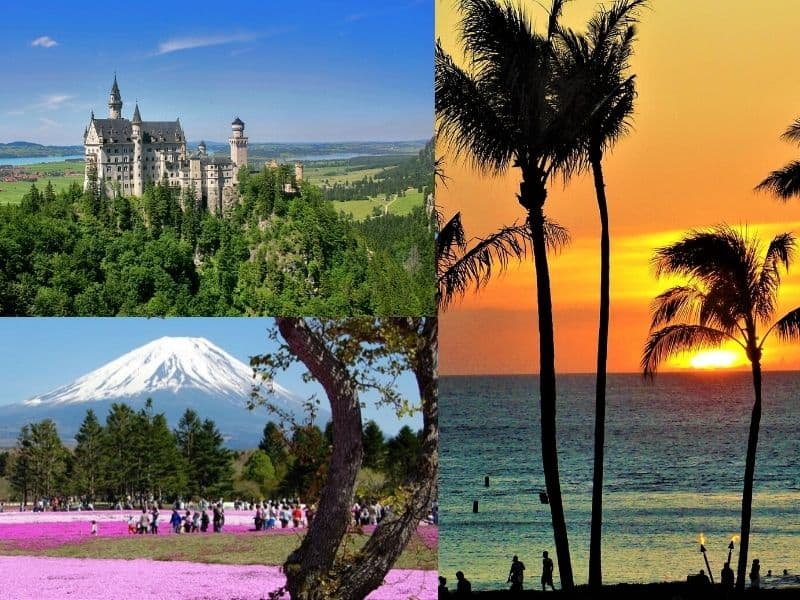 Military retirees have access to a host of benefits and privileges that can make travel more affordable, feasible, and convenient. Depending on where you are in life, you may not be in a position to use all of your military retirement benefits right away, but any single benefit is extremely valuable!
Here's what you should know about the travel-related military benefits you've earned!
Contents (click to expand)
Space-Available Travel
Traveling Space-A means you are using military services and resources — primarily flights and lodging — that have extra capacity. In other words, you can use the services after higher priority needs have been met. Higher priorities include official military business and anything for active duty service members and their families.
Depending on where you're going and when, there is a lot of extra capacity, creating many great opportunities for retirees. If your timing is right and you are flexible, you can travel all over the world, stay in very nice accommodations, and save a ton of money.
Click here for frequently asked questions about Space-A travel.
Traveling Space-A has saved me and my husband thousands of dollars, not to mention added a bit of adventure to our air travels. We are continually amazed by the number of military folks we meet who don't know Space-A travel is an option or are reluctant to try it.
Check out the links below to learn how to use this incredible privilege available to you as a retiree!
Space-A Flights for Retired Military
Space-A flights open up a world of possibilities and give you affordable access to destinations that many people only dream of visiting: Japan, Hawaii, Alaska, Singapore, Australia, Greece, Italy, and many more!
You may have taken "military hops" while on active duty, but as a retiree, flying Space-A is much easier in many ways. You don't need to worry about leave forms or approvals, and you may have more flexibility with your schedule.
Start with the Quickstart Guide to Space-A Flights to learn how the entire Space-A flying process works.
From there, study these Space-A sign-up tips for retirees. Knowing how and when to sign up for travel is extremely important!
When you have a destination in mind, use these guides to learn everything you need to know about flying Space-A to that location, including immigration procedures and information about lodging and ground transportation.
Space-A Lodging
Lodging on military bases is a great option for many reasons. It can give you access to fantastic locations all over the world in accommodations that range from basic to downright luxurious.
Sometimes staying on base is simply a safe, affordable way to avoid taking your chances with hotels in an area you don't know. Either way, military lodging has the added benefit of giving you easy access to other base facilities, such as the fitness center and the MWR activities mentioned below.
Learn about military lodging eligibility, and read our tips for getting a room every time!
Other Space-A Resources
There are many other excellent resources to help you use Space-A travel. Check out this list, which includes informative websites, blogs, and Facebook groups.
Military MWR and Recreation Facilities
When planning your next vacation, what will you look for?
Cabins on the beach? A golf course with amazing views? Access to top destinations like Waikiki, the Grand Canyon, Tokyo, or islands in the Mediterranean?
Or maybe you want to visit local tourist attractions, so you're looking for advice and cheap tickets.
Well guess what? You can have all of the above on U.S. military facilities around the world! Not only are these things available to you as a retiree, regardless of your branch of service, but they are significantly less expensive than at a civilian hotel or resort.
You can plan an entire vacation around military recreation facilities and bases that are located on some of the best real estate in the world!
Here's a reminder of some of the great amenities and services at military facilities worldwide.
Resorts and Hotels
Military MWR has hotels and resorts all over the world, from the Shades of Green Armed Forces Recreation Center (AFRC) at Disney World to the New Sanno Hotel in Tokyo, Japan.
These are incredible, high-end facilities that you should definitely consider when planning your next vacation.
Click here to learn more about military vacation resorts and hotel around the world!
RV Parks and Campgrounds
You can find military campgrounds, also known as "FamCamps," at bases all over the U.S., and in a few locations overseas. These campgrounds are an affordable way to vacation in top destinations while enjoying access to all of the other base amenities.
Click here to learn more about military campgrounds.
Golf Courses
Many military bases have at least one golf course, and some military courses are ranked among the best in the country. The green fees are a fraction of what you would pay at a private course and less expensive than many public courses. Practically all of the more than 150 military golf courses offer club rentals and reasonably-priced food and drinks. During your next space-A travel, take time to tee it up at your military base golf course.
Beaches
Many bases located near a large body of water have beautiful beaches exclusively for military ID-card holders. Whether it's a beach that's entirely contained on the base or one that borders a public beach (Naval Amphibious Base Coronado is a great example), they are generally less crowded and better-maintained than public beaches.
Some military bases and recreation facilities offer cottages or other lodging right on the beach. There are many great examples throughout the U.S.
Marina
If a base is on the water, it may also have a marina with boat and/or equipment rental. Boat rentals through Morale Welfare and Recreation (MWR) will save you lots of money compared to renting a boat through a civilian company.
Some base marinas also offer boat tours, SCUBA diving trips, and SCUBA certification courses, all at rates significantly lower than at civilian facilities.
While in Okinawa, we did an incredible SCUBA diving trip through the Kadena AB Marina!
Information, Tickets & Travel (ITT) Office
The ITT Office is like a travel agency for the military. If a base is within a few hours of any significant tourist attractions, such as amusement parks, live shows, or museums, the ITT Office has tickets, often at a significantly reduced price. You can also arrange tours and get advice, maps and information related to the local area.
Many ITT offices organize their own tours to local or regional destinations. These tours can be a particularly good option at overseas bases.
Outdoor Recreation
Depending on the base and surrounding area, the Outdoor Recreation Centers rent equipment appropriate for the local geography and season. In addition to tents, grills, and other camping gear, they often rent hiking boots and poles, ski and snowboard equipment, and sport-specific clothing. Even if a base is not right on the water, you may still be able to rent boats (and the accompanying trailer) or kayaks.
Many Outdoor Recreation offices also offer organized tours, activities, and classes, such as hikes, stand-up paddle boarding lessons, and kayaking tours.
Fitness Center
Every military base has a fitness center, so you know you always have a place to exercise. Some bases have especially nice full-service facilities where you can spend the entire day with your family.
One perk of military fitness centers is the trend towards 24/7 accessibility. At some facilities, such as Travis AFB, you simply submit an application and get a key card that you use during hours when the facility is not staffed. This new feature is especially nice for Space-A travelers who might be traveling through multiple time zones and want to exercise at odd hours.
Outdoor Pool, Tennis Courts, Movies, Bowling . . .
Many bases have most or all of these things. You can save a lot of money while using what are often first-rate facilities, all right on base!
Financial Benefits
These military retiree benefits help provide the financial flexibility to support travel, whether it's a long-awaited vacation or an extended journey.
Military Pension
This one is obvious. For most retirees who joined the military before 1 January 2018, you receive a monthly pension for the rest of your life. The amount varies depending on when you joined and how many years you served, but every bit of extra income helps make travel more feasible!
Inexpensive Worldwide Health Care Coverage
TRICARE health coverage is one of the most underrated military retirement benefits! The cost of retired military health insurance under TRICARE is a fraction of the cost of most civilian health plans. As a bonus, with affordable coverage that is not tied to an employer, you have a lot of flexibility, whether you want to travel, work part time, or even start your own location-independent business!
TRICARE's website explains your options and how to enroll. There are too many possibilities to discuss here, but I can tell you what we use.
While in the United States, we use TRICARE Select. As long as we go to TRICARE-authorized providers, they file the claims for us and all we have to do is pay our cost share directly to the provider. We don't need referrals to go to specialists, which is very convenient when we are only in the country for a short time.
When traveling abroad, TRICARE beneficiaries don't need to do anything special to notify TRICARE about travel plans. You're automatically covered worldwide. Here are the details of how TRICARE works overseas.
In most cases, users of the Overseas plan must go to a local doctor, pay the bill themselves, and then submit the charges to TRICARE. TRICARE sends reimbursement for the amount they allow for the service, minus the "cost share." The good news is that medical care in most other countries is significantly less expensive than in the United States. My husband went to a doctor in Japan and the charge was only $40.
GI Bills
How can a benefit designed to cover the cost of education help you travel? There are two main ways:
Money that you would otherwise spend on your or your dependents' education can be used for other purposes, including travel.
You can use your GI Bill to study at qualifying institutions all over the world and get paid while you're at it.
First, here's a quick reminder of how the GI Bill works.
The most popular GI Bill program for those serving in recent years is the Post-9/11 GI Bill. Through this program, the government pays for up to 36 months of schooling.
Not only is tuition covered, but the student receives a monthly housing allowance equivalent to the BAH of an E5 with dependents (based on the ZIP code of the school) as well as up to $1,000 per year for books and supplies. VA's website has the detailed rates.
If you want to pursue a degree or other schooling post-retirement, this benefit can literally save you $100K or more. Instead of using the benefit yourself, you may be able to transfer all or part of your Post-9/11 GI Bill to one or more of your dependents. In most cases, you must transfer the benefit at least 4 years before getting out of the military and before you reach 16 years of total service.
⇒ Alternate Ways to Use Your GI Bill Benefit
As a retiree, you can use your Post-9/11 GI Bill to go to school and earn a decent amount of tax-free money while you're at it. Keep in mind that you can study whatever and wherever you want, as long as it's on VA's approved list. You do not have to enroll in a degree program. It could be a vocational or technical program, and it does not have to be in the United States.
Using this benefit could be a great way to experience life in a new place (in the U.S. or elsewhere) while learning a new skill without draining your bank account.
Here's an example of a how an Army retiree is using her GI Bill to study in Dublin, Ireland!
Final Military-Sponsored Move and Storage of Household Goods
When retiring from the military, you are entitled to one final military-sponsored move. They will transport your household goods (HHG) from your home at your last duty station to your Home of Record or your Home of Selection.
One of the most important points for would-be travelers — or anyone who isn't quite sure where they want to settle — is that you are entitled to storage of HHG for up to 1 year after your retirement date. After your 1-year anniversary, you may request to extend the storage at your own expense for up to 6 years from your retirement date. Please note that you must request and receive approval annually.
For me and my husband, the military retirement move and HHG storage benefit was a huge factor in our decision to take a year off and travel. When we were ready to vacate our house in the Washington, DC area, the movers packed everything the same way they would for a regular PCS move. But instead of delivering our HHG to a new location, they put them in storage, and we were free of that burden for an entire year!
By the time my husband's one-year retirement anniversary rolled around, we had not yet decided where we wanted to land. We requested to extend the storage, as permitted by the Joint Federal Travel Regulation. Our request was approved. Subsequently, we requested and received three more extensions until we finally took our HHG out of storage in April 2020, nearly 5 years after my husband's retirement. Click here to read the details of how we used that benefit!
***
Whether you're still a ways out from retirement or you retired from the military years ago, take advantage of any travel-related benefits that fit your situation!
Related Reading
Quickstart Guide to Military Space-A Flights
Space-A Lodging: Eligibility & Reservation Tips
11 U.S. Military Recreation Facilities to Try on Your Next Vacation
10 OCONUS Military Recreation Facilities to Try on Your Next Vacation