Did you know there is a U.S. military hotel in Tokyo, Japan where you can stay for a fraction of the price of comparable civilian hotels? It's called the New Sanno, and it's a luxury hotel run by the U.S. Naval Joint Services Activity. If you plan to visit Tokyo, there's no better place to stay!
We had heard great things about the New Sanno and wanted to check out this storied hotel for ourselves, so we stayed there for a little R&R after our ascent of Mount Fuji. Here's a review of our visit and everything you should know to plan yours!
Our Stay at the New Sanno Hotel, Tokyo
When I walked into the New Sanno, I had the same reaction I always have when we visit the many great military Morale, Welfare & Recreation (MWR) facilities around the world: I can't believe we have access to this incredible benefit!
The New Sanno is easily the equivalent (or better) of a Hilton, Hyatt, or similar hotel in terms of room quality, facilities, and service. The difference is that it's a fraction of the cost and an incredible bargain for its location in the middle of Tokyo.

We had a giant suite with a King size bed, desk, and dining table. The New Sanno has several excellent restaurants (one of which has an amazing Sunday brunch buffet), a coffee shop, and two bars.
It also has a great gym, a pool, a small but well-stocked Exchange, and a gift shop. The concierge desk in the main lobby provides advice and tips for what to do in Tokyo and can arrange tours.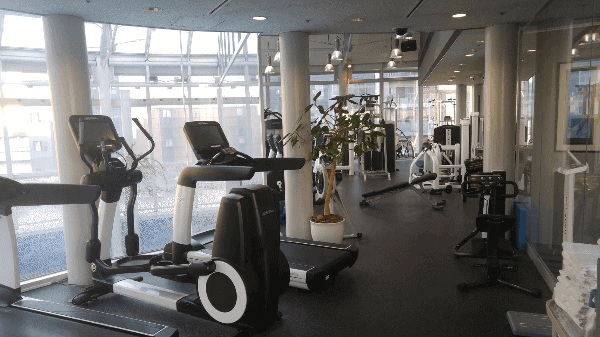 My husband and I resided in Japan at the time of our stay, but we lived on the economy, 2 hours from the nearest U.S. military base. Spending a few days at the New Sanno was a treat, because we didn't often get a real taste of home.
If you've spent time in Japan, you know what I mean when I say I missed real nachos (made with tortilla chips, not Doritos), drinks made with an American-size pour (the Japanese measure with a scant shot glass) and Western style showers (meaning you don't have to hold the shower head in your hand).
Everything about staying at the New Sanno was convenient.
We needed an easy way to get to Tokyo from Camp Fuji. We hopped on a Marine Corps Community Services (MCCS) Camp Fuji Trips & Recreation shuttle for $15 per person.*
The New Sanno is in a prime location in Tokyo within a few subways stops (or a nice walk) from popular areas such as Shibuya, Roppongi, and Ebisu.
We wanted to mail our Mount Fuji walking sticks to our apartment so we wouldn't have to bring them on the plane. The hotel had a "pack & wrap" service, and the bellhop arranged to mail them through Japan's excellent mail service (we are not Active Duty, otherwise we could have mailed them at the on-site APO).
My husband took the shuttle to Yokota Air Base for $10.
To be honest, staying at the New Sanno was so relaxing that we didn't explore Tokyo as much as anticipated. We ate many of our meals in the restaurants, hosted local friends at the bar, and simply enjoyed the comfortable room. We can't wait for our next visit!
| Related Reading: Military MWR Resorts, Cottages, and Campgrounds
Our entire trip, including the Mount Fuji hike and our stay at the New Sanno, reminded me of something. Military MWR takes care of just about everything, so when in doubt, ask. There is probably a shuttle, a tour, a lodging facility, or a service to make your travel more affordable and convenient.
You've earned these benefits, so take advantage of them!
New Sanno Eligibility, Rates, and Reservations
The New Sanno has a detailed summary of eligibility on their website. In short, active duty, active duty dependents, surviving spouses, active Guard/Reservists on orders, and retirees are eligible. Retiree spouses must be accompanied by their sponsor. Certain categories of civilians are also eligible to stay at the New Sanno.
Rates vary based on rank and room size. There are several different room types designed to accommodate single guests as well as families. They even offer a Japanese-style suite! Click here to see New Sanno hotel rates and room types.
You can reserve a room at the New Sanno up to 6 months in advance. To make a reservation, call or e-mail the hotel using the contact info on their website. If they are full, you can add your name to the waitlist. Particularly on weekdays, you have a good shot at getting a room.
Note: If the New Sanno does not have availability, you can stay at another DoD hotel in Tokyo. Tokyo Recreational Lodging, aka Hardy Barracks is near the New Sanno (less than 2 miles away) in the popular Roppongi neighborhood of Tokyo.
Etiquette at the New Sanno
Normally in Japan, tipping is not customary. The Japanese don't tip bartenders, waitstaff, bellhops, or taxi drivers. But while staying at the New Sanno, behave as you would in America and follow U.S. customs. In our experience, the staff provide outstanding service and are well-deserving of tips!
Getting to the New Sanno
The New Sanno's website provides detailed directions, including estimated costs, from both Tokyo airports and from most U.S. military bases in mainland Japan. In many cases, their instructions include multiple public transportation options. As I said, they make everything easy and convenient!
*Note: the Camp Fuji shuttle was part of a Trips & Recreation excursion to Tokyo that was dropping participants at the New Sanno. Trips & Recreation does not offer that particular trip every weekend, but they have frequent trips to Tokyo. If you're traveling between Camp Fuji and the New Sanno, ask if there are any trips to Tokyo scheduled. In not, you can still follow the New Sanno's instructions for taking the train.
Ready to Go to Tokyo?
Staying at the New Sanno hotel is a real treat and an experience you should not miss if you plan to be in Tokyo. Enjoy the luxury of the hotel and the convenience of its prime location while exploring one of the world's top destinations!
Related Reading
Join the Facebook group U.S. Military Travelers in Japan to exchange tips and advice with others in our community!
Want more information and ideas for your trip to Japan? Here are other articles you will like:
9 Things You Need to Know About Flying Space-A to Japan
Visiting Hiroshima and Miyajima Island
The Best Japan Travel Guide Books