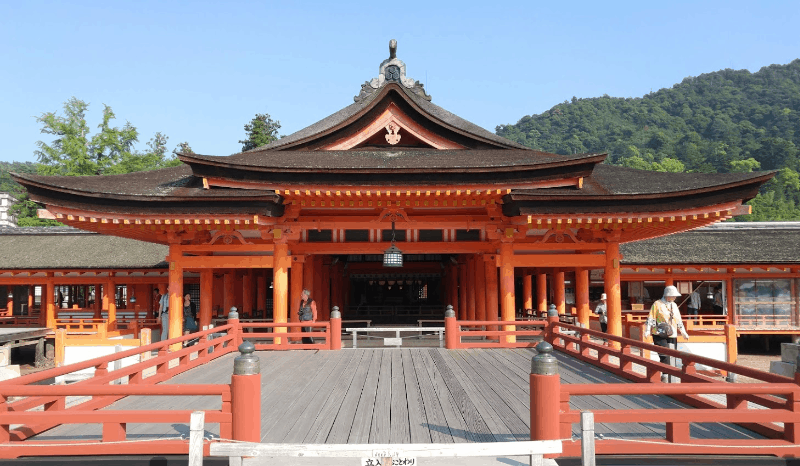 If you're planning a trip to Japan, you're planning an epic adventure. Even if you've already been to this incredible country, each time you visit, you will discover something new, different, and exciting!
Chances are, you're investing a lot of time and money on your travel to Japan. Ensure that you make the most of it by doing as much research as possible before you go.
The following books about Japan, recommended by experts who have lived or traveled there extensively, will help you with all aspects of your trip, including planning your itinerary, understanding Japanese culture and food, and learning a few key phrases so you can communicate while you're there.
Contents (click to expand)
Japan Travel Guidebooks
A standard Japan tourist guide is the first step in planning your Japan trip itinerary. It will help you decide what cities you want to visit and how long to spend in each location. The best Japan guidebooks offer plenty of maps, suggested itineraries, and hotel/restaurant recommendations for all budgets.
It may have seemed counterproductive to jam the brick-sized Lonely Planet Japan book into my carry-on backpack and force my weak shoulders to carry it. But no, it was a wealth of information, with colorful maps and images on each location, plus historical and cultural information to stir curious minds.
It also contains detailed Japan travel itinerary suggestions and "highlights" of each destination for you to pick and choose from. It includes honest pointers from the writers, which helped me curate my trip when I was still a newbie backpacker. For four weeks, this guide book was my sole companion while solo travelling through Japan, culminating with one week in Kyushu. It will be particularly useful for first-time travelers and those who enjoy reading facts about their destination.
– Cassie from Cassie the Hag
.
The best Japan guide book for a traveler is Fodor's Essential Japan. This stunning full-color travel guide to Japan illustrates everything from ancient temples to gardens to the pulse of high-tech cities. Written by local experts, it has insider tips to make the most of a visit to Tokyo, Kyoto, and beyond.
I used this book when I traveled to Japan, and I consider it extremely user- friendly. It has a detailed map and concise description of each place – Tokyo, Kyoto, Mount Fuji, Okinawa, Hiroshima, Sapporo, and many more top destinations — which helps to quickly navigate and understand their importance. It covers the history, cuisine, and shopping in detail.
| Related Reading: How to Use Airbnb in Japan
Spectacular itineraries are this guide's forte. It has top recommendations, from hotels to food to nightlife. Each chapter in this book suggests money-saving tips to enable travelers to save their yen on accommodation and transport. It also covers many special events, such as the Japanese Cherry Blossom Festival, in detail.
This is the perfect tourist guide to Japan for families, couples, and solo travelers alike.
– Tanayesh from Shoestring Travel
.
This handy little Kyoto travel guide book is, like most things Japanese, beautiful in its own right! Offering a list of funky shops, bars, and restaurants around Kyoto arranged into nine areas, it's perfect for anyone spending more than a few days in the city.
Each area includes a mix of the key attractions followed by sections for shopping, galleries, eating, and, finally, drinking. There is a good mix of affordable and special occasion places. Along with the nine areas are three field trips that include Nara, Arashiyama, and the Eizan electric train line.
We used this book extensively on our 5-day visit and covered 2 areas a day. The tips were spot on and perfect for our mother-daughter trip. The authors have similar "Pocket Precints" books for Osaka and Tokyo.
– Paula Morgan from Expert Abroad
.
We lived on Okinawa for three amazing, glorious years. It's beautiful and wonderful and slightly overwhelming. When we arrived, one of the best books we got was Okinawa & The Ryukyu Islands. It gives history of the islands from the Ryukyu Kingdom to the present day, including World War II.
| Related Reading: Things to Do in Okinawa
There are tons of maps, including public transportation, as well as a glossary of common words in the local dialect, English and Japanese – with the most common way you'd see the word in Japanese characters. Don't head to Oki without this book!
– Meg Flanagan from Meg Flanagan Education Solutions
.
Books About Japanese Culture & Food
When searching for books on Japan travel, make time to read up on two important topics: Japanese culture and Japanese cuisine. Both will be an integral part of your experience and are among the most unique and interesting aspects of travel to Japan.
Having studied Japanese during my early high school years, I was aware that Japan was bound by a number of social constructs that kept everything working in sync throughout the country. While planning my first trip to Japan, I picked up a copy of Boye Lafayette De Mente's book, Etiquette Guide to Japan, to acquaint myself with some firm social rules that would help prevent me from making any faux pas on our trip.
The book takes the reader through everyday etiquette, which will help you navigate your interactions during your trip to Japan. This includes when and how to bow, bathroom and onsen behavior, using public transportation, using mobile phones in public, eating out, eating with others, and more. A good read of this book will ensure you have a better understanding of Japanese etiquette.
– Leah from Kid Bucket List
.
If you want to understand Japanese culture and customs, this book explains it all. Written by journalist T.R. Reid, who lived in Tokyo with his family for several years, it offers key insight into the workings of Japanese society. Having lived in Japan for more than 2 years, I can tell you that Mr. Reid's observations are spot on!
This is one of the best books on Japanese culture, and a great read during your Japan travel planning.
– Stephanie from Poppin' Smoke
.
A Geek in Japan is a comprehensive, yet light-weight, introduction to Japanese culture. It debunks myths and uncovers some interesting facts about Japan as well as answering common questions that foreigners might have. Each topic features short articles that are accompanied by photographs and sidebars.
The book is written for Westerners, primarily those who grew up watching Pokemon, reading manga, and playing video games, although it's certainly useful for a wide range of age groups traveling to Japan. All in all, it's a fun and interesting book to read that will make it easier for foreigners to understand the unique culture of Japan.
– Alex from Swedish Nomad
.
If you're traveling to Japan for the first time, get ready to encounter many new foods! Whether you're excited or skeptical, this book will help you figure out what and how to order.
Sushi is only the tip of the iceberg when it comes to Japanese cuisine, and the first few chapters of this book give you a detailed breakdown of the various types of dishes that are most common in Japan. The guide also talks about izakaya style restaurants, which are a cross between tapas bars and pubs, and traditional everyday foods, such as ramen and other regional specialties.
Finally, What's What in Japanese Restaurants addresses drinking in Japan (a very important topic) and includes basic vocabulary, along with a few key phrases you will need in restaurants.
The cuisine is absolutely one of the best parts about visiting Japan, and this book will help you make the most of it!
– Stephanie from Poppin' Smoke
.
Hiroshima and Western Honshu Vegetarian Guide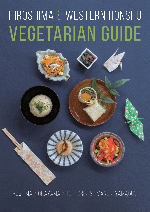 Traveling in Japan as a vegetarian or vegan can get tricky at times. Not because Japanese cuisine isn't full of fresh fruits, vegetables, grains and tofu, because it is. But hiding in that tofu dish is probably a fish-based dashi — the stock that is used as the base for so many Japanese dishes.
That's why, as a vegan in Hiroshima, I was thrilled to stumble upon the Hiroshima and Western Honshu Vegetarian Guide by GetHiroshima. The guide includes helpful labels to show which restaurants are fully vegan or vegetarian, and which just have vegetarian or vegan options. It also shows which restaurants have gluten-free options, and which ones have English-speaking staff.
Publication of the guide was supervised by the Japan Vegetarian Society, so veggie visitors can be confident that the information provided is accurate.
You can download the Guide for free from Dropbox.
– Wendy Werneth of The Nomadic Vegan
.
Eat Okinawa was written by a U.S. military spouse with support from her Okinawan friends. Inside, you'll learn about the delicious produce you can find at local farmer's markets and produce stalls along with recipes you can make at home.
When we moved to Okinawa, I was overwhelmed with choices and unsure about what to eat or how to cook different produce. Eat Okinawa really helped expose me to the heartbeat of the island!
Eat Okinawa is available for purchase at farmers' markets around Okinawa.
– Meg Flanagan from Meg Flanagan Education Solutions
.
Japanese Phrase Books
Whenever you visit a foreign country, it's helpful to know a few key phrases, and Japan is no exception. At a minimum, learn the pleasantries you should exchange when meeting someone for the first time, how to ask for simple directions, and other basic vocabulary related to hotels, restaurants, and tourism. Even if you don't say everything correctly, the Japanese will appreciate your efforts to speak their language!
It's a well-known fact that English speakers in Japan are a rare find, particularly if you are traveling outside of major tourist areas. Whilst most visitors to Japan are not expected to speak the language, if you can even learn a few key phrases in Japanese, they will serve you well and help put the locals at ease when asking for help.
Before you leave for your trip, purchase a phrasebook such as the Easy Japanese Phrasebook from Talk in Japanese and start getting to grips with the basics. This book is particularly useful because it also comes with downloadable audio so you can hear a native Japanese speaker pronounce the words and phrases. Before you know it, you'll be perapera (fluent in Japanese) in no time!
– Tanja from Ryokou Girl
Before your trip to Japan, put in the time and energy up front by reading one or all of the Japan travel books recommended here, and you are guaranteed a totally life-changing experience! If you have another Japan tourist guide you recommend, please share it in the comments below. Safe travels!
Related Reading:
Visiting Hiroshima and Miyajima Island
How to Rent a Car in Japan (and Why You Should)
Visiting Okinawa: What to Do, Where to Stay, and How to Get Around