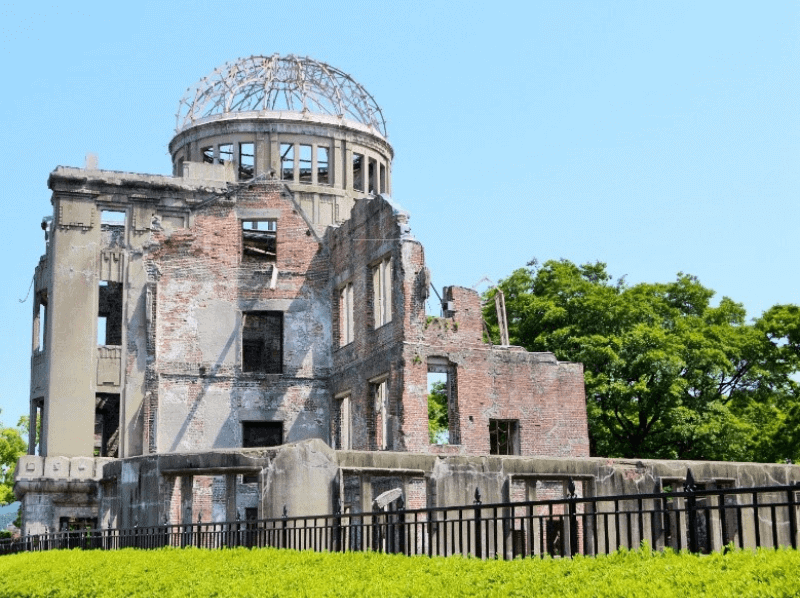 In Summer 2017, we visited Hiroshima and Miyajima Island. We had only one day to explore both of these amazing areas. My husband, Mike, wrote this guest post about our experience, which was educational, inspiring, and somber.
Some of the most exciting moments for me, living the life of a military retiree and traveling the world, are the visits to significant historic military destinations that I had only read about.
Normandy: check. Berlin: check. Pearl Harbor: check. Okinawa: check. Nagasaki: check.
And finally, Hiroshima. We recently visited this beautiful city and were charmed by its strong resilience and ability to bounce back from the atomic bomb dropped on the city in August 1945.
Day Trip to Hiroshima and Miyajima
Hiroshima is the 11th largest city in Japan, with a population close to 1.2 million people. Hiroshima and nearby Miyajima Island (also known as Itsukushima Island) are home to two of Japan's 17 United Nations Educational, Scientific, and Cultural Organization (UNESCO) World Heritage Sites. It is no small wonder that this area is an important destination for tourists and historians alike.
Although Hiroshima is a vibrant city with many attractions, we only had one day to explore. We visited the atomic bomb memorials and Miyajima Island. Following is a short summary of our visit. You can find the logistical details at the end.
Hiroshima Peace Memorial Park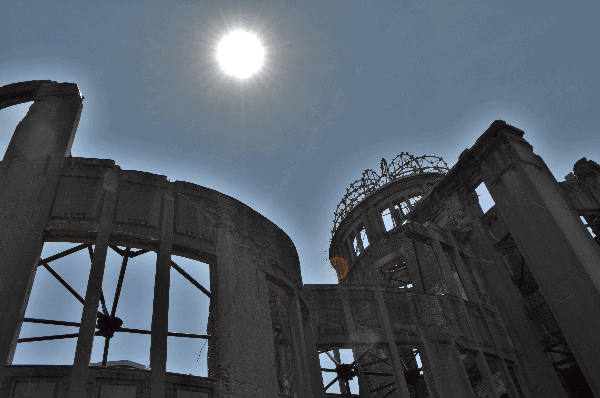 The Hiroshima Peace Memorial Park is located near "ground zero" of the atomic bomb explosion. The park includes numerous important sites:
Atomic Bomb Dome (the UNESCO World Heritage Site)
Peace Bell
Children's Peace Monument
Cenotaph (war memorial) for Atomic Bomb Victims
Hiroshima Peace Memorial Museum
You can easily do a self-guided walking tour of the first four sites, which are clustered together in a beautiful park straddled by two rivers. Depending on how much time you spend taking photos, reading the documentation, or for quiet reflection, a tour could take anywhere from 45 minutes to 2 hours.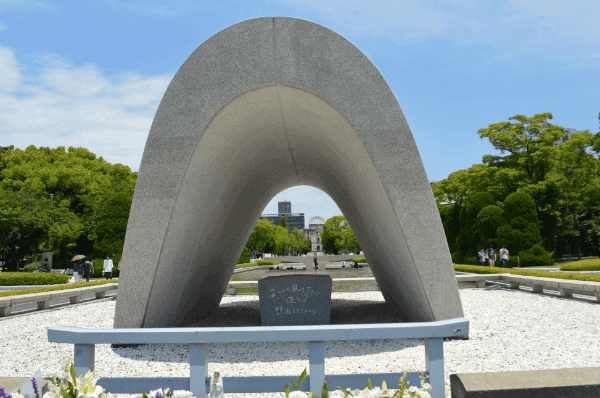 The Museum requires a bit more time. It is full of artifacts and stories of Hiroshima prior to, during, and after the atomic bomb. The museum offers a self-paced audio tour, which I recommend doing if you want to get the most out of your visit.
You may remember studying the Hiroshima bombing in school. But nothing can prepare you for the pictures, videos, charred remnants of victims' belongings, and the sounds of people crying in the museum.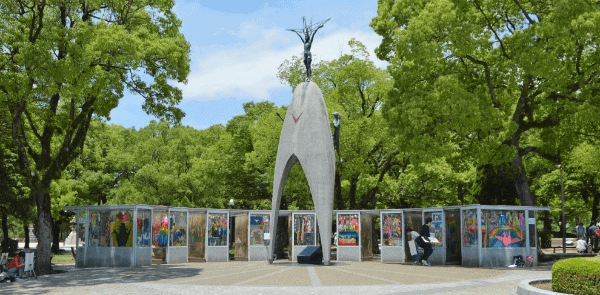 The atomic bomb exploded over a city crowded with children, women, and elderly citizens going about their daily lives. Being a military retiree, I studied the U.S. decision to drop the bomb on a civilian population. From far away, the logic made sense. But when you stand on ground zero and see the destruction it caused to generations of people, it is a sobering sight.
Miyajima Island & Itsukushima Shrine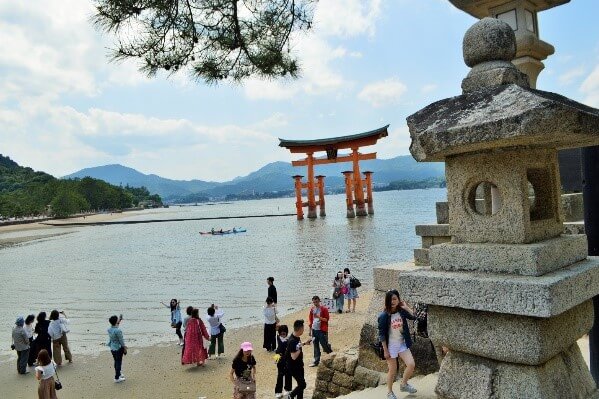 After our visit to the Hiroshima Peace Memorial Park, we visited the second UNESCO World Heritage Site, the Itsukushima Shrine on Miyajima Island. This particular Shinto Shrine has the only Torii gate in the middle of the sea. (A "Torii" is a gate that marks the entrance to a Japanese Shinto shrine).
The first thing you may notice about the island is that there are deer everywhere. They are bold and friendly, and they may come up and try to nibble on your backpack or whatever you have in your hand.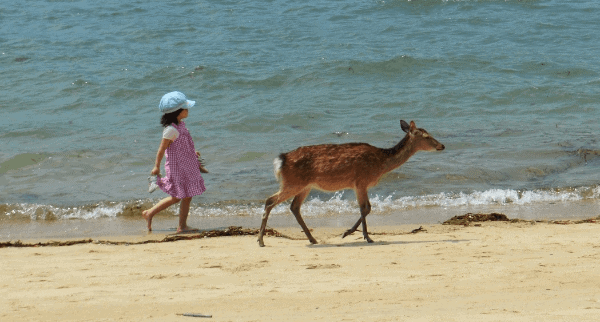 A short walk from the ferry terminal, you will see the famous orange Itsukushima Shrine Torii gate about 200 meters offshore. At high tide, the gate appears to be floating in the sea. At low tide, you can walk out to see the gate up close.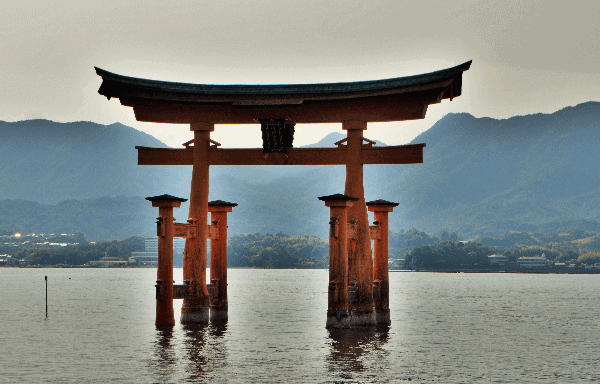 The main part of the shrine is also surrounded by water at high tide, but it's located much closer inland. You can walk the corridors, which have no doors or walls. The entire shrine complex is designed to be in balance with the nature surrounding it.
After visiting the shrine, you may pass by the 5-Story Pagoda, another impressive site on Miyajima. From there, you can hike or take the ropeway (gondola) to the top of Mt. Misen, the highest peak on Miyajima. We took the gondola as far as it went, but we still had to walk about a mile to the observatory at the highest point. The trail is rocky and a little bit steep in places, so make sure you have good footwear.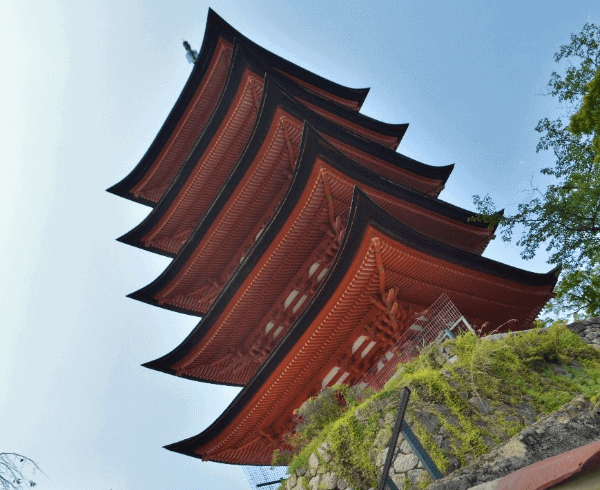 The trek is well worth the effort, because at the top, you will be rewarded with incredible 360 degree views of Hiroshima Bay. The picture speaks for itself.

How Much Time Do You Need to Visit Hiroshima & Miyajima?
We were on a tight schedule and packed everything into one day. While we hit the highlights, I recommend allowing at least 2 days for a visit to both places. Hiroshima is a beautiful city with many other attractions besides the atomic bomb memorials. And you could easily spend a full day exploring Miyajima. The island has has beautiful beaches, hikes of varying difficulty, and an aquarium. You may also want to stick around to see the beautiful Torii gate at night.
Logistics
Here's what you need to know to plan your visit to Hiroshima and Miyajima.
Lodging
We live in Fukuoka, Japan, about a 3.5-hour drive from Hiroshima. We stayed at the Marine Corps Air Station (MCAS) Iwakuni, which is more or less on the way (about a 45-minute drive to Hiroshima). We rarely visit bases in Japan, so staying at MCAS Iwakuni was an opportunity to resupply our food and other necessities at the commissary and Exchange and enjoy a Western-style bed.
MCAS Iwakuni has a new Inns of the Corps in the Torii Pines Center that is very nice and modern. We had an "extended stay" room, which was a spacious suite with a kitchen and sleeper sofa ($115/night). Standard rooms are $95/night. There is a 24/7 gym in the hotel so you can keep fit during your travels.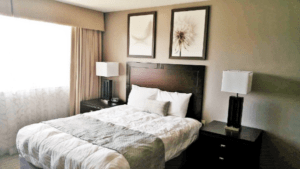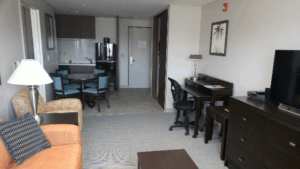 (Note: If you decide to stay in Hiroshima, I recommend using AirBnB. You can likely get an entire apartment for less than half the cost of a hotel or a room at Inns of the Corps. Find a good apartment using the AirBnB checklist we created based on our experiences staying in dozens of short-term apartments around the world).
Base Facilities
MCAS Iwakuni is a large base, but you can walk to most facilities from Torii Pines, and there are taxis on the base. You will find all the facilities of a typical base/post available for your use. When we visited, retirees were permitted to eat at the mess hall, but call to ensure the policy is still in effect.
MCAS Iwakuni has a large passenger terminal and is one of the stops for the Patriot Express (a.k.a. the "rotator"). You may be able to fly Space-A to this base.
Getting to Hiroshima
As mentioned, we drove from Fukuoka. Having a car was convenient because we wanted to shop at the commissary and Exchange, but it proved to be rather expensive when we added the cost of tolls and parking to the daily rental fee.
If you're staying at MCAS Iwakuni or coming from the Tokyo area, Hiroshima is easily accessible by train. The train station is located in the middle of the city, only a few streetcar stops from the Peace Memorial Park. Hiroshima airport is about 45 minutes outside the city.
Hiroshima Peace Memorial Museum
The museum is open every day of the year except for December 30 and 31. It opens at 08:30. Closing times vary, depending on the time of year.
Admission is only 200 yen (about $2) for adults, 100 yen for seniors 65+ and high school students, and  free for younger children. The audio guide is 200 yen.
Getting to Miyajima
We traveled to Miyajima by high-speed ferry. The dock for the World Heritage Sea Route was conveniently located next to the Peace Memorial Park and cost about $33/rt per person for the scenic 45-minute trip.
For about half the price, you can take the streetcar + train from Hiroshima to Miyajimaguchi Station and then take a short ferry to the island, but it will add a good 30 minutes to your travel time.
Note that Miyajimaguchi is about halfway between Hiroshima and Iwakuni on the same train line, so if you're returning to the base at the end of the day, the train option makes more sense.