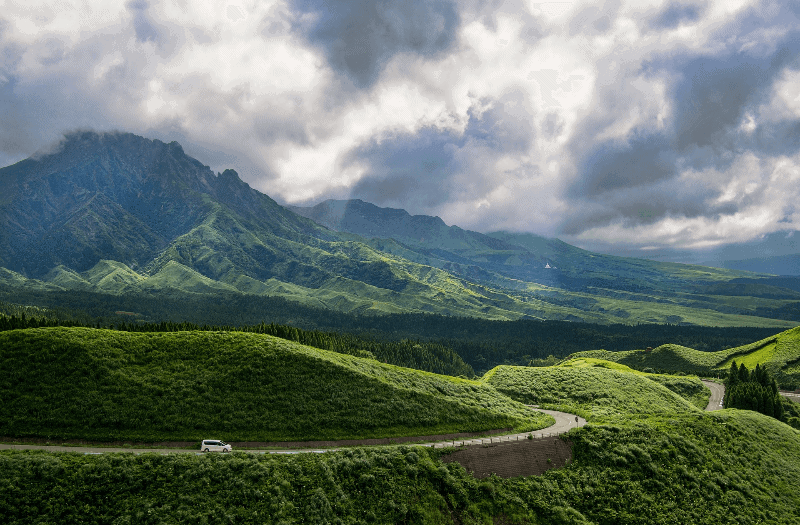 If you travel to Japan and only visit places that are accessible by public transportation, you're missing out on some of the coolest sites in the country. When traveling to and within major cities, trains are the way to go, but you need a car to access some of the most beautiful — and less-touristy — places. Renting a car in Japan is the best way to make the most of your visit.
Planning a trip to Okinawa? Rent a car so you can visit the many beaches, waterfalls, and historical sites. The bus system in Okinawa is not very convenient; renting a car allows you to maximize your stay on the beautiful island.
Do you want to see Mt. Aso, the largest active volcano in Japan? It's located on the island of Kyushu, in an area that is not convenient to visit using public transportation.
You can even rent a car in Tokyo if you want to explore the Fuji Five Lakes or other non-urban areas on the island of Honshu!
These are just a few examples, but there are many other amazing and unique places in Japan that are best seen by car.
Car rental in Japan is easy and works much the same way as in the U.S. Here's what you need to know.
1. You must be 18 years old to rent a car in Japan.
The legal minimum age to drive in Japan is 18.
2. You need an International Drivers Permit (IDP).
You can rent a car in Japan with a U.S. drivers license, but you are also required to have an IDP. You should obtain the IDP before you travel to Japan.
IDPs cost $20, and all you need are a valid U.S. driver's license and two passport-size photos. The permits are valid for one year, but in Japan they are only acceptable if you are in the country for a limited time as a tourist.
| Related Reading: What You Should Do NOW to Prepare For Your Next Overseas Travel
If you are in the U.S. military and stationed in Japan, inquire with your command about obtaining a SOFA driver's license.
There are only two places authorized by Department of State to issue an IDP:
3. Renting a "Kei" car may be cheaper.
Keijidosha or "Kei" cars are light vehicles, easily identified by their yellow license plates. They are less powerful than regular cars. They are also generally $10 – $20 per day cheaper than a regular rental car. They may be called a "mini car" on the Japan car rental agency website.
Kei cars are good for local trips but not for extensive highway driving.
4. You are required to purchase the insurance.
The prices you see when searching for car rentals in Japan include the cost of mandatory insurance, which covers damage, injury, and liability.
No matter what coverage you have from your own car insurance or credit card, you still must pay for the Japanese rental car insurance. You can also purchase additional optional coverage.
5. Rental cars in Japan are almost always automatic transmission.
No need to worry if you don't know how to drive a stick shift. Any Japan rental car is likely to be automatic.
6. Ask for a tutorial on the GPS.
Most Japan rental cars come with a GPS in the dashboard. Verify that the display is set for English, and have the staff show you the main features, including how to turn it off when you want it to stop navigating.
The best feature of the rental car GPS is the ability to enter a location code (rather than an address) to find your destination. The rental car agency will give you their code, which you can use to map back to them when it's time to return the car.
7. The Japanese drive on the left side of the road.
The steering wheel is on the right side of the vehicle. Driving on the left side of the road takes some getting used to if you've never done it, but once you're on the road, it's fairly simple to follow the flow of traffic, and driving in Japan is easy.
| Related Reading: The Best Japan Travel Guide Books
Fortunately, the Japanese are generally patient and not very aggressive drivers, so as a tourist driving in Japan, if you make a mistake, it's unlikely that someone will lay on their horn. Your biggest challenge may be remembering that the turn signal and windshield wipers are not where you expect them to be.
8. If you have portable (a.k.a. "pocket") WiFi or you purchased a local SIM card for your cell phone, use Google Maps to navigate.
Even if your Japan rental car comes with GPS, you may want to use Google Maps instead.
The routing in the rental car GPS does not update in real time the way Google Maps does, so it does not reflect traffic conditions. Google Maps will re-route you if it detects traffic slowdowns on your route and finds a faster way. This re-routing feature has helped us avoid many traffic jams on Japanese expressways by taking us on detours we couldn't possibly have found on our own.
We also use Google Maps to find routes that avoid the expensive Japan toll roads.
You can purchase a local SIM or portable WiFi at the airport when you arrive in Japan so that you have access to Google Maps and other online apps while traveling the country.
9. Japan has a zero-tolerance policy for drinking and driving.
If you're driving, you can't drink any alcohol; not even a small beer with lunch. The penalty for violating this law is harsh and may include deportation.
You will notice that most Japanese restaurants offer a wide range of non-alcoholic beverages, including non-alcohol beer.
10. Japanese expressways have an option to use the Electronic Toll Collection (ETC) system.
The system is similar to the electronic toll systems in the U.S. Some Japanese rental cars come with the ETC device and card required to use the system, which allows you to drive straight through the many tolls on Japanese expressways. You pay the charges when you return your rental car.
If you do not have an ETC card, use the green toll booths to pay with cash or a credit card.
Most U.S. military bases in Japan have a rental car service. At some bases (generally NOT when the agency is Times Rental Car), renters receive tickets to pay for tolls to their destination. This is a generous benefit, as tolls in Japan are expensive.
At bases that offer toll tickets, eligibility for the benefit varies. Some bases offer it to all renters, including active duty with a Japanese SOFA drivers license (4EJ), as well as active duty and retirees who are in Japan for tourism and have an IDP. Other bases have restrictions on eligibility.
Contact the base rental car agencies directly to confirm their policy.
11. Fill up the gas before you return the vehicle, and keep the receipt.
Japanese cars get great gas mileage, and after several hours of driving, it may look like you still have a full tank. But don't try returning the car without gassing up; you may need to show your receipt as proof that you refueled.
Some Japan rental car companies mandate that you fill up within a certain distance of the rental car facility, or they may even specify which gas stations to use. Make sure to look at your contract or ask when you get the keys to your vehicle.
Don't miss some of the best sites in Japan because you're reluctant to rent a car! Plan ahead by getting your IDP before you leave the States, be patient, and follow all the rules. You will be glad to have the freedom and flexibility of exploring Japan by car.
Click here to reserve your rental car in Japan now!
Related Reading:
Visiting Okinawa: What to Do, Where to Stay, and How to Get Around
Pro Tips for Using Airbnb in Japan
Visiting Hiroshima and Miyajima Island