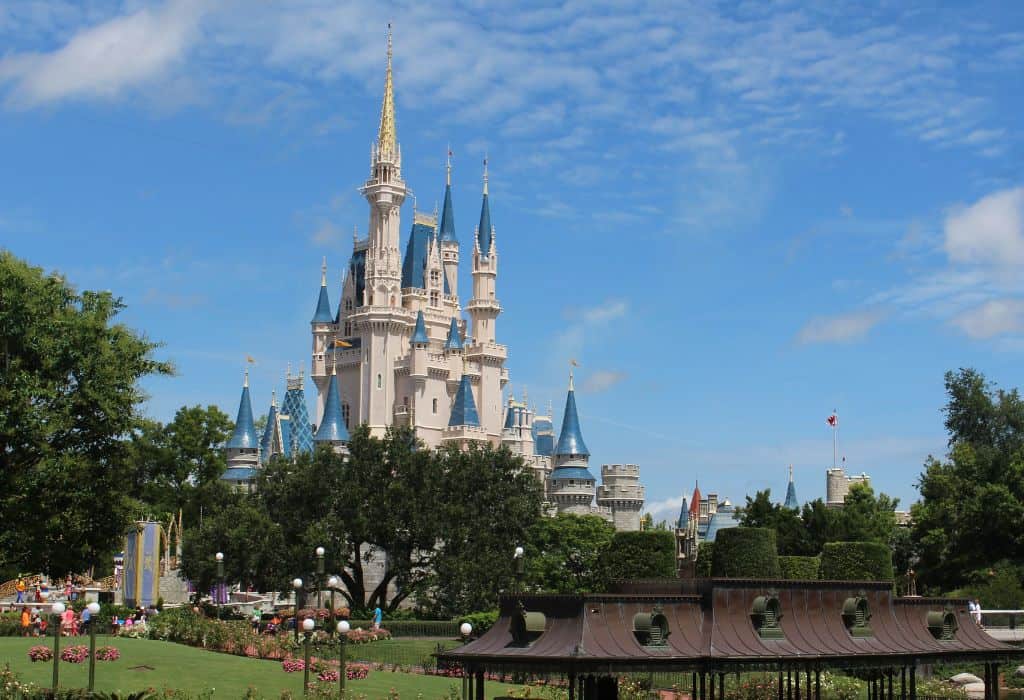 Members of the U.S. military community have many options for saving money on a trip to Disney World. From discount tickets to military rates at Walt Disney World resorts, plus a military-only resort right on the property, guest contributor and Disney expert Julie Chickery explains how military travelers can make a dream Disney vacation a reality!
For military travelers, Disney World is a must-do! This comprehensive guide will tell you everything you need to know to have the best time possible at "the happiest place on earth."
I'll cover all of the military discounts on both lodging and theme park tickets so you can decide where to stay and which of Disney's many ticket options is best for you. My goal is to help military families have a magical Disney vacation without breaking the bank.
Disney World Lodging Options for Military Travelers
When planning a Disney World vacation, the first thing you need to decide is where to stay. For military discounts, you have a variety of options on Disney properties and in the surrounding area.
Disney Properties
Many travelers dismiss staying at a Disney resort hotel due to sticker shock when they see the nightly rates, but there are many perks of staying on property. I'll explain what they are and share some ways to reduce the cost using your military benefits.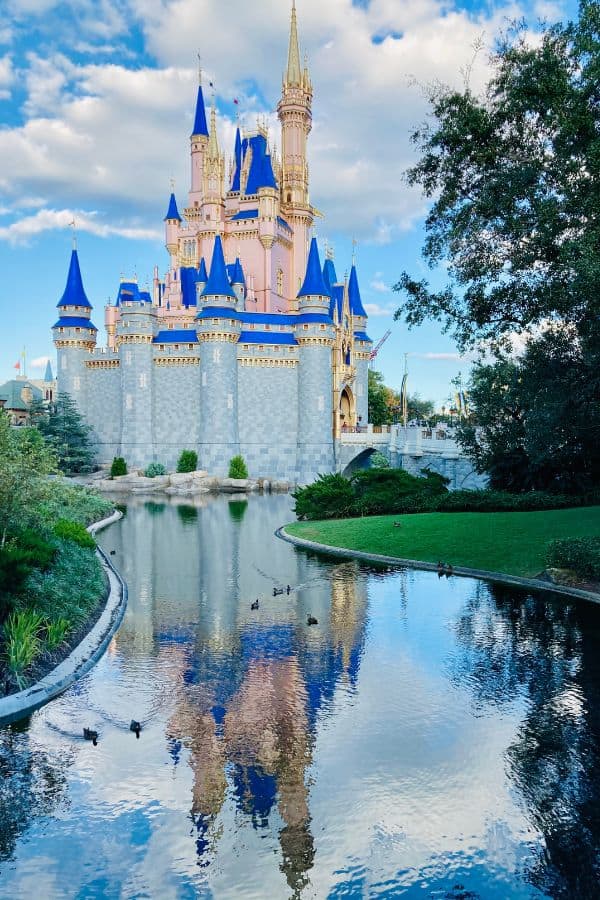 The first, and most obvious, advantage of staying at a Disney resort is that you are right in the heart of the magic. The resorts are themed and offer many activities so that you can enjoy your Disney vacation, even outside of the amusement parks.
The various resorts also include many themed dining options ranging from quick service counters to sit-down restaurants.
Disney resort hotel guests can take advantage of early theme park entry, which allows you to enter the parks 30 minutes earlier. That might not seem like much time, but almost immediately after opening to the general public, lines for the most popular rides can easily exceed an hour.
The head start allows you to go straight to a popular ride, enjoy it, and then get to the front of the line for a second ride before guests staying off property can enter the park.
One of our favorite benefits of staying at a Disney resort is the internal transportation system. It includes buses, boats, the monorail, and the Skyliner (an aerial tram).
If you choose to drive yourself to the various Disney parks, free parking is included for those staying at Disney resorts (you already pay a daily parking fee at the hotel).
On-property lodging options for military travelers include:
Disney Resort Hotels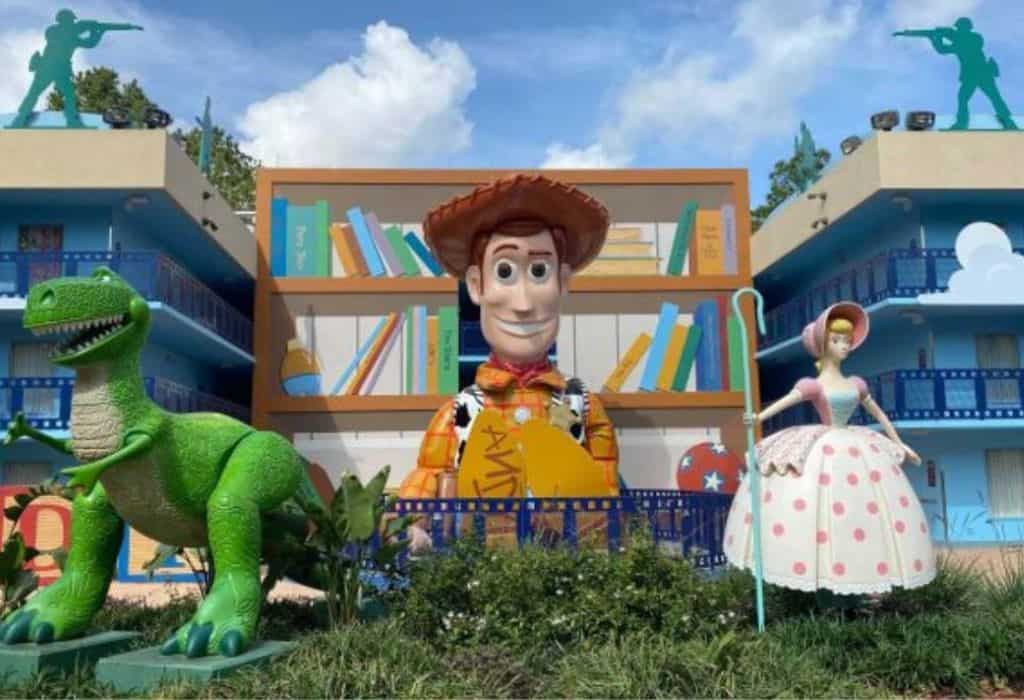 Walt Disney World has a wide variety of resorts, each with their own distinct style. They are divided into three categories:
Value Resorts, like the All-Star Movie Resort, which is themed with five Disney films: 101 Dalmatians, Fantasia, Mighty Ducks, The Love Bug, and Toy Story.
Moderate Resorts, such as the Caribbean Beach Resort, where guests stay in one of five Caribbean villages situated around a 45-acre lake.
Deluxe Resorts, including the Animal Kingdom Lodge featuring its own wildlife park.
All of these Disney resorts have numerous activities and dining options for guests. And luckily for us, Disney offers military discounts called Armed Forces Salute (or Military Salute) at most of these resorts.
The amount of the discount depends on the regular nightly rate of the resort but is up to 30% off for Value Resorts, 35% off for the Moderate Resorts, and up to 40% off for the Deluxe Resorts.
The actual discounted amount varies based on time of year and is limited to a certain number of rooms. In other words, as the resorts' reservations book up, the discount offered is reduced, so if you want to take advantage of it, make your reservations early.
Armed Forces Salute military promotional rates are for active and retired U.S. military personnel, including active or retired members of the National Guard, Reserves, U.S. Coast Guard, U.S. Space Force, the Commissioned Corps of the Public Health Service, and the Commissioned Corps of the National Oceanic and Atmospheric Administration. Spouses of eligible personnel also qualify for the offer with valid military ID.
Fort Wilderness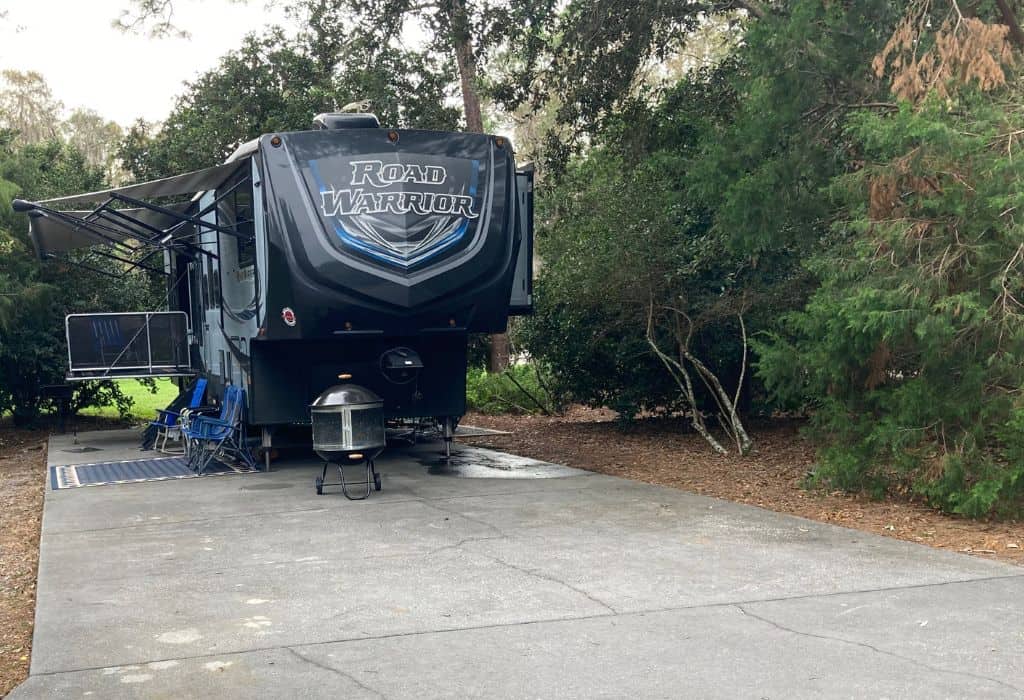 We love to stay at Disney's very own campground, the Fort Wilderness Resort and Campground. This large property, set among 750 beautiful wooded acres, offers campsites (tent and RV) as well as cabins.
The cabins have 4 beds: a queen, twin bunks, and a pull-out sofa.
Campsites come in five different price points based on size and location in the campground: tent/pop up, basic full hookup, Preferred, Premium, and Premium Meadows.
Note that you can rent an RV through an approved RV rental company and have it delivered and set up for you at Fort Wilderness.
Highlights of the campground include restaurants, a dinner show, two pools, and bath houses with laundry facilities throughout the property.
Fort Wilderness also offers plenty of free entertainment options each night, such as nighttime fireworks that you can view from the beach and a large campfire sing-a-long with Disney movies under the stars.
While there are no specific discounts for military members at Fort Wilderness, it can still be a great value due to everything that is included. In addition, if you're staying in an RV or a cabin, you can save money by preparing some of your own meals.
| Related Reading: The Best Military Campgrounds in Florida, Arizona, and California
Finally, Fort Wilderness is one of the best places to stay for military families because your camper or cabin will typically have enough room for both parents and children alike to sleep comfortably.
When planning a trip to Fort Wilderness, the best way to reserve is through an authorized Disney Vacation Planner. There is no additional charge to you, but they often know about upcoming special offers and other great deals to further reduce your Disney vacation costs.
Shades of Green Resort
Shades of Green is a large hotel complex on the Walt Disney World property (independently owned and operated by the Armed Forces Recreation Center).
It is reserved exclusively for members of the military community, including: active and retired members and their family members; eligible former/surviving spouses; service-disabled veterans; and DoD civilians. Visit the Shades of Green website for a full list of eligible guests and valid ID requirements.
| Related Reading: What Travel Benefits Can Service-Disabled Veterans Use?
All honorably-discharged veterans, including those who are not otherwise eligible to stay at Shades of Green, can take advantage of Shades of Green's Salute to Our Veterans program to vacation at the resort during the months of January and September.
Eligible patrons can sponsor up to three rooms under their name for friends and family.
The resort is considered comparable to a Deluxe Disney resort like the Animal Kingdom Lodge or Polynesian ($600+ per night for a standard room), but the pricing is significantly less. Nightly rates at Shades of Green vary based on the category of traveler and type of room.
Below are the three categories and corresponding rates for a standard room (FY23). Visit the Shades of Green website for a complete list of rates through FY24:
Category I (E-1 – E6) $163 *
Category 2 (E7 – E9, W01 – CW03, Widows, O1 – O3, 100% Disabled Veterans) $199
Category 3 (CW4 – CW5, O4 – O10, DoD Civilians, Other Disabled Veterans, Foreign Military) $209
*Note: Category 1's great rates are only for the eligible service member's room. Additional rooms are billed at Category 2.
Shades of Green's standard hotel rooms are the largest at Disney and come equipped with two queen beds, a sleeper sofa, a table with two chairs, a refrigerator, and a coffee maker.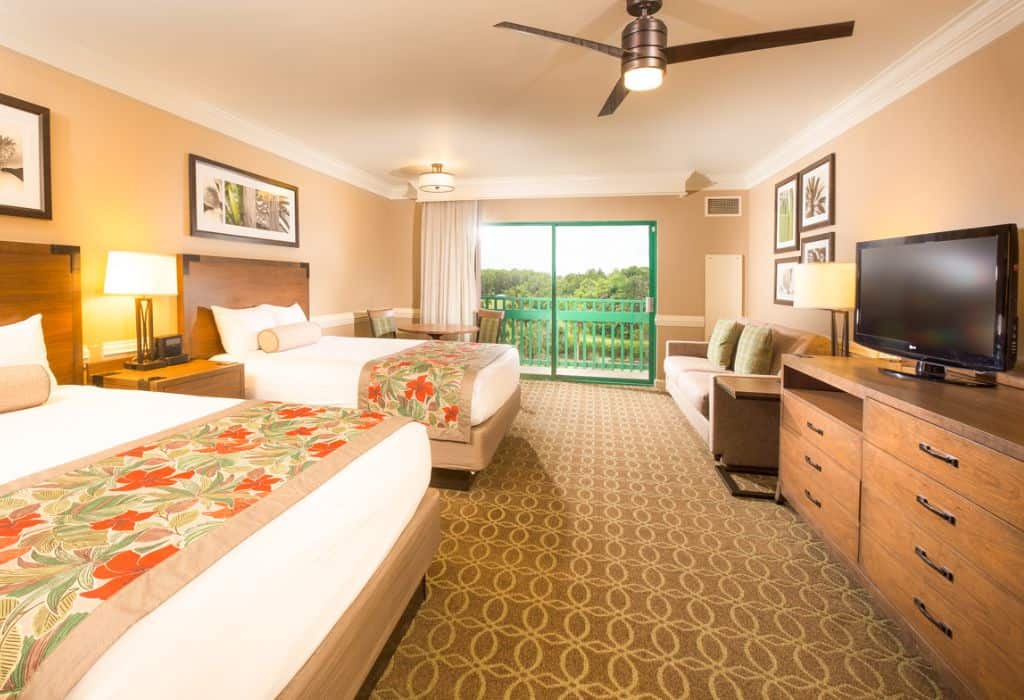 Other resort amenities include multiple restaurants, two swimming pools, laundry facilities, a fitness center, and three golf courses.
Disney World isn't the only cool place you can find military lodging. Click here for 12 other fun spots!
There are some differences between staying at Shades of Green and other Disney Resorts, including Fort Wilderness.
First, if you choose to drive to the theme parks, you will pay the $20/day parking fee.
Shades of Green has a bus service, but it is operated privately and doesn't run as often as the main Disney buses. However, Shades of Green is just a short walk to the Polynesian Resort, which has a monorail stop.
Another difference is the Disney theme. Aside from Shades of Green's Mickey-ear pool, the resort is not specifically Disney-themed. It also doesn't have the cast-led activities you see at the Disney resorts.
On a positive note, Shades of Green guests can take advantage of the early access hours alongside other Disney resort guests.
Disney Springs Hotels
The Disney Springs (formerly "Downtown Disney") Resort Area is a shopping, dining, and entertainment district on the Disney World property. It has seven hotels, but none are owned or operated by Disney World. They are all part of hotel chains, such as Hilton or Holiday Inn.
While staying at a Disney Springs hotel, you have the same early entry benefit as the Disney resorts, plus access to the hotels' free shuttle service to the theme parks.
The hotels offer military family rates of up to 20% off. The discount is available to active and retired U.S. military personnel, including members of the U.S. Coast Guard, National Guard, and Reserves.
Non-Disney Lodging Options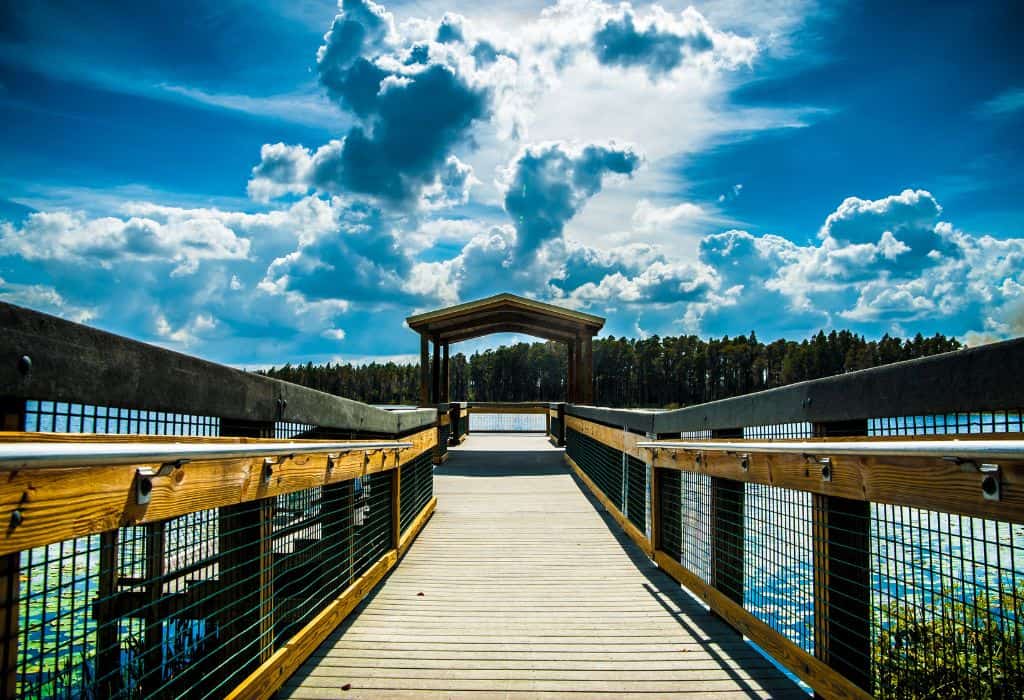 These off-property lodging options are great alternatives if you plan on visiting other area attractions and not limiting your trip to Disney theme parks.
Armed Forces Vacation Club offers eligible service members 7-night condo vacation rentals in the local area for only $379 per week ($54 per night). Talk about a great military discount! Most of the properties have one- to three-bedroom units, pools, and other activities.
Lake Louisa State Park is a wonderful alternative for campers who want to visit the area but avoid the price tag of Fort Wilderness. At just $31 per night for water and electricity RV-sites or $120 per night for a 2-bedroom cabin with a full kitchen, it is a great deal in a beautiful, natural setting.
Disney Ticket Options for Military Travelers
With standard one-day ticket prices between $139 – $150 per person, theme park admission can easily become one of the most expensive parts of your vacation. Luckily there are two different military discount options to help ease the burden on your wallet.
For these specially-priced tickets, eligible service members are the same as for the Armed Forces Salute military promotional rates at Disney resorts outlined above.
Disney Armed Forces Salute (aka Military Salute)
These Disney military promotional tickets offer steep discounts for active and retired military personnel and their guests over traditional theme park tickets. Eligible service members can choose from a 4-day or 5-day pass with two different add-on options: Park Hopper and Park Hopper Plus.
Walt Disney World consists of four parks (Magic Kingdom, Epcot, Hollywood Studios, and Animal Kingdom). The Park Hopper option allows you to leave the park you visited first at 14:00 and "hop" to another.
It works especially well for the parks like Animal Kingdom and Hollywood Studios, which close a little earlier than others. So, you could start your day at Animal Kingdom, go back to the resort for lunch and a nap, then finish up at Magic Kingdom.
To illustrate what a great deal these tickets are, consider that regular 5-day Disney tickets with the Park Hopper option start around $600 plus tax for 2023 while the 5-day Disney Military Promotional tickets with the Hopper option are only $366 (no tax when purchased through Shades of Green's ticket office or at your local military base).
The Hopper Plus option costs an additional $30. It allows you to also visit Disney's two water parks, the ESPN Wide World of Sports, and Disney golf courses. Keep in mind that during the winter, typically only one water park is open while the other undergoes renovations.
Another great thing about these passes is that each eligible service member (or their spouse) can purchase 6 passes each year for themselves, their family members, or their friends. If the servicemember has a Florida resident annual pass, they can still use this benefit to purchase passes for their guests.
The sponsor or spouse must present a valid military ID to activate the tickets on the first day of use but does not need to be with all ticket holders for the remaining days.
You can also choose to add the Memory Maker product to these passes for one low price, and it will cover free downloads of all Disney photos of your party for your entire trip.
As you plan your travel dates, beware that these tickets generally expire in the second week of December each year, and in 2023, there are blockout dates in April and November. Always double check these details for the upcoming year before making your purchase.
Disney Magic Your Way
The other option for saving money on theme park admission is the military discount on Disney's regular tickets, known as Magic Your Way.
This discount is significantly less than the Armed Forces Salute. It's typically only 5%, depending on the number of tickets and day you are visiting, as Disney prices their standard tickets based on crowd expectations. For this reason, make sure to price out the two options.
Typically, this discount is only preferred if you are buying a single-day ticket or if you have more than six guests, since that is the limit for the Armed Forces Salute tickets.
Our adult children joined us for three days during our last Disney World vacation. We saved over $110 each by purchasing 4-day Armed Forces passes over 3-day Magic Your Way tickets.
Purchasing Tickets
There are many important details to consider when deciding which tickets to purchase, but your travel dates are probably at the top of the list.
Walt Disney World requires theme park reservations (made via the online Disney Park Passs sytem with a My Disney Experience account) each day in addition to the actual ticket.
During busy times you may encounter limited availability, but you can't make the reservation until you have a ticket. Therefore, regardless of which ticket type you plan to purchase, get them in advance at a military base ticket office (aka the Information, Tickets, and Travel Office or ITT) so that you can make your park reservations.
If you don't live near a military base, many ticket offices will ship them to you for $15. You can also order them from the Shades of Green ITT office for the same fee.
Ready for Your Disney Vacation?
Now that you have all of your intel about military discounts, it's time to book your Disney World vacation! Remember to check your travel dates on the Disney calendar to determine pricing and availability, and make sure you do the math to decide which discounts work best for your plans. Then, get ready for the trip of a lifetime!
What's your favorite place to stay at Disney World? Tell us in the comments!
Author Bio: Julie Chickery is the co-author of Chickery's Travels. Julie and her husband, Sean, are both U.S. Air Force retirees and RV enthusiasts who lived in their Fifth Wheel full-time for six years. Chickery's Travels is an educational and inspirational website and YouTube channel documenting their travels and lessons learned. Julie fell in love with Disney World while stationed in Florida in the 1990's and returns for a two-week trip every year.
Top photo courtesy of Canva/Getty Images.