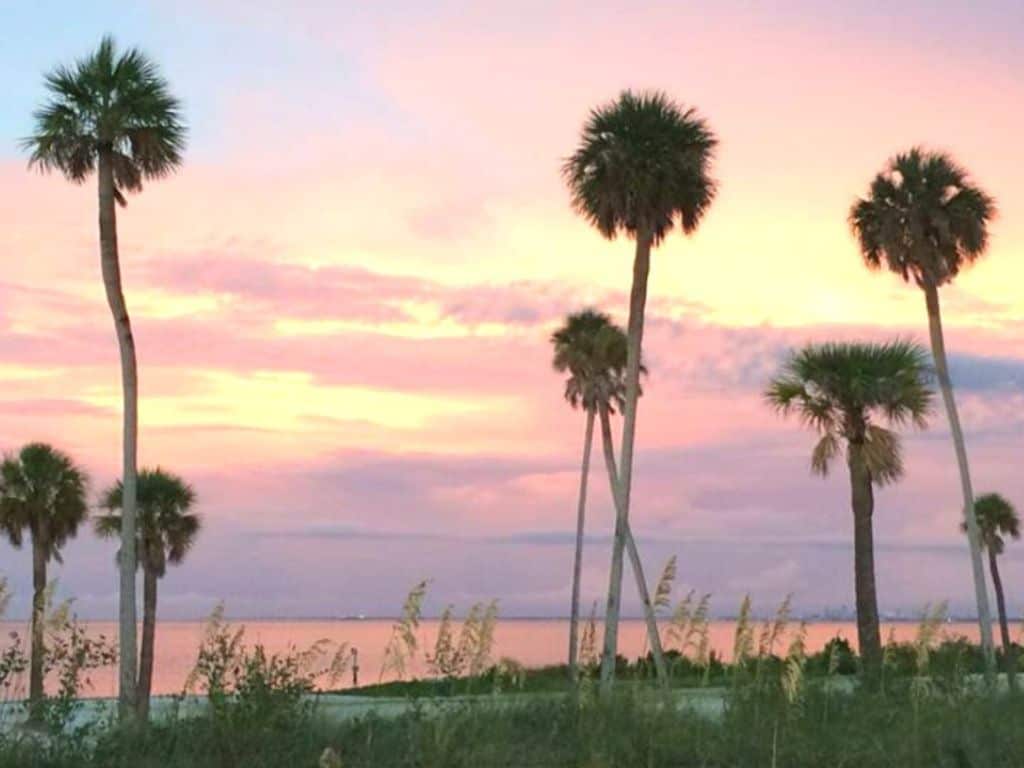 Julie Chickery, an Air Force retiree and full-time RV traveler, gives us her recommendations for the best military campgrounds to enjoy winter in the sun!
Winter is right around the corner, and if you're feeling the chill, you just might want to consider using your military benefits to enjoy a sunny vacation. One terrific option is taking your camper and heading south to enjoy a military campground. Happily, there are many to choose from, including these top military RV parks in Florida, Arizona, and California!
Contents (click to expand)
Military Campgrounds in Florida
There's no shortage of surf, sand, and sun in Florida. Lucky for you, there are also several campgrounds on military bases as well. Four terrific options are: Patrick Air Force Base in Cocoa Beach; Naval Air Station Key West; Naval Station Mayport in Jacksonville, and MacDill Air Force Base in Tampa.
Patrick SFB Manatee Cove Family Campground (Cocoa Beach)
We spent a winter at Patrick Space Force Base and enjoyed all of the activities that were offered, steps from the RV. This military campground offers 156 full-hookup (electricity, water, and sewer) sites on a first-come, first-served basis.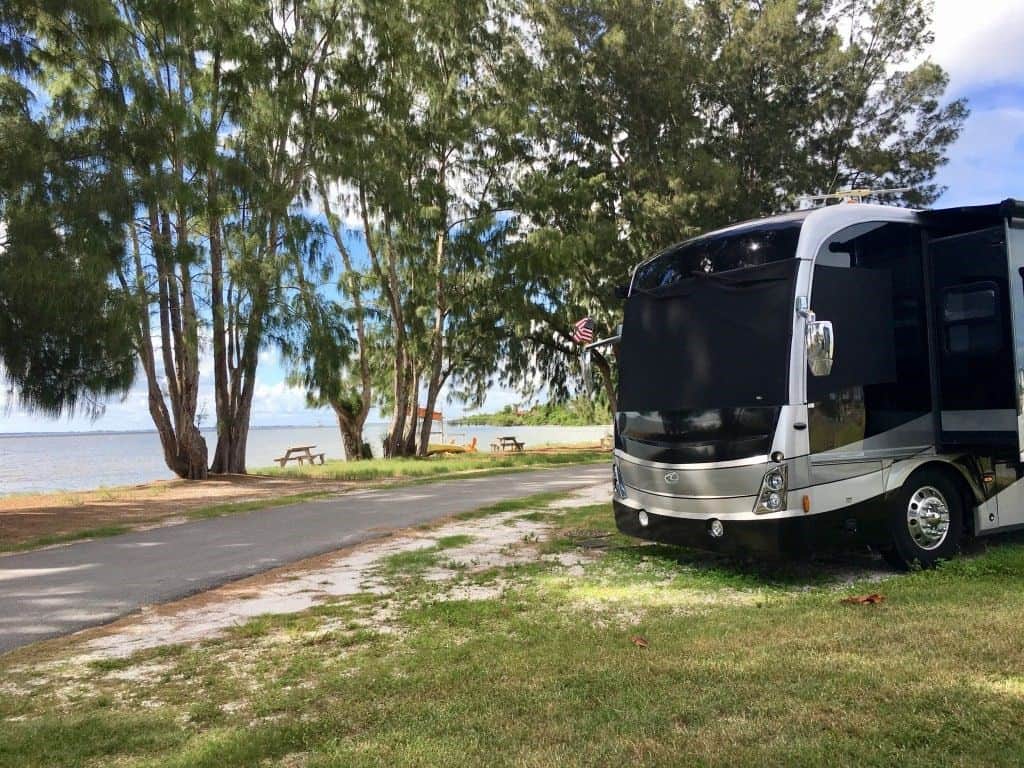 Situated on the Banana River, the Outdoor Recreation office rents bikes, kayaks, paddle boats, and jet skis to ensure you can make the most of your stay (they also publish a list of recommended hiking and biking trails).
Another fun feature of Patrick SFB is the Manatee Cove Marina by the south gate. It has a Tiki bar with live music every weekend. They also offer sailing lessons and boat rental.
If you're a golfer, you will love Manatee Cove Golf Course.
| Related Reading: Military MWR Resorts, Cabins, and Campgrounds
Just a short drive away is Cocoa Beach. This part of Florida is known as the Space Coast, because it is where sandy beaches meet rocket launches. A visit to Kennedy Space Center is an absolute must. Click here to read about more of my favorite activities in the area.
NAS Key West Campground (Key West)
Who can think of a more iconic snowbird destination than Key West? With a party vibe in the small town of Key West, it should come as no surprise that it spills over to the very socially-active military campground as well. If you are looking for community, this is the spot for you!
Military RV travelers can enjoy all that Key West has to offer from one of three campgrounds managed by NAS Key West's Recreational Lodging Campground office: Sigsbee Park, Trumbo Point, or Truman Annex. They boast a combined 93 full hookup sites and more than 500 dry camping sites.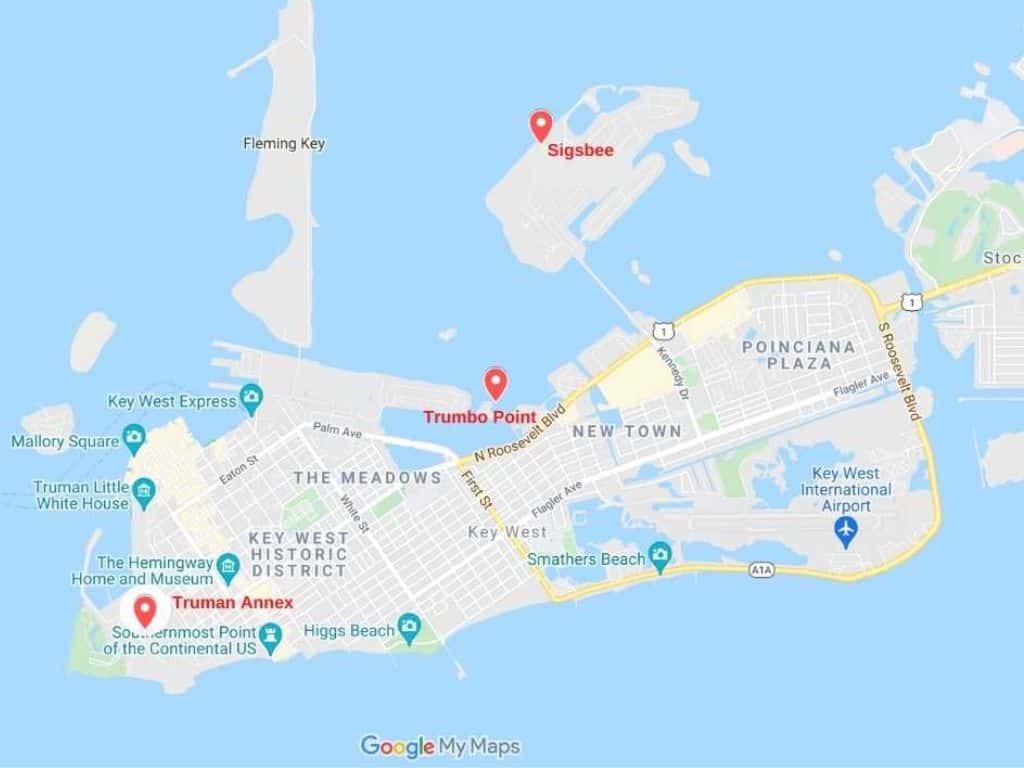 All of the full hook-up sites are located at Sigsbee Park, along with numerous dry camping sites. Trumbo Point and Truman Annex only offer dry camping, but the advantage is that they are very close to all the action near Mallory Square in Key West.
Trumbo point is open seasonally October – April and has shower facilities, water, a dump station, and laundry facilities. Stays at the beachfront dry camping sites on Truman Annex are limited to 7 nights.
Naval Station Mayport (Jacksonville)
Only 15 miles east of Jacksonville, this busy Navy base has two campgrounds: Pelican Roost RV Park and Osprey Cove.
Pelican Roost offers 47 full hook-up sites right on the channel where the ocean meets the St. John's River. The location offers regular viewing of the naval vessels as they make their way out to sea. This campground is geared towards shorter stays. Waterfront sites can be reserved for up to 14 days and the other sites for up to 30.
Built on the site of a former mobile home park, Osprey Cove has larger sites (also full hook-ups but electricity is 50 Amp only) and the maximum stay is 180 days.
In addition to lounging on the base's Atlantic Coast beaches, there are also numerous activities to enjoy in Jacksonville, including a renowned zoo and the award-winning Museum of Science and History.
MacDill AFB FamCamp (Tampa)
With over 300 full hook-up sites, MacDill AFB has one of the largest campgrounds that the military offers. It is also one of the most in-demand military campgrounds during the winter months, so make your reservations early! Each fall you can make your reservations for the following year for stays up to 180 days.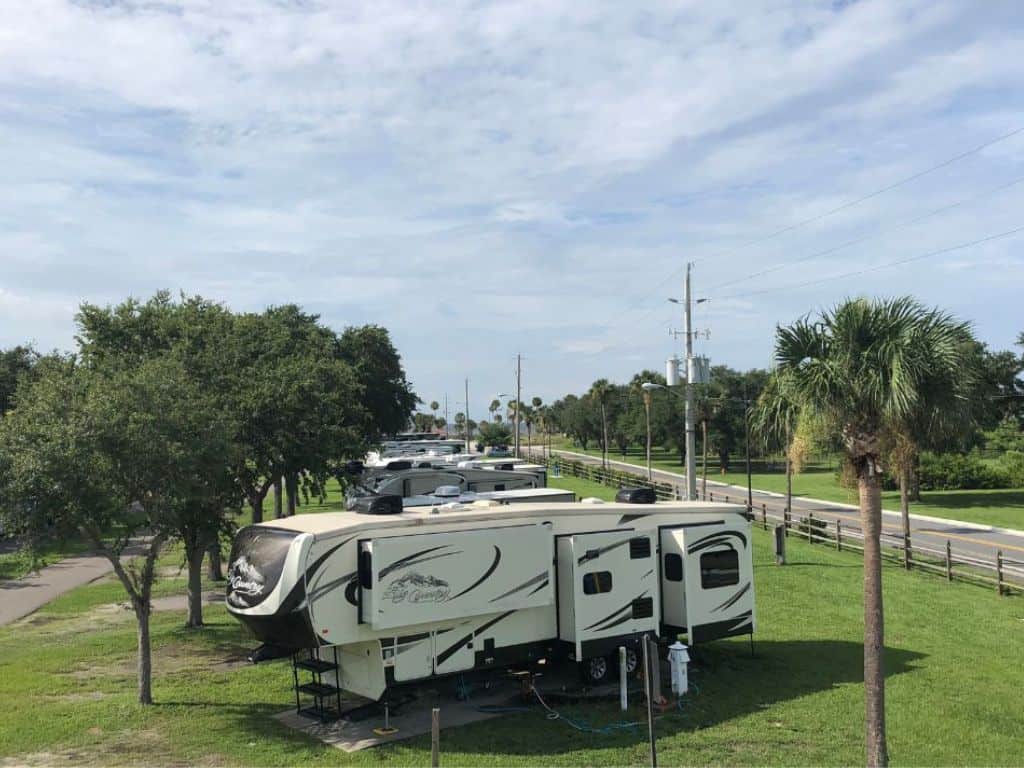 The FamCamp is divided into two sections: the Racoon Creek Recreation Area, located on Tampa Bay, and the FamCamp Annex, adjacent to the golf course.
The Bay side is busier; Outdoor Recreation, the base Beach Club, and the marina are also located there. It also has the only bathhouse and laundry facility.
Military Campgrounds in Arizona
Arizona is a mecca for northerners looking to escape winter. It has plenty of sunshine and a dry climate for those who don't like humidity. There's also good tourist infrastructure in most places, and lots of things to see and do. You can spend time among the red rocks of Sedona, the Saguaro-filled Sonoran Desert, or visit a Navajo reservation.
Davis Monthan AFB FamCamp Boneyard Vista (Tucson)
With daytime temperatures rarely dipping below the mid-60s, Arizona's second-largest city makes a great place to escape the cold weather.
Only 5 miles south-southeast of downtown Tucson, Boneyard Vista (formerly Agave Gulch FamCamp) has won the Campers Choice Award for best military campground several times.
It offers 197 full hook-up RV sites with an overflow area to allow for increased capacity during peak season. There is a pretty steady rotation, so a typical stay without hook-ups only lasts a couple of weeks. All sites are first-come, first-served.
No trip to Tucson would be compete without a hike in Saguaro National Park and a visit to the Arizona-Sonora Desert Museum to experience the desert landscape at its finest.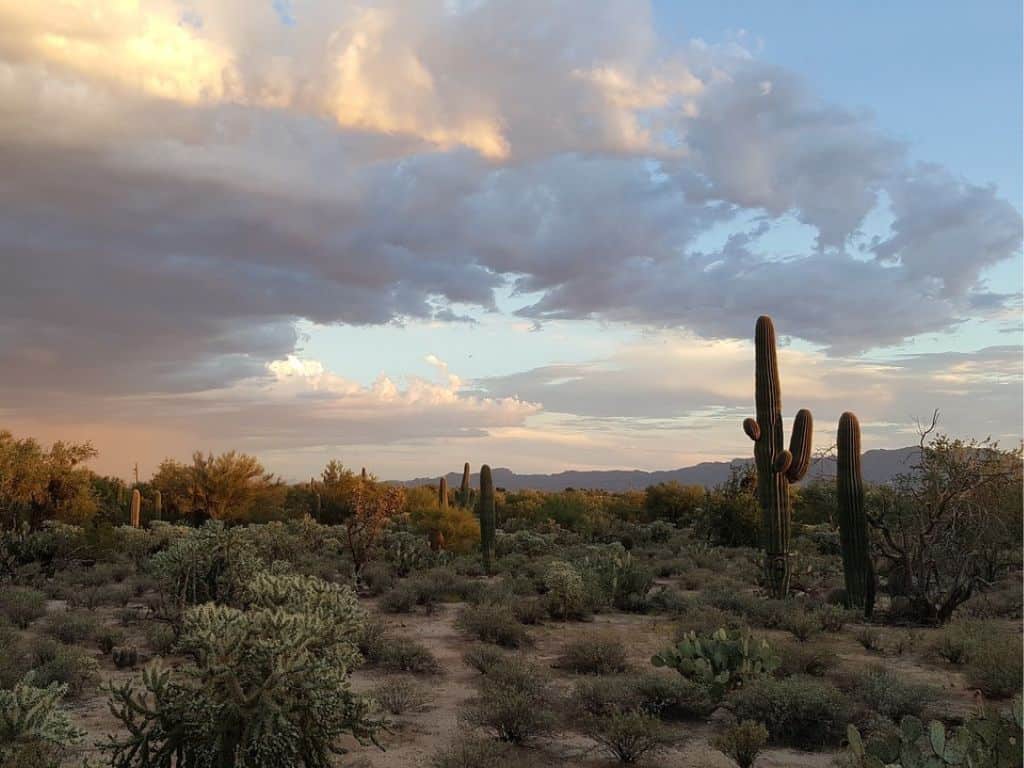 Ft. Huachuca Apache Flats RV Resort (Sierra Vista)
If you're looking to get farther away from the larger cities of Arizona, Ft. Huachuca is 75 miles SE of Tucson. Located at the foot of the Huachuca Mountains, the Apache Flats RV Resort offers spectacular views and easy access to many hiking trails.
With only 56 oversized concrete drive-thru sites, be sure to make reservations if you want to stay during the winter. This campground really is a hidden gem if you enjoy peace and quiet in an off-the-beaten-path location.
Luke AFB Saguaro Skies FamCamp (Phoenix)
Just 23 miles west of downtown Phoenix, Saguaro Skies FamCamp offers 61 pull-through full hook-up sites for stays up to 90 days (30-day reservations with up to two 30-day extensions). Opened in 2020, all the facilities (bath house, laundry, etc.) at this campground are immaculate.
While there, pay a visit to Papago Park, a 12,000-acre outdoor oasis in the desert. The park has stocked fishing ponds, numerous hiking trails, the Phoenix Zoo, and the Desert Botanical Garden.
Military Campgrounds in California
Looking for a state with a lot of diverse landscape? Look no farther than California. From desert climes to beaches on the Pacific coast, there are plenty of warm weather options.
Camp Pendleton Campgrounds (San Diego County)
Just north of San Diego lies Camp Pendleton with two campgrounds: Del Mar Beach, at the southern end of the base, and San Onofre Beach at the northern end. Both offer camping right on the beach and allow reservations up to 3 months in advance.
Del Mar Beach Resort has 105 RV sites on the beach, with 34 of them on the front row with the best view of the Pacific Ocean. San Onofre also has sites on the beach, as well as paved RV sites for larger RVs. Be aware that dogs are not allowed on the beach at either campground.
You'll see plenty of surfers most days at San Onofre State Beach located adjacent to the base. It is considered one of the top surf breaks for beginners in Southern California.
Naval Weapons Station Seal Beach Seabreeze RV Resort (Orange County)
Seabreeze RV Resort features 85 concrete full hook-up RV pads. Only a half hour from attractions such as Disneyland and Knott's Berry Farm, this campground is the perfect launching point for your urban vacation. The location is definitely in demand, but you can make reservations up to six months in advance.
Be aware that this is a very small base with no commissary. However, there is a small exchange within walking distance from the campground. A particularly unique feature is the self-service Seal Beach RV Wash Bay and Car Wash.
Vandenerg SFB Famcamp (Lompoc)
With average high temperatures in the mid-60's all winter, this quiet base is a great destination for snowbirds. The small FamCamp offers 39 full hook-up sites that can be reserved up to 90 days in advance. The base is situated on 35 miles of coastline and offers six beaches that you can enjoy without any crowds.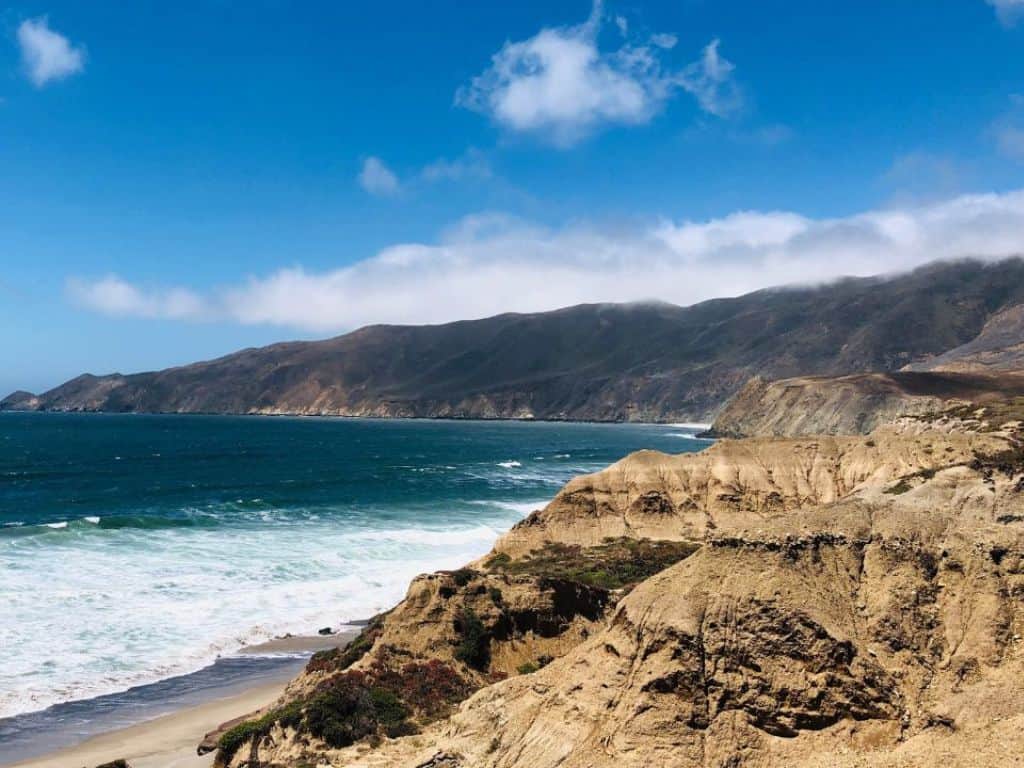 Located on California's central coast, Vandenberg serves as a great base for exploration of the local area, including Santa Barabara, the Santa Rita Hills wine region, and Solvang (also known as the Danish capital of America).
How to Use Military Campgrounds
Eligible patrons for military campgrounds generally include active duty service members, military retirees, members of the National Guard and Reserves, certain former and/or surviving spouses, service-connected disabled veterans (any rating), Purple Heart recipients, former POWs, and registered Caregivers, and DoD civilians.
Military campgrounds that are located on secure military installations may have tighter restrictions, so check with the facility directly to confirm eligibility.
If you've never stayed at a military RV park or campground, read these 5 tips for planning and reserving your stay!
Wondering what other military recreational facilities you can use besides campgrounds? Here's a list of 10 to try on your next vacation!
* * *
Julie Chickery is the co-author of Chickery's Travels. Julie and her husband, Sean, are both U.S. Air Force retirees traveling the country full-time in their Fifth Wheel RV. Chickery's Travels is an educational and inspirational website and YouTube channel documenting their travels and lessons learned. In addition, they have authored a book, Full-Time RV Finance, that covers all monetary aspects of RV travel, to include the big purchase, making money on the road, and saving money on travel.
Related Reading
11 U.S Military Recreations Facilities to Try on Your Next Vacation
A Year of Full-Time RV Living (With Kids)
This Military Retiree Spent 3 Year Traveling the U.S in Her RV