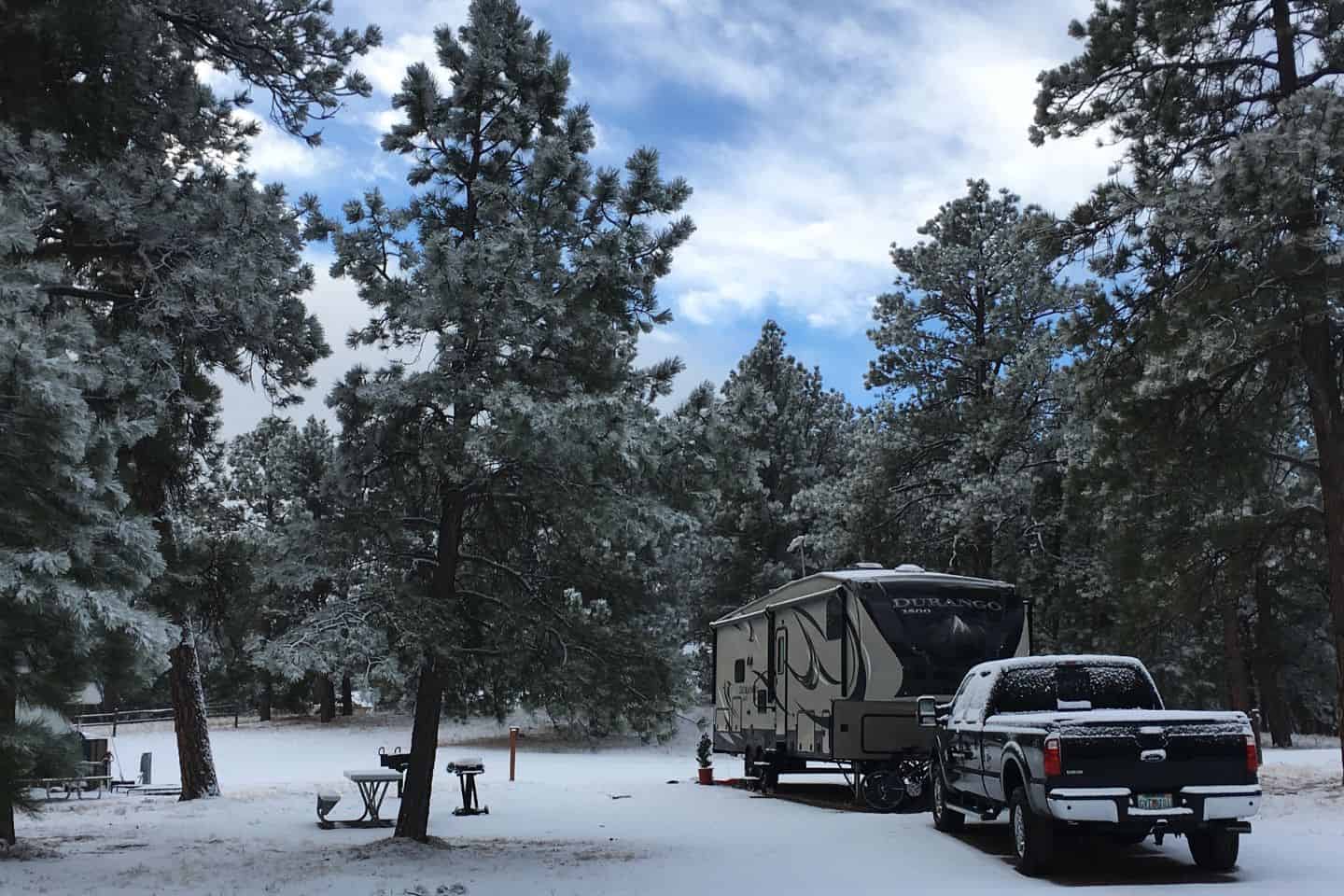 Have you ever thought about living full-time in an RV? Or wondered how you would choose where to live after military retirement? Jan Wesner Childs and her family did both at the same time! In this guest post, she shares her family's experience with full-time RVing after her husband retired from the Army. They traveled for a year to explore the U.S. and decide where they wanted to settle.
For years, my husband Mark and I assumed we'd retire to Florida, where we owned a house and we had both grown up.
One day, we came to a realization: after the Army, we could move anywhere we wanted. The problem was deciding where that "anywhere" was.
I started a spreadsheet about 18 months before retirement, listing our priorities: good schools, within an hour of big mountains or warm beaches, and a reasonable cost of living. I worked on the spreadsheet for weeks. Both Mark and I spent endless hours on the Internet looking at houses and weather and crime rates.
Several places we had never been emerged as top contenders. But how could we really know what these places were like if we didn't visit them in person?
We were in Germany. Our kids were in eighth grade and sixth grade. We couldn't just up and travel back to the states to check these places out.
One day around that same time, I was deep in the Internet when I came upon a random blog post from a family who was traveling the U.S. full-time in their RV.
I emailed my husband the link. I told him this would be the perfect way to visit the places we wanted to live, and to show our kids (who had lived overseas most of their lives) their native country.
He wrote back five minutes later: "I'm in."
Contents (click to expand)
Could We Really Live Full-Time in an RV?
Neither of us knew anything about RVs.
My parents and I lived in a small travel trailer off and on for three years when I was in elementary school, and Mark's family lived in one for a few months while his dad was transferring jobs.
Other than that, neither of us had spent any time in an RV since we were kids. While Mark had towed several big boats and U-hauls, neither one of us had ever towed even a small camper, let alone a king-sized RV like those you see on the roads today.
At first, the idea was kind of a joke. Would we – could we – really do this? We turned our research to RVs and trucks and campgrounds and – gasp! – homeschooling.
| Related Reading: This Family Enrolled Their Kids in Online School So They Could Travel Year-Round
By the time we got serious about the idea, we had about eight months to plan. This included me flying Space-A back to the states to buy a 42-foot, fifth wheel trailer.
It had two bedrooms and two full bathrooms, with about 380 square feet of living space. My husband and kids, ages 12 and 14 at the time, thought the video I showed them of it was pretty cool.
Planning Our Cross-Country Journey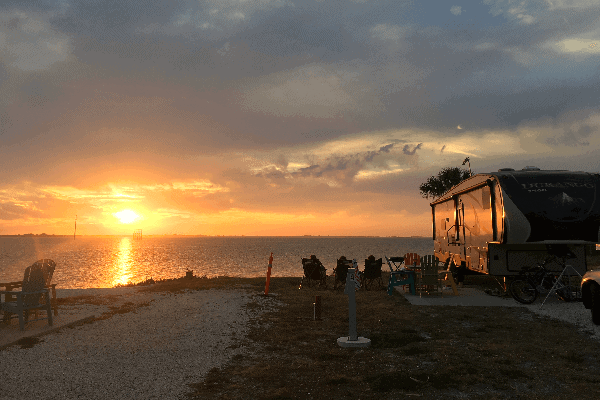 We got a write-on, wipe off map of the U.S. and an atlas, and we started planning our route across the U.S.
We would, of course, visit the places we thought we might like to live. In between, we would catch up with family and friends and visit as many national parks, battlefields, monuments, museums, and other interesting sites as possible.
Mark had almost 120 days of terminal leave to kick us off. We took advantage of the free year of HHG storage provided by the military upon retirement and flew out of Germany in August of 2016 with four suitcases and our cat in his kennel.
We planned to travel until we either found the perfect place to live, or until the start of the next school year.
Two weeks after we left Germany, we picked up our home on wheels. We had spent the time until then buying a truck and breaking it in with a trip through New England.
We embarked on the first leg of our planned trip: over to Indiana to visit my three sisters. We continued down through Ohio, the Smoky Mountains in Tennessee, a stop in South Carolina to visit a close friend, and another stop in South Carolina to see Mark's sister. We continued on down to Georgia and finally to Bradenton, Florida, where my mother-in-law lives.
We had not seen most of these people in at least two years, and some we had not seen in as long as five years.
Revising Our Travel M.O.
Those first 6 weeks were brutal.
By the first of October, when we had a chance to catch our breath in Florida, we seriously considered giving up. Despite all our research, we were woefully unprepared for RV life.
My husband hated towing that behemoth of a fifth wheel, the kids hated sharing a room with bunk beds on either side, and I hated that everyone hated what I thought would be the adventure of a lifetime.
We eventually regrouped. We sold the big rig in Pensacola around Halloween and bought a smaller fifth wheel with a better bunk set-up for the kids.
The "less-big rig" was 34 feet long, with about 280 square feet of living space. The kids liked it much better. So did my driver.
We ditched our planned itinerary and decided where to go week by week, depending on weather, the kids' school work, things we wanted to see, and everyone's comfort level.
Full-Time RV Travel, Part 2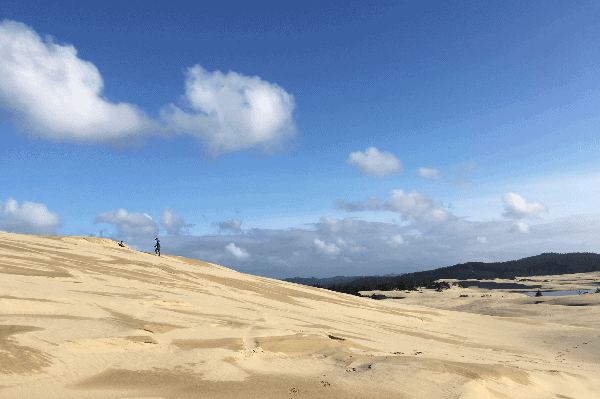 We traveled for eight more months.
Across the southern part of the U.S., up into the Southwest and the Rocky Mountains, up the West Coast, then across through the northern states and back down the East Coast – 44 states in total, some more than once, and a few even three times. Sometimes we stayed a night, sometimes a week, sometimes a month.
Our only break from RV life was when we took a Space-A flight to Hawaii from Travis Air Force Base in California.
What Did We Get From Our Year of RV Living?
Our kids got 77 stamps in their National Parks passports, everything from Harper's Ferry in West Virginia to the Minuteman Missile site in South Dakota, the Grand Canyon, Yosemite, Yellowstone, the National Mall in D.C., Volcanoes National Park in Hawaii . . . the list goes on.
Most importantly, we reconnected as a family after years of deployments and demanding military life.
We learned to work together, for better or worse.
We learned we could live with less, even if we didn't always enjoy it.
We learned that this great big country of ours is both wonderful and perplexing at the same time.
Life After the RV
Guess where we ended up settling down? Florida. Go figure.
We sold the less-big rig in August and bought a house here, on the water and walking distance to the beach. It is three hours across the state from the town where Mark and I grew up.
Much like our time in the RV, life after the adventure has had its ups and downs. In many ways, RV'ing just put off all the decisions and transition issues that come with military retirement.
But that time also gave us perspective.
My husband realized that he doesn't want to go back to work full-time, unless it is the perfect opportunity.
I started focusing again on my writing career and am building a solid freelance business. I also volunteer with our local downtown revitalization association.
Our kids are back in regular public school, doing sports and extracurricular activities and, slowly making friends outside the military.
What You Need to Know About RV Travel
Anyone can do what we did – there is no magical formula or plan or dollar amount you must have. But here are some tips and advice based on our experience:
RV Terminology
If you're researching RV travel at all, you'll encounter lots of new terms.
The first is the abbreviation "RV" itself. Typically, RV stands for Recreational Vehicle and formerly was used exclusively to describe motor homes. Nowadays, RV means any kind of structure on wheels that you drive or tow.
"Coach" refers to a motor home.
"Boondocking" or "dry camping" means parking in places that don't have any sewer, water, or electricity hookups, often on public lands and often free.
"Tow vehicle" refers to whatever you use to tow your RV, if it is a trailer. "Toad" is the term for any vehicle towed behind a motor home.
Much like the military, RV'ing has a language all its own, so a good first step is to find a thorough online glossary of terms.
Full-Time RV Travel Finances
How much you want to spend doing a trip like this is entirely up to you. However, be aware that traveling full-time is not a way to save money. RV and vehicle payments, gas, campgrounds, admission prices at attractions, etc., add up quickly.
You can spend your time in fancy RV resorts that cost up to $100 per night, or at state and county parks that are typically $30 or under per night. Military campgrounds are usually inexpensive, sometimes as low as $20, but they don't always give you that "local" experience.
We chose a mix, mostly staying in mid-range campgrounds both on and off base, as well as some national, state and city parks. We even stayed at a fairgrounds in Mariposa, California, near Yosemite.
| Recommended Reading from Amazon: Full-Time RV Finance
Boondocking wasn't for us – we typically stayed in places that had water, sewer, and electricity hook ups.
Buying an RV
Boy, did we have some lessons learned here. We bought too big and too heavy. We thought we couldn't survive unless we had the maximum space possible.
If you want to travel, stick with 38 feet or under. Anything bigger is hard to tow and won't fit in older campgrounds like national parks.
If at all possible, buy well before you plan to embark on your trip, and spend some time in it on short weekend trips and vacations.
An even better option, especially if you were overseas like we were, is to rent an RV for a vacation before buying one. Even consider doing it more than once if you can.
Just remember that living in an RV and vacationing in it are two very different things.
Taking Advantage of Terminal Leave
Having a huge chunk of this to start our adventure is really what made this possible. For almost four months, my husband was still drawing his full paycheck and BAH.
Planning for the Weather
This one is also huge. Consider the weather and time of year you will be traveling. Remember that an RV is basically a tin can – if it's cold outside, it'll be cold inside, and vice versa.
| Related Reading: How to Live (Comfortably) in an RV in the Winter
We purposely headed into Colorado and Utah in the winter because we wanted to ski, and because we wanted to travel the opposite direction of most RV'ers who go south for colder months.
We were prepared with tools to help our RV survive the cold: a heated, enclosed underbelly on the trailer; heated hoses; space heaters, etc. We survived a low of 10 degrees one night just before Christmas in Green River, Utah, and on and off sub-freezing temperatures the rest of our trip. We even had about six inches of snow in South Dakota after Easter.
The winds out West are no joke, either, and delayed our travel several times. Conversely, when we got back to Florida in May, we added a second air conditioner to our rig because it was so hot.
Traveling Full-Time With Kids
On the one hand, I think a trip like ours would probably work better with younger kids who didn't have to worry about school or missing a social life.
On the other, we have some friends who were doing it at the same time we were, with elementary school-aged kids. They pointed out that because you don't have friends or family or babysitters on the road, you can never get a break from little ones.
| Related Reading: Full-Time Sailing With Kids
Our kids were lonely most of the time, and didn't always like being stuck together 24/7. In the end, though, I think it did give them a lasting bond.
Home Schooling While Traveling
This was another big challenge. We chose Florida Virtual School, which is an online public school for Florida residents. We were worried about our ninth grader having the right credits for ninth grade, and about our own abilities to home school. But since it was the same curriculum as public school, it took almost the same time commitment per class each week.
If I had to do it over, I would have researched more and been more confident in our own abilities to teach our kids, especially in the history we were experiencing along the way.
Internet and Staying Connected
Be prepared to give up your gaming and Netflix addictions. Campground Wi-Fi is spotty at best, and even cell phone plans advertised as "unlimited" have restrictions. Research this one thoroughly to avoid frustrated parents and kids.
Medical Care
We switched to Tricare Standard (now Select) at the outset of our trip because you can pick your doctor, and no referrals are required. We had two emergency room visits, a couple of urgent care visits, and one outpatient procedure — all in different states — with no issue.
***
Author Bio: Jan Wesner Childs is a journalist and wife of a 26-year Army Special Forces veteran. She has lived, worked and traveled around the world and the U.S. She is currently a freelance writer based in Florida, where she writes about anything and everything, including local schools, the space and tourism industry, and military spouse and family issues. She can be reached at janwchilds@yahoo.com.