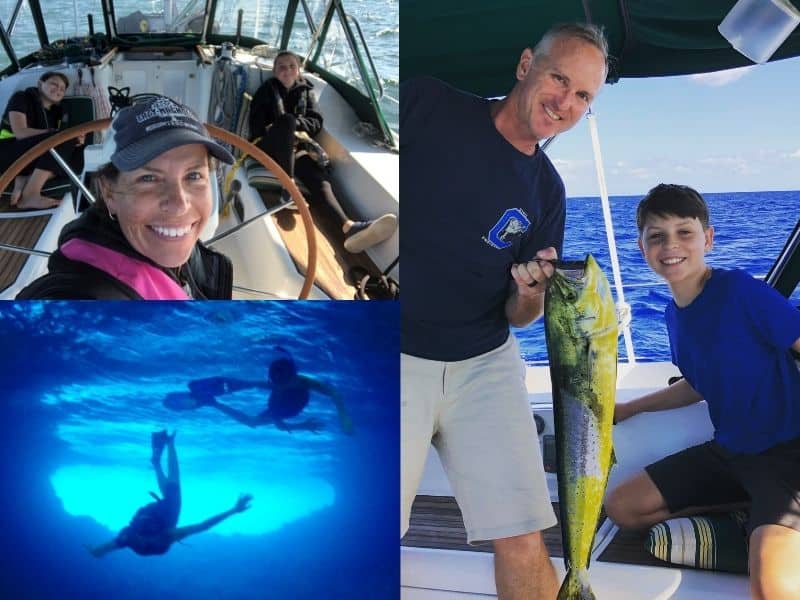 The Powers family has been living on their sailboat for more than 10 years. Needless to say, they've had a lot "togetherness" living in such a small space. But, until last year, their boat was simply their home. They had a regular life like any other family, with work and school commitments.
Also, mom Jody was an officer in the Navy and was deployed for months at a time throughout her career, so she sometimes missed out on important family events.
All of that changed in 2019 when Jody retired from the Navy and the children, Trent and Katreina, were ages 11 and 13. The family is now making the most of their time together before the kids graduate from high school and head to college. Jody and her husband, Frank, are both taking a hiatus from work while they cruise full time in their sailboat.
The kids are homeschooled, but after those commitments are complete, the rest of the day is for new adventures or family time relaxing on deck.
In the second of a 2-part interview with Jody, learn how this sailing family is navigating their new lifestyle!
You can read all about their boat and day-to-day life while working in Part 1 of the interview.
How did you decide to cruise full-time after you retired from the Navy?
The idea just sort of evolved with time.
Certainly, having missed some family milestones due to military deployments, I was keen on any plan that would give me some solid quality time with the kids while they were still under our roof.
After the first year aboard, we knew that the space aspect was doable, our boat was solid and worked for us, we enjoyed traveling via water, and we could make it work financially.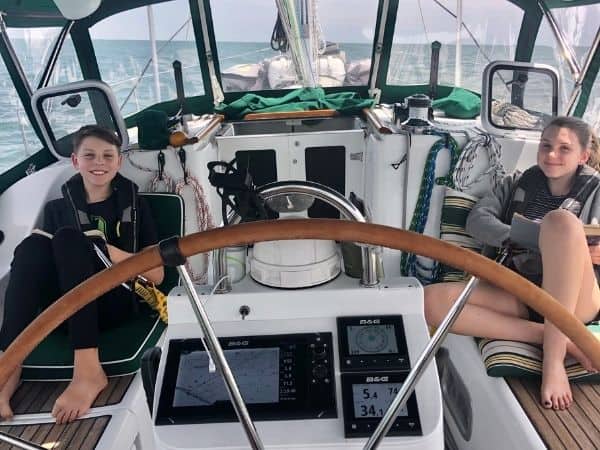 (Click here to read more about the family's boat!)
So, for the next 10 years, we made financial decisions to ensure we could cruise full time upon retirement.
What other preparations did you make so that you could cruise full time?
When we moved aboard, we had to aggressively address "stuff." That meant asking family members to forego physical gifts, routinely donating toys that hadn't been played with in a while, and building small wardrobes that could work for four-season sailing.
Over the years, we sold our homes and rental properties. Some people who travel full-time keep those as income, but we wanted to be free of the hassle of property management.
We sold all of our furniture when we sold our last house. We invested in ways that would provide passive income, and we saved, saved, saved. Though we were both getting promoted in our careers, our standard of living didn't change much in the decade before I retired.
Frank resigned from his position with the National Park Service while I was on terminal leave.
We owned two vehicles right up until we started cruising full-time, but we sold one before we left. The other is stored in Maryland. We may sell it at some point, but for now, it is fully paid off and doesn't cost much to store and insure.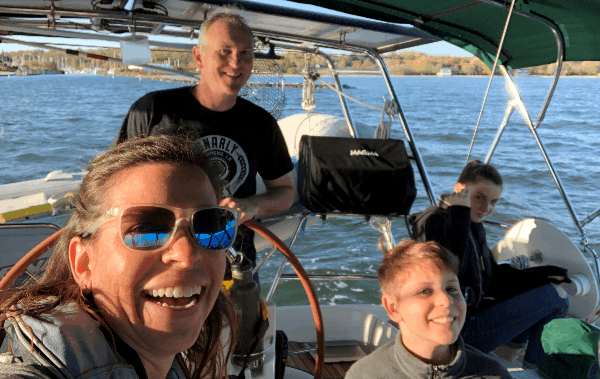 The real final prep came in establishing residency and "moving" to Florida. We decided to base ourselves in Clay County, FL, for several reasons.
It's close to Naval Air Station (NAS) Jacksonville and the plentiful base services there;
It's close to our mail service;
It's a natural passing point for cruisers headed to the Bahamas; and
Florida doesn't tax military retirement income.
We use a mail service that collects and scans our mail, and sends it to us wherever and whenever we request. Our vehicle and boat are registered in Florida, we have Florida drivers' licenses, and we vote in Florida.
We enrolled our kids as homeschoolers in Florida. We report to their county homeschool office once a year via a teacher who certifies their progress in school.
| Related Reading: A Year of Full-Time RV Living (With Kids)
We moved the rest of our belongings (military memorabilia, family keepsakes, photos) into a small storage unit.
At the end of the day, we own a 39 ft boat and a car, and we maintain a 5'x5' storage unit—that's it!
Bring us up to date! Where have you traveled so far since becoming a full-time cruising family?
We started cruising at the end of October 2019 while I was still on terminal leave.
In our first cruising season, we headed south out of Chesapeake Bay, cruising the East Coast down to Florida. We arrived in the Bahamas in early December 2019 and stayed there for about 4 months. We cruised the Berry Islands, New Providence Island, the Exuma Islands, and Eleuthera—still so much more to see!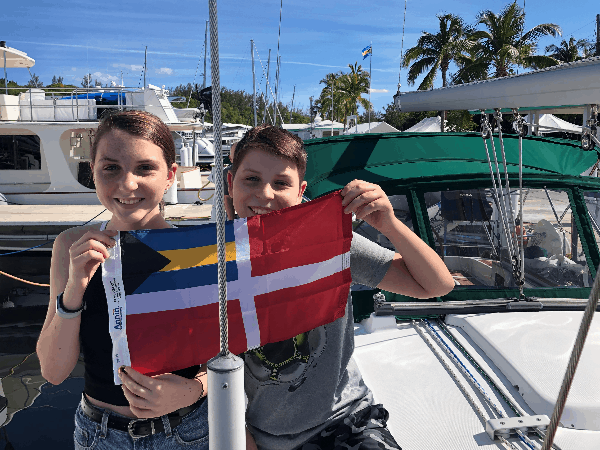 Upon our return to the U.S. in April 2020, we slowly made our way north. We stayed in the Chesapeake Bay for almost a month to take care of some boat maintenance before continuing north. We've been cruising in Maine since early July and are now turning back south.
You've been living on the boat for more than a decade, but now that you are cruising full time, how is it different?
Without a "home marina," we have to do a little homework to find services as we travel, but that hasn't been too hard.
Every now and then we have to get to a mooring with good wifi so we can update operating systems and download movies, whereas when we were in a marina, we had pretty reliable wifi.
Also, now that we are all living here 24/7 rather than heading into work and school, storing groceries to get us through long periods of time takes more room and more creativity.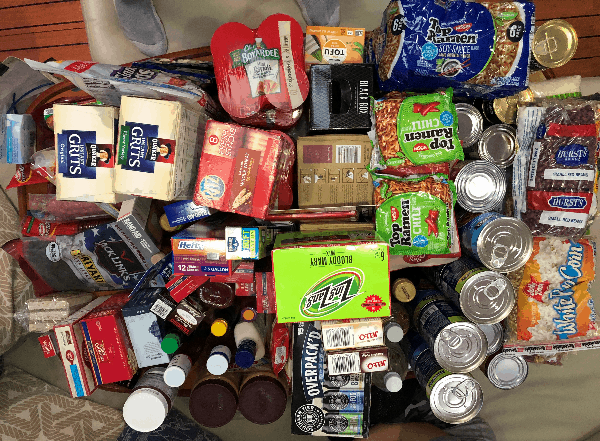 And of course, weather! We have to consider this so much more now that we are constantly on the move and not tied to a dock.
None of this was unexpected. We had taken enough weekend and week-long trips, plus had done some transits as part of a military move, that we were pretty familiar with the new challenges we would face. Full-time cruising just takes a bit more deliberate planning, while also requiring you to be flexible and go with the (atmospheric) flow!
What are some of your major costs when cruising full time?
Dockage/mooring. As a full-time cruiser, we get transient rates at marinas. For dockage, we've seen as little as $9/day at NAS Jacksonville and as high as $7/foot/day all up and down the East Coast at popular destinations during high season. Mooring balls cost anywhere from $9/day (NAS Jacksonville again) to $80/day (Woods Hole, MA), but we typically pay $30-$40 per night for a mooring.
Whether it's a dock or a mooring, the amenities that come with it range as widely as the price. Some moorings come with nothing but the tie-up, others with fresh muffins! At some docks you have to pay for your water and power in addition to your docking fee. With our current cruising style we spend ~$200/month on mooring rentals.
Dinghy landing. Even if you are going to cruise on a budget and anchor out all the time, you will have to land your dinghy to get provisions or access land-based activities at some point. While many free landings are out there, some do require a nominal fee ($5-$10/day) to land your dinghy.
Pump out. Even the most budget-wise cruiser needs to empty their onboard holding tanks. Either you are going 3 nautical miles offshore to do so, or pulling in somewhere to pump. Some are free, and some charge $5-$10 per tank.
Fuel. As discussed in Part 1, fuel can account for a large part of the budget, but we limit our use of it by traveling when the winds are favorable. We also need fuel for our dinghy and for our portable generator, which we use to run our watermaker.
Water. Worth mentioning because if islands are part of your cruising dream, paying for water is going to be part of it if you don't have a water maker. Even in Maine we saw some places that charge for a water fill. In Bahamas, $0.50/gallon of water was about the norm.
Trash. Again, depends where you are cruising, but we've paid to dispose of trash by-the-bag in the Bahamas and a few places in the US. Usually $2-$3 a bag.
Phones/Data. This can vary widely again based on your carrier, plan, where you are cruising, and how much data you need (i.e., if you're working full-time and need to do video calls, you will need lots of data).
Most marinas have wifi, but as we are on the move a lot (and have teenagers), we have US-based unlimited data plans. I think most families budget at least $100/month in this area. We are currently at $120/month.
(Click here for information more about their cost of living aboard a sailboat.)
While cruising, what percentage of the time do you estimate that you are sailing vs. docked?
Just for fun, we checked our log book for this one! We have been underway (sailing or motoring) between places 40% of the days so far in 2020.
Sometimes those are 2-hour sails between coves, others it may be an overnight, offshore sail. Considering we spent the month of June in one place, we really are on the move a lot.
While cruising, we very rarely end up in a marina or on a dock, as we are pretty self-sufficient. In fact, the first 5 months of 2020, we didn't spend a single night at a dock. We were at anchor or on a mooring that entire time and only came to a dock for fuel once.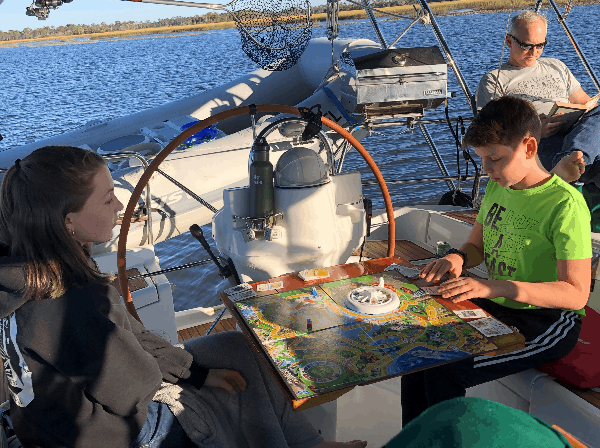 In the Bahamas, the small amount of fuel we needed was obtained via our dinghy using 5-gallon jerry cans. We made our own water, and we could go offshore to empty our holding tank.
Post-COVID, we may settle down a little and linger at some ports to visit friends and family, or leave the boat to travel (via air/land). For now, we feel safer staying out and away much of the time.
How has COVID affected you as full-time cruisers?
We were just starting to hang around other "kid boats," and our kids were just starting to expand their friend circles when COVID hit. Everyone adjusted their plans and followed the Bahamian curfew rules.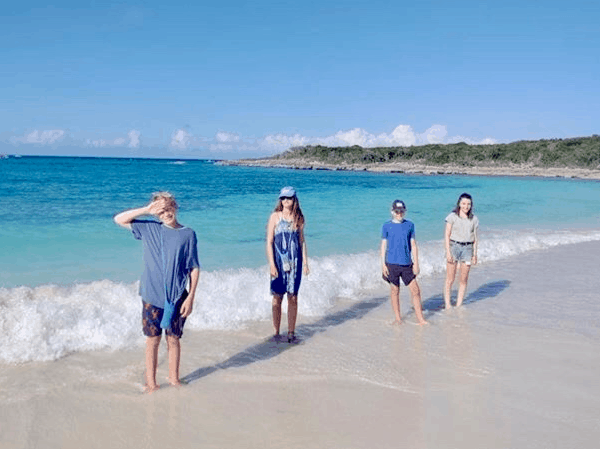 We were on our way to Abaco to volunteer with Hurricane Dorian recovery efforts for the month of April when the island made the call to ask folks to stay away because of COVID. Suddenly our plans and expanding circle closed in. We adjusted and came back to the States so as not to burden the Bahamian medical or supply services.
The saving grace has been social media groups where we can still connect with other cruising families. But suffice to say, cruising, which is normally a very social lifestyle, has been different this year, just as all life has. There are so many families we would love to meet and hang out with, but for everyone's safety, we keep that to a minimum.
The 2019/2020 school year was your first experience homeschooling. How did it go? Any lessons learned?
It went pretty well! The kids certainly enjoyed the schedule, and we enjoyed the flexibility. One of our kids is pretty much on auto-pilot, while the other needed more guidance.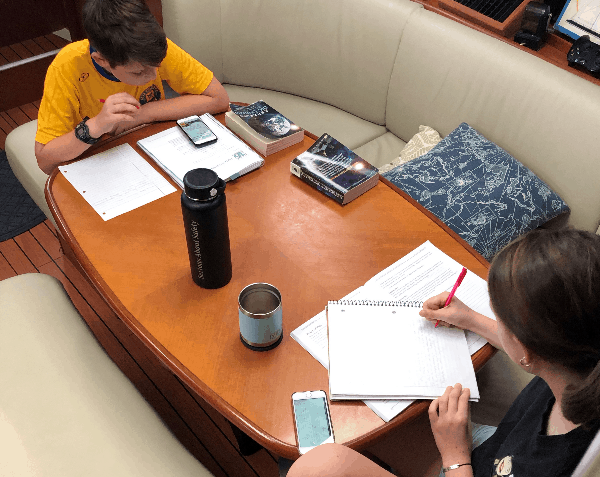 Consistency was the big lesson we learned last year. At the beginning, Frank and I were both involved in all subjects whenever our boat duties suited. That led to some grading challenges and student frustrations when the teachers weren't exactly on the same page.
Mid-year we regrouped, assigned a lead-teacher for each subject, and pressed on. It worked much better!
While Florida doesn't require us to provide grade reports, we do record grades so the kids have a way to track how they are doing. Also, it helps motivate them to work harder. Now that we have done one round of Florida evaluations, we better understand what is required and are well-prepared for reporting this year.
What homeschooling program do you use, and how did you select it?
We started our homeschool experience with Oak Meadow. We weren't sure how reliable our internet connection would be while we cruised, so we wanted a book-based program rather than an online one.
| Related Reading: This Family Uses Online School to Travel Year-Round
Oak Meadow fit the bill, and as independent homeschoolers rather than enrolled students, we had flexibility for the timing of lessons as well as the content. We were happy with it and returned to Oak Meadow in our second year.
Tell us about a typical day now that you are cruising!
School year: The kids have clung to the Mon-Fri school week, though we are happy to be flexible!
They usually are fully engaged in school by 0800 and done by lunch. If seas are bad and it's too rough for school, they are usually up on deck. If there is a great snorkeling site that is only accessible during the morning, or a trail that gets busy in the afternoon, we will swap the school schedule.
Generally, mornings are for school, boat maintenance, grading, cleaning, food prep, and moving between anchorages, while the afternoon is for fun.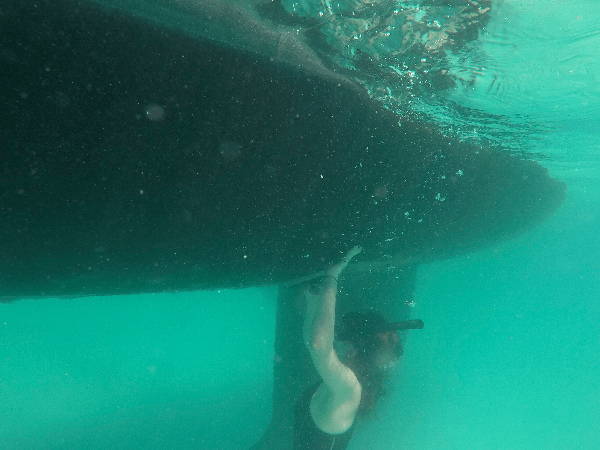 In the Bahamas, that meant meeting up with other cruising families, exploring islands, snorkeling, or hunting for lobster. In the evenings, we would meet up with other cruisers for cocktails or just relax on the boat before having dinner as a family and watching a movie or playing a game.
Summer: We slept in! The kids kept up on foreign language studies and reading through the summer, but for the most part we were all "off." We hiked, swam, read, walked through towns, and most nights watched a movie or show together.
All the time: Frank and I are constantly monitoring weather. It can get stressful!
When living on a boat in a marina, weather is still a concern, but significantly less so. Full-time cruising requires us to be constantly vigilant with the weather and ready to change plans, if needed, to move to somewhere safer.
(Click here to read how they keep everyone safe aboard the boat.)
We are also constantly keeping critical systems maintained (engines, pumps, valves), water filled, holding tanks empty, and fuel tanks filled.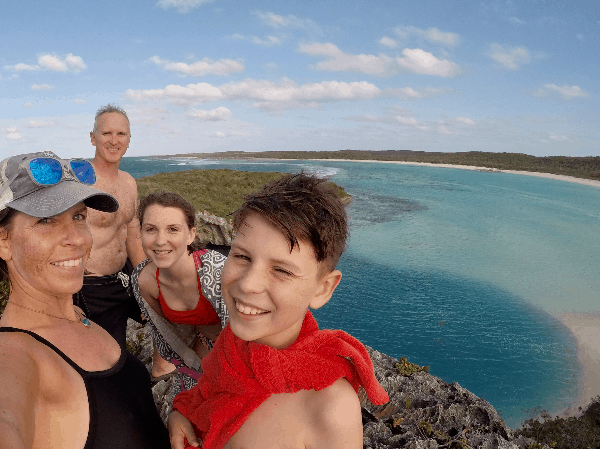 One thing we love about living on the boat is that the "teamwork" aspect of life seems amplified. We school, eat, relax, and travel plan at the same table, so everyone is in on everything.
We also think this gives the kids some great perspective on risks that we take into consideration with all of the decisions we make. We hope these are lessons they will take with them into adulthood.
What are some of your favorite places you've visited?
This is a tough one! In the Bahamas, the Exumas were the highlight of our season, as the snorkeling was exceptional and there were many cruising families there!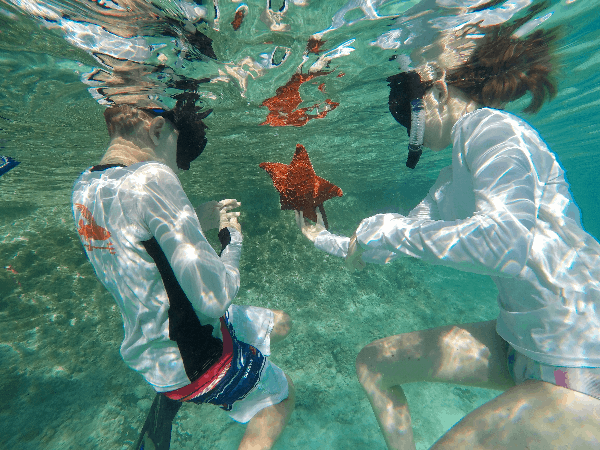 We have really enjoyed exploring the U.S. East Coast and have so much more to see, but some of our favorite areas so far are: St. Augustine, FL; the eastern shore of Chesapeake Bay; Annapolis, MD; Newport, RI; Muscongus Bay, ME; Penobscot Bay, ME; and Down East, ME.
There are dozens of places we would look forward to returning to!
What's in store for the longer-term? Do you plan to maintain this lifestyle indefinitely?
I don't think it's in our nature to do anything indefinitely—we love variety and new experiences! When people ask us how long we plan to full-time cruise, we typically answer by shrugging and saying, "Until it isn't fun anymore?"
We're keeping our plans open-ended, although I have been looking at real estate ads in Maine!
We will probably become more fixed in location while both children are in high school, but beyond that, I think travel will always be a major part of our lives.
Frank needs a few more years in federal service for retirement purposes, and the kids' high school years might be a good time for him to accomplish that.
If we're cruising while the kids are in college, the boat will seem HUGE with just the two of us! We've talked about doing something called the "Great Loop" up the East Coast, over through the Great Lakes, down the Mississippi River, across the Gulf of Mexico, and back to the East Coast.
We would love to take advantage of Space-A travel in the future, too. We need to get our international travel fix!
* * *
Follow the Powers family's adventures on their blog, From Sea to Shining Sea!