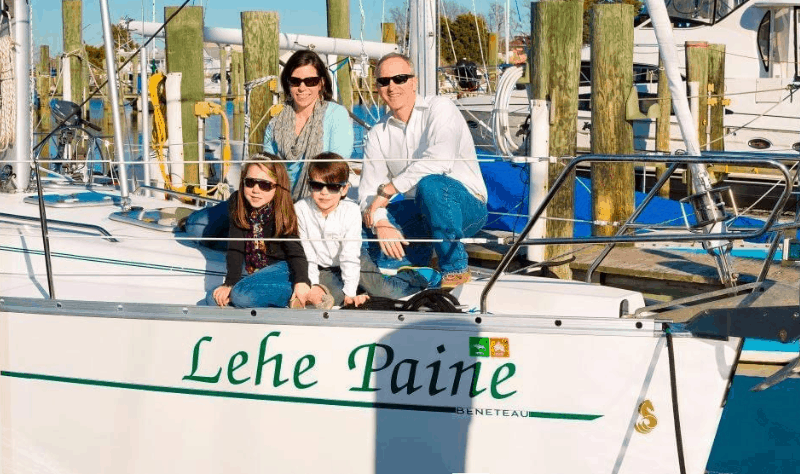 Could you downsize from your current home to a living space less than 500 square feet? How about trading the yard for a spot in a marina? That's what the Powers family did when they bought a liveaboard sailboat back in 2009.
With two children under the age of 4, Frank and Jody Powers made the decision to try boat living and have never looked back. The family maintained this lifestyle through several cross-country moves as Jody, an officer in the U.S. Navy, was assigned to new duty stations.
The kids are now 12 and 14 years old, and after more than 10 years living aboard a sailboat, they still love it! In fact, Jody retired from the Navy in 2019, and the family is now cruising full time.
I had the opportunity to interview Jody and understand how living on a boat can be an option for a family. In the first of this two-part interview, find out why this sailing family decided to move onto a boat, how they adjusted to their new lifestyle, and most importantly, what's it's like living aboard the "Lehe Paine" full time!
First things first: tell us about your boat!
In real estate terms, "Lehe Paine is a 3-bed, 2-bath, cozy mobile home on the water with great views!"
She's a 2006 Beneteau 393. She is 39' long with a beam of 13.5'. There are three cabins (bedrooms) and two heads (bathrooms).
We had looked at some two-cabin boats when we were shopping, but when we saw this boat, we could imagine being on it 10 years later when teenagers would want their own space. It has worked out!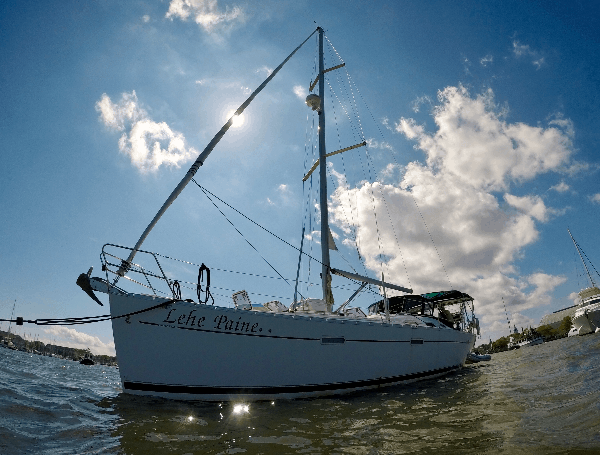 Frank and I sleep in the forward cabin on an odd-shaped bed that takes full size sheets, while the kids each have a cabin back aft with their own odd-shaped beds that take queen sheets. When we transit offshore overnight, the forward cabin can be a bit bouncy in the waves, so we will all bunk in the aft cabins for those times.
One head is forward, en suite with the master cabin. The other head is accessible from the main salon of the boat. Neither head has a separate shower; the sink faucet pulls out from the sink to be used as the shower. Bonus: you can clean the bathroom pretty easily while taking a shower!
There is also an outdoor shower on the boat's transom (the flat surface on the stern of the boat). When we are in salt water, this is a super convenient place to rinse all the salt off to keep from tracking it inside the cabin. Anything that has salt on it will never dry and leads to mildew inside a boat!
How did you first decide to live aboard a sailboat?
In 2009 we were approaching a military move/permanent change of station (PCS) from Gulfport, MS to Everett, WA.
We had been stationed in Washington before. Jody lived in a 15' x 20' cabin at that time, and we still owned it. Frank wanted to sell the cabin. I wanted to keep it.
We had also owned a 20 ft sailboat right when we got married, but we sold it during a PCS. Frank had said he wanted to get another sailboat in the future.
I put together my desire to keep the cabin and Frank's desire to buy a sailboat and came up with the idea to move onto a boat!
My justification? We needed the cabin as a back-up home for our young family (with an infant and a toddler), just in case living aboard a sailboat didn't work out.
So, the idea really came from my scheming to keep the cabin, and Frank loved it. Win-win!
Fun fact: we loved living on the boat so much that the cabin went on the market within the first year of living aboard!
What was your family and work situation at the time?
I was active duty military (Navy Meteorology/Oceanography Officer), transferring to a sea tour on the USS Abraham Lincoln.
Frank was working with the Army Corps of Engineers in Louisiana and seeking a job in the Seattle area when we made the decision. He ended up accepting a position with the National Park Service in Seattle.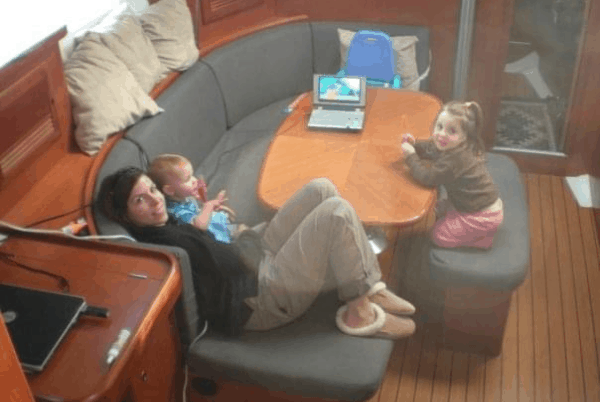 Our daughter, Katreina, was 3 years old, and our son, Trent, was 15 months.
What were the most challenging adjustments to boat living?
It was definitely an adjustment! We went from a 2400 sq. ft. house with a yard to less than 500 not-so-square feet.
The "stuff" was the first hurdle. We had all the trimmings: shop tools; rooms of furniture; piles of toys; closets jammed with clothes; and every kitchen appliance a bridal registry can dream of.
We decided to keep our furniture items in storage just in case boat life didn't work out. But the smaller stuff was sold, given to friends, and donated.
My fond memory: I had worked so hard "purging" to the bare minimum one day and proudly showed Frank. His response? "Nice job! Now get rid of half of what's left." I was crushed!
Household chores require a little more planning. Laundry is ashore so we had to haul it up the dock and across that marina in some cases.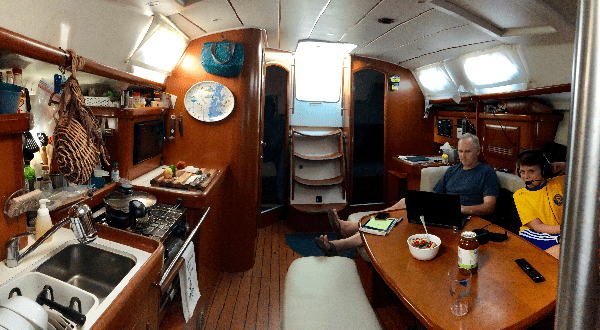 Our refrigerator is small, and our stove has only two burners, so buying groceries and meal planning took more consideration.
Also, the only counter space is actually the door to the refrigerator, so you must have everything pulled out before you set to chopping and measuring. I forgot things frequently in the early days and would have to juggle everything or move it to the table to get into the fridge for that one last ingredient.
How do you keep everyone safe aboard the boat?
Life jackets are the most critical safety gear that we all use onboard. When the kids were younger and we were in Washington, they would wear them all the time on the dock—it was just too easy to have a toddler, well, toddle into the chilly water! Just ask Trent—he fell in twice there!
In Maryland, once winter set in, we would go back to wearing them on the dock, as just a little frost makes for a very treacherous walk to the parking lot!
When we are underway, unless it's super calm, we are nearshore, and there is more than one person on deck, we wear life jackets. Every family member has a life jacket that auto-inflates and the kids' jackets have built-in AIS rescue beacons. We all also have tethers to connect us to holding points on the boat.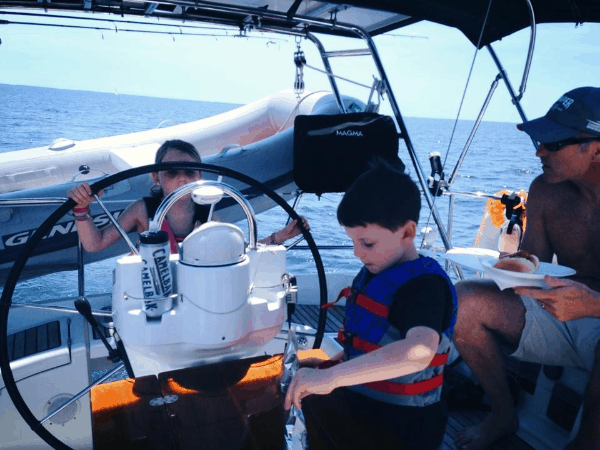 The adults exchange a personal Emergency Position Indicating Radio Beacon (EPIRB) as we take over the watch from one another offshore, and there is another EPIRB registered to the boat that will go off automatically if submerged.
We have throwable flotation devices in the event of a man overboard, and the big purchase no one ever wants to use—the life raft—is mounted on the deck with a hydrostatic release mechanism to launch it in the event of a capsize.
But most days, safety is about deliberate, careful movement! There are plenty of cleats to stub your toes on or lines to get a bad burn from if it starts running fast through your hands. The best way to stay safe is to move cautiously and always keep one hand on the boat!
How does the cost of living on a sailboat compare to a regular home?
The answer to this one is "it depends."
Are you comparing living on a boat to a rental property or to a house you own? Are you staying at anchor or at a fancy marina with lots of amenities? Are you in a temperate climate, or one where winters are harsh?
When things break on a boat (which seems frequent), anything with "marine" in the front of the name (e.g., marine plumbing parts or marine alternator) is more expensive!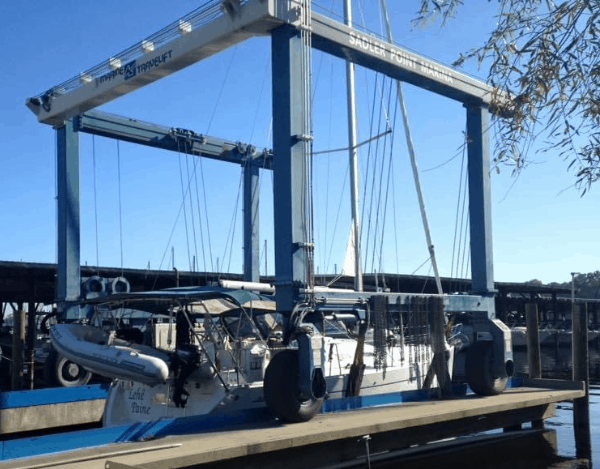 Also, boats depreciate in value, so you will never gain equity like you will if you own a home.
In our experience it is nominally cheaper to live on a boat, but I would never recommend someone move aboard for the purposes of saving money; the financial impact isn't worth it!
Some expenses and price ranges (outside of the initial cost of buying a sailboat) when living on a boat in a marina:
Insurance. This will vary widely based on who you insure with, where your boat is stored, where you plan to cruise, how old your boat is, what level of coverage you want, and what its replacement cost is, among other things. Marinas require proof that a vessel is insured, so this is not optional! Our boat's annual premium is $4,300.
Dockage/Mooring. Marina costs vary widely depending on their location, the amenities they offer, and the quality of their docks. Also, a bigger boat means a more expensive slip. Docks are leased nightly and weekly (for transient boaters), monthly, seasonally, or annually. Military marinas can offer some of the cheapest rates, but many don't allow full-time liveaboards. Our old slip on the Chesapeake Bay at a marina with a full suite of amenities (pool, gym, water sports, laundry, on-site restaurant) was ~$5500/year.
Liveaboard Fees. This only applies to annual slips, but some marinas charge a liveaboard fee on top of the dock fee. Ours was an additional $100/month.
Fuel. If you're on a power boat, this can be a huge part of your budget if you intend to move around at all. On a sailboat, we can choose to move only when the winds are favorable and therefore limit our use of fuel. We also need fuel for our dinghy and for our portable generator, which we use to fuel our watermaker. When we lived aboard in Washington and Maryland in the winter, our fuel use was way up due to needing to run our heater.
Routine Maintenance. The running joke is the "BOAT" means "break out another thousand!" Systems on a boat must be able to withstand the wet, salty, rocky environment. The ability to work on critical systems yourself can save money, but for jobs that require the boat to be out of the water, you have to pay for it to be hauled, blocked on stands, stored on land for however long your work takes, and re-launched. For a boat our size, that's typically $500-$1000 for haul/launch and 1-2 weeks on the hard.
You really can do this on a range of budgets and comfort levels.
In what ways was your day-to-day life living aboard a boat different from other families?
We didn't really feel like our life was too different. We always felt like we just lived in a really small apartment that moved in high winds!
The kids went to daycare, Frank and I went to work. When they were older, the kids were enrolled in local school, and the bus picked them up at the marina.
We had chores like everyone else. We don't have a dishwasher or washing machine onboard, but some small apartments are like that, too.
The biggest difference was probably just that we needed to keep our water tanks filled and our holding tanks empty.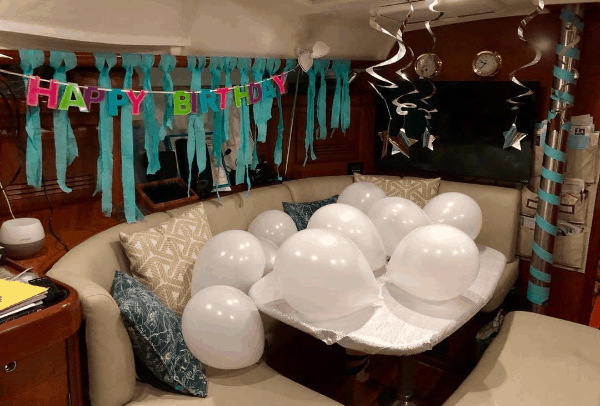 How did you arrange a space in the marina when moving to a new location? Did you ever have trouble finding a spot?
The whole marina search is like looking for an apartment or home. We looked at amenities (laundry, parking, pool, community space, nearby groceries) as well as school info for the kids.
When we moved from Washington to Maryland, Frank flew out to Maryland and looked at marinas. He did online research first, visited the ones he was interested in, and signed a contract.
Knowing the local conditions, just like in real estate, helps. Some places have a great location, but a really long wait list for slips or liveaboards (some marinas limit the percentage of slips in which they allow liveaboards).
So, you either have to know about a place from someone you know, or call marinas and ask around. If you're in a "high demand" market, you might be forced into a marina further away or have to be ready with a "plan B" on land.
We were facing possible orders to Monterey, CA at one point, so we started to look at marinas for liveaboards. They were very limited and had a 1-year wait list. We didn't get those orders but were ready to execute plan B if needed.
What's it like to move across the country when your home is a boat?
We had three really big moves with the boat.
The first was from Washington to Maryland. I was on deployment during most of the planning, whereas Frank was on the home front choosing a marina on the East Coast, arranging yard services to prep the boat for transit, and contracting the truck that would ship our home over land; basically, executing our pack-out!
When it was time to move, the boat was lifted from the water, the mast and rigging removed, and it was loaded onto a truck. We stood by with some suitcases for the cross-country drive as our home hit the highway.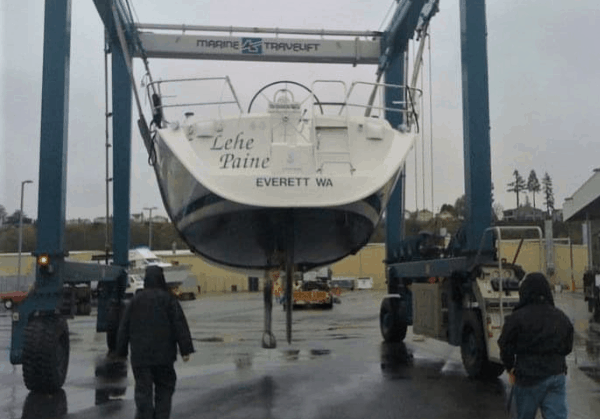 It was challenging to coordinate all of that along with getting the boat put back together on the far end, but getting re-settled was easy. We walked aboard and unpacked our bags in our old familiar rooms—that was the best part.
Our second move was from Maryland to Mississippi. We moved the boat via water over a series of journeys. Moving the boat this way was a challenge for several reasons.
We were both working, we never seemed to get the 30-days of leave between duty stations, the kids were in school, and weather is always a big factor. We had to leave the boat in Jacksonville, FL for about a month and another month in St. Petersburg, FL while we worked around these issues.
We got some good offshore and transit experience, but in hindsight, we would have rather used all those vacation days to travel rather than work as a moving service.
As an aside, while we were in Mississippi, we moved back to land for two years. We still owned the home we purchased the first time we were stationed in Gulfport (before the move to Everett when we bought the boat). We decided to live in the house to prepare to sell it, further solidify our liveaboard boater status, and minimize our stuff. We stored the Lehe Paine at a marina while we were living in the house.
Our third and final move with the boat was from Mississippi back to Maryland. Having learned our lessons from the second move, we loaded her on a truck again rather than sailing back up the East Coast. Transporting our boat on dry land also gives us a chance to do some maintenance work that just can't be done while the boat is in the water.
Did the kids ever want to move to a regular house?
Yes! But not for the reasons we expected.
Like any military kids, they didn't always love moving, especially as they got older, and for a bit they equated a house to not having to move. Once they realized the military would move us regardless of the type of home we had, that reason went away.
One time they wanted to move into a house so they could have a TV in their bedroom. When we crushed their dreams and told them they would not be getting TVs in their rooms regardless of where they lived, they once again abandoned the house dream.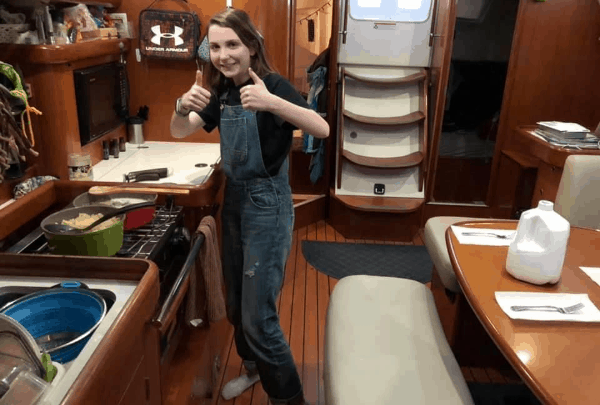 And when we were moving from our house in Mississippi back onto the boat, our son didn't want to move because he didn't want to lose his Xbox. When we told him the Xbox was coming onto the boat, he was ready to move back!
They both would really love a pet, and while some boaters have them, it's just not in our plan. We like to keep it simple! The kids would move to land in a heartbeat if it meant they could have a dog or cat!
Did you do much traveling with the boat while living aboard?
We did! As long as the weather cooperated, we would get underway most weekends and anchor near fun towns or quiet islands, even if it was just for a night. Both Puget Sound and the Chesapeake Bay offered great cruising grounds. On longer holiday breaks, we would take leave and spend a week exploring further afield.
Related Reading: Take the Perfect Getaway to Annapolis, MD
We would also leave the boat at the marina for fun trips when we could. Since moving aboard, we've traveled to Mexico, Costa Rica, Ireland, Jamaica, Iceland, and Scotland, and have also explored parts of the U.S. We love the MWR lodging options and recreational ticket discounts!
What are the biggest benefits of living on a boat? The downsides?
Benefits:
Very close relationships within our family. We don't have to raise voices, as we are all so physically close to each other!
Focus on experiences rather than stuff. We don't have huge wardrobes or stacks of toys, but we can get our home into some pretty cool places to explore.
The boating community. When we were in a marina, our "neighborhood" was much like a land neighborhood, with all the usual characters, and someone was always available with advice, a tool, or some muscle when needed.
A smaller environmental footprint. We use significantly less water than we did when living in a house. We sail when we can so that we don't have to use fuel. We have solar panels to meet most of our power needs. We usually walk or take buses in seaside towns to gather our supplies.
Downsides
The physically tight space means that if someone is having a bad day, we all feel it. (But we can all also work together to bring that person up!)
Displaying photos. We just don't have room for them on the bulkheads (walls) and we can't keep photo albums onboard because the humidity would ruin them. We rely heavily on digital photos.
Maintaining a boat can be a challenge. The marine environment is hard on boat finishes, fabrics, and plastics, and humidity inside a boat can lead to mold growth quickly. You have to stay on top of cleaning, removing salt, checking sewn seams, and polishing. Engines and pumps need routine maintenance. It's not all cocktails and sunsets!
Repairs can get costly fast. Being mechanically inclined can help you save a few bucks, but some jobs are just impossible to do cheaply. There is also maintenance that can only be done when a boat it out of the water, incurring the cost of hauling the boat, storing the boat on land, housing the crew ashore somewhere, and relaunching the boat. You have to be ready for schedule changes, cost estimate changes, and "surprise" issues at all times.
What advice would you give to a family who is thinking about living on a sailboat full time?
Get out on a boat. Charter a boat, go with friends, take a class (most Navy bases on the water offer them).
Experience the motion, the layout of the living space, the difficulty of operating each type of boat (sail or power), the emotions of your crew when you are all together in that space.
Really ask yourself, "Do I just want to live in a marina on a boat, or do I want to get out on the water? And does my family agree?" There is nothing quite like a mutiny to destroy a good day on the water.
Make sure that boating and cruising are things you will enjoy. Not every day is a sun-filled day or a glossy magazine cover of paradise.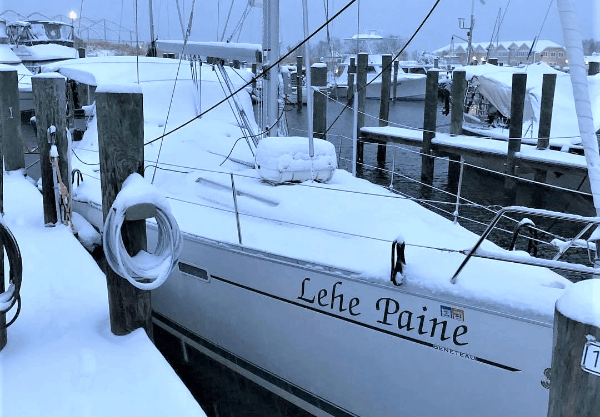 Eventually scenarios will come up where you will have to be a plumber, handyman, seamstress, weather guru, sewer and sanitation expert, engine mechanic, electrician, navigator, rigging inspector, deckhand, electronics technician, galley magician, etc, etc. The learning curve is steep, and the lifestyle isn't for everyone.
Start out with a smaller boat you can use on weekends and local trips to see how you like it.
Talk and visit with couples/families who are full-time cruising and/or living aboard to see what the lifestyle is like firsthand.
A simple litmus test I like to give to people considering living aboard is to tell them to get rid of everything except what you cannot possibly live without. Then, get rid of half of what's left! If you're okay with that then living aboard might be a good fit.
* * *
Check out part 2 of the interview to learn about life cruising in a sailboat full-time and how they've dealt with homeschooling!
Follow the Powers family blog, From Sea to Shining Sea, to get more details about their adventures!