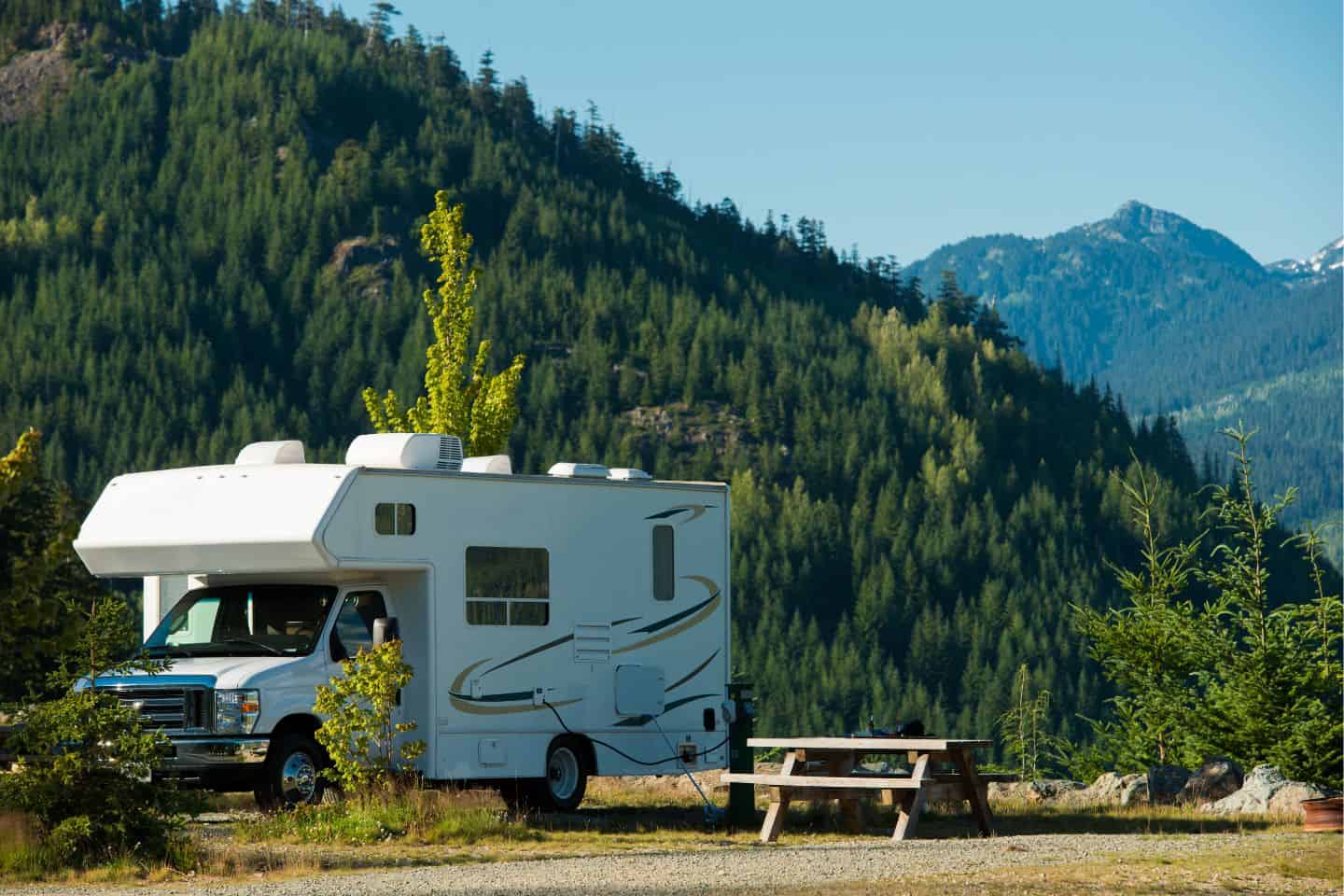 Is living in an RV full-time a good way to save money and reduce your cost of living? It CAN be, especially if you figure out how to minimize one of the biggest line items in your budget: the cost of your campsites. An easy way to do this is by workamping.
Find out what workamping is, how to get started, and what kinds of positions (paid or volunteer) you can find. Guest contributor, Lisa Crawford, explains how she used workamping while traveling the US in her RV for nearly 3 years!
When I quit my job in 2012 at age 50, it was spur of the moment. My boss had pushed my last button, and in an impulsive moment, I told him he was a jerk, and I didn't have to work for him any longer. Oh, how immensely satisfying that was!
Let me back up just a few steps.
I retired from the Air Force as a MSgt in 2010 and got a defense contractor job in the Washington, DC area. I loved my work, but not my boss. My plan was to work 5 years, pay off debt, and then retire and travel the country in an RV.
Then, in August 2011, I lost everything in a flood from Hurricane Irene and Tropical Storm Lee. Instead of replacing my car and furniture, I decided to get the RV right away and live in it for a few years while paying off debt faster. I bought a Dodge Ram and a 5th Wheel, and I moved to a nearby RV park.
Fast forward again to 2012. Impulsively quitting my job meant that I was leaving right away, but I still had quite a bit of debt. Obviously, I could have found another job, but once I tasted freedom, there was no way I was going back. I set out for what amounted to nearly 3 years of traveling full-time in my RV.
Fortunately, I was still able to reduce my cost of living while RVing full-time. Here's how I did it (and what I will do differently next time).
Contents (click to expand)
Workamping Jobs and Volunteer Positions
By talking to other full-time RVers and following many, many blogs, I discovered workamping (also called work camping). People use the term workamping to describe both paid and volunteer positions, but both are ways to cover the cost of RVing full time.
I realized that, not only did I need to cut expenses, but I also needed a purpose, which is why I personally focused on volunteering, but I've provided an overview of both types of workamping.
Workamping Jobs with Pay
Paid workampers are people who travel the country, working any kind of part-time or full-time job while living in their RV. The opportunities are limitless.
Obviously, you can work a traditional job while living in your RV; I met many traveling nurses, construction workers, and others. But I'm focusing on paid positions specifically designed for RVers.
Among the most common workamper jobs are picking beets in Minnesota and Montana, gate guarding on the Texas oil fields, and working at an Amazon warehouse. The reason these jobs are made for RVers is because they are in remote locations with no housing for traditional workers from a local community.
Sugar Beet Harvest
The harvest begins around 1 October in either Red River Valley, Minnesota or Sydney, Montana. The RV sites are free. According to the website, you make $16.50 per hour working 12-hour days (which includes 4 hours at time-and-a-half), 7 days a week, for 2 weeks. You could earn up to $3,700 in total.
Gate Guarding on Texas Oil Fields
I've talked to many people who tried this workamping job, and I've heard good and bad, so be prepared.
The good news is, you can make $150 to $300 a day for very little actual work. You basically control entry to a site, usually an oil field or refinery. Usually, two people are required for this job, as you are needed 24/7, so it can be a good workamping job for couples.
You may be at an isolated spot with just a generator for power and a water/sewage truck that stops by a few times a week. This workamping gig was not for me, but I have talked to people who loved the isolation and easy money.
Amazon Camperforce
Amazon Camperforce offers seasonal warehouse jobs at about two dozen locations throughout the country. Pay is $15/hour, and each employee receives a weekly stipend towards campground expenses. You also have the potential for overtime pay and an assignment completion bonus.
Amazon generally makes changes to the Camperforce program each year. Here's how it worked in 2021.
Other Paid Workamping Jobs
More traditional workampers work in KOAs/campgrounds, large parks, or other tourist sites (think Disney World, lighthouses, Yellowstone, etc.). Jobs include campground hosts, maintenance, caretakers, interpretive guides, hospitality, food service, and office work, just to name a few.
A great resource is the website Gone Workamping. It has tons of articles, tips, how-to's, and most importantly, stories from other RVers. Learn from their advice and mistakes.
Volunteer Workamping Opportunities
If you don't like the idea of a paid job, there are also plenty of volunteer opportunities that involve work, usually around 20 hours a week, in exchange for a free campsite. The types of volunteer work are limited only by your imagination. Here are a few examples.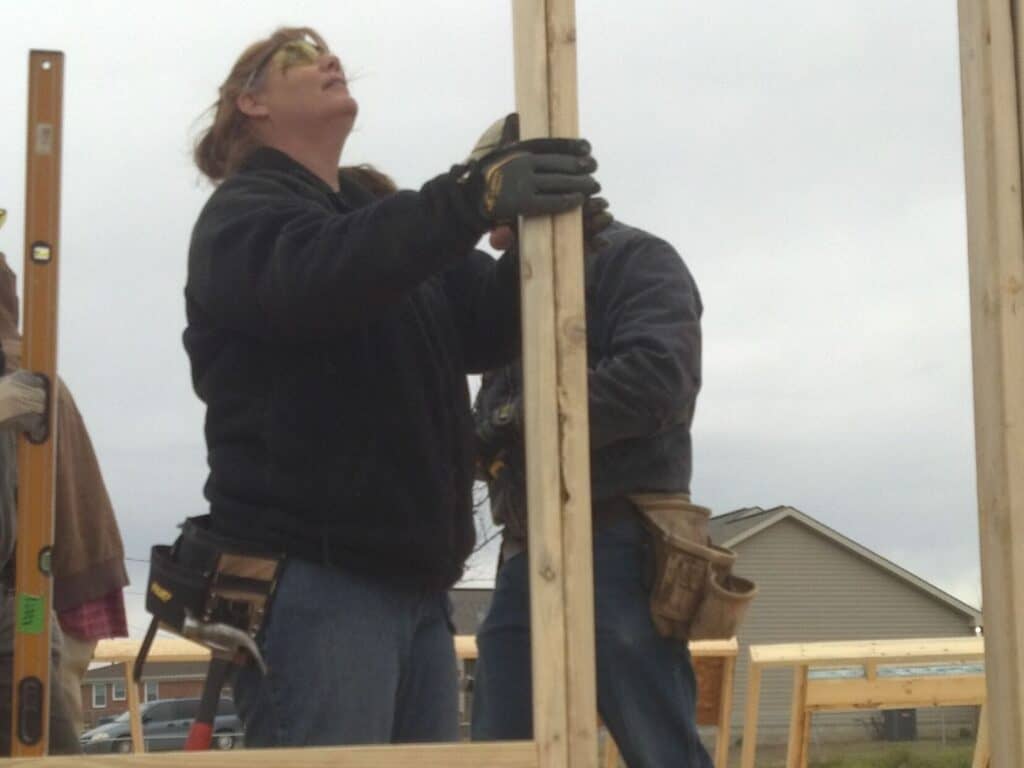 RV Care-A-Vanners
I had been a long-time Habitat for Humanity volunteer, so their Care-A-Vanners program was perfect. Basically, you travel around the country, building houses as you go. Your RV site it usually free, or at a reduced price, and lunch is almost always provided, often with enough leftovers for dinner.
While this volunteer gig is a lot more work than most, it's also more rewarding. You don't need any skills or tools; the other builders are more than happy to show you what to do, and you can learn some valuable skills along the way.
State and National Parks
Some other volunteer workamping jobs I enjoyed were in state or national parks. You can go to individual parks to find out about volunteer opportunities if you want a specific location.
I worked in Stanislaus National Forest in California on the ATV crew. I had the most beautiful RV site in a clearing, back in the forest with full hookup!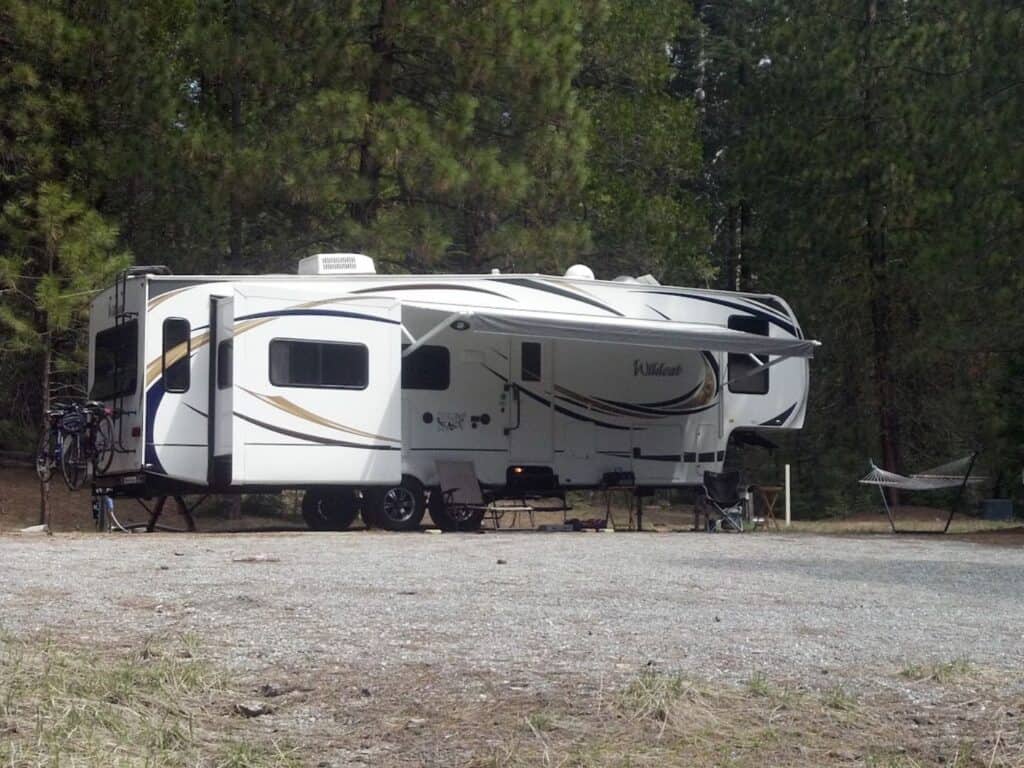 My duties included: painting all of the forest service signs before they were put up for the summer; riding an ATV over the many trails doing trail maintenance and enforcing safety rules; mapping and marking hundreds of miles of trails; and generally, assisting the full-time park rangers.
Yes, this position did include cleaning the occasional pit toilet in the back country.
Campground Host Jobs
I also volunteered with the Army Corp of Engineers in Arkansas. I had a beautiful site on a lake, just outside of Mountain Home.
My job was supposed to be teaching water safety to kids. I taught maybe two groups of kids before injuring my knee, after which tromping around on sandy beaches was a bad idea.
Instead, they had me fill in for the paid seasonal camp hosts, as needed. This role was basically checking in new campers and driving around the campground.
Most campground hosts are volunteer positions, which trade a free site for a few hours work cleaning the bathrooms and assisting other campers. This applies at private campgrounds as well as at federal, state, or local parks.
Other Volunteer Workamping Opportunities
You might also be interested working at farms, vineyards, breweries, and more. Two well-known organizations are WWoof and Harvest Hosts.
If you are interested in animals or nature, try an animal sanctuary, nature conservancy, or animal rehab facility. Also, help is always needed after a disaster; check with the Red Cross, FEMA, or other disaster agencies.
How to Get a Workamping Job
Here are some general tips and things to know about volunteer or paid workamping positions.
Apply just like you would for any job. You may need to provide a resume or at least demonstrate that you can do the job.
Depending on the posting, you may have a great deal of flexibility on what tasks you do, or they may have a set list of duties.
Most positions, either paid or in exchange for a free camping site, will have a set number of hours. Volunteer positions are typically 20 hours for a single person and 32 hours for a couple, but that obviously varies by job. You can certainly try to negotiate for something different.
Many positions have a minimum time period they want to you stay. The agency may need to train you, and it's not worth their effort if you're only staying a short time. They often need a commitment for the entire season, because it's pretty hard to bring in a new camp host every few weeks. Keep those requirements in mind as you search for opportunities.
Consider any physical limitations you have. Read the position description, and talk to the employer or volunteer coordinator. With Habitat, for example, we had many couples who volunteered together. The more physically-abled one might work construction, while the other might do office work or help prepare food.
Other Ways to Cut Costs While RVing
If you don't want to pay for your campsite, but you also don't want to work, there is always the option to boondock. Boondocking means you don't have any water, sewer, or electricity. It is also called "primitive" or "disbursed" camping.
The possibilities here are also limitless, from parking in someone's driveway or yard, parking in Walmart, Camping World, Cracker Barrel, or Lowes, or the wide-open spaces of Bureau of Land Management (BLM) land. BLM sites appeal to me because I love the idea of having a piece of nature all to myself!
Wherever you stay, I beg of you, please observe good manners! Many Walmart locations no longer allow overnight stays because people have dumped their black or grey water tanks, left trash, or just plain camped out, complete with chairs, awning out and lights attached. You are there to spend one night, not a month.
There are many ways to make boondocking easier, safer, and more fun; check out this fantastic website, Boondocker's Bible.
Another obvious way to cut costs is to stay longer at each site. A weekly rate is better than a daily rate, and a monthly rate is even better. Not only is it more cost efficient, but you also get to spend more time and see more at each location.
What I Will Do Differently Next Time I Travel Full-Time in My RV
After traveling, first the country, and then the world, I find myself back home again. I've enjoyed being stationary, but the road is calling to me, and I will likely rent my house out and hit the road in my RV in the near future. Based on what I learned the first time around, I will do things a bit differently.
Choosing the Best RV For Full-Time Living
Last time I traveled full-time in my RV, I had a new 34-ft 5th wheel and a new diesel Dodge Ram 2500. This time, I opted for a used 24-ft travel trailer for several reasons.
Cost was a big factor; the trailer was half the price. It's also smaller, which allows me to get into smaller, older (cheaper) campgrounds. I can also use a smaller truck, an F-150, which is much better in terms of gas mileage. The biggest difference this time around is that both vehicles are paid off, and gas is much cheaper than diesel!
Traveling Less and Staying Longer
With Habitat, I found myself crisscrossing the country. I would do a build in Mississippi, then jump over to California, then to Nebraska. While it was great fun, and I was the one choosing these destinations, that didn't make much budget sense. This time, I'll go state by state, stay longer and see more, all while spending a heck of a lot less on gas.
Final Full-Time RV Living Tips
Most of what I learned about RV travel was from other people: great ideas I had never thought of; mistakes they made that I avoided; and opportunities I had never dreamed of. Talk to other RVers; they are a wealth of knowledge, about both what to do and what not to do. There are literally hundreds of bloggers and YouTubers out there. Pick a few and learn from their experiences. If you are still sitting home dreaming of hitting the road, my motto is JUST DO IT!
Author Bio: Lisa Crawford retired from the Air Force in 2010 after 28 years of service. Since leaving her federal contracting job in 2012, she has lived and traveled throughout the world, chronicling her journeys on her blog, Lisa's Living Her Dream. She is also an avid photographer; you can see her work on Through Lisa's Lens.
* * *
Readers who are contemplating full-time RV living often ask whether they can save money by living in an RV. And retirees wonder how to maintain their sense of purpose when they are no longer working. Workamping is a great answer for both of those questions!
I hope Lisa's guest post provides the way ahead for many future RVers. Get out there and explore! Don't forget to comment below and tell us your plans or your own experiences with workamping!