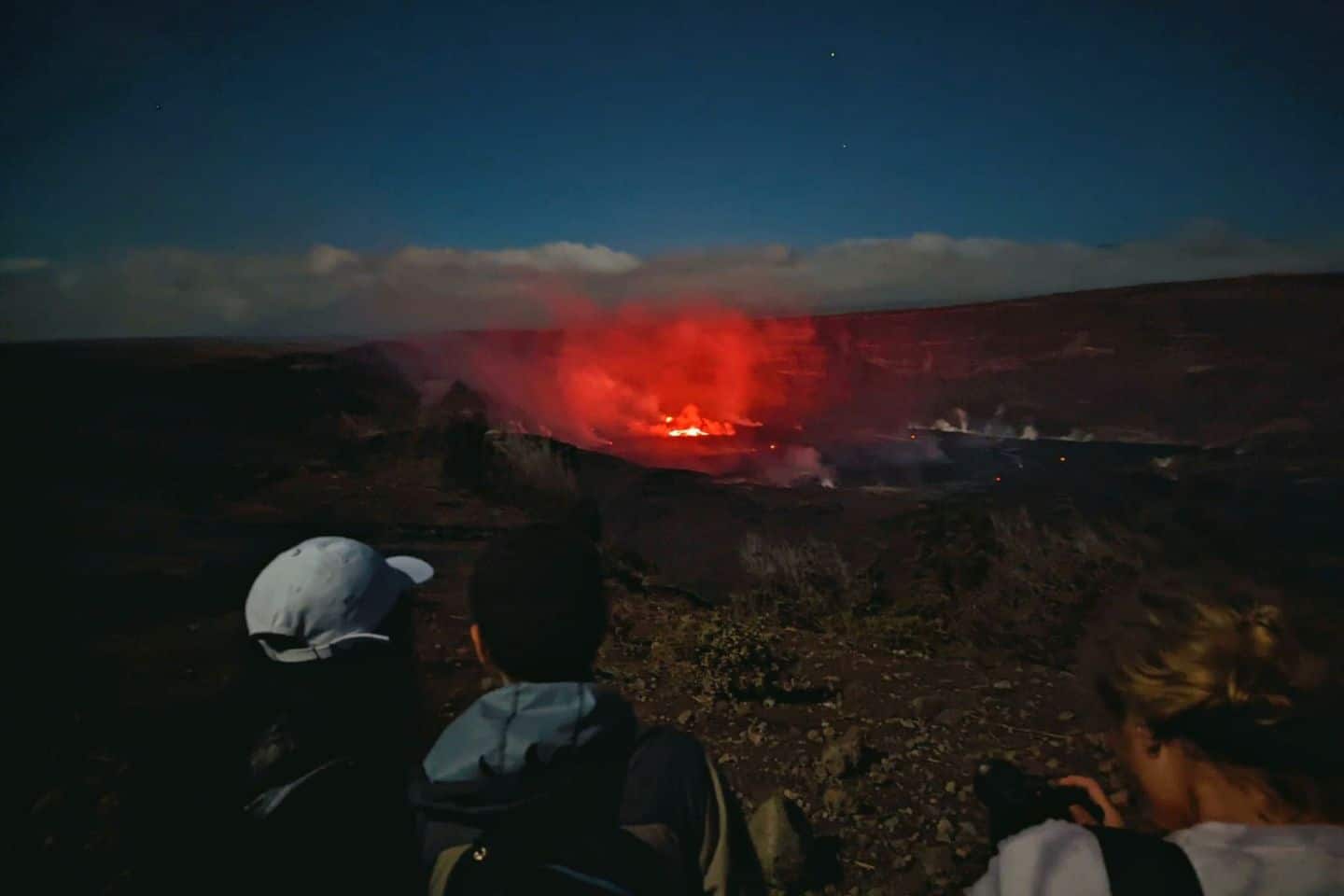 Where can your military benefits take you on Hawaii Island (the "Big Island")? To a military resort called Kilauea Military Camp (KMC), located right in the middle of Hawaii Volcanoes National Park!
Staying at KMC gives you prime access to the famous Hawaii national park, which is the top attraction on the Big Island. It's also an easy drive to many other must-see places on the island. Plus, KMC offers many services and activities of its own, making it the perfect destination for a military vacation.
Here's what you need to know to plan your visit to this incredible spot!
About Kilauea Military Camp
Established in 1916, KMC has had many uses over the years. Originally a training ground for the National Guard and an Army "vacation and health recruiting station," it has also served as a rest and relaxation (R&R) location, and for brief periods during World War II, as an internment camp and a prisoner-of-war camp.
In recent decades, this military recreation camp has become a favorite vacation destination for military families who know about this hidden gem!
| Related Reading: Guide to Military Resorts in Hawaii
Several dignitaries have stayed at KMC, including a past U.S. president, General Dwight D. Eisenhower. (The cabin where he stayed is now called the Eisenhower House and is available for senior level patrons).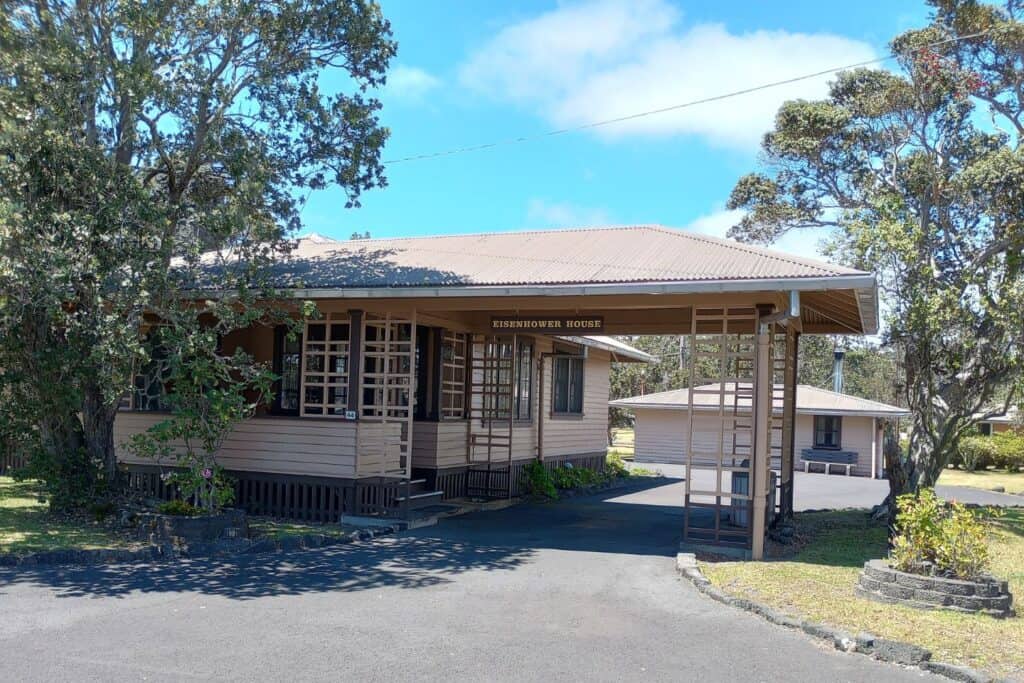 Eligibility: Who Can Stay at Kilauea Military Camp?
Like most military morale, welfare and recreation (MWR) lodging, KMC is open to a broad range of patrons from all military branches.
Active duty, Reserve and retired members of the Armed Forces and members of the other Uniformed Services are all eligible, as are their family members. Veterans with any service-connected disability (0%+), surviving spouses, and certain former spouses can also stay at KMC.
Visit KMC's website for a complete list of eligible patrons and the corresponding ID requirements.
Note that KMC does not accept pets, only service animals.
Accommodations at Kilauea Military Camp
KMC offers 1-, 2- and 3-bedroom cottages as well as 1- and 3-bedroom apartments (plus dormitories available for large groups).
All cottages and apartments have a wood-burning fireplace plus refrigerator, microwave, and coffee maker.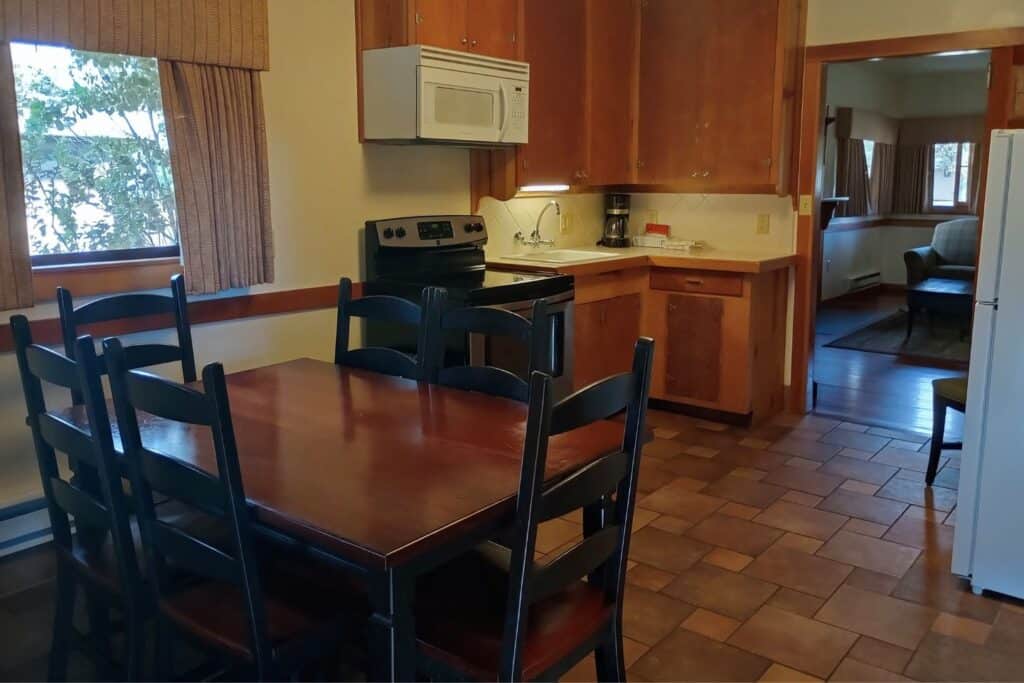 Some of the 2-bedroom cottages and all of the 3-bedroom cottages come with full kitchens, complete with any cookware and utensils you might need. If possible, spring for a cottage with a kitchen. You will save a lot of money by eating some of your meals at home!
KMC has three tiers of rates, mostly based on rank. Contact them directly for current pricing.
Reservations at KMC
You can make reservations at KMC up to 365 days in advance. Like other Hawaii MWR lodging facilities, rooms fill up fast, especially during the peak times of year (summer, winter holidays, spring break season), so it's a good idea to book as soon as you know your dates.
| Related Reading: All Military Lodging in Hawaii
Alternately, you can try for last-minute reservations to take advantage of the inevitable cancelations. We reserved a stay in early September less than two weeks in advance. At the time of booking, the only unit available was a 1-bedroom cottage for two nights. When we arrived, we were able to move to a 2-bedroom cottage with kitchen and extend our stay.
KMC charges a one-night deposit at the time of booking. This deposit is refundable up to 30 days prior to your date of arrival. Keep that policy in mind if you are thinking of flying Space-A to Hawaii! (As a reminder, Space-A is not a good option when you have non-refundable reservations).
Amenities and Services at KMC
KMC is like a mini military base with many of the usual recreation and sports facilities, including a fitness center, tennis and basketball courts, a bowling alley, and a Recreation Lodge with pool tables and arcade games.
We rented mountain bikes ($5/hour) through the Recreation Lodge, and they were the perfect way to explore the various lookouts along the Crater Rim Trail. You can ride non-motorized bikes on any trail in the Park.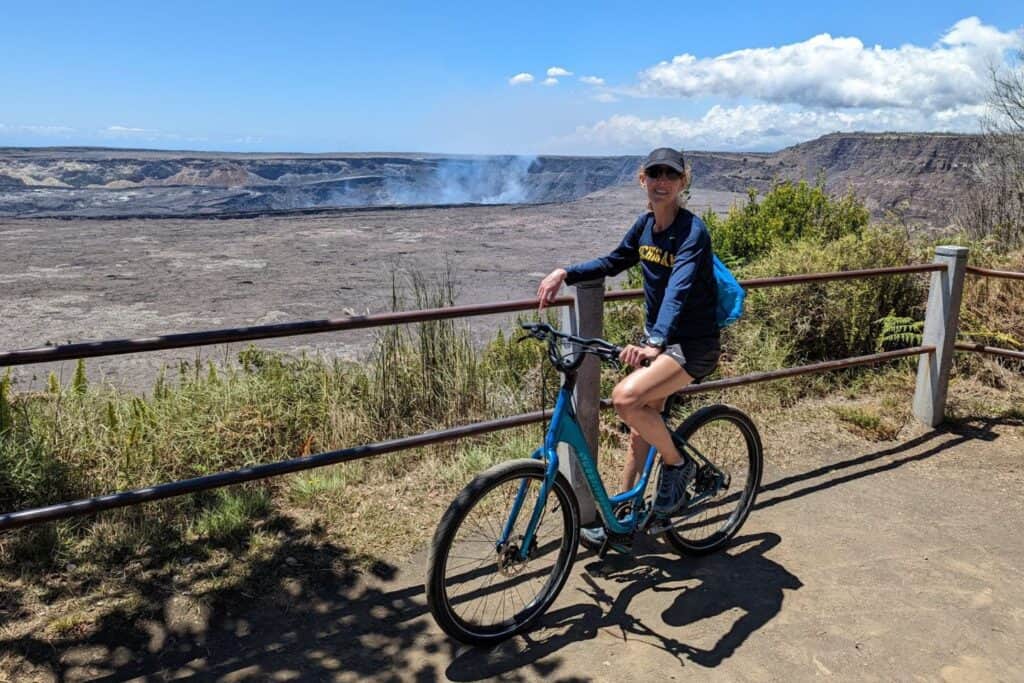 One feature of KMC that is different from a regular military post is that many of the services are available to the general public, including all eateries, the bowling alley, and equipment rentals.
The 10-Pin Grill at the bowling alley has Park-renowned food at old-school military prices. Many of the civilians who work in the Park come here for a mix of hamburgers, grilled sandwiches, and fries, plus Hawaiian favorites.
KMC's Crater Rim Cafe serves breakfast daily and dinner on Friday/Saturday. Other dining and drink options include the Lava Lounge bar and the Java Cafe coffee stand.
KMC also has a laundromat, gas station, post office, and General Store, which sells grocery items and wood for the fireplace in your room!
Fast, reliable WiFi is available throughout KMC.
Getting to KMC and Getting Around
The closest airport to KMC is Hilo, about an hour's drive. Hilo is a 45-minute flight from Honolulu airport, and you can often find very cheap fares for the numerous daily flights. You can also fly directly to Hilo from locations in the continental United States.
Car rental is available at Hilo airport. Having a car will give you the most freedom and is the best way to explore everything the island has to offer.
It is possible to stay at KMC without a car. They provide a shuttle service to/from Hilo airport with a pre-set schedule. Also, KMC offers organized tours within Hawaii Volcanoes National Park and to other destinations on the Big Island.
If you take the airport shuttle and plan to explore exclusively through KMC's tours or within the Park, you can avoid renting a car, but not having your own wheels will limit your mobility.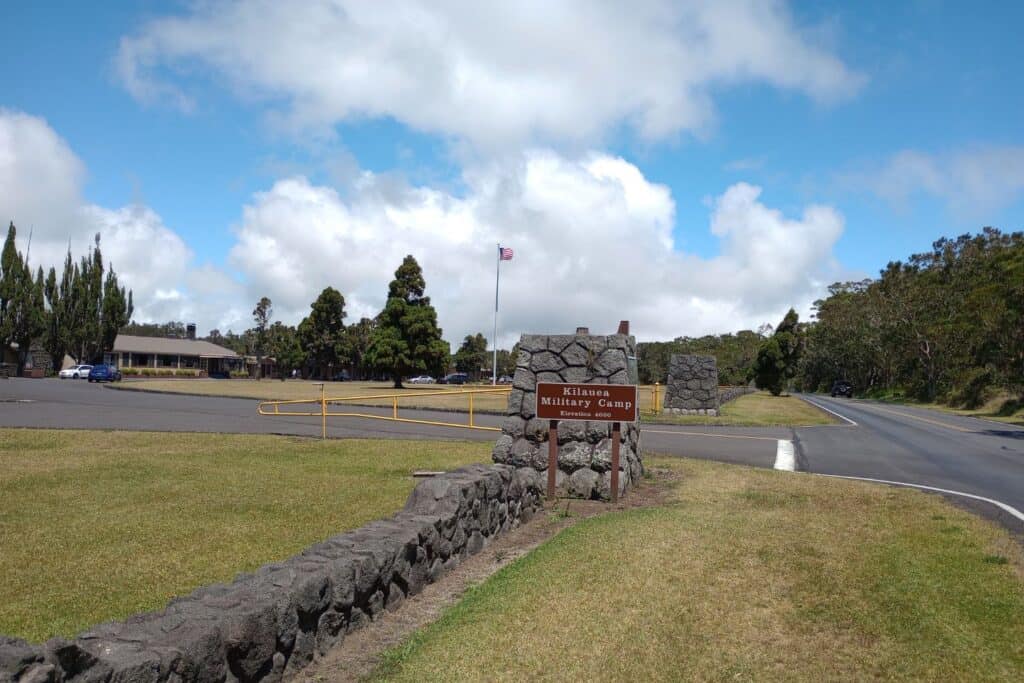 The closest full grocery store is Foodland, which is about 25 minutes away towards Hilo. If you're staying for more than a few days, it's well worth the trip to stock up.
Pro tip: There is a small Army National Guard post next to Hilo airport, and they have a well-stocked Shoppette (here it is on Google Maps). If you rent a car, stop there for food and supplies on your way to KMC!
The closest restaurant outside of KMC is in Volcano House hotel, which is also within the Park (about a mile away). It's pricey but has incredible views of the crater from the dining room.
What to Do While Staying at KMC
You could easily spend a week or more at KMC enjoying the Camp itself, the national park, and the many things to do on the Big Island. Here are a few ideas to get you started!
Explore Hawaii Volcanoes National Park
Needless to say, KMC's great location makes it extremely convenient to explore this incredible national park. Stop by the Visitor Center to get an overview of the Park and decide what you want to see and do.
If you like to hike, put Kilauea Iki Trail at the top of your list! Hike through the rainforest down to the floor of the Iki crater, which had a massive eruption in 1959. You can walk across the entire crater through this other-worldly landscape that is a mix of hardened lava and burgeoning plant life.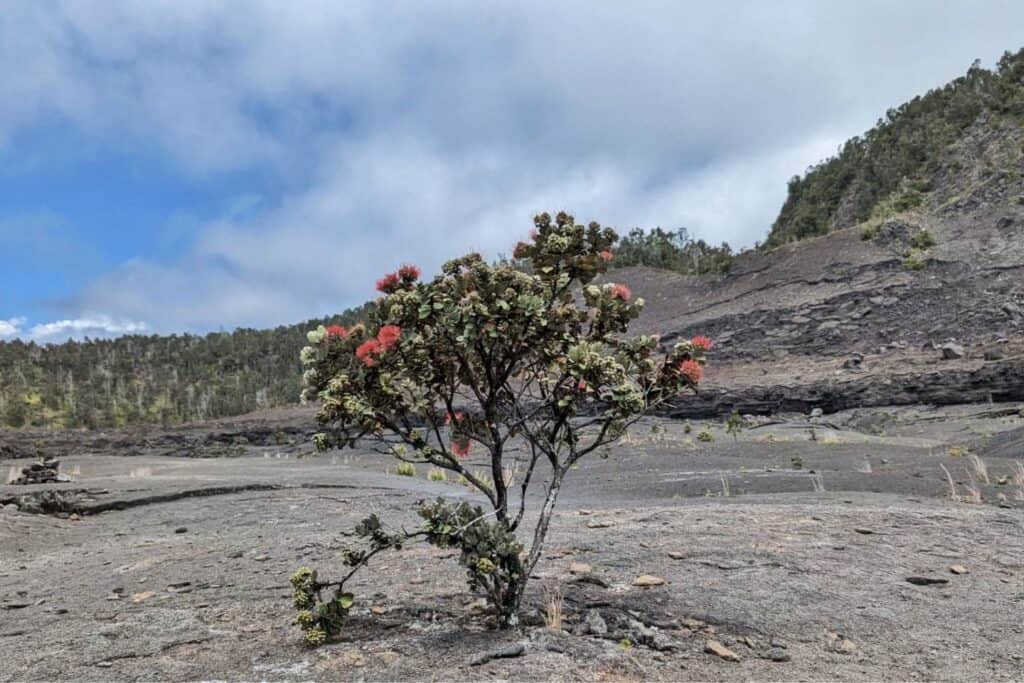 Also, don't miss a walk through the Thurston Lava Tube and the views along the Crater Rim Trail. The Park also has several other short day hikes.
As of this writing, the Halema'uma'u crater is actively erupting, and the Park's website has a live Kilauea webcam, plus guidance on the best viewing spots. One of the advantages of staying in the Park is that you can view the steam and smoke from the eruption during the day, and then come back after dark to see the glowing lava!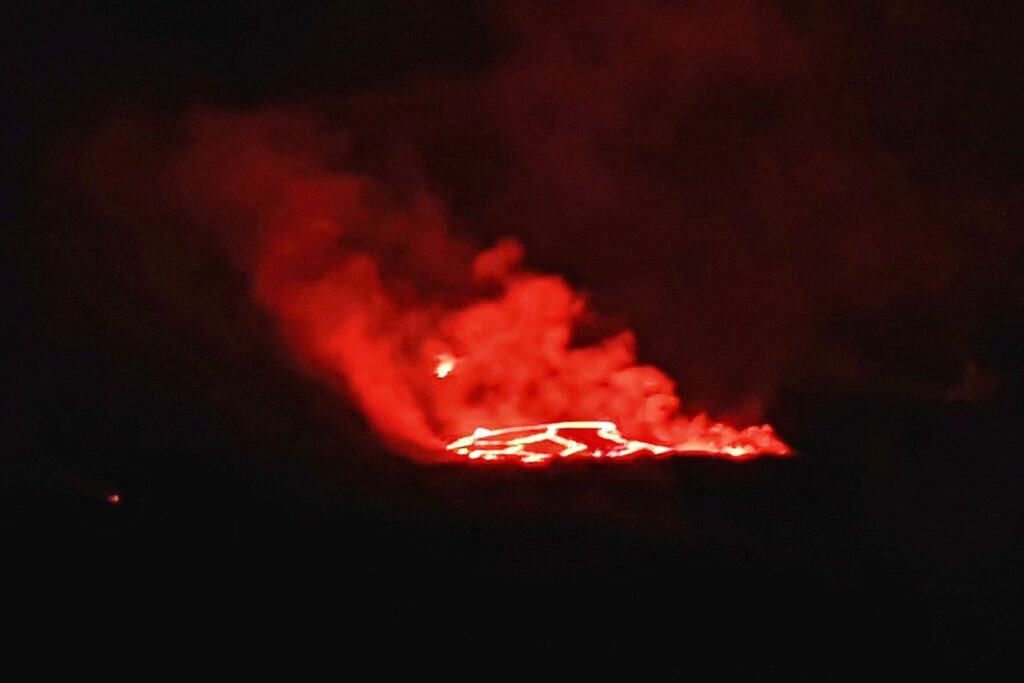 You can also visit much of the Park by car. Crater Rim Drive and Chain of Craters Road offer spectacular views without breaking a sweat!
Visit the Sea Turtles at Punalu'u Beach
Only a 35-minute drive from KMC is one of Hawaii's most famous black sand beaches. You can swim, snorkel, sunbathe or picnic along this beautiful stretch of tiny lava particles.
The other main attraction is the green sea turtles, which are often relaxing in a protected area on the beach. You can take pictures, but keep your distance and don't touch or feed them.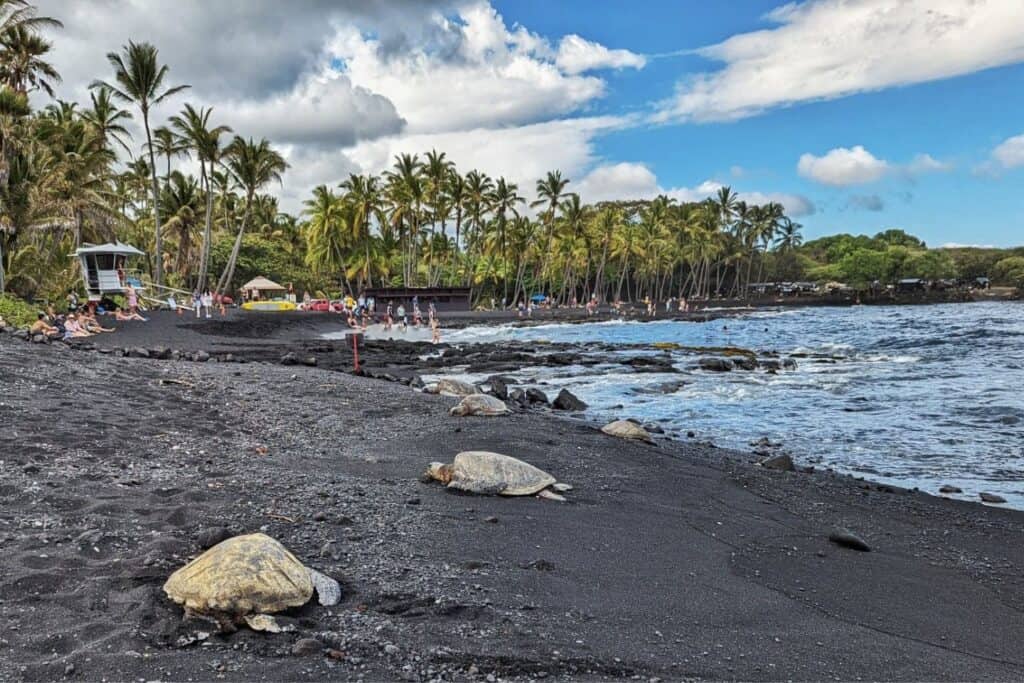 View the Famous Waterfall at Akaka Falls State Park
This tropical rainforest is home to the 442-foot Akaka Falls, one of the most iconic waterfalls in Hawaii. Enjoy an easy hike (with a few stairs) along the path through the lush greenery and bamboo groves to see the famous Falls and peep the 100-foot Kahuna Falls.
Just over an hour from KMC, this state park is definitely worth the trip.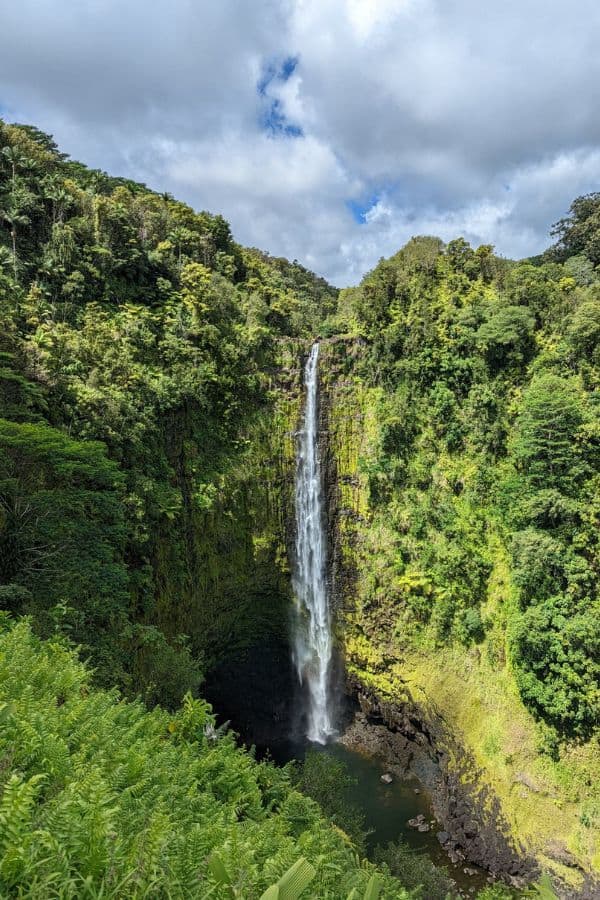 Spend a Day in Hilo
This laid-back town is full of great restaurants, cafes, and bakeries, plus a large farmers market that's open daily. It also has beautiful parks and the famous Rainbow Falls.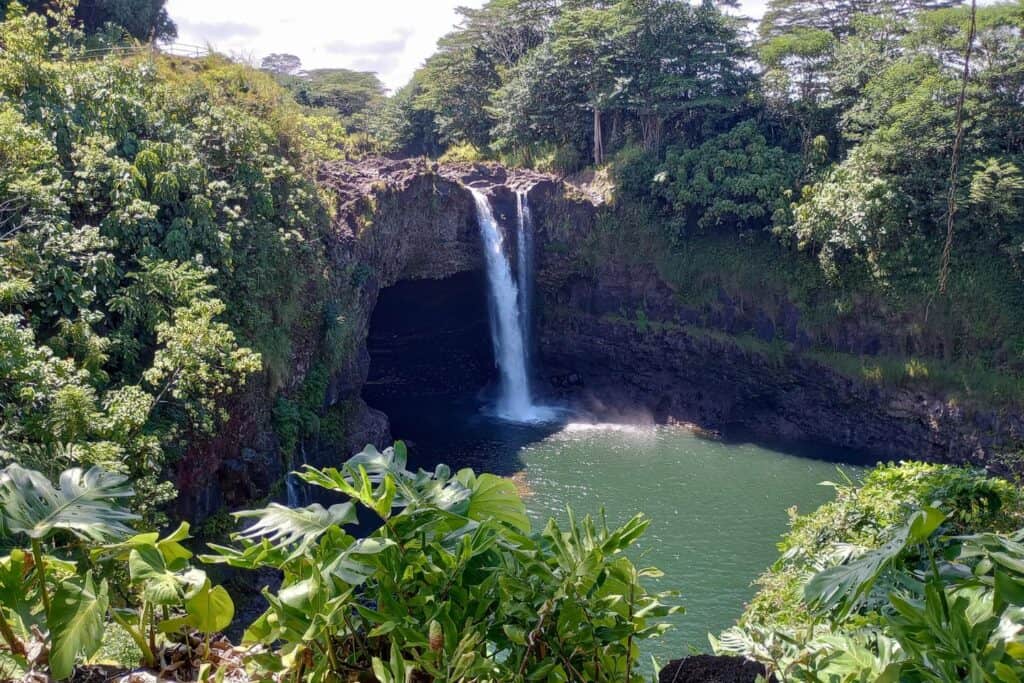 That was just the tip of the iceberg! The Big Island has many more amazing things to see and do, including scenic beaches, breathtaking viewpoints, colorful gardens, and family-friendly tours, such as the Mauna Loa Macadamia Nut Farm.
Check with the front desk at KMC for more ideas, details, and information!
Are You Ready for a Unique Adventure?
Staying at KMC is truly an incredible experience! It's a unique opportunity that you've earned through your military service, so if you're eligible, don't miss it!