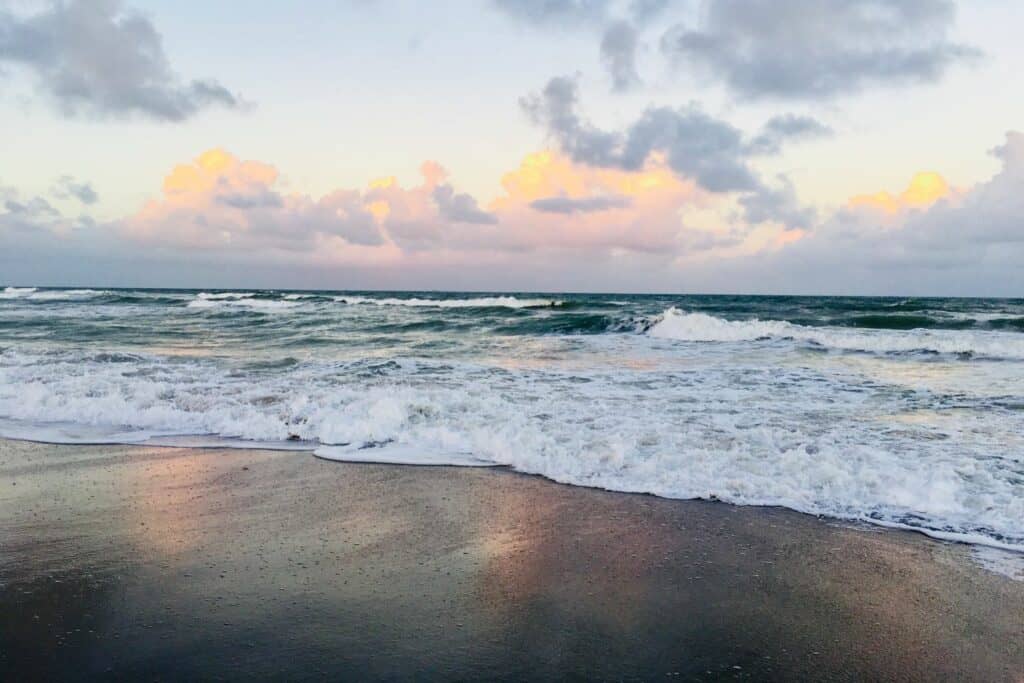 People come from all over the world to visit Florida's beautiful beaches. Did you know that, as a member of the U.S. military community, you have exclusive access to some incredible stretches of the Sunshine State's coastline?
From the Gulf of Mexico to the Atlantic Coast and down to the Florida Keys, Florida is home to several military bases and recreation areas with amazing beaches that are only available to eligible patrons, including military personnel and certain veterans.
Find out where these beaches are and what they offer, plus get nearby military lodging options!
Contents (click to expand)
Blue Angel Park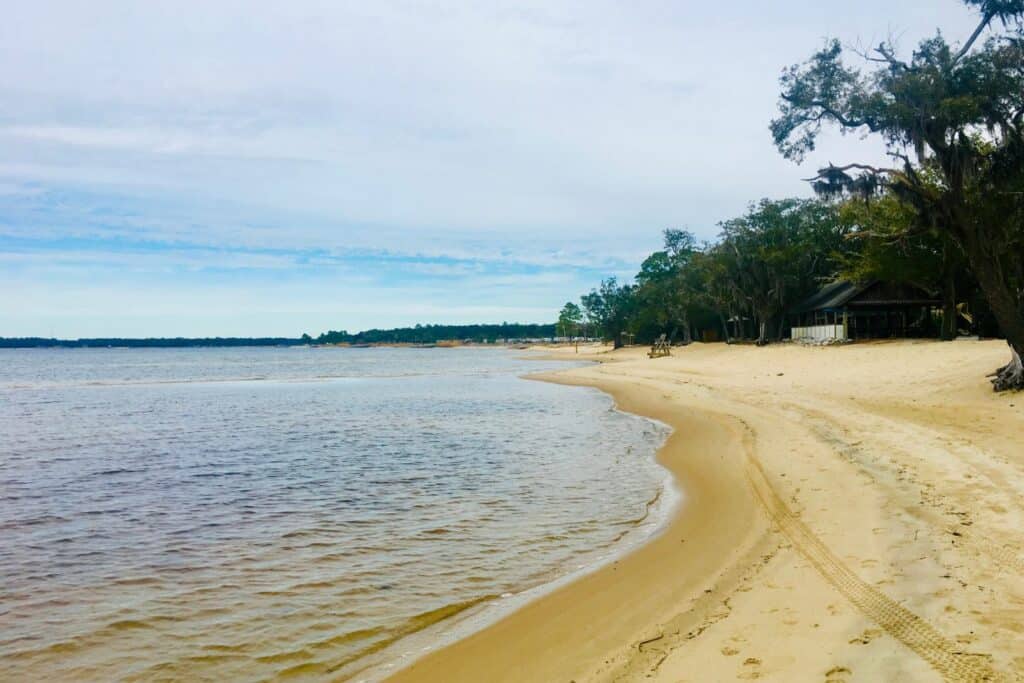 This Navy MWR facility is on the western tip of the Florida Panhandle. The small beach on the shore of Perdido Bay is open year-round.
Located about 15 minutes west of Naval Air Station (NAS) Pensacola, Blue Angel Park makes for a great family getaway with tons of on-site activities. The marina rents kayaks, paddle boards, and sailboats, plus they offer sailing classes (April – September).
Other fun things to do at the park include fishing, paintball, disc golf, and hiking/biking on the recreation trails.
Military Lodging Nearby
Blue Angel Park has two RV campgrounds, plus one-room cabins and trailers for rent
Barrancas Beach and Ski Beach on NAS Pensacola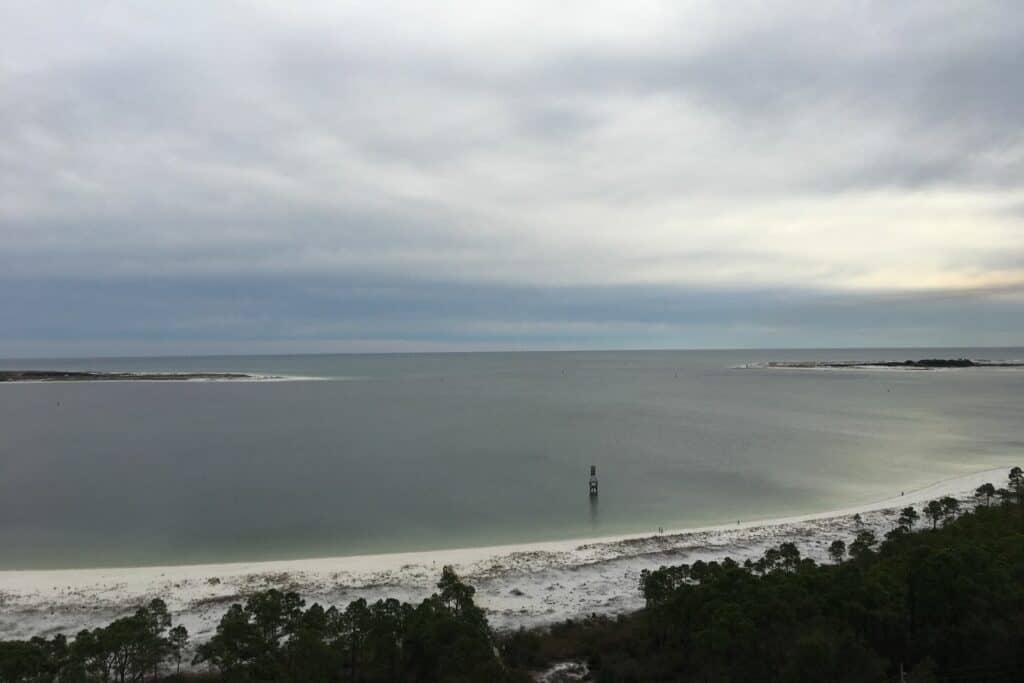 NAS Pensacola has two main beaches.
Barrancas Beach, on the south side of the base, is a quiet, white sand beach on Pensacola Bay. The water is calm, making this a great beach for swimming and sunbathing. The only facilities are a bath house and pavilions with picnic tables.
It's also very close to Pensacola Lighthouse & Maritime Museum and the National Naval Aviation Museum.
While you can access Barrancas beach year-round, swimming is only permitted when lifeguards are on duty (usually Memorial Day through Labor Day).
Ski Beach is on the north side of the base on Bayou Grande. Open year-round, it's a more activity-focused beach and offers outdoor equipment rental, including paddle boards, kayaks, and snorkeling sets.
Military Lodging Nearby
Navy Lodge Pensacola is located only steps from Barrancas Beach and about 2 miles from Ski Beach.
Navy Gateway Inns & Suites is approximately 2 miles from both beaches.
Oak Grove Park is a recreation area located on the base, less than a mile west of Barrancas Beach. It has 51 RV sites, plus 26 one- and two-bedroom cottages. Oak Grove Park also has its own small beach.
| Related Reading: Guide to Military Beach Cottages and Waterfront Cabins
Eglin Beach Park
Eglin Beach Park is a day use beach on Okaloosa Island, a barrier island just south of Fort Walton Beach. The park is an activity of Eglin Air Force Base, and it's directly across Choctawhatchee Bay from the base.
Eglin Beach Park is usually open between April and November, but daily and weekly schedules vary throughout the season. Visit their Facebook page for the most current information
You can rent beach and recreational equipment, such as kayaks, paddleboards, surfboards, and beach chairs, on-site. Facilities include four pavilions with picnic tables, restrooms, and showers.
The beach park is also available for events and offers rental packages, making it a popular site for weddings.
Military Lodging Nearby
Destin Army Recreation Center, which does not have its own beach access, is directly across the Destin Bridge from Eglin Beach Park.
Eglin AFB also has a base lodging facility called the Bayside Inn, plus two Famcamps.
Wondering what other military recreational facilities and services you can use? Here's a list of 10 to try on your next vacation!
NAS Mayport Beach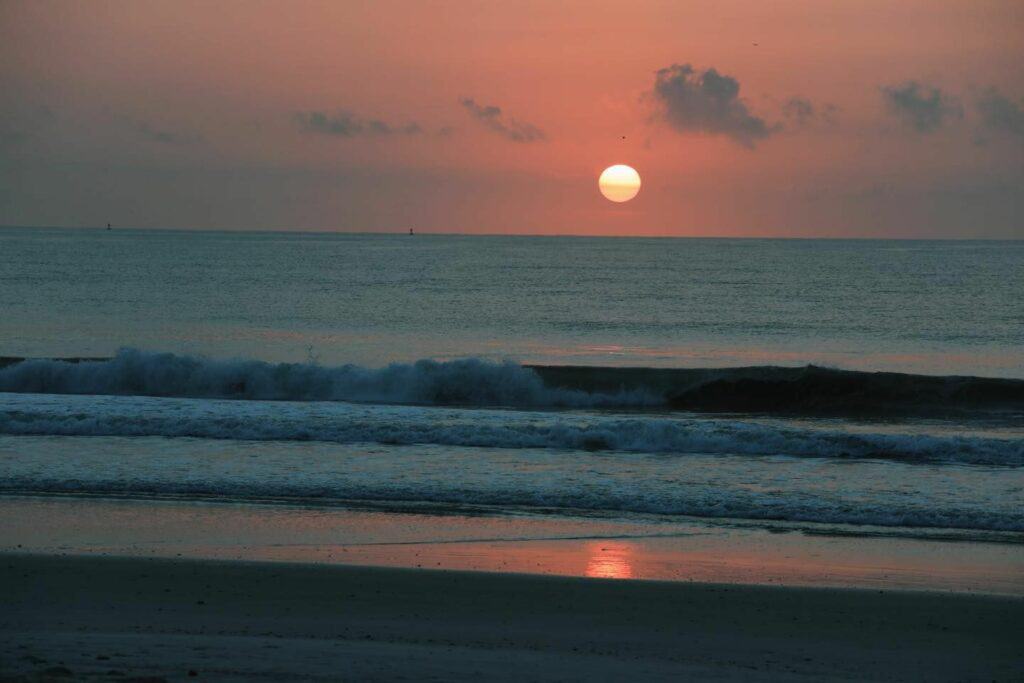 This beautiful stretch of beach aboard NAS Mayport is a hidden gem on Florida's Atlantic coast.
Rent beach chairs, paddle boards, surf boards, bikes, and other equipment from The Beacon, NAS Mayport's community center located right on the beach.
Military Lodging Nearby
Navy Lodge Mayport is right off the beach, and many of the rooms have ocean views.
NAS Mayport also has three vacation cabins. They are in a wooded area next to the base's Lake Wonderwood, an easy walk from the beach.
If you have an RV, stay at one of the two campgrounds: Osprey Cove, located in a wooded area, or Pelican Roost, which is on the water where the St. John's River meets the Atlantic Ocean.
MacDill AFB Beach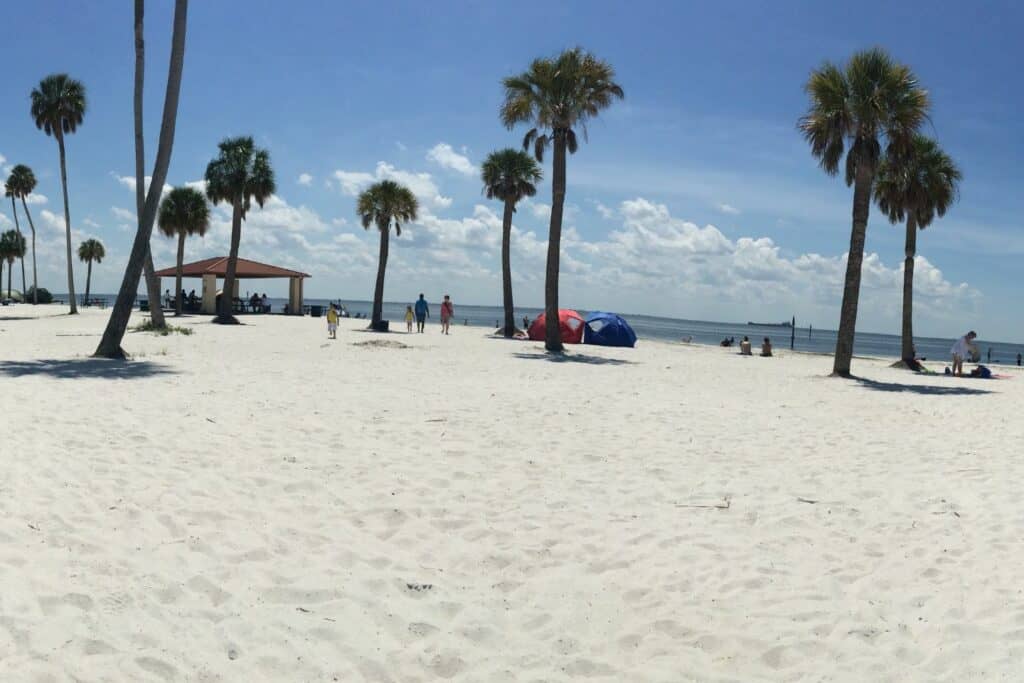 The MacDill Beach, situated at the southern tip of the base on the shore of Tampa Bay, is open year-round. Dotted with palm trees, plus three beach pavilions, it offers spots of shade to stay cool while you enjoy the beautiful views.
MacDill's beach is only steps away from the base marina, which rents canoes, kayaks, and paddle boards, plus multiple sizes of pontoon boats. You can also rent bicycles and other recreational equipment.
Military Lodging Nearby
The MacDill Inn, the base lodging facility, is located about 3 miles from the beach.
MacDill also has a FamCamp that is divided into two campgrounds. Racoon Creek Recreation Area, which is less than a 10-minute walk from the beach, and the FamCamp Annex, which is about 1.5 miles away.
NAS Key West Beaches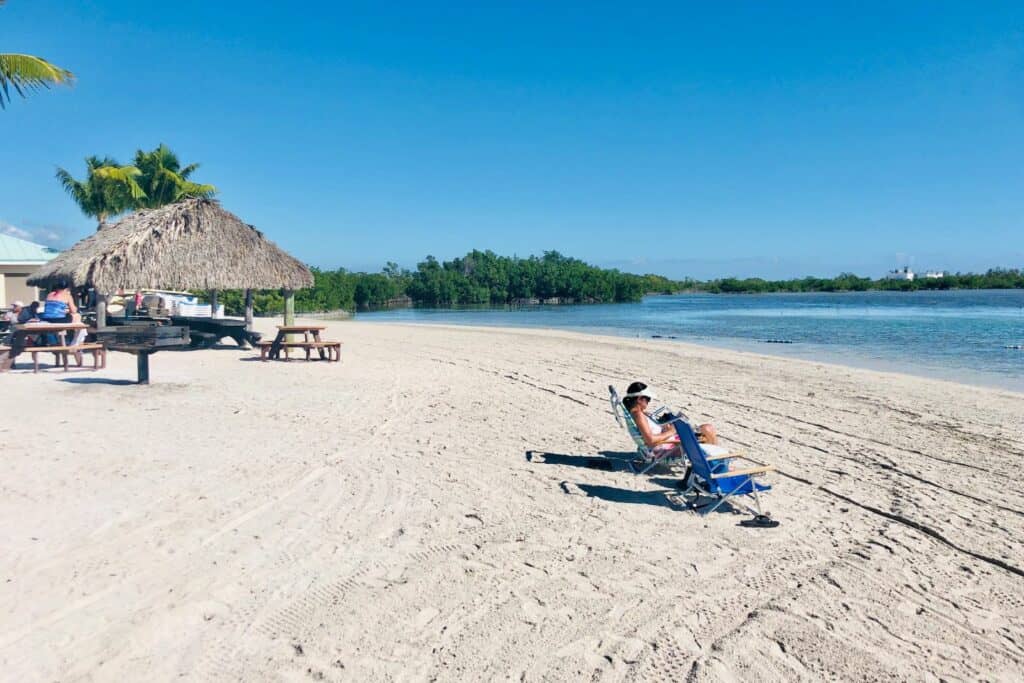 NAS Key West boasts several beaches with crystal-clear waters and breathtaking views. The base itself is is comprised of multiple non-adjacent facilities in the Key West area, and the beaches are in different locations.
Boca Chica Beach, located on the main base of NAS Key West on Boca Chica Key, is a small sandy beach for sunbathing, swimming, and exploring the surrounding area on the kayaks or paddleboards you can rent from the Boca Chica Marina.
Sigsbee Park is on a part of the base called Sigsbee Annex, which is on Drudgers Key, immediately north of Key West. This beach is next to their RV park and is best for snorkeling and fishing, as it's a bit rocky. The nearby Sigsbee Marina also rents a variety of recreational equipment, including fishing gear, kayaks, snorkel fins, and fishing boats.
Truman Annex is on the southwestern side of Key West and also has beach access.
Military Lodging Nearby
NAS Key West has a number of different lodging options scattered throughout the base facilities.
Regular base lodging facilities are Navy Lodge Key West, located on Sigsbee Annex, and Navy Gateway Inns & Suites, on Trumbo Point, another part of the base on the northwest side of Key West.
Also on Trumbo Point are the base's Recreational Lodging Vacation Rentals. They offer 3-bedroom, 1.5-bath townhouses and 2-bedroom, 1-bath cottages.
The RV parks at NAS Key West are among the most popular military campgrounds. They are divided among Sigsbee Park, Trumbo Point, and Truman Annex.
Patrick SFB Beaches (Honorable Mention)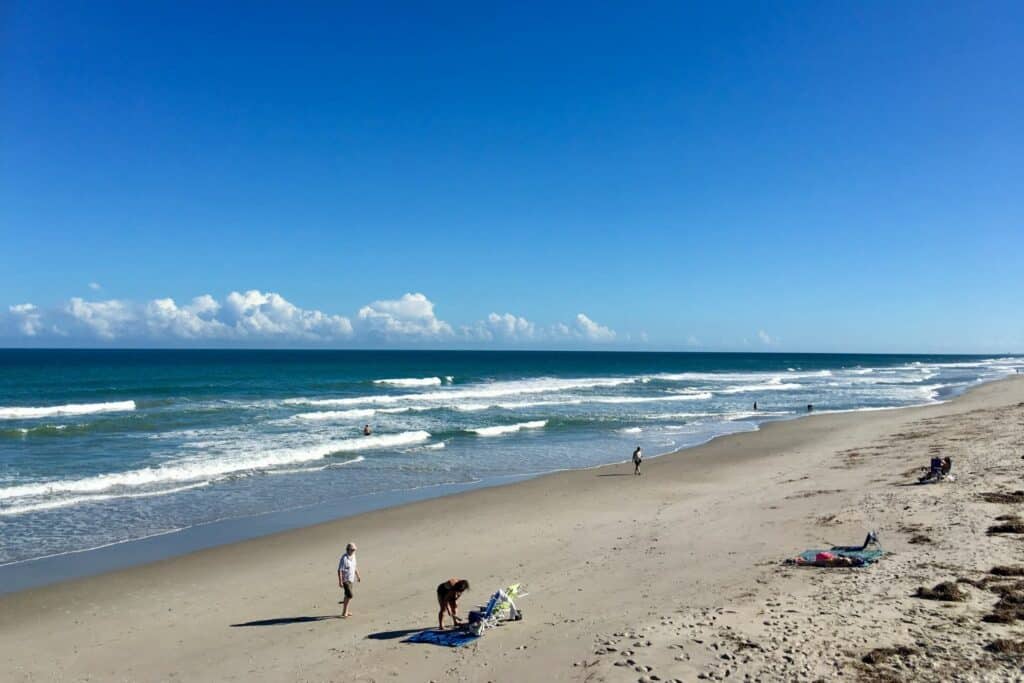 To be fair, the beaches at Patrick SFB are not exclusively for military use. They are directly across State Road A1A from the base. BUT, we had to mention them because Patrick has some very nice facilities that are exclusively for military use.
Patrick SFB is on Florida's sparkling eastern coast, just south of Cocoa Beach and Cape Canaveral. It's on a barrier island between the Atlantic Ocean and the Banana River. Beautiful white sand beaches stretch the length of the shoreline of the island (outside the gate).
Patrick's Outdoor Recreation Office (on the base) rents all kinds of recreation equipment, including motorized and non-motorized watercraft, kayaks, beach chairs/umbrellas, bikes, and SCUBA equipment!
Another fun base facility is the Manatee Cove Marina & Tiki Bar, which has live music and events weekly.
Military Lodging Nearby
Patrick has three 3-bedroom, 3-bath recreational cottages for rent. They are situated directly on the beach.
Manatee Cove Family Campground has 156 RV sites. It also has its own small beach, but it's a bit rocky.
The Space Coast Inn is the base lodging facility.
Eligibility for Military Beaches
With the exception of the beaches across from Patrick SFB, the beaches described above are not open to the general public.
Eligible patrons include active duty service members, retirees, Department of Defense civilians, and family members.
Service disabled veterans with a current Veterans Health Identification Card (VHIC) are also eligible. Veterans using a VHIC may need to pre-register or undergo a background check before accessing the facilities (this information from NAS Key West is an example), so it is recommended to contact the facility or base visitor center prior to your arrival to confirm the process.
* * *
Florida's military beaches offer a unique opportunity to enjoy some of the Sunshine State's most beautiful coastal destinations. These military-only beaches provide a range of amenities and outdoor activities for an unforgettable beach getaway. Remember to contact the base directly with questions about access, facilities, or current hours of operation before planning your visit. Enjoy your time at these hidden gems along Florida's coastline!
Have you been to any of these beaches? Tell us about your experience in the comments!