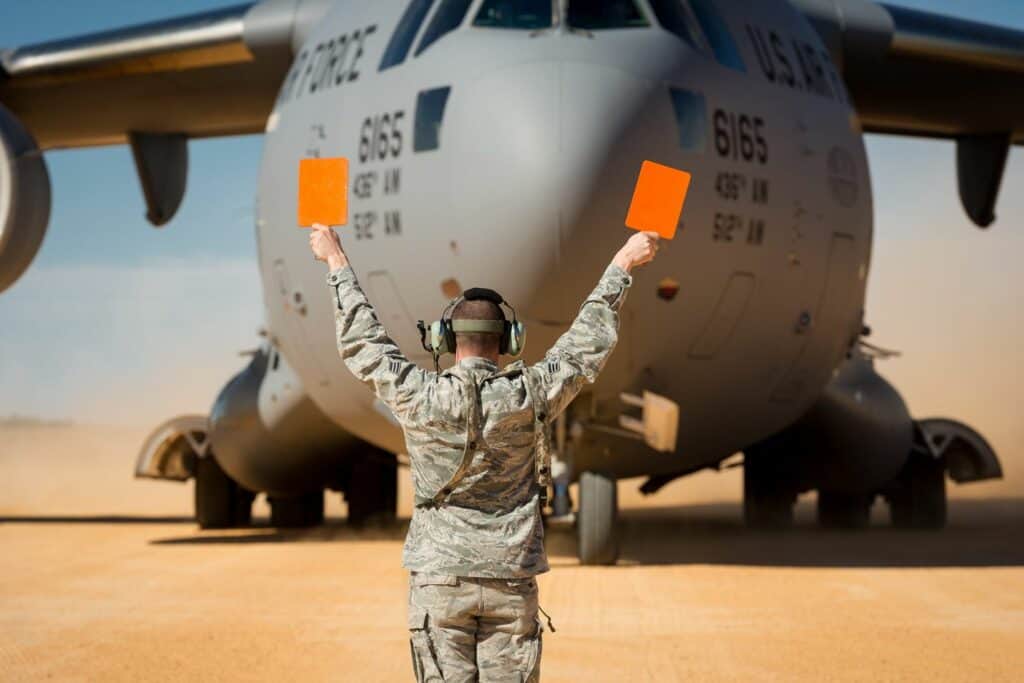 Flying space-available ("Space-A" or "taking a hop") on military aircraft can make visiting family or taking regular leave much more affordable for military members. It's a privilege codified in Department of Defense Instruction (DODI) 4515.13, but before you use it, it's very important to understand how the Space-A program works.
On a recent Space-A journey from Seattle to Japan, we met several active duty members who had wasted money and precious leave days unnecessarily because they didn't know the basics of flying Space-A or how to make the most of it for their respective situations.
In hopes of helping other service members avoid losing time and money, following is a primer for active duty members who want to use this valuable benefit.
The information below is only a brief introduction to flying Space-A, so I highly recommend reading our Quickstart Guide to Space-A Flights, which walks you through the entire process step-by-step.
What are Space-A Flights?
Space-A flights are military missions that have extra seats after all space-required cargo and personnel have been accommodated. Most flights are destined for a U.S. military base and originate at:
Another U.S. military base -or-
One of the two Air Mobility Command (AMC) passenger terminals at commercial airports in the U.S. (Seattle Tacoma International and Baltimore Washington International).
Since flights are mission-based, you may see flights to commercial airports or foreign military bases all over the world, but those are less common.
As an active duty service member, you can "hop" any flight that is accepting Space-A passengers.
With the exception of Patriot Express ("rotator" or "PE") missions, for which schedules are published one calendar month at a time, flight schedules for military operational flights are available up to 72 hours in advance.
For all missions, the estimated number of Space-A seats is also published up to 72 hours before the flight, but often not until a few hours beforehand. (This article explains how to find military flight schedules and what the acronyms mean).
Here are eight tips to boost your chances of a successful Space-A journey.
1. Use the highest priority category of leave possible.
Space-A passengers are divided into six categories. Lower numbered categories are higher priority.
You can find a full list of the six Space-A categories and eligible travelers on the AMC website, but active duty members (traveling solo or with dependents) fall into one of the following categories:
Category 1: Emergency leave.
Category 2: Environmental Morale Leave (EML). You must be stationed at an eligible location to use EML.
Category 3: Ordinary Leave or Permissive TDY for house-hunting.
Category 5: Permissive TDY for reasons other than house-hunting and post-deployment/mobilization respite absence.
Active duty spouses traveling without their sponsor are in category 4 or 5, depending on the circumstances. Here's what they need to know.
To give yourself the best chance of getting a seat, use the highest priority category for which you qualify. Priority within a category is based on signup date. Military passenger terminal personnel will select Space-A passengers based on their category first, then by signup date.
Here's an example of how the priority system works:
A flight has 10 Space-A seats. There are 20 Space-A passengers in the terminal "competing" for those seats:
A single service member is going home on emergency leave (Category 1). That passenger will get a seat first.
A family of four is on EML (Category 2). They will get the next four seats.
The other 15 passengers are active duty and accompanying family members traveling on ordinary leave (Category 3). A family of five signed up a week ago, and everyone else signed up within the past few days. That family will get the remaining five seats. The other would-be passengers will not make the flight.
Note that rank is NOT a factor in priority for Space-A travel.
2. You must be on leave to sign up for Space-A travel.
A Space-A signup is good until your leave expires or for up to 60 days, but you cannot sign up until you are in Leave status.
Related Reading: Do's and Don'ts For Taking a Military Space-A Flight
Again, your priority within your category is based on the date you signed up, so to maximize your chances of getting a seat, put your name on the virtual waitlist the moment you're on leave.
3. Consider flights from all military passenger terminals closest to you.
Keep in mind that the PE flights from the AMC terminals at Seattle or Baltimore airports are not your only option for Space-A travel.
We've met many Space-A travelers who didn't realize they could fly Space-A on any military aircraft that is accepting passengers, including cargo planes (C-17, C-5, KC-135, etc.), from military passenger terminals around the world.
Note that flying (comfortably) on a military cargo aircraft requires slightly more preparation. Here's what you should wear and bring in your carry-on.
Research the nearest military passenger terminals to determine if you could fly from a base closer to your home vs. traveling to one of the starting points of a PE.
We met a Marine stationed at Camp Pendleton who had flown commercial to Seattle in hopes of catching the PE to Japan. He could have saved time and money by taking the train to Travis AFB and flying from there (based on the Travis AFB flight schedules at the time, he would have arrived in Japan much earlier.)
Related Reading: How to Fly Space-A to Japan
4. Sign up at every base from which you might fly.
For example, if you are stationed on the West Coast, sign up at Travis AFB, NAS North Island, JB Lewis-McChord, and the Seattle AMC terminal.
You can easily sign up via e-mail at multiple bases at once by copying all of the terminals on a single message. The AMC website lists all of the information required in your signup e-mail.
Note that you are not signing up for a specific flight. You are notifying the military passenger terminals that you may want to originate travel there sometime within the next 60 days.
5. Take the first thing smokin'.
Don't wait for the perfect flight. Take the first hop you can get that is going in the direction you're headed.
This advice is particularly important when traveling between the continental U.S. (CONUS) and overseas locations (OCONUS), because the cost of getting "stuck" and needing to fly commercial at the last minute is generally much higher.
For example, if you're in Japan and your target destination is the Seattle area, take the first flight to CONUS that has seats. If there's a flight to Travis AFB today and a PE to Seattle tomorrow, don't wait – take that Travis flight.
Maybe you can catch another hop from Travis to JB Lewis-McChord, or maybe you will need to fly commercial from one of the airports close to Travis. But at least you've made it to CONUS and avoided the possibility of buying a last minute airfare from Japan if the PE is delayed or doesn't release as many Space-A seats as projected.
That brings us to our next point . . .
6. You can fly commercial or take another hop from your first arrival point.
Remember that you may need to combine your Space-A flight with commercial travel or another Space-A flight (that's why it's called "hopping").
Don't pass up a flight to Ramstein AB because your target destination is RAF Mildenhall and you are waiting for a flight directly to that base. Take the Ramstein flight, then fly commercial from Frankfurt, or try for another Space-A flight to Mildenhall from Ramstein.
The above two rules applied to a young Marine we met who had been at Seattle airport for several days (he stayed at the airport the entire time to avoid paying for hotels).
| Related Reading: How to Fly Space-A from the Seattle AMC Terminal
He was stationed on Okinawa and had bypassed several opportunities to fly to Yokota AB (near Tokyo), waiting for a flight to Kadena AB on Okinawa. He didn't realize he could could take a hop from Yokota to Kadena or take a cheap commercial flight from Tokyo to Okinawa.
7. Don't fly Space-A (especially overseas) if you have a short period of leave, and make sure you allow at least several days of cushion to get back to your duty station on time.
It can take several days on either end of your journey to get a seat, so if you have only a week or two of leave, fly commercial.
We met an Airman at Seattle airport, waiting with us for the PE to Japan, who had only one day of leave left, and the PE was her last hope. Do not allow yourself to get into that situation.
Also, remember to factor in time zone differences and flight times when determining how long it will take you to get home. Considering that Japan is 16 hours ahead of Seattle and that the flight included stops in Alaska and Guam, that Airman might not have arrived back at her duty station on time.
8. Watch out for the summer rush.
Summer is one of the most difficult times of year to fly Space-A. The PEs are full of duty passengers PCSing, and as soon as schools are out, you have a lot of competition (for all missions) from families on vacation.
As noted in #1, when flying Space-A during the summer months, travel in the highest category for which you are eligible. Also, if you have flexibility, consider waiting until fall when schools are back in session and you will face less competition for seats.
(The winter holidays are another difficult time to fly Space-A. Here's why.)
Is Flying Space-A the right choice for your situation?
Under the right circumstances, flying Space-A can save you a lot of money and make a trip to see family and friends back home much more feasible. But if you jump into Space-A without understanding how it works, you can easily waste hundreds — or even thousands — of dollars and many days of leave.
This article was only a brief summary to help you understand some important points about how to fly Space-A. Keep doing your research by reading our Quickstart Guide to Space-A Flights so you fully understand the Space-A flying process AND how to decide when it's the right option for your situation.
We hope to see you on a hop sometime!
Photo: US Air Force