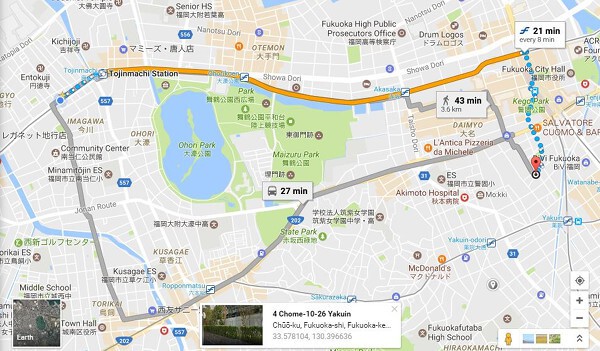 My husband and I have been traveling since he retired from the Army in Summer 2015. Most of our travel has been overseas, and now we live in Fukuoka, Japan. Some of the most common questions from our friends relate to communication (do we buy local cell phones?) and getting around (what are some must-have tech devices or apps for world travel)? So here's the scoop.
We like to keep it simple when we travel, and if we find something that works well, we stick with it. By all measures, our voyages have been pretty seamless; these favorite travel apps and devices have been a contributing factor. No doubt, there are many other products out there that perform similar functions, but these are the ones we "don't leave home without."
I will update this post if we discover new apps and devices that we incorporate into our routine.
If you make a purchase using one of the links below, Poppin' Smoke may earn a small commission. It helps cover hosting fees and is at no additional cost to you.
Communication Apps
We traveled abroad for more than a year using nothing but WiFi for communication. With so many Internet-based apps, you can easily get by without phone service. It's an adjustment at first, because most of us have become accustomed to being reachable no matter where we are and to using our phones to search for any information we need. But it only took me and my husband a day or two when we first landed in Germany (our first overseas destination) to appreciate being disconnected now and then. It was nice not to constantly check our phones for messages or wonder if we remembered to turn off the sound while at a movie.
All that being said, it's generally pretty easy to find at least a couple places that have WiFi when you need it. Starbucks and McDonalds are two reliable options overseas. Of course, relying exclusively on WiFi makes it critical for you to verify that your lodging accommodation has good WiFi or Internet service!
Depending on where we are and whom we are communicating with, we use one of several different WiFi-based apps for communication.
Facebook Messenger is our go-to method of communication with each other, friends, and family while on the road. It is the easiest way to send messages of any length, make phone or video calls to your contacts, and share photos or videos.
You don't need to have a Facebook account to use Messenger. You can download the app (it's separate from Facebook) and establish an account using your cell phone number. Messenger is an easy way to connect with people you just met, because you can search for their name without exchanging phone numbers. Once you are connected on Messenger, you can send messages or call each other, and you don't have to be "friends" on Facebook.
WhatsApp is a commonly-used platform in Europe. Everyone we met had an account, and we used WhatsApp to communicate with our AirBnB hosts. It has the same functionality as Facebook Messenger, but it's more secure; all of your communication is encrypted. A WhatsApp account is associated with your mobile telephone number.
IMPORTANT: You must establish your WhatsApp account while you are still connected to your mobile network. The service sends you a text with a code to verify your phone number. If you can't receive the text, you cannot complete the account set-up process.
Line is similar to WhatsApp, but it's the primary WiFi calling service used in Japan. Many businesses publish their Line phone number along with their other contact information.
IMPORTANT: Like WhatsApp, you must establish your account while still in the U.S.
Local SIM Card
Free public WiFi is not nearly as prevalent in Japan as in the U.S. or many countries in Europe. After living here for a couple months, we bought Japanese SIM cards that we used with our unlocked U.S. cell phones. We started with cards that cost about $25 each and included 2 GB of data. The cards were good for 3 months or until we used all the data, whichever came first. The SIM cards gave us network connectivity but only for data/Internet. In other words, we could not make phone calls to regular Japanese phone numbers, but we could use the Internet and apps (including Facebook Messenger and Line) without connecting to WiFi.
Recently, we needed to provide a phone number to establish a bank account, so we upgraded to a SIM card that costs $16 per month and gives us the ability to make phone calls. We plan to use it as little as possible, because calls are $0.40 per minute, but this phone was a cost of getting settled in Japan. We had to sign a one-year contract, but most standard Japanese cellular phone contracts are for 2 years and come with a hefty penalty if you terminate the contract early. The SIM card was the least expensive, lowest-commitment option we found.
I should mention that tourists in Japan cannot purchase a SIM card with the capability to make phone calls. You must be a resident and show proof of address.
Getting Around
I still know a handful of people who are loath to give up their paper maps, but a little technology makes navigating foreign countries infinitely easier. It would be very challenging to find our way around Japan, where signs are written in kanji and many people don't speak English, if we had to rely on maps and the ability to ask locals for directions! These apps have been priceless as we traveled through countries around the globe.
We use Google Maps many times per day, whether we are walking, driving, or taking public transportation. This app has become more and more useful each time Google updates it. You are probably aware of the basic functionality: it provides turn by turn directions to anywhere you want to go. But Google has incorporated a ton of information about transportation options, such as train and bus schedules, so you can plan your day, determine the exact timing of your transportation, and calculate the total cost.
For example, let's say I'm planning to meet a friend at a restaurant tomorrow at 13:00. I enter the address and map it from my apartment. By default, Maps will display my transportation alternatives for leaving right now. But In the "Options" section I can choose a custom departure time/date or an arrival time/date. In this case I want to arrive at the restaurant tomorrow by 12:55, so I enter that information and click "Done." Now I can see several different options, including routes using the train and/or bus along with the associated cost. I can also see how long it would take to drive or walk.
Using Google Maps is infinitely easier than looking up individual bus and subway schedules and trying to figure out what stops are closest to my destination, especially on websites written in Japanese!
Google Maps also provides extremely reliable driving directions that reflect traffic delays and construction. It has been accurate everywhere we've traveled, including all over Western Europe and in Japan.
Using Google Maps Offline
If you want to use Google Maps to find directions when you won't have access to WiFi, you can map to your destination while you are still online. Leave the app open with your destination mapped when you walk away from the WiFi, and Google Maps will remember the route and directions. This feature only works if you stay on the pre-determined path. If you stray, Google Maps will not be able to re-route you without a WiFi connection.
For some parts of the world, you can download a local version of Google Maps to use offline. But this functionality is not available in some countries, including Japan. Fortunately, we also have our next favorite app, Maps.Me.
Maps.me is the app we use to get around when we will not have access to WiFi at all. It's simple and intuitive to use, but you have to plan ahead a little bit by downloading the maps and routing for the countries or regions you are visiting. From that point on, you don't need a WiFi or network connection to use it, because it's all GPS-based.
You can search for a destination (e.g., the name of a restaurant or a general term like "supermarket"), and Maps.me will provide turn-by-turn directions. If you miss an exit on the expressway or stray off the original path, it automatically re-routes you. The app is free but it's indispensable when driving around a foreign country!
This is not a technical device. In fact, it's the simplest little gadget you can imagine, but it works so much better than other similar devices we've seen. If you plan to use any maps or navigation on your phone while driving, this is definitely worth the investment. It clips onto the vent on your dashboard and holds your phone securely in place. You don't have to worry about it falling onto the floor while you're driving, and it's not made of "adjustable" plastic that jams or cracks when you try to change the size. We have this little clip with us at all times while driving.
Language Translation
My Japanese is elementary at best, and even in foreign countries where my husband or I speak the language, there are always words we don't know. So whether we are trying to converse with a real estate agent in Japan or ensure we are not ordering pig's innards in France, we use a translation app.
We have used Google Translate all over the world, and it is part of our daily life here in Japan. You can enter text in any language to see the translation into another language. There is also a feature that allows you take a picture of text to read the translation of words or entire paragraphs. This function is critical in a country like Japan that does not use the Roman alphabet. We use this feature of Google Translate to read menus, use appliances, and figure out what we are buying at the grocery store.
You must be connected to WiFi for the picture function to work, but if you simply want the capability to search for common words, you can download a "local" version of the dictionary for the language(s) you need.
Google Translate is not perfect, so the translations don't always seem logical. Sometimes I look up English phrases and the Japanese person I'm trying to communicate with gives me a blank look. However, my husband and I have managed to use it for tasks ranging from operating our air conditioner to joining a gym.
Device Connectivity & Charging
To make all the technology work for us, we need two things: WiFi and juiced-up cell phones. Here's what we use to ensure we have both.
We have stayed in several short-term (a.k.a. "weekly-monthly") apartments in Japan that did not have WiFi. Instead, they had a LAN cable (remember those?). The first time we encountered this situation, we went to the local electronics store and bought the Elecom device, which we plugged into the LAN cable to create a secure wireless network. The device is about the size of a matchbox and weighs almost nothing. It has worked like a charm, and we've used it many times since then, so we have it with us at all times when we travel in Japan. Weekly-monthly apartments are a great accommodation option here – often a better deal than AirBnB – so if you're traveling in Japan, I recommend purchasing one of these devices to ensure the lack of WiFi doesn't limit your options.
Needless to say, we rely heavily on our phones, not just for communication, but for navigation and translation. We can't afford to be caught with a dead cell phone battery, and we don't always have access to an outlet. We bought this extended battery, which takes the place of a regular phone battery, to address that problem. It's a bit larger and heavier, but it lasts significantly longer.
Some cell phones do not support using an extended battery. If you have one of those phones, you must use an external power source to charge your phone when your batteries are low and there are no outlets. This power bank allows you to charge multiple devices at once.
You can have greater flexibility when charging your electronic devices and avoid the need for multiple country-specific plugs by using USB cables. In one recent experience, I had a layover in Seoul on my way back to the U.S. I wanted to charge my phone but did not have an adapter for Korea. Fortunately, the coffee shop I visited also had USB plugs, so I was not left with an empty battery at the end of my 4 hours in the airport.
I definitely recommend getting retractable cables. They work wonders when charging your phone in the car and will save you headaches when you don't have to pull knots out of your electronic cords.
Navigation apps drain a phone battery pretty quickly, which is why we always travel with a USB car charger. We leave the phone plugged in to ensure it doesn't die halfway to our destination. With this charger, we can plug in two USB retractable cords at once, so we both have fully-charged phones when we arrive at our destination.
So there you have it. These apps and devices keep us connected, help us communicate, and prevent us from getting lost. They are all simple to use and either free or inexpensive.
Do you have any favorite travel apps or devices to recommend? Tell me about them in the comments!