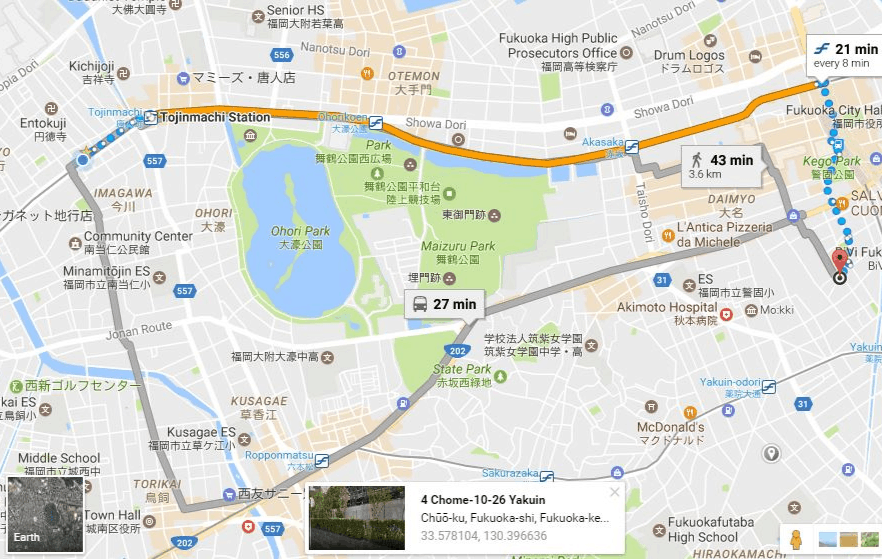 Wondering how to use your phone internationally without charges? The solutions are simple and require only a little bit of advance planning.
My husband and I have been traveling and living abroad (including 2.5 years in Fukuoka, Japan) since he retired from the Army in 2015. We have all this down to a science, and our systems for communicating and staying connected while overseas work very well.
We call and text internationally for free. We usually don't buy local cell phones, and we don't have an international plan through a U.S. carrier. We get around easily, even when we don't speak the local language.
How do we do all this seamlessly? We use the following apps (and a few gadgets) to communicate, navigate, and translate while traveling overseas.
Contents (click to expand)
Information Security: Virtual Private Network (VPN)
First things first: information security. We are heavily reliant on public WiFi when we travel, so we need to protect our information and privacy. We use TunnelBear VPN to:
Encrypt our information
Hide our IP address from websites, hackers, and advertisers trying to track our location or activity
Browse U.S. websites from anywhere in the world
Information can be compromised on any public WiFi, even when it's password-protected. That includes WiFi at restaurants, in hotels, on military bases, or any place where many people can easily obtain the password.
We use TunnelBear with our phones and laptops. It's always on, even while we are home or in an Airbnb. We're not worried about security while connected to the WiFi in our apartment, but using a VPN that is "tunneled" to the United States means we can browse the Internet as if we were in America. Websites are in English, prices are in U.S. dollars, and we can access online content that is not otherwise available outside the U.S.
Click here to see TunnelBear pricing.
You can use the free version, which gives you 2 GB of data. The unlimited plan, which covers up to five devices for less than $5/month, is the best option for us because we use TunnelBear all the time.
Communication While Oveseas
We've traveled abroad for several years using nothing but WiFi for communication. With so many free apps for calling internationally, you can easily get by without phone service.
Finding places that have WiFi when you need it is usually pretty easy. Starbucks and McDonalds are two reliable options overseas. Of course, using WiFi exclusively makes it critical for you to verify that your accommodation has a reliable connection!
Depending on where we are and whom we are communicating with, we use one of several different apps for texting and calling internationally.
Facebook Messenger
Facebook Messenger is our go-to method of communication with each other, friends, and family while on the road. It is the easiest way to send messages of any length, make phone or video calls to your contacts, and share photos or videos.
You don't need a Facebook account to use Messenger. You can download the app (it's separate from Facebook) and establish an account using your cell phone number.
Messenger is an easy way to connect with people you just met, because you can search for their name without exchanging phone numbers. After you connect on Messenger, you can send messages or call each other, and you don't have to be "friends" on Facebook.
WhatsApp
WhatsApp is the most popular communication app in Europe. Nearly everyone has an account, and we use it to communicate with our AirBnB hosts. It has the same functionality as Facebook Messenger, but it's more secure; all of your communication is encrypted. A WhatsApp account is associated with your mobile telephone number.
How to use WhatsApp internationally. You must establish your WhatsApp account while you are still connected to your mobile network. The service sends you a text with a code to verify your phone number. If you can't receive the text, you cannot complete the account set-up process.
Line
Line is an important app for Japan travel. It's similar to WhatsApp, but it's the primary WiFi calling service used in Japan. Many businesses publish their Line phone number along with their other contact information.
If you use Airbnb in Japan, it's the best way to communicate with your host.
As with WhatsApp, you must establish your account while still connected to your mobile network.
Skype
Skype works really well for calling toll-free numbers. As I will explain, this capability also lets you call anywhere in the world for a few cents per minute.
While traveling overseas, we can always use one of the apps above to contact friends and family. But when we need to call a business in the U.S. or someone with whom we aren't already connected via an online app, that's where Skype comes in.
Fortunately, most of the places we need to call in the U.S. — our bank, our credit card company, an airline, etc. — have toll-free numbers. We can simply dial those toll-free numbers on Skype using WiFi, and the call is completely free.
But wait, it gets better! We can also use Skype to dial the toll free number to connect to our AT&T prepaid calling card. From there, we can call any phone number in the world for only a few cents per minute. It's one of the cheapest ways to call internationally.
Local SIM Card
When traveling abroad as a tourist, using WiFi-based apps works great – we usually don't buy local SIM cards. In the countries where we've lived as residents for several months or more, we eventually needed a local phone number.
SIM Cards in Japan
Free public WiFi is not nearly as prevalent in Japan (especially in smaller cities) as in the U.S. or many countries in Europe. After living there for a couple months, we bought Japanese SIM cards that we used with our unlocked U.S. cell phones.
We started with cards that cost about $25 each and included 2 GB of data. The cards were good for 3 months or until we used all the data, whichever came first. The SIM cards gave us network connectivity but only for data/Internet. In other words, we could not make phone calls to regular Japanese phone numbers, but we could use the Internet and apps (including Facebook Messenger and Line) without connecting to WiFi.
Eventually, we needed to provide a phone number to establish a bank account, so we upgraded to a SIM card that cost $16 per month and gave us the ability to make phone calls. We used it as little as possible, because calls were $0.40 per minute, but this phone was a cost of getting settled in Japan. We had to sign a one-year contract, but most standard Japanese cellular phone contracts are for 2 years and come with a hefty penalty if you terminate the contract early. The SIM card was the least expensive, lowest-commitment option we found.
If you're visiting Japan as a tourist, I recommend getting a short-term data-only card (you probably won't need voice calling). You can pick one up at the airport when you land in Japan.
SIM Cards in Spain
When we moved to Spain in December 2020, we quickly realized that we needed a local phone number. It was necessary for various administrative reasons and because public WiFi is surprisingly rare in our town (especially compared to Portugal, where free public WiFi was available just about everywhere).
We bought prepaid service from DIGI Mobil (a reseller that uses the Movistar network). The initial fee to activate the SIM was about 25 Euros, which also covered the cost of our first few months. DIGI offers plans for as low as 3 Euros per month. Our current plan, which is 10 Euros per month, provides 10 GB of data and unlimited calls to Spanish phone numbers. It's far more than we ever use.
Any SIM card you buy within the European Union (EU) should work in other EU countries and there are no roaming charges.
Unlocked Cell Phone
To use WiFi and communicate while traveling internationally, you don't need the latest-and-greatest cell phone. In fact, it's best not to have a fancy phone that a potential thief would want to steal.
The key is to have an unlocked cell phone, which means that it is not tied to a particular service provider and can be used with a local SIM card.
What About Cell Phone Providers with International Plans?
Most U.S. cell phone companies have an international plan that you can use while traveling. Some plans even have free data and texting while overseas, although you should read the fine print to see the average data speeds, cost of WiFi calls, etc. The best phone service to use also depends on how much of the year you expect to spend in the U.S.
A few months into our travels, we ditched Verizon and switched to Ting so that we could stop paying for service we weren't using. Never heard of Ting? We hadn't either, until we started researching our options.
We wanted to switch to a new provider, keep our old phone numbers, and find an arrangement that worked with our plan to continue traveling and spending most of the year abroad.
Ting made the most sense for our situation, because they only charge us for what we use. The months when we are outside of the U.S., we pay about $18 to keep two devices activated. As soon as we land in the U.S., we turn on our phones and have regular calling, texting, and data.
Ting no longer offers the pay-for-what-you-use option to new subscribers, but their plans are extremely competitive, and their customer service is excellent. They use the T-Mobile network, and we are able to use WiFi calling when overseas. That means that as long as I'm connected to a WiFi network, my parents and I can call each other just as if I were in the U.S.!
Getting Around
I still know a handful of people who are loath to give up their paper maps, but a little technology makes navigating foreign countries infinitely easier.
It would have been very challenging to find our way around Japan, where signs are written in kanji and many people don't speak English, if we had to rely on maps and the ability to ask locals for directions! These apps have been priceless as we traveled through countries around the globe.
Google Maps
We use Google Maps many times per day while traveling and living abroad, whether we are walking, driving, or taking public transportation.
You are probably aware of the basic functionality: Google Maps provides turn by turn directions to anywhere you want to go. But Google has incorporated a ton of information about transportation options, such as train and bus schedules, so you can plan your day, determine the exact timing of your transportation, and in some locations, calculate the total cost.
For example, let's say I was at our home in Japan, planning to meet a friend at a restaurant the following day at 13:00. I entered the address and mapped it from my apartment. By default, Maps displayed my transportation alternatives for leaving right away. But In the "Options" section I could choose a custom departure time/date or an arrival time/date.
In this case I wanted to arrive at the restaurant by 12:55, so I entered that information and clicked "Done." Then I could see several different options, including routes using the train and/or bus along with the associated cost. I could also see how long it would take to drive or walk.
Using Google Maps is infinitely easier than looking up individual bus and subway schedules and trying to figure out what stops are closest to my destination, especially on websites written in another language!
Google Maps also provides extremely reliable driving directions that reflect traffic delays and construction. It has been accurate everywhere we've traveled, including all over Western Europe and when renting a car in Japan.
Using Google Maps Offline
If you want to use Google Maps to find directions when you won't have access to WiFi, you can map to your destination while you are still online. Leave the app open with your destination mapped when you walk away from the WiFi, and Google Maps will remember the route and directions.
This feature only works if you stay on the pre-determined path. If you stray, Google Maps will not be able to re-route you without a WiFi connection.
In some parts of the world, you can download a local version of Google Maps to use offline. But this functionality is not available in some countries, including Japan. Fortunately, we also have our next favorite app, Maps.Me.
Maps.Me
Maps.me is the app we use to get around overseas when we will not have access to WiFi at all. It's simple and intuitive to use, but you must plan ahead by downloading the maps and routing for the countries or regions you are visiting. From that point on, you don't need a WiFi or network connection to use it, because it's all GPS-based.
You can search for a destination (e.g., the name of a restaurant or a general term like "supermarket"), and Maps.me will provide turn-by-turn directions. If you miss an exit on the expressway or stray off the original path, it automatically re-routes you. The app is free but it's indispensable when driving around a foreign country!
Rome2Rio
Rome2Rio, which has a web-based version and an app, is priceless when it comes to answering the question "What's the best way to travel to . . . ?"
It works well for local, regional, and international transportation. You can use it to find the best way to get to the restaurant across town just as easily as you can find your best option for traveling between Paris and Barcelona.
Enter your starting point and destination, and Rome2Rio will suggest multiple routes with various combinations of planes, trains, buses, and ferries, depending on what transportation options are available. It also provides estimated travel times and price ranges along with links to the providers' websites to confirm schedules and book reservations.
You must be connected to the Internet when using Rome2Rio.
Car Mount for Smartphone
This is not an app or technical device. In fact, it's the simplest little gadget you can imagine, but it works so much better than other similar devices we've seen.
If you plan to use any maps or navigation on your phone while driving, this car mount is definitely worth the investment. It clips onto the vent on your dashboard and holds your phone securely in place.
You don't have to worry about it falling on the floor while you're driving, and it's not made of "adjustable" plastic that jams or cracks when you try to change the size. We have this little clip with us at all times while driving.
Language Translation
My Japanese is elementary at best, and even in foreign countries where my husband or I speak the language, there are always words we don't know. So whether we are trying to converse with a real estate agent in Japan or ensure we are not ordering pig's innards in France, we use a translation app.
Google Translate
We have used Google Translate all over the world, and it was part of our daily life in Japan. You can enter text in any language to see the translation into another language.
It also has a feature that allows you take a picture of text to read the translation of words or entire paragraphs. This function is critical in a country like Japan that does not use the Roman alphabet. We use this feature of Google Translate to read menus, use appliances, and figure out what we are buying at the grocery store.
Google Translate is not perfect, so the translations don't always seem logical. Sometimes the English phrases I translated to Japanese were met with blank stares. However, my husband and I managed to use it for tasks ranging from operating our air conditioner to joining a gym.
Device Connectivity & Charging
To make all the technology work for us, we need two things: WiFi and fully-charged cell phones. Here's what we use to ensure we have both.
Retractable USB Cables
You can have greater flexibility when charging your electronic devices and avoid the need for multiple country-specific plugs by using USB cables.
In one recent experience, I had a layover in Seoul on my way back to the U.S. I wanted to charge my phone but did not have an adapter for Korea. Fortunately, the coffee shop I visited also had USB plugs, so I was not left with an empty battery at the end of my 4 hours in the airport.
I definitely recommend getting retractable cables. They work wonders when charging your phone in the car and will save you headaches when you don't have to pull knots out of your electronic cords.
These 3-in-1 retractable cables work for Apple and Android devices, plus they have both a micro and type c USB. No matter what type of device you have, you can charge it!
Lightweight Portable Charger
Sometimes we don't have access to an outlet. That's why it's important to have another power source to charge our phones when our batteries are low. This small, high-speed charger weighs only about 6 oz and works with both Apples and Android devices.
Dual USB Car Charger
Navigation apps drain a phone battery pretty quickly, which is why we always travel with a USB car charger. We leave the phone plugged in to ensure it doesn't die halfway to our destination. With this charger, we can plug in two USB retractable cords at once, so we both have fully-charged phones when we arrive.
So there you have it. These apps and devices keep us connected, help us communicate, and prevent us from getting lost. They are all simple to use and either free or inexpensive, but they are all priceless!
Related Reading:
Packing for Long Term Travel: Advice and Essential Gear
Using Airbnb: Tips for First-Time Guests