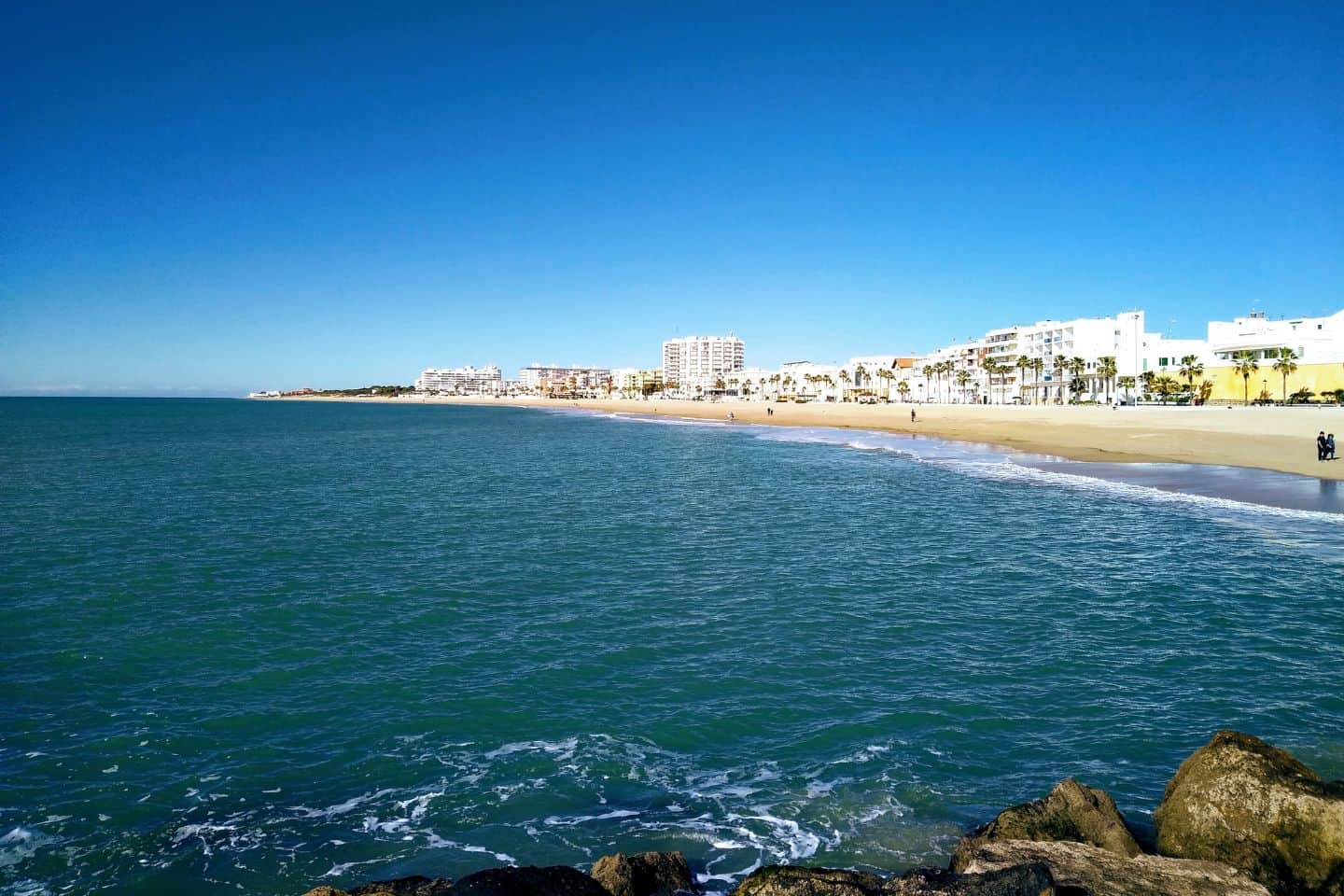 After traveling and living around the globe since 2015, we've landed on the southwestern coast of Spain! As of December 2020, the beautiful seaside town of Rota is our new home base for at least a year. It took time, organization, patience, and a sense of humor to get us here, but with the beach pictured above as our new playground, it was well worth the effort.
This article chronicles Part 2 of our journey to move to Spain. In Part 1, we explained how to apply for a Spain Non-Lucrative Visa (NLV), also known as a Retirement Visa, and offered important tips for the application process.
Make sure you read Part 1 so you don't miss the details of the NLV process.
Now that we've gone through the full Spanish residence visa process and are settled in our apartment by the beach, we are ready to pick up where we left off in Part 1. As promised, we can now explain the logistics of getting to Spain, obtaining our residence cards, and setting up shop here in Rota.
We hope you can use our experience as a guide to make your transition to Spain easier!
Contents (click to expand)
Receiving our NLVs
From the day we first submitted our paperwork via e-mail to the San Francisco (SF) consulate until the day we received our passports with visas in the mail was approximately 4.5 months. Keep this in mind as you build your timeline to move to Spain. Timing will vary for everyone, but know that in most cases, it will take 1 – 4+ months to complete the NLV process.
Part 1 of this article explained the application process up to the point of submitting our documents via e-mail to the SF consulate.
At the end of October 2020, after the SF consulate reviewed and finally approved the electronic copies of our NLV application materials, they told us to mail our original documents, passports, and payment. Their e-mail provided specific instructions for what to send, how to send it, and how to pay. This request was the indication that the copies of our documents submitted via e-mail met the requirements for the NLV and that the SF consulate could submit our application to the authorities in Spain.
We mailed our application materials from the post office the next day, and the following week, we received another e-mail from the SF consulate with our "Visa Enrollment Receipt." They told us to log into their system using the code on the Enrollment Receipt and verify that all of our information was correct. From that point forward, the online system was our means of checking the status of our visa application.
The e-mail from the SF consulate stated that it usually takes 20 to 25 business days to receive approval from Spain, but our visa was approved less than 2 weeks later. We received our passports with the visas inside and all of our original documents (in the pre-paid envelope we had provided) in mid-November.
The effective date of our visa was 1 December 2020, which was the expected date of arrival in Spain that we had indicated on our visa application.
Two important things to note about the visa:
Logistics of our Move to Spain
With passports and visas in hand, "all" we had to do was figure out when and how to travel to Spain in the midst of a global pandemic.
Traveling During COVID-19
This proved to be a logistical challenge. Spain had recently announced a new requirement for incoming travelers to show proof of a negative COVID PCR test taken less than 72 hours before arriving in country. Spain would accept digital or paper test results, but the results needed to include the traveler's passport number and details about the testing facility.
At the time, Spain was one of the first countries to implement that requirement, and it was stricter than many other countries that only required incoming travelers to take a test within 72 hours before boarding their flight.
With that in mind, we wanted a direct flight from the U.S. to Spain to give ourselves a bigger cushion to receive our test results and to eliminate possible problems caused by a delayed/canceled flight transiting another country. The only direct flights to Spain we could find were from New York and Miami.
We decided to go with Miami (if, for any reason, our departure was delayed, we thought Miami was a better place to get stuck during the month of December). After extensive research, we found a lab that guaranteed next-day PCR test results and could fulfill the other requirements. Having confirmed our departure city, we booked our flight to Spain less than a week before travel.
We flew into Miami, had our PCR tests on a Friday morning, got our results via e-mail on Saturday afternoon, and boarded our flight to Spain less than 5 hours later. We flew from Miami to Madrid, and then connected to Seville. Fortunately, all went smoothly, and we did not have any delays.
Planning the Logistics of Our Arrival in Spain
Between the time we received our test results and when we departed for Miami airport, we could finally book a rental car, a hotel near the Seville airport, and a one-week Airbnb in Rota. We waited until we felt 100% certain of our arrival in Spain to make those reservations so that we would not have to deal with cancelations.
Although our plan was executed last minute, it was thoroughly strategized in advance. We had mapped out our first couple weeks in Spain and what we needed to accomplish, so we planned our logistics accordingly.
We knew that we would need to find an apartment asap so that we could complete the final steps in obtaining our Spanish residence (discussed below). We planned to stay in an Airbnb in the meantime, so we identified an apartment we liked and corresponded with the host to ensure he would be ready to accept our reservation request when we submitted it.
We also decided to rent a car for our first month, and my husband found a very competitive rate at a location near the Seville airport.
Finally, we were scheduled to arrive in Seville on a Sunday afternoon, and we knew that by the time we collected our luggage and rental car, it would be late in the day. So, we booked a room at the Hilton Garden Inn, a very nice hotel (with an incredible breakfast) only a short drive from the Seville Airport and two blocks from the only Costco in the region.
Staying one night in a hotel allowed us to get a fresh start the next day, pick up a few essentials at Costco before driving to Rota, and arrive at our Airbnb in the daytime.
Obtaining our Spanish Residence Cards
As noted in Part 1, obtaining an NLV is only the first step in the process of becoming a legal resident of Spain. There are a few more important steps after arriving in country.
Ultimately, the goal is to get the Tarjeta de Identidad de Extranjero, or TIE. It's essentially a foreigner ID card, and for residents on a new NLV, it is valid for 1 year. At the end of your first year, you can apply to renew it for 2 years.
Officially, you are supposed to apply for your TIE within a month of arrival in Spain. In practice, it's very difficult to do so within that timeframe, because each step in the process can take several weeks.
The first step in getting the TIE is to register as a resident of the town where you will reside. This is called getting your Empadronmiento certificate (padrón for short), and to obtain it, you must show proof that you live there. In our case, we showed our apartment lease.
As with the NLV application process in the U.S., the exact process for obtaining a padrón and TIE varies by location in Spain. I'll explain how it worked for us in our town of fewer than 30,000 residents and then share what I know of others' experiences.
Establishing Proof of Residence (el Padrón)
After we found an apartment and signed our lease, a local friend went to the Rota town hall and made an appointment for us to apply for our padrón. The appointment was nearly 2 weeks later. We brought our apartment lease, passports, and the completed application form.
Note: until you get your TIE (the ID card), you may have to point out to authorities in Spain that you already have an NIE (the ID number) and that it's written in the visa stamped into your passport. We've had to point it out numerous times in response to insistence that we couldn't do something (e.g., get our padrón, open a bank account, etc.) because we didn't have an NIE.
The appointment to apply for our padrón lasted only a few minutes, but they told us it would take about 2 weeks to get our certificate. Later that day, a police officer stopped by our apartment to verify that we actually lived there. We hadn't known about that part of the process before he showed up, but fortunately, we were home.
Approximately 2 weeks later, we went to the follow-up appointment they had given us, but our certificate still was not ready. However, this time, they gave us an application form called Solicitud de Certificados y Volante de Empadronmiento Colectivo. This form – stamped with their seal – was enough to apply for our TIE.
TIE Application
Prior to applying for the TIE, we stopped by the National Police Station in Rota and obtained their checklist of what we needed to bring for each applicant:
When we had gathered everything on the checklist, we went back to the National Police Station (no appointment), waited for the person who deals with extranjería (foreigners) and presented all of our documents. She processed our application, took our fingerprints, and gave us each a stamped document that shows we applied for our TIE.
Our cards will be ready in about a month, but until then, that document serves as a temporary card and makes us "legal" in Spain. (Update: our cards were ready about two months later. The expiration date is a year from the date we landed in Spain.)
Variations on the Process
That's how the process worked for us in Rota, but that's not how it works everywhere in Spain, especially in larger cities or those with a high population of foreign residents.
As mentioned in Part 1, we joined several Facebook groups to learn from others' experiences applying for an NLV and moving to Spain. Anecdotally, people who moved to major cities like Madrid, Valencia, or Málaga received their padrón certificate on the spot when they applied for it. However, they had to schedule their appointment to apply for their TIE months in advance using this online system.
In some cases, the first available appointment was not for several months, so it's advised to schedule your appointment asap (you can schedule it before you arrive in Spain – just make sure you leave enough time to gather the other information required to apply).
Other group members shared different variations of the padrón/TIE application experience. As with the initial NLV application in the U.S. you must do some research to figure out how the exact process works in the city you intend to live.
As a starting point, here are several Facebook groups that we have found helpful:
American Expats in Spain
Tapas Forever
Spain Immigration and Residency Questions
Setting Up Shop in Spain
While some Spanish consulates in the U.S. require a signed lease to apply for an NLV, it was not a requirement of the SF consulate at the time we applied. We had done some online research in advance of our arrival but only enough to give us a general idea of what was available.
We used several channels to search for apartments:
Airbnb
Some hosts are willing to rent long term, and the upside of this option is that you can read reviews from past guests. If you go this route, I do not recommend committing to a long-term rental before you've seen it in person.
The Airbnb where we stayed our first week looked so fantastic in the photos that, before we arrived, we were planning to ask the host about renting it long term. While the apartment was very nice with an incredible balcony overlooking the beach, some aspects of it were not a fit for a year-long stay.
We inquired about the possibility of renting the Airbnb where we stayed last winter for nearly 3 months. They offered us a good price, but it did not have parking (no problem in the winter but a deal-breaker during Rota's busy summer months).
Facebook
Options on Facebook include Facebook Marketplace, community groups or buy & sell groups for your city/province, and word of mouth. We looked at several properties we found on Facebook along with others shown to us by realtors who had posted listings in the group. Facebook is ultimately how we found our apartment.
Other Spain Apartment Websites
We looked at sites such as Idealista, and Fotocasa, but they did not have much inventory in our little town of Rota, and most of what they did have were the same listings we saw elsewhere.
Tips for Choosing an Apartment in Spain
When searching for apartments, our checklist for a 1-year rental included all of the features we look for in shorter-term rentals.
Other things to consider before renting an apartment in Spain:
Information for U.S. Military Retirees Moving to the Rota Area
If you're a military retiree thinking of moving to Rota, you are in good company! The Rota area has many retirees. Some work as civilians on the base, others are married to Spaniards, and a smaller number, like us, are here on an NLV.
The base Retired Activities Office (RAO) provides great support for local retirees. They are located in the Fleet and Family Support Center (FFSC), Building 3269. You can contact them at 34 956 82 3232.
Here are a few other things to know specifically about moving to this area:
Access to Naval Station Rota
U.S. military retirees and their dependents living in the province of Cádiz can obtain a 1-year pass to access Rota Naval Base (retirees and dependents living outside of Cádiz or visiting Spain can obtain short-term passes at the gates). To obtain the annual pass, you must bring your military ID card and either your TIE or your Solicitud (application) for your TIE to the base security office.
Retirees and their dependents can use the following services and facilities on Rota Naval Base:
Retirees living in the province of Cádiz can also request a Fleet Post Office (FPO) box on base. Per the DoD Postal Manual, retirees are limited to receiving/sending items weighing 1 lb or less.
Retirees cannot shop at the commissary or the main Exchange*, nor purchase fuel or rationed items. That's it. Those are the only restrictions. All in all, living in the Rota area is a great deal for retirees!
*Retirees CAN make purchases from the Navy Exchange store online and have them sent to the store on base. If the item is in stock at the store, you can pick it up the next day.
Renting an Apartment in the Rota Area
As described above, we conducted much of our apartment search via Facebook, and the apartment we ultimately chose was posted by a local base employee who was sharing a friend's listing.
To find Facebook groups with apartments near NAVSTA Rota, start searching with words like "Rota rentals" or "Rota housing," and you will see numerous groups (you will also see the same listings over and over).
In many cases, the properties are posted by local real estate agents, and after you connect with them, they can send you more properties that fit your criteria. Keep in mind that unlike in the U.S., a single agent only shows you "their" listings, so to expand your search, you must work with multiple people.
Of course, when you search for housing using channels connected to the base, you are seeing properties targeting Americans who have a housing allowance, so the rents are much higher than what locals pay. Many property owners rent exclusively to Americans because they can charge so much more.
As a retiree, you can explain that you aren't receiving a housing allowance and negotiate the price down, but it probably won't be a "local" rate. Having said that, what you get for your money varies by location. Not surprisingly, beachfront property comes at a premium.
Moving to Rota with visions of a balcony overlooking the beach, we did not want to live inland. We rented a 2-bedroom apartment with a (partially obstructed) ocean view balcony and rooftop terrace for the same price that we could have rented an entire 3 BR townhouse with a backyard less than a mile away.
Figure out what's most important to you and, again, before you sign a lease, visit enough properties to get the lay of the land and understand what you should expect to pay. To give you an idea of prices, the 2-bedrooms we saw ranged from around €900 to €1,400, but most listings said "negotiable."
One possible lever for negotiating rent is offering to vacate the apartment in the summer. The busy summer season in Rota is primarily July and August. Landlords can charge several times the normal price to vacationers who flock to Rota from Madrid and Seville. The population of Rota swells from under 30K to nearly 100K, and while it's a fun atmosphere, local life in Rota is much more relaxed in the other months. If you are light on your feet and can go elsewhere during the summer, you may find a landlord who will cut you a deal for a September – June lease.
On a related note, try to avoid moving to Rota right before or during the summer. You will have more options and better bargaining power with a landlord who is facing the possibility of receiving no rental income for several months.
Another thing to keep in mind is that many Rota area landlords are accustomed to renting to active duty folks who can borrow major appliances from the base. Retirees do not have that option, so in order to offer you a "furnished" apartment, your landlord may supply you with whatever old washing machine, refrigerator, or microwave they have in storage. Make sure you see and test those appliances before you sign the lease, and if necessary, negotiate the purchase of new ones.
The same goes for furniture. If you don't like what they've supplied, you can ask them to replace it or confirm that they will remove it if you buy your own, but negotiate all of that before you sign the lease.
Final Advice on Moving to Spain
We have now lived in Spain for nearly 2 months, and we've knocked out all of the tasks we absolutely needed to complete. We still have a few things on our to-do list, including buying a used car and adding a few personal touches to our apartment, but we aren't in a rush.
If you move to Spain, I recommend giving yourself a chance to settle in before you run out and buy everything you think you might need. Complete the essential tasks, but take time to figure out your day-to-day (battle rhythm) before you spend a ton of money on things you won't use.
For example, we were thinking of buying a moped but decided that a car and a bicycle work fine for now. We were also researching our options for faster WiFi than was provided by our landlord, which would have meant contracting with a provider and possibly opening a Spanish bank account solely for the purpose of paying the monthly bill. Ultimately, our landlord installed faster WiFi in our apartment, so we are glad we didn't go through all that hassle.
As with the NLV application process, organization and patience are key, and remember, there's only so much you can do to influence the timeline. In the meantime, sit back, have a cerveza, and enjoy your unbelievable new life in Spain!