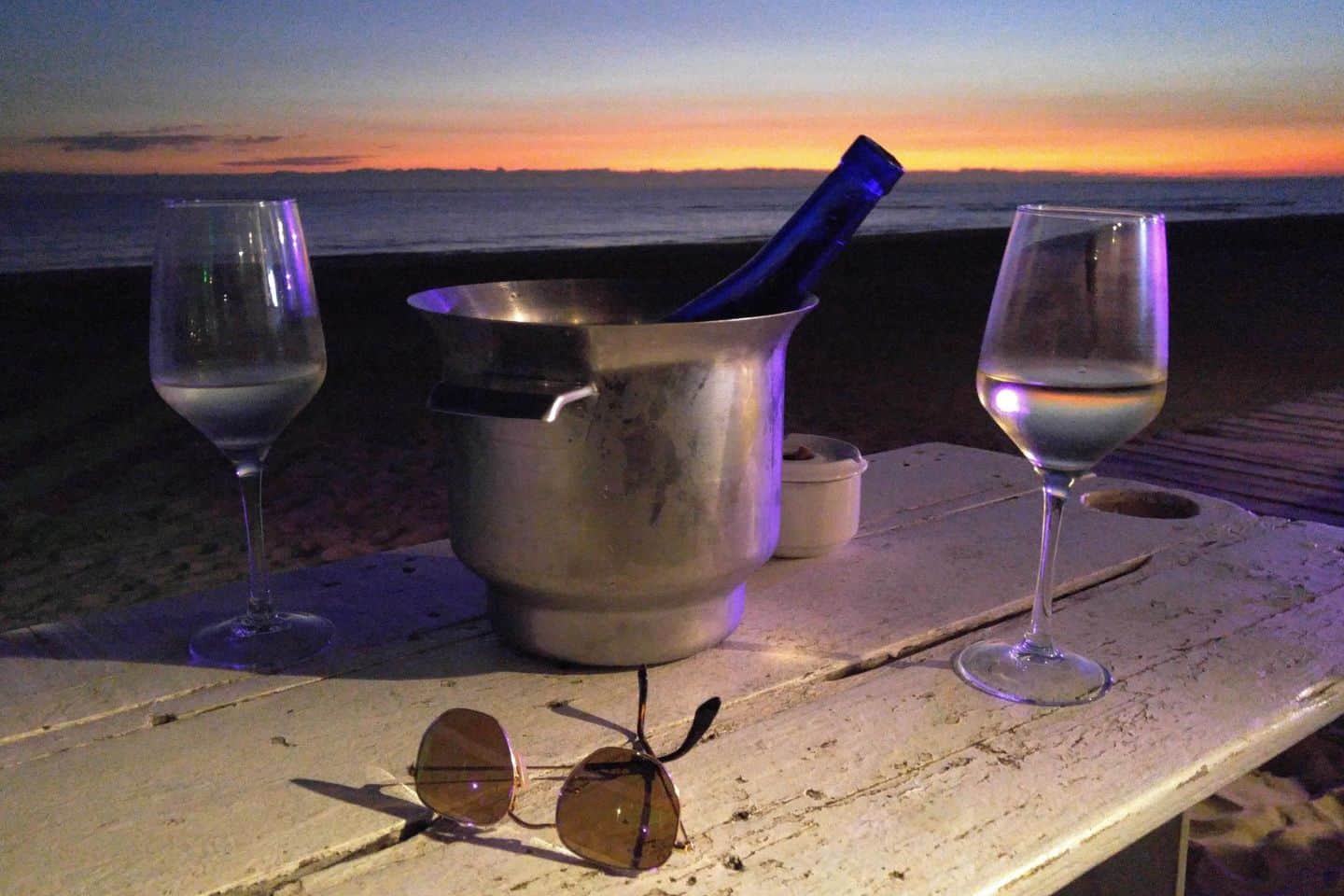 To jump straight to our recommended best practices for successfully obtaining a Non-Lucrative Visa click here. This article was originally written in Fall 2020 and reflects procedures and restrictions that were in place at that time.
Like many of you in the U.S., we've been hunkered down for the past several months, waiting for the world to reopen. Our whirlwind travels since my husband retired from the Army in 2015 came to a halt in February 2020, when we arrived at Joint Base Lewis McChord (JBLM) on a military Space-A flight from Naval Station Rota, Spain (NAVSTA Rota).
Now, more than 8 months later, we are in the final stages of the process to apply for Spain's Non-lucrative Visa (NLV) aka the "Spain Retirement Visa." Then, we're off to Rota, a seaside town on the beautiful Costa de la Luz. The NLV is a temporary residence permit that will give us the authorization to live (but not work) in Spain for one year with the option to renew and to obtain permanent residency after 5 years.
In this post written by my husband, the first of a two-part series, he explains how we are preparing to move to Spain at a time when the European Union (EU) has imposed travel restrictions on American tourists. He also shares advice about applying for an NLV for those of you dreaming of living in Spain someday.
Part 2 of this article explains the logistics of getting to Spain, obtaining our residence cards, and setting up shop after arriving in Rota.
Contents (click to expand)
Assessing the Safety of Moving to Spain from the U.S.
As all of you who follow Poppin' Smoke know, we are travelers. We have been circling the globe for the past 5 years, living and traveling, using our military benefits anywhere and in any way that we can.
But, first and foremost, we want to travel in a safe and responsible manner. That is why, prior to traveling to a country, we do our research using the Department of State (DoS) Travel Advisory Site. After our assessment and research, we go through a thorough decision-making process. We don't travel to high-risk countries: why do that when there are so many other safe countries to visit?
The DoS gives Spain a rating of Level 3 (Reconsider Travel), which is the rating for many countries at the moment. However, there are other criteria to consider in the assessment.
We researched how Rota is faring in the fight against COVID, and the area is doing quite well. NAVSTA Rota's Base Commander is leading the charge in that community and is lock-step with the local authorities in their fight against this pandemic. Plus, the province of Cádiz (where Rota is located) is also doing well relative to the rest of Spain.
We are closely following the news in Spain and are aware of the measures that the Spanish government is taking to control COVID, including mask requirements, curfews, lockdowns, and local border closures.
Finally, as all military members know, the best intelligence available is human intelligence (HUMINT), so that is what we obtained. We contacted Americans and locals on ground in Spain and collected HUMINT.
After assessment of our HUMINT gathering, we laid out all of the pieces and decided that in the Rota area, health risk is less than or equal to our risk here in the U.S. In addition, we are comfortable with the local measures in place to limit the spread of COVID.
We do not take this decision lightly. We don't want to add to the problem of the NAVSTA Rota community. We want to become a part of that community, living there in a responsible way.
Traveling to Spain as a Resident
As you may know, the EU has developed a list of countries whose citizens can enter the EU as tourists. That list is dynamic, based on how countries outside the EU fare in their fight against COVID-19. As of this writing, American tourists are still restricted from travel to the EU.
However, the EU outlined some exemptions from restrictions on travel to the EU. One exception to the travel ban is that people outside of the EU who apply and are approved for long-term residence can travel to and from EU countries.
Prior to applying for a residency permit in any country, especially while American tourists are still restricted from travel, we highly recommend you contact the embassy/consulate of that country and ensure they are processing long-term visas. As of this writing, Spain is one of those countries that is still processing visas and allowing long-term visa holders to travel to their country.
| Related Reading: An American Expat Retiree in Portugal
Applying for a Long Term Visa
To apply for a long-term visa to stay in Spain for more than 90 days, you must apply through the Spanish Consulate General (consulate) corresponding to your state of residence. The map on this page shows which consulate you must use. Our state of residence is Washington, so we applied through the San Francisco consulate.
After you've determined which consulate corresponds to your state, visit this page, find the U.S. flag, and click on it to see links to the individual consulates in the United States. Follow that particular consulate's procedure to apply for your long-term Spanish visa.
You will note that Spain has numerous options for long-term visas. We are applying for a Non-Lucrative/Retirement visa (NLV), so the following information pertains to that visa only – we do not have experience applying for any other type of visa in Spain.
| Related Reading: Interview With a Military Retiree Working at NAVSTA Rota
While the main requirements for obtaining an NLV are the same for all consulates, the exact documentation needed and the application procedures differ in each location. In addition, due to COVID, the procedures have been in flux, so you must keep checking with your consulate for updates.
For instance, prior to COVID, the San Francisco (SF) consulate required applicants to make an appointment via their website for an in-person interview to initiate the application process. At the appointment, you submitted your application materials in hard copy along with your passport and payment of the visa fee.
After the consulate approved your application, you had to travel to SF again to pick up your passport containing the new visa.
In recent months, to limit physical contact, the SF consulate has changed their procedures. They are not accepting appointments through their website. Instead, they require applicants to email their documents to begin the application process.
The consulate will review your application, and if your documentation is complete and satisfies the requirements, they will ask you to mail the hard copies along with your passport, payment, and a self-addressed, postage-paid envelope. Once your visa is approved, they will mail your passport with the visa to your home.
This is the current procedure in SF, but it can change at any time, so you must check with the consulate prior to applying. The same is true for all other consulates; confirm their current process before you apply.
Best Practices for Applying for a Spain Non-Lucrative Visa
As noted above, each consulate provides a list of requirements to apply for an NLV. We will not list each requirement here, because each consulate is a little bit different. Instead, here are some basic learning points we want to share with you in applying for your NLV:
Apostilles
Many documents require an apostille, which is a form of authentication issued to documents for use in countries that participate in the Hague Convention of 1961. Basically, it is a notary public seal for international use.
In each Spanish consulate's visa information section, they will tell you which documents must have an apostille.
You must have federally-issued documents apostilled by the U.S. Department of State. All state-issued documents are sent to the respective state's Secretary of State for an apostille.
Timing
The entire NLV process is time-sensitive. Marriage certificates, birth certificates, police records, and medical certificates must have been issued within 3 months of the day you submit your application.
You must time all of this correctly, or else a document you acquired too early will expire by the time you receive another. You must also take into account the time required for apostille authentication AND the time needed to have documents translated.
Note: among the items that you need to plan ahead to obtain is the "criminal record certificate" from your home country AND from any country of residence in the past 5 years. We lived in Japan until 2019, so we needed to request a police report through the Japanese Embassy, and it took 2 months.
The first thing to do before gathering any of the documents is to make sure you understand how and when you can get an appointment (if needed) at your consulate. If the next available appointment at your consulate is not for several months, you should wait to begin gathering time-sensitive documents to ensure that they will not expire prior to your appointment.
Organization
The NLV process generates a lot of paperwork, so organization is key. Have sticky tabs or another system to keep your documents separate. Also, use a spreadsheet or checklist to track the status and important dates related to each document you are compiling for your application.
In general, you must actively manage this process to ensure nothing falls through the cracks. It involves a lot of waiting punctuated by flurries of activity, usually with something that requires a quick turnaround, so make sure you give it your full attention.
Medical Insurance
NLV applicants are required to provide proof of medical insurance. The coverage cannot have copayments or waiting periods, and it must include repatriation of remains.
The SF consulate did not accept our TRICARE military health insurance as proof of coverage, so we had to purchase private health insurance from a Spanish company. It was a painless process but cost us about $2,000 for one year (the total cost depends on age and number of family members, and it will vary by applicant and insurance company).
Proof of Sufficient Funds
Follow your consulate's guidance for the financial requirements. The SF consulate wanted 3 months of bank account statements. Some consulates require more history or even a personal income tax return.
If you're retired military, the Defense Finance Accounting Service and the VA websites will spit out official letters to verify your retired pay and VA compensation, if applicable, but these letters were not accepted by the SF consulate as proof of sufficient economic means.
| Military? Join Poppin' Smoke's Facebook group for veterans living overseas!
It's a good idea to provide exactly what the consulate requests for each requirement. As we learned, if you submit documentation that you think is a substitute for what the consulate requests, you will waste time and money on translations.
Translations
Each consulate instructs you to have specific documents translated. You can only use translators certified by Spain. The list provided by the consulates was more than 1,500 pages and included translators around the world.
We chose a translator from that list and highly recommend her. Her name is Irene Igualada (igualada.stranslator@gmail.com). Irene is professional, efficient, prompt, and reasonably-priced. Most important, her communication and responsiveness are excellent, which is critical with such a time-sensitive process.
Checking the Status of Your Application
If there is one thing we would have done differently, it's following up on our application sooner than we did.
We submitted our documents via e-mail on 1 August, and a few days later, they requested bank statements (see the note above about proof of funds). We replied promptly with the bank statements, but then we did not hear from them for a month.
When we followed up via e-mail, they told us that they had not received the bank statements, and in fact, the person who responded did not know what we were applying for. So, we re-submitted our entire application on 8 September, having lost more than a month of time.
Lesson learned: we should have been more persistent in our follow-up.
As previously stated, each consulate works differently, and your consulate may have a phone number that you can call to ask questions or inquire about the status of your application. The only contact info we found for the SF consulate was an e-mail.
Spanish Consulates in Your State
Besides the nine Consulates General that issue NLVs, many cities in the U.S. have smaller Spanish consulates that provide limited services. If you live in a state with one of these smaller consulates and need additional assistance, try contacting them.
You can find a list of of all U.S. consulates here. Please note that this page is NOT an official website of the Spanish Embassy and incorrectly states that all U.S. consulates issue visas. However, you can use the page to find contact information for the consulate closest to you.
Learning from Other Visa Applicants' Experiences
As we began the NLV application process, we joined several Facebook groups for American expats in Spain. The advice and tips shared in these groups proved very valuable, particularly as they related to application processes during COVID.
For example, as of this writing, the SF consulate website gives no indication that they are accepting NLV applications via e-mail. We found out that we could apply this way through a fellow group member who was also applying through SF.
If not for the information gathered from the group, we would still be waiting for SF's online appointment system to re-open (and all of our time-sensitive documents would have expired in the meantime).
We also used the groups to obtain recommendations for insurance brokers and to learn about others' experiences moving to Spain in the midst of COVID.
If you join a Facebook group, please remember that each consulate has its own application procedures, so a group member's experience with the Miami consulate may not be what you can expect with the Houston consulate, for example.
Also, this goes without saying, but do not take legal or financial advice from anyone in those groups. Use the information to figure out what you need to research and verify through official sources.
What's Next in the Process?
As of 1 November, the SF consulate has received our passports and the original versions of our documents. They told us that it usually takes 4 – 6 weeks to receive our passports with our visas.
While we wait, we will continue monitoring the situation in Spain. We have 3 months from the date our visa is issued to arrive in country. We will not book flights until we have our passports in hand.
After arriving in Spain, we must obtain our residence cards within one month. That process will require more paperwork and more time dealing with Spanish authorities, including the National police station or immigration office. Getting the NLV here in the U.S. is only the first step in moving to Spain!
We are excited for this new adventure and look forward to becoming part of the NAVSTA Rota community. We will keep you posted on our travels here on Poppin' Smoke, on our Facebook and Instagram pages, and via email.
Update! We moved to Spain in December 2020! Read Part 2 to learn about what it takes to get a "TIE" (a residence card or foreigner's identity card) and become a legal resident of Spain, plus everything we had to do to get settled in Rota!