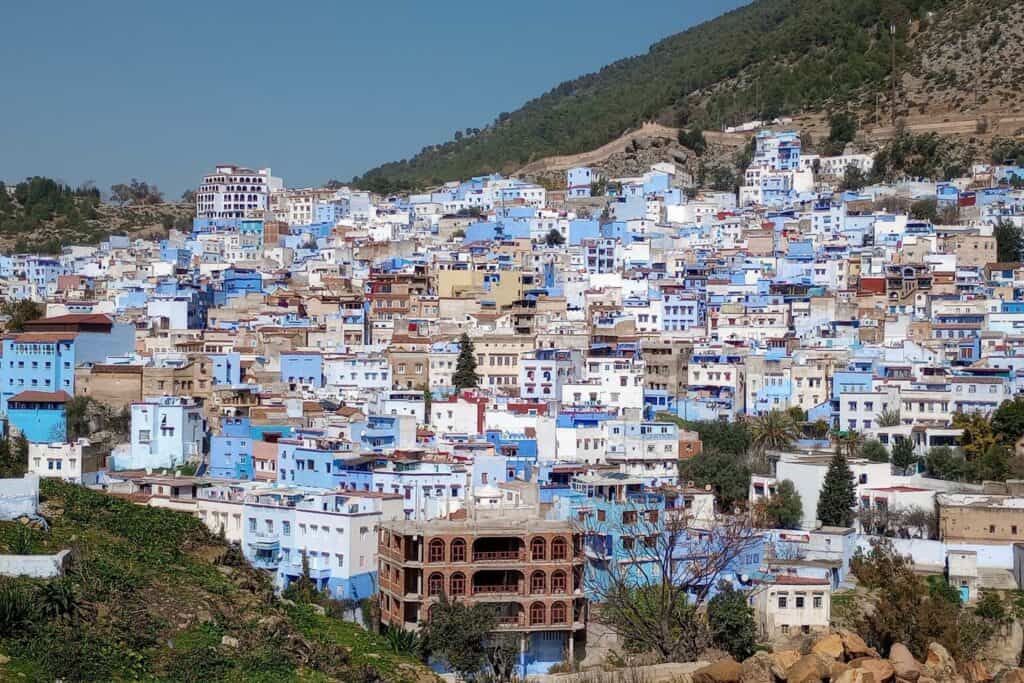 Morocco is easy to visit from Spain, and if you have the opportunity, don't miss it!
My first time visiting Morocco was not until I had lived in southern Spain for more than 2 years, and I was hooked as soon as I arrived.
The landscape is beautiful and mountainous. The cities are colorful and vibrant. The people are warm, friendly, and welcoming. And the food is flavorful and delicious!
I traveled to Morocco during the month of February with my aunt and cousin. We took the ferry from Tarifa to Tangier and did a private two-day guided tour. As soon as I returned to Spain, I was looking forward to my next trip to Morocco!
In this article, I'll share highlights from the two cities we visited: Tangier and Chefchaouen (aka The Blue City). Then, I will give you details on the tour guide we used and offer some tips and logistical info to help you plan your trip to Morocco!
Note: I used the English spelling of names and places throughout this article. You may see the French and/or Arabic spellings on Google Maps and elsewhere.
Day 1: Tangier
We took the 09:00 ferry from Tarifa and arrived at 10:00 giving us the full day to explore Tangier. Our guide was waiting for us, and we hopped in the van to begin the first part of the tour.
As we drove out of the ferry port, our first views of Tangier were spectacular. The landscape is a striking mix of old and new as the Old City and the Casbah sit on a cliff overlooking the wide, palm tree-lined boulevard along the sea.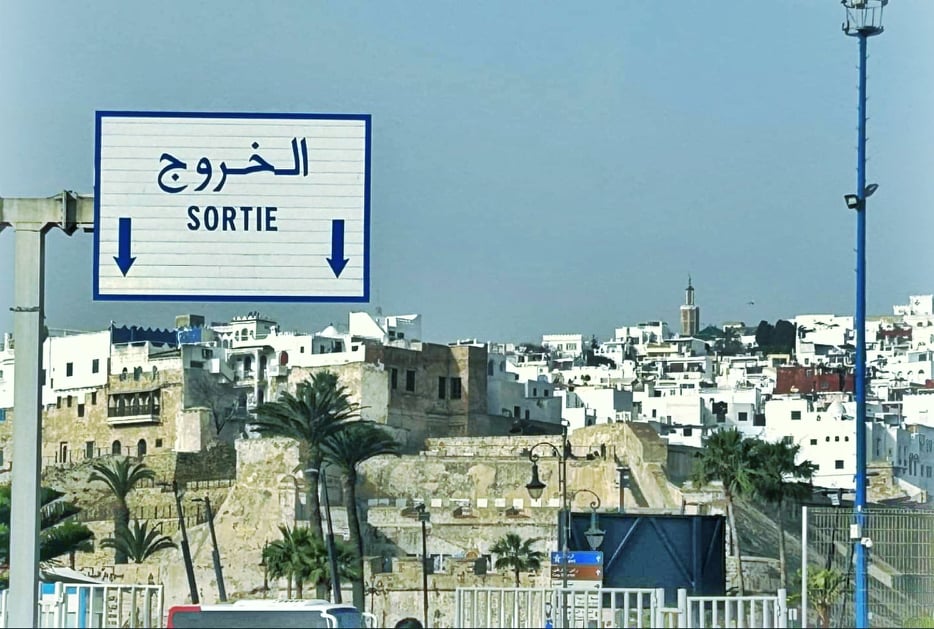 Our guide explained a bit about the history of Tangier and the differences between the Old and New cities. We first toured the latter, which included a beautiful drive along the road through Cape Spartel nature reserve.
We passed several impressive estates, including the summer palace of Morocco's King Mohammed VI.
Other highlights of the New City included:
Cape Spartel: This is the northwestern-most point of mainland Africa and about 1000 feet above sea level. It towers above the Strait of Gibraltar, where the Atlantic Ocean meets the Mediterranean Sea.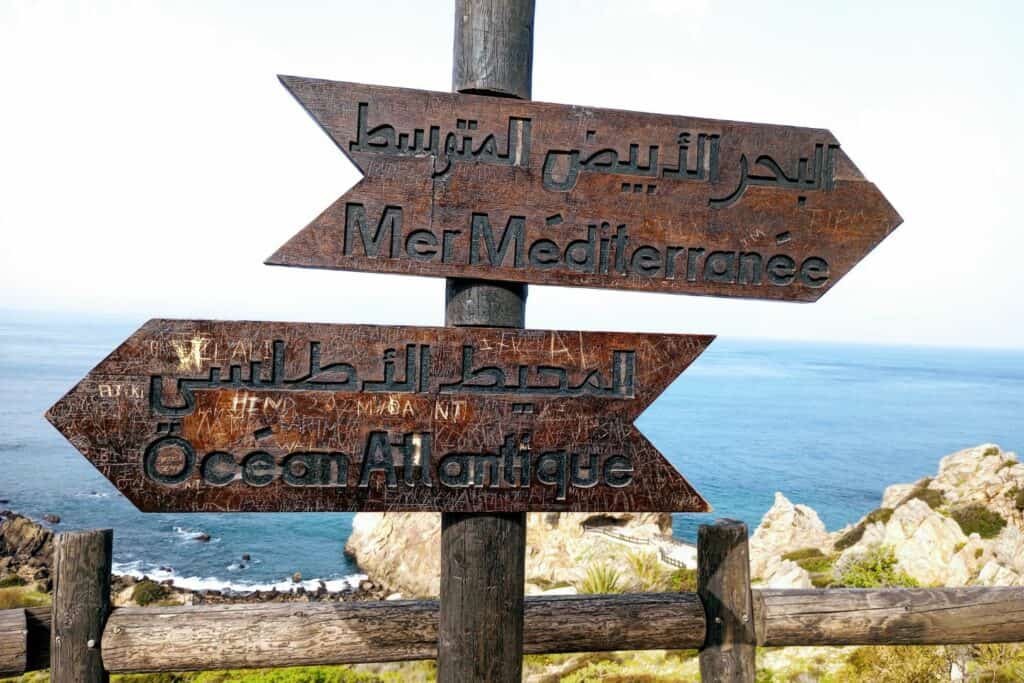 Camel Rides at Achakar Beach: If you take a tour in Tangier, more than likely you will have the opportunity to ride a camel down to the beach. Our tour was no exception!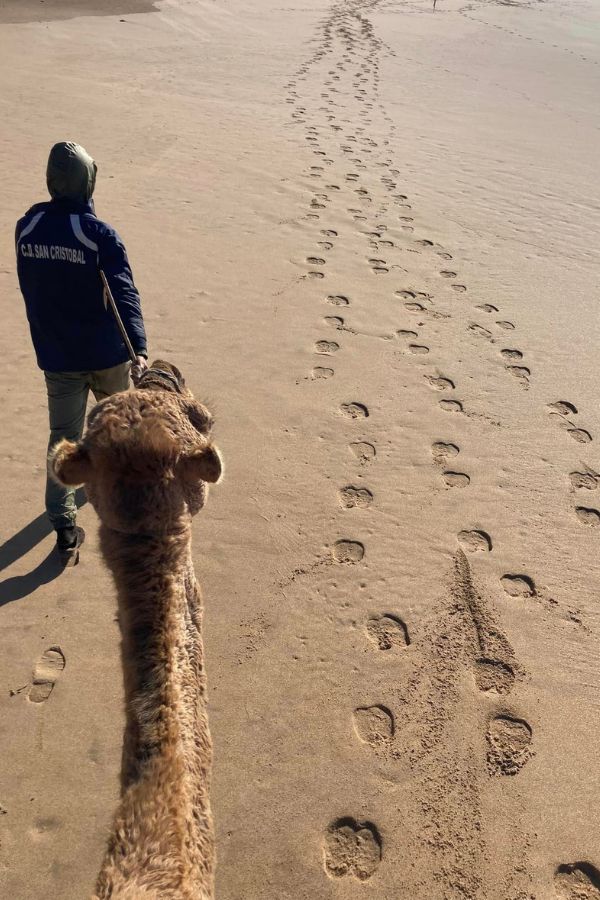 Caves of Hercules: These famous archeological caves are below the cape and date back to 6000 B.C. They have an opening on land and another to the sea. The latter opening is carved in the shape of the African continent.
We then visited the Old Town, or "Medina." It was mostly a walking tour through the winding, narrow streets. Every turn revealed something colorful and interesting.
As lunchtime approached, we wanted to follow our noses to the source of the mouthwatering smells! (We had a delicious lunch at a traditional Moroccan restaurant recommended by our guide).
Highlights of the Medina included:
Casbah – Built in the 17th century, this fortified area of the Medina sits atop a cliff overlooking the sea. Within the walls is the former royal palace, which is now a museum, plus a mosque, residential area, and numerous cafes/restaurants.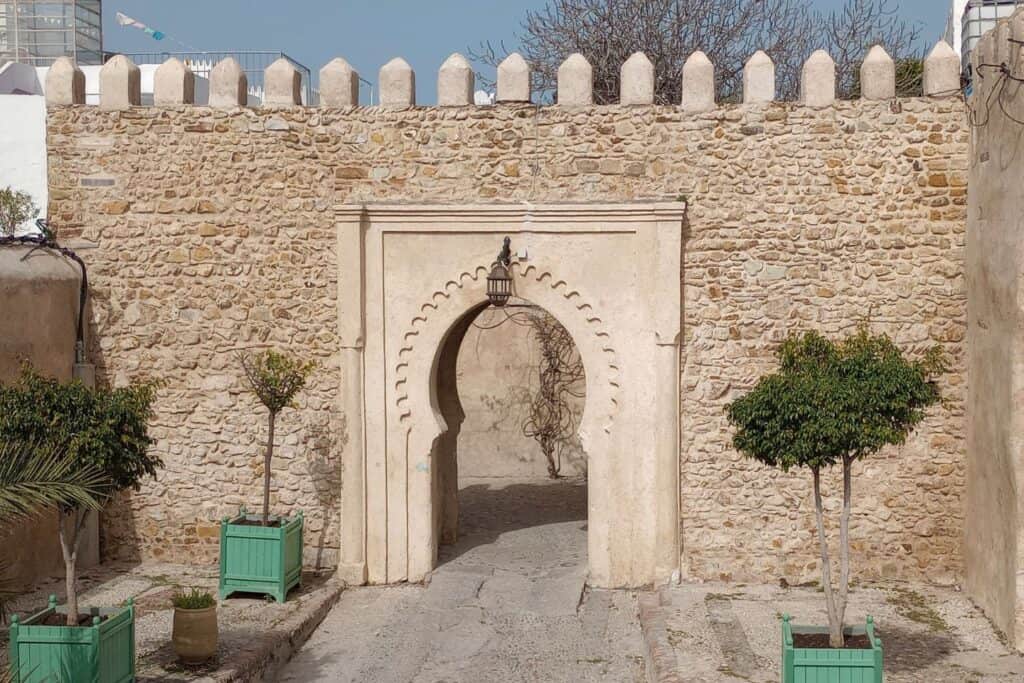 Souk – This is the market area, bustling with hundreds of shops selling everything from artisan crafts to electronics to natural remedies.
You can find nice souvenirs and gifts at any price point. Among the three of us, we bought scarves, jewelry, and a rug!
Remember that bargaining is expected in the souk, so you can and should negotiate the price.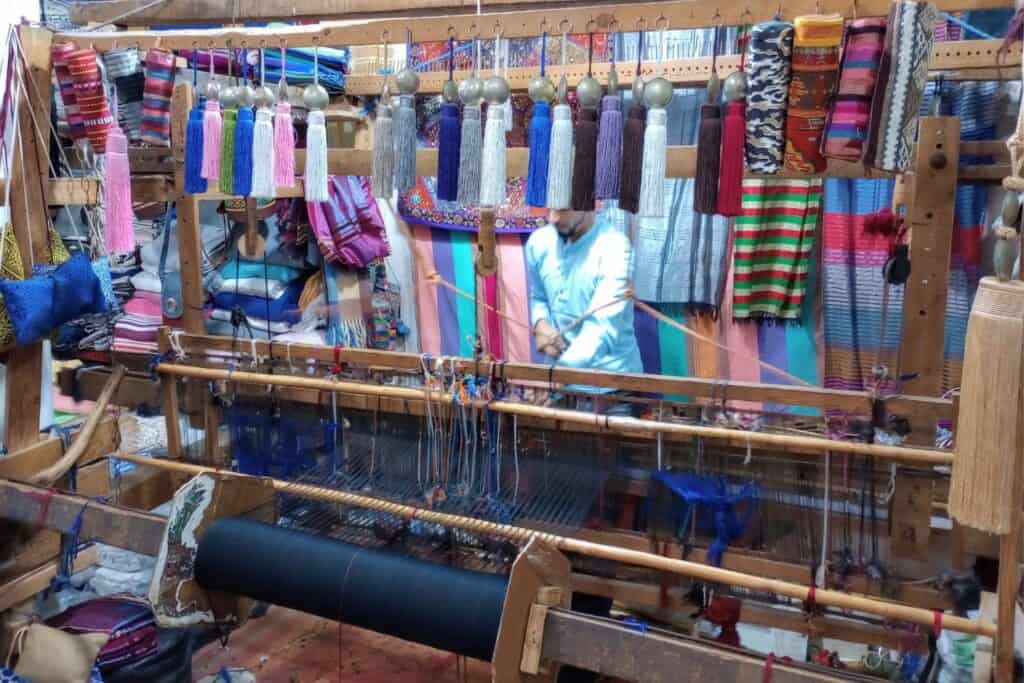 We also stopped at a Berber pharmacy, where we listened to a short explanation of some of the local products used for medicinal purposes by the Berbers, the indigenous people of North Africa.
Our guides dropped us at our hotel in the late afternoon. Having started our day at 06:15 to drive to Tarifa, we were too tired to venture far for dinner, and we ate at our hotel.
Day 2: Chefchaouen (The Blue City)
The next day, our guide picked us up at our hotel at 09:30 and we drove to Chefchaouen. The landscape along the way was very green and mountainous. If you imagine that Morocco is mostly desert, you're in for a surprise!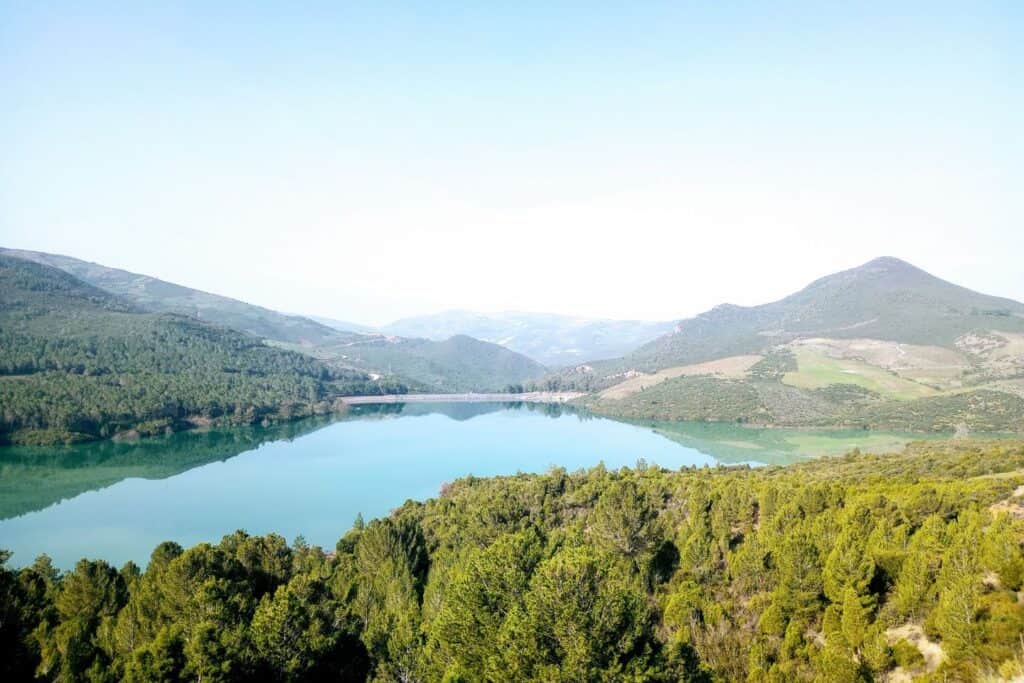 Even though our destination was Chefchaouen, one of the highlights of our visit to Morocco was the stop at a restaurant along the way. We enjoyed a traditional Moroccan breakfast of pita bread with goat cheese and honey.
The restaurant makes the bread on-site, and we sat on a beautiful outdoor patio overlooking a reservoir surrounded by mountains. The delicious breakfast, served with mint tea, plus the views, were truly memorable.
Chefchaouen is in the mountains, and the drive from Tangier took more than 2 hours. It's well worth the trip to see this distinctive city. The buildings really are painted beautiful shades of blue!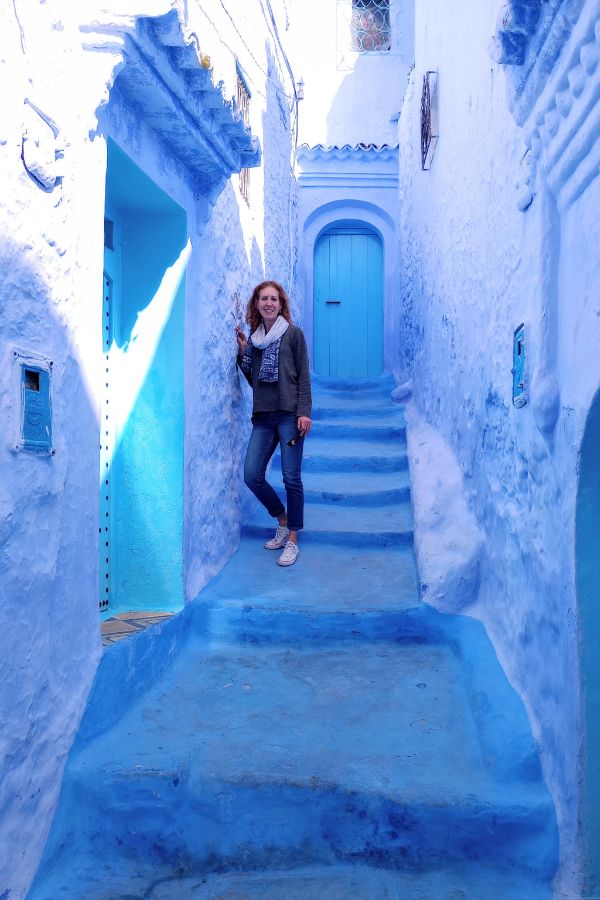 Our guides led us through the maze of narrow, winding streets while we did our best to capture the unique beauty of Chefchaouen in photos.
The city has many shops selling traditional handicrafts, including colorful woven blankets, leather goods, and artwork, so it's a great place to buy souvenirs and gifts.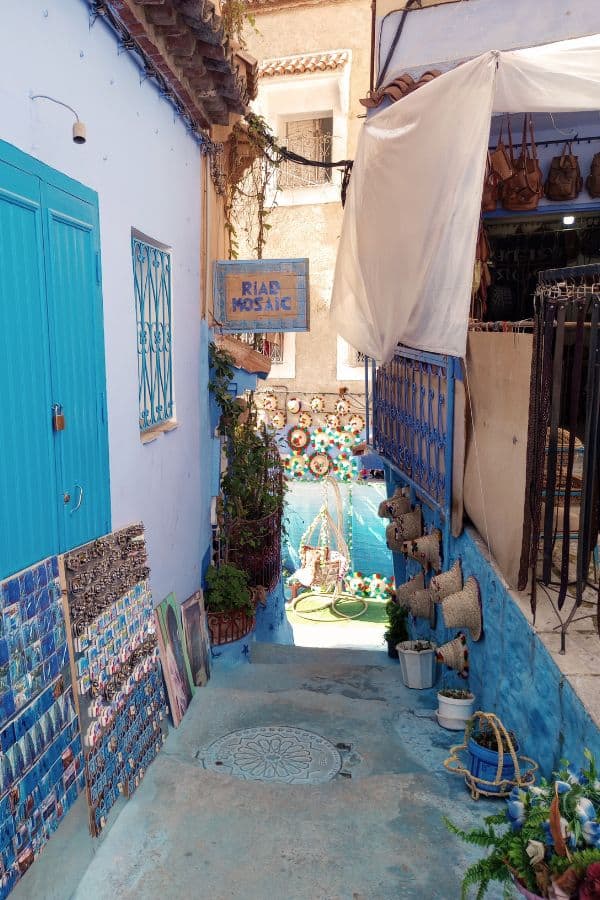 We had lunch on the outdoor terrace of a restaurant overlooking Plaza Uta El-Hammam, Chefchaouen's main square. If you have time, you can visit the Casbah Museum, located in the square. But the best thing to do here is simply take your time and enjoy wandering!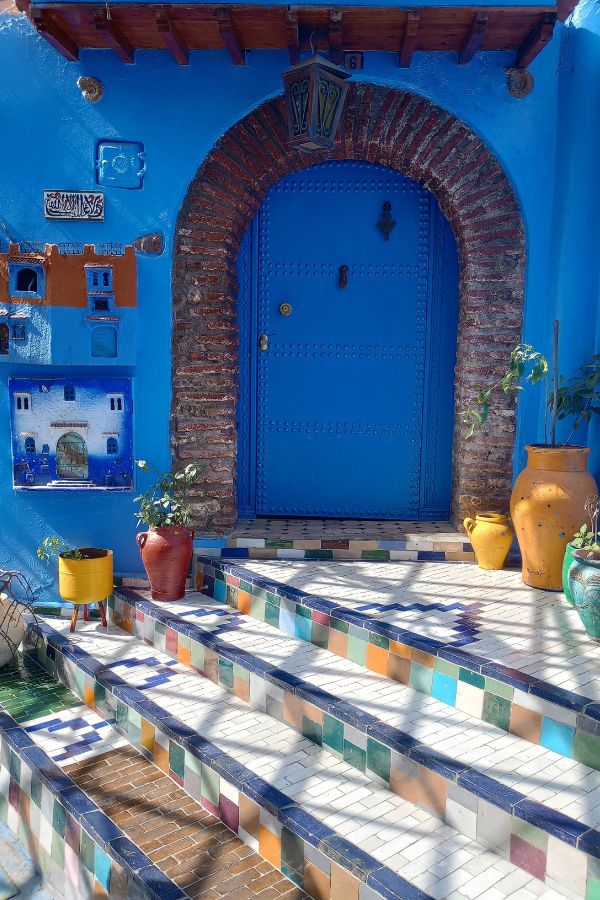 After spending the afternoon in Chefchaouen, our guide delivered us back to the Tangier ferry terminal in plenty of time for our 18:00 departure.
Our Tour Guide in Morocco
Our private, customized tour was with Nabil Tangier Tour. I had seen dozens of recommendations for Nabil from members of the military community where we live, so I felt very comfortable choosing him for this special visit with my family.
Just as others had said, the tour was fantastic! We appreciated having local guides who grew up and live in Tangier. Some of the best parts of the tour were their personal stories and experiences.
The van was clean and comfortable, so it was a relaxing way to see the highlights of Tangier. Our driver seemed to magically appear in front of us whenever we were ready to hop in, so we never had to walk back to our starting point.
Also, we had our luggage with us both days, and we left our bags in the van each time we got out. The driver always stayed with the van, so we felt safe leaving our belongings.
It's worth noting that my husband and I seldom do organized tours when we travel, because we usually prefer to explore on our own. Also, we don't like to bring the crowds with us.
In this case, I chose to do a tour with my aunt and cousin because none of us had ever been to Morocco, and we wanted an introduction from a local guide. Plus, we were not sure how safe we would feel. (We felt very safe with Nabil and his team.)
On the ferry ride back to Spain, we met some folks who had done one of the group tours through FRS, the ferry company. They had spent the day in a large coach bus full of tourists from various countries, and the guide repeated every explanation in five different languages. It sounded like the exact type of tour I avoid, so I was very glad we opted for a private guide!
Nabil offers members of the US military community a discount off the prices listed on his website. All tours are customized, and he can take you to more/different places than we visited. For example, he leads hikes to Akchour Waterfalls in Talassemtane National Park (near Chefchaouen), which is on my list for next time!
I don't receive monetary compensation for recommending Nabil's tours. I recommend him because we had a wonderful experience, and he made our first visit to Morocco very memorable. But if you tell him that Stephanie sent you, he might share more of his mom's delicious homemade cookies the next time I visit!
How to Get from Spain to Morocco
You have two main options to travel between Spain and Morocco: taking a ferry and flying.
Taking the Ferry to Morocco
Taking a ferry is one of the best ways to travel to Morocco from Spain, especially if you're already in Andalusia (the southern region of Spain). It's fast and easy, with multiple ferry crossings per day from locations along the Costa del Sol to northern Morocco.
The ferry is also convenient because you don't need to worry about restrictions on luggage size or liquids, as you do when flying.
There are several ferry routes between southern Spain and Morocco, with ferries originating in the cities of Tarifa and Algeciras (also from Gibraltar).
We caught the ferry from Tarifa, which takes about an hour to reach the port of Tangier Ville. (Note: Tangier Ville port is where you want to go if you plan to start your visit in the city of Tangier. Do not take a ferry to the port of Tangier Med).
FRS is the only ferry company that serves the Tarifa-Tangier Ville route, and we bought our tickets through their website. You can also buy your tickets at the port.
Unlike airfares, the price of the FRS ferry tickets does not vary depending on when you purchase them. Still, if you plan to travel during a busy time of year, it's a good idea to purchase tickets in advance. You can change the date/time on your ticket free of charge.
Logistics in Tarifa
Public transportation to Tarifa is limited, so the best way to get there is by car. Plan to arrive early to find a parking space, because the lot at Tarifa port is small.
There are also several other public parking lots within a 10-minute walk of the port (you can see them on Google Maps). If you park on the street, read any signage carefully and avoid parking next to curbs painted yellow.
We arrived an hour before our scheduled departure, which was enough time to have a coffee in the café at the ferry terminal before waiting in line to show our tickets and going through security and passport control.
What to Expect on the Ferry
You board the ferry from the lower level, which is also where cars enter. If you have suitcases, you can stow them on the shelves along the wall.
You will then climb a steep stairway to get to the main level of the ferry (there is no elevator).
The ferry seating area is spacious and comfortable. It has a café, duty free shop, and restrooms, plus free WiFi. It's a relaxing, scenic ride across the Strait of Gibraltar.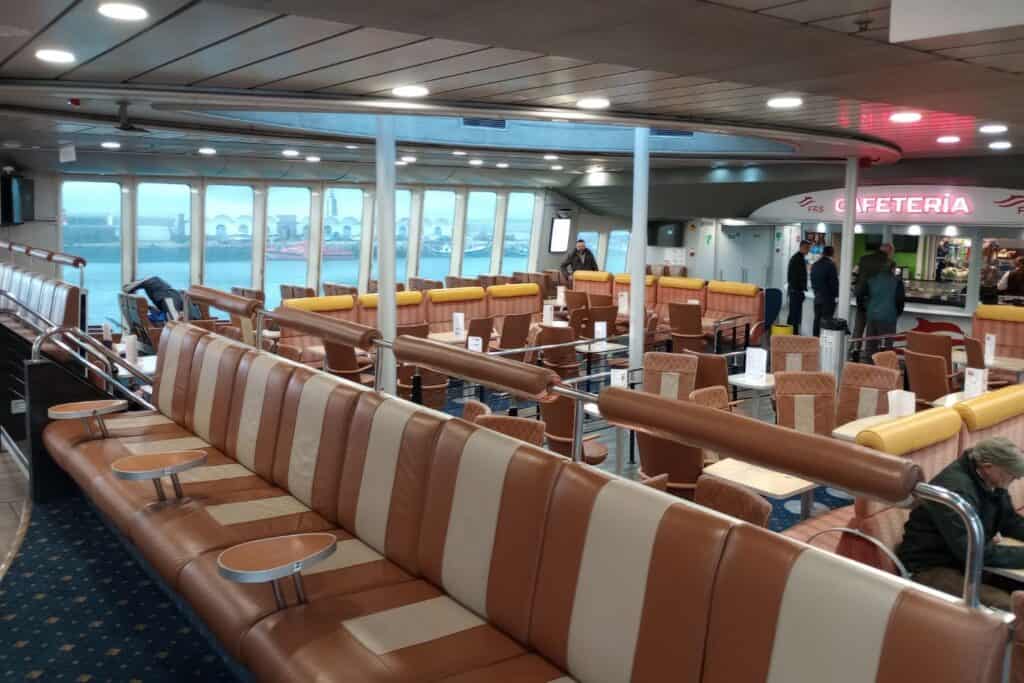 Important: While on the ferry (before you arrive in Tangier), you must get your passport stamped by Moroccan immigration authorities. More than likely, you will see a line of passengers waiting to get their stamp, but if not, look for a counter that says Passport Control.
Arriving in Tangier
When you arrive in Tangier Ville, a representative from Moroccan immigration authorities will check your passport as you disembark to ensure that you received your entry stamp.
After passing through the ferry terminal building, you will exit the building into the parking lot. From there, you will see the beautiful city of Tangier only a short distance in front of you.
If you are not meeting a guide, you can easily walk right up to the Old City and begin exploring!
Flying to Morocco
The other main option for traveling between Spain and Morocco is to fly.
In our case, the closest airport with direct flights to Tangier is Seville, but the flight schedules did not work for our plans, and we preferred the ferry, anyway.
Other Spanish cities with direct flights to Tangier include Barcelona, Madrid, Malaga, Valencia, and Bilbao.
Tangier airport is small and only a 20 – 30 minute ride from the city center.
Note: if you arrange a tour with Nabil, he will pick you up at the airport.
Finally, keep in mind that mainland Spain and Morocco are in the same time zone for only half of the year. When Spain "springs forward" in March, Morocco does not. Flight and ferry schedules will reflect the time zone differences but pay attention to the arrival times if you're considering multiple dates for your trip.
Where to Stay in Tangier
We stayed at the Hilton Tanger City, which is in the New City. It was a luxurious hotel at a very reasonable price. Their breakfast buffet, served in the dining room with panoramic views of the city, was fantastic. Click here to check rates for your dates.
There is also a Hilton Garden Inn on the same block as the Hilton Tanger City. It looked very nice but is slightly less expensive. Click here for pricing.
If you prefer to stay in the Old City, our guide recommended these hotels:
Other Tips for Travel to Morocco
Money
You can pay in euros in both Tangier and Chefchaouen. Some places will give you euros in change, while others will give you Moroccan Dirham.
I recommend having smaller bills (5, 10, and 20 euros) so you can tip guides if you are so inclined.
What to Wear in Morocco
First and foremost, wear comfortable shoes. The streets of Old Tangier and Chefchaouen are cobblestone, with many hills, stairs, and areas of uneven pavement.
Women do not need to cover their hair. We wore standard Western clothing, and many others were dressed similarly in Tangier – it is a cosmopolitan city. Still, it's a different culture, so I do not recommend wearing anything too revealing or flashy, because you may attract unwanted attention.
Ready to Go to Morocco?
If you're planning to visit southern Spain, Morocco is an easy add-on and well worth the detour. At a minimum, do a Tangier day trip and return to Spain the same evening. But I recommend staying at least one night so you can visit Chefchaouen or take more time to explore Tangier.
Either way, don't miss the opportunity to visit a country that is unlike anything you will experience in Europe!