Looking for the perfect Bordeaux itinerary? I'll help you create one based on what you like to do.
I took a solo trip to Bordeaux and spent more than a week exploring the city "slow travel" style. I hit the most popular sites, but I also spent a lot of time wandering and trying to get a taste of life as a local.
Best known for wine, Bordeaux has so much more to offer. This UNESCO World Heritage site has undergone a renaissance in recent years and is a must-see destination.
It boasts many of the features you would expect from a great French city: fine, detailed architecture; rich history and culture; world class dining; and a seemingly infinite supply of indulgent pastries.
Bordeaux also has hundreds of things to see and do, but it's a city to experience, not just visit.
It's a city for strolling, people-watching, enjoying a picnic by the river, and of course, sampling wine! You don't need to view every monument and museum to get the best of Bordeaux.
So, how many days should you spend in Bordeaux, and what's the best of Bordeaux for you if you're visiting for the first time? I'll help you decide!
Contents (click to expand)
Deciding What to Do in Bordeaux
Everyone has a different style of travel and varying levels of interest in museums, wine, historic monuments, or spending an afternoon people-watching in a sidewalk cafe.
That's why this article is designed to help you figure out how much time you should spend in Bordeaux. I've highlighted the main things to see and do in the most popular areas of the city, plus a few day trips and tours.
With this information, you can decide whether you want to swoop in for a day trip to Bordeaux from Paris, take your time experiencing each neighborhood, or something in between!
Bordeaux Orientation
Before we get started, you should understand how Bordeaux is laid out.
Bordeaux is a compact, walkable city. It's divided by the Garonne River, which flows into the Atlantic Ocean less than 60 miles to the north. The Rive Gauche (left bank) is the main part of the city, which is also called the Port de la Lune (Port of the Moon) due to the crescent shape carved by the river.
If you walked straight through the most popular areas of Bordeaux without stopping, you could do it in less than 2 hours. Bordeaux also has excellent public transport, including a convenient tram system that services the city and outlying areas.
Bordeaux airport is only about 6 miles west of the city center, while the train station is less than a mile south, making it extremely easy to visit Bordeaux from Paris or anywhere else in Europe.
Here are the highlights of Bordeaux's top areas for visitors.
Saint Pierre and Saint Paul
These are the main neighborhoods in Bordeaux's historic center. They are colorful and vibrant, packed with restaurants, bars, cafes, and shops, along with several important monuments.
Characterized by a maze of narrow cobblestone streets intersected by a few major thoroughfares, this area is fun to simply wander and explore. Saint Pierre and Saint Paul have some of the best dining and shopping in the city.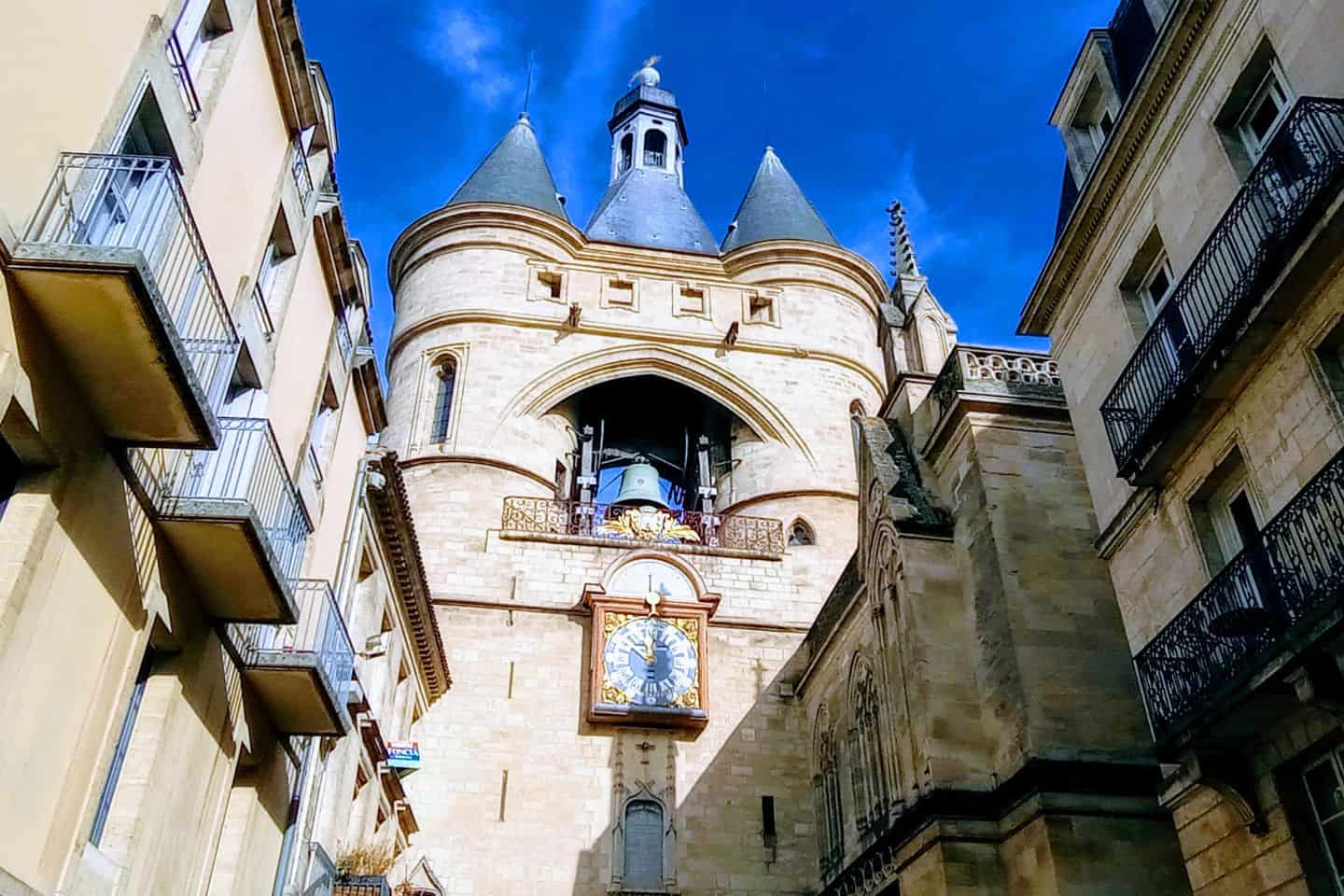 Among the most well-known sites in this area is the Grosse Cloche (Big Bell). Built in the 18th century, this giant bell hangs in a tower over a gateway that, at various points, functioned as part of the city wall and a prison for juveniles.
From there you'll find Rue St. Jean, a busy pedestrian street lined with cafes and shops. It's a short walk to Rue Saint Catherine, the longest pedestrian shopping street in Europe.
Other significant sites in this area include:
Porte Cailhau – This is one of the old gates to Bordeaux. Built in 1495, it was once the main gate to the city. You can enter the tower and climb the steps for a spectacular view of the river and the Pont de Pierre (Stone Bridge), Bordeaux's oldest bridge.
Place de la Bourse – Among the most famous squares in Bordeaux, it was originally built in the 18th century. The grand buildings of the Palais de la Bourse (Chamber of Commerce) and the Musée National des Douanes (Customs Museum) surround the Fountain of the Three Graces.
Miroir d'Eau – Directly across from Place de la Bourse along the river promenade is Bordeaux's famous "Water Mirror," the largest reflecting pool in the world. Residents and visitors alike flock here in the summer to play in the water and cool off, but it's one of Bordeaux's most popular sites year-round.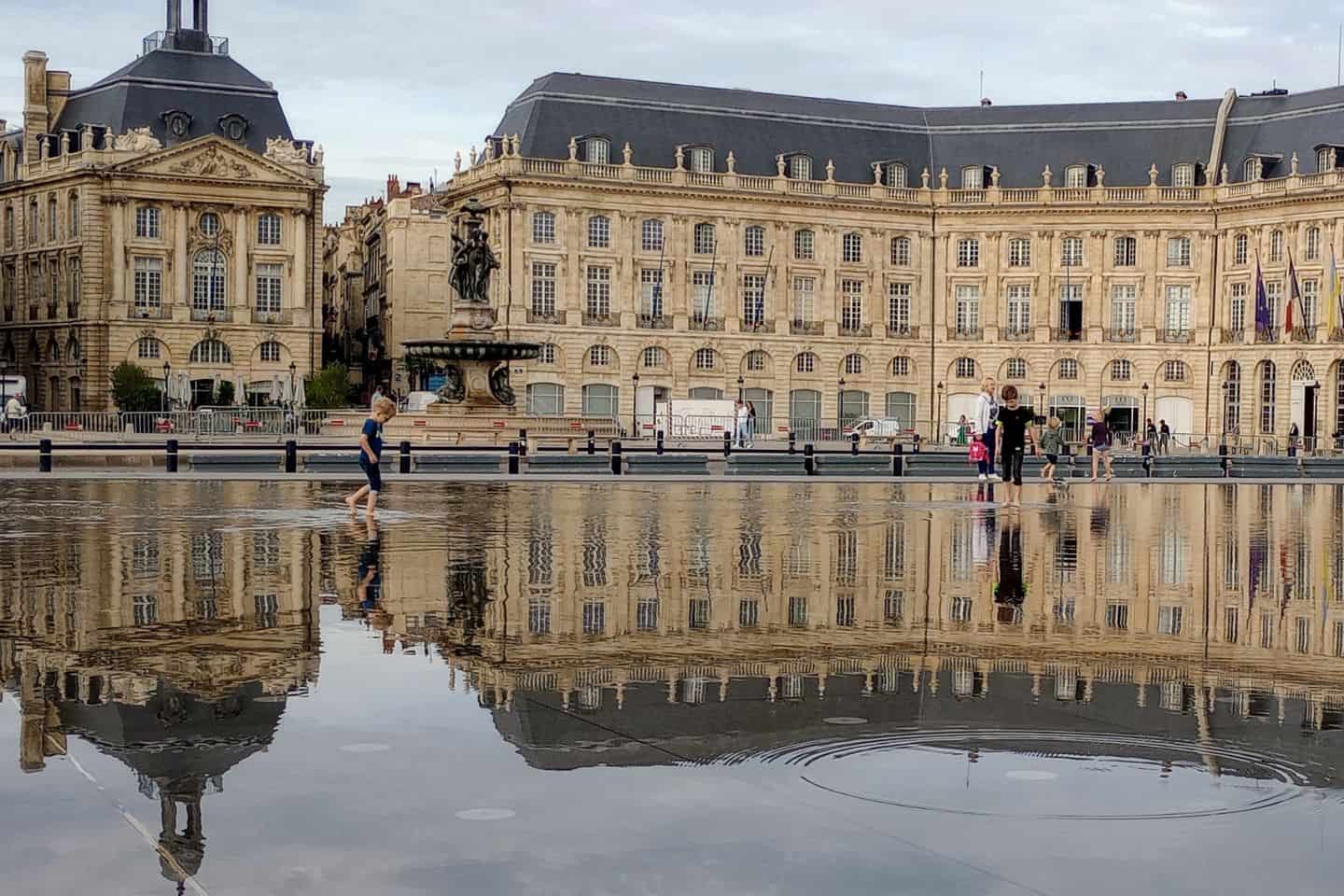 Summary of Saint Pierre and Saint Paul
The best things to do in Saint Paul and Saint Jean are wander, eat, drink, and shop.
Because there are so many great restaurants, stores, and little streets to explore, you could easily spend at least a couple days in these neighborhoods. This area is the heart of city, so if you visit Bordeaux for only a day, I recommend spending at least half of your time in this area.
Pey-Berland
This neighborhood is directly west of Saint Pierre. It, too, has excellent restaurants and great shopping, plus several important landmarks. Known as the art district of Bordeaux, it's home to numerous galleries and several art museums.
Cathédrale Saint-André de Bordeaux & Pey Berland Tower – More commonly known as simply "the Bordeaux Cathedral," this impressive Gothic style building is one of the most distinctive structures along the Bordeaux skyline. Next to the Cathedral is its freestanding bell tower. Climb the 200+ steps for panoramic views of the city.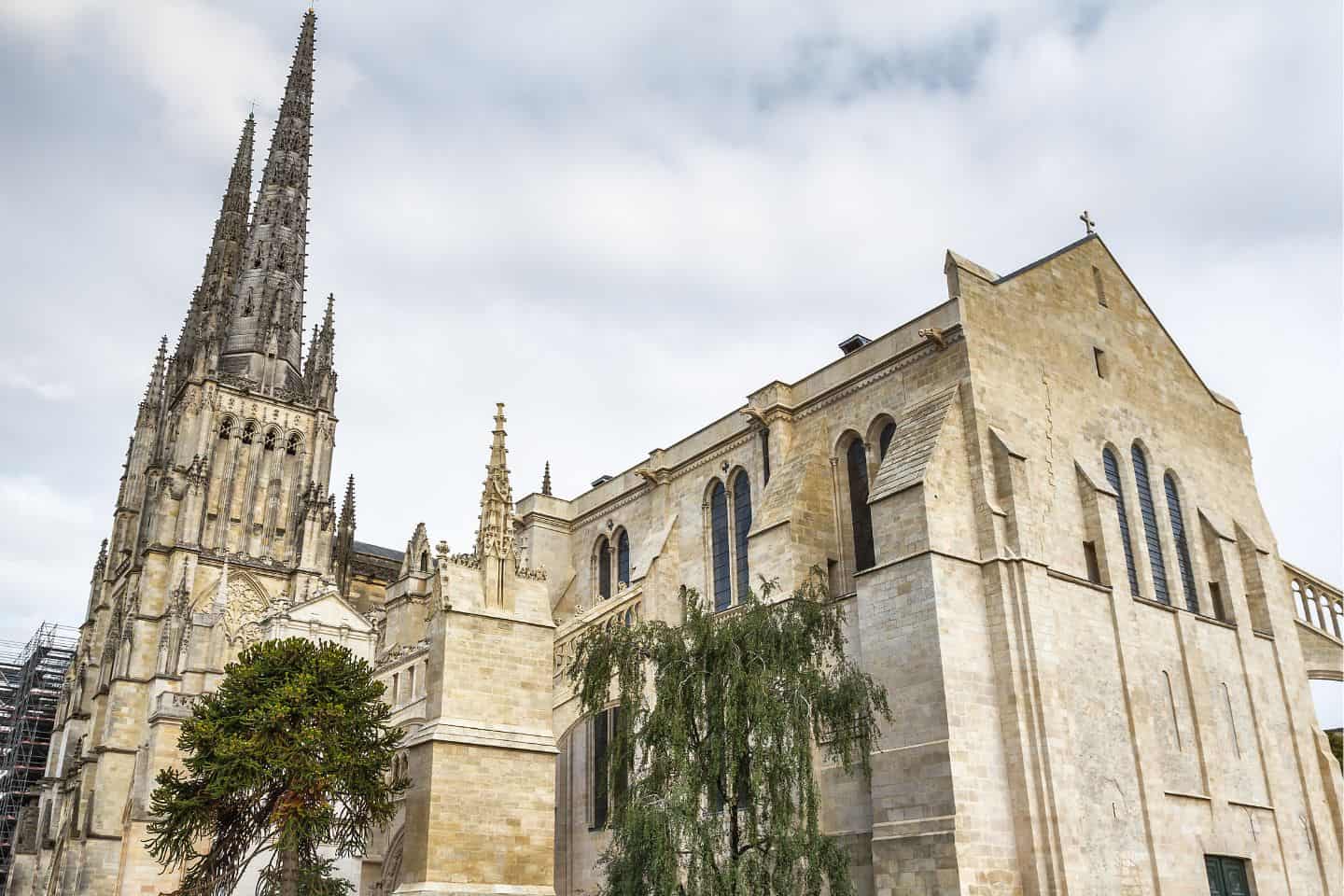 Porte Dijeaux – Built in the mid-1700s, this was once one of the gates to the city of Bordeaux. Today it punctuates Rue de la Porte Dijeaux, a street lined with many upscale boutiques.
The three main museums in Pey-Berland are:
Musée des Beaux-Arts – This fine arts museum has works from the 14th to the 20th century by artists including Corot, Renoir, and Picasso.
Musée des Arts décoratifs et du Design – Located in a former 18th-century private mansion, this museum's permanent collection includes furniture, textiles, and other decorative artworks.
Musée d'Aquitaine – This museum is dedicated to the history and culture of the Aquitaine region of France. It's one of the largest historical museums in France.
Summary of Pey-Berland
The amount of time you should allot for the Pey-Berland area depends largely on your interest in the museums. I recommend browsing their websites to assess whether you want to visit and how carefully you want to explore the exhibits.
Triangle D'Or and Quinconces
The Triangle D'Or (Golden Triangle) is the high-rent district of Bordeaux. With upscale boutiques, fancy hotels, and wide boulevards, it has a different look and feel from the neighborhoods of the Old City.
The most significant sites include:
Grand-Théâtre – This is the home of Opéra National de Bordeaux. You can take a tour of this impressive theater, or better yet, see a performance. The theater's calendar includes many different genres besides opera.
Place des Quinconces – This huge tree-lined public square hosts various events throughout the year, including an amusement park, a Christmas market, concerts, and sporting events.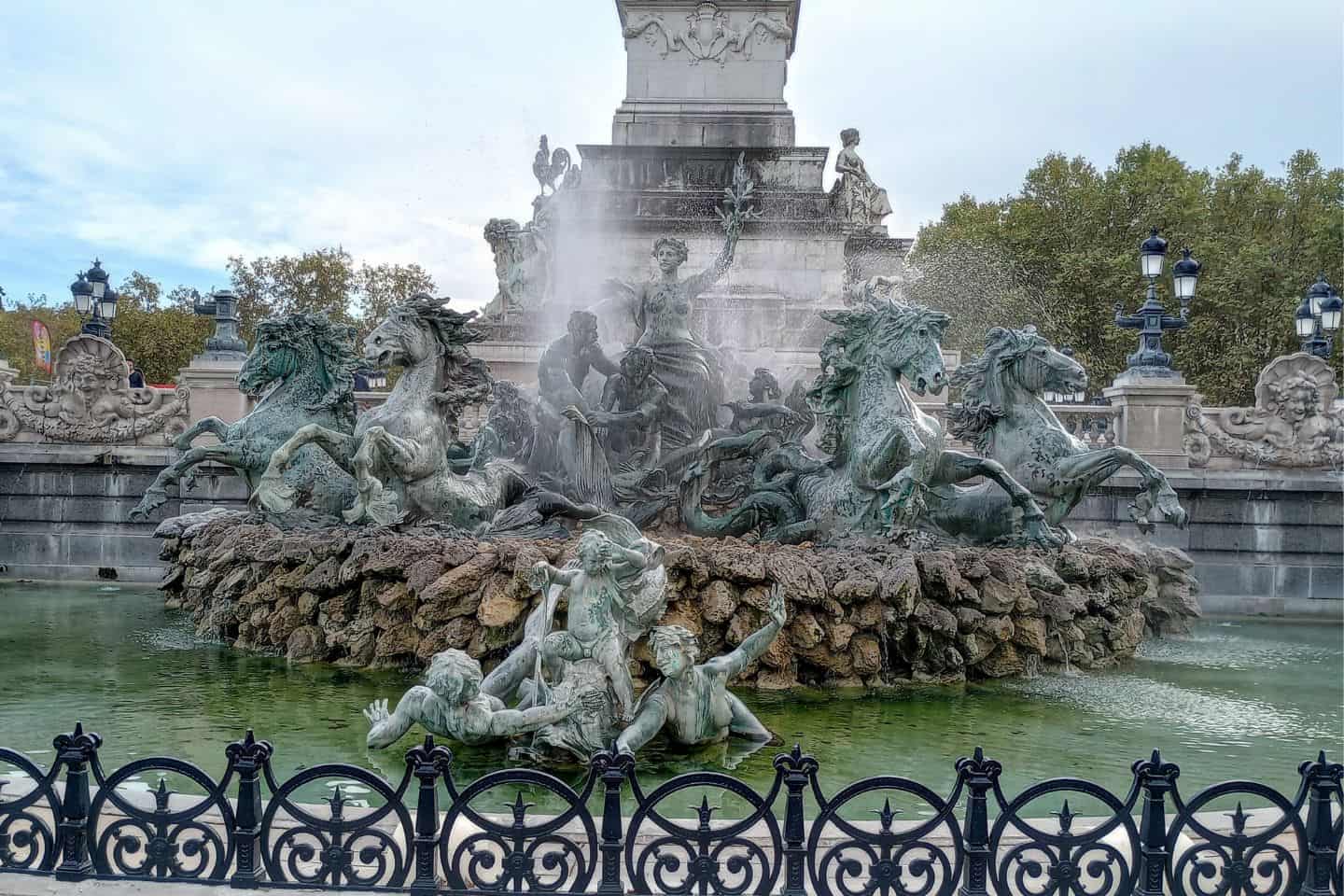 Monument aux Girondins – Next to Place des Quinconces is a tall monument visible throughout Bordeaux. It was built in 1885 to commemorate the Girondins, a political group during the French Revolution. Surrounding the monument is an ornate bronze fountain, one of the most photographed places in Bordeaux.
Conseil Interprofessionnel du Vin de Bordeaux (CIVB) – The Bordeaux Wine Council houses the Wine School of Bordeaux. It also has a wine bar, Le Bar a Vin. If you're in the neighborhood, it's a great place to sample some wine (view their menu online to see pricing for their generous pours!)
Also in this area is a unique wine shop called L'Intendant. This store is worth a visit just to see the incredible presentation of thousands of bottles of wine. Climb the spiral staircase, and gaze at the endless shelves stocked with Bordeaux's best wines.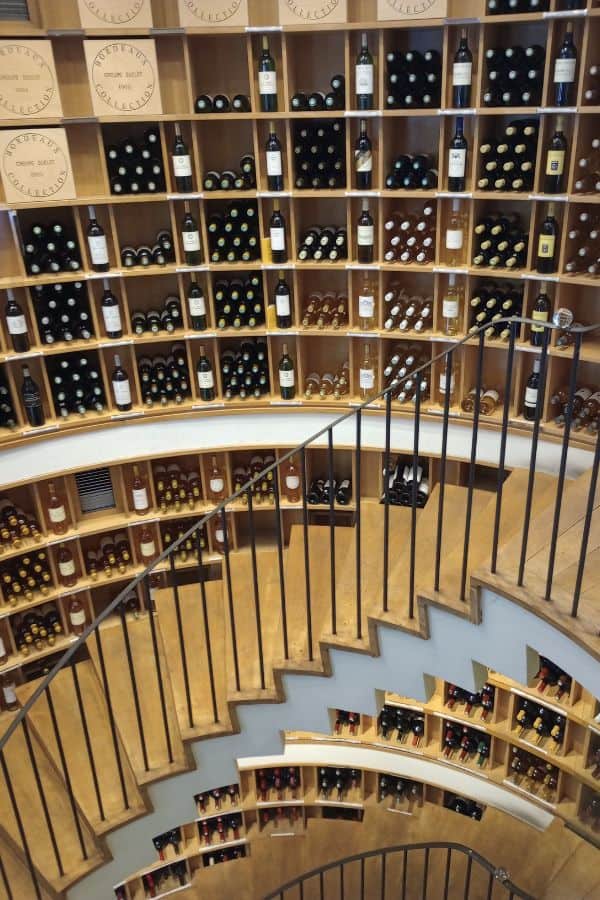 Jardin Public – On the edge of this neighborhood is a large public garden with shaded, winding pathways and a meandering pond. Bring a book and read on one of the benches, have a picnic on the lawns, or join the many locals of all ages who are walking, jogging, and cycling along the paths.
Summary of Triangle D'Or and Quinconces
If you want to relax and savor your time in Bordeaux, you could spend the better part of a day tasting and learning about wine, plus enjoying some sunshine and people-watching in the garden. If you only want to pass through these places and snap a few pictures, you can do it in an hour.
Les Chartrons
The next neighborhood to the north is Les Chartrons or simply "Chartrons". Also an upscale area of the city, it's popular among expats as well as locals for its many restaurants, lively bars, antique shops, and bakeries, plus its Sunday market.
Rue Notre Dame is the main drag in Chartrons. A narrow, quintessentially French street, the sidewalks are overflowing with tables of people enjoying Bordeaux's delicious cuisine, wine, and beer (beer is increasingly the drink of choice at Happy Hour).
Chartrons is home to two well-known bakeries. The first is Au Pétrin Moissagais, the oldest bakery in Bordeaux (est. 1765). Stop in to catch a glimpse of the old-school oven and sample their delicious bread and pastries.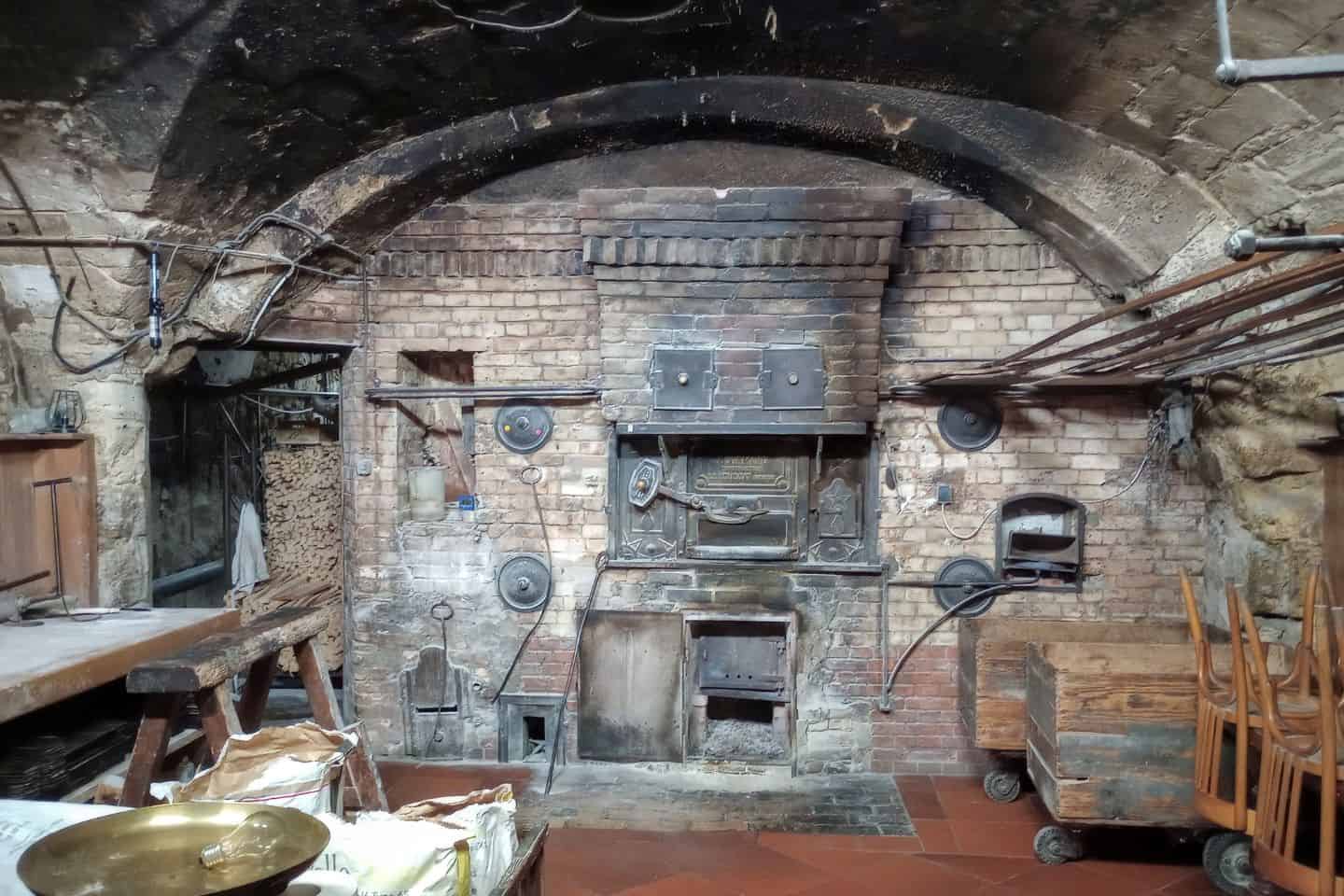 La P'tite Boulangerie Notre-Dame is the other famous bakery, and you'll know it's good when you see the long line at peak hours.
If you're in town on a Sunday, visit the lively market on the riverfront quay. More than 60 merchants sell fresh produce, prepared foods, flowers, books, crafts, and other local products.
Les Chartrons is home to several museums:
Musée du Vin et du Négoce de Bordeaux – This museum documents the history and evolution of the wine trade in Bordeaux. It's on the lower levels of an historic building that was formerly the home of a wine merchant. A basic visit to the museum includes a brief explanation of Bordeaux wines and a tasting.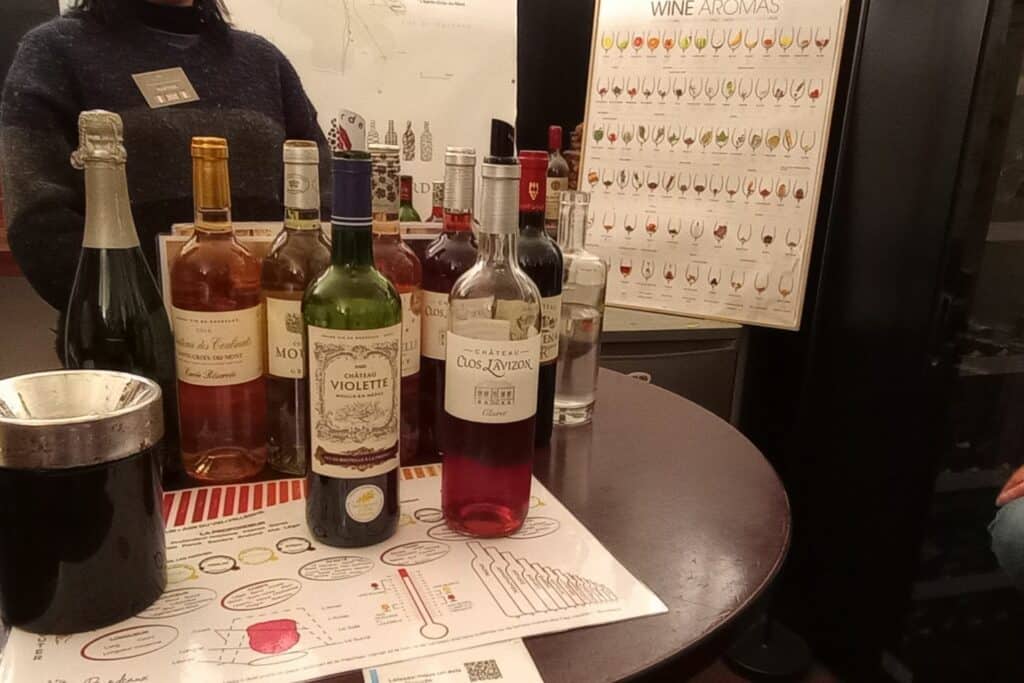 Cap Sciences – This kid-friendly, interactive science museum is housed in a former warehouse on the river. The museum's permanent collection features more than 300 exhibits on topics such as renewable energy, biotech, astronomy, and physics.
Contemporary Art Museum – This museum houses an extensive collection of modern and contemporary art along with temporary exhibitions.
Summary of Les Chartrons
Les Chartrons is a fun area, and at the very least, you should walk down Rue Notre Dame, take in the views of this charming neighborhood, and sample one of the famous bakeries. If you like museums or you want to spend time browsing the local market and enjoying the restaurants, you could spend at least a full day.
Note: If you walk from Chartrons to the next neighborhoods, Bacalan and Bassins à Flot, walk along the river. You will pass under Bordeaux's famous modern bridge, Pont Jacques Chaban Delmas, and stroll past many restaurants with large patios facing the river.
Bacalan and Bassins à Flot
Many visitors to Bordeaux only come up here to visit Bordeaux's giant wine museum, La Cité du Vin. But this district has a fun, artistic vibe and plenty of interesting – albeit more recent – history than the Old City.
Built around Bordeaux's port, this neighborhood at the northern end of Bordeaux has a strong maritime theme. It played an important role during WWII when German troops occupied the city and ordered the construction of a submarine base at the port. The base was home, at various points, for 43 different German U-Boats (submarines).
The top things to see and do in this area include:
La Cité du Vin – This is Bordeaux's state-of-the-art, interactive wine museum. Learn about all aspects of wine from regions throughout the world and use all five of your senses! At the end of your visit, take the elevator to the Belvédère bar on the 8th floor for a free glass of wine and incredible 360 degree views of Bordeaux.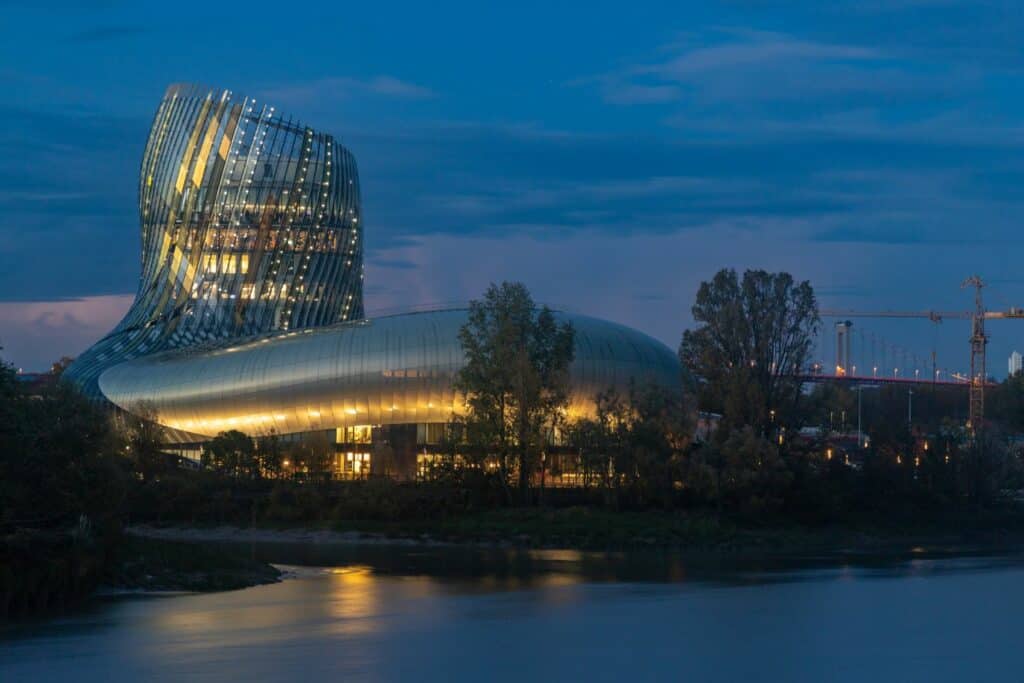 If you are truly a wine enthusiast and enjoy interactive exhibits, you could spend a half day or more at La Cité du Vin. I recommend planning for at least 2 hours to allow time to enjoy your glass of wine.
Les Halles de Bacalan – This lively food market is across the street from La Cité du Vin. With more than 20 stalls featuring all types of cuisine, you could eat here for every meal of your stay in Bordeaux and try something new and delicious each time.
Bassins des Lumieres – This incredible exhibit is in Bordeaux's former submarine base, which has been turned into the largest digital art center in the world. Digital artwork is reflected on the walls, the floor, and the water of what were formerly wet docks used by German U-Boats (I highly recommend reading the fascinating history).
"Immersive" art exhibits like this one have become popular around the world, but the venue of Bassins des Lumieres is unique. The combination of the darkness, beautiful artwork, and music, plus the eerie setting next to the 52-foot deep water in the wet docks is hard to describe, but I had trouble tearing myself away.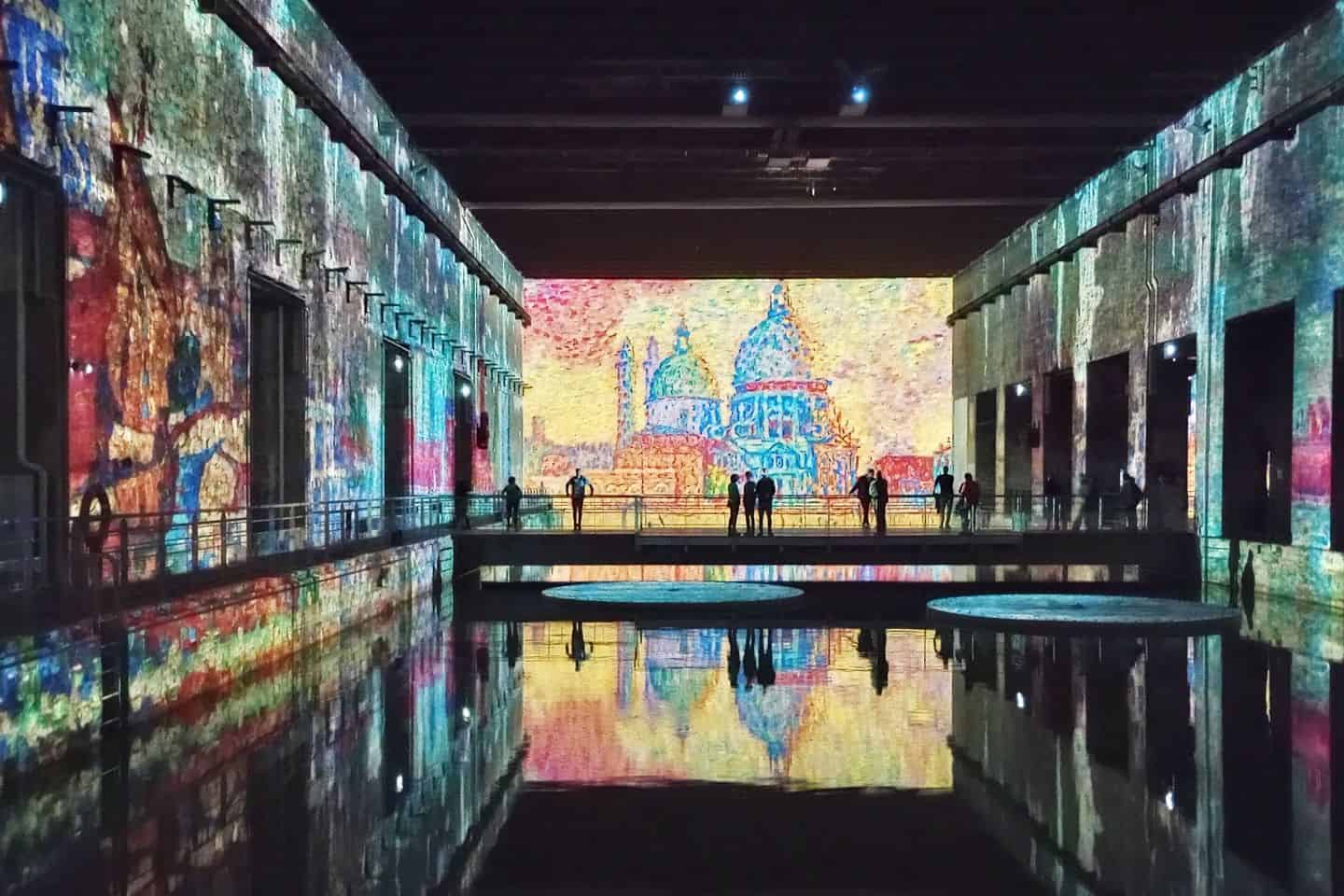 Summary of Bacalan and Bassins à Flot
This was unexpectedly one of my favorite areas of Bordeaux, and in fact, I stayed in this hotel for most of my visit to the city. If you only want to see the wine museum, you can do it in a couple hours, but I highly recommend checking out the other two highlights mentioned above.
Day Trips and Tours from Bordeaux
You have dozens of options for day trips and unique experiences in Bordeaux, so factor them in when deciding how long to spend there. Here are the ones I recommend based on my experience (all were in English).
Regional Wine Tours
Needless to say, many of the best day trips from Bordeaux involve wine tasting.
I recommend doing an organized tour so that you can indulge and leave the driving to someone else. The two most popular regions to visit are Saint Emilion and Médoc, which are on opposite sides of the river.
I did this half-day tour of Saint Emilion and it was one of my favorite experiences of my trip to Bordeaux. It included visits and tastings at two wineries, plus a short walking tour through the town of Saint Emilion.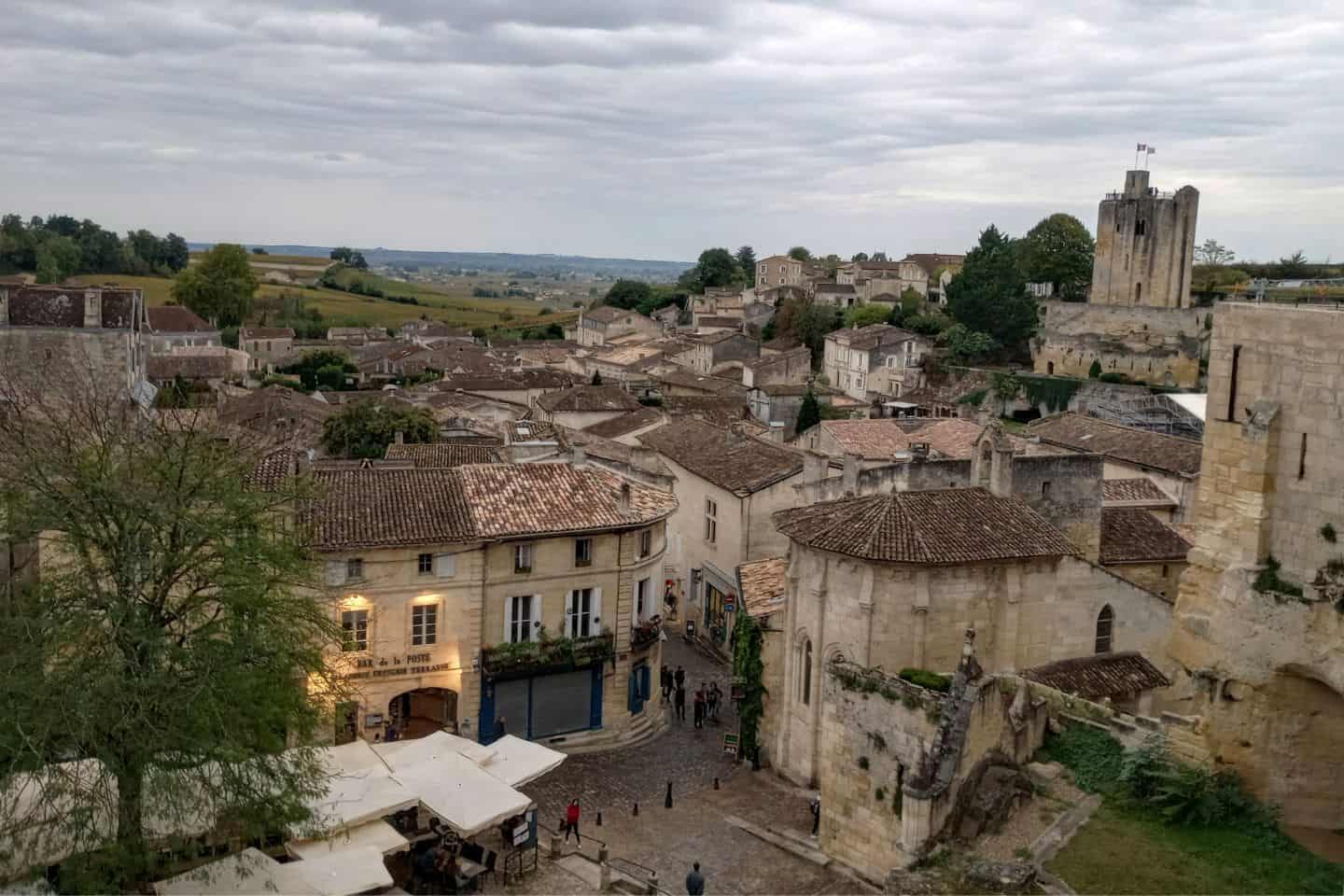 The guide was excellent and gave a very interesting and helpful explanation of Bordeaux wines. I wished I had done this tour earlier in my visit to inform my choices of wine in restaurants. Click here to check availability and pricing for this tour.
I enjoyed that wine tour so much that with more time, I would have done a similar tour to Medoc.
Wine & Cheese Tasting
Another "guided" experience that I loved was this wine and cheese tasting. It was at a restaurant and included tastings of three wines, each of which was served with a selection of three cheeses. We learned how to pair cheese with local wines and saw the restaurant's large cheese cellar! Check dates and pricing for this tour.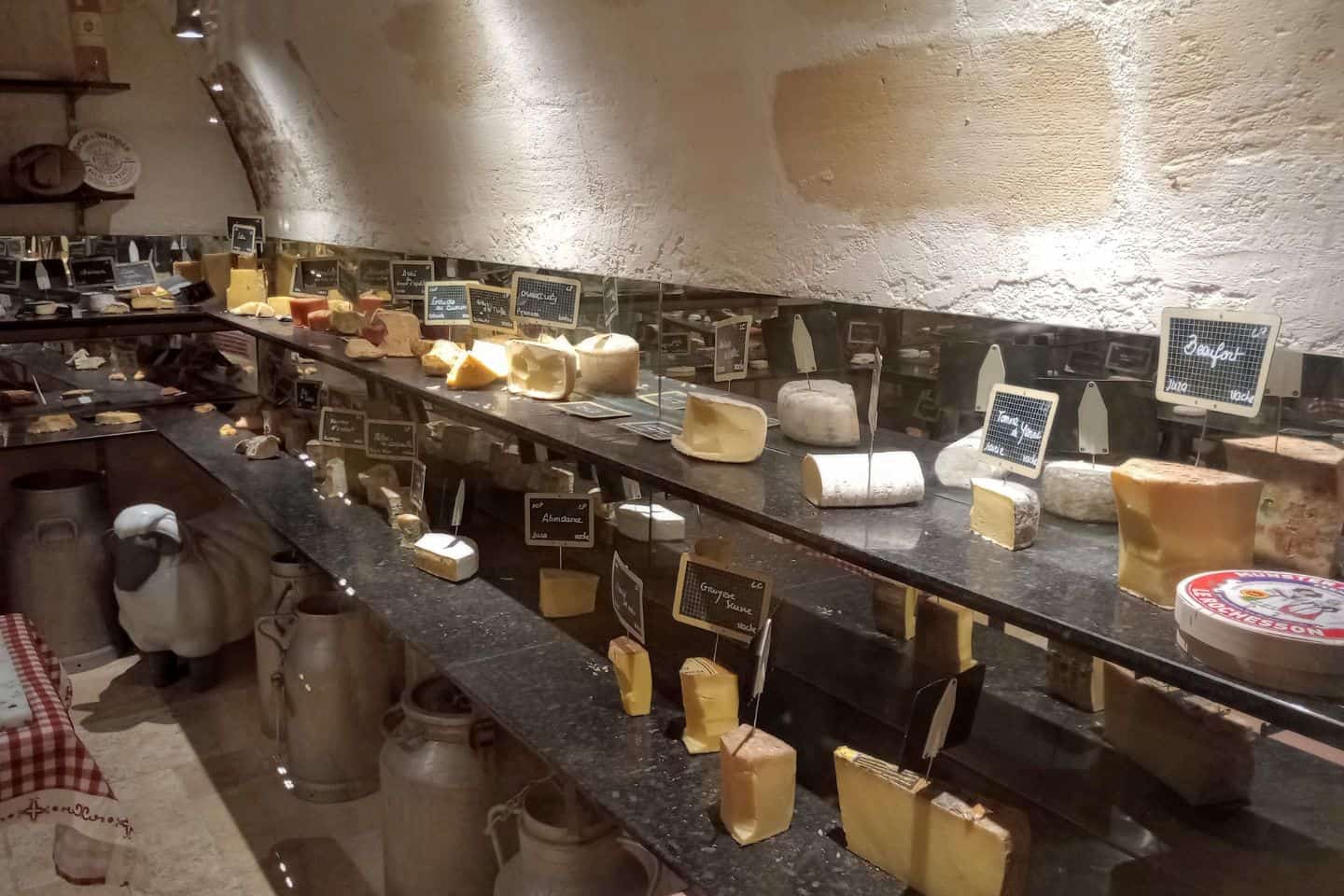 You can find tons of other fun tours and experiences through Viator. Read through the options to find day trips to the beach, city tours on foot or by bicycle, and various culinary experiences throughout the city.
Dining in a Local's Home
Finally, another experience I recommend in Bordeaux is dining at a local's house through Eatwith. Eatwith is a service that works similarly to Airbnb, but instead of sleeping in someone's house, you eat a meal there.
I ate at this local couple's apartment and enjoyed a delicious homemade meal along with fantastic company! Adeline and Théo host up to three guests at their dinners, but I was traveling solo, which was another reason why an experience like this was particularly fun.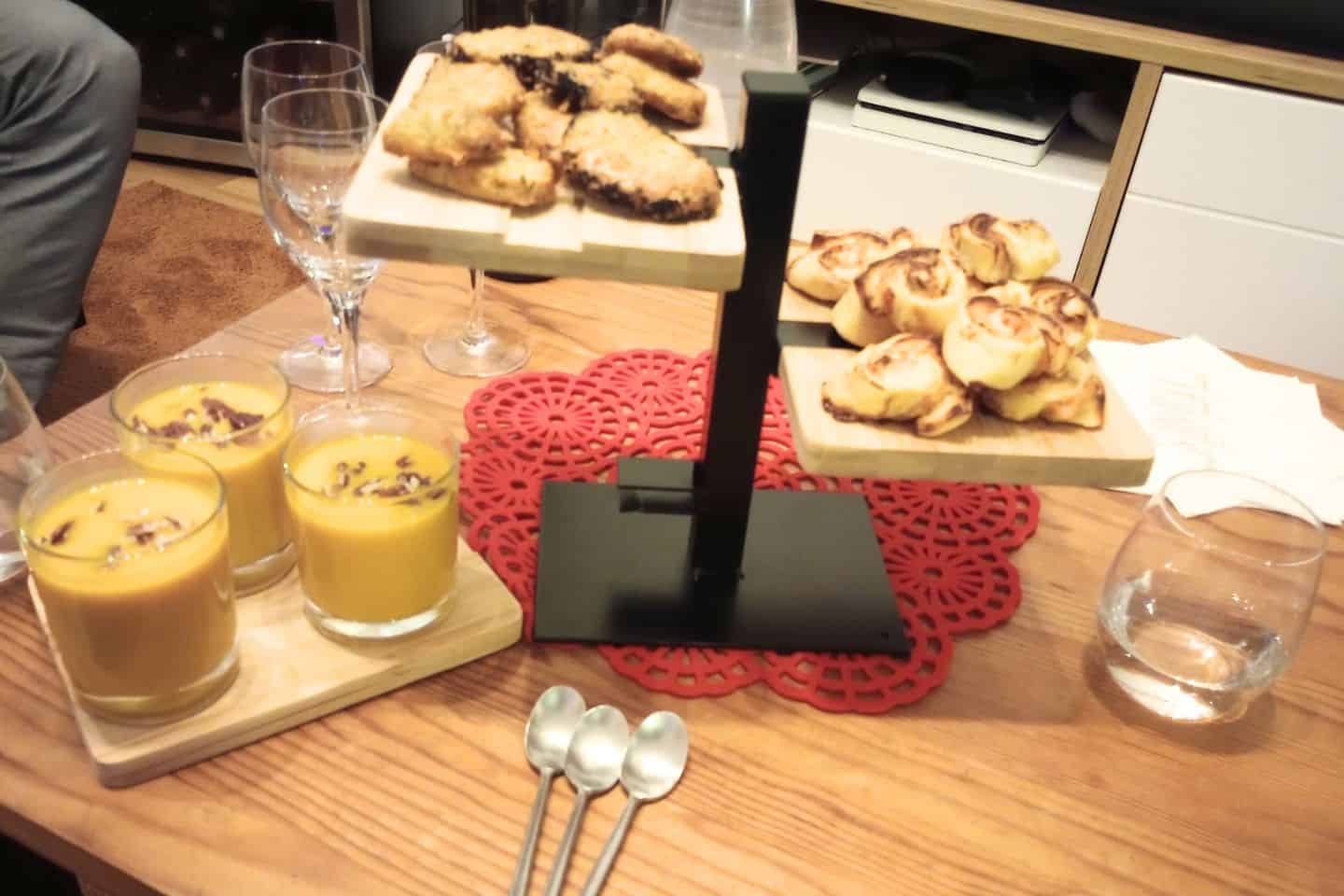 How Much Time Should YOU Spend in Bordeaux?
Now that you know the highlights of Bordeaux, it's up to you to decide what fits your interests and how much time you should allocate.
Bordeaux is more about the experience than checking tourist attractions off your list. The best way to get the most out of Bordeaux is to slow down, rather than rushing from one place to the next.
I think Bordeaux warrants more than a day trip, but if you can only spare one day in your itinerary, make sure you leave at least a couple hours to relax and enjoy the moment in this spectacular French city!