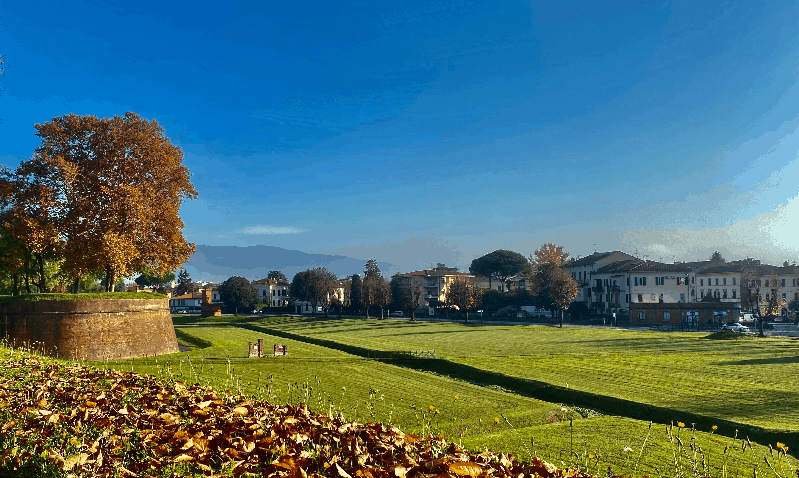 Jennifer and Jason White realized soon after Jason retired from the Army after 29 years of service that a traditional retirement wasn't for them. An active couple who love to travel, they wanted to spend their time and money on experiences that truly make them happy, rather than on upkeep of a big house.
After researching their options for a way to live and travel in Europe, they came up with a two-part plan to move to Italy: they enrolled in a language school so that they could obtain temporary residence in the country, and while they are studying, Jason is applying for dual citizenship based on his Italian heritage.
The Whites arrived in Italy in October 2020 and love their new home, the Tuscan city of Lucca! In this personal interview with Jennifer, part of our Expat Retiree Series, find out how Jennifer and Jason's plan to move overseas evolved, how they obtained their visa, and why Lucca is the perfect fit for them!
Contents (click to expand)
What gave you the idea to move abroad after retirement? How long were you thinking about it before you actually moved?
I'm not sure there was one single, defining moment. There were a series of revelations and decisions.
Revelation/Decision #1: Falling in love with Italy.
We were living in Connecticut (my husband's last military duty station was as an ROTC instructor at UCONN) and bought a huge Victorian. We genuinely thought that would be retirement for us. We loved the town and the people.
We had a trip booked to Italy as a pre-retirement celebration in January 2018. We spent two weeks here and loved it. That might have been the spark of an idea.
Revelation/Decision #2: Recognizing our love for travel abroad.
We returned home to Connecticut and decided that the weather was awful and spring was too far away, so in March 2018 we used transitional leave to fly Space A to Ramstein, Germany. We just stayed at the Ramstein Inn and booked day trips to Amsterdam, Colmar, and the Rhine region. We seriously did not want to come back to the U.S.
| Related Reading: 7 Things to Do Near Ramstein
Revelation/Decision #3: Realizing how we want to spend our money and time in retirement.
Spring finally came to New England. Military retirement officially arrived in May 2018. Jason had no real job prospects and didn't really know what he wanted to do in retirement. So, he drove some nights for Uber, since we were in a college town.
I was teaching distance education for University of Louisville and finishing my dissertation for my PhD. We had never had so much time on our hands.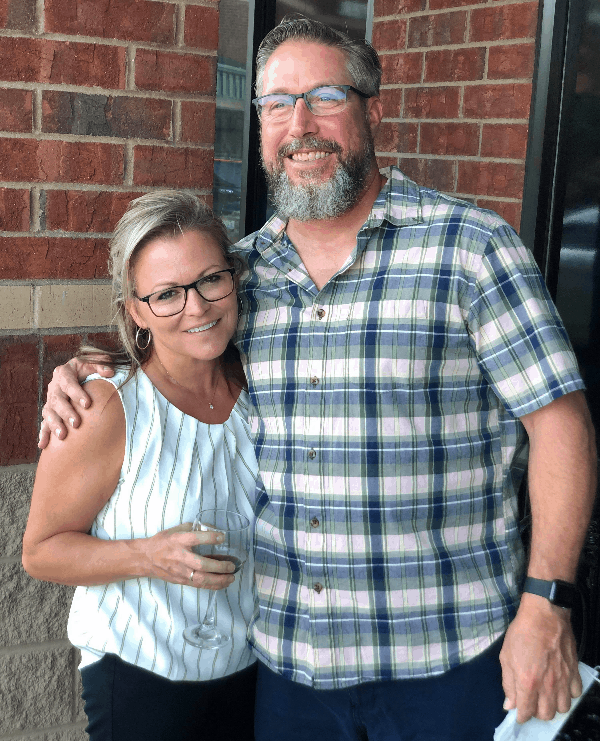 As homeowners, we decided to do some yard improvements. We spent close to $1K on bushes and mulch and tools. I remember, distinctively, mixing some Old Fashioned cocktails, sitting on the front porch with aching backs, and saying to each other how we spent more on the yard than we did on our last trip to Europe.
It was in that moment that we realized that a typical retirement was not for us.
Revelation/Decision #4: Downsizing and subconsciously preparing to move overseas.
We sold the house and moved back to Louisville, Kentucky in August 2018 (both of our adult children live there, and I needed time with my dissertation committee to finish). We decided to rent a place until we knew what we wanted to do. We chose a much smaller bungalow and forced ourselves to decide what things were important and what things could be left behind.
Thinking back now, we were making plans to leave the country even before we knew we were.
Revelation/Decision #5: Loving European living.
Back in Kentucky, Jason used his Post-911 GI Bill to finish his bachelors and started a masters in higher education administration through the University of Louisville. I finished my doctorate and was teaching and grant writing for a local arts nonprofit.
By Christmas 2019, we knew we were destined for a long-term absence from the U.S.
Since the house lease would end August 2020, we made plans to come to Italy for three months in March 2020 to try out "living." That would give Jason time to work on classes, and I would continue working remotely. It would also allow time for making plans once August rolled around.
We took the final steps: traded in our two vehicles for one; had our son make plans to take over the house lease so we could store all of our stuff in the basement; got rid of more stuff; used our savings to pay off little bills; and booked a long-term AirBnB just south of Florence.
We flew military Space A from Dover to Germany. We hit the ground the day Italy announced the borders were closed because of the coronavirus. It was an ugly shock.
We headed to Munich to spend a few days thinking things through. After two days eating, drinking, and exploring, we had to make a decision.
Jason was in favor of jumping a flight back to the States because of the pandemic. I didn't want to waste the time we had already planned to be out of the country by going back. Borders were closing in front of us and behind us, and we needed to move fast, because Munich was too expensive to stay.
Having been to Budapest before, I found a great long-term AirBnB there, went to the train station, and booked tickets for the next day . . . and that was that.
While staying in Budapest for nearly two months, we agreed that Europe was definitely in our immediate future. We returned to the U.S. to finish things up and hoped the pandemic would ease.
Plans were derailed by two months because of the travel restrictions, but we stayed on course and moved out of our house into an AirBnB locally, and then another, until we decided on the study visa in order to get into Italy.
Why did you choose Italy and, specifically, Lucca?
Moving to Italy wasn't the original plan. Originally, after Jason retired, we were devising ways to live in different places for 90 days (the extent of a tourist visa in most countries).
Then the pandemic hit, and we realized we'd need to stay put somewhere. We knew it had to be a country that we could get around with no car, at least for the first year.
We both love Italy, and while planning, we discovered that Jason is eligible for dual citizenship because of his great grandfather. Italy just seemed like the right place.
We knew it had to be Tuscany, and near Florence. I taught a study abroad in Italy a few years ago and visited Lucca on a day off from teaching. Lucca has a small-ish resident population. Tourists based in Florence visit for the day, like Pisa. Everything is walkable/bikeable.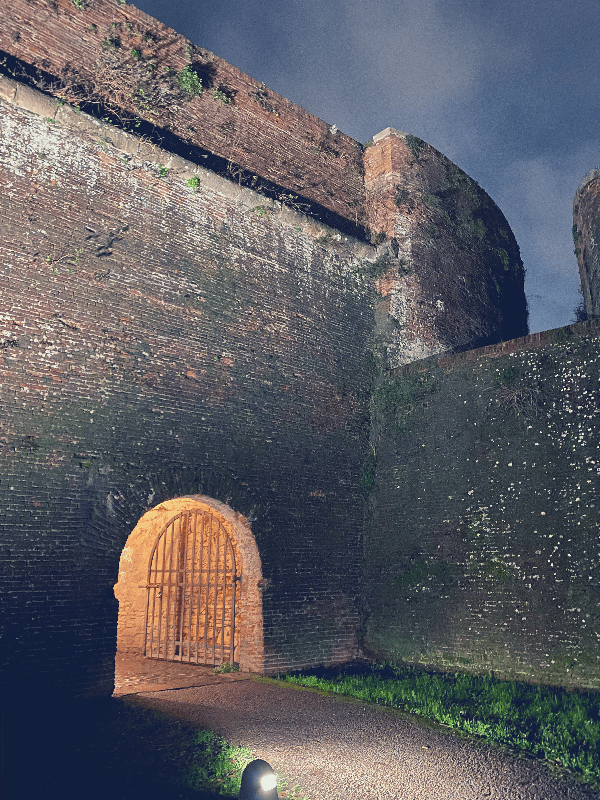 Lucca is surrounded by a wall, and inside that wall, it feels like a medieval town. The wall provides a great place to run without fearing cars. We knew that living inside the wall would be more expensive with smaller apartments than living outside, but we were able to find a great place within our budget.
Tell us about the process for getting your Italy student visa.
Once we knew that tourism was not going to reopen on our timeline, we needed a "reason" to enter the country. Since I will need to pass a language exam for the Jure Matrimonii (by marriage) citizenship process, enrolling in language school was obvious. Jason would only need it to get into the country. He is eligible for a Permesso di Soggiorno (extended stay permit) because he is applying for citizenship.
| Related Reading: Moving to Italy With an Italian Spouse
There are two language schools inside the walls in Lucca. Once we decided on Koinè Center, the visa process was easy and straightforward. Jason did not apply for the study visa but received a letter of enrollment in the language school.
I enrolled for 9 months, and Jason enrolled for 6 weeks. The admin at the school was very helpful. We paid the fees, she sent the paperwork needed for the visa via DHL, and I started gathering the other documents.
(Note: the study visa checklist linked above is from the Consulate General of Italy in Detroit, which has jurisdiction for residents of Kentucky. The checklist and visa process for other Consulates General may differ. Click here to see the Consulate corresponding to your location.)
With the pandemic, I was able to arrange to meet with the honorary consulate correspondent in Kentucky rather than driving to Detroit. It was just a matter of checking boxes.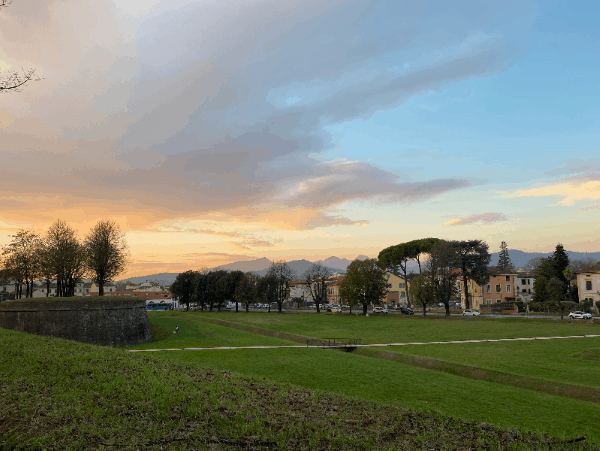 Health insurance and proof of financial means are the two things that were key. As retired military, the health insurance was easy, because the Consulate accepted TRICARE as sufficient coverage. And since we had been saving to travel, the proof of financial means was easy as well. Start to finish, the study visa took about two weeks.
| Related Reading: Using Your TRICARE Coverage While Living or Traveling Overseas
Jason is applying for dual Italian citizenship — how does the process work when you're already in Italy?
The process for applying in Italy involves becoming a resident of the comune (municipality) in which you are applying. To do that, you need a lease that is registered with the housing authority. Our realtor took care of all of that before we arrived.
Before you can apply for residency, you must show you have permission to stay by applying for a Permesso di Soggiorno. As non-EU citizens, we can only stay 90 days without a Permesso. Attesa di Cittadinanza (acquiring citizenship) is one category for applying for a Permesso (I applied for the study Permesso).
To apply, you make copies of all of the relevant paperwork (all U.S. and Italian vital records, USCIS naturalization documents), go to the Poste (post office), and they take your paperwork and make you an appointment with the Questura (immigration office). Jason's appointment is in March 2021. Once he has the Permesso, we can go to the Anagrafe (registry office) to apply for residency.
They send the authorities around at least twice to your home to verify that you actually live there. Then, you can take your residency, Permesso, and your application to city hall to apply for recognition of citizenship. So, all in all, you definitely need a year to make it happen here in Italy.
We can't speak to the pros and cons of applying in the U.S. versus Italy. For us, it works out to apply in Italy.
Jason had scheduled an appointment at the Consulate in Detroit for January 2021. He made the appointment back in December 2018 when we thought we would apply from the U.S. (that's how far out citizenship appointments are made). In preparation for that appointment, we had gathered almost all of the documents before we left the States. We were able to transfer the appointment to our two adult children.
There are several Facebook groups that offer tons of advice and resources about the how to get citizenship in Italy. I've been a part of this group for two years, and we could not have made it this far without them.
Do you speak Italian? If not, is it difficult to navigate daily life?
Parliamo male l'italiano! (We speak Italian badly).
We are taking classes. It's hard. But people here in Lucca are very friendly, and they try as hard to speak English with us as we try to speak Italian. Most restaurants have staff who speak enough English to communicate.
How does the cost of living in Italy compare to the U.S.?
Since Jason is using his Post-911 GI Bill for his online master's program in the U.S., his housing allowance is the online rate (currently about $900/month). That is enough to cover housing and utilities here in Lucca.
We have a second floor furnished apartment with two bedrooms, two full bathrooms, a large eat-in kitchen, and living room. We also have a washer and dishwasher.
We average €50-65 per week in groceries, which includes beer, wine, and pet supplies for two cats. With the pandemic, our eating out is limited. When we can eat out and/or order delivery once or twice a week, we average €25-40.
Our first aperitivo in the neighborhood was three glasses of wine with cheese, salami, and crackers, and our total was €12. A beer at the corner craft beer bar is €5 a pint. We have found that cocktails are more expensive, €6-7 for a Negroni. Still, in the States, a Negroni would cost twice that amount. The best thing is that two cappuccinos only cost €2.40!
We had a pre-Christmas lunch while COVID restrictions were low. A bottle of house wine, a bread tray with olive oil, a lasagna plate and a tordelli di lucchesi (a local dish) plate totaled €36.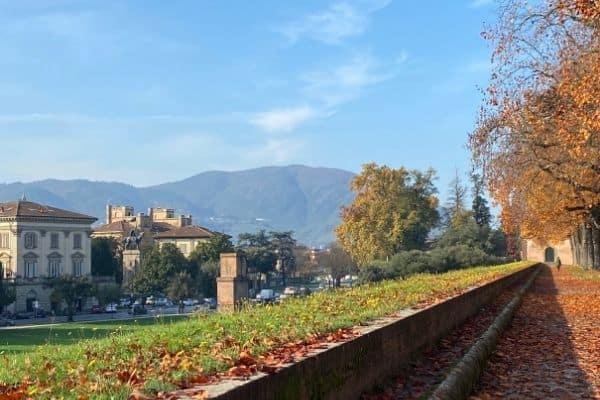 The only thing that is slightly outrageous is the cost of mailing anything back to the U.S. We mailed a small box, 14 oz, for Christmas through UPS, and it was €46.
All in all, we are pretty happy with the cost of living compared to our life in the U.S. but we've made a deliberate choice to downsize our whole life.
You moved to Italy with two cats. Did you need to make any special arrangements to bring them into the country?
They needed a health certificate signed by a USDA vet along with a rabies vaccine and a microchip. The issue is timing. The certificate must be issued within 10 days of landing in Italy.
Our family vet had no appointments available. Not all vets are USDA certified. Not all vets do international health certificates. Fortunately, because we are military retirees, we were able to get an appointment at Fort Knox (a 2.5 hour round trip from our house in Louisville).
The rest is just basic airline requirements. Once we landed in Rome, we had to turn the forms in to the customs agent.
Tell us about life in Lucca!
We love it here. It is really perfect for us.
Our biggest thing was needing a space to run. There is a wall that surrounds the town that is just over 2.5 miles around where you can walk, run, or bike. So every day involves running or walking a 5k sulla Mura (on the wall). There is also an amazing view of the Apuane Alpi mountains from the wall.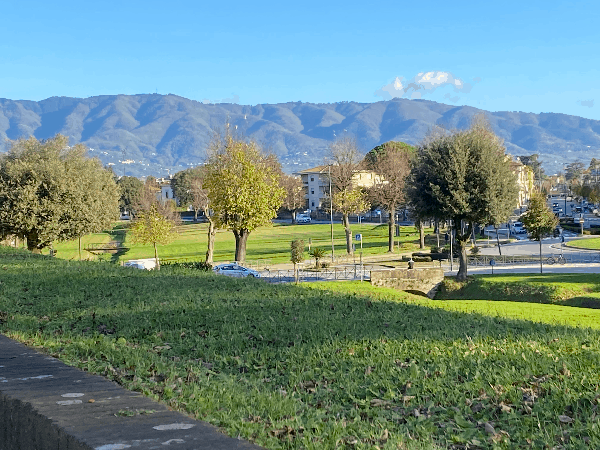 Public transportation is great, though we have avoided it for pandemic reasons. The train station is a 15-minute walk, and we can be in Pisa in 25 minutes or in Florence in 60 minutes.
We were stunned by how many shops there are in Lucca. Not just local shops but designer shops as well (Timberland, Levis, Sephora). Plenty of bars and restaurants. Not sure about the nightlife because of the pandemic.
An average week involves exercising on the wall, we bike outside the wall and down the river, we go to the grocery two or three times a week, we have language class M-F 9:30-11:30, and we go to Etta's Bookshop, an English language book store, usually once a week.
When places are open, we go for an aperitivo at the end of our street once a week. We stop for coffee twice a week. We take evening walks through the town. We are really anxious for museums to open.
Do you feel "accepted" in the local community?
People are very, very nice here. Others (in Facebook groups) have said Lucchesi (people from Lucca) are unfriendly. We have not had one experience of unfriendliness.
For the most part, people seem to go out of their way to be nice to us. All of our language school staff and faculty are extremely kind. Even the notoriously unfriendly Poste clerks have been very nice and helpful.
Jason is a big guy—big through the shoulders and athletic—and he stands out as an American! But no one has ever been unfriendly to him. It's the extreme opposite most of the time.
He has his favorite shops, and the people always remember him. He even gets offered cheese and bread samples. And, I am pretty sure one of our language instructors was hitting on him: "Jason, tu sei molto bello." Even I know what that means with my poor Italian! (Jason, you are very handsome.)
What do you like about life overseas, and specifically, about living in Lucca?
We are big history buffs, so living in a medieval city is pretty damn amazing. You can't walk out the door without realizing you live in an extraordinary place.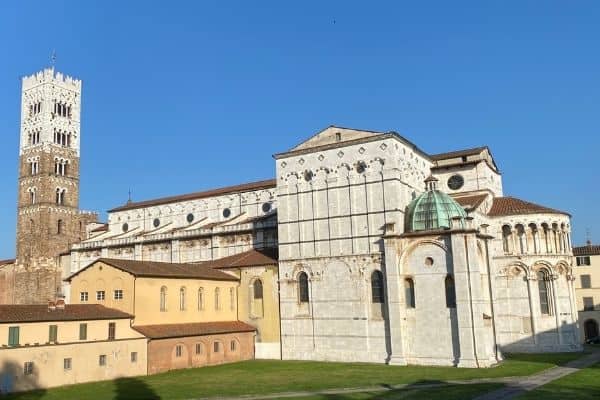 We love the ability to travel so many places (post-pandemic). We love learning and experiencing new things.
We love the relaxed attitude Europeans have towards what they accomplish in a day. In the States, there was always this feeling that we needed to be doing something all the time. The Italian lifestyle includes taking long lunches, stopping for coffee, relaxing when they eat, and never being in a rush.
We love not having a car or dealing with traffic. We love living in a place that is small enough to get around easily but also big enough to have everything we need.
What are some of the challenges of expat living in Italy?
Once you get through all of the things you need to acquire to become an expat, it seems there are just little things to adjust to.
Here in Lucca, the shops and offices close for siesta. So, we've had to adjust to basically getting nothing done between 1330 and 1600. The language is an issue, mainly because we want to be able to communicate well. Oh, and not having a clothes dryer.
Things that will eventually be a challenge: taxes, dealing with family emergencies back in the States, staying on top of any immigration paperwork, and budgeting, because working is limited.
Many of our challenges are really about "retirement" rather than expat life.
What are your longer-term plans? Do you intend to stay in Lucca for the foreseeable future?
We aren't sure. We've decided to set one-year goals for ourselves for the next 5-7 years. We have no desire to move back to the States. But, we are also not sure we are ready to not work.
Jason will finish his master's program and he does want to work in his field. But, it is also possible for him to do that here once his dual citizenship is completed. We can't see living anywhere else but Lucca. It really is perfect here for us.
What advice would you give to someone thinking of moving abroad? Anything specific for military retirees?
There is never going to be a perfect time to do it. And it isn't forever. If you decide you don't want to do it anymore, you are still a U.S. citizen and can go back. If you really want to move overseas: set a budget, start a to-do list, figure out a timeline—stick to all three of these.
Military retirees have so many benefits that others struggle with, so take advantage of them. You also have access to most military installations worldwide. Here in Lucca, we are close to Camp Darby. It is tiny, but we can get ranch dressing, Velveeta, cocktail peanuts, and cheddar cheese there!
If life is finding pleasure in these little things, then life is pretty good.
Stay tuned! We will catch up with Jennifer and Jason later this year to find out how Jason's application for dual citizenship is going! In the meantime, follow Jennifer and Jason on their blog, She and He Wander, and on Instagram!
If you are a veteran who is interested in living abroad after your military career, please join our Facebook group U.S. Military Retirees and Veterans Living Overseas.