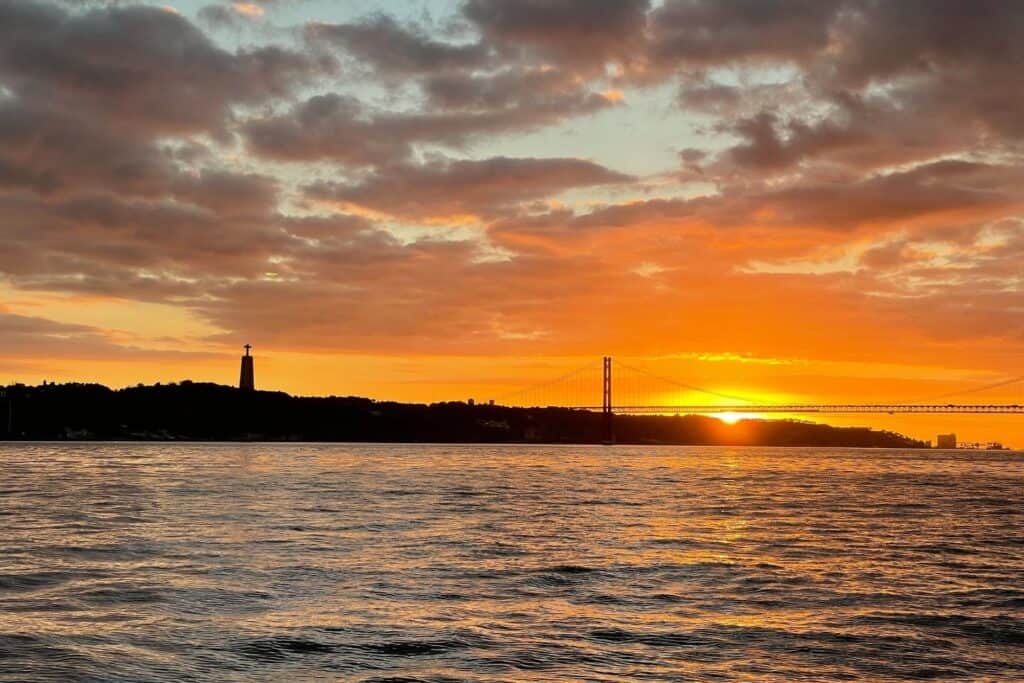 Stories about the adventures of American expats living abroad most often feature couples taking the leap as a team or young singles enjoying their freedom. If you don't fit that mold, you will love Heather Proctor's story! A single mom, she moved to Portugal with her teenage daughter. They found their community, and they are thriving in Lisbon!
In this personal Q&A, part of our Expat Retiree Interview Series, read how Heather's journey after a medical retirement from the United States Navy brought her and her daughter around the world, to Merida, Mexico, and finally to their new home in Portugal's capital city!
Heather has great advice for anyone moving to what has become the top destination in Western Europe for expats and digital nomads in recent years, and she shares her experiences traveling internationally as a single parent!
Contents (click to expand)
Why did you decide to move overseas, and how did you choose Portugal?
After being stationed in Japan for 2 years, I thought to myself "Wow, life abroad is amazing compared to the States!"
I wanted to choose a new set of orders outside of the U.S. after I finished instructor duty at Naval Air Technical Training Center Pensacola. Unfortunately, I was medically retired before this could happen.
I decided to travel the world with my daughter as "slow travelers" to see if we wanted to live the nomadic life. As much as we liked this way of traveling, we both wanted to have a home base somewhere.
What attracted me to Portugal was the low cost of living relative to the U.S., the easy access to fresh produce, the quality of life, and how easy it is to travel within the European Union (EU) and to Africa.
Lisbon was actually the first international city that I ever visited. It was my first port visit while on deployment when I was assigned to the USS Enterprise CVN-65 back in 2011.
After doing a lot of research and seeing the possibilities for Portuguese citizenship or permanent residency, we took the leap of faith and moved to Portugal!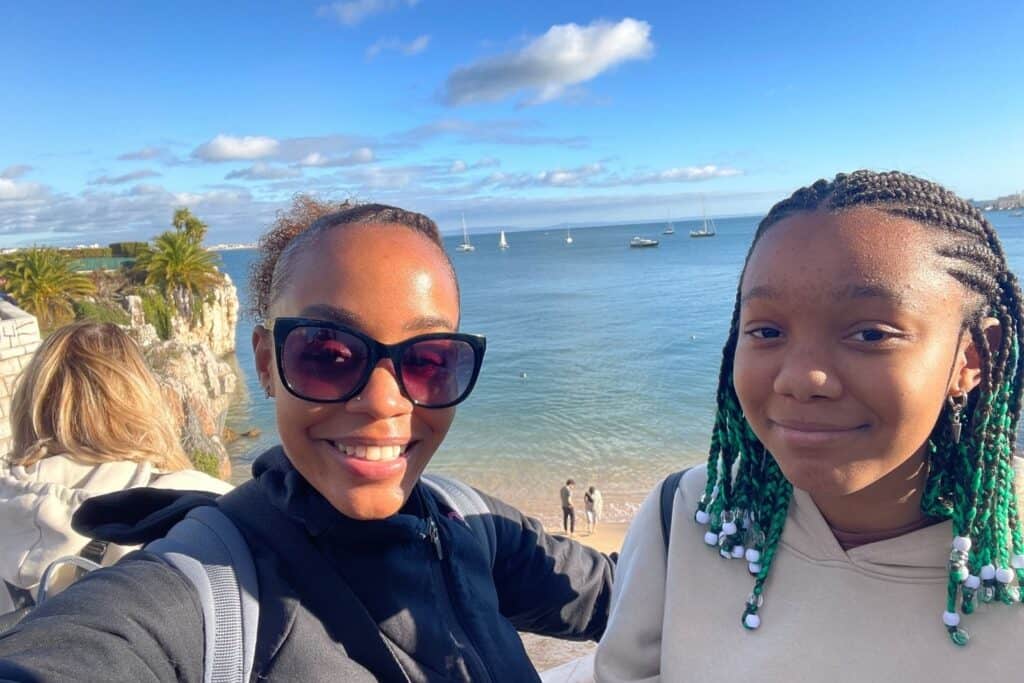 You were living in Mexico before moving to Portugal. Why didn't you settle there instead?
After I decided to move overseas, I sold my home in Florida, and we headed to Mexico to save money for our big move. We lived in Merida for 7 months, and it was one of the best decisions I ever made.
The entire city is just magical! The locals are friendly and always eager to help you with anything, without you even having to ask.
There are several reasons why I decided not to settle in Merida.
One of the main reasons was the heat and humidity. I have autoimmune issues, and the sun and heat do not agree with my body. I can't even count how many times I have been out in the sun and have fallen ill right away.
Another reason was that I am in school for film. It's just way too hot for me to be outside in the sun trying to film projects for school and leisure.
Lastly, my daughter is in high school, and she wanted to attend college in Europe. I wanted to have a home base and re-enter her into a school system that can prepare her for college. Previously, I had been unschooling/worldschooling for 5 years.
Don't get me wrong – many people love it in Merida. I will always come back to visit that beautiful city.
What did your daughter think about moving to Portugal?
When we moved to Portugal, my daughter was 14. She loved the idea of living in a new country. She was really open to it.
Personally, I think she was amazed with the quality of life and the experiences we had while traveling. She didn't have those experiences while living in the U.S.
Tell us about the visa process for obtaining your Portuguese residence permit.
I applied for our D7 retirement visa in June 2021 and was approved on the first attempt. We chose the D7 visa, but some applicants with underage children opt for the family reunification (D6) visa instead.
I joined a great Facebook group called American & FriendsPT. That group is highly recommended, because the admins and group member are up-to-date on all the changes that come from VFS Global (the company that manages the administrative process related to visas for some Portuguese consulates in the U.S.) and the embassy. Without that group, I am sure that my visa application and everything I needed to submit would have been a struggle.
It took a total of 10 working days to receive a reply from the embassy after my application was sent.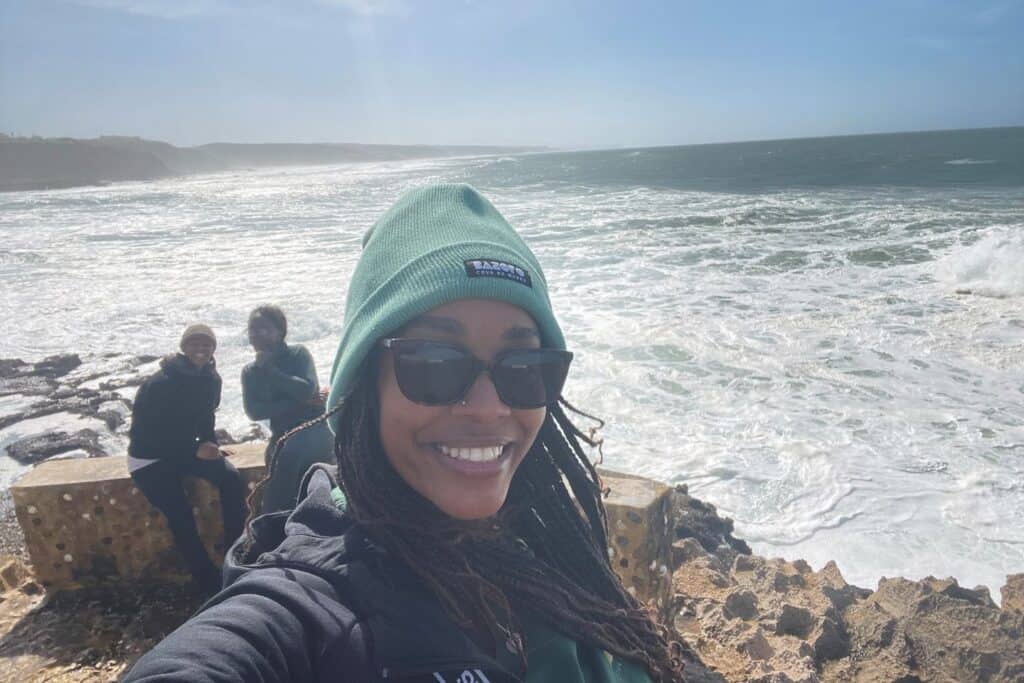 As a resident of Florida, I fell under the Washington, DC consulate's jurisdiction. It's important to note that each consulate has different rules and their own set of requirements. For example, when I applied, the DC consulate only needed proof of 6 months of housing, and they would accept Airbnb, Booking.com, etc.
(Note from Poppin' Smoke: when applying for a Portuguese visa, you must apply through the Portuguese consulate that corresponds to your state of residence.)
The San Francisco consulate was the complete opposite. They required applicants to have a 1-year lease, and it could not be from Airbnb or Booking.com. Many applicants were getting denied because of this requirement at the time.
| Related Reading: Applying for a Non-Lucrative Visa to Live in Spain
For the DC consulate, I needed a fully-funded bank account in Portugal. I read that people spent months trying to open an account abroad. I took another route, which I highly recommend, because it was less stressful.
There are two banks in Newark, NJ that fulfill the requirement. One is Investors Bank, which is partnered with Millennium here in Portugal. The other is Montepio Banco, which is an actual Portuguese bank. You can visit either bank in person or online and open an account.
Did you need permission from your daughter's father to move her to Portugal or for other international travel?
I needed documentation in order for us to apply for our visas to live in Portugal. There is a law, the International Parental Kidnapping Crime Act, designed to prevent international kidnapping, and the documentation is a requirement.
It was not easy, and it took several months for my ex husband, who has been absent from my daughter's life for almost a decade, to agree for us to move to Portugal. But I wrote an agreement that worked in our favor, and we were eventually allowed to live in Portugal.
I submitted this documentation, and there were no questions asked when I applied for our visa.
We have traveled all over the world, and it wasn't until a recent trip to Mexico, while leaving Germany, that I was asked where her father was and whether he knew we were traveling.
I told them that I had all my documentation and that I do not need his permission for travel, because we were already residents of Portugal, and I had our residency cards. I always make sure I have a copy of my custody arrangement along with notarized copies of our written agreement and my ex-husband's driver's license and signature.
What did you need to do to bring your pets to Portugal?
Bringing a pet to Portugal from the United States can be a bit complicated, and it's really important that you time everything correctly. We brought a dog and a cat.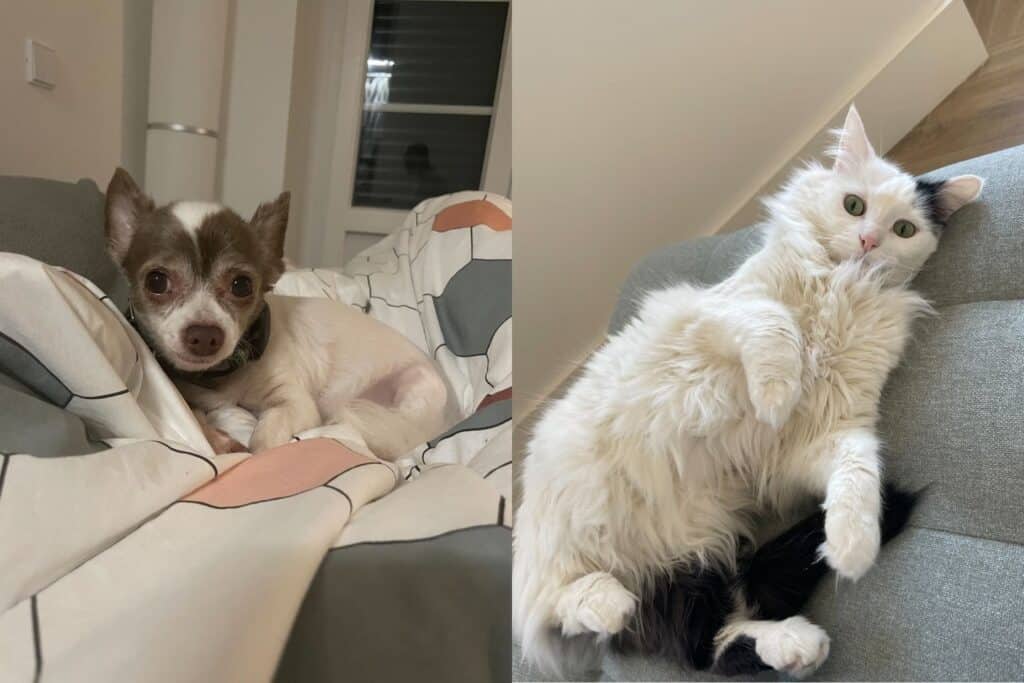 It took us time to find a vet that was USDA accredited. Many vets are not accredited, and I had to go to another state to find a vet that was accredited and that also knew how to correctly fill out the forms for international travel.
Our animals already had vaccinations that were still valid. However, because the USDA-accredited vet I found was not the same vet who gave the original vaccinations, both of my animals had to get repeat vaccinations. Also, both of my animals were rescues, so there was a slight issue with the date that they were microchipped.
You have a very slim timeframe in which to submit the paperwork: 10 days prior to travel. Within those 10 days, your paperwork must be stamped by the USDA and you must receive the original back in hand so you can travel with it.
I had to constantly contact my vet, who had to contact the USDA office, to make sure my paperwork was being processed and overnighted back to me. I got the paperwork back two days before travel.
At whichever airport in Portugal you fly into, you also must contact the veterinary office that handles importation of animals. Once you arrive at the airport, you will go to this office, and they will examine your pets to make sure they are microchipped and that you have all the necessary paperwork to bring the pets into the country.
It is very important to look on the USDA website before you think about bringing your pets to Portugal to make sure that you meet all of the requirements. If you don't have the health certificate, you will have a hard time bringing your beloved pets into the country
How does the cost of living in Lisbon compare to the U.S.?
The cost of living is more affordable than many major cities in the U.S. I can only speak for a household of two.
Two people can live comfortably off $2500 USD inside of Lisbon. The cost of living is higher the closer you are to the city center. If you choose to live outside of the city, the rent will be much cheaper, and you could live off $2000 USD a month.
I pay €1400 for a modern T3 (3 rooms) with 2 bathrooms in a renovated building. The price is not ideal for many, but I love all the windows and natural light. Plus, I have multiple balconies, and I also have an elevator, which many flats in Lisbon do not have.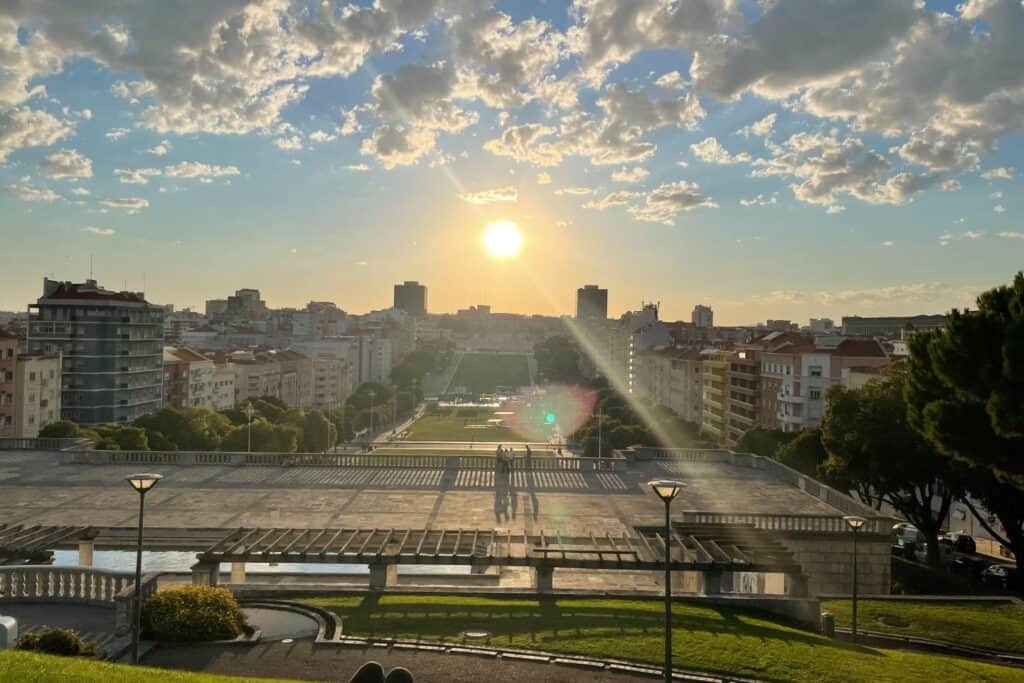 Portuguese people do not make as much as Americans do. While applying for our visas, we had to deposit a year's worth of funds in a bank account. The amount had to equal the annual minimum wage in Portugal.
For one adult it was less than €8,000, which translates to an average salary of €665 a month. (For children under 18 years old, you must deposit an additional 30% of the annual minimum wage).
Some examples of the prices for groceries . . . A fresh-baked loaf of bread is about €0.65. In the U.S. it would be over $2-3. A 6-pack of chicken wings is about €1.18 vs $5.23 in the States.
Good wine can be found for as little as €2.99 at Pingo Doce (the local grocery store), whereas in the States, you will easily pay over $7 USD for cheap-tasting wine.
Fish is also very cheap here. Even while living in Pensacola, FL, which is on the water, I would pay about $34 for maybe three decent pieces of salmon. Here, I can buy the entire filet (about 1.5 -2 kgs) for under €25.
I remember buying a few small potatoes, a broccoli head, onions, and tomatoes, and I spent under €3. Food is more affordable here.
Do you speak Portuguese? If not, is it hard to navigate daily life?
I do not speak Portuguese fluently yet. I am still learning.
Having some basic knowledge of Spanish has helped, since many words are the same or very similar to the Portuguese language. Many locals speak English, especially the younger kids.
You won't have trouble if you come to visit or live in Lisbon. I have heard that outside of the other major cities and tourist areas, like Porto, Sintra, and Algarve, people don't speak as much English. The language barrier could be a problem in a small town.
Did you enroll your daughter in school in Portugal?
I enrolled my daughter in Portuguese private school. The homeschooling rules are strict in Portugal, and I wanted my daughter to be around local kids to learn the language more easily.
Tuition is much cheaper than an international school, which can be about €1800 a month vs the €466 I currently pay.
My daughter is the only American in the school, so they help and cater to her. She is learning Spanish, Mandarin, and Portuguese.
While she is learning Portuguese one-on-one (she is the only student who doesn't speak the language), her classmates are learning English. As mentioned above, many of the kids speak English as well, so they help her translate her studies while in school.
Where do you get your health care? Do you have a local insurance plan?
You can get your health appointments at a local doctor or the local health clinic. I have a private health insurance plan that I got from my bank. I pay €16/month for two people, and that is the medium tier. It covers dental care as well.
In Portugal, you also have a health services number that allows you to get care at the local clinic for free or a minimal amount of money. I will say that I did have to wait several months just to get a health number.
Things like this take time, and patience is a must when you live in Portugal. I am awaiting an appointment with a specialist, but I have enough medication to last several months.
I also have TRICARE coverage, for which I pay $24 USD per month for two people.
(Note from Poppin' Smoke: military retirees who are enrolled in a TRICARE plan are covered worldwide. Here's how it works.)
Are you working or planning to work while in Portugal?
Currently, I do not work because of my disabilities. My military retirement is more than enough to cover the cost to live in Lisbon.
I am a film student studying digital cinematography online, and I plan to do freelance work as a way to stay busy in the field of photography and film.
I also run a community here called "Black in Portugal" with three other expats. Our community is based around wanting to connect the African diaspora here and help bridge the gap in Portugal.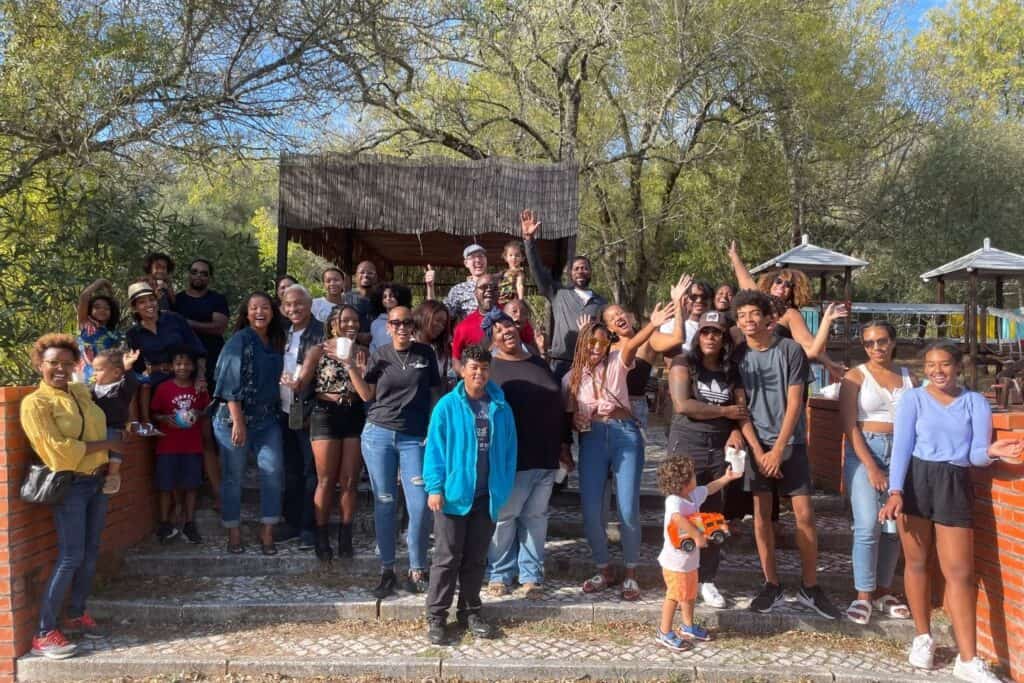 Prior to moving here, I had no idea that there were so many people, especially in the Lisbon area, from former Portuguese colonies in Africa, such as Angola, Cape Verde, Sao Tome, Guinea-Bissau, and Mozambique.
Through Black in Portugal, we have local events and meetups, and we are creating a positive home away from home community for us to thrive.
Tell us about life in Lisbon! What's a typical day or week?
Life in Portugal for me is simply amazing!
A normal week for me looks like waking up in the morning, taking my dog out for a walk, and then enjoying the rest of the day. I normally meet up with friends for lunch or dinner, or I am exploring the city.
Since Lisbon is a tourist area, there is always something going on, and it's a very beautiful city. The viewpoints and the architecture are simply amazing!
There are castles and old lookout points. People even joke about how you can be in San Francisco and Rio de Janeiro at the same time, since you can capture the Sanctuary of Christ the King statue (similar to the Christ the Redeemer statue in Brazil) and the 25 de Abril bridge (designed by the same architect who designed the Golden Gate Bridge) in one photo.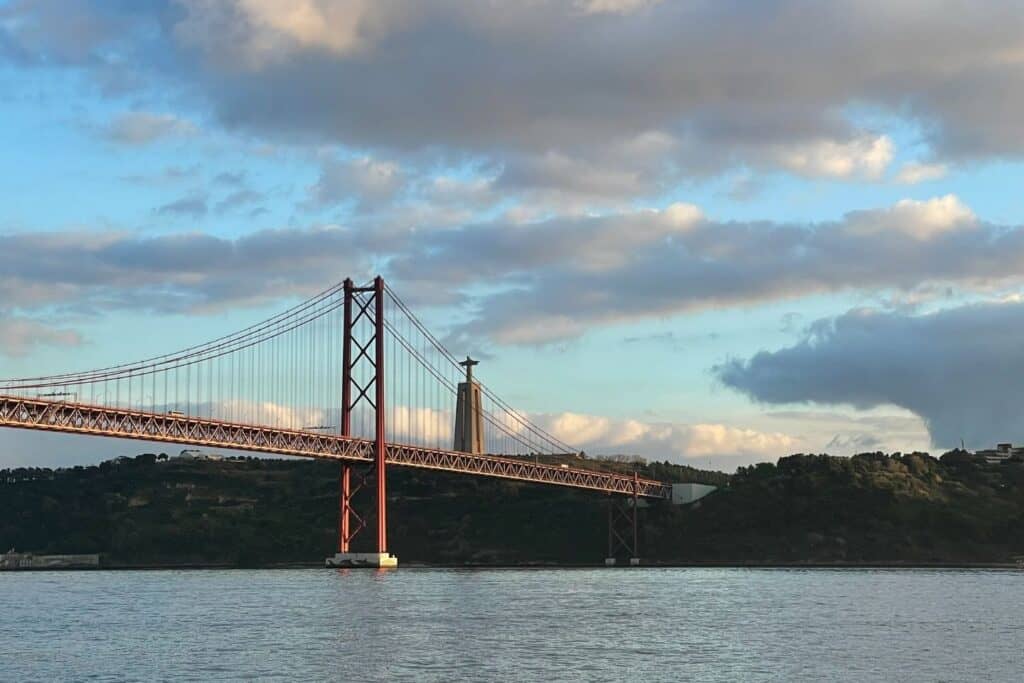 Lisbon is known for its "Seven Hills." Every day is a leg day if you live here, especially if you live or transit on one of the seven hills.
There is so much to do and see for all ages. I highly recommend, if you are visiting or even living here, to take the African Lisbon tour. You will learn a lot about the African history of the transatlantic slave trade that Portugal played a part in.
The nightlife in Lisbon is also amazing. My friends and I go out often to many different establishments. I will say that if you plan to go out in Portugal, especially in Lisbon, be prepared for a long night. The Portuguese like to come out after 12:00 AM and the clubs do not close until about 6:00 o'clock in the morning.
Public transport is good. Not only do we have buses, we have a great metro system, and we have a tram that goes around the city. We also have several train stations. Getting around is very easy.
For €40 a month you can have a monthly pass that will not only cover transportation within Lisbon, but to Cascais and Sintra as well as other cities in the metropolitan coverage area.
Do you have many friends from the local population, or do you mainly socialize with other expats?
I would say that I definitely have a lot of expat friends, but I also have a good number of local friends as well.
One of my main goals of moving to Portugal was to create a community of expats but also to connect and form organic relationships with locals as well. Living in a foreign country, having a local friend can go a long way.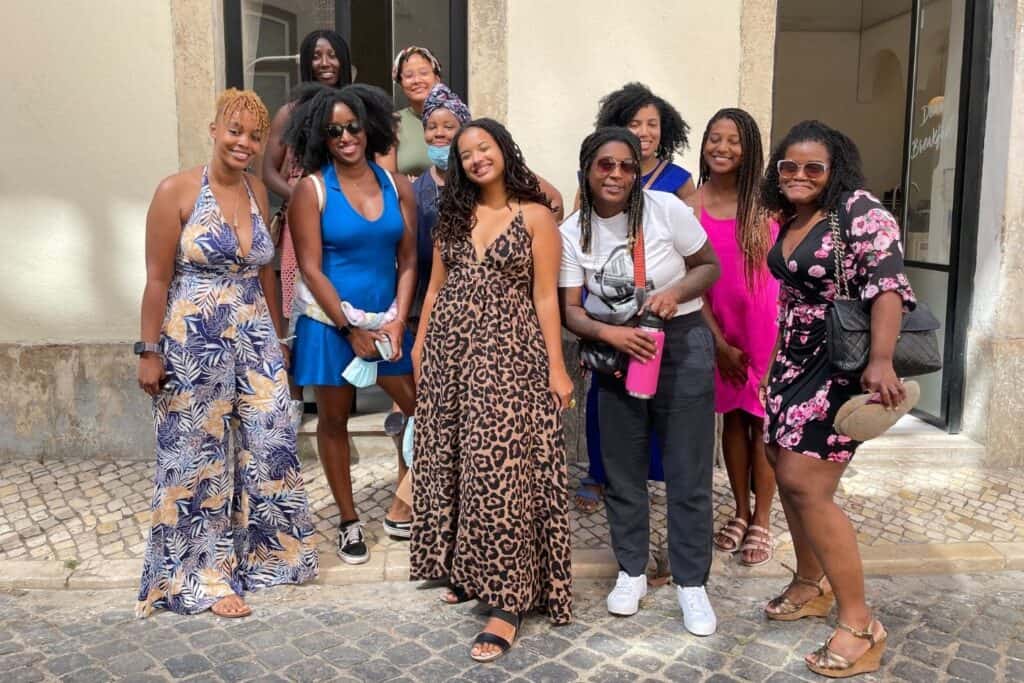 How does single parenthood in Portugal compare to the U.S?
Moving abroad as a single parent has its challenges. Those include, not only raising a child in a single parent home, but living in a country that believes that a man should give his consent and authority when it comes to a child.
I had issues setting up bank accounts for my daughter. I needed permission from my ex-husband in order to do so, even though I have custody, and I have documentation stating I don't need his permission for anything revolving around our daughter.
I also had issues with setting up a tax identification number for my daughter, because the office wanted my ex-husband's passport and his permission.
In other aspects of life, as a single parent to an older child, I don't find moving to Portugal as difficult as it would be if my child was younger.
My daughter is a teenager. She has her own way of thinking, and she has her own friends. If she was younger, I would need to find other parents that had kids her age who would want to do play dates and other things that are kid-related for her age.
In America, I think there are way more single moms in more of a community where you can set up play dates all the time. In Mexico, all of my friends had younger kids, so we would meet up at the park twice a week. One of my friends had kids my daughter's age, and that's when she would spend time with kids her age.
In Portugal I don't have any friends with kids that are my daughter's age. My daughter usually just makes plans with her friends from school, and they hang out on the weekends.
At this time in my life, raising a teenager, I will say that I have done my best to teach my daughter right from wrong and to always to do the right thing when no one is looking. She is a young adult, and she has a mind of her own.
At the age of 18, I want her to be able to walk into life as a young woman who has been exposed to different cultures, has traveled and lived all over the world, and who has the ability to make decisions without me having to tell her what to do. I want her to be able to make her own sound judgments based on how she was raised and our unconventional lifestyle.
I think that it is not common for a woman to live outside of her home country alone with a child. I continue to stay hopeful, and I continue to stand my ground, knowing that I can still make the best decisions for my child as a single parent.
What do you like about living overseas, and specifically, about Portugal?
Compared to the United States, I enjoy the high quality of life living in Portugal and overseas. The quality of life is so much better, not only for myself and my daughter as Black African Americans living overseas, but also for our mental health.
For me the climate in the United States is very toxic at the moment. I found myself depressed living in the U.S., and this is why I had to leave. I also wanted to have a safe place to raise my daughter, where I do not have to worry about her when she leaves the house because she is a Black young woman.
Another thing I like about Portugal is how easy it is to get around.
I also like that many of the foods here do not have all the toxic ingredients like they do in many foods in the U.S. I actually feel much better when I eat here and not bloated, as I often feel when I eat foods in the United States.
I also like that my daughter has an amazing school where she is happy, and she fits in, even as a foreigner who does not speak the native language at all. The diversity here in Portugal is amazing, especially in Lisbon.
What are some of the challenges of expat life in Portugal?
One of the challenges is trying out the new language that I am learning. I find that when I'm out in stores and I'm trying to give my NIF number (a tax ID number), I say it in Portuguese, but sometimes they just tell me to speak English, or they just talk in English.
It is kind of hard and frustrating sometimes, because when you're trying to fit in with the community and speak the language, you kind of get discouraged.
I remember one time I was in a lamp shop, and I was asking a question using Google Translate, which is not always the best (it's Brazilian Portuguese). The woman told me that my Portuguese was horrible and that I should just stick to speaking English. It was hurtful, but I know that if I keep trying that I can only get better.
Another challenge here is finding comfort foods that I like. There is a store here in Lisbon called the Liberty Store that sells American items. However, they can be very expensive. There's also another store in Berlin, Germany that sells American foods. You can purchase them online, and they will ship to you in Portugal in 2 weeks.
Lastly, the most important thing that's a challenge is the Portuguese bureaucracy. When you ask a question, you never know what answer you will get. It depends on the person you are talking to that day.
I find that the Portuguese are very laid back, and they go about handling your business in their own way. There is not a correct way to do anything that I've noticed in this country, so it varies based on the person you talk to.
For example, after getting my COVID- 19 vaccine, to record it in the Portuguese system, I was given an email address from the local Health Center to send our vaccine cards. I kept emailing and emailing, and after a month and a half, I still could not get our vaccines inputted into the application.
I went with my realtor, who speaks Portuguese, to the local Health Center to find out what was going on. My daughter needed her electronic proof of COVID vaccine for her trip to France with her school.
When I got there, they gave me another e-mail address and told me I needed to send the vaccine information and wait for them to input it. I stood my ground and said no, and I waited to talk to someone with my realtor.
They were able to input our COVID vaccine information into the system right then and there.
Little things like this are frustrating, because you get the runaround from people sometimes. I suggest you come with a lot of patience and know that the American way is not the only way of doing things, especially when you live outside the U.S. Patience is a virtue.
What advice would you give to anyone who is thinking of moving abroad? Do you have any specific advice for Portugal?
My advice for anyone wanting to move abroad is make sure you do your research. Research, research, and do more research.
I advise you to use social media to connect with communities in your target country. Through Facebook groups or Instagram, you can talk to people who are already on ground and get as much valuable information as possible.
Also, it's good to connect with people on a personal level so that when you arrive, whether you're on a scouting trip or moving there, you know at least one person.
Moving abroad is sometimes scary, but I promise that it can be the best thing for your life and mental health.
If you're thinking about moving to Portugal, I suggest you come and do a scouting trip for at least 2 to 3 weeks. Some people do only a week of scouting, but I feel that it's not enough time for you to scout different areas to get a feel of the community.
Lastly, surround yourself with like-minded people who are also wanting to move abroad or who have moved abroad.
I remember telling people that I was moving to Mexico with my daughter, and the first thing they said was "Are you not scared of the cartel? Are you not afraid of being human trafficked or shot at?"
They would also say things like, "Mexico is so dangerous, why would you want to move there with your child?"
I would respond that America is just as dangerous as any other country. There are good parts and there are bad parts. Merida has been ranked the second safest city in North America.
Do your research and please don't listen to the naysayers. There are so many different communities out there for you that will help you make your transition and journey abroad.
I also want to add that my mom came to visit me for 2 weeks when I was living in Mexico. She was so amazed! My mom had never pictured herself living outside of the United States, but something changed when she visited that magical city.
She returned to the U.S. and sold her home, and now she is living in Merida! She will travel to Portugal next and hopefully, this will become her home base. My mom is in her 60s, so it's never too late to travel.
I also have several friends who are my mom's age and either live in Portugal or are making the transition to move here. They are looking forward to living in Portugal and living abroad.
What are your longer-term plans? Do you intend to stay in Portugal for the foreseeable future?
My long-term goal for Portugal is to stay at least 5 years so I have the option of becoming a permanent resident or a citizen. The overall goal is to be able to obtain an EU passport and continue to live in Portugal.
I do not see myself living outside of Portugal in the next 5 to 6 years. It's such a great place for me to live, and my daughter loves it! Although she will go to college soon, I will still consider Portugal my home.
Follow Heather's adventures on Instagram and YouTube. You can find Heather's community, Black in Portugal, on Facebook and Instagram.
* * *
Should YOU move to Portugal?
If Heather's story piques your interest, and you're eager to learn more about life in Portugal, check out another expat perspective from an early retiree who moved to Portugal from the U.S..
If you plan to visit Portugal for a scouting trip, here's our itinerary and tips from our 2 months of slow travel through Portugal. As Heather mentioned, it's a good idea to spend at least several weeks finding the community that's right for you.
Also, learn about the best places in Algarve, Portugal's southern coastal area, which offers a warm climate, beautiful beaches, plus a mix of busy resort areas and smaller towns.