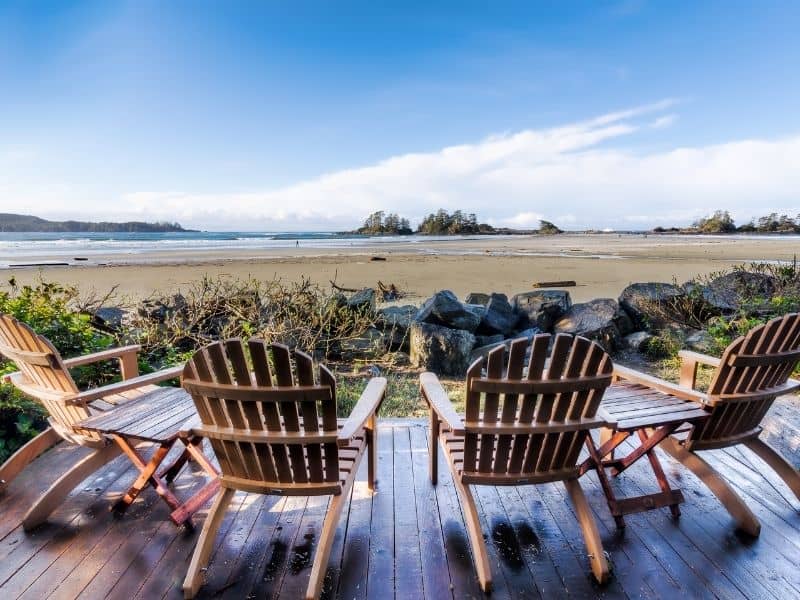 If you want to get away this winter, you have plenty of options beyond the most popular beach or ski destinations! There are many great spots that make fantastic places to visit off season, especially if you simply want a change of scenery or a break from the mid-winter lull.
I asked fellow travel writers to share the best places in the U.S. for winter vacation rentals, and they have some fantastic ideas!
For each location, I've highlighted several winter rentals to get you started in your search for a vacation home that suits your needs. Many of these rentals offer discounts for weekly or monthly stays, so make sure you input your dates for accurate pricing!
If you're not experienced at searching for vacation rentals, read this checklist before you start. It's the list we've used to find dozens of great rentals all over the world, and we've had nothing but positive experiences.
Let's start planning your winter getaway!
Contents (click to expand)
Jekyll Island, GA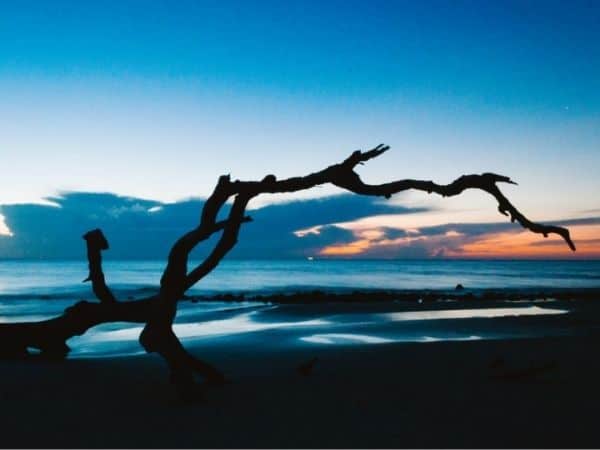 Jekyll Island is part of Georgia's Golden Isles on the southeastern coast of the state. Although inhabited by early Native Americans and settlers in the 1700's, it was popularly established as an exclusive club used as a winter sanctuary for well-known wealthy families of the 1800's, such as Rockefeller, Morgan, Vanderbilt, and Pulitzer.
Today the island remains a slice of paradise in the winter, with only 5 days of rain on average and daily high temperatures in the 60's, with lows in the high 40's.
Popular activities on Jekyll Island are golfing, relaxing at the beach (even in winter), and wildlife viewing, especially birds. Each year, Jekyll Island hosts a Holly Jolly celebration with a holiday parade, movie showings in the park, and more fun events.
The highlight of Jekyll Island is Driftwood Beach, where large driftwood trees have been washed ashore. It's a photographer's paradise during sunrise and sunset, when the colors contrast the driftwood so dramatically.
You can easily spend a few weeks on Jekyll Island in the winter exploring each beach, biking across the 7-mile-wide span of the island, and chatting up the locals at the small coffee shops and restaurants. You can also take day trips to nearby islands, like St. Simon's Island and Cumberland Island, where there are wild horses!
— Contributed by Alanna from Periodic Adventures
Book a Vacation Rental on Jekyll Island, GA!
Check out these ideas or search for your own Jekyll Island vacation rental.
Close to the Beach 2 BR, 1 Bath – This location has it all! Two-bedroom cottage within an easy walk of the beach, golf, and tennis. The home is beautifully furnished and comes with everything you need for a fun stay.
Cozy Studio – This condo is super clean and well-stocked. Guests have access to the pool and gym. Walking distance to the most beautiful beaches on the island!
Spacious 3 BR 2 Bath – If you need more space, this ranch-style home with enclosed back patio fits the bill. Located right near the bike trail and a short distance from the beach, you can enjoy plenty of outdoor recreation. The ping-pong table keeps you entertained while at home!
Asheville, NC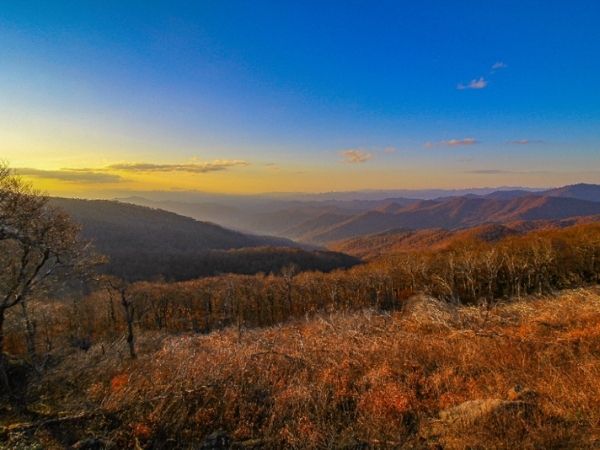 One of our favorite places to cozy up for the winter is Asheville, North Carolina. With no shortage of forest-dwelling cabins on the outskirts or artists lofts in the city, there's a home rental in Asheville for every kind of traveler.
After living in Asheville for a month, we fell in love with the lush, tree-lined streets of the city and the extraordinary views of the Blue Ridge Mountains everywhere you turn.
Winter is a fantastic time to be in Asheville because the fall crowds have left, leaving peaceful solitude in the popular tourist spots. Best of all, you can experience winter without being buried by the snow. Asheville has a mild winter, with snow days that lightly blanket the city with a few inches of snow.
If you're a lover of snow and want to get some mountain recreation in, Cataloochee Ski Area is 40 miles from the city and will satisfy any ski lover. For a truly magical winter wonderland experience, head to Looking Glass Falls after a snowfall. Located in Pisgah National Forest, the waterfall can be viewed from the road and doesn't require an arduous hike through snow.
Winter is also one of the best times to visit the #1 tourist destination in Asheville: the Biltmore Estate. At 8000 acres, this sprawling property offers a tour of the former mansion of acclaimed family, the Vanderbilts. It also has lovely hiking paths, a garden, its own winery, and various seasonal events. In the winter, they are famous for an extravagant display of lights and decorations.
After visiting the Biltmore, head to the French Broad Chocolate Company to pick up the best hot chocolate in town.
— Contributed by Christina from Live a Wilder Life
Book a Vacation Rental in Asheville, NC!
Check out these ideas or search for your own Asheville vacation rental.
Downtown 1 BR Condo – Located right in the center of Asheville, this condo is perfect if you want to live within walking distance of shops and restaurants but enjoy easy access to the many outdoor activities surrounding Asheville. This comfortably-furnished rental has beautiful views and a spacious kitchen, making it the perfect place for a winter home away from home.
2 BR, 2 BA Close to Everything – Another downtown rental, but with more space, this condo is great for a family or two couples. It has a separate dining area plus bar stools overlooking the kitchen and large couches. You have plenty of room to relax, work, or study!
Mountain Views with 2 BR, 2.5 BA: Enjoy panoramic views of the Blue Ridge Mountains from this spacious home on 5 acres. About 12 miles from downtown Asheville and a short drive from the Biltmore Estate, it's the perfect winter escape for a combination of relaxation, outdoor activities, and culture.
Chapel Hill, NC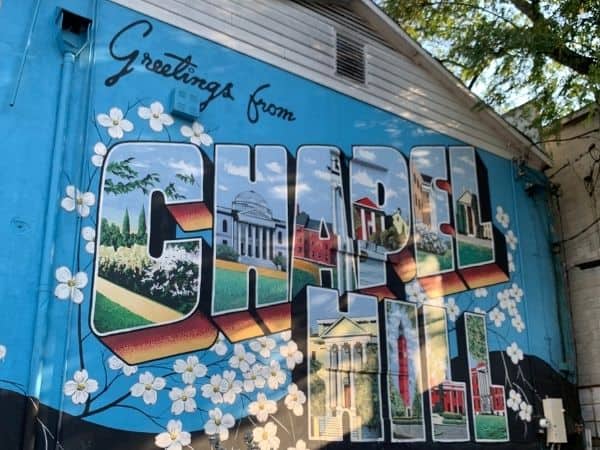 Chapel Hill, North Carolina is a little slice of Southern heaven. As locals like to say, "If God isn't a Tar Heel, then why is the sky Carolina blue?"
Beautiful in all seasons, Chapel Hill is a great place for a change of scenery in the winter. It never gets too cold, but there's still a good chance of at least one fluffy snowfall each year, with lots of days of clear blue skies and crisp winter sunshine to enjoy.
Best known as the home of the University of North Carolina at Chapel Hill, this college town is also one of the South's top foodie destinations. You can get what is said to be the best BLT in the U.S. at Merritt's Grill; biscuits and tea (sweet, of course!) at Sunrise Biscuit Kitchen; soul food at Mama Dip's; pizza at Italian Pizzeria III; or ready-to-heat prepared Indian meals at Vimala's Curryblossom Cafe.
While you're visiting, you should venture outside of town to make the most of what North Carolina has to offer. Chapel Hill forms one point of what is called the "Triangle." The bigger cities of Raleigh and Durham form the other two points, and are absolutely worth a visit. For a fun outdoorsy day, check out the Eno River and its corresponding rock quarry area in Durham.
About 45 minutes from Chapel Hill, you can visit the smaller cities of Winston-Salem and Greensboro, which have cute downtown areas to explore. Winston-Salem has a historic district, which is home to the Moravian town of Salem, today a "living history" museum that is mostly outdoors and a beautiful way to spend a day.
Also nearby is Hanging Rock State Park, a 9000-acre park with gorgeous wraparound vistas of the Piedmont region of North Carolina from the peak.
Traveling east rather than west, North Carolina has some of the most gorgeous coastlines on the East Coast, with the sprawling Outer Banks at about a 4-hour drive from Chapel Hill. Coastal cities, like Wilmington and Southport, are a more manageable 2 hours: perfect for a day trip. Walking around the beach in the wintertime is really a treat, with mild weather and no crowds.
— Contributed by Tegan from Why Not Walk?
Book a Vacation Rental in Chapel Hill, NC!
Check out these ideas or search for your own Chapel Hill vacation rental.
Cozy 1 BR in Residential Area – This highly-rated rental is a short walk to local shops, restaurants, and many recreation trails. With an outdoor patio and grill in a gated garden, this little home is your own private oasis!
Family-friendy 2 BR, 2 BA Cottage – This bright, airy cottage has a king size bed in the main bedroom and two twins in the other, making it the perfect place for a family with kids. It also has plenty of comfortable space to hang out, including a large outdoor deck.
Unique 3 BR, 2 BA on 5 Acres – If you want easy access to Chapel Hill but prefer a more secluded location, this rental is a great choice. Located on 5 acres of woods, this spacious home was custom-designed by its artistic owner. The screened porch, gas log fireplace, and the many windows with views of the surrounding trees make this rental a great place to spend a few weeks of winter!
Austin, TX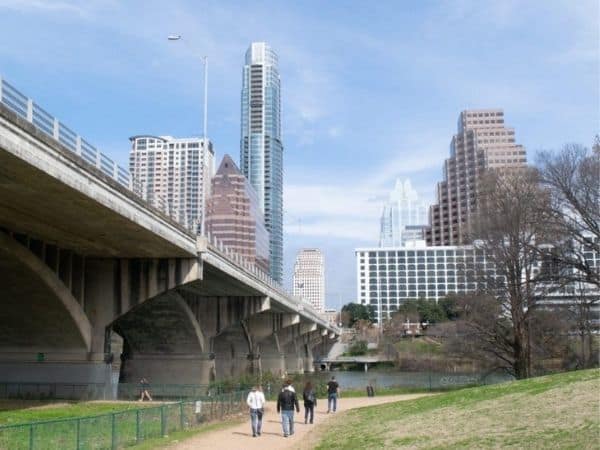 For travelers looking to spend a few weeks enjoying relatively warm weather, the great outdoors, and some of the best food around, you can't miss the opportunity to visit Austin, Texas in winter.
The capital of Texas and self-proclaimed Live Music Capital of the World is packed with hikes, both in and near the city (try Mount Bonnell for a classic view, the Butler Hike & Bike Trail for skyline views, and River Place Nature Trail for a workout), world-class barbecue and TexMex, and plenty of outdoor music events.
Of course, no trip to Austin would be complete without strolling down South Congress and snapping photos with some of the city's most iconic murals!
Set on the edge of the Texas Hill Country, the possible day trips from Austin are countless. Whether you want to explore Texas' German heritage in Fredericksburg or New Braunfels, see the state's only UNESCO World Heritage site in San Antonio, or chase waterfalls at Colorado Bend State Park or nearby Hamilton Pool Preserve, there is always something to do.
With average high temperatures that hover in the low 60s during the coldest months out of the year, and only 5 days or so of rain each month, you may not even need to pack a coat as you head south to Austin this winter!
— Contributed by Kate from Lone Star Travel Guide
Book a Vacation Rental in Austin, TX!
Check out these ideas or search for your own Austin vacation rental.
1 BR Cottage in South Austin – This unique cottage in a prime location gives you a taste of Austin with its funky décor. Perfect for a couple or solo traveler, it has everything you need for your stay, including a fully-stocked kitchen, fire pit, and private outdoor space.
Downtown 2 BR 2 BA – This town house is in a very walkable area of central Austin. It has a back yard full of trees, and a large rooftop deck from which you can see the Capitol! Bedrooms are bright and cheerful, and the this rental offers plenty of space to make yourself at home.
Pet-Friendly 2 BR 1 BA – This colorfully-decorated house in the Barton Hills neighborhood has vaulted wood ceilings, plenty of light, and everything you need for a comfortable stay. The property not only allows pets but is a short walk from the very popular Zilker Park, one of Austin's many large urban parks!
Moab, UT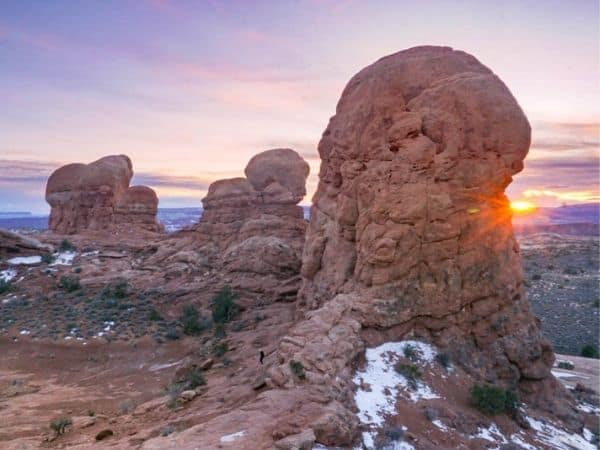 If you're looking for a great place to stay throughout the winter, look no further than Moab, Utah. Featuring out-of-this-world landscapes and plenty of adventure town amenities, you've got to check out Moab.
There are plenty of things to keep you occupied in this area. Spend your days exploring some of the best hikes in Moab, learn to rock climb, go on a scenic drive, or hit the hundreds of miles of single track mountain bike trails.
Right from downtown, you're just 15 to 30 minutes away from two national parks (Arches and Canyonlands) as well as Dead Horse Point State Park. Potash Road and Kane Creek Road each offer some dog-friendly hikes, off-road routes, and plenty of rock climbing. You're also close to other incredible natural areas such as Bears Ears National Monument, the Colorado National Monument, and Indian Creek.
However, don't let this desert destination fool you. It's regularly cold and snowy in Moab during the winter. Temperatures range in the low 40s to the teens during the day and even colder at night.
Winter is a quiet season for Moab. This means you won't have to contend with the hordes of weekend warriors, and you can experience some of Moab's best attractions without the crowds. If you don't mind the cold, then you might even argue that winter is a great time of year to explore Utah's famous desert locale.
There are several options for longer-term lodging. Vacation rentals are plentiful, even in winter (cheaper options exist in nearby Spanish Valley). For those who love their RV lifestyle, there are several private campgrounds that feature hookups, dump stations and monthly pad rentals.
Overall, Moab, Utah is an excellent winter getaway destination. Seeing the red sandstone monoliths dusted in snow is a real treat.
— Contributed by Meg from Fox in the Forest
Book a Vacation Rental in Moab, UT!
Check out these ideas or search for your own Moab vacation rental.
Contemporary 1 BR with Sauna – One of five "casitas" in a funky apartment complex, this unit is on the ground floor. With a central location close to town, you can enjoy local restaurants as well as the many outdoor recreation opportunities in the area. Relax at the end of your day in the property's outdoor sauna!
Dog-Friendly 2 BR 2 BA – This home in downtown Moab has a fenced yard, making it a good choice for travelers with dogs. It also offers access to the community's indoor pool, a 2-car garage, and several restaurants within easy walking distance, making for a comfortable stay year-round.
Spacious 2 BR 2 BA Ecolodge – This unique, colorful home offers plenty of space for a family or two couples to enjoy a winter stay. Enjoy incredible views of the surrounding area while soaking in your private hot tub or sitting on the large patio next to the fire pit!
Tucson, AZ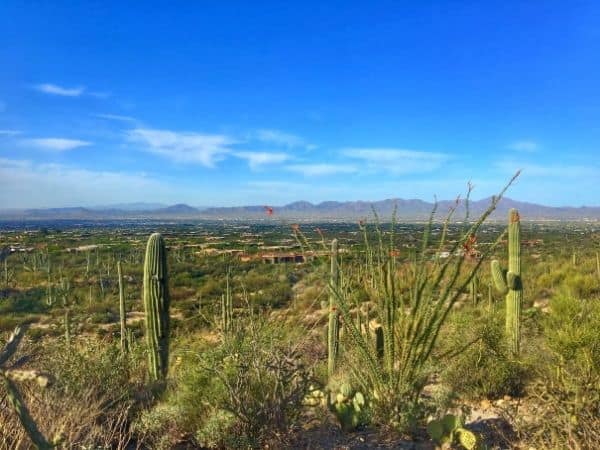 Tucson, Arizona is an excellent place to spend the winter. Unlike many warm-weather destinations in the United States, Tucson is very affordable. The city is home to many snowbirds, who flock to the Sonoran Desert each winter, but there are plenty of things to do in Tucson for younger travelers as well.
If you love to hike, you will love Tucson in the winter. Tucson is surrounded by five individual mountain ranges, each with their own amazing hiking trails. Some of the best places to hike in Tucson include Saguaro National Park, Sabino Canyon, and Catalina State Park. If you are looking for snow, there is even a ski resort at the top of Mount Lemmon!
When it comes to food, you can't beat Tucson's culinary scene. Tucson was the first city in the United States to receive the UNESCO City of Gastronomy Award. This is in part due to a long agricultural history, the availability of local foods, and an exciting modern culinary scene.
Culturally, Tucson has much to offer in terms of art and performing arts. Stargazing and wine tasting are two other local activities. Additionally, Arizona's capital city of Phoenix is just 90 minutes away, with even more cultural offerings and a major international airport.
— Contributed by Leigh from Campfires and Concierges
Book a Vacation Rental in Tucson, AZ!
Check out these ideas or search for your own Tucson vacation rental.
Large 1 BR Condo – This modern, centrally-located condo is popular for long-term rentals. It has a private patio with a grill plus outdoor dining table and chairs. Guests rave about the fully-stocked amenities and cleanliness.
Unique 2 BR 1 BA With Salt Water Pool – Very close to downtown and only 2 miles from U of Arizona, this colorful vintage home is a fun way to experience Tucson! Guests especially love the back yard, which includes a cactus garden, covered dining area, outdoor fireplace, fountain, and salt water pool!
Catalina Foothills 2 BR 1 Bath – This very unique guest house is filled with incredible southwestern-inspired art work. Located in a quiet desert setting, it has beautiful views and a patio with gas grill from which to enjoy them!
Joshua Tree National Park, CA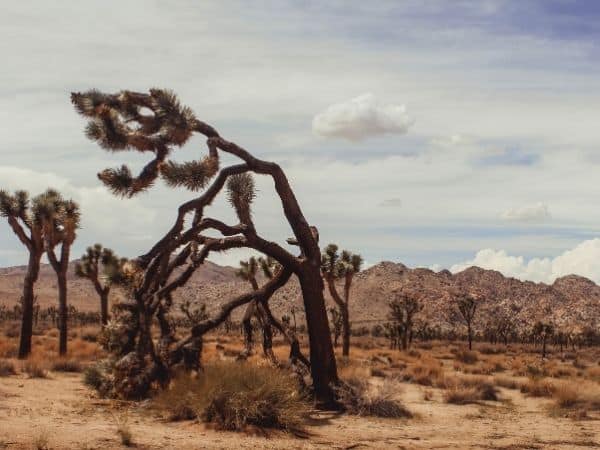 Joshua Tree National Park in Southern California is an incredible destination for wintertime. For the last five years, I've stayed here during winter and experienced everything from having the park to myself, to an extremely rare snowfall in the desert, to soaking the day away in mineral hot spring baths.
Joshue Tree is one of my favorite places on earth, and winter is the ideal time to stay here. Because of the typically hot desert climate, summer can be brutal for hiking and outdoor activities. Winter offers cooler temperatures, making November through February a much more enjoyable time to stay long term.
One of my favorite aspects of the park and the surrounding areas is the incredible variety of unique homes and vacation rentals offered. Everything from old RV's to tiny houses to luxury in the desert. No matter what you are looking for, you will be able to find a comfortable and interesting home away from home here.
The nearby town of Desert Hot Springs offers hotels and resorts with natural mineral spa baths on site. With as little as a one-day pass, you can experience the healing waters that actually do make your skin feel soft and hydrated.
Joshua Tree is roughly 2.5 hours outside of Los Angeles. Whether you intend to visit Joshua Tree in one day, or plan to stay for a month or more, there is a lot to see and you will never get bored.
— Contributed by Monica from This Rare Earth
Book a Vacation Rental near Joshua Tree National Park, CA!
Check out these ideas or search for your own Joshua Tree vacation rental.
1 BR Bungalow in Downtown Joshua Tree – This cozy home has everything you need to enjoy your stay, and it's conveniently located in the heart of Joshua Tree. Enjoy hikes in the National Park during the day and convenient access to restaurants at night.
Artistic Cabin for 2 – A fun desert getaway, this little ranch is in the best possible location to visit Joshua Tree National Park. The cabin is a studio but quite spacious, with quirky artistic touches and plenty of outdoor space. Guests repeatedly call this rental "cute," "cozy," "romantic," and "comfortable."
Secluded 2 BR + Guest House – If you're seeking peace and quiet, you'll find it at this ranch on 20 acres! The main house includes 2 bedrooms, while the separate guest house is a studio, making this a great getaway for large families or multiple couples.
North San Diego, CA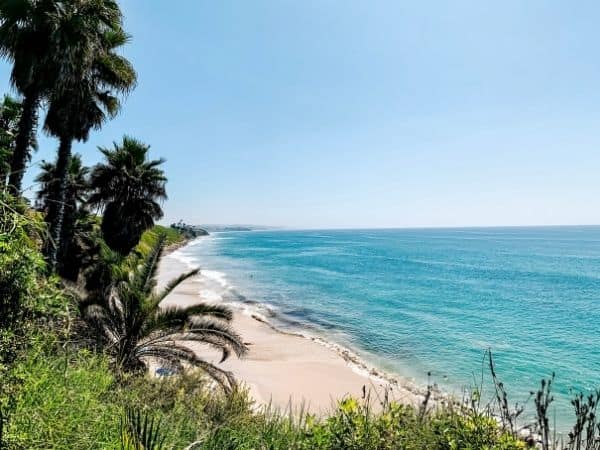 Coastal North San Diego County is an ideal place to spend winter. On average, the mostly sunny weather hovers around the 50s-60s, and there are only 4 rainy days per month. The temperate days are perfect for all the fun activities available in the charming towns of Del Mar, Encinitas, Carlsbad and many in between.
San Diego County is very large, taking more than an hour to drive from top to bottom without traffic. The northern part of the county, especially by the coast, has a suburban, yet beach town feel, making it a perfect location for extended stay visitors.
The best part of spending time in this seaside enclave is enjoying the relaxed pace of life. Whether you want to dine at a cool healthy cafe after a morning hike or hit the beach for sunning or surfing, you'll quickly feel like a local. There's also golf, kayaking, tons of beaches to explore, and sunsets that will make you glad to be alive.
When you have extra time, you can venture to chic La Jolla, San Diego's many beautiful parks, Old Town, and the famed San Diego Zoo. December in California has many festive events and The San Diego Bay Parade of Lights boat parade is one of the best. Skating by the Sea at Hotel Del Coronado is another.
For bigger day trips or weekends away, artsy Laguna Beach and the wineries in Temecula are less than an hour drive. Enjoy winter in California paradise!
— Contributed by Jenifer from The Evolista
Book a Vacation Rental in North San Diego, CA!
Check out these ideas or search for your own North San Diego vacation rental.
Two Houses in One – This unique, dog-friendly listing includes two separate houses: a main house and a "tiny house," each with one bedroom. They share an enclosed yard and are located in Oceanside, with beach access across the street.
Pet-Friendly 1 BR Cottage – This adorable house in Carlsbad has several nice touches that make it a relaxing getaway: an enclosed yard with grill, firepit, and outdoor shower; a covered patio; and beach equipment supplied by the host. Everything about this place gets rave reviews from guests!
Large 2 BR, 2.5 Bath Condo – This renovated two-level condo in Solana Beach is beautifully decorated and has tons of space. Only steps from the beach, guests also have access to the community's pool, jacuzzi, and tennis courts.
Monterey, CA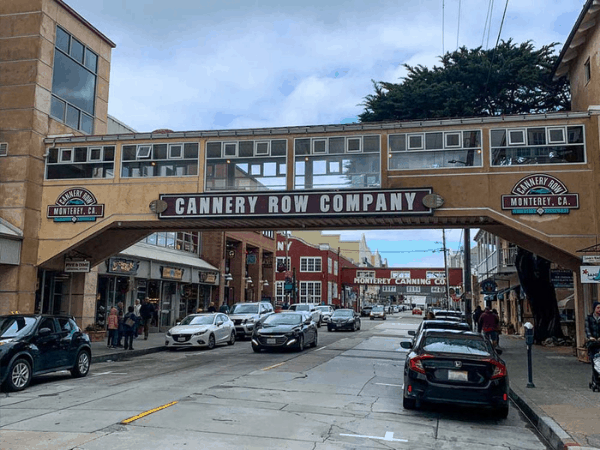 Monterey is a quaint coastal city located less than 120 miles south of San Francisco, and it's the perfect relaxing respite during the winter. Away from the hustle and bustle of the San Francisco Bay Area, Monterey offers beautiful hikes and close encounters with wildlife.
The hiking trails in Monterey cannot be beat! It is home to a good mix of coastal trails along with trails that traverse the hillsides. One of the most popular trails along the coast is the Monterey Bay Coastal Trail. The trail is a total of 18 miles running from Watsonville in the north down to Pacific Grove in the south.
The best (and most easily accessible) part of this trail is between Old Fisherman's Wharf in Monterey down to Pacific Grove where you'll get a chance to pass by the famous Cannery Row and Lovers Point Park.
Surprisingly, during the winter, you can see a lot of wildlife in Monterey. From the gray whales that stop by the Monterey Bay on their migration north to the harbor seals that hang out on the beaches in Pacific Grove and Point Lobos, you'll be in for a treat. On some wooded hiking trails in the area, you'll also find the infamous bright yellow and sometimes spotted California banana slug.
The winters in Monterey can be a bit rainy and foggy since it is the wet season, however mild and sunny days can also be found there. The temperatures don't usually dip below 45 degrees Fahrenheit so it isn't too chilly at all.
— Contributed by Constance from The Adventures of Panda Bear
Book a Vacation Rental in Monterey, CA!
Check out these ideas or search for your own Monterey vacation rental.
Large 1 BR Oceanfront Condo – This large, beautifully-decorated condo has stunning ocean views from inside the home and the wrap-around deck overlooking Del Monte Beach. The condo comes fully-stocked with everything you need for an extended stay, including spa amenities!
Modern 1 BR Condo in Cannery Row – You can't get any closer to the action than this condo only a block from the Monterey Bay Aquarium and steps away from the coastal recreation trail. Clean, spacious, and well-equipped, it even has a fireplace for chilly winter nights.
Hilltop 3 BR, 2 BA – This rental is located in Seaside, one of the neighboring towns just north of Monterey. It boasts panoramic ocean views and multiple outdoor spaces, including a deck with gas barbecue and a yard with a fire pit. Relax and enjoy everything the area has to offer with plenty of space for a the whole family or multiple couples.
Bend, OR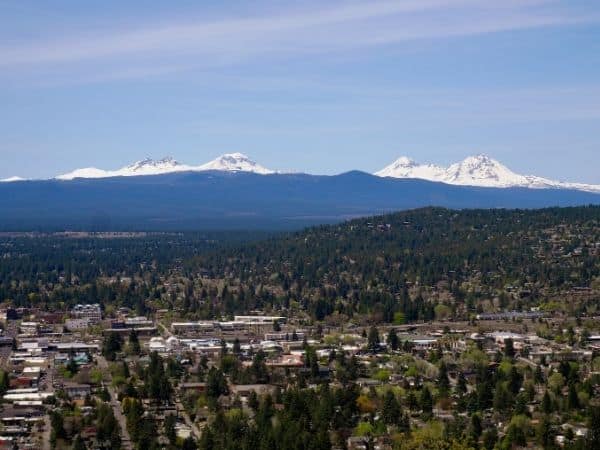 Bend, Oregon is a winter wonderland that lies on the sunny side of Oregon's Cascade Mountains. Home to rivers, mountains, desert, forests, and canyons, it is a year-round dream for nature lovers and outdoor enthusiasts.
During the summer months, the Central Oregon town is a mecca for hikers, mountain bikers, rock climbers, and kayakers. In winter, it is the gateway to some of Oregon's best skiing.
Bend sits east of the Cascade Mountains, where sunshine abounds. With nearly 300 days of sunshine a year, the town mostly manages to escape the rainy days that most people associate with Oregon. Even in winter, the area boasts sunny weather and clear blue skies.
For lovers of winter sports, Bend houses an abundance of recreational opportunities. Nearby Mount Bachelor is a haven for skiers and snowboarders. In addition, the town's vicinity contains ice skating rinks, sledding hills, and an extensive network of trails suitable for nordic skiing and snowshoeing.
Though some areas of Central Oregon are inaccessible during winter, many of the hiking trails east of town remain snow-free. To witness the best of Central Oregon's scenery in winter, you can stroll through the Oregon Badlands Wilderness, follow the Deschutes River Trail, or climb the soaring cliffs of nearby Smith Rock State Park.
If you're looking to warm up after a morning in the snow, you can visit the heated pool at McMenamin's Old St Francis School, or cozy up with a pint of beer at one of the town's many microbreweries.
— Contributed by Erika from Erika's Travels
Book a Vacation Rental in Bend, OR!
Check out these ideas or search for your own Bend vacation rental.
Renovated 2 BR+ 2 Bath Bungalow – Situated in a prime location close to everything Bend has to offer, the layout of this rental is perfect for a family or two couples. Besides the main house with two bedrooms and bathrooms, there is a separate bunk house with sofabed. Enjoy the beautiful fire place, hot tub, and easy walk to downtown Bend!
Modern 2 BR 2 Bath with Panoramic Views – The many windows in this well-equipped condo offer stunning views of the surrounding area and the Deschutes River. Soak in the private hot tub on the deck after a day enjoying winter in Bend!
Dog-friendly 3 BR 3 Bath Townhouse – Bring the whole family, including the dog, to this large home with three bedrooms (one had bunk beds). The location in Bend's Old Mill District is perfect for enjoying Bend's shopping, breweries, and river trails!
Ready For a Getaway?
I hope you're inspired to check out a winter rental in one of the places above or another city you'd like to experience. We all need a getaway now and then, so even if you book a vacation rental to simply carry on your day-to-day life in another location, you will benefit from the change of scenery!
All destination photos courtesy of their respective contributors.