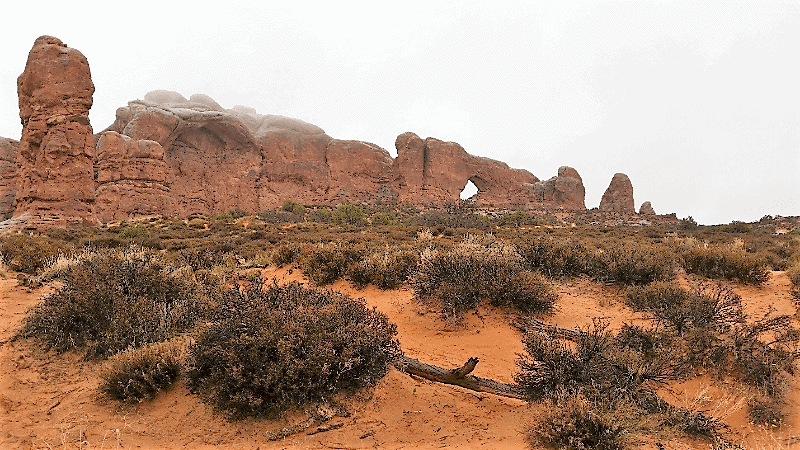 Military families who love the outdoors love Colorado Springs, not only for the incredible mountains surrounding the city, but for the proximity to many National Parks! In this guest post, Christine Maxwell from Her Money Moves shares tips from her family's one-day tour of Arches National Park, including how to plan, what to bring, and where to stay!
* * *
The silver lining to PCSing every one to two years is that I've had the opportunity to live places I never thought I would. In addition, living in different parts of the country has allowed me to easily explore so many of our nation's National Parks.
We know our time in Colorado is limited, so when a four-day weekend comes along, we grab our National Parks Annual Pass, pack a cooler, gas up the truck, and explore what we can in a weekend!
Destination: Arches National Park
I found out about Arches after vacation-hunting on Pinterest one night. This place was too beautiful to be true.
Arches National Park is a vast, red-rocked natural wonder in east central Utah, just across the border from Colorado. At almost 120 square miles, there are more arches, petrified dunes, canyons, and trails than you could ever imagine exploring. Over the course of 300 million years, natural forces have eroded the landscape into the 2,000+ arches and formations you can see today.
The unearthly landscape of Arches will make you feel like you're an explorer on a new planet. It will make you think about the vastness of the West, the United States, and our planet. A visit to Arches will help you unplug and reset. I can describe it for you and show you pictures, but you won't understand it until you see it for yourself.
Road Trip from Colorado Springs to Arches National Park
We decided that if we were going to do a road trip to Utah from Colorado, we would at least try to make a vacation out of the round trip itself.
Instead of just entering our destination on Google Maps, I spent a little more time examining the routes. I researched cool parks and playgrounds to let my two-year old stretch and get his wiggles out, the best place to get ice cream, an amazing burger, or the best green chili.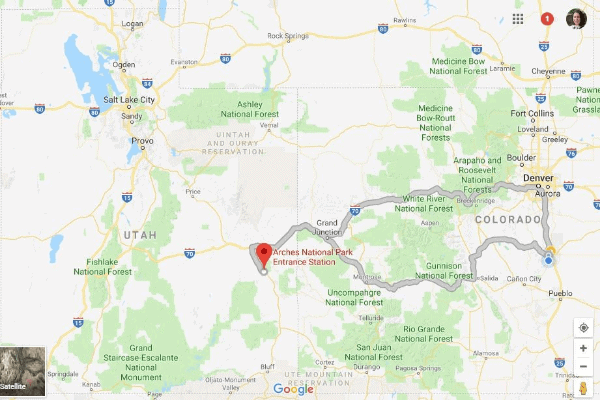 We drove from Colorado Springs to Moab in one day (6 hours), but on the way back we decided to take a slower route with pit stops at Grand Junction, Palisades, Glenwood Springs, and finally stopping in the ski resort town of Edwards, CO for the night. We had less time at Arches, but we were able to see a few more glimpses of some really interesting Colorado small towns.
Here's what we did during our whirlwind one-day tour of Arches.
Arches National Park in One Day
Morning: We arrived early to beat the long lines to get in! After stopping at the Visitors' Center to grab an Arches National Park map, we filled our water bottles and took advantage of our last chance to use a real bathroom for the day.
From the Visitors' Center, we drove north on the main road, stopping along the way to get out and take pictures at all of Arches National Park's major viewpoints: La Sal Mountains, The Organ, The Three Gossips, and Tower of Babel.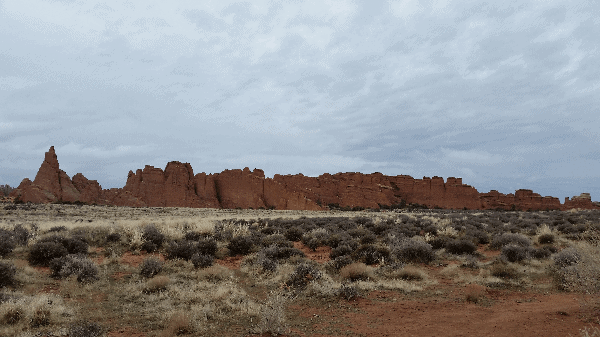 We continued north, following the "The Great Wall" on our left. On our right was the petrified dunes.
I don't think I've ever seen my husband so excited as when he found out that Arches has several trails that are only passable if you have a four-wheel drive or off-roading vehicle. So, of course we had to try out the off-road trail to the Willow Flats with his new Dodge Ram.
The trail is really long, and leads straight west to Nevada. I ended up having a really fun time on the off-road trails, even though I was convinced we were going to get stuck and stranded. It was cool to see some of the less-traveled formations.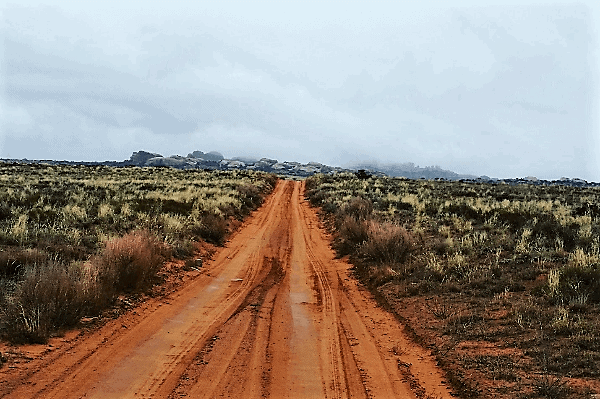 Afternoon: We spend the entire morning driving because it was raining, but by the afternoon the rain turned to just a drizzle. We headed back from the Willow Flats to see the famous Balanced Rock and then drove down to the "Windows Section" where we did a leisurely hike to see Double Arch, North and South Window, and Turret Arch.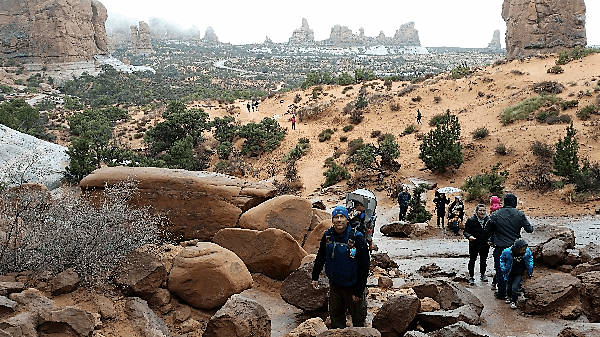 From the Windows, we drove north, stopping to see Fiery Furnace and continuing 8 miles north on the Salt Valley. Then it was time for some more off-roading as we made our way to Tower Arch and Marching Men.
(No off-road vehicle? No problem. Take a half-day 4×4 tour!)
The off-roading in the northwestern part of the park was crazy, and I often had to hop out of the truck to help guide it over boulders and steep grades. When I finally had enough in-and-out of the truck, we decided to quit while we were ahead and turn back for one last hike.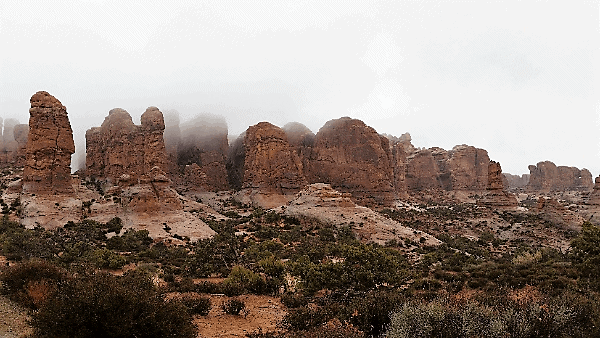 Evening: We headed towards the park's campground area and did one short hike to Tunnel Arch. Advanced hikers and climbers (and those without a 2 year old in tow) could continue north towards the Devils Garden, where some of the most advanced, strenuous-but-beautiful hikes are located.
After our last hike, it was time to head out of the park after a long day and grab some dinner!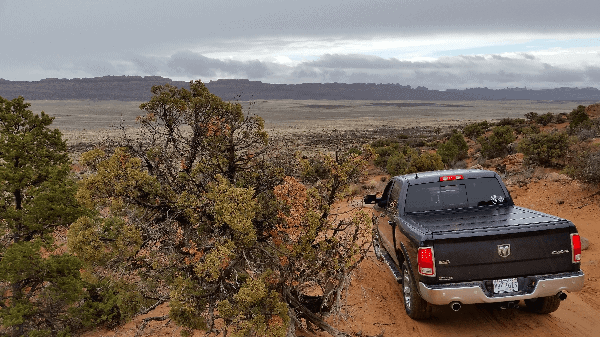 Hotels Near Arches National Park
We stayed at Red Cliffs Lodge in Moab, UT. After looking at several different lodges, I settled on this one. It was rustic but had some luxurious touches like a king bed, pull-out couch, mini kitchen, and a front row seat to the Colorado River.
Best of all, because it was off season, we were able to stay in this great resort for a steal and they gave us a military discount on top of it!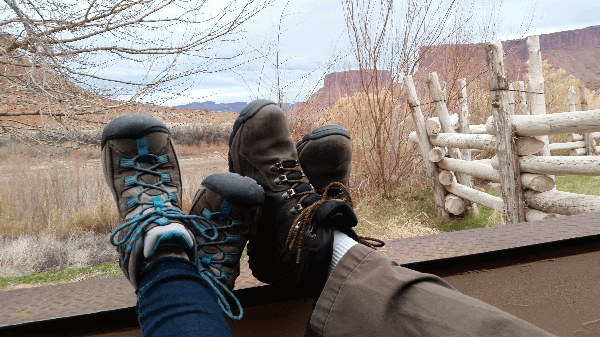 I'm sure I could have found a less expensive place to stay, but I was able to grab the off-season rate ($132/night). What I loved about Red Cliffs was that it was more than just a hotel room. On site there was a steakhouse and bar, horseback riding, a winery, green space to play, walking trails, cattle, and a heated pool and hot tub.
Click here to see picture and check rates at Red Cliffs Lodge!
Use the map below to search for other hotels — and vacation rentals — near Arches National Park!
Where to Eat
Day 1: We arrived at our lodge on a Friday night. Since it was on the outskirts of the city, we decided to dine at the on-site restaurant, The Cowboy Grill. It was upscale food and service but casual enough that bringing our toddler was no problem.
The views of the Colorado River and canyons behind it are amazing, too. We had some great cuts of meat, and we even tried Rocky Mountain Oyster!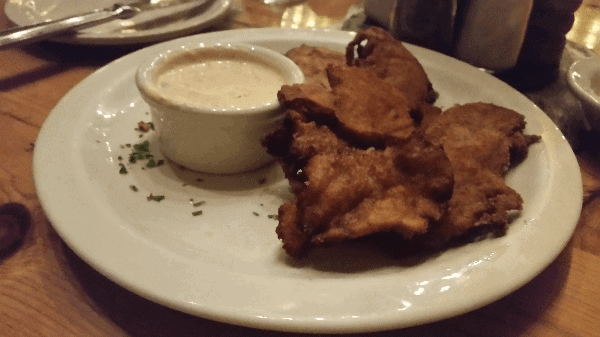 Day 2: We ate breakfast in our room, thanks to our mini kitchen, and packed a picnic lunch for us to take to Arches. Remember, there is no place to eat once you are inside the park. It really isn't convenient to leave in the middle of the day, either.
For dinner we rewarded ourselves with burgers, ice cream, and beers at Moab Brewery. Since our lodging was a little ways out of the city, it was fun to see what was going on in downtown Moab.
| Click here to search for Moab hotels near Arches National Park.
Day 3: We stopped back in Moab for a late breakfast at the Moab Diner. We tried green chilis on our breakfast hash plates, and my son's toddler dreams came true with the biggest cinnamon bun you have ever seen, topped with ice cream! With full bellies, we loaded up the truck and headed back towards I-70 out of town.
Pro Tips for a Successful Trip to Arches National Park
The best time to visit Arches National Park is in the off-season for steep discounts. However, do some research to confirm that the activities, attractions, and restaurants that you're interested in visiting will be open.
Canyonlands National Park is just a short drive from Arches. We planned to go on Day 2, but heavy downpours changed our minds.
The line to get into Arches (and many other parks in the West) can grow long quickly. I'm talking, looooooong. Beat the lines and the run by getting an early start in the morning, even if you go in the off-season.
Arrive with a full tank of gas. Arches is a HUGE park and you'll actually be doing a lot of driving so that you can see as many of the major landmarks as possible. There is no place to gas up within the park.
You probably won't get cellular service, so plan accordingly.
Pack a cooler full of snacks and plenty of water for everyone in your vehicle, especially if you plan to hike. There are only two spots inside the park where you can fill up on water.
Stretch your dollar with lodging near Arches National Park that not only provides you a place to sleep but also offers extra activities once you return from a day in the Park.
Always double-check the weather. It never rains or snows in the desert, right? Wrong, only when I go. Don't be caught off guard without the gear you'll need to stay comfortable.
Don't forget your camera, but just be warned, there's no photograph out there that will do these panoramas justice.
Military Discounts in the Arches/Moab Area
Grab your annual National Park Pass for free! See all the details about it here.
When you make reservations for lodging, ask if they offer a military discount. You'll find that most of the lodging in Moab and its surrounding areas is not major corporate hotel chains. Many sites don't list a military discount on their website, but they will often give you one if you call and ask.
Moab, UT is obviously not a military town, but we were surprised about all the military discounts that we encountered at stores and restaurants and with lodging. Don't be shy, it never hurts to ask!
Ready to Visit Arches National Park?
A visit to Arches and the other National Parks near Moab makes a great getaway! Pick your dates, book your hotel, and use the itinerary above to plan your trip to this incredible part of the U.S.!
* * *
Christine Maxwell is an Army wife, mom, and personal finance junkie. She is the founder of Her Money Moves, a blog about personal finances, career, and military lifestyle for military spouses and their families.