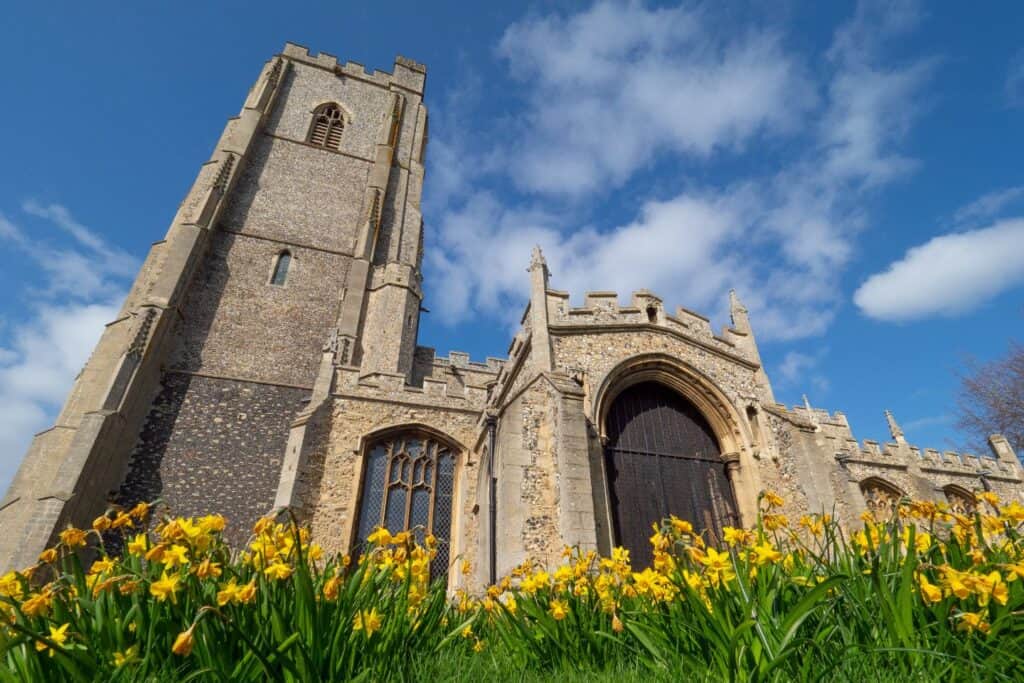 Whether you're stationed at RAF Mildenhall or just visiting, get ready to take advantage of everything this beautiful part of the UK has to offer!
Mildenhall is located in Suffolk, England, about 80 miles northeast of London. Within a few hours, you can visit dozens of quintessentially English towns, stroll through beautiful forests and gardens, tour a royal residence, and of course, spend a few days in London!
That was just the tip of the iceberg, so read these recommendations from Army retiree and guest contributor, Mike Worth, to make the most of your time in the Mildenhall area!
Note: Beside each destination is the approximate travel time from RAF Mildenhall. Driving time is as reported by Google Maps. Please see the last section for more information on transportation.
1. Thetford Forest
(15 minutes by car)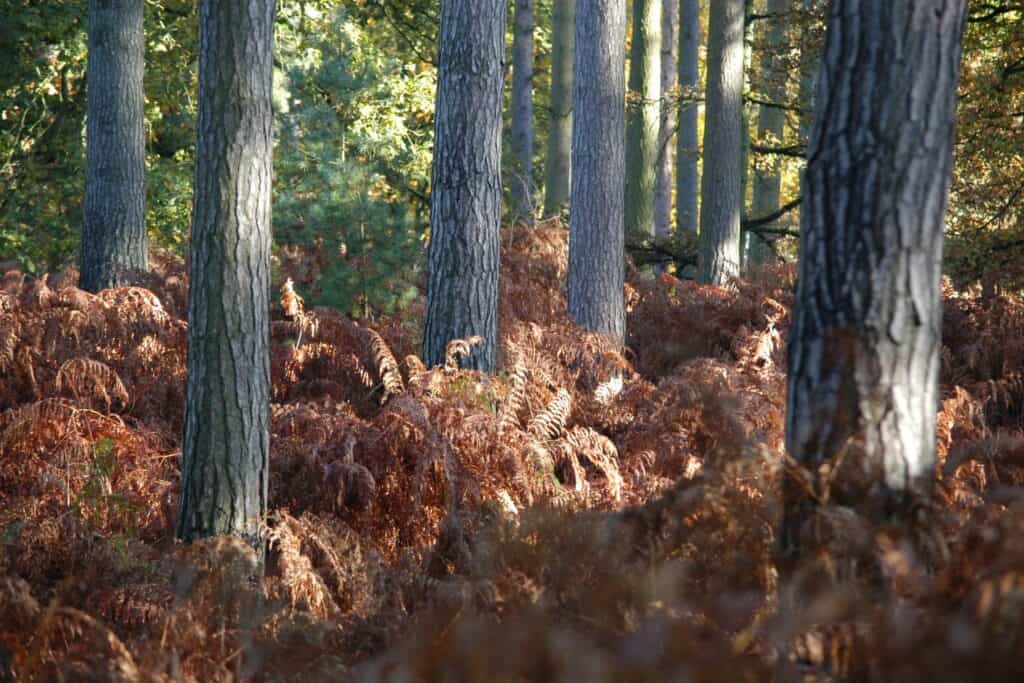 Thetford Forest, located about 15 minutes northeast of Mildenhall is the UK's largest manmade lowland forest.
With many miles of winding trails, this nature spot is the perfect place for walking, jogging, or biking. Bring a picnic or rent one of the barbecue grills to enjoy a full day in the wilderness.
You can also stay in one of the cabins for an overnight retreat!
2. Ely and Newmarket
(25 – 30 minutes to each by car)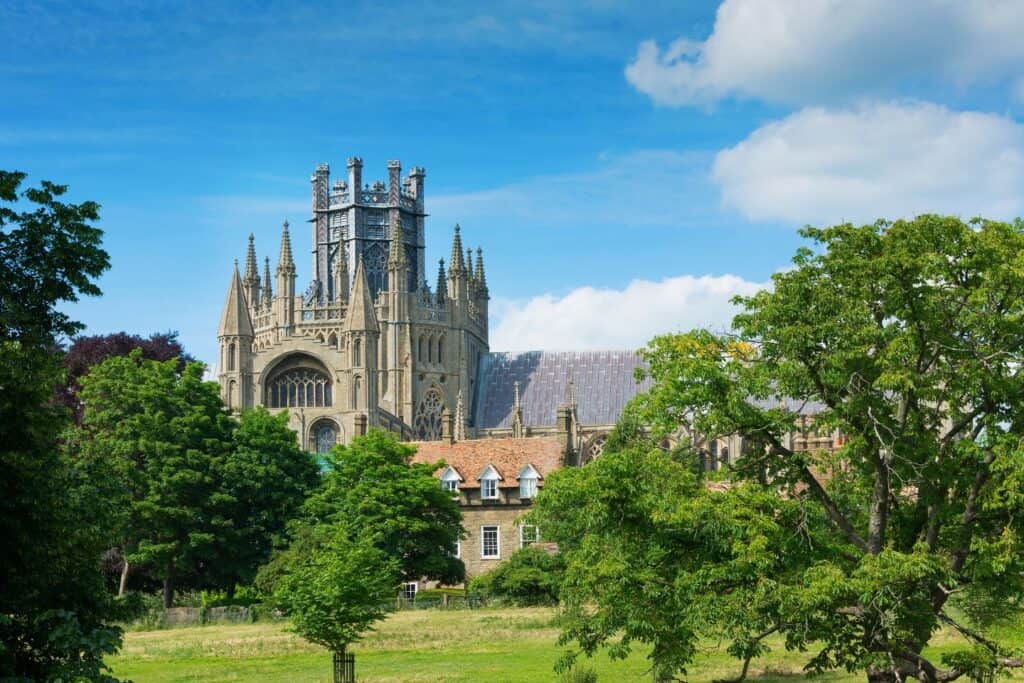 These two little towns are close to the base, and if you have a car, you can easily visit Ely and Newmarket the same day.
Ely, the second smallest city in England, is best known for its famous Cathedral, which dates back nearly 1300 years.
Ely also has a well-regarded outdoor market with up to 250 vendors at any time. They host three "main markets" per week, a Farmers' Market twice a month, and Mini-Markets every Friday. Check their website for the current schedule.
About 30 minutes south of Ely is Newmarket. It's a charming English town where a simple walk around is worthwhile.
Newmarket is also a horse breeding location known world-wide. While you're there, visit the National Horseracing Museum and the National Stud, a thoroughbred stud farm.
3. Cambridge
(50 minutes by car)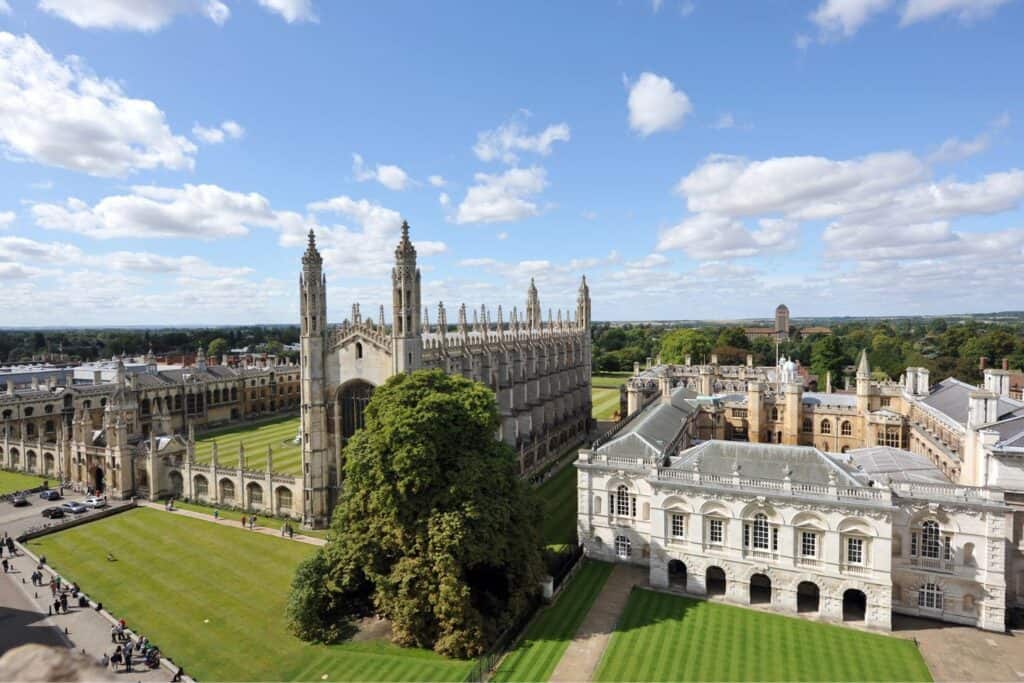 Cambridge is a college town, best known for the University of Cambridge, a global institution with post graduate students from 145 countries.
The University is a collection of several smaller universities. Kings College and Queens College are the most famous. Check out the historic architecture of these colleges (and the others), especially the iconic Kings College Chapel.
The Cambridge hop-on, hop-off bus is a great way to visit the colleges and other attractions. The bus even ventures out to the Cambridge American Cemetery, located about 5 miles west of Cambridge.
Another attraction you shouldn't miss is the Fitzwilliam Museum, located close to Kings College Chapel. It has a collection of over 500,000 works of art and historical artifacts from all periods of history.
Also, take a stroll through the Cambridge University Botanic Garden, which has over 8,000 plant and tree specimens over 40 acres. It's open year-round is a great place to enjoy the current season's blooms.
4. Sandringham
(75 minutes by car)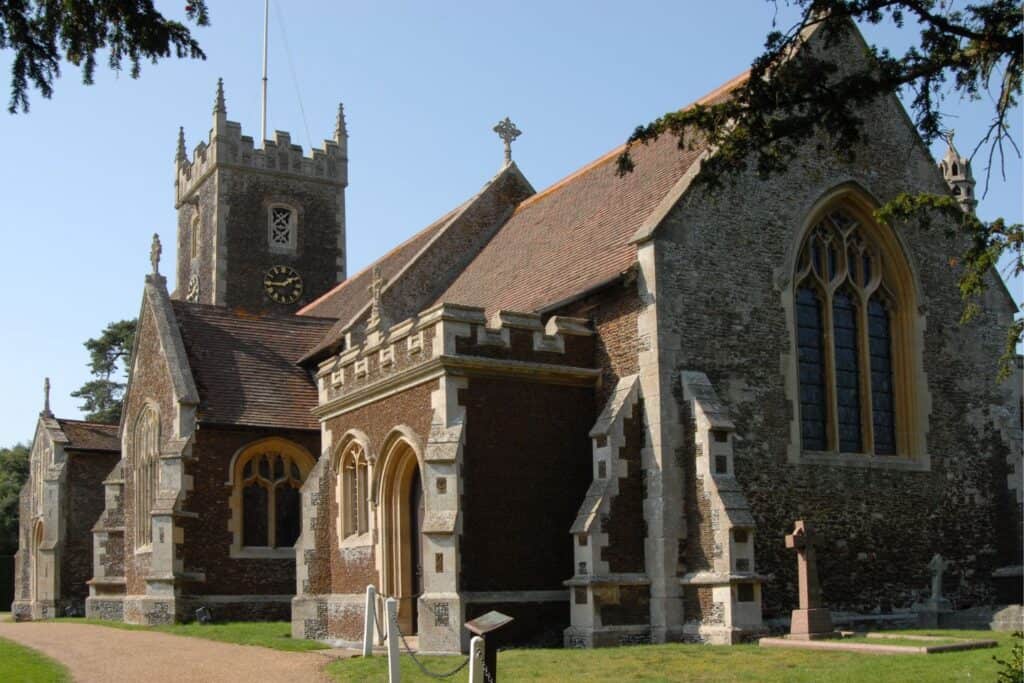 Sandringham has long been the private country home of the late Queen Elizabeth II, where she famously gathered family during Christmas. It is a functional home where members of the Royal family live from time to time. The late Queen was in residence from December until mid-February each year.
Visitors can tour Sandringham House, the Gardens and St. Mary Magdalene Church between April and October. You must purchase tickets online in advance.
Highlights of the tour include: the parlor where Queen Elizabeth entertained or simply watched TV; the only dining room in the home; and the desk where the Queen gave her famous Christmas Address of 1957, featured in the Netflix mini-series "The Crown."
Note that photos of the inside are not permitted as, unlike Windsor and Buckingham Palaces, Sandringham is not a public property.
Besides touring the estate, you can enjoy afternoon tea, either in the restaurant or as a picnic!
5. Norfolk Broads and Norwich
(75 minutes by car)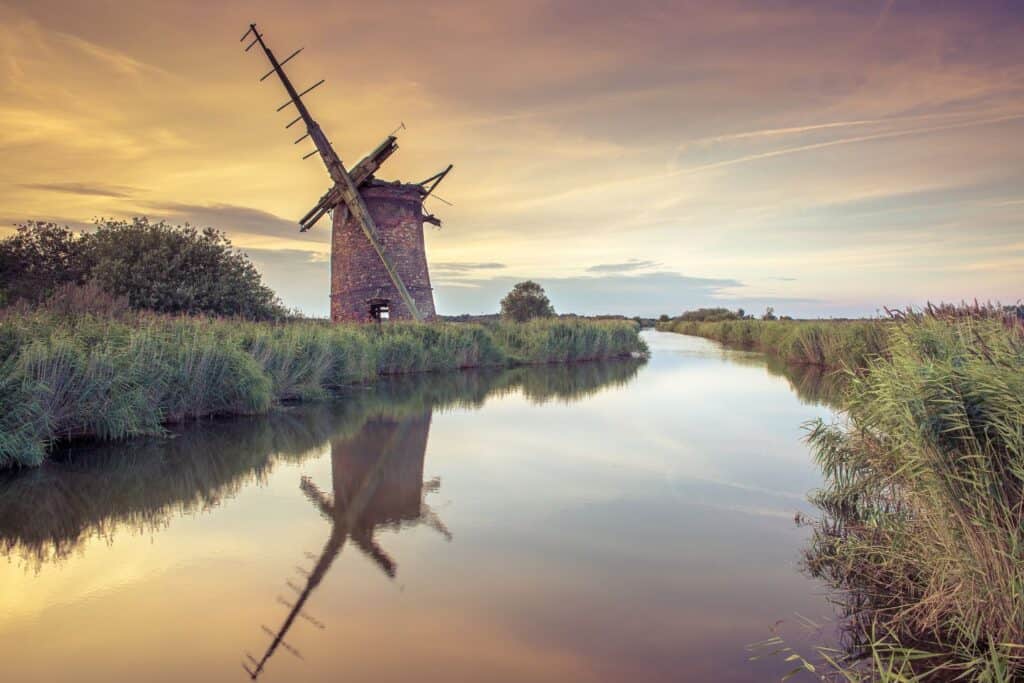 The Norfolk Broads are a series of rivers and shallow lakes that make up 200 miles of navigable waterways in a serene countryside near England's eastern coast. Locals love this area for its quiet peacefulness and many opportunities for outdoor recreation, particularly boating and fishing.
While you're there, visit Norwich, which is a quaint city with cobblestone streets, an historic Cathedral, museums, pubs, and great restaurants.
The Norfolk Broads area also has many other small towns, so you can make your visit into a full day of exploration.
6. London
(2 hours by train from Ely)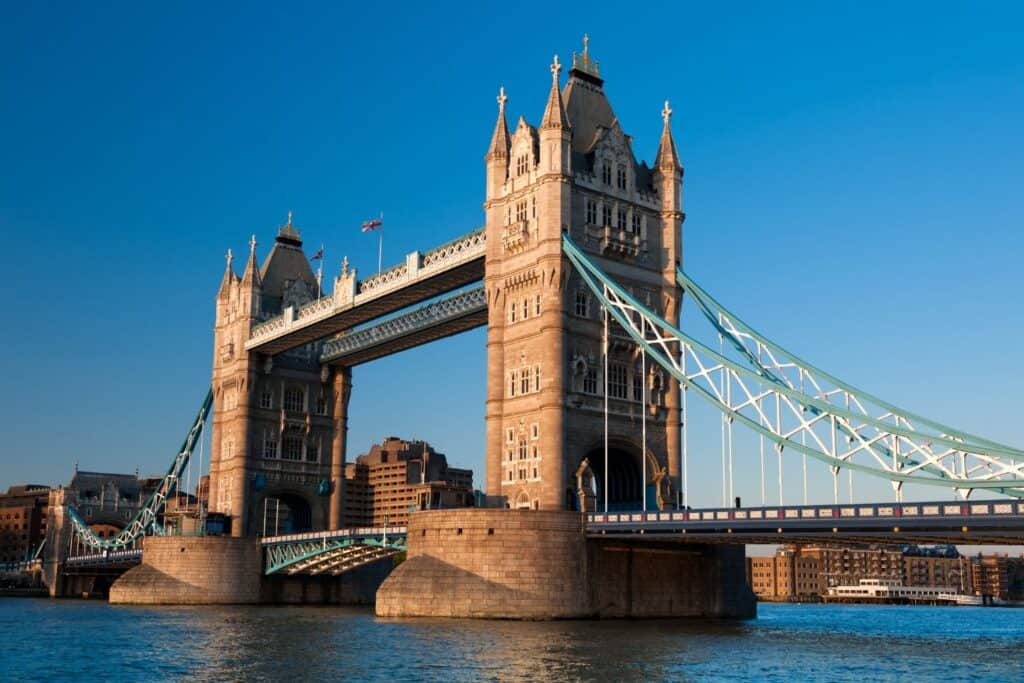 One of the great parts about starting a trip from Mildenhall is how quickly and easily you can get to London. Trains run frequently from Ely (or Newmarket), usually with one transfer in Cambridge.
| Related Reading: How to Fly Space-A to RAF Mildenhall
Once you get to London, there is plenty to do for all interests. Check out the Tower Bridge, ride the London Eye Ferris Wheel, witness the Changing of the Guard at Buckingham Palace, watch a debate in the UK Parliament, or see one of the hundreds of musicals, plays, and concerts.
London also has no shortage of world-class museums. Among the most well-known are the Victoria & Albert, the British Museum, the Tate, and the Churchill War Rooms. One of my favorites is Madam Tussaud's Wax Museum.
Take a hop-on, hop-off bus tour for easy transport and to help you get the lay of the land before deciding where to spend your time.
You can also take many great day tours out of London, such as Windsor Castle, Stonehenge, and Bath.
Harry Potter fans won't want to miss a tour of the Warner Bros. studios where the movies were filmed!
If you plan to stay overnight in London, click here to search for hotels.
(Note from Poppin' Smoke: We recommend The Clermont London, Charing Cross. Check pricing, reviews, and photos.)
7. Yorkshire: Leeds and York
(2 hours 15 minutes by train from Ely, 3 hours by car).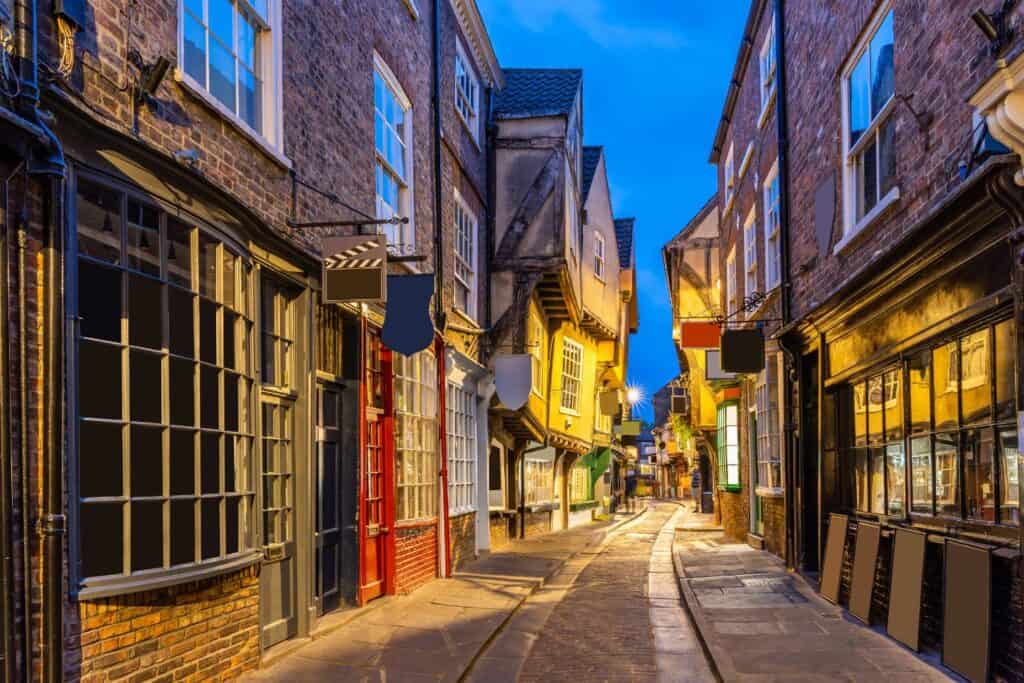 If you're looking for a place that's a bit off the proverbial beaten path for American tourists, but has lots of great historical sites, plan a visit to Yorkshire and the cities of Leeds and York.
Leeds has stunning architecture and a sizeable pedestrian-only shopping and restaurant area. Don't miss Kirkgate Market.
The Leeds Corn Exchange, which now houses an upscale mall, is also worth a visit, as is Kirkstall Abbey, a 12th Century Abbey just outside of town
The best Leeds attraction is the Royal Armouries Museum, which houses 6,000 objects in its permanent displays. Most notable of those is a 4-story stairwell with 2,500 pieces of armament arrayed in an attractive display.
After you've explored Leeds, you can take a 40-minute train ride to the walled city of York, which is best-known for its massive 13th-century Gothic cathedral, York Minster.
York is also famous for its Viking history, the National Railway Museum, and its chocolate!
While you're there, take a stroll down The Shambles, York's famously picturesque historic street with medieval buildings. This is also a great area to stay overnight – search for hotels near The Shambles here.
8. Edinburgh
(5 hours by train from Ely; 75 minutes by air from London).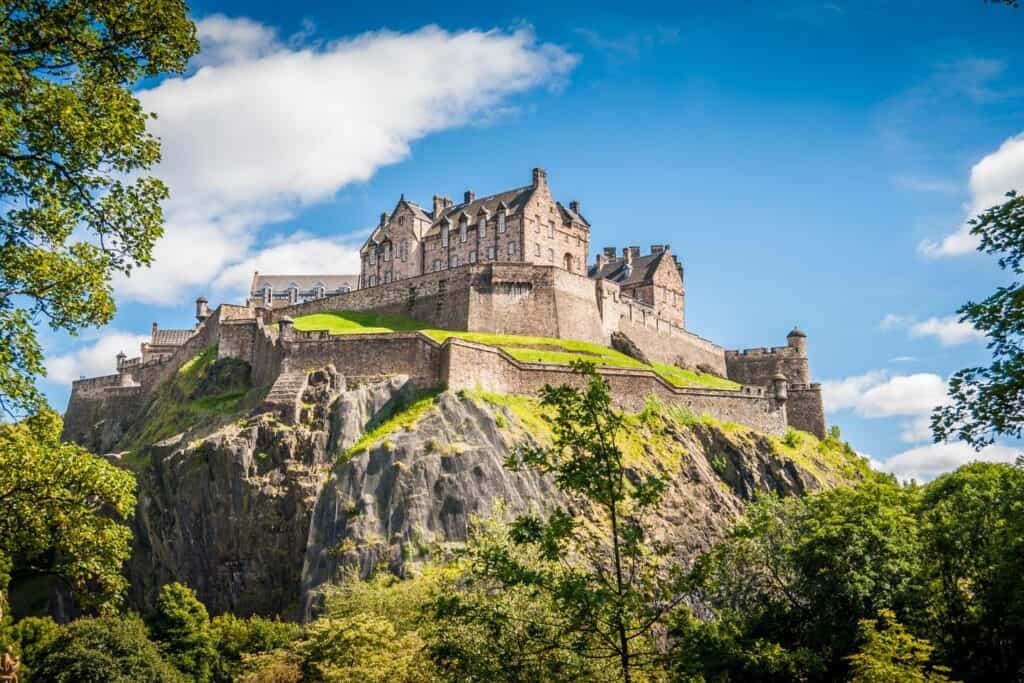 Edinburgh, the capital of Scotland, is one of the best small cities in Europe. It's easily accessible from Mildenhall with either a scenic train ride or short flight from one of the three airports within a couple hours of the base.
Check out Edinburgh Castle, which has a sizeable museum and also hosts its renowned festival and military tattoo every August.
Also visit the Royal Mile and St. Giles Cathedral, both of which were prominent right after Queen Elizabeth II's passing.
Holyrood Palace, the official residence of the Royal Family when they are in Scotland, is another must-see attraction, as is the Scottish Parliament building, located close to Holyrood.
You can also take a tour of the Royal Yacht Britannia to see what life was like onboard the Queen's "floating palace," which was featured on the popular Netflix series, The Crown. The Brittania is located just outside the city, but it's on the Edinburgh hop-on, hop-off bus tour.
Click here to search for a hotel in Edinburgh.
9. Golf, Golf, and More Golf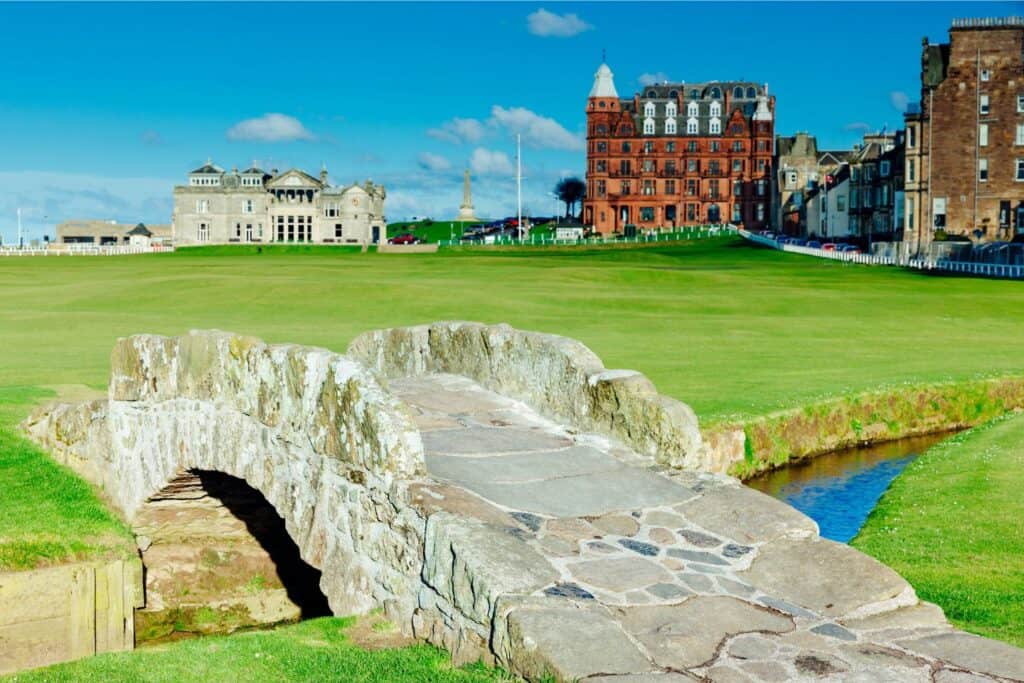 The UK is a golfer's paradise. Scotland is recognized as the "home of golf," and many of the top ranked courses in the world are in Scotland or England.
You can play most of these courses as a guest. While green fees have gone up recently, many of these courses are a great value compared to the top U.S. courses and will provide a lifetime of memories.
Check out the most recent top 100 list of best courses in Great Britain & Ireland and book your own rounds by contacting each club.
Pro tip: the smaller your golfing party, the easier it is to get a tee time.
Getting Around/Transportation
Car
The most convenient way to visit the towns surrounding Mildenhall is by car.
Mildenhire, located right outside the Beck Row or "Bird in Hand" gate (a short walk from AMC passenger terminal), is the closest rental car agency. The best way to make a reservation at Mildenhire is by calling them directly.
Other car rental agencies are located in surrounding towns. Search online for pricing and availability.
Besides traditional car rental services, you can also use Turo, a car-sharing platform that is similar to Airbnb, but for personal vehicles.
Bus or Train
You can take the train from Ely station or a bus from downtown Mildenhall. Locals use Trainline to compare schedules and pricing for the train and bus and to purchase tickets.
Note that the UK rail system does not have a multi-week or monthly rail pass like Eurail, so plan carefully and avoid purchasing more expensive same-day train tickets.
Air
RAF Mildenhall is within a few hours of four airports: London Stansted (airport code STN), London Luton (airport code LTN), London Heathrow (airport code LHR), and London Gatwick (airport code LGW).
Stansted is closest and a major hub for low-cost carrier, RyanAir. The train from Ely to Stansted takes about an hour, or you can take the bus from downtown Mildenhall (about 90 min).
Luton is the next closest (about 90 minutes by car), but it is not conveniently accessible using public transportation. Most airlines servicing this small airport are low-cost carriers.
Gatwick is a hub for EasyJet, another low-cost carrier. Both Gatwick and Heathrow are 2 – 3 hours by train or bus.
* * *
The Mildenhall area is a great launching point for many fun day trips and weekend getaways, plus it's a convenient gateway to the rest of Europe.
RAF Mildenhall is also a hub for Space-A travel, with regular flights from Dover AFB and the BWI Air Mobility Command terminal. Learn more about how to fly Space-A to RAF Mildenhall so you can experience this beautiful area for yourself!
Author Bio: Mike Worth retired from the Army in 2015 and then from Federal service in 2017. He spent much of his free time caring for his developmentally disabled sister. He is a seasoned Space-A traveler and traveled twice with his sister in 2019. He now flies Space-A several times per year.