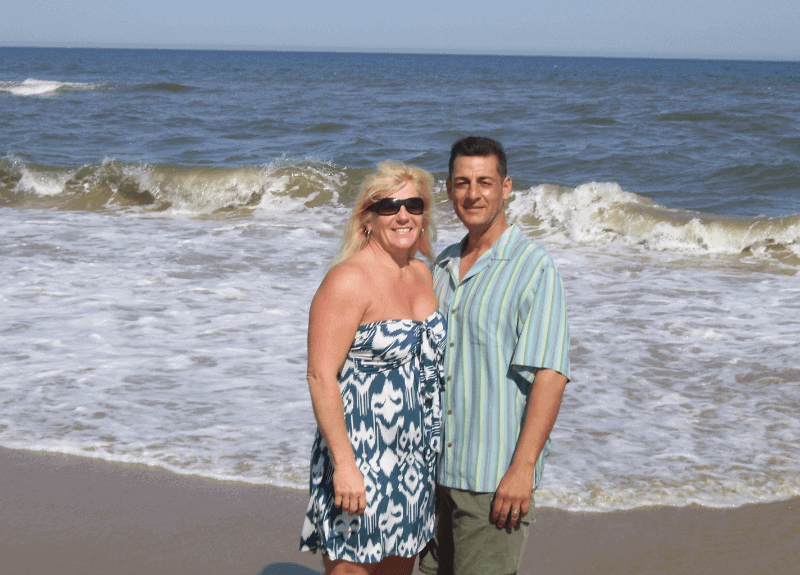 Ron and Colleen Adams just sold their house and most of their belongings. Six years after Ron's retirement from the Army, they are ready for a new adventure to see where their military travel benefits can take them! In August 2018 they will start the next phase of their lives as full-time travelers.
Ron and Colleen are in the final stages of preparation as they get ready to pop smoke and take a military hop to Europe. In this interview, they share their individual perspectives on how they decided to take this leap to a nomadic retirement and what they expect from full-time travel.
Can't wait to know how it turned out? Click here to jump straight to the update from April 2020!
What gave you the idea to sell everything and travel full time?
Colleen: We bought a small beach house in Oceanside, CA right after Ron's retirement. After dipping our toes into Space A travel a couple of times, we decided we wanted more.
We didn't want to hand over our home to renters, and to be able to sustain our wish to travel, selling the house was the direction we chose. I'm not particularly sentimental about "things," so we began to plan.
Ron: First, economics. We have over $200k in equity and have been through recessions before. It's time to take our money off the table while the market is in our favor.
Second, the little travel we have done has brought enormous joy and memories and added to our quality of life.
When did you start thinking about traveling full time, and when did you decide for sure you were doing it?
Colleen: After our first Space-A trip to Hawaii in 2013 and lots of conversations and what-ifs, we started reading blogs and military travel websites. We finally came to the realization that long term travel for us was totally doable.
Ron: When we hit $100K in equity on our house, I started thinking about the possibilities. Then, I thought about it again when the house next door was being sold to an investor, and he was going to add a duplex and run a homeless shelter. At this point, we had $200K in equity.
Did you get any naysayers for your plans to travel? What was your response?
Colleen: A few family members naysayed us, but they also know Ron and I have a propensity toward the spontaneous and adventure. If my parents had been alive, they would have naysayed us hard because they were of the generation to work hard for your whole life.
We're empty-nesters and wanted to do something really adventurous. The gleam in peoples' eyes who have traveled and shared their stories with us far outshines the gleam in other peoples' eyes who are happy in one place.
Ron: Yes! We had some naysayers. My response was: "Numbers don't lie. It's time to cut sling load and pop smoke while the economy is still in my favor."
What did you do with your house and your belongings?
Colleen: We sold our home very quickly to a young family through private realtors. No traffic through our house, no signs in the front yard. Not even our neighbors knew. We started to sell off large items that I no longer cared about: extra beds, dressers, lawn furniture. Things that could be easily replaced if I wanted to. We started putting things into a storage unit.
Ron: Easy: shoot, move, communicate.
"Honey, we are moving, here's our storage unit. You can keep it, sell it, or store it."
We will reevaluate our storage possessions in 6 months.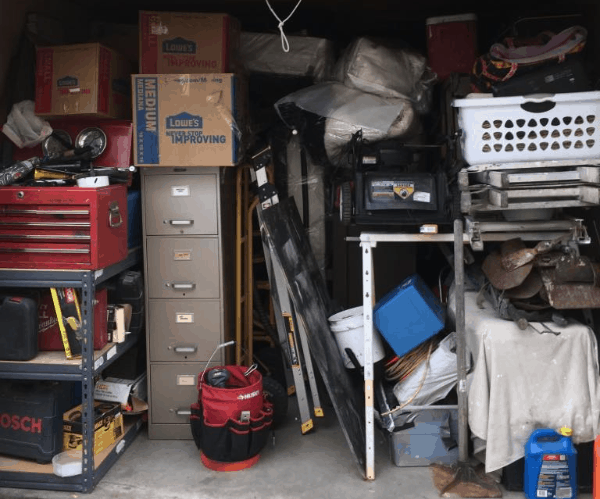 Tell us about the logistics and preparation to get ready to travel. What's on your checklist before you take off?
Colleen: After we left our house, we moved to the Ward Lodge on Camp Pendleton.
We will get minor dental work, fill prescriptions, and get immunization shots. We will also get our international drivers licenses, establish a forwarding address, find car storage, and buy travel insurance.
We'll continue to keep an eye on the political climate, weather, and other peoples' experiences that are currently traveling abroad.
We're not big on planning trips ahead of time or having an itinerary, because you never know when opportunities will pop up. We may end up hitching a ride on a chicken truck (fingers crossed) or joining a beach bonfire and drum circle.
The groups I follow for information are: Cat VI Retirees, Lady Cat 6 Retired Military Space Available Travel, Poppin' Smoke, and Nomadic Matt. I also recently joined Space A Adventure Trip Reports — really good current information.
Ron: At this time, it's August 2018. Space-A is not a good option due to increased military movement and active duty families taking summer vacations. Our intent is to find temporary lodging for a few weeks while getting medical and dental looked at before we launch in September or October. Maybe we will do a road trip or just be a starfish on the beach.
Will you maintain any type of home base back in the U.S.?
Colleen: Our forwarding address for most mail will be our oldest daughter. She's reliable and stationary at this time with her military husband up in Washington state.
Our military-related business will be forwarded to a former military friend of my husband's who'll know how to handle that pertinent information. We'll send copies of our passports, IDs, birth certificates, wills, and bank info to at least two members from each of our families.
Ron: Yes. Our home base will be a storage unit and temporary PO box.
Do you plan to travel indefinitely, or are you looking for your next home?
Colleen: Still deciding if we'll get [long stay] visas or not. We may tire or get bored eventually. I don't see us being stationary for too long. We will probably purchase another house in the future.
Ron: I believe it's unrealistic to travel indefinitely. We'll eventually get burned out, either in 5 months or 5 years. In the meantime, I will enjoy an "eat, play, love" lifestyle and wait for the real estate market to dip before we buy another house.
Tell us about your travel plans! Any specific destinations or sites on your itinerary?
Colleen: We hope to visit the kids in Washington if the timing is right. If not, we'll catch them on the way back. They're all for us getting on the road to begin our traveling.
We will hop to the East Coast and to Europe from there. Spain and Greece are my priority. Also, Germany, Ireland, and Japan.
Gotta' stay loose, you never know when that chicken truck is gonna' drive by!
Ron: Our plans are loose but will include Space-A, Europe and Asia, and anywhere there is a beach.
Will you live off Ron's military retirement or do you anticipate finding other ways to earn money?
Colleen: We'll sustain on Ron's healthy pension and dividend investment income. We will use Airbnb, eat cheap but sensibly, stay in military lodging, and rely on the kindness of strangers.
Minimal shopping because I'm not into that. Minimal drinking, although we are socially obligated to try local wine and beer wherever we're at.
We will stay on a loose budget with splurges now and then that will probably involve food.
Ron: My military pension will be our primary source of income. Dividend income will be a small second. Swinging a hammer or paint brush may play a role.
What's your packing strategy? Suitcase or backpack?
Colleen: My 32-liter backpack has served me well and will continue to do so. A smaller backpack will serve as my handbag. We will wear small body wallets to guard against hooligans.
There's not too much strategy involved: 3 days of clothes, one long pair of pants, one jacket and a sarong (good for beaches and churches). I never travel without a swimsuit.
Ron: 40-liter backpack.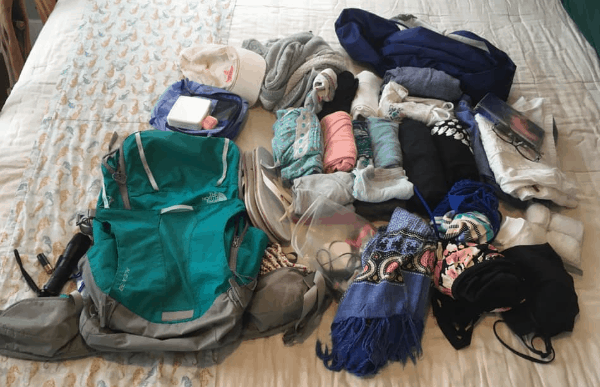 What aspect of full-time travel are you most looking forward to?
Colleen: To becoming less fearful, more brave. Never having to say "woulda', shoulda', coulda'." To learning patience and having conversations about everything under the sun.
Ron: It's the small things that enhance our quality of life while traveling. Meeting amazing — but normal — people. Listening to their views on everything from politics to money management.
As we were preparing for a similar adventure, many people asked us what we would do all day and whether we would get bored/tired of traveling. Have you thought about those questions?
Colleen: I suspect I may get kind of bored at times, but I'm confident it won't last long. We will sit out rainstorms, walk down weird alleys, listen to different music, go into churches and museums, eat interesting food, make friends in high and low places, and take long siestas.
Ron: Yes, at times. Eat, play, love. Travel could be exhausting if we were just collecting passport stamps. My intention is to travel slow, maybe 1-3 months per location.
Based on what you've learned so far, do you have any advice for other retirees about how to prepare for full-time travel?
Colleen: Research, but not to death. Join traveler sites, read what people are sharing, and share yourself as the experiences unfold.
| Related Reading: How to Get Travel-Ready – What You Can Do Now to Prepare for Your Next Trip
Ron: The three legs of a financially successful retirement are, pension, savings, and social security. You could be lucky and have all three that add up to millions of dollars.
Or, you could be one of the few who says: "What I have is enough, even though it's not a million."
"Get busy living or get busy dying." – Shawshank Redemption
* * April 2020 update: here's what happened! * *
We caught up with Colleen and Ron in April 2020 to find out what happened with their world travels. They were on the road for 15 months before settling back in the U.S., at least for the time-being. Here's the update!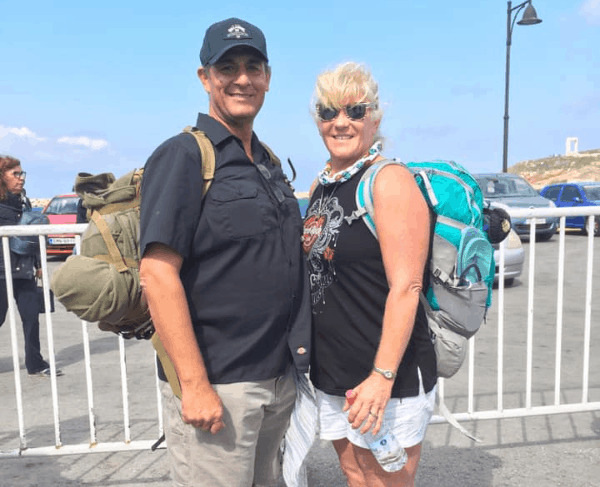 When did you ultimately take off for your travels and what was your first destination?
On August 27, 2018 we said goodbye to our home of 6 years in Oceanside California. We slung our backpacks into the truck, paid one final visit to our storage unit, and headed to Naval Base San Diego, where we parked our vehicles ($40/month per vehicle).
We stayed at Camp Pendleton base lodging while we watched the boards at North Island Naval Air Station for flights to the East Coast to hop into Europe. Unfortunately, Hurricane Florence was happening on the East Coast, and there were storms between us and Hawaii as well.
On September 10 we finally ended up flying out commercial. First stop: Portugal. (SAN>JFK>TORONTO>LISBON).
What countries did you visit, and what were some of the highlights of your adventures?
We traveled to Portugal, Italy, France, Greece, Germany, Amsterdam, Malaysia, Japan, Thailand, Taiwan, Mexico, Hawaii, and around the US.
So many highlights. Castles were my goal. The Sintra Castle in Peña, Portugal, Frankenstein's castle in Germany. Bathing with elephants in Thailand.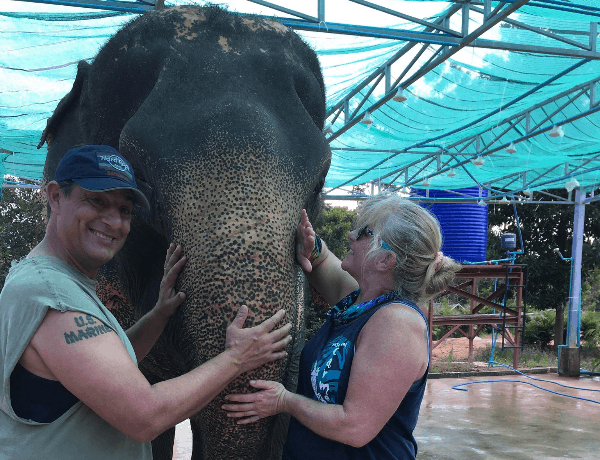 Also, unique and innovative hotels around the world, including:
Did you use Space-A flights?
To travel we used a combination of Space-A and commercial flights.
What was your average monthly budget?
The budget can really vary from person to person and place to place. We did not go on a lot of tours. We preferred to cruise around by ourselves.
Our average spending was approximately $2,000 to $3,000 a month. Sometimes we moved rapidly, not staying too long in one place. Other times, we needed a break and a rest from moving, and then we would get an Airbnb and maybe stay a little longer. In Playa Del Carmen, we stayed 3 months!
We did splurge one time at a lovely hotel in Amsterdam and it was so worth it. A once-in-a-lifetime experience.
You traveled light! What was in those small backpacks?
Colleen's Backpack
Long pants (1) and shorts (2)
Long sleeve shirts (2) and hoodie (1)
T-shirts (2) and tank tops (4)
Packable, no-wrinkle dress (1)
Swimsuits (2): one for beach, one for hotels
Flip-flops (1)
Sarong (1)
Bandanas (2), baseball cap (1), and neck buff/gaiter (1)
Socks (4 pairs), underwear (10), and bras (2)
Rain jacket (1)
Washcloths (4)
Bag of laundry pods
Sewing kit
Ziploc bag with chargers, cords, and a couple different plug-ins
Flashlight and batteries
Length of rope
Foldable waterproof phone cover
Small bag of chess pieces
Ron's Backpack
Long pants with zipper pockets (1) and cargo shorts (2)
Long sleeve shirts (2) and hoodie (1)
T-shirts with pockets on the front breast (5)
Swim trunks (1)
Flip-flops (1)
Baseball cap (1) and neck buff (1)
Socks (5 pairs), underwear (5)
Sleep shorts and shirt (1)
Rain jacket (1)
Laptop, cord, and mouse
Toiletry kit
My beauty kit fit inside my backpack as well. I carried no make-up, but lots of moisturizer, first aid stuff, deodorant, personal medications, contact lenses, sunscreen, toothbrush, and toothpaste. Wherever we went, we never had a problem finding shampoos and soaps.
I hit and missed trying to figure out a good handbag. I finally found a nice, secure, nylon bag with a space for my Kindle, wallet, comb, sunscreen, phone, and all sorts of MacGuyver stuff.
Ron carried the money pouch for the passports, vaccine records, and international drivers permits. We found that when we were on the move or in airports, it was easier for each of us to carry our own passport and ID instead of leaving it up to one person.
We also carried small compact sleeping bags attached to our backpacks with carabiners.
We followed the good weather, so I didn't have to take harsh weather clothes. My raincoat was enough. We specifically looked for lightweight rain jackets that had hoods, pockets, and could be folded inside their own pockets to make a small square.
I did not use leggings. I found they don't breathe well, are too restrictive, and most importantly, have no secure pockets.
Wearing the same outer clothes for a few days was not uncommon. Our only shoes were tennis shoes.
My North Face 32 L bag held up much better than his canvas Army-type bag. They never weighed more than 30 lbs for carry-on.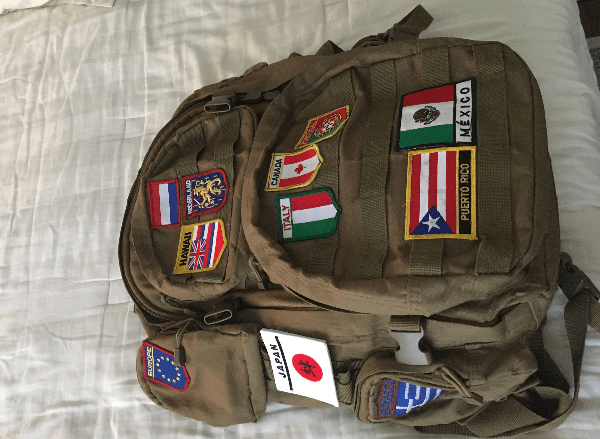 Were there any travel items that proved to be essential?
My sarong was my very useful item. I used it for a scarf, beach towel, bath towel, curtain, skirt, and face/head covering.
Also, "traveling" pants. Mine had zip pockets for passport and ID. No-wrinkle, easy-wash. The only long pants I needed the whole time.
Ron's essential items were shirts with breast pockets to keep his wallet in front of him and medium-weight cargo pants with zippers.
Did you run into any logistical challenges with mail delivery, banking, etc.?
We had no problem with our mail situation at all. We secured a mailbox in our hometown of Oceanside, and once a month, we would call the postal man and have him forward our bundle of mail to our daughter in Washington. She would then take pictures and send them to us, and we took care of everything remotely.
We each carried a USAA bank card and separate Capital One secured credit cards for emergencies. We didn't have any problems withdrawing local money when we needed to, but that should always be done at a bank as opposed to a kiosk, if at all possible.
Ron did lose his credit card once in Germany. We reported it and canceled ASAP. The new one was sent to a postal box.
How did the retired nomadic lifestyle compare to your expectations?
Nomadic life has been good. We met so many other nomads throughout our travels. I developed more empathy than I had before. There's a different level of respect and understanding of the ingenuity that people develop to live and thrive.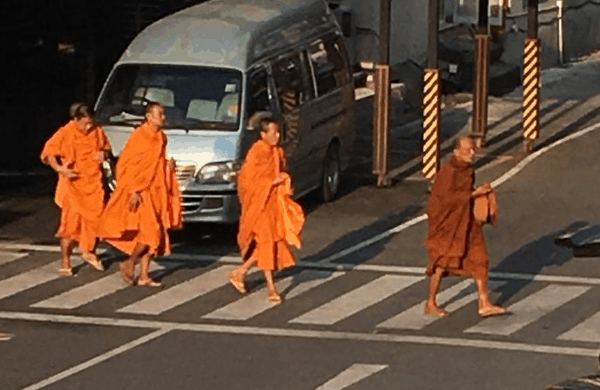 Did you ever get bored?
Yes! We did get bored. Stranded sometimes by the weather, change of plane schedules, and cancellations. It never lasted long. I suppose it was good practice for what's happening now in the world, and we learned to cope.
Also, to spend some time apart now and then was helpful.
You said you would revisit your storage in 6 months. What did you decide to do with that stuff?
We popped back to San Diego now and then to change out clothes, attend doctor appointments, fill prescriptions, etc.
We ditched our mattress and box springs, and we "Craiglisted" a lot of furniture, but I kept a lot of my favorite things.
What's your plan for the next year? Will you keep traveling?
On December 23, 2019, we settled temporarily in the coastal town of San Pedro, California. This is really the best weather year-round for us.
We have been thinking of buying another house later this year, possibly. Our last flight from Japan was a doozy, and we need to relax now – no schedules, no rushing. The future of our traveling is unknown due to the current state of affairs [COVID 19]. There's so much more to see.
Any travel tips you've learned along the way that you can share with readers?
Create accounts on Airbnb and Uber, and apply for TSA Pre-Check before you go.
Download the Skiplagged app for cheap flights.
Travel with only a backpack.
Never go anywhere without hand wipes. I used them constantly.
Research the customs of the area you're heading to.
Figure out the money system of the country. I enjoyed learning how to trade in pesos, euros, baht, and yen.
The traveler vaccination clinics can usually tell you what vaccines you might be required to have.
Keep an eye on the political climate wherever your destination may be. We had to cancel a trip to Argentina at the last minute because we caught wind of violent political actions at the time.
DON'T TALK to monks. They have a hard-enough time being monks.
Thanks to Colleen and Ron for sharing their adventure with us! I hope their story inspires you to take a few risks and try a different way of life or a new style of travel!
Related Reading:
How We Decided to Travel for a Year After Military Retirement
Living Her Dream: A Military Retiree Traveling Full Time (a two-part series that covers RV travel in the U.S. and life in Europe)
Traveling Full-Time in an RV (With Kids) After Military Retirement