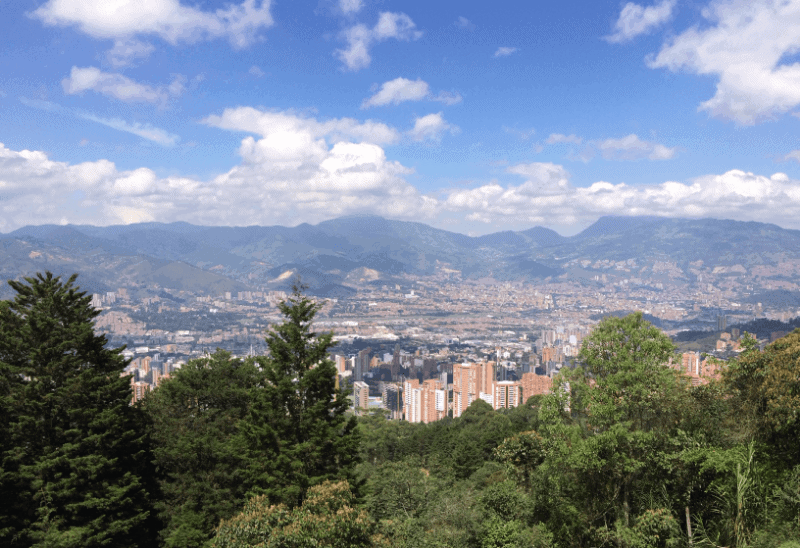 Do want to retire in a place where your retirement income is enough to easily afford the lifestyle you want? A place where you can enjoy an excellent quality of life with all the conveniences and luxuries of a world-class city, including great health care, solid infrastructure, first-rate restaurants, and many cultural activities?
Retire in Medellin, Colombia, "the city of eternal spring,", and you can check all of those boxes. Byron Edgington, an Army National Guard retiree, and his wife, Mariah, have been living in Colombia's second largest city for several years and love their retiree lifestyle.
In the latest profile of our Expat Military Retiree interview series, read what Byron and Mariah have to share about Medellin retirement and their valuable advice for other retirees considering an overseas move!
Contents (click to expand)
How soon after retirement did you move overseas?
I retired in 2000 after 30 years in the military, and Mariah retired in 2015. We first tried Boquete, Panama in 2016, lived there for almost a year, and then moved to Colombia in February of 2017.
How did you decide to retire overseas, and why did you choose retirement in Colombia?
We needed a place with a warm, temperate climate. A place from which it was (reasonably) easy to access the U.S. A place where we could afford the plans we had during retirement, with good health care, decent infrastructure, and a good quality of life.
Panama checked most of the boxes; Medellin checks them all.
One of the main reasons that drove us to become expats is my age. At 71, I'm 12 years older than my wife, and I have little time left, so she and I wish to optimize every single day for travel, and for exploring parts of the world we've only read about.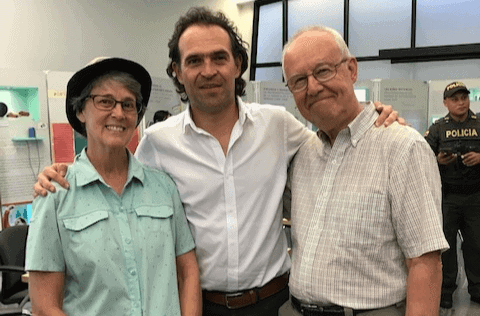 How did you get the residence visa to retire in Colombia? Does your visa have any restrictions?
Obtaining our Visas (aka Cedulas) was relatively straightforward in both Panama and Colombia. Just the basic proof of income, valid citizenship documents, and — in Panama — a clean police record.
Our Colombia retirement visa does not permit us to work for pay. Otherwise there are no restrictions to our living here.
Note from Poppin' Smoke: learn about Colombia visa requirements and the "M visa" for pensioners on the Columbia Consulate website.
Did Colombia provide any incentives for you to move there as an expat?
Not many. Panama offers more bennies to expats than Colombia does. Panama offers several jubilado (retiree) perks, such as discounts on public transport, with certain vendors, and with COPA, the airline of Panama. However, we've found that it's much less expensive to live in Medellin than in Boquete, Panama.
How does your Medellin cost of living compare to the U.S.?
As a general rule we're living on about 30 to 40% of what we did in Ohio. Depending on where in Medellin an expat wants to live, it would be feasible to pay rent, utilities, groceries, internet & TV, and have a pretty good entertainment budget for around $1,500/month (about 5.6 million Colombian pesos).
Average salary in Colombia is around $275/month, so with our retirement income and social security, we're quite wealthy here.
| Related Reading: Expat Life in Ubon Ratchathani, Thailand
Our apartment rental is about $750/month but we're in one of the best neighborhoods in Medellin. Our apartment has three bedrooms, three baths, an ample kitchen, lots of closet space, and a great balcony on our 17th floor.
We also have a 24/7 portero (doorman), heated pool, gym, two parking spaces that we rent out, and extra storage space in the basement.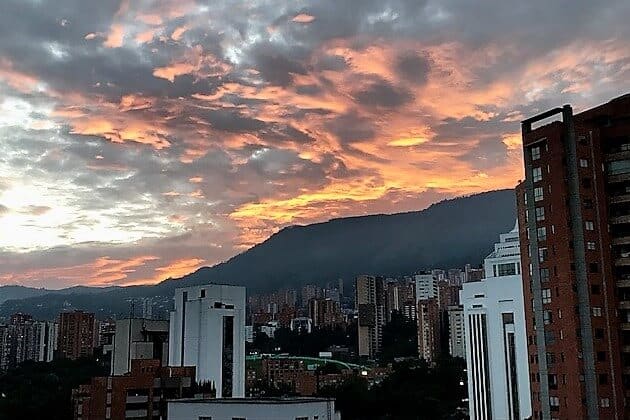 Our typical monthly food budget is about $200, while utilities and healthcare combined run around $270/month.
Restaurants are likewise inexpensive, with a beer costing about $2 anywhere. A sumptuous meal can be had for $35, and we often order meals out para compartir, that is, to share.
Where do you get your health and dental care? Do you have a local insurance plan?
Our dental health needs are met courtesy of a wonderful English-speaking dentist.
Our health insurance plan is through a Colombian vendor called SURA, which administers the (mandatory) health insurance here in Colombia. Everyone living in Colombia is required to obtain health insurance, and there are a number of approved vendors that provide access to the system. My wife and I pay $65 per month, total, for health care coverage here.
The health care itself is world class, and at least as good as in the United States, if not better. According to the World Health Organization, Colombia ranks #22; the U.S. is #37.
The only drawback to health care here is gaining access to it, which can be daunting due to road traffic, pre-visit paperwork, and of course, language issues.
A personal story: In January of 2018 I experienced a heart attack. I received excellent care in the hospital, including several hours in the ER, and time in the cath lab having a stent installed. This was followed by 3 nights in an ICU bed and 1 night in a regular room, nursing and physician care, meals, medications, and miscellaneous items. Total bill was equivalent to $5,000.
Our copay was $6! Not a typo. Six dollars!
My wife, a former cardiac nurse, says the Joint Commission certified hospital followed the exact protocols of similarly certified U.S. hospitals.
X-rays here typically cost $5. My crown with Dr. Mejia, the dentist, was $300. An office visit with a doc usually runs $1, and medications are a fraction of the cost of those in the U.S. Certain drugs that are under prescription in the U.S. can be bought over the counter here, again, for a fraction of their cost up north. Same drug, much lower price.
It goes without saying that Medicare does not work here, and though TRICARE is an option for retired veterans, it's solely on a reimbursement basis. A medical bill must be paid up front, and then documents submitted to TRICARE for payment.
(Note from Poppin' Smoke: If you are a veteran who is interested in living abroad after your military career, please join our Facebook group U.S. Military Retirees and Veterans Living Overseas.)
Tell us about life in Medellin!
For anyone considering retirement outside the U.S., Medellin has much to offer.
Medellin has a great system of libraries, public parks (with free WiFi), more first-rate restaurants than we'll ever access in one lifetime, wonderful street vendors with fresh fruit and veggies, many name brand stores (including several Starbucks outlets), shopping malls, and various other trappings of a First World city.
| Interested in experiencing Medellin for yourself? Search for a short-term apartment!
We spend our time doing what we want; living to live, with a great symphony, numerous public arts and music offerings (many of which are free), a world-renowned holiday light show, and whatever nightlife we choose.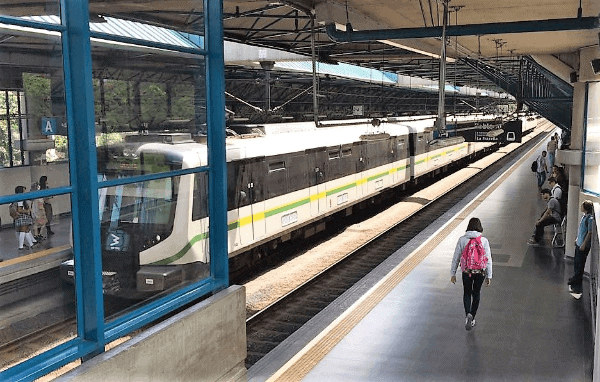 Public transportation here is amazing and cheap. Medellin has the best metro rail system in South America. It's clean, safe, efficient, and actually fun to ride. You could set your watch by it.
There are 23,000 taxis in Medellin, so we don't own a car and don't want (or need) one. We've never paid more than about $5 to taxi anywhere in the city.
Medellin has a first class international airport with direct flights to the U.S., and a few to Europe as well. In addition, Bogotá is a 45-minute flight away, with wider air service worldwide.
Do you speak Spanish? If not, is it difficult to navigate daily life?
There's very little English heard or spoken in Medellin. Unless an expat wishes to hang only with other expats, Spanish is a must here.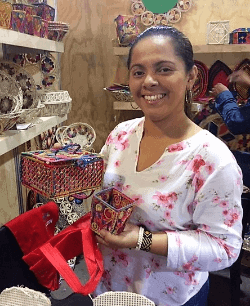 One of the reasons my wife and I moved from Panama was a desire to learn Spanish. You could learn Spanish in Panama, or you could live there forever and not learn (or need) Spanish, and we didn't want that. In Medellin we're immersed in Spanish, and really have no choice but to learn it.
We've managed to achieve sufficient skill in the language so that we can pretty easily navigate any situation, including "phone Spanish," which is the most difficult.
| Related Reading: Moving to Spain from the U.S. on a Non-Lucrative Visa
We've used Duolingo for a good base of vocabulary, sentence construction, and pronunciation. We also have regular Skype sessions through a site called Open Language Exchange, a free service that connects people anywhere in the world wishing to learn another language. We now have language-learning friends in Chile, Spain, and Colombia who practice their English with us, while correcting our Spanish.
Do you have many friends from the local population, or do you primarily socialize with other expats living in Medellin?
We've met several Colombians, some of whom have become our dearest friends. We purposely made an effort to meet people, because we were interested in the rich Colombian culture, and because we wanted to learn Spanish, which we've (mostly) done.
Do you feel "accepted" in the local community?
We've been fully accepted by the Colombian people, and except for the language gap, our experience has been wonderful here. I should mention that people here are very grateful when we attempt to use Spanish, and they help us any way they can.
After three years in Medellin, we can say categorically that we've never once felt shunned, or dismissed, or unsafe.
Speaking of safety, Colombia used to be very dangerous. Is it safe to live in Colombia now?
Prior to 1995 or so, Medellin was listed as the most dangerous city in the world. Today, for many reasons, and after a remarkable turnaround, it's not listed among the world's top fifty dangerous cities, and is today statistically safer than Baltimore, St. Louis, or Detroit.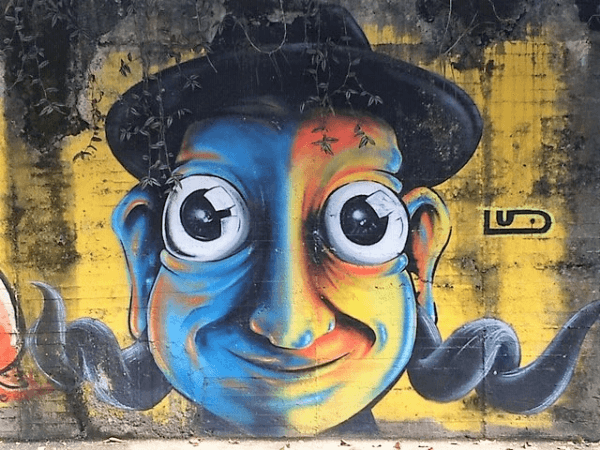 Still, Medellin is a big city. It's a noisy city. There is crime here, and as expats, we're probably targets, due to our obvious affluence.
Though we've never felt unsafe in Medellin, ever, we do avoid certain parts of the city after dark. We use common sense and try to blend in as much as we can, even though it's obvious by the way we dress and speak that we're foreigners.
We don't wear our rings because we've noticed local people don't either. We avoid wearing short pants, we don't flash wads of cash around, and we're cautious with purses and backpacks. In other words, we're aware that we live in a big city.
What are the best things about living overseas, and specifically, about retiring in Medellin?
After being Medellin expats for three years, one of our observations is that people are very kind with each other and with us. There's very little public expression of anger and/or disparaging talk, and very seldom do we hear a car horn, despite the often horrendous traffic.
People on public transport are very courteous, and very considerate. It was hard getting used to young people ceding their seats to us on the metro, for example.
Colombianos are very proud people, and they have a reason to be. The country is emerging as a dynamic and attractive site in South America for business, investment, and retirement.
The unstable situation next door in Venezuela is troubling, but there seem to be no serious repercussions from that unrest here in Colombia, despite this country's gesture of accepting over a million Venezuelan refugees.
What are some of the challenges of expat living in Medellin?
There are a few challenges.
Medellin's air quality is not the best, with quite a few days during the year in the yellow zone for health issues. The good news is, the government is attacking this problem.
They are promoting electric vehicles, and acquiring electric public buses and taxis. Also, they implemented a system called "pico y placa," a mandated numbering system of days on which, based on license numbers, gasoline-powered vehicles may not be driven.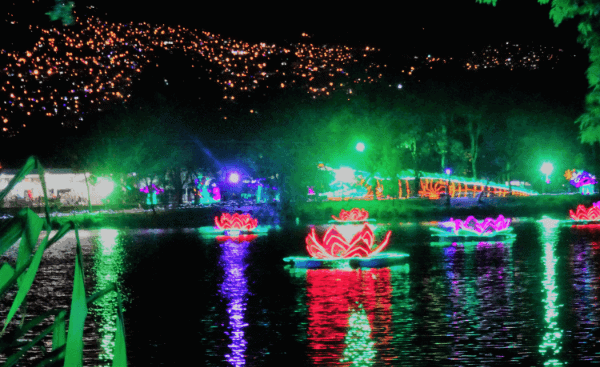 Health care access can be a problem as well, since the city is very congested at times, especially during rush hour, so it could be difficult to get to a hospital in a timely manner. Also, there seems to be no tradition or legal guideline here for ambulance right of way, and a public ambulance/EMT system does not exist.
One of our bigger challenges of living in Colombia has been paying bills. The banking system here seems to have many, many hoops to jump through for payments. It seems to us unnecessarily complicated.
We do have a bank account with the largest bank in Colombia. It was relatively easy to establish once we had our residency, but despite having the account, we still struggle to pay bills through it.
Another challenge of life in Colombia has been the difficulty of finding durable facts about certain things, such as information on upcoming events, fine print in contracts, etc. This seems to be a cultural thing, not restricted to Colombia, but pervasive in all of Latin America.
| Related Reading: Expat Living in the Dominican Republic
People tend to tell us what they think we want to hear, and it can be very different from reality. Hard to explain, but they seem reluctant to upset us with whatever "truth" we need, so they make stuff up. This has been confirmed by local Colombians, so it's not our imagination.
The best way around this problem is to seek out experts for specific topics and to obtain several opinions before any big decision.
Also, it is absolutely true what we've all heard concerning the bureaucracy in Latin America. (Here is a short video that will make you chuckle).
Finally, there is NO mail system in Colombia, so we can't just send a check or a birthday card, or receive anything in the mail, because there is no mail. This is an item that new expats in Colombia struggle with, so let me repeat it: There is NO mail system. Alternatives are DHL, FedEx, and similar delivery companies, all of which are expensive.
What advice would you give to a retiree who is thinking of moving abroad? Do you have any specific advice for retiring in Colombia?
We'd advise them to do so, with some minor hesitation.
Leaving the comfy and predictable U.S. has been a real revelation to us. We would not have missed the experience for anything, but there have been times that we wished we'd stayed in Ohio, and forgotten about the adventure. Not many times, but a few.
For anyone setting off to live in a foreign country for the first time, don't expect life to match what you're accustomed to in your home country, because it will not. For Latin America specifically, the pace is slower, and folks don't have the same sense of urgency, so don't expect things to get done in stand-and-salute fashion.
If you're retired military, find other veteran retirees and any local outlet for VA and/or Tricare info and service, plus any local websites and online resources available.
For any medical payments, always save receipts for reimbursement later.
Establish an account with a large, international financial institution that will grant you access to your money, and have any retirement funds direct deposited there.
Is there anything you wish you had known or done differently prior to retiring abroad?
Though we did a fair amount of research, we didn't do enough.
If we started looking today, we'd focus more on expat blog sites and websites that offer stories and data from real people who live in the country and who've been there a while.
It's easy to study sites with a real estate orientation, or those with a sales agenda of some kind that advertise only the highlights, the exotic and romantic parts while leaving out the reality of daily life in, for example, Panama.
Boquete is a beautiful place with perfect weather, a low cost of living, and a few interesting "touristy" locations. But the reality is that western Panama is quite rough, the water isn't consistently safe to drink, electric power is irregular at best, internet speed is so-so, and there's not much to do there.
Medellín, on the other hand, is a First World city in many ways. The water in the city is safe to drink, we have reliable electricity and high-speed internet, and there's a lot to do in this innovative city of 3.5 million people.
It all depends on what someone wants for a retirement experience. If we had it to do again, we'd put our furniture in storage so we could move back if we decided to.
We'd move on a temporary basis, find Airbnb properties in at least three different places (perhaps three different countries), and stay at each one for at least a month on a tourist visa prior to deciding where to settle.
| Related Reading: How to Choose the Perfect Apartment on Airbnb
Also, we'd move few of our belongings, and be wary of purchasing more stuff. We're aware of expats who've moved entire households, only to endure the expense of returning everything when moving back to their old homes.
Do not consider purchasing a property abroad unless and until you've lived there for a very long time. Anyone considering moving abroad is likely to be a restless person willing to try new adventures. For this reason, it's better to acquire as little as possible, because there's likely another move pending.
Something else to keep in mind is to never say "never." We made the mistake of claiming we'd "never" leave Medellin, that we couldn't imagine moving away, etc. Now we realize that other places may possibly offer us a new experience, and that life truly is an adventure, so why did we say that?
At our age, and with our resources, there's no reason to limit ourselves, so we've started saying "for now" instead.
What are your longer-term plans? Do you intend to stay in Medellin for the foreseeable future?
Medellin is a great place for us—for now. We have no solid plans to leave here.
However, we keep our options open for new experiences and new places. We don't rule out anything, including another relocation. If we're attracted to someplace new, we might well pack up and go.
Anything you would like to add to assist fellow retirees in making a decision to live overseas?
We'd do this again in a heartbeat, but it's been much more difficult than we anticipated.
I'd suggest that any retiree contemplating a move like ours should be brutally, harshly, selfishly realistic and honest with themselves and their mate before moving. Be more honest with each other than ever before about what you really, truly want—and don't want—because any doubts and discomforts will challenge you in ways you never expected.
Those challenges can become a wedge in any relationship, unless you're very honest up front about your needs and wants.
For example, we had no idea how much we'd miss our clothes dryer! Other examples are seemingly small things like a dishwasher, oven, disposal, or tank water heater.
Language differences are a good example as well. Sometimes being surrounded by Spanish speakers is overwhelming, and it becomes much more — and much harder — work than we ever wanted to be doing as retirees.
Instead of lazing through the day, reading, watching the Cubs on TV, and tending our tomato plants, we're expending a lot of effort in an often discouraging attempt to speak another language, and to learn a new system.
It's damn hard work.
Sometimes the drudgery can feel like a thousand paper cuts until something is mastered. It's difficult at times being forced to slow down and accept that it's us, not the unfamiliar system.
We could choose to live among English speakers and pay for assistance with petty life details, but we wanted to be immersed in this culture, so it's something we did to ourselves. Still, it's been very difficult.
Advice in a nutshell: You cannot transplant your U.S. lifestyle to another country. Forget it. If you like easy, and predictable, and known, and comfortable, maybe the expat life isn't for you.
Byron Edgington is a retired military and commercial helicopter pilot. He served two years active duty, including a year in Vietnam with the 101st ABN, and 28 years in the National Guard, retiring in 2000 as a CW-4. Byron flew commercially all over the world. Mariah Edgington was an RN for 35 years in emergency medicine, neonatal transport, and cardiac medicine. Byron and Mariah have three daughters and five grandkids. They left the U.S. in 2016 to become expats.
All photos courtesy of Byron Edgington.