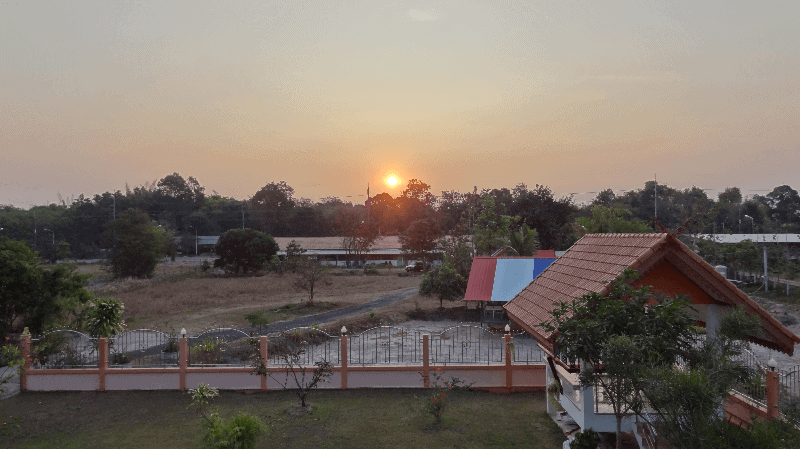 Daniel Fraley, an Air Force retiree, has no regrets about his decision to retire in Thailand — except that he didn't do it sooner. He and his wife, Somjit, enjoy a low cost of living, proximity to family, and extensive travel!
In this Q&A from our Expat Retiree Interview Series, Daniel gives us the scoop on everything about expat life in Thailand, from visas to medical care and how much money you need to retire comfortably.
Where do you live?
Ubon Ratchathani, Thailand (6 months) and Orlando, FL (6 months). They say "All Roads in Thailand run through Bangkok." My main road flows through Ubon due to friends and family.
Did you move to Thailand immediately after retiring from the military?
No, I retired in 1992. Our children were still in school and I was still very young to retire completely. We did trips in and out of Thailand and bought some land to build on in 2010. I finally retired in 2012 after working in Iraq/Afghanistan.
Why did you decide to retire to Thailand?
We needed a regional hub to travel out of. We have family here in Thailand, so that was an added plus.
Bangkok, with two International airports, fits our purpose to travel Internationally throughout S.E. Asia and Europe. We use Don Mueang Airport for low-cost airlines to travel Asia and Suvarnabhumi International Airport for other destinations.
Past International travel destinations were China, Hong Kong, Laos, Cambodia, Myanmar (Burma), Japan, and Austria. We just returned from 5 days in Saigon, Vietnam.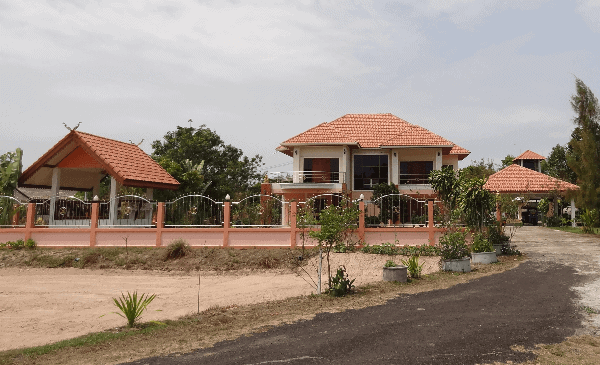 How did you get the visa/legal authorization to live in Thailand?
I pay $200 for a one-year Multi-Entry Non-Immigrant Visa Category "O." I have to leave after 90 days and then reenter. So I plan trips throughout S.E. Asia (for example, my recent 5-day trip to Saigon) as I'm nearing 90 days. It works for me and my family. After reentering, I get another 90 days. I renew the visa annually.
Any U.S. Citizen may enter Thailand and stay without a visa for 30 days. You have to be careful over here. You don't want to be caught breaking any Immigration rules and be penalized and can't return.
Note from Poppin' Smoke: for more information about Visas in Thailand, visit the Thai Embassy website.
Tell us about expat life in Thailand! How do you spend your time?
I thought when I really retired I would not be too "busy." Wrong! I found out I am more "busy" with all types of projects.
I started out helping my wife start a local restaurant on our property. We also have 10 hens for fresh eggs, and my new project will be fresh honey with some beehives. All that, along with travel within Thailand and abroad.
I attend a local American Legion meeting once a month to practice my English and support local initiatives.
How does the cost of living in Thailand compare to the U.S.?
It's very inexpensive to live here in Thailand, but it depends on individual needs and your lifestyle.
We own property, a truck, and our home. We budget $1,500 USD per month in rural Thailand. We easily live off this amount each month without worry, eating out two times a week.
I built a three-room house on our property for less than $10,000. We lived in that house while building our larger home. Now we use the small house as a rental.
Other estimated costs in Thailand:
Loaf of bread $1.05
Latte $1.25
Chicken breast $1.00
One beer in a bar $1.50
McDonald's meal for one $5.00
Monthly pass for fitness club $30.00
Meal for two at mid-range restaurant $15.00
Meal for two at food court $6.00
Monthly rent, one-bedroom apartment $300 (in town), $100 (in rural area)
Monthly rent, three-bedroom apartment $700
Petrol, one gallon $3.25
Taxi Metered local transport $3.00
Basic utilities for an apartment (with air conditioning/in town) $75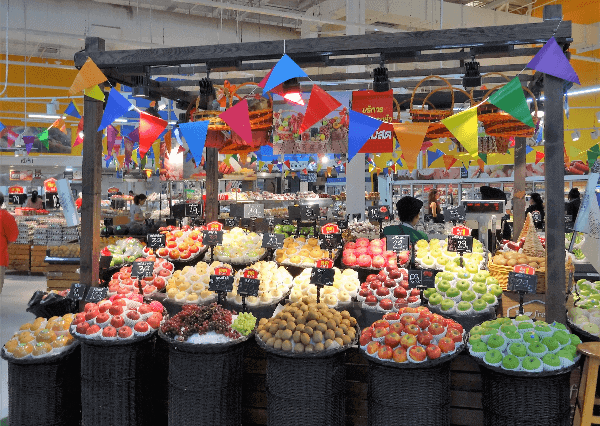 Where do you get your health care?
My wife has health insurance here in Thailand. I use TRICARE for Life and the VA hospital in Orlando.
I get care at the local private hospital, and it is really cheap. One time, I fell on a rice reed, and it punctured my right calf about 3 inches. I tried to clean and take care of it myself, but it got infected after four days.
I went to the local Ratchavej private hospital emergency room. The doctor cleaned out the infection, numbed the area, and gave me a 10-day supply of antibiotics. Total amount paid was $76. I got reimbursed by TRICARE.
| Related Reading: Using TRICARE While Living or Traveling Overseas
Thailand is becoming more popular for medical tourism thanks to the high quality of care available and the lower costs of treatment than Western countries. This means as an expat in Thailand, you'll have access to high levels of medical care when going to private hospitals here.
Another benefit is that there are doctors who speak English, and material is available in English.
Dental care is on par with the U.S. The cost of a crown last year was $276. The total cost for three fillings was $50.
Do you speak Thai? If not, is it difficult to navigate daily life?
Yes, but I am not fluent. Most Thais speak broken English. If living in a rural area, you need to know some Thai to get around.
What do you like about living in Thailand as an expat?
Thailand is one of the most affordable and interesting places in the world to think about retiring — an exotic option. There are a multitude of colorful festivals and events held throughout the year, which means that there's always something happening for expats to enjoy. I also enjoy meeting very interesting people from all over the world and being a good ambassador representing the USA.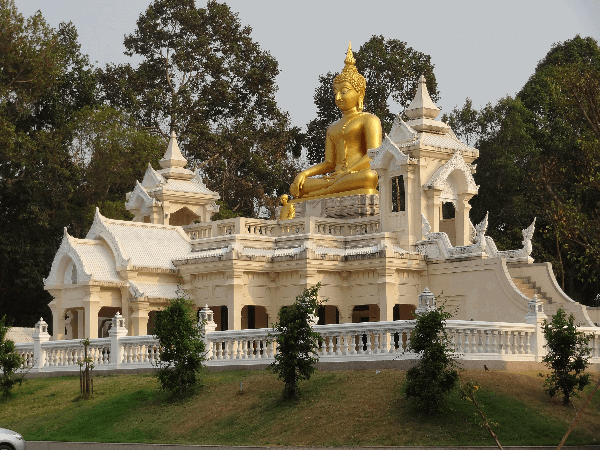 What are some challenges of expat living in Thailand?
Driving. It's chaos. You have to drive very defensively.
Foreigners who are involved in any type of road accident will often automatically be held responsible for the accident. This is based on the fact that as a foreigner, your presence in Thailand was the cause of the accident. If you hadn't been in Thailand, there would have been no incident, and of course, they assume you have money.
Climate. Hot and humid. Heavy monsoons occur from July through November. That is why we normally come here from October to March every year, because it is cooler and dry (temps normally are in 60's to 80's).
Food. If you're not used to foreign or spicy foods, you may get frequent stomach aches. After about one month of eating Thai food, I am looking for a good hamburger or some type of Western food.
What advice would you give to a retiree thinking of moving abroad? Do you have any specific advice for Thailand?
Do some pretty extensive research. You may have to weigh places like Vietnam, Laos, and Cambodia against others in Southeast Asia. Come over on vacation and stay awhile. Travel around and decide where you want to live. Rent for six months and see if Thailand fits into your retirement.
In order to own land here you must be Thai (I am married to a Thai). That's why for an expat, it is better and cheaper to rent and live a very good life here.
Renting in Thailand depends on your lifestyle. In a City like Bangkok, rent is high, but you can find property for less than $1,000 fully-furnished. In rural areas (outside of Bangkok) rent is must cheaper and you can rely on mass transportation to get around like the locals.
You can buy into a condo at Pattaya or other places in Thailand, but the Thais must own 51% of the development. That is the only way an expat can buy property in Thailand.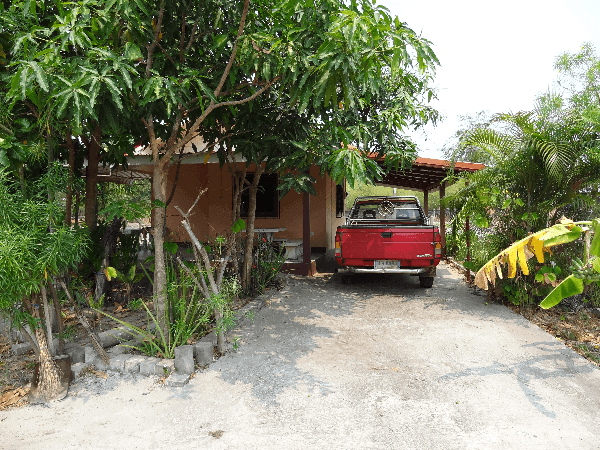 Is there anything you wish you had known or done differently prior to moving to Thailand?
Retired and moved earlier.
Anything you would like to add to assist retirees in making a decision to live overseas?
I knew I could maintain a fun and full life without worrying about my expenses. Many of my long-term goals are fulfilled through living here and continuing my travels. I live in a Thai neighborhood, I volunteer locally through the American Legion, and I eat local food and have lots of fun!
Gadgets that I think help expats: Amazon Echo (music from the U.S. and some humor talking to Alexa), and Amazon Fire Stick for news from the U.S. via PBS, Fox, CBS.
This profile is part of our Expat Military Retiree Interview Series, where we profile military veterans who moved abroad to live or work post-retirement. Through the series, you learn firsthand what it's like to settle in another country as a civilian. If you moved abroad after military retirement and want to share your experience with others, send an e-mail to stephanie@poppinsmoke.com.