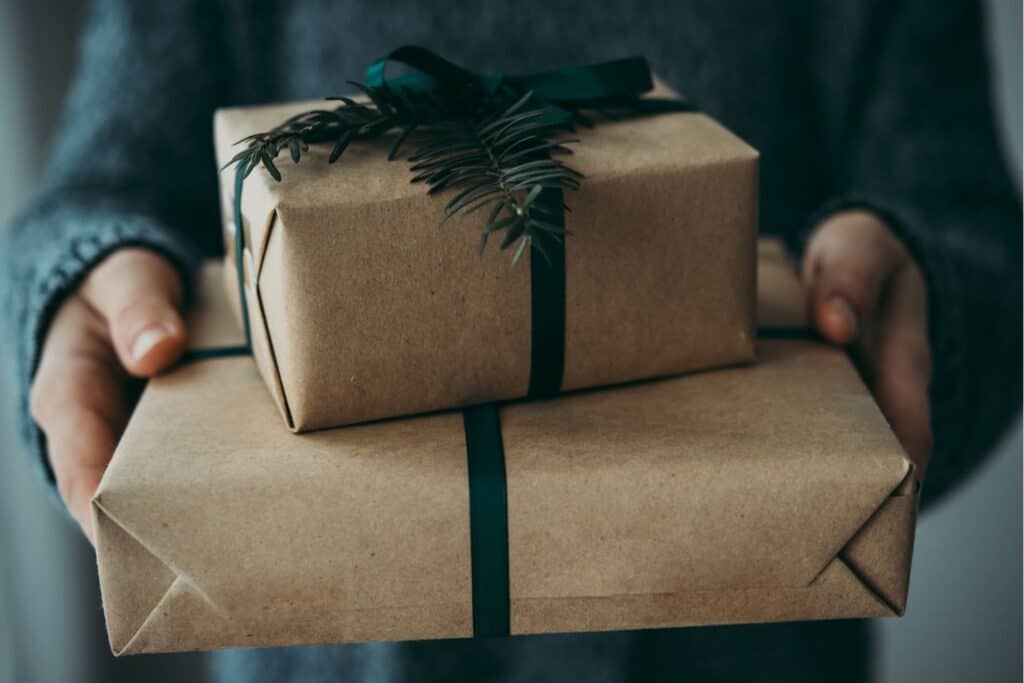 Searching for the perfect gift for a military traveler? Check out our suggestions!
Our gift guide is organized into categories for travelers with different needs and interests. Some are fun, some are practical, all are informed by our 8+ years of world travel since military retirement.
Use this list for your own gift-giving ideas, or forward it to family members as a hint for what they could give you!
For Inspiration
These gift ideas will set the wheels turning and spark wanderlust in anyone on your list.
Frameable Scratch-Off Travel Map
What better inspiration for a travel-lover than a visual representation of all the places they've been . . . and the places they have yet to go?
This frameable map is incredibly detailed and large enough to see all states and countries. The scratch-off tool reveals the bright colors of each state, country, and flag.
This map makes a vibrant, decorative display of all the places a military traveler has been stationed or deployed, gone TDY, or visited for fun.
The Epic Retirement Bucket List: 150 Globe-Trotting Ideas to Inspire Your Next Chapter
This is a good book to give someone well in advance of retirement. It has so many great ideas that recipients will need time to plan them into their schedules!
Written by an Air Force retiree who traveled the world with the military and then spent years exploring the U.S. in her RV, this book is a reminder that life's adventures are just beginning after retirement.
With suggested activities for all levels of fitness in every corner of the world, it's actually a great gift for anyone you know who loves to travel, retired or not!
National Geographic Guide to National Parks of the United States
Active duty service members and veterans get free entry to all U.S. National Parks.
So, for anyone on your list who loves exploring the U.S. and the outdoors, this guide is the perfect gift. It includes profiles of all National Parks, plus maps and insider tips from park rangers about where to hike and where to spot the best wildlife.
With beautiful color photographs and suggested road trip itineraries, this book will inspire wanderlust in any adventurer.
For Easy Packing
Our years of travel have taught us that having the right bags to pack and carry our belongings is almost as important as what's in them!
Hanging Toiletry Bag
This toiletry bag has several important features that are a must for every traveler who likes to stay organized, whether using a regular suitcase or a duffel bag.
It has many different compartments of various sizes to fit all toiletry items. The open design and mesh pockets make it easy to see everything at once. And the sturdy hook is essential for hanging the bag when counter space is limited.
The bag is also waterproof and comes in many different colors. It makes a great gift for both men and women.
Packing Cubes
Another gift to help your traveler stay organized, compression packing cubes also help them fit more in their bag.
Made of thin, durable, lightweight fabric, these packing cubes squeeze out the extra air, leaving up to 50% more space for other items. They come in a pack of 4 with multiple sizes and a choice of colors.
Discovering packing cubes was revolutionary for me when we first started traveling. They make the task of packing and unpacking so much easier, plus I can always find what I'm looking for in my suitcase!
Packable Backpack
This is a backpack to pack within other luggage for use during the day when out and about.
Whether to carry water, an umbrella, an extra jacket, or newly-purchased souvenirs, having a spare bag is essential for travel. This one has numerous pockets, including two mesh side pockets. It comes in multiple sizes, but when stuffed in its little carrying sack, it fits in the palm of your hand.
For Traveling in Comfort
Help your favorite traveler enjoy the journey with a gift that will make their time in transit more comfortable.
Twistable Memory Foam Travel Pillow
When searching for a comfortable position in a plane, train, or car, we all like something a bit different. This flexible travel pillow puts the support exactly where you need it, whether it's around your neck, next to your head, or in the small of your back.
It has a snap closure, so you can easily attach it to your bag, and the removable cover is machine washable.
Noise-Canceling Earbuds
For blocking out distractions, listening to music, and watching movies, noise-canceling headphones are essential for travel.
These tiny wireless earbuds do the job without taking up space in a carry-on. They come with three different styles of eartips to ensure a proper fit and have a carrying case that also serves as a charger.
For Traveling In Style
These clothing items look nice and travel well.
Kuhl Travel Shirts (for men)
It's not easy to find a good-looking travel shirt . . . that doesn't look like a "travel shirt." Fortunately, these button-up shirts fit the bill.
They are quick-drying, wrinkle- and odor-resistant, have sun protection, and hold up well after many washings. They're also very comfortable, with a bit of stretch in the fabric. Plus, they come in many different colors.
But what's different about these Kuhl shirts – and the reason why my husband stopped buying any other travel shirts after he discovered them years ago – is that they work just as well for a hike as for a nice dinner. The look and styling don't scream "tourist," which makes these shirts a very versatile addition to any packing list.
Lightweight, Packable Vest
Another versatile item that's well worth the little space it requires is a puffy vest like this one.
Perfect over a light sweater on cool days or under a coat for extra warmth, this vest also fits into its small stuff sack when not needed. Any clothing that layers well is great for travel. My puffy vest quickly became one of my favorite clothing items as soon as I got it.
This vest comes in many colors and a men's version.
For Outdoor Adventurers
These make great gifts for someone who loves to hike or do other active travel.
Compact Satellite Communicator
Whether your adventurer likes to hike solo, backpack to remote areas, or do other activities that warrant an extra measure of safety, the Garmin inReach MINI 2 makes the perfect gift.
Weighing only 3.5 oz, this small satellite device allows two-way messaging, plus the ability for users to share their location with friends/family or send an interactive SOS message in an emergency.
In short, you are giving the gift of peace of mind to yourself AND to your adventurer!
Flexible Roll-Up Water Bottle
I bring these water bottles on trips when I plan to do some hiking and want the capacity to carry a lot of water without the bulk of bringing multiple bottles.
When empty, they weigh only 2 oz and roll up so small I can toss them in my purse or coat pocket. When the bottles are full, I like that I can clip them to my backpack (or anything else) using the carabiner that comes with them.
This is an inexpensive, practical gift that shows the recipient you understand their travel style!
For Space-A Travelers
Flying Space-A on military aircraft is an option that is unique to military travelers, and it requires unique gear.
Inflatable Sleeping Pad
This is a must-have for anyone planning to fly military Space-A. Many military flights are on cargo planes where, if there is room, passengers can stretch out on the floor or across the seats.
A sleeping pad like this one makes the ride much more comfortable and even provides a decent night's sleep! It also has all of the other important features of a sleeping pad purchased for Space-A travel: small and light, easy to inflate/deflate, and durable.
We owe many hours of comfortable shut eye to this sleeping pad.
Compact Sleeping Bag
Another important item for Space-A travelers to bring in their carry-on is a small blanket or sleeping bag. It's usually very cold on military cargo planes, and having a cover keeps out the chill.
This compact sleeping bag can also be unzipped to make a large blanket, so it's useful on any type of aircraft. The compression bag shrinks it down to fit in the palm of your hand.
RyanAir Gift Card
This gift idea is for travelers heading to Europe. When flying Space-A overseas, the best strategy is to take the first flight that will get you across the pond, rather than waiting for a mission to the exact place you want to go. After landing in Europe, it's often easier and cheaper to take a low-cost airline like Ryanair than to attempt to fly Space-A all the way to the target destination.
RyanAir has incredibly cheap last-minute fares and flies to destinations all over Europe, so a gift card from this airline can come in very handy!
For All Military Travelers
An important practical concern while traveling is how to get medical care, if necessary, and military travelers should know they are covered.
TRICARE Around the World: Getting the Most From Your Military Medical Benefits
All TRICARE-eligible beneficiaries should know how to use their TRICARE benefits, which cover them anywhere in the world. This comprehensive guide is a must-read to learn how the coverage works.
The book explains everything about how to seek medical care while traveling, how much they can expect to pay, how to file claims, and what to do about prescription refills. It's definitely in the category of "practical" travel gifts, but I promise the recipient will thank you!
For Foodies
These recommendations are for travelers who follow their taste buds in search of the tastiest and most interesting food.
A Local Food Experience
Part of the fun of travel is discovering local cuisine, and there's no better way to do it than experiencing firsthand what locals prepare in their home.
That's why a gift card to EatWith is a great present for any foodie. EatWith is a website that helps travelers discover fun food experiences in the cities they visit. It's similar to Airbnb, except that guests sign up to eat a meal at the host's house, rather than sleep there.
The host publishes upcoming menus along with the prices, and guests register via the EatWith website. Some hosts offer cooking classes and teach guests how to make local dishes. I've used it in Florence, Italy and Bordeaux, France, and it's a fun way to meet new friends and try authentic cuisine.
Food Maps
For travelers with a special love for the cuisine of a particular country, these hand-drawn posters are a unique gift.
Each poster features a map of the country's most popular foods, arranged around the shape of the country itself. They come in three sizes, one of which is available with a frame.
The online store also offers similar maps on t-shirts and tote bags.
For Travelers With Dogs
These gifts will help ensure your recipient's four-legged companions are safe and comfortable.
Dog Life Vest
If you know a traveler who likes to bring their dog on outdoor adventures, such as fishing or boating, a canine life vest is the perfect gift.
This vest features the U.S. Army logo and bright yellow straps for high visibility. It comes in four sizes, and the fasteners around the neck and body are adjustable.
If your gift recipient is not affiliated with the Army this bright red dog life vest is a great alternative with similar features.
Dog Hammock Car Seat Cover
Anyone who has ever taken a road trip with a dog knows that if the dog is not happy, other passengers won't enjoy the ride, either.
Help your favorite dog parent travel in peace with this dog hammock, which keeps their dog comfortably in the back and also serves as a protective cover for the seats. The half-size version leaves room for another human passenger or luggage on the back seat.
For Non Tech-Savvy Travelers
We have the perfect gift idea for anyone who struggles with technology while traveling, particularly overseas.
An Hour of Your Time for Tech Support
If you know the basics about setting up phone apps, using WiFi vs. cellular service, and swapping out SIM cards, give a less tech-savvy traveler the gift of your time.
Spend an hour helping them set up their phone with all of the apps they may need while traveling (e.g. WhatsApp, Skype, transportation or hotel apps, etc.) and demonstrating how to use them.
Help them figure out whether they should use their cell phone provider's international plan, purchase a local SIM card at their destination, or rely exclusively on WiFi.
Make sure they've installed a VPN on all electronic devices and that they understand how and when to use it. Pro Tip: To make things simple, I added my parents to our TunnelBear VPN account (we have the unlimited plan) so that they did not need to establish their own account.
All of this assistance costs you nothing except for your time (and patience), but it's priceless for the traveler!
* * *
We hope you found some ideas for yourself or other military travelers on your list! If you've given or received other gifts that were a hit, please share them in the comments!